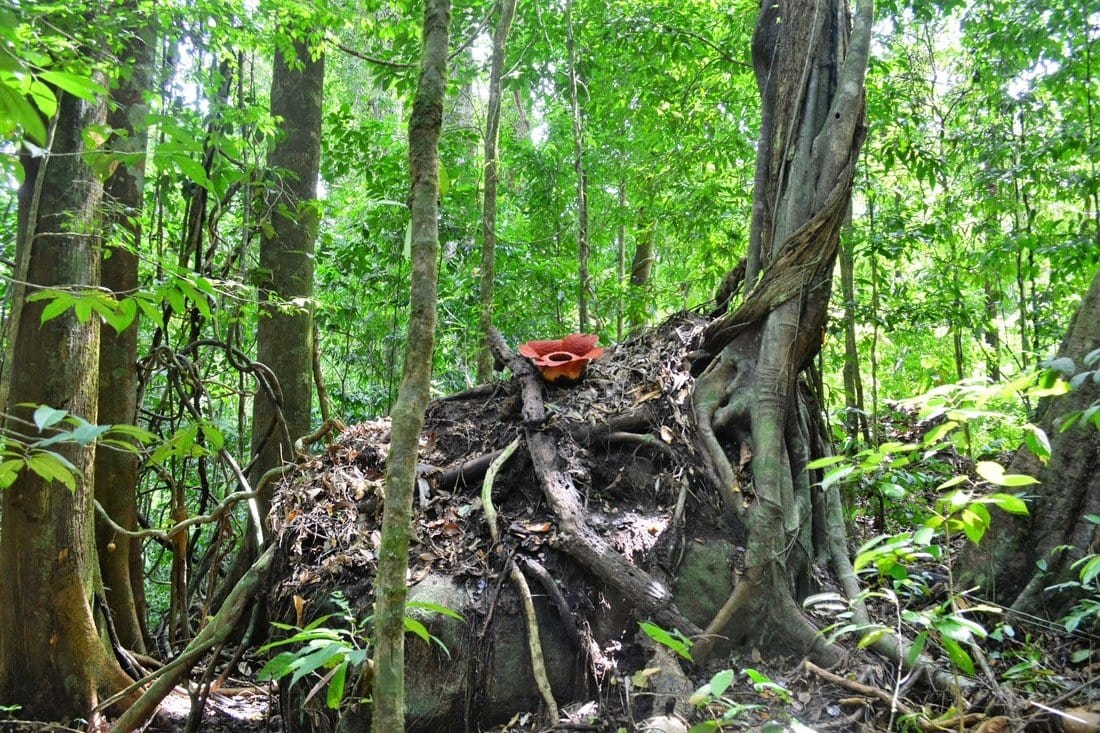 Rafflesia in Gunung Gading National Park – Malaysia, Borneo.
Where you can find the biggest flower in the world
Is now about two months since we began cycling the roads of Malaysian Borneo, it seems that the time has come for a change, time to see a new country, time to explore Indonesia.
We saw so many things here, huge-nosed proboscis monkeys and ancestral caves, beautiful folks we have known, met endangered people, and sailed on rivers through the jungle. But there is still something left for us to do, see the largest flower in the world, the rafflesia.
So we leave the city of cats (Kuching) and head to the Gunung Gading National Park, located on the road that leads to one of the border posts with the Indonesian part of Borneo, Kalimantan.
This is where we hope to see this huge parasite flower, a flower can exceed 100cm in diameter, and weigh up to 10 kg, a flower that takes months and months to bloom and then stays alive no more than seven days.
A flower on the verge of extinction, like everything here in Borneo, plants, animals, people.
Disclosure: Some of our articles contain affiliate links. This comes at no additional cost for you and helps us keep this website up and running. (as Amazon Associates we earn commission from qualifying purchases)
The road from Kuching to Lundu (Gunung Gading National Park)
There are two ways to reach Lundu (the town where the park is located) from Kuching:
the south route, 98km mostly on highway H150. This may be the fast route if you are by car or bus.
the north route, 91km on quiet roads, near the coast for a little stretch and with a nice scenery overall, passing beside Kubah National Park. This is definitively the road you want to do if you're by bicycle, but also if you are on your own transportation and wish to be in a quieter environment. Just beware that there are almost no shops or settlements on this road, pack food and water.
Check the map at the bottom of the article for more details.
It's almost dark and we find a very cheap Chinese small hotel in Lundu, a village about 4 km from the national park. Lundu is a small, sleepy and nice (for Borneo's standards) town with a few restaurants and hotels.
Gunung Gading National Park
Entry fees, accommodation prices and opening times
The next morning we go to the park. The entry fee is the usual 20MYR, the park opens at 8 AM and closes at 5 PM.
It's also possible to sleep in the park where there is a dormitory with kitchen but yesterday was too late and it was closed, a room inside the park costs 40 ringgit. There are 4 beds so the price of each bed is 10 ringgit (€2).
At the entrance we are told there is no Rafflesia in bloom at this time, we know, we called a few days ago and have been informed of the sad news.
To book a room and inquire about the park and the presence of the rafflesia you could call the Gunung Gading National Park (+6) 082 735144 or the National Parks Booking Office, in Kuching (+6) 082 248088.
But anyway DO NOT TRUST THEM! You'll find out why.
The trail to waterfall 7
However, reconciled with the idea of not seeing the biggest flower in the world we head along the waterfalls path, it's a pretty easy trek in the spectacular jungle, with many species of plants and insects.
There are three beautiful waterfalls where you can swim, especially number 7 is a really relaxing spot, overall the park is worth it even without rafflesia.
There are also many animals in this park but they are shy and not easy to spot, we just see some insects.
Then suddenly, while we are about to reach the last waterfall I turn around and I see it, it is enormous, a few meters from the path to my left.
It's a surprise, I never thought seeing a flower could be so exciting! Nearby there are also two Rafflesia puppies, still in the shape of the ball before they unfold.
It does not stink, everyone says it does but it is not so, at least in this case. The petals are thick and fleshy, the colors are very vivid, at least one meter in diameter, beautiful, we remain enchanted at least half an hour.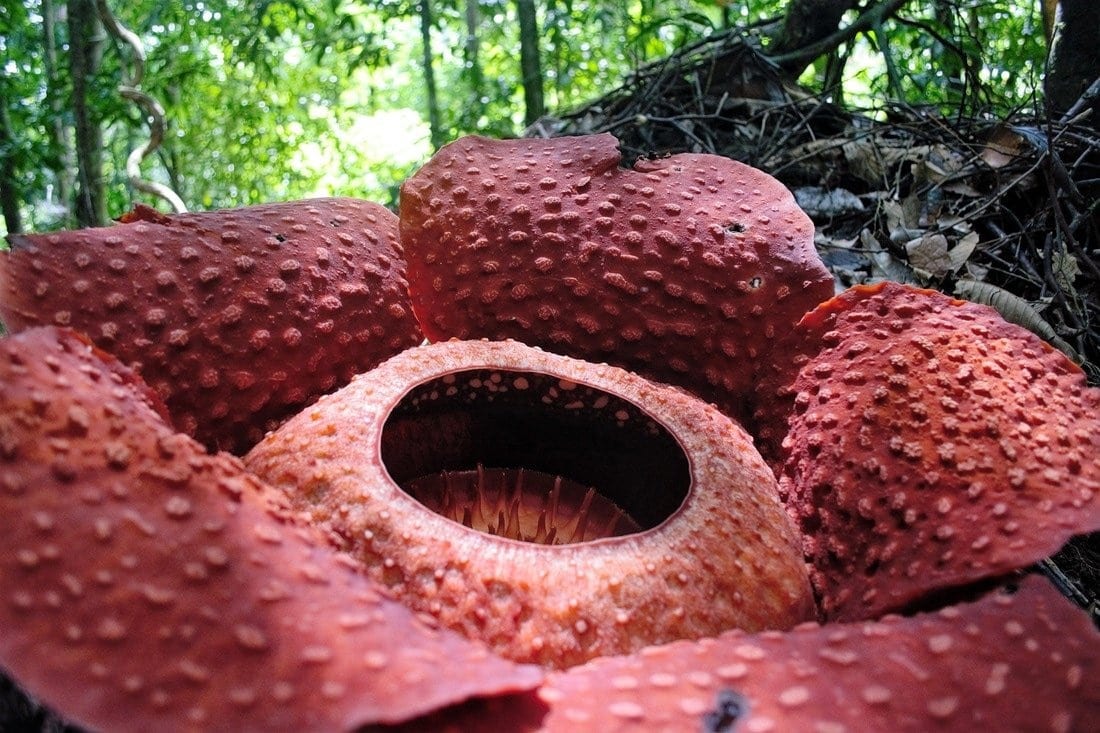 "the presence of the flower will be confirmed to the inquiring tourists only if located within a certain area, if there's a rafflesia in bloom somewhere else in the park, they will always tell you there isn't"
On the way back to the park entrance Elena is attacked by a small leech. We get to the HQ and communicate about the Rafflesia the front desk, they tell us that they didn't know, it must have blossomed today, we feel blessed.
Conversing with the employees of the park, we find out that the presence of the flower will be confirmed to the inquiring tourists only if located within a certain screened and patrolled area. In essence, if there's a rafflesia in bloom somewhere else in the park, they will always tell you there isn't.
This move, which may seem unfair, actually serves to prevent irresponsible tourists from damaging the flower, so only those who are really interested in the park and are willing to explore it anyway are able to come into contact with this natural wonder.
After thinking about it a lot, I came to the conclusion that it's a very wise attitude.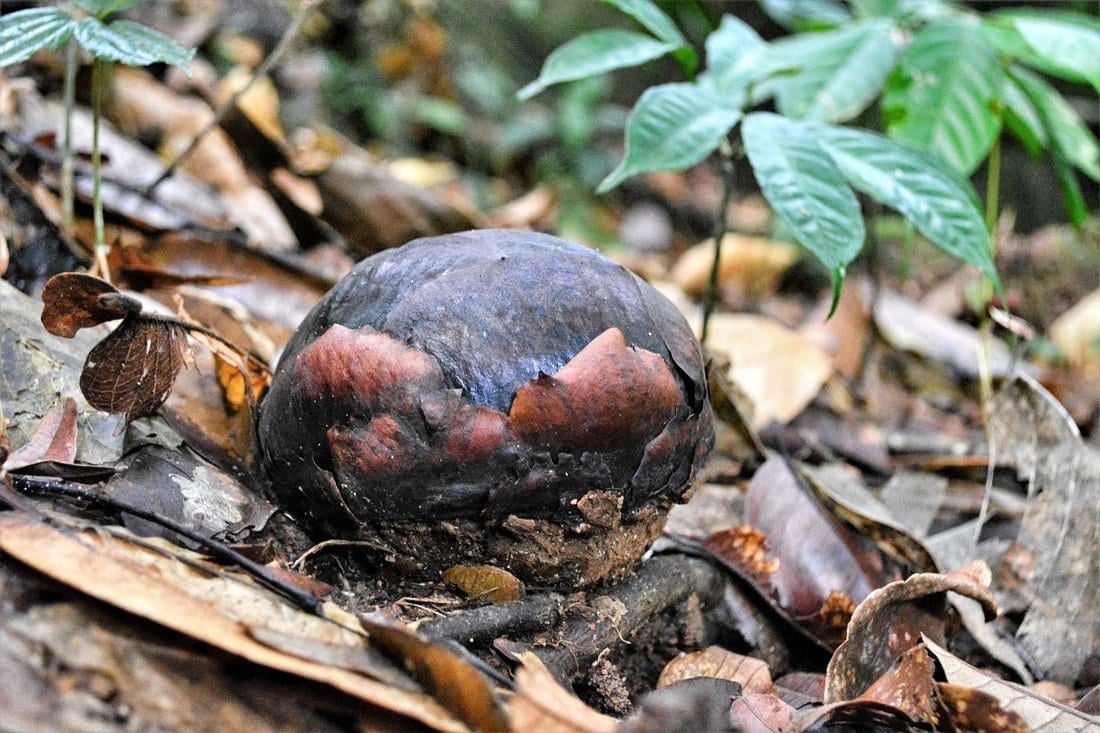 Did you like this article? Like it and share it! Have some thoughts? Comment!
our previous adventures in Borneo
Map of the road from Kuching to Lundu (Gunung Gading National Park)
Follow Us
Stay in touch while we get lost! Follow us on Social Media