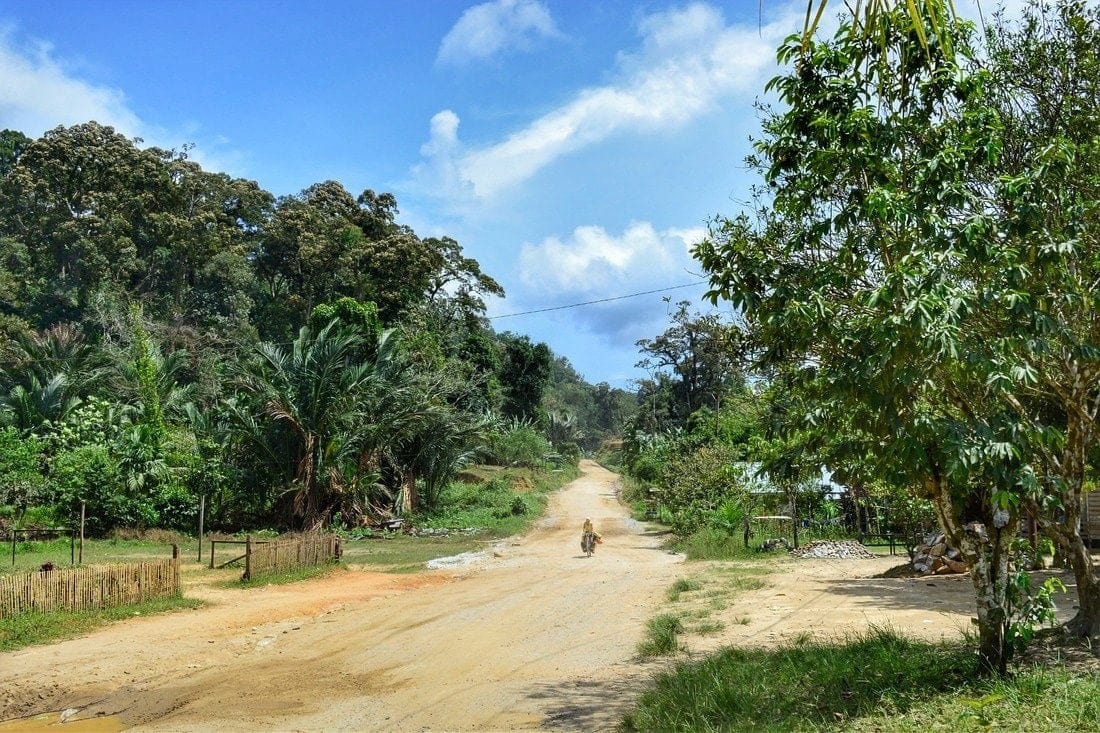 Bicycle Touring in Borneo between Malaysia and Indonesia
How to cycle past the border and find yourself in the wilderness of Kalimantan
As far as we could figure out, there are three international overland border crossings between Sarawak (Malaysia) and Kalimatan (Indonesia):
the busiest and biggest at Entikong (ID) – Tebedu (MY), on Malaysian H21 south of Serian
the small Lubok Antu (MY) – Nanga Badau (ID), next to the reservoir of Batang Ai
The little known Aruk (ID) – Biawak (MY), near Lundu
Two more land crossings are between Serikin, Sarawak and Jagoi Babang, West Kalimantan and Bakelalan, Sarawak and Long Bawan, North Kalimantan, but as 2017 these are closed to foreigners (if you have different knowledge please comment).
The only border where you can get Indonesian Visa on arrival is the Entikong – Tebedu, for all the other options you should have a visa already on your passport.
Being already in Lundu, willing to avoid busy highways, always aiming for backdoor entrance to off-the-beaten-path destinations and, most important of all, having a wonderful 60 days Social Budaya Visa for Indonesia, we decide to cross the border of Biawak – Aruk, in this remote point:
GPS coordinates
1°36'43.8″ N 109°40'46.9″ E
Disclosure: Some of our articles contain affiliate links. This comes at no additional cost for you and helps us keep this website up and running. (as Amazon Associates we earn commission from qualifying purchases)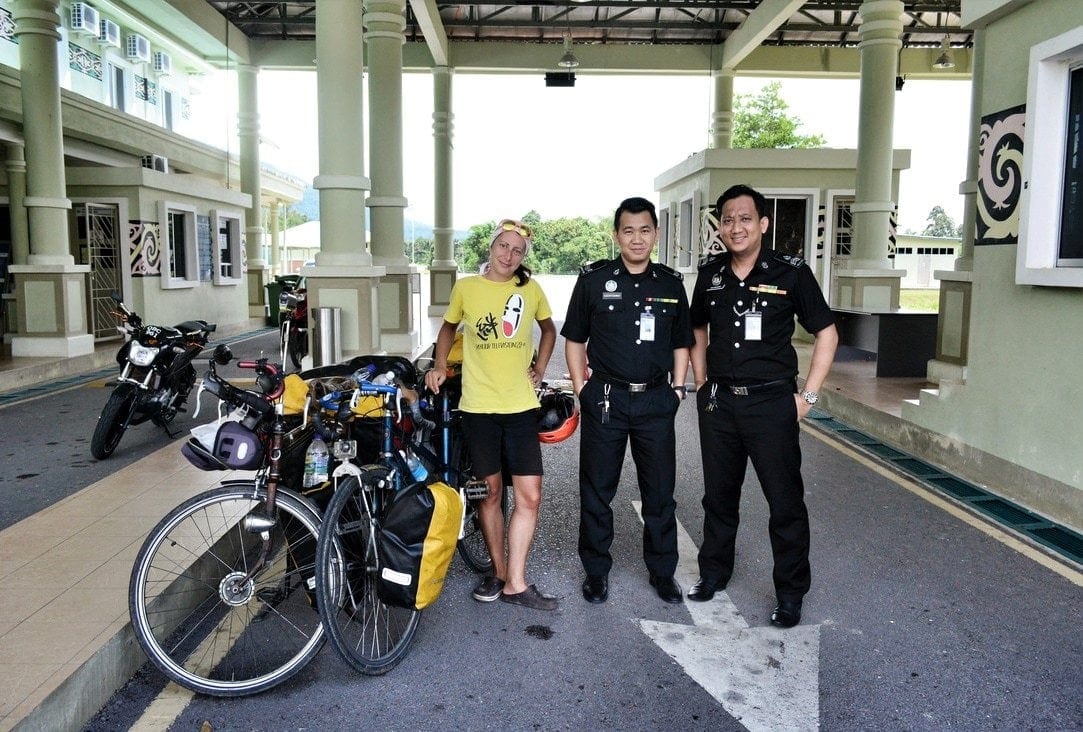 Lundu to Aruk/Biawak border – 25km
It has been a wonderful two months here in Malaysian Borneo, so much of it will stay in our most dear memories, but it's time to change, time to explore a fascinating and mystical country we dreamed of visiting since childhood, Indonesia.
Saying goodbye to the Rafflesia we leave Lundu to reach the Biawak – Aruk border after just 25km. There's a restaurant before the border on the Malaysian side and we eat here, worried about the nothingness that we may found on the other side.
Everybody scared us about this route, saying the road is terrible and that there's nothing on the way, most of this people though have never been here, and just speak from hearsay.
Of course not many foreigners cross the border here, so we have to take pictures with everybody, Malaysian police first and then Indonesians, apart from this pleasant waste of time the crossing is pretty straightforward (even though I get a wrong stamp, but I'll realize this later on, check your stamp before leaving!).
As soon as we set foot on Indonesian land we find out that the "very bad road" panic is quite baseless, at least for now. The road is paved here and there are so many different little restaurants. We stop to drink a cup of coffee while waiting for the usual shower to pass by.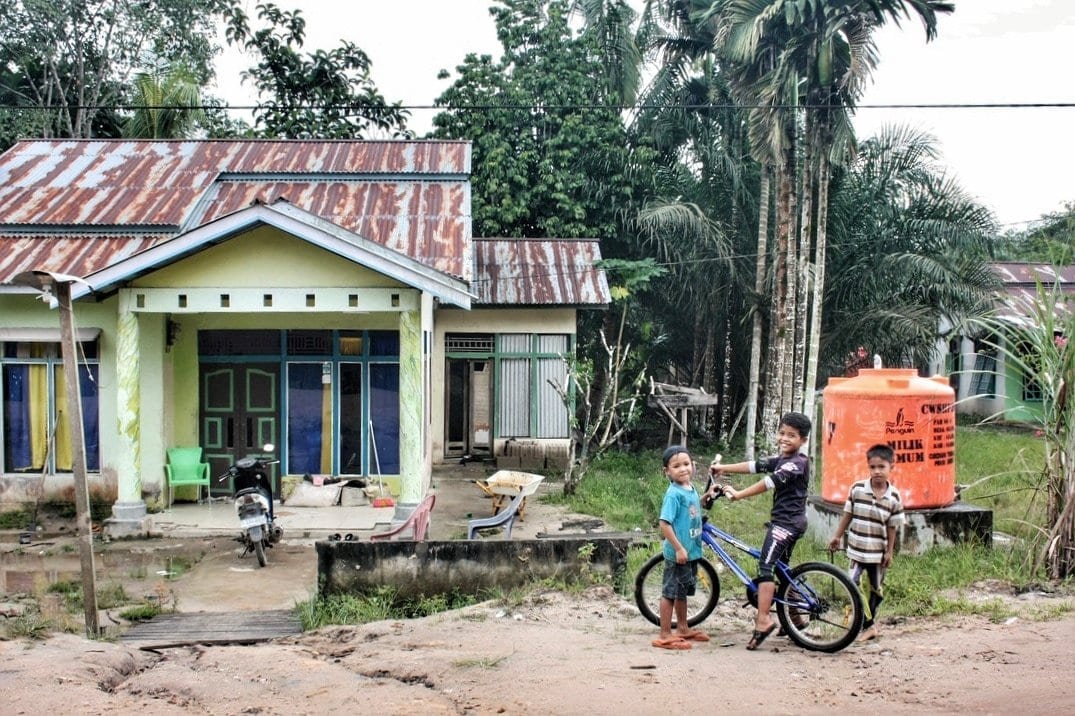 Aruk border to unamed village's church – 33km
After a few kilometers the dirt road begins, is flat and easy to ride, we pass through very nice little villages. We note immediately that Indonesians are very different from Malaysians.
The Malays were not very surprised to see us, but here everybody greets us: "hello Miss" or "hello Mister", it doesn't really matter to whom is addressed. They stop us and ask for pictures together.
Almost nobody speaks English here so we will learn a few words of Indonesian, which is almost identical to the Malaysian. Even nature is immediately different, wilder and lusher, at least in this area.
20km past the border there is a short climb, of course here the road conditions are the worst seen so far and, as the greatest classics, a tropical storm begins while we're coping with the steepest part, which immediately becomes muddy and slippery.
The guys behind us on a motorbike falls on the ground, luckily nobody doesn't get hurt so we start laughing at our misadventures.
They're wondering where are we going and where will we sleep. We tell them we don't know and that we will find a campsite somewhere.
It's five in the afternoon. One of them is a priest and he tells us that he knows another priest who can accommodate us 10 kilometers away. They go on a motorbike to warn about our arrival.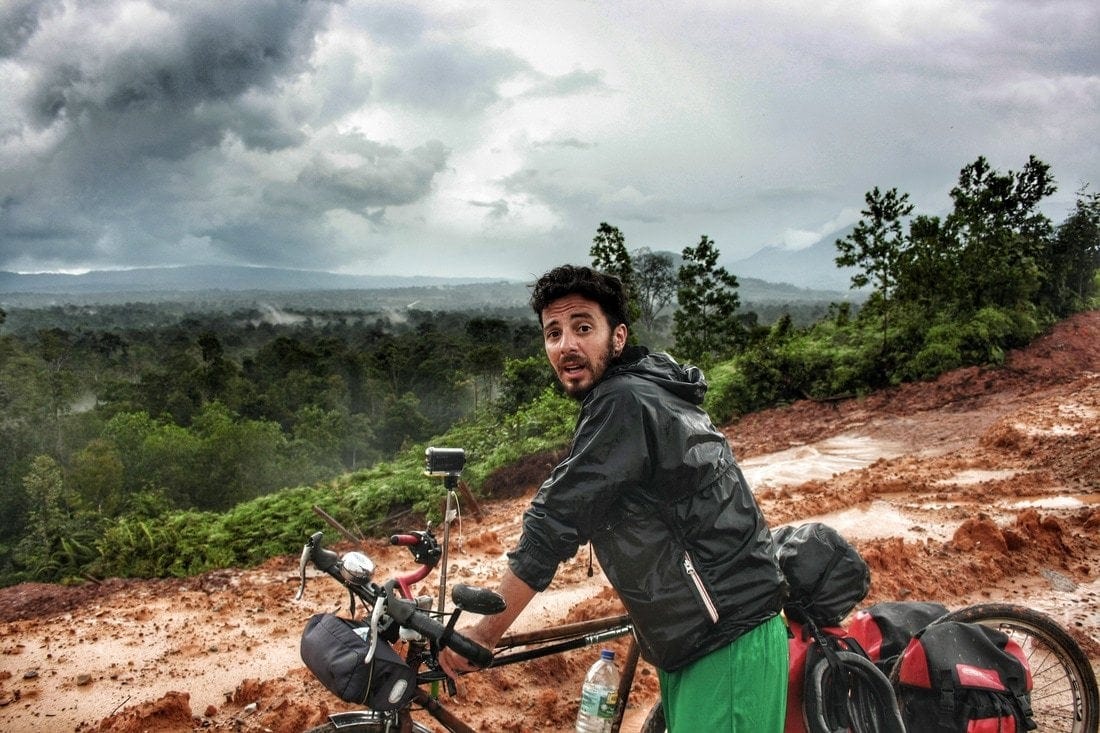 Rode those ten kilometers we arrive in a small village of five or six houses, a man who doesn't look like a priest at all comes out of the bar and calls us waving! He's indeed the rude deacon of the small local church.
He brings us in a house where there are several small rooms that house children aged 12 to 16 years, probably an orphanage (see the map). We are given one of those rooms. He does not speak a word of English, but he's funny in all his roughness and hoarse yelling.
We take a bucket shower and go to the bar where we met him before, but his not there anymore, all the people in the village but not him. We meet him again in the morning, have breakfast together at the bar run by his sister, the usual photo together and take off to Sambas.
Unamed village to Sambas – 50km
All night it rained and the road has become a river of mud. In particular, there are a few stretches where road works are going on, here trucks with their weight sink into the mud, creating veritable rivers.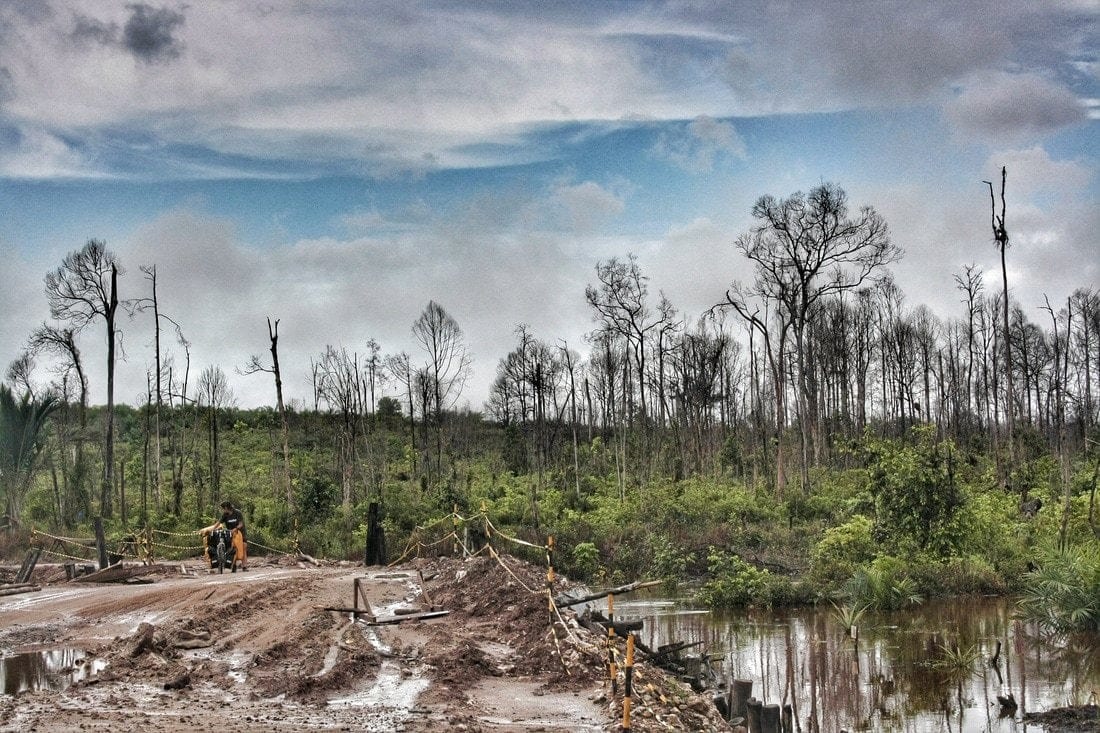 When finally the asphalt begins again, taken from a masochistic instinct we abandon the main road to take an alternative route.
At the beginning is full of holes then it improves and becomes a narrow concrete path, where only bicycles and scooters can pass, we pass through beautiful villages along the river.
The houses are built on the marsh, they are colorful, made of wood and so different from each other. If we meet someone from coming from the opposite direction we have to stop, that's how narrow this road is.
But it's here that finally, after more than two months on this island, we feel to be in the Borneo of novels, wild, lush and populated by outlandish folks.
We finally arrive in Sambas where we find an inn to 125,000 rupiahs, 8 Euros. Huge and very clean room with a great view of the river and, not least, alongside a car wash.
Very profitable business here, since anyone who comes from the road we have traveled has to wash his/her vehicle.
We bring the bikes covered in mud and they wash them carefully, we ask how much it costs, but they don't want any money.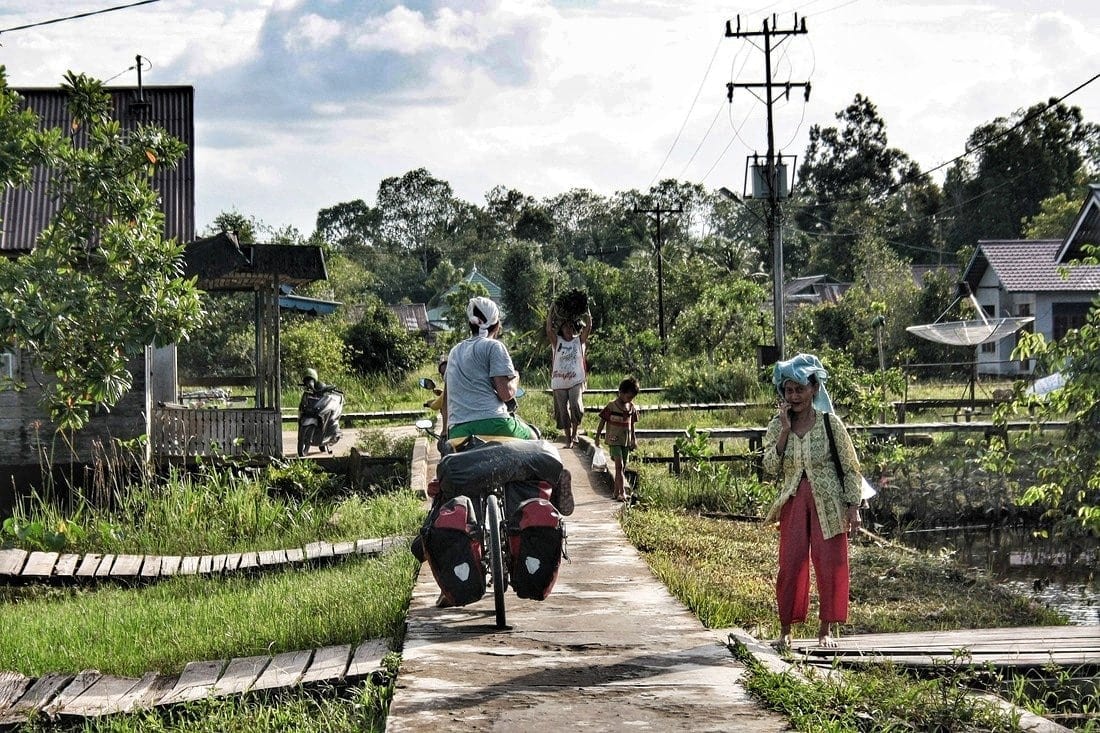 Liked this article? Share it!
Have thoughts about it? Comment!
Our previous adventures in Borneo
pt1: from Kota Kinabalu to Tenom, crossing the Crocker range
pt2: Jungle Train, from Tenom to Beaufort
pt3: crossing Brunei by bicycle
pt4: around Miri, Lambir Hills and Logan Bunut national parks and Tusan Beach
pt5: the caves of Niah National Park
pt6: from Belaga to Kuching by boat
pt7: Kuching and Bako National Park
pt8: Rafflesia in Gunung Gading National Park
pt9: Overland Border crossing from Sarawak into Kalimantan, the secret Aruk border (you are here)
pt10: Sambas, the wooden Venice of Indonesian Borneo
Reportages
Chap Go Meh in Singkawang: piercing yourself with swords to please your Gods
Hydroelectric devastation in Borneo
part 1: Interview with SaveRivers
part2: a visit to Sungai Asap
here are some general hints to budget travel in Borneo (by bicycle or not)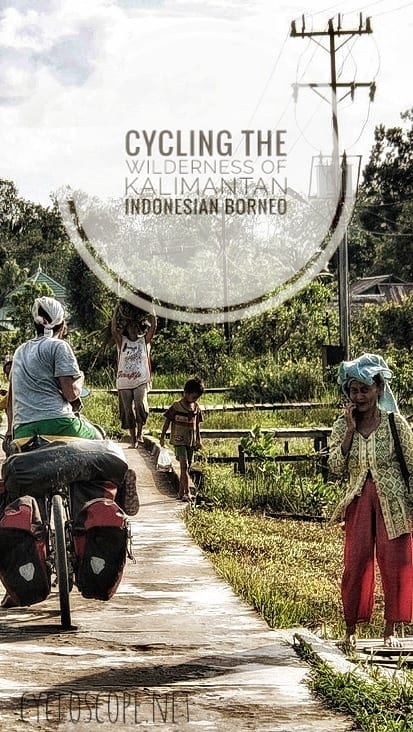 Space lapse Aruk to Sambas – a picture every 200m
Map of the road from Lundu to Singkawang through Sambas and Aruk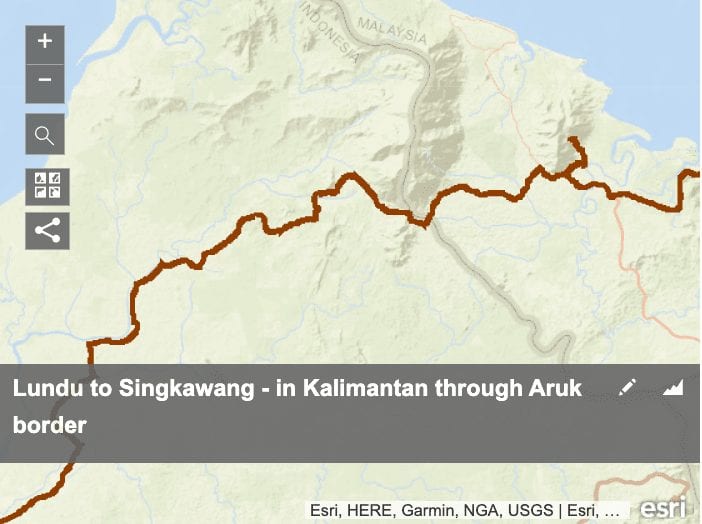 Bicycle touring West Kalimantan, a picture every 250 meters
Follow Us
Stay in touch while we get lost! Follow us on Social Media