Sambas (West Kalimantan, Indonesia) is a small city at the crossing of three rivers. We cycled here during our bicycle trip in Borneo and got amazed. Learn why!
This article is part of our DIY budget adventure travel in Borneo, check the bottom of the page for more stories, a map of the route and a peculiar video.
Sambas
Sambas (West Kalimantan, Indonesia) is a small city at the crossing of three rivers, it was an independent sultanat until the foundation of the Indonesian Republic, and has recently been theater of an horrible massacre.
That's basically all we could find out about the city on the internet. Anyway, muddy and tired after having rode the road from Malaysia we decide to stop one more night to rest and look around.
Sambas, Borneo, Indonesia – Roaming Around
Disclosure: Some of our articles contain affiliate links. This comes at no additional cost for you and helps us keep this website up and running. (as Amazon Associates we earn commission from qualifying purchases)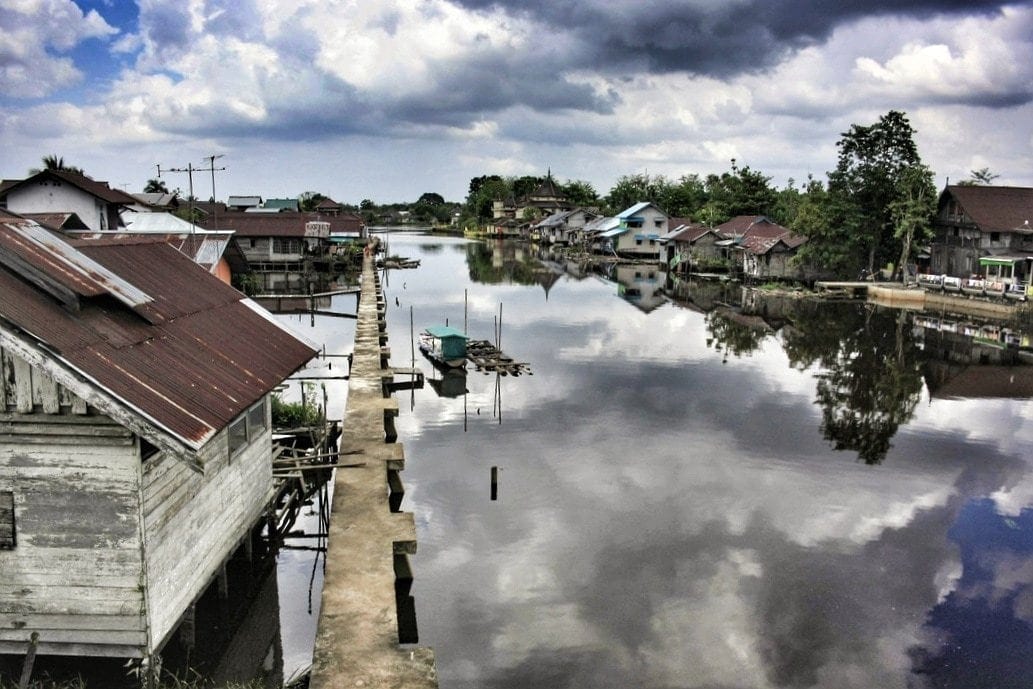 The main road is busy and ugly but just take a side road to be amazed. For us it is a surprise, this just seemed a place to stock in supplies and have a shower. But it is wonderful, the side streets are suspended wooden walkways and even the houses are suspended on stilts. Everything is built along the river and often on the river.
We visit the sultan's palace (Istana Alwatzikhoebillah), the only one thing we found on the internet about Sambas.
In fact the building is modest, nothing special, the beauty lies in the rest of the city. People bathe, brush their teeth and children plunge into this great river whose water, however, is not exactly pristine.
Birds in cages and no beer
Almost all the houses have cages with various birds on the veranda. Seems like this is a local trend.
We are really happy to be here, even if it's impossible to find a beer. We are told it's illegal but it is not true at all. In this city 99% of the population is Muslim and they are really convinced it is unlawful.
We meet am English teacher from Flores, another Indonesian island of christian majority, which confirms that beer is absolutely legal in Indonesia and there is also domestic beer, just there isn't any here in Sambas, apparently. He says he just drinks when he comes back home for holidays… we will discover shortly that he could find beer way much closer.
Liked this article? Share it!
Have thoughts about it? Comment!
Our previous adventures in Borneo
pt1: from Kota Kinabalu to Tenom, crossing the Crocker range
pt2: Jungle Train, from Tenom to Beaufort
pt3: crossing Brunei by bicycle
pt4: around Miri, Lambir Hills and Logan Bunut national parks and Tusan Beach
pt5: the caves of Niah National Park
pt6: from Belaga to Kuching by boat
pt7: Kuching and Bako National Park
pt8: Rafflesia in Gunung Gading National Park
pt9: Overland Border crossing from Sarawak into Kalimantan, the secret Aruk border
pt10: Sambas, the wooden Venice of Indonesian Borneo (you are here)
Reportages
Chap Go Meh in Singkawang:
piercing yourself with swords to please your Gods
Hydroelectric devastation in Borneo
part 1: Interview with SaveRivers
part2: a visit to Sungai Asap
here are some general hints to budget travel in Borneo (by bicycle or not)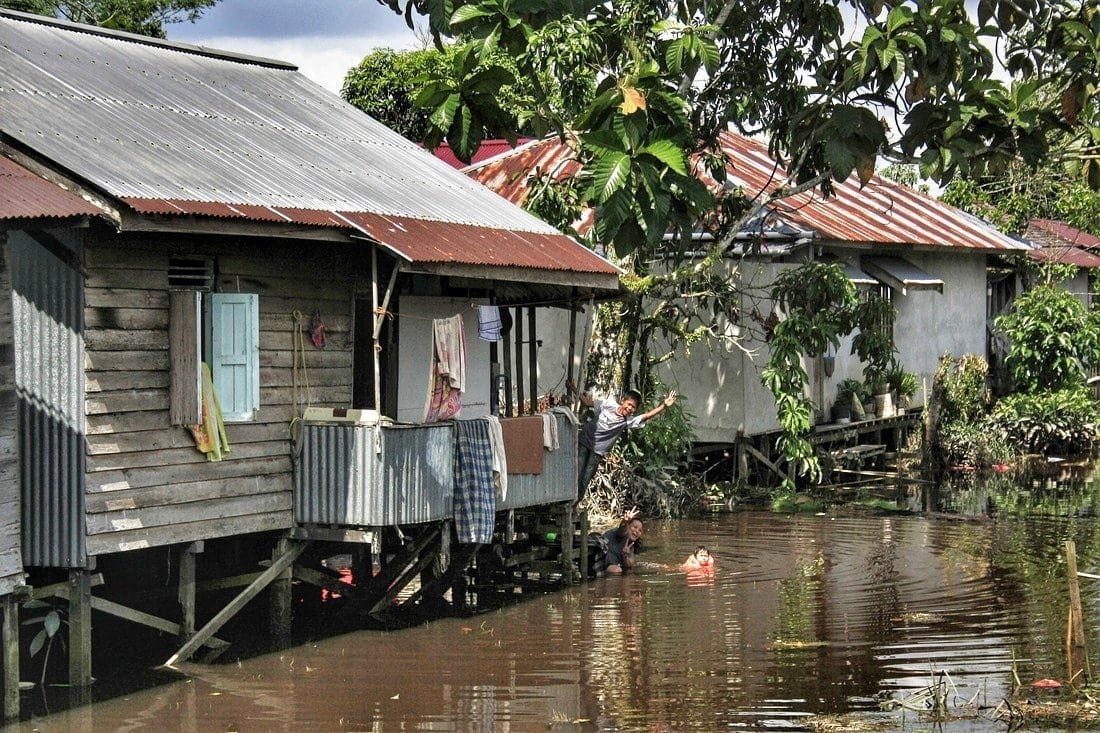 Space lapse Aruk to Sambas – a picture every 200m
The map of our trip from Lundu to Singkawang through Aruk and Sambas
Stay in touch while we get lost! Follow us on Social Media