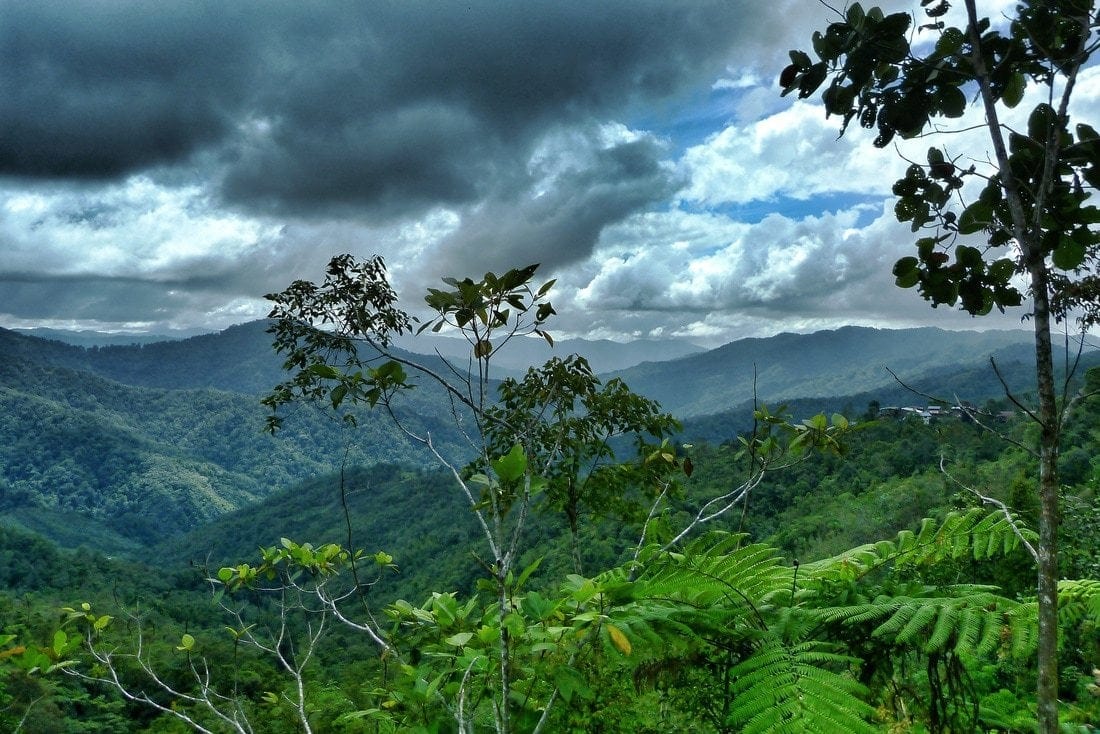 Crocker Range – a cycling adventure n the mountains of Borneo
Covered in lush green rainforest, the Crocker Range is a steep chain of mountains separating the east coast and west coast of Sabah. The Crocker is the only real mountainous area in Malaysian Borneo, at an average height of 1,800 meters (5,900 ft). Mount Kinabalu, one of the highest mountains in Southeast Asia, is part of this range. Part of the range has been gazetted for protection as Crocker Range Park since 1984.
There's a Rafflesia center here, where it's possible to see the biggest flower in the world, as well as many hiking opportunities. One of the less known things to do in Borneo.
This article is part of our "DIY Adventure Travel in Borneo" series. We crossed the northern part of the island from Kota Kinabalu in Sabah (Malaysia) to Pontianak in Kalimantan (Indonesia), crossing Brunei and the Malaysian state of Sarawak, in a combination of bicycle touring (mostly), boats and train (very short one). Check this if you want to know about cool cycling routes in peninsular Malaysia. 
Although the stereotypes of wilderness most people have about Borneo will crash against the sea of palm oil plantation, the third largest island in the world is still worth visiting. Adventure can still be experienced and people here are amongst the most amazing we ever met.
This is the detailed description of the 1st part of our itinerary. Links to the other parts are at the bottom of this page, together with a map of the route with elevation profile, and a street level photo map of the journey.
Here are some
things to know travel Borneo on a Budget
21 adventurous things to do in Borneo
Kota Kinabalu
Disclosure: Some of our articles contain affiliate links. This comes at no additional cost for you and helps us keep this website up and running. (as Amazon Associates we earn commission from qualifying purchases)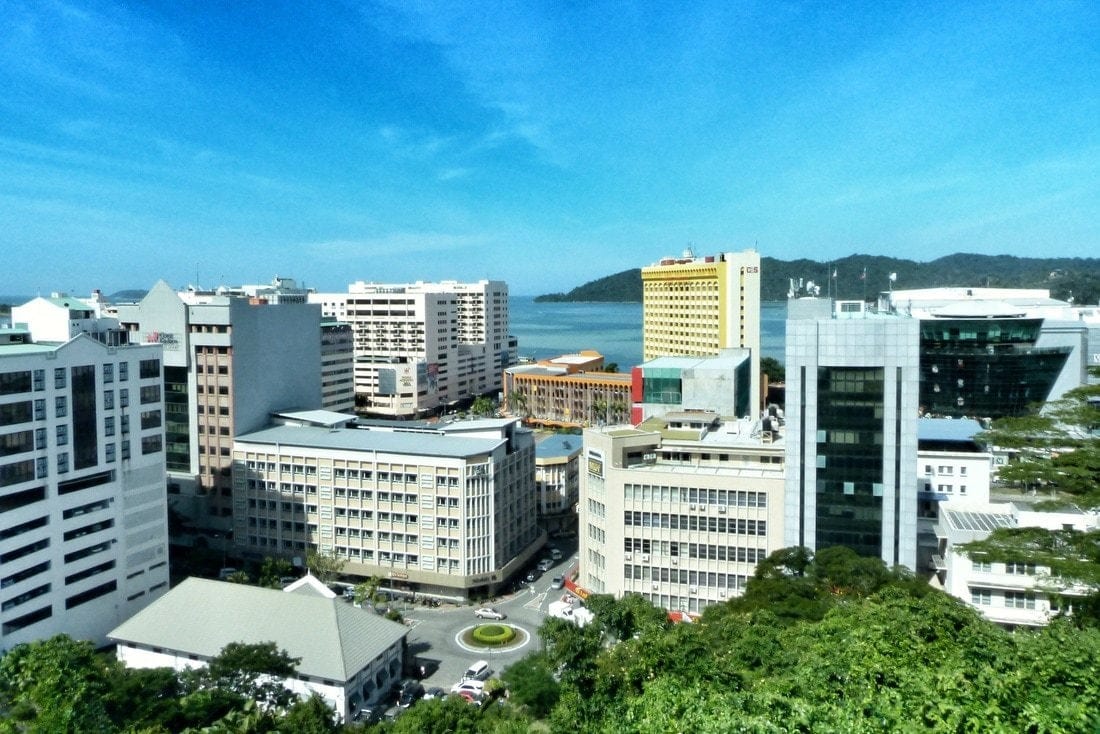 We began our bicycle tour of Borneo in Kota Kinabalu, the capital of Sabah state, in the north-east of the island. Kota Kinabalu itself is not a great city, there's a beach but a stream of sewer cut it in half, I won't bath here. The good beach is inside the university campus, a beautiful and big green area with some real rainforest and a white sand beach. You may be asked the documents at the gate but the security will hardly make any problems. Other things worth checking out are the City Mosque and the so-called Filipino Market.
From the hills around the city is possible to get a good view of Mt. Kinabalu, the highest mountain in South East Asia (4,095 meters). Unfortunately climbing it is incredibly expensive (not less than 100USD per person), check rates, prices and fees here. Our friend John says it's possible to bypass the checkpoint and climb it free, but you'll need the help of a local and, of course, it's illegal.
Opposite KK there are a few Island, Palau Gaya being the biggest, apparently beautiful but with a dubious reputation.
From Kota Kinabalu to Tenom: the Crocker range – 171km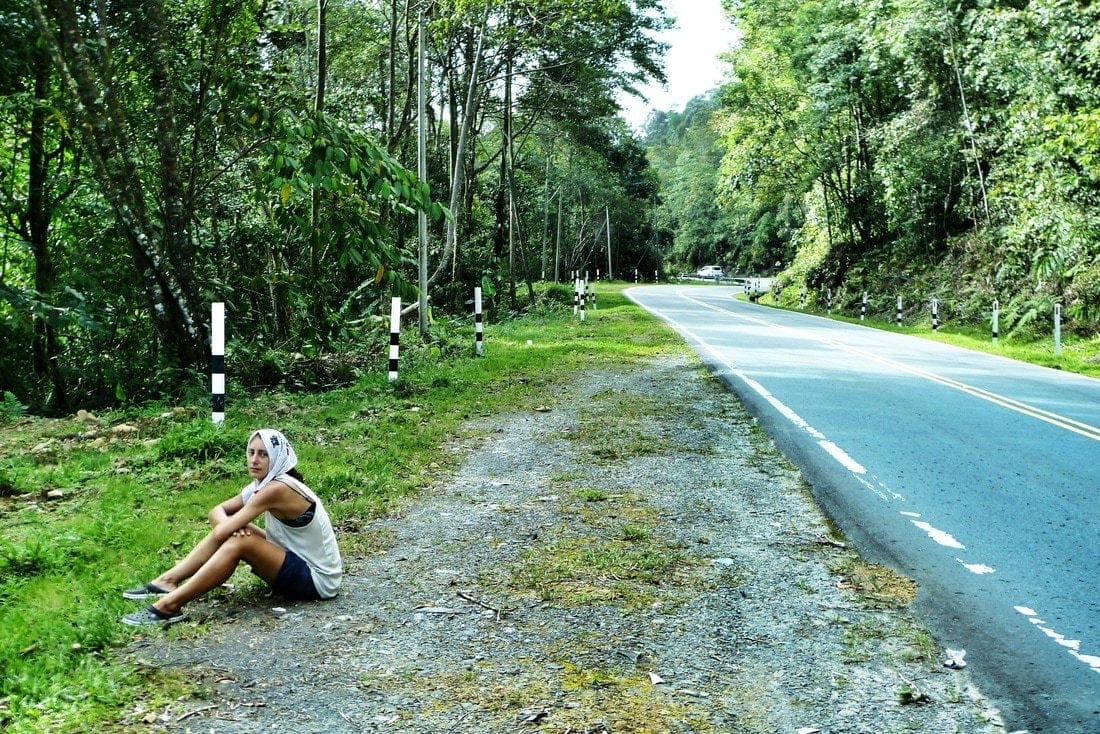 We decided instead to try a kind of climb we are more akin to, a bike one, across the Crocker Range. Many locals said we were crazy in trying this, and well, it was a very tough one!
Just outside Kota Kinabalu, the road (road 500) is suddenly in a nice countryside, following a small stream where we can bath, it's 40 Celsius, as always in Borneo.
Around 12km out of town the road begins to go slightly uphill, becoming steeper at km20 and really steep at km25. There are almost no places to camp, we pitch our tent after 5 more km, between a few dragon fruit plants along the road, careful not to touch the spikes. No places to eat or shops in this area either.
The next stretch is hell, a constant climb of 20km with an average gradient of 14%, but it's also where the landscape really become interesting, hills covered with jungle all around. Here's the one and only restaurant on this side of the mountain, miss it and you'll starve until the peak.
Reaching the highest point at 1,800msl is certainly an achievement, but you won't be rewarded with any signpost indicating the pass. Don't be fooled by the first downhill, it's just few hundred meters long, there is still a soft uphill stretch of 2km. Then the real downhill begins. It can be pretty chilly up here, especially when raining, we indeed caught a cold.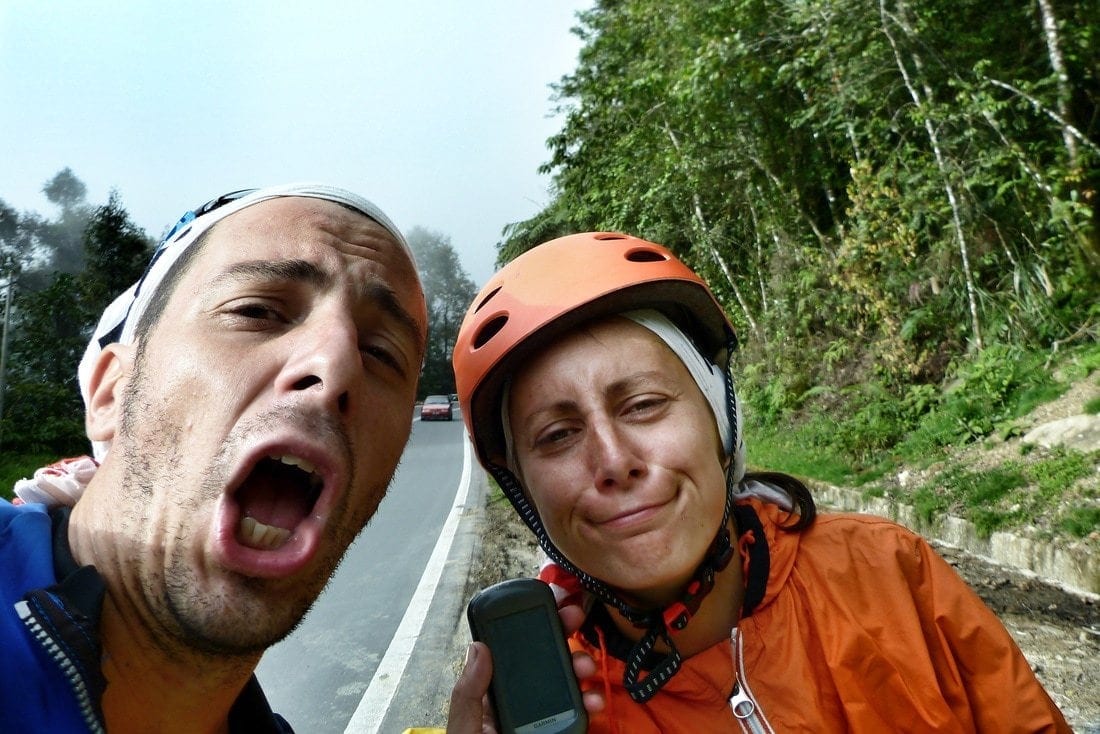 Some few kilometers after the downhill begins, there's a hotel (I recall around 30USD per night), a small shop and a restaurant, a little further is the Rafflesia center, which was closed (we later managed to see a Rafflesia at Gunung Gading national park in Sarawak).
Seven km down the top is also a botanical garden, under construction when we were here (January 2016), the gate was anyhow open so we sneaked in and set our camp in a sheltered gazebo, rain was hard all afternoon and night.
Still 13 more km of steep downhill to reach the town of Tambunan, where there's a supermarket. We crossed the Crocker!
Tambunan to Tenom
The next 20km are an easy flat, with not much to see but the beautiful sky of Borneo, which never disappoints. Then is up and down for 36km to Keningau, a fairly large town with everything you need. This stretch offers some free camping spot, we opted for a bridge to be sheltered from the night rainfall. Terrible noises though.
Past Keningau there are 10km of climb which themselves are not so hard, but the achy legs and upcoming fever made quite a nightmare to us. On the top of this hill, there are market stalls to buy fresh fruit.
The downhill is not so relaxing, still some up and down for ten km, before the last flat 20 to Tenom.
Tenom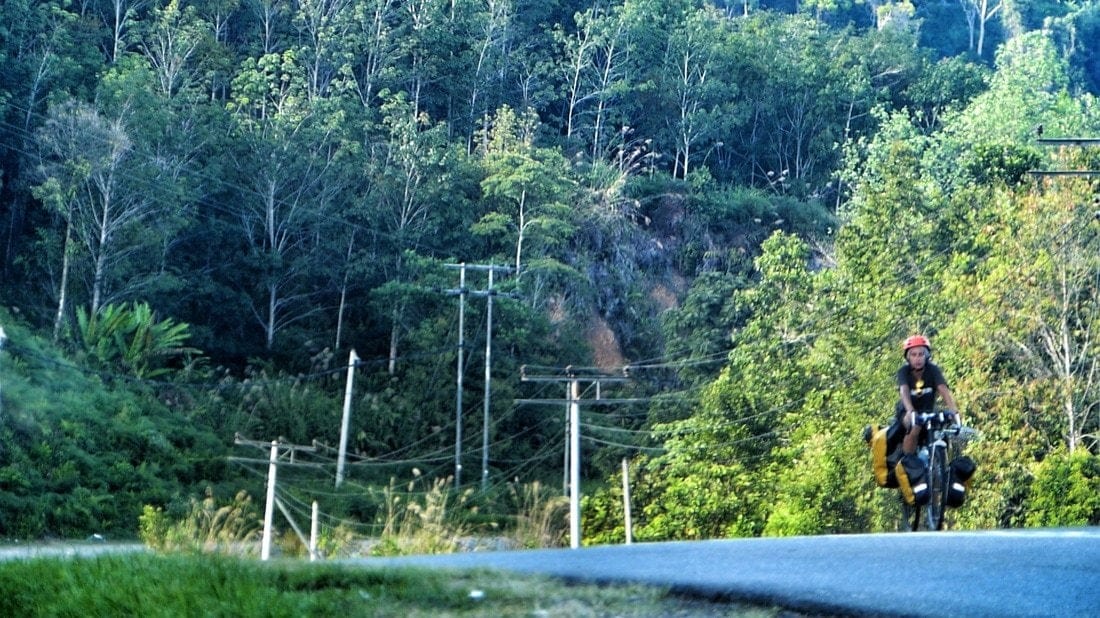 Tenom itself is not beautiful but it's an interesting place to visit. Famous for fruits and especially coffee, the best that can be done here is indeed visit the farms (Sabah Agricultural Park) and the coffee factories.
Of the 55,000 population, 60% is ethnic Murut, in the center there's a statue to Ontoros Antonom (1885–1915), who in 1915 led the Muruts against British colonists in the Rundum village of Tenom.We visited the Yit Foh coffee factory, had some great coffee for free and saw how they toast the beans in the traditional way: in iron cylinders hand-rolled on wooden fires.
From Tenom it's possible to catch the 100-year-old North Borneo Railway to Beaufort (or further to Kota Kinabalu). This is not just a train but a real experience, we dedicate a special article to this.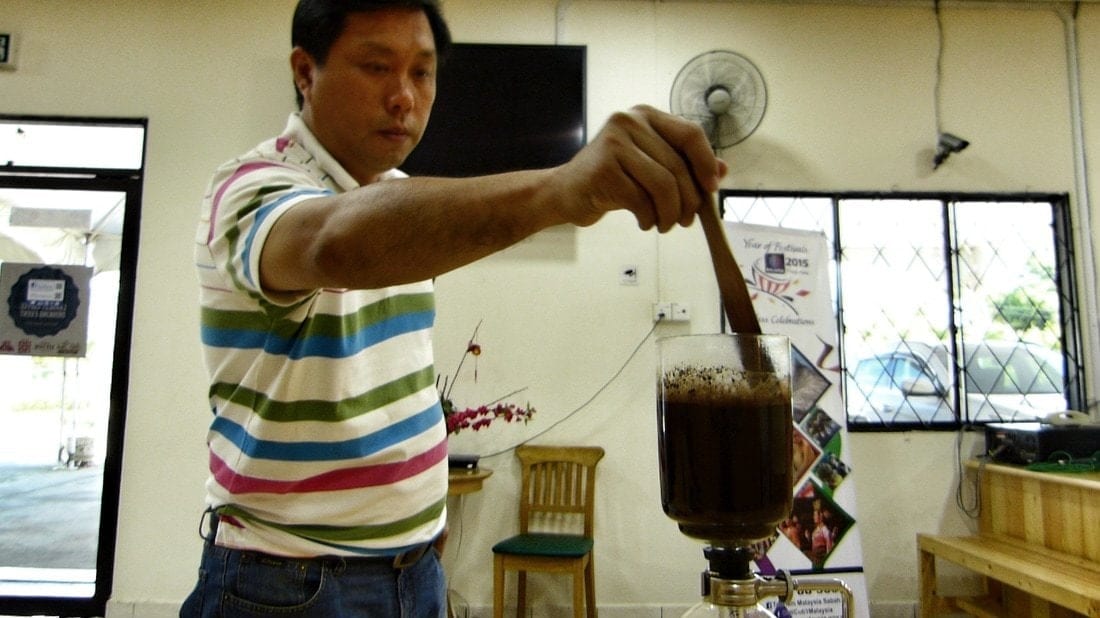 Did you like this article? Like it and share it! Do you have something to add? Comment!
Our adventures in Borneo
21 adventurous things to include in your Borneo Itinerary
in details
pt1: from Kota Kinabalu to Tenom, crossing the Crocker range (you are here)
pt2: Jungle Train, from Tenom to Beaufort
pt3: crossing Brunei by bicycle
pt4: around Miri, Lambir Hills and Logan Bunut national parks and Tusan Beach
pt5: the caves of Niah National Park
pt6: from Belaga to Kuching by boat
pt7: Kuching and Bako National Park
pt8: Rafflesia in Gunung Gading National Park
pt9: Overland Border crossing from Sarawak into Kalimantan, the secret Aruk border
pt10: Sambas, the wooden Venice of Indonesian Borneo
Reportages
Chap Go Meh in Singkawang:
piercing yourself with swords to please your Gods
Hydroelectric devastation in Borneo
part 1: Interview with SaveRivers
part2: a visit to Sungai Asap
Here are some general hints to budget travel in Borneo (by bicycle or not)
The map: Kota Kinabalu to Tenom
A photo map made with our
Automatic Road Sampler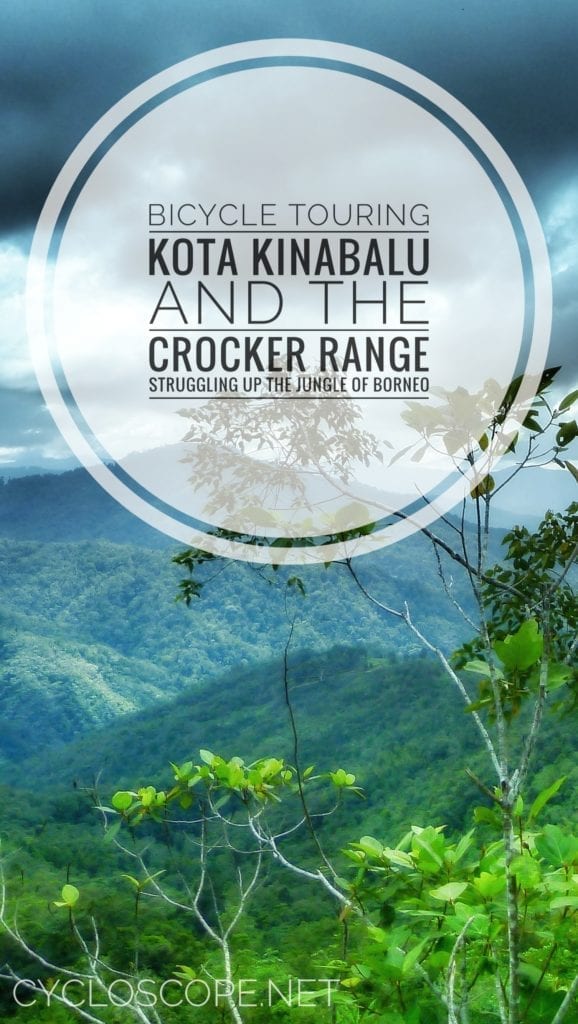 Follow Us
Stay in touch while we get lost! Follow us on Social Media