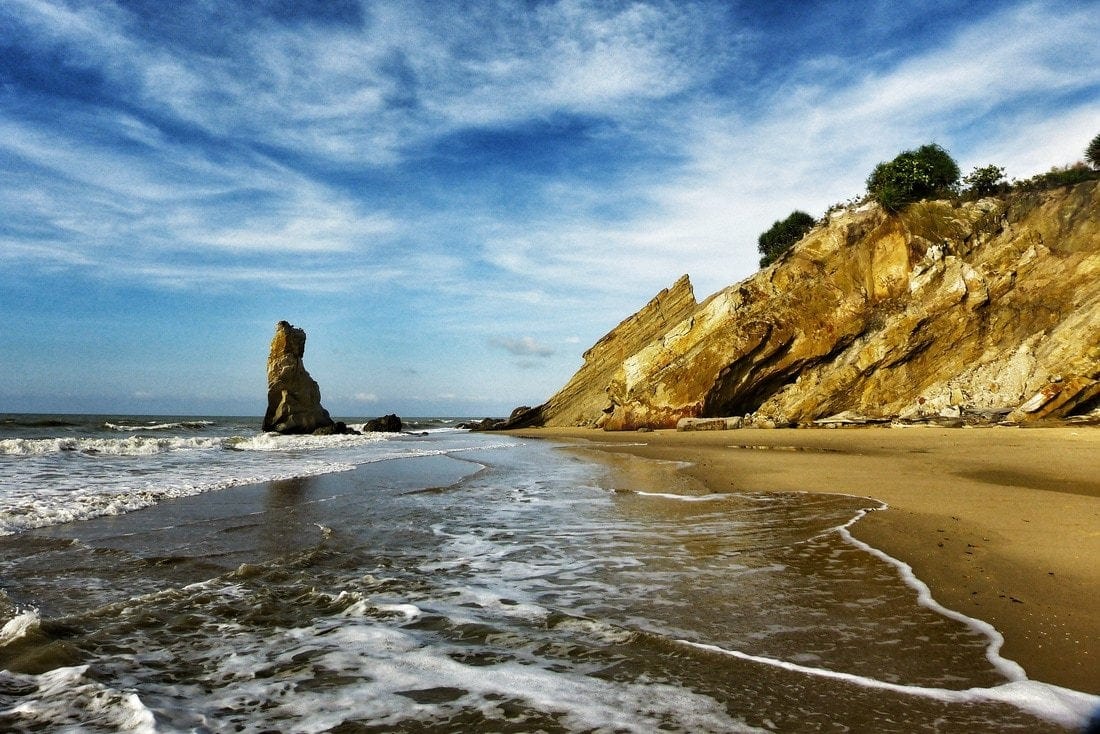 Things to do and the best Miri attractions
the perfect base to explore Lambir Hills, Tusan Beach, and Loagan Bunut
Miri is a coastal city in northeastern Sarawak, Malaysia, located near the border of Brunei, on the island of Borneo.
It's a perfect base to explore this area of Borneo, with its amazing national parks like Loagan Bunut and Lambir Hills, and other cool Miri attractions like Tusan Beach and the Hornbill Conservation Center. In this blog post, we'll go through some of the most interesting things to do in Miri.
This article is part of our "DIY Adventure Travel in Borneo" series. It's the 4th part of our Bicycle Touring itinerary with some suggestions about things to do in Miri.
Miri is the perfect base to explore the national parks of northern Sarawak, to have a glimpse of what's left of the Borneo astounding nature. Link to the other parts of our itinerary in Malaysian and Indonesian Borneo are at the bottom of this page, together with a map of this part of the route with elevation profile, and a street-level photo map of the journey.
Here are some general things to know to backpack Borneo on a Budget.
Check also
21 highlights to include in your Borneo itinerary
Few facts about Miri
Miri is the second city in Sarawak, with a population of around 240,000. To give an idea about how much the local economy is based on oil it's enough to say that Miri was founded in 1910 by Royal Dutch Shell (yes, the company).
The city itself is not spectacular, but not bad either, compared with the average meaninglessness of the Malaysian Borneo cities. There are many malls and hotels to welcome the usual weekend's visitors from nearby Brunei, who come here in search of alcohol, fun, and cheap shopping.

In Miri we also had the chance to meet SaveRivers, an NGO that is fighting against the devastating hydroelectric projects ongoing here in Sarawak for decades, you can read our interview and reportage here.
Welcomed in Miri
Disclosure: Some of our articles contain affiliate links. This comes at no additional cost for you and helps us keep this website up and running. (as Amazon Associates we earn commission from qualifying purchases)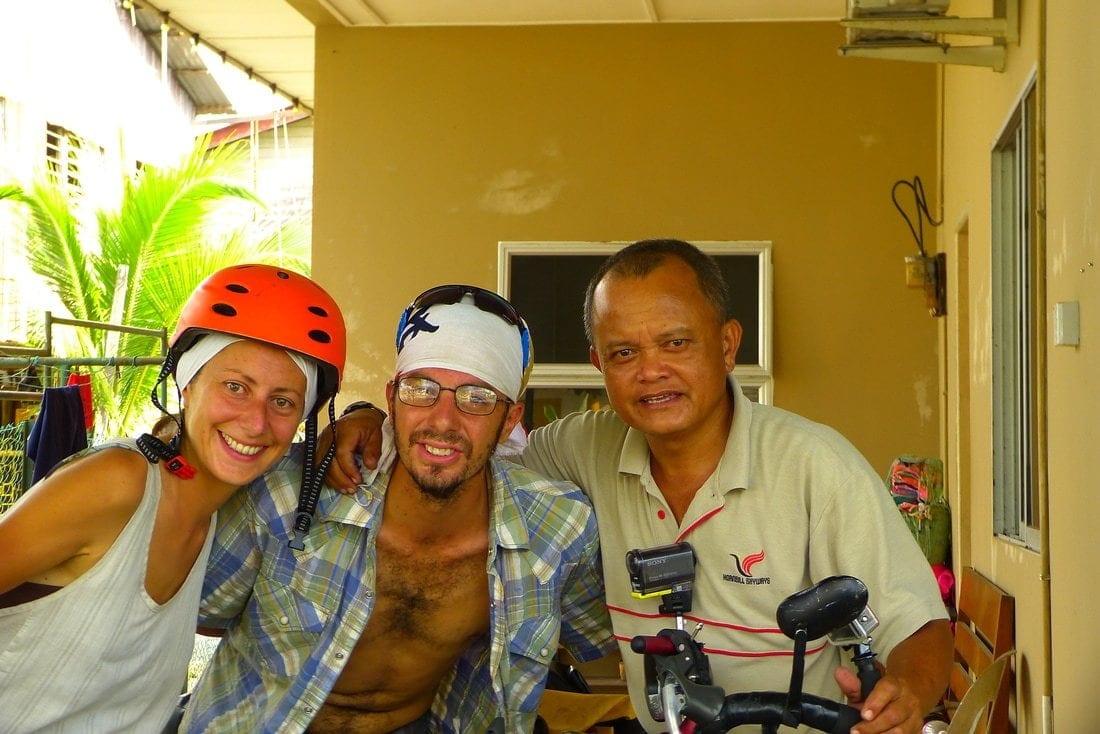 We wake up in our room with no windows, we go out and the world is still there. We're in the no-mans-land between Brunei and Malaysia.
a large, flat, and ugly road is surrounded by scorched earth to make way for other plantations. A landscape that reminds us of one of those famous pictures of lost Orangutans, like this one.
Zul, our host in Miri, approaches us by car, the city is just 25km from the Brunei border. Malaysia is the first country where we easily found via hospitality via Warmshowers.
Zul works at the small local airport and has a pretty flexible schedule, we will explore the area together for the next days, using his car and giving the bikes a rest time.
We have lunch together and then we go for a walk in the town's forest park (City Gan recreation park), a hilly park where locals go jogging, you can see the whole city from the top. There is a monument in memory of thefirst oil well of Sarawak, called the Grand Old Lady.
Back home we go to eat a pizza with Zul and his wife, we don't touch our wallet and won't touch it for the next three days…
After a good night's sleep in Zul's son's bedroom (who is now studying at the University of Kuching), we go visit the Lambir Hills National Park.
Lambir Hills National Park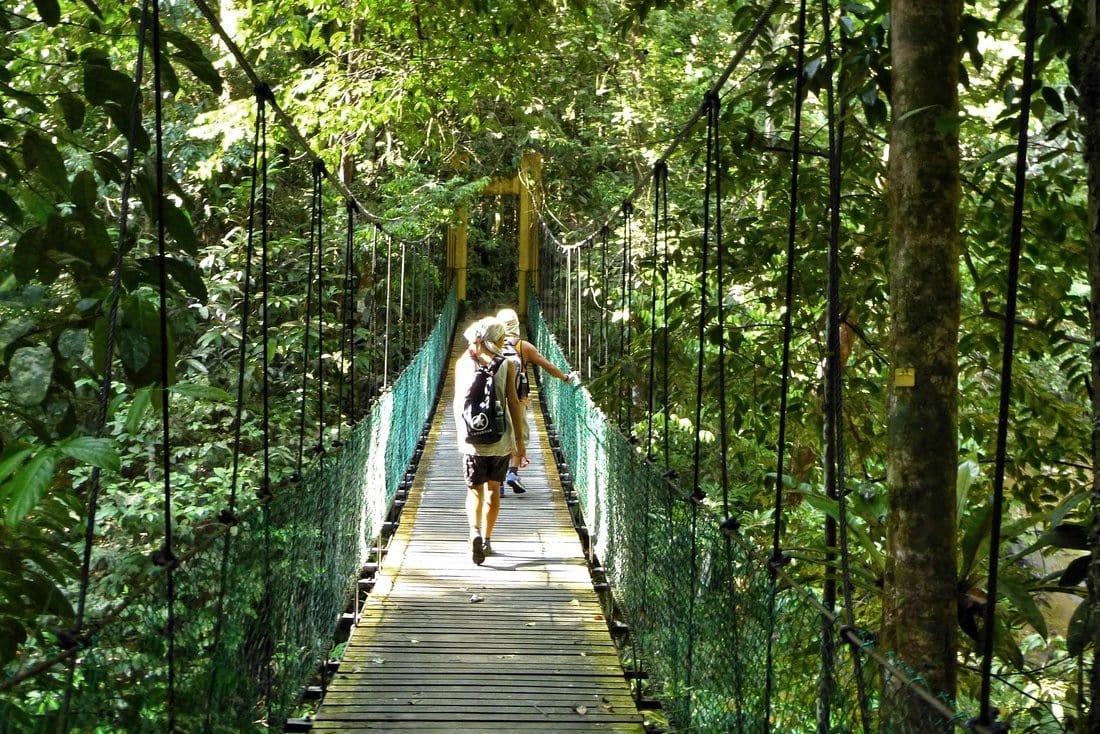 Among the best tourist attractions in Miri, this small mountainous forest park is just 30km from Miri, along road AH150, that locals call "the old road". According to the official website, this is the most diverse ecosystem in the world, too bad it's just so small and everything around is oil palms.
Allegedly many animal species live here, but actually Zul, that knows the place very well, tells us that all the big animals are gone, what's left are insects and a few reptiles, we'll just meet giant ants and a red snake of a venomous appearance. So a visit here is mainly about plants (some beautiful huge trees), waterfalls and the hiking itself.
The entrance to Lambir Hills Park costs 20 ringgit for foreigners, 10 for Malays. There are bungalows where to sleep for 40MYR, with four beds for each room it's really convenient.
The park closes at 5 pm, we arrive at 3 pm, no chances to climb to the top. Lambir Hills has two entrances to the network of hiking paths, taking the second one makes you skip a long and tough stretch, but you'll skip the big waterfall too. It's a good choice if aiming for the hilltop.
There are many paths, all interconnected to each other, but the map provided at the entrance is small and not very clear. It could be easy to get lost if you don't have a strong sense of direction, the paths are marked with colored stripes on the trees, but those are not always evident.
Hiking Lambir Hills
We first head for the Latak Waterfall, just 20 minutes of an easy trek, suspended catwalks, and rocky terrain. The waterfall is nice, some 25m high, falling into a wide and deep pond where it is possible to swim.
Zul tells us a creepy story about this pond: a few years ago, during his volunteering service as a diver for the civil protection, he was called to recover the body of a drawn kid, who ended up entangled to some roots and couldn't make it to the shore. Be careful.
There are 3 more medium-sized waterfalls in this park, all signposted. Further on the trek becomes more serious, some parts are really steep, constant up and down, the paths though are almost always immersed in the forest shade, and is often possible to cool down in the stream.
We keep on hiking pretty randomly for almost 4 hours, there's an abandoned watchtower on a treetop and some gazebos for picnics covered with ivy.
On the way back we get a bit lost, despite having a GPS, a local guide, and being used to this kind of hikes. You have been warned. Anyway, we make it back home in time for a tasty Malay dinner cooked by the super-nice wife of Zul.
Loagan Bunut national park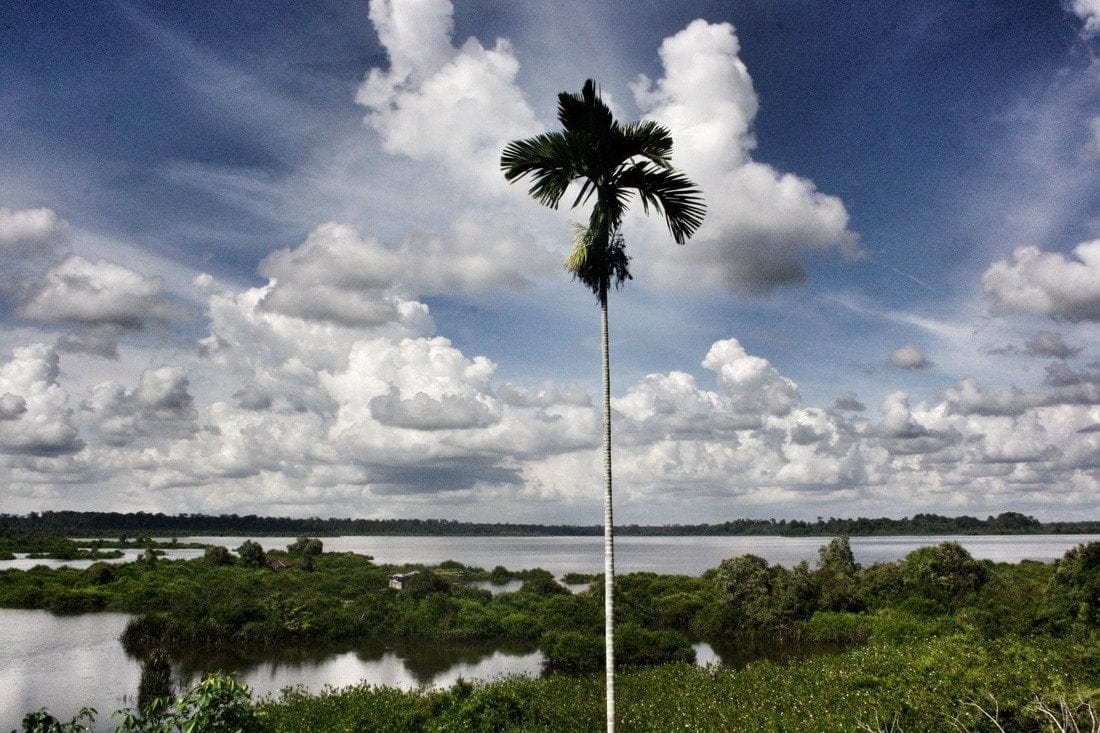 Another day, another park, now we go to Loagan Bunut National Park. Again Zul takes a day off and drives us to this lake, far away and off the beaten path.
Getting there
From Miri take the "old road", AH150 (the same that goes to Lambir Hills) for about 80 km then get into the interior, following road 4109, where there are only oil palm plantations and some longhouse, mostly newly built, probably resettlement for people drove out of the forest.
Getting to roads Q285 and then Q21 there are some climbs, especially tough is the last few km to the park. This the same road from which you can reach Bario, a remote area in the hinterland, close to the border with Kalimantan, where it is still rain-forest.
Zul did this by bike recently, it's a though dirt road, not recommended in the rainy season, but apparently quite beautiful. The Baram dam is also reached through this road.
The park – prices, accommodation and boat ride
The entry fee to Loagan Bunut National Park is 20 ringgit for foreigners and 10 for Malaysians. The boat ride costs 100MYR per boat for foreigners and 60 for locals. Since we're a mix we pay 80MYR.
The park consists essentially in the lake, so coming up here and not doing the boat ride is nonsense. The boat tour, on a small longboat, lasts about an hour and a half and is very pleasant, the scenery is beautiful and there are clouds all very different forms, as usual in Borneo the sky is the greatest of the shows.
Many birds fly around and we spot again a hornbill, majestic in its elegant fly. No crocodiles around apparently. The lake greatly changes in size from season to season, so that the landscape can change notably.
It's possible to sleep in a house floating on a raft, equipped with kitchen, a perfect fishing spot, otherwise, there's a dorm at the entrance for the usual 10MYR per bed, rooms have 7 beds each, camping fee is 5 ringgit.
A great idea that could make the overnight worth would be to rent a kayak and do some exploration on your own. You can call the park and ask if they have any available, find the contact information on the official website.
There's a basic canteen where you can get the usual Mie Goreng (fried noodles) or Nasi Goreng (fried rice).
Tusan Beach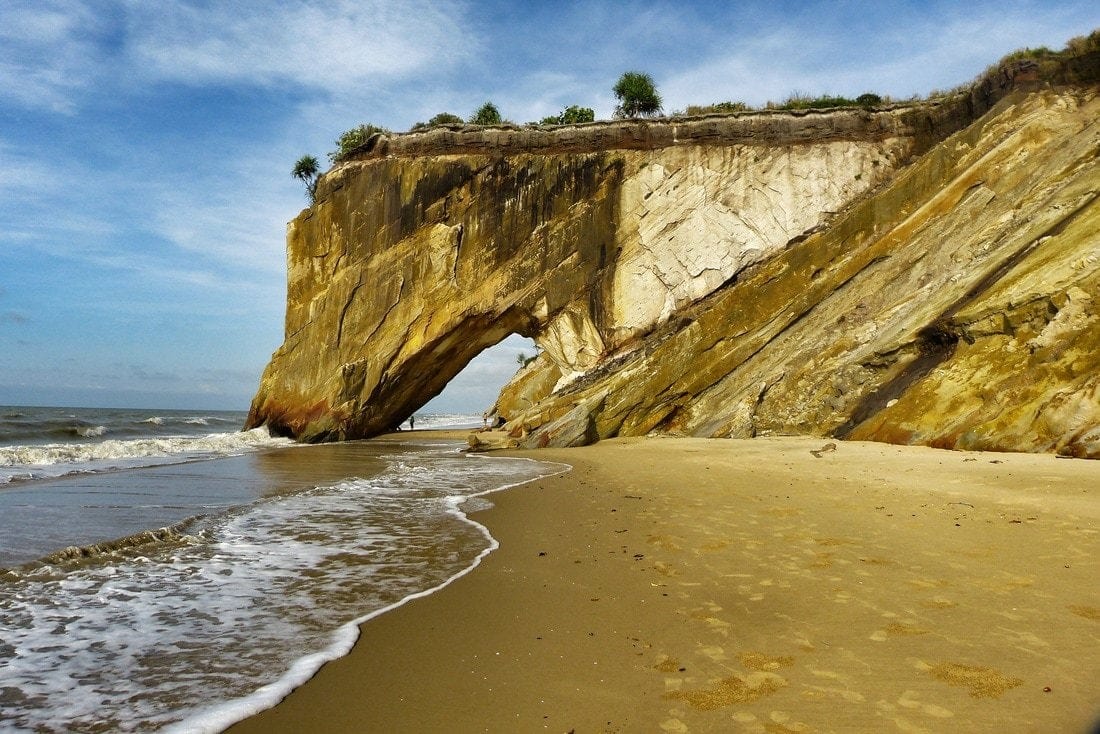 Tusan Beach is a hidden gem of the Miri province, a place still unknown to most guidebooks and therefore ignored by the tourist, not even all the people of Miri know about it. And yet it is an incredible place, maybe the best thing to see around here.
Tusan beach is a stretch of golden sand, lined at its back by a spectacular tuff cliff, forming some astounding natural features. Moreover, a rare phenomenon can be witnessed here, although unfortunately, we missed it.
During the night a blue luminescence appears in the water, a marvelous azure glowing caused by certain algae called 'Dinoflagellates' (according to the Borneo Post). Don't expect the crystal clear waters of the Perhentian Islands though, especially during monsoon season.
Around the parking area, on the top of the cliff, there are some vendors' stalls selling fruit shakes, skewers, and coconuts, we try the rosted coconut, grilled on the bonfire, basically, it just has hot water inside. These stalls though are only open during the weekends.
Tusan Beach is just 40km south of Miri along the coastal road (Q642), there's a small sign that leads to a short cul-de-sac to the parking lot. We describe this road in detail in the article about Niah caves national park.
Hornbill conservation center
For our third day in Miri, Zul takes us to visit the "hornbill house", where local zoologists take care of these funny birds.
The entrance is free, the staff is very friendly and explains to us many things, this time we cannot see the birds because she's brooding here eggs. The nest is in a tree trunk in the garden and we can only glimpse the beak from a distance.
The girl who works there tells us that several birds were killed with slingshots for fun in the last few years, and many fled in Brunei (where we indeed saw a couple). There are apparently only three couples of hornbills left in Miri province.
Did you like this article? Like it and share it! Do you have something to add? Comment!
Our previous adventures in Borneo
Bicycle touring map: from Miri to Bintulu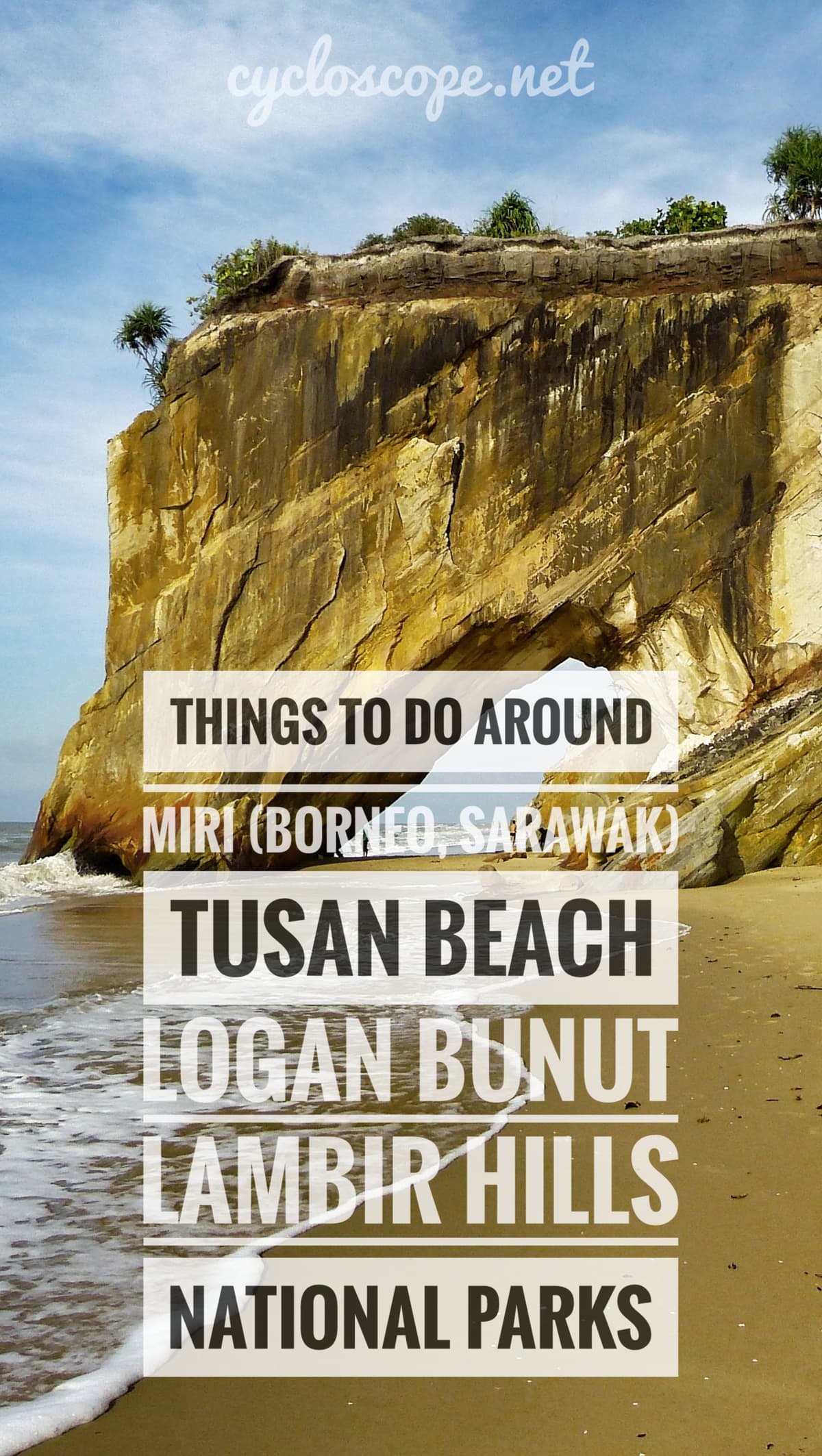 Follow Us on Social Networks
Stay in touch while we get lost! Follow us on Social Media