An adventure travel guide for a great Borneo Itinerary
31 amazing things to do in Malaysian and Indonesian Borneo
Borneo, the third-largest island in the world. Divided between three countries: Indonesia, Malaysia, and Brunei. There's certainly not a lack of things to do in Borneo for the travelers. In this blog post, we'll try to help you design your perfect itinerary in Borneo.
Borneo is a name that evokes myths of adventure, wilderness, the iconic rainforests, biodiversity, animals, and plants that can be only be found here. Proboscis monkeys, orangutan, the weird bearcat (a mix between a bear a cat indeed) and thousands of other animals.
Unfortunately, everything is disappearing to make way for oil palm plantations and nature resists only in small national parks, created recently by the Malaysian government. Even if it is already quite late, there is still something to see. Those small fragments that can give a pale idea of what Borneo used to be, just a few decades ago.
The list of things to do in Borneo presented here is certainly far from complete but contains some more off-the-beaten-path adventurous activities that are often overlooked by Borneo travel guides and most bloggers.
Check our
Hints and advice to travel Borneo, everything you need to know
Our Borneo Itinerary Map
Disclosure: Some of our articles contain affiliate links. This comes at no additional cost for you and helps us keep this website up and running. (as Amazon Associates we earn commission from qualifying purchases)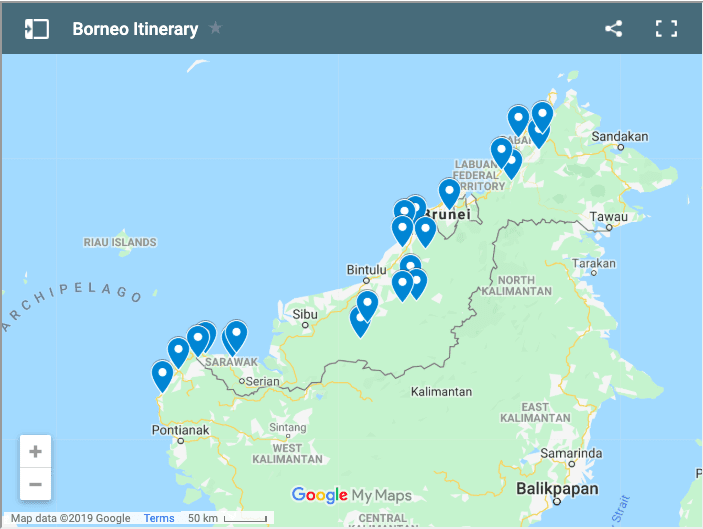 A rough two-weeks itinerary idea to adventure travel Borneo
This is a quicker version of our own itinerary through Borneo, which we feel like recommending to those interested both in the natural and cultural aspects of Borneo. It includes highlights of Sabah and Sarawak, with one day in Brunei and a scenic bit of West Kalimantan (Indonesia). It requires you to fly out from Pontianak (very close to Singkawang) or take a long dinstance ferry to Java or Peninsular Malaysia.
3 days in Kota Kinabalu, exploring the city and hiking Mount Kinabalu and the Crocker Range
1 day in Tenom to catch the Sabah State Railway
1 day in Brunei
3 days in Miri, exploring Tusan Beach, Lambir Hills, and possibly Logan Bunut
1 day in Niah National Park (overnight in the park)
1 day in Sungai Asap (Dayak Longhouses)
1 day visiting Bakun Dam and Belaga
1 day river cruising the Rajang river on the public boat (overnight in Sibu)
3 days in Kuching (Bako National Park, Gunung Gading looking for the Rafflesia)
1 day road tripping to West Kalimantan, exploring and overnighting in Sambas
1 day in Singkawang
---
10-days Borneo Itinerary in Sabah
If your time is shorter, or you want to focus on a small area and more leisurely activities, here's an idea of itinerary which includes all the best tourist attractions of Sabah, the north-eastern region of the Malaysian Borneo.
This itinerary is ideal for wildlife lovers, focusing on the unique fauna of Borneo, both marine and terrestrial. If you love diving this is the itinerary for you.
2 days in Kota Kinabalu, exploring the city and Tunku Abdul Rahman Park
1 day trip to Mantanani Island
1 day Sepilok Orangutan Center
1 day Kinabatangan River Cruise
1 day Danum Valley Conservation Area
1 day Sipadan Island
---
More Adventurous Borneo Itinerary Ideas
There's really a lot to see in Borneo, a great and affordable exotic destination worth exploring in depth.
If you love hiking and staying off the beaten path, a great idea would be to add the Mulu Caves and Mulu Pinnacles to your route. This will eat some days so you might want to consider focusing on Sarawak. An idea could be:
Flying into Kuching – 1-day visiting the city and Sarawak Cultural Village
1 overnight in Bako National Park
Flying or bus to Miri – 1-day visiting any nearby attraction (Tusan Beach, Niah Caves…)
5-days in Mulu area, visiting the caves and hiking the pinnacles
If you want to get even more into the real wilderness, you should consider exploring Kalimantan, the Indonesian side of Borneo. Very few tourists venture here, and some areas (fewer and fewer every year… so don't waste time) are still untouched and pristine. Kalimantan though, is much bigger than Malaysian Borneo, distances are huge and infrastructures lacking.
Some Kalimantan attractions listed in this article are:
Kutai National Park (East Kalimantan)
Tanjung Puting National Park (Central Kalimantan)
Sambas (West Kalimantan)
Singkawang (West Kalimantan)
Visiting all these would turn into an amazing road trip through Indonesian Borneo, you'll need to be more flexible about your schedule though.
---
Things to do in Borneo – Sabah, Malaysia
---
1. Kota Kinabalu
Kota Kinabalu, the capital of Sabah state, in the north-east of the island it is not a great city itself, but a good starting base for your itinerary in the state of Sabah. There's a beach not far from the airport, but a stream of sewer cut it in half, I won't bath here.
The good beach is inside the university campus, a beautiful and big green area with some real rainforest and a white sand beach. You may be asked the documents at the gate but the security will hardly make any problems. Other things worth checking out are the City Mosque and the so-called Filipino Market.
From the hills around the city is possible to get a good view of Mt. Kinabalu, the highest mountain in South East Asia (4,095 meters). Unfortunately climbing it is incredibly expensive (not less than 100USD per person), check rates, prices and fees here. Our friend John says it's possible to bypass the checkpoint and climb it free, but you'll need the help of a local and, of course, it's illegal.
Opposite KK there are a few Island, Palau Gaya being the biggest, apparently beautiful but with a dubious reputation. If you are after tropical paradises you might want to head to Lankayan Island, not far from Sandakan, or the famous Turtle Island of Palau Selingan.
Learn More about Kota Kinabalu
---
2. Climbing Mt. Kinabalu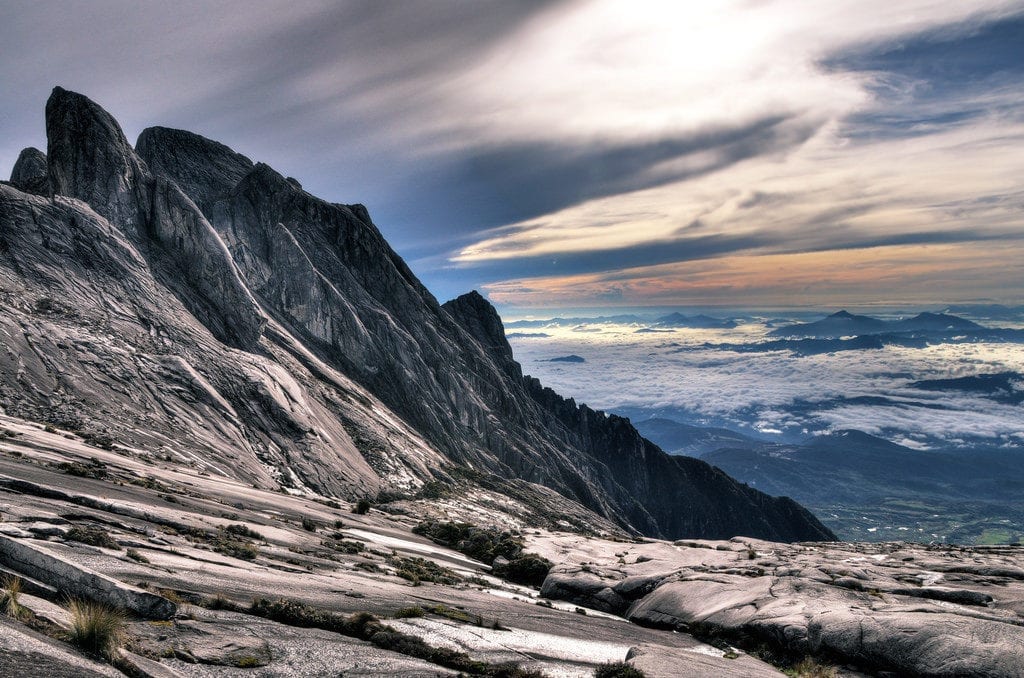 Mount Kinabalu is the highest peak in Borneo's Crocker Range and is the highest mountain in the Malay Archipelago as well as the highest mountain in Malaysia. Mount Kinabalu is also the 20th most prominent mountain in the world by topographic prominence.
In order to climb Mt. Kinabalu, you need to arrange a special permit and hire a licensed guide. This doesn't come cheap. The hike itself is long but not particularly tough. The views from the top are spectacular. One of the best Borneo adventures.
Tour options to climb Mt. Kinabalu can be found here
3. The Crocker range
Covered in lush green rainforest, this steep mountain range, separating the east coast and west coast of Sabah, is the only real mountainous area in Malaysian Borneo, at an average height of 1,800 meters (5,900 ft). Mount Kinabalu, one of the highest mountains in Southeast Asia, is part of this range. Part of the range has been gazetted for protection as Crocker Range Park since 1984.
There's a Rafflesia center here, where it's possible to see the biggest flower in the world, as well as many hiking opportunities. One of the less known things to do in Borneo. Have a look at the tours of the Crocker from Kota Kinabalu.
Read more about the Crocker Range
4. Tenom and the coffee plantations
Tenom itself is not beautiful but it's an interesting place to visit. Famous for fruits and especially coffee, the best that can be done here is indeed visit the farms (Sabah Agricultural Park) and the coffee factories.
Of the 55,000 population, 60% is ethnic Murut, in the center there's a statue to Ontoros Antonom (1885–1915), who in 1915 led the Muruts against British colonists in the Rundum village of Tenom. We visited the Yit Foh coffee factory, had some great coffee for free and saw how they toast the beans in the traditional way: in iron cylinders hand-rolled on wooden fires.
From Tenom it's possible to catch the 100-year-old North Borneo Railway to Beaufort (or further to Kota Kinabalu).
Read more about Tenom
5. Riding the Sabah State Railway
The Sabah State Railway, formerly known as the North Borneo Railway, is the only railway in the island of Borneo. This is not just a train but a real experience, a piece of colonial history, a very unusual and adventurous train ride really worth including in your Borneo itinearary.
It's a total of 134km from KK (Kota Kinabalu) to Tenom. The most interesting stretch is the 48km from Tenom to Beaufort. Following a placid river,its waters dark and muddy, where is possible to spot crocodiles, The train goes through lush tropical vegetation, some tiny houses can be seen hidden in the jungle, looks like the only way to reach these little houses in the forest is this train.
Learn more about the Sabah State Railway
More Things to do in Sabah
The above mentioned destinations are what have personally experienced, there's a few more amazing things to do in Sabah so we asked the help of fellow travel bloggers to cover all the major points of interest in this region.
---
6. Sepilok Orangutan Sanctuary – Sabah
Contributed by Leanne from The Globetrotter GP
Visiting Sepilok Orangutan Sanctuary is an absolute must-do in Borneo. With the destruction of their rainforest habitat for the palm oil industry, it's getting harder and hade to spot Orangutans in the wild in Borneo. However, you will see plenty of the cute, orange, furry apes at Sepilok rescue centre. 
Whilst it's a great opportunity for wildlife lovers to get close to these wonderful creatures, it's also an ethical centre which really helps the Orangutans. For this reason, you won't get close to the baby Orangutans (unless they are with mum) as the babies are kept away from humans for their safety and development.
The centre is open straight onto rainforest which means that many of the Orangutans are free to come and go as they please. When I was there I got to see a wild orangutan make friends with one of the rescued ones. It was super cute.
Make sure you turn up early and get a good spot at the feeding stations where you are most likely to see more Orangutans as they rock up to be fed. If they don't turn up, however, remind yourself this is a good thing as it means they are more self-sufficient and getting closer to being able to be released!
7. Kinabatangan River – Sabah

Contributed by Explore with Lora
Borneo is a paradise for nature lovers. I ended up there unexpectedly after Diving Sipidan Island and had one of my favorite experiences in South East Asia – spending two days exploring the Kinabatangan River.
The best way to visit the Kinabatangan River is to stay on an eco-lodge on the river. From there, you can take part in river cruises and guided hikes to see Borneo's incredible wildlife.
The Kinabatangan River is home two over ten different primate species, notably the proboscis's monkey and the orangutan, as well as more than 50 mammals including the Borneo pygmy elephant. More then that, there are over 200 different species of birds in the area! To say Borneo is a wildlife lovers dream would be an understatement.
The lodges are set right in the jungle, yet the rooms were kept clean and even had AC. The food choices were excellent, and our guides were knowledgeable, showing us many different species. For any wildlife lover, the Kinabatangan River is a must!
Kinabatang River cruises from reliable operators can be booked here
8. Mantanani Island -Sabah

Contributed by Lexi from A Scenic Find – Check her YouTube
Mantanani Island is a short trip away from Kota Kinabalu that is best suited for a two day trip. The island is often visited as part of a two day package with a night at the island's resort, but can also be traveled independently.
Since Mantanani is a little further away than most of the offshore islands it tends to be quieter, has better corals, and more opportunities to interact with the locals.
The main attraction on Mantanani island is the snorkeling trip which is just offshore, but accessed by boat. You can see a decent amount of fish here and the coral is looking healthy. The second best thing to do would be the sunset walk, where you walk down to the local village and watch the sunset from the jetty.
At certain times of the year you can also see bio-luminescence. The best time to see it is around September, but you can see small sparkles of blue any time of the year.
9. Tunku Abdul Rahman Park – Sabah
Contributed by Penny from Globe Trove
One of the most unforgettable adventures that we had in Borneo was island hopping in Tunku Abdul Rahman Park. Located in the Malaysian part of Borneo, Tunku Abdul Rahman park covers a part of the ocean and the islands close to the coast of Sabah.
This protected reserve houses some incredible views, gorgeous crystal blue waters, live coral and an incredible collection of marine life. Exploring the reserve can be done in many ways from scuba diving to island hoping and snorkeling. There is even a zip line between two islands if that catches your fancy.
The best place to book a trip into the park is from Kota Kinabalu. There are a variety of packages to choose from and each one covers a different set of islands. The boats leave from the jetty at frequent intervals. Scuba diving however is usually booked from individual dive companies, but their boats leave from the same company too.
All in all, Tunku Abdul Rahman Park is a great place to spend the day. Have a look here at the tour options!
10. Diving in Sipadan Island – Sabah
Contributed by Campbell and Alya from Singy Nomads
Sipadan island in Borneo, Malaysia is one of the most spectacular dive spots in the world. A massive coral wall drops 300m into the deep close to shore and currents flowing over the reef creates one of the most spectacular wall dives in the world.
At the famous dive site, Sipadan Barracuda point, divers see massive schools of barracuda on most dives that sometimes spiral around the diver to form a large 'barracuda tornado'! Schools of fish the size that swims around Sipadan is extremely rare. An enormous resident school of big eye Jack's usually engulf you on this dive and massive Bumphead Parrot fish come by in the shallows on top of the reef.
Diving here you can expect to see anything, keep an eye out for different nudis, crocodile fish, hawksbill turtles or big groups of white tip reefsharks. If you are not a qualified diver you can also snorkel with the large schools of fish around Sipadan island. There is no accommodation on the island, only day visitors are allowed. Only 200 divers a day get permits to dive here and this is strictly regulated, so book your permit in time!
Check the prices of dives and dive courses here
11. Danum Valley Conservation Area – Sabah
Contributed by James Ian at Travel Collecting
The Danum Valley Conservation Area in Sabah is one of the few areas of virgin rainforest left in Borneo. The primal jungle is incredible to be in – the mist, thick vines and enormous tree buttresses are awe-inspiring. However, the best thing to do is to take a walking safari hike through the jungle in search of wildlife.
The only accommodation in the conservation area is the Borneo Rainforest Lodge, and guided hikes and a night drive are included in the price. There is a canopy walk with walkways and staircases up in the tops of the trees where there are good chances of seeing orangutans, red leaf monkeys, and plenty of birds.
Down on the ground, there are enormous monitor lizards, flying frogs and more.  A night drive with a powerful spotlight and expert guide gives you the chance to see nocturnal animals such as lemurs, giant flying squirrels and the elusive cloud leopard. This is an incredible experience. Read more about visiting Danum Valley and the Borneo Rainforest Lodge here.
Travel Borneo – The Brunei Sultanate
---
12. Visit Brunei Sultanate
Brunei is one of the only two remaining Sultanates in the world, the other being Oman, it has the 4th GDP per capita in the world (World Bank source, 2015) and the Sultan is the 4th richest Royal (Forbes), indeed crossing into this small state the wealth difference from the not-so-poor Malaysia is astounding.
Brunei is divided into two parts, not connected to each other, both surrounded by Sarawak, we'll call them "Small Brunei" (27km) and "Big Brunei".
Although being famous mostly for its oil production, the Brunei Sultanate is home to some of the best-preserved jungle in Northern Borneo. Indeed Brunei is where we had our closer encounter with the majestic hornbills.
Learn more about Visiting Brunei
12b. Visiting The Nurul Istana Royal during Eid
Contributed by Mar Pages from Once in a Lifetime Journey
The island of Borneo has a compacted kingdom sitting on the north known as the nation of Brunei. It consists of two unconnected slices of land within Malaysian Borneo that amounts to a total area of 5,765 sqkm. Even though it's the smallest country in the region, there are enough activities to keep a traveler busy for at least 3 days.
Before going, it should be noted that it is a conservative Muslim dry country where alcohol is not permitted and dress is quite conservative. Apart from seeking the shy proboscis monkeys, being inspired by the Masjid Omar Ali Saifuddien and exploring the spectacular nature at places like Ulu Temburong, I would highly suggest going over Eid and visiting The Nurul Istana Royal Palace of Brunei.
Why do I suggest visiting over this time specifically? Well, the impressive 1,800 room royal building, considered the largest palace in the world, is only open for the three days of Eid al Fitr at the end of Ramadan. And apart from being allowed in the spectacular building, you will also get to meet the Sultan (men only) and his wife (women only) in person. You also get a cute gift of a signed card from the Sultan which makes for a great souvenir, if that's your thing.
Adventures in Borneo – Sarawak, Malaysia
---
13. Lambir Hills National Park
This small mountainous forest park is just 30km from Miri, according to the official website, this is the most diverse ecosystem in the world, too bad it's just so small and everything around is oil palms.
There are many paths, all interconnected to each other, but the map that provided at the entrance is small and not very clear. Could be easy to get lost if you don't have a strong sense of directions, the paths are marked with colored stripes on the trees, but those are not always evident.
There are many waterfalls, one of which is pretty big, and the jungle is just beautiful and dense. Visiting the jungle is surely one of the best adventures you can have in Borneo, don't miss it. You can book a tour to Lambir Hills here.
Learn more about Lambir Hills National Park
14. Logan Bunut National Park
This park consists essentially of a lake, whose size changes according to the season. The best thing to do here is certainly birdwatching during the boat ride.
The boat tour, on a small longboat, lasts about an hour and a half and is very pleasant, the scenery is beautiful and there are clouds all very different forms, as usual in Borneo the sky is the greatest of the shows.
Many birds fly around and we spot again a hornbill, majestic in its elegant fly. No crocodiles around apparently. The lake greatly changes in size from season to season, so that the landscape can change notably.
Learn more about Logan Bunut National Park
15. Tusan Beach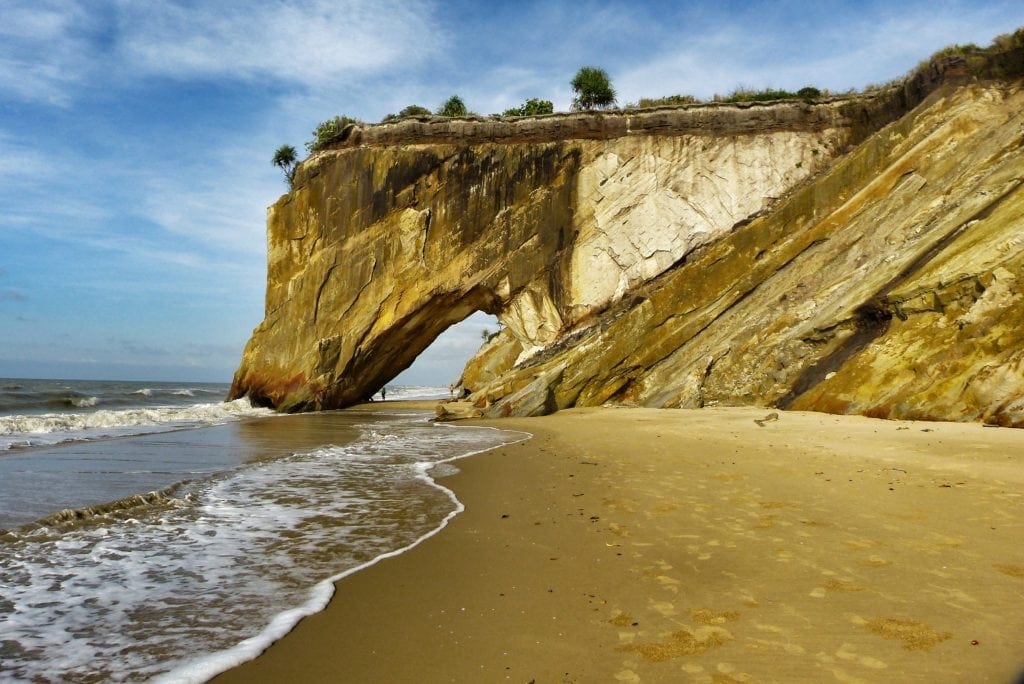 Tusan Beach is an hidden gem of the Miri province, a place still unknown to most guidebooks and therefore ignored by the tourist, not even all the people of Miri know about it. And yet it is an incredible place, maybe the best thing to see around here.
Tusan beach is a stretch of golden sand, lined at its back by a spectacular tuff cliff, forming some astounding natural features. Moreover a rare phenomenon can be witnessed here, although unfortunately we missed it. During the nigh a blue luminescence appears in the water, a marvelous azure glowing caused by certain algae called 'Dinoflagellates' (according to the Borneo Post). Book a cheap tour to Tusan Beach here!
This beach made it into our list of the best-off radar beaches in Southeast Asia.
Learn more about Tusan Beach
16. Niah Caves National Park
Niah National Park (Taman Negara Niah), is one of the highlights of Sarawak, the southern state of Malaysian Borneo, and an absolute must among the best things to do in Borneo. Not only for the jungle, the wildlife and the huge caves, but also for its seamless historical and cultural relevance, since the middle Paleolithic.
Human remaining found here have been esteemed 40.000 years old and one of the cave features paintings from the iron-age (almost completely faded). In recent years the importance of the cave for the local economy is tied to the collection of birds nest (a delicacy especially appreciated by Chinese people) and guano.
The Great Cave, which really is impressive, has one of the world's largest cave entrances. Inside the park is also an Iban village (Iban are one of the main ethnic group of Borneo Natives), where is possible to visit the longhouses and glance into the local culture.
Learn more about Niah Caves National Park
17. Visit the Sungai Asap resettlement area
Sungai Asap is the site where the people from the Bakun area have been resettled to built the huge Bakun dam. Their ancestral homes and lands have been flooded and they were sent here, in the middle of oil palm plantation, very far from both their original territories and any notable town.
You'll have the chance to stay in a house longhouse, experiencing the local lifestyle in a resettlement area, while at the same time helping these people who are struggling to make a living. You can also taste very good Tuah, a local liquor made out of different stuff, usually palm or rice, and delicious local fruits.
In our humble opinion, visiting this settlement is an eye-opening experience, and one of the best things to do in Borneo.
Learn more about Sungai Asap struggle and the environmental risk Borneo is facing due to big Hydropower projects
(These posts contain long interviews with locals)
18. Bakun Dam Reservoir and the floating market
Almost the same size of Singapore, blue water, and jungle all around, the Bakun Lake looks beautiful when you reach it, but it's not supposed to exist.
Situated 60 km from Belaga in Sarawak (Malaysian Borneo), it was created in 1986 as a hydroelectric reservoir, capable of supplying 90% of Sarawak energy demand. The dam that encloses it is the biggest dam in Asia, outside of China. To build this, thousands of natives were evicted from their ancestral lands and resettled near palm oil plantation, doomed to live a lifestyle unknown to them.
But some of them simply didn't accept that, they stayed, retiring in the jungles upstream the river, or building floating houses near the jetty. It's those people that, every Wednesday and Saturday, give life to one of the most peculiar floating markets in Southeast Asia.
Coming here is another enlightening experience to do during your travels in Borneo
Learn more about Bakun Dam.
19. Belaga Village
Belaga is a nice little town (37.000 inhabitants) upstream the Rajang river, the longest river in Borneo. There are a few guesthouses and couple of restaurants.
The town itself has some cute and colorful wooden houses in a style that is typical of this region. If you're up for a tour of the interior this is a good starting point. Ask around if you want to get a guide.
Learn more about Belaga
20. Rajang River cruise on the public speedboat
Borneo evokes myths of adventure, and a riverboat trip is a great way to see what's left of the jungle, and cast a glimpse on the traditional lifestyle of Borneo people (Dayak).
For the budget traveler though, private river cruise are not an option, but there are still a bunch of routes that are connected by public boats for very low fares.
The "fast" boat connecting Belaga, Kapit, and Sibu is probably the last public river boat in Sarawak, from Sibu though, it's still possible to get to Kuching by boat, a short part of it is through the estuary of the Rajang and the rest on the sea.
The boat ride from Kapit to Belaga is especially marvelous, quite an adventure, and it definitively makes it into the list of the best things to do in Malaysian Borneo.
Learn everything you need to know about the Rajang River public boat
21. Overnight stay in a longhouse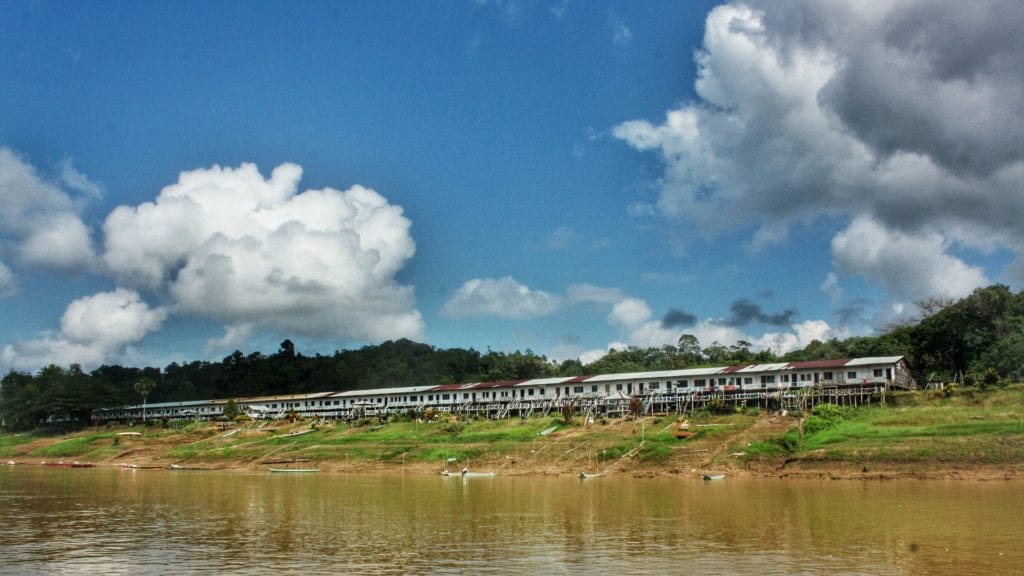 Longhouses (Rumah Panjang/Rumah Betang) are the traditional houses of Borneo natives (generically called Dayaks, which includes many different ethnic groups). Most of these are made of timber, raised off the ground on stilts and divided into a more or less public area along one side and a row of private living areas lined along the other side. This allows many families to live at close quarters, usually relatives but not necessarily.
Staying in one of those houses is a great way to experience the real Borneo lifestyle. A great area to do this are the shores of the Rajang river: the public boat does many stops at several longhouse villages where no road leads. Just go off at one of these stops and ask around, most likely someone will be willing to make an extra few bucks, if not they will probably point you somewhere else.
If you want everything organized for you, book a tour or a stay in a long house here on Viator, only reliable operators
22. Kuching City
Kuching is the capital and the most populous city in the state of Sarawak in Malaysia. It is situated on the Sarawak River at the southwest tip of the state of Sarawak on the island of Borneo and inhabited by about 325,000 people.
The life in Kuching mainly boosts around its nice riverside, called waterfront by the locals, very near is Jalan Carpenter where many hostels and bars are, a good base to explore the area.
Another highlight is its many food courts, some really big and fascinating, that make Kuching rival Penang as the food capital of Malaysia. TopSpot food court is the one closest to the waterfront and has a great an super cheap choice of almost everything, with seafood being the specialty. Kuching is the best city to visit in Borneo.
There are some great guided day-tours of Kuching, check this interesting Bike and Street Food Kuching Tour or this if you prefer walking.
Learn more about things to do in Kuching
23. Bako National Park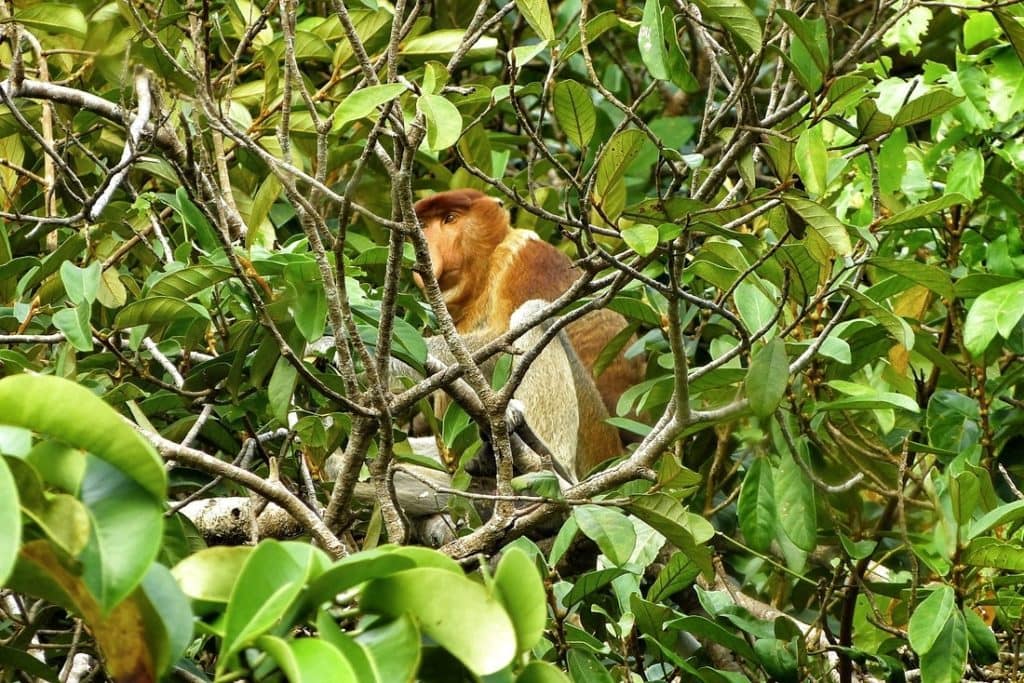 Bako National Park is the most famous park in Sarawak, and for a good reason! It's here that most rare animals can be found, such as proboscis monkeys, which can be found only in Borneo, silvered langur, plantain squirrel, Bornean bearded pig, monitor lizards and nocturnal creatures like colugo, pangolin, mousedeer, tarsier, slow loris, palm civet and many others.
Bako was founded in 1957 and is the first National Park of Sarawak, sadly it's also the smallest (but no worries there's a lot to explore). It sits on the north tip of the Muara Tebas peninsula, just 20km north of Kuching, and it's also famous for its spectacular and weird limestone rock formations.
There are many hiking opportunities and a handful of stunning beaches, it's possible (and highly advised) to overnight inside the park.
---
24. Scout for the Rafflesia in Gunung Gading National Park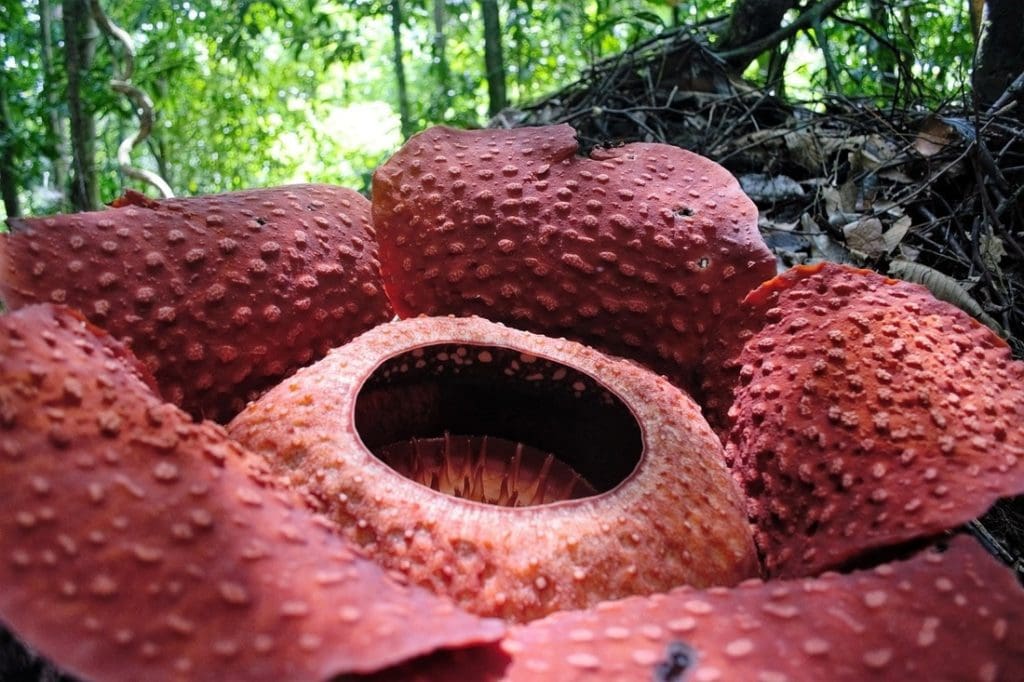 The Rafflesia is the biggest flower in the world, it's only present in Borneo, Sumatra, and Thailand. It's huge parasite flower, a flower that can exceed 100cm in diameter, and weigh up to 10 kg, a flower that takes months and months to bloom and then stays alive no more than seven days. A flower on the verge of extinction, like everything here in Borneo, plants, animals, people.
Gunung Gading National Park, just 80km from Kuching, is worth the visit even without rafflesia. There are three beautiful waterfalls where you can swim, especially number 7 is a really relaxing spot. Even if the park HQ will tell you there's no blooming Rafflesia at the moment, go anyway. They told us so but the Rafflesia was just there! Why?
Book a day tour to see the Rafflesia!
Learn about it in our article about Finding the Rafflesia in Gunung Gading National Park
25. Sarawak Cultural Village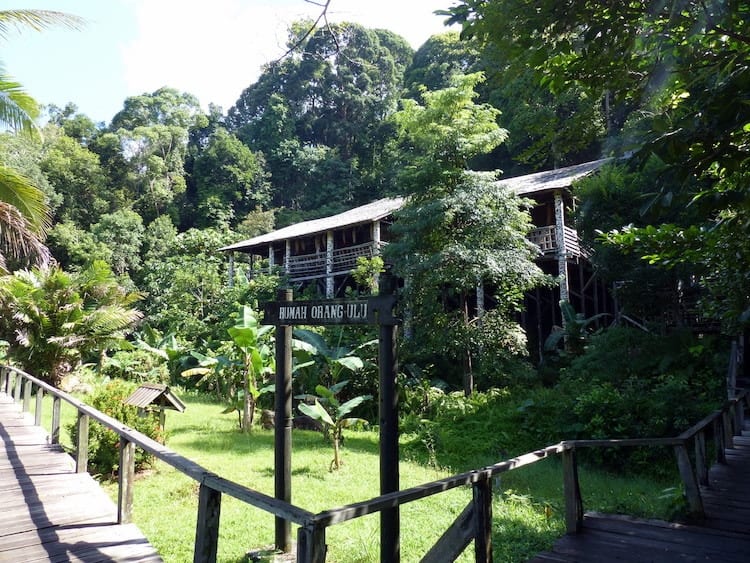 Contributed by Sharon from Dive Into Malaysia – Have a look at her Instagram
Sarawak Cultural Village is basically a big, open air museum where you can see traditional houses from all around the state of Sarawak and learn about the different cultural groups that make up this area.
Located just a 40 minute drive from the riverfront area of Kuching, it is also an easy place to visit and learn the history and lifestyle of the area for people short on time. You can explore longhouses, Malay houses and Chinese farm houses among much more.
Each building displays a traditional activity that belongs to that cultural group. These range from making traditional food to playing traditional instruments. The buildings are also home to informative guides that speak good English too.
A highlight is a 45 minute cultural show which is performed twice a day. It is mostly dancing and it is worth making sure you attend a performance. The setting for the Sarawak Cultural Village is in the jungle and it's a nice place to walk around and enjoy.
Book here your Sarawak Cultural Village Tour from Kuching
More challenging things to do in Sarawak – Borneo
Mulu area, usually accessed through Miri, is a very remote and hard to visit part of Sarawak. It features though some of the most spectacular sights in the whole island of Borneo. Visiting both the caves and the pinnacles though requires at least 5 days (including transports in and out).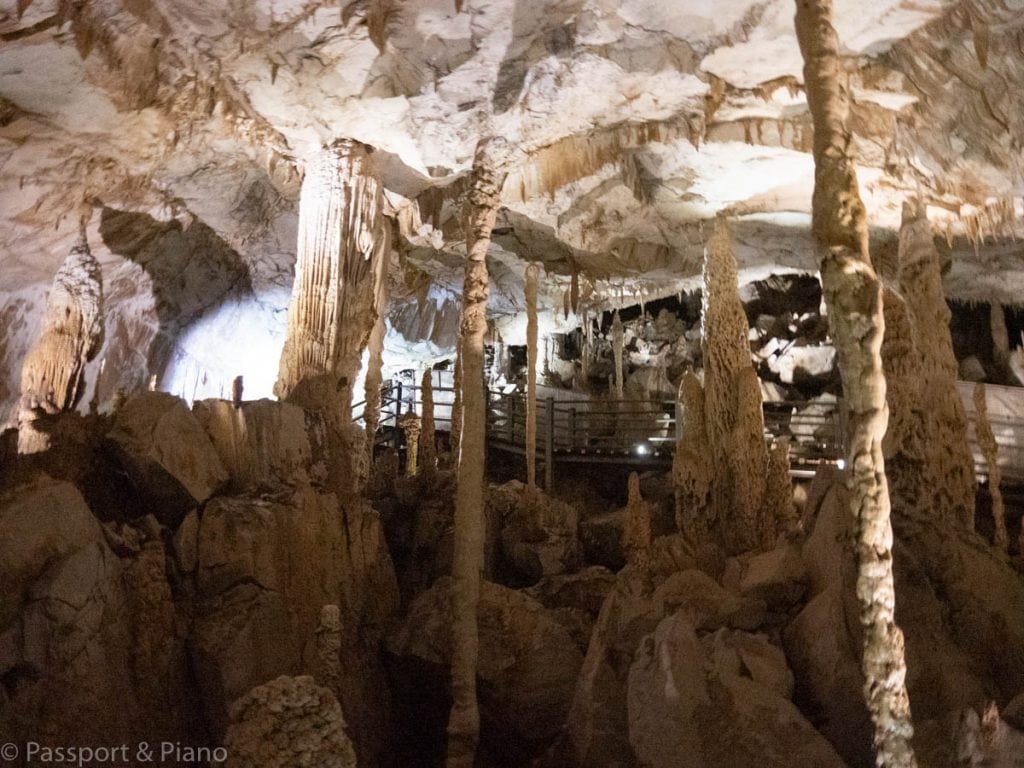 26. Mulu Caves – Sarawak
Contributed by Fiona from Passport and Piano. Check her Facebook page
Mulu National Park is in the far north of Sarawak, and it's one of Borneo's most remote destinations. It is, however, easily accessible by plane from Kuching or Miri. For the more adventurous you can take a two-day trek through the jungle along the Headhunter trail to reach the area.
The Unesco protected Mulu Caves are the reason this National park is worth a visit. There are four show caves that you can visit on tours organised by the park office. 
The trip to Deer Cave is the most popular. The cave has the most extensive cave passage that you can visit in the world, and it's home to a massive population of bats. Inside you'll the limestone structures are stunningly beautiful and there's also a unique garden, known as the garden of Eden.
The park has a wealth of trails and boardwalks that you can explore through the rainforest. The tree canopy walk is the most popular and stretches for 480 metres. The rainforest views from the canopy are stunning, and it's interesting to see what lives in the upper layers of the jungle.
For outdoor enthusiasts, longer trails like the three-day hike to the Pinnacles are also possible. The Pinnacles are a unique collection of limestone spikes in the heart of the jungle that are an utterly awe-inspiring sight.
Click here to find tour options both for the caves and the pinnacles
26b. Mulu Pinnacles – Sarawak
Contributed by Oksana & Max from Drink Tea & Travel. Follow their adventures around the world on Facebook
If you are looking for an adventurous activity in Borneo, than a hike to Mulu Pinnacles is definitely one to add to your list. Most travelers to Borneo head to Mulu National Park to explore Mulu Caves, but few adventurous souls take on the challenge of hiking to the top of the Pinnacles. 
The 3D/2N hike itself isn't actually all that bad, but it does require above average level of fitness to complete. The journey to the Pinnacles starts at the Clearwater Cave with a 2-hour boat ride and a 2-hour hike to Camp 5 which serves as the base camp for this hike. Travelers stay at Camp 5 overnight and leave everything but their day packs there before their summit to the Pinnacles. The toughest day of the hike is Day 2, when you take on a 10-hour return hike to the Pinnacles, scaling boulders and sharp rock cliffs for a good chunk of the hike.
Strong leg muscles and a bit of grit is enough to make it to the top, where the view is quite spectacular. It's definitely a journey that any adventurous traveler will love!
Click here to find tour options both for the caves and the pinnacles
Things to do in Indonesian Borneo – West Kalimantan
Kalimantan is much more challenging to travel compared to Malaysian Borneo, less infrastructures, less tours… everything is harder here, but also more intense, wild, and adventurous. Kalimantan is a great place to get out of your comfort zone into a journey of a lifetime.
English in the Indonesian part of Borneo is instead almost non-existent. I mean you could find some young people who can speak, but don't count on it.
A good tour (not cheap though) to get in touch with the local culture is this one. Another great option would be to book a full tour that crosses the whole region, check this out!
---
27. Take a road trip through the dirt roads of West Kalimantan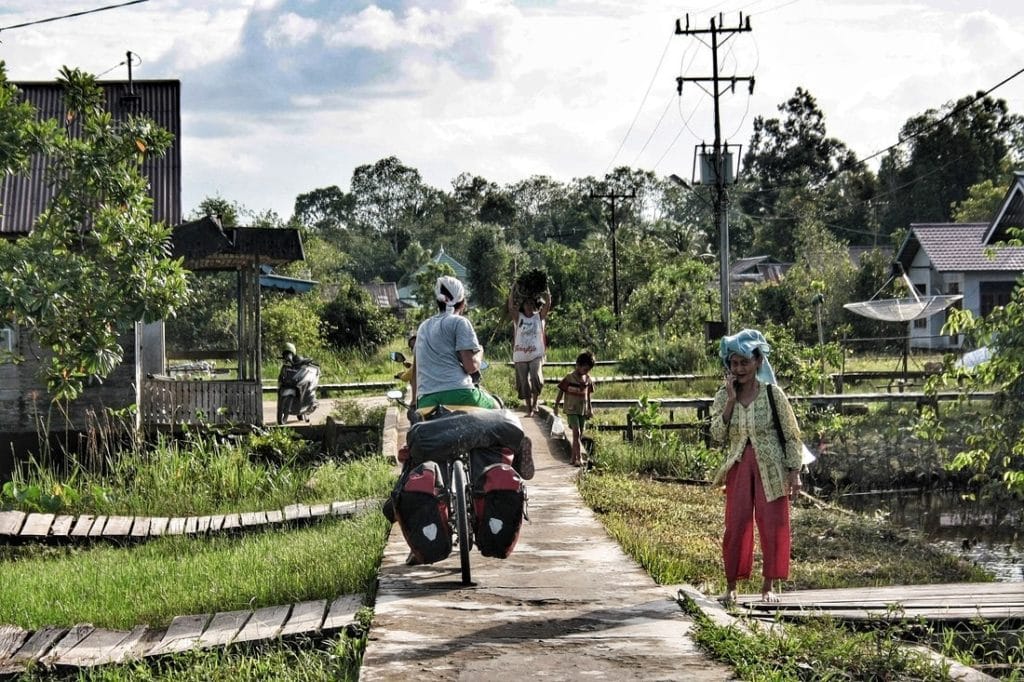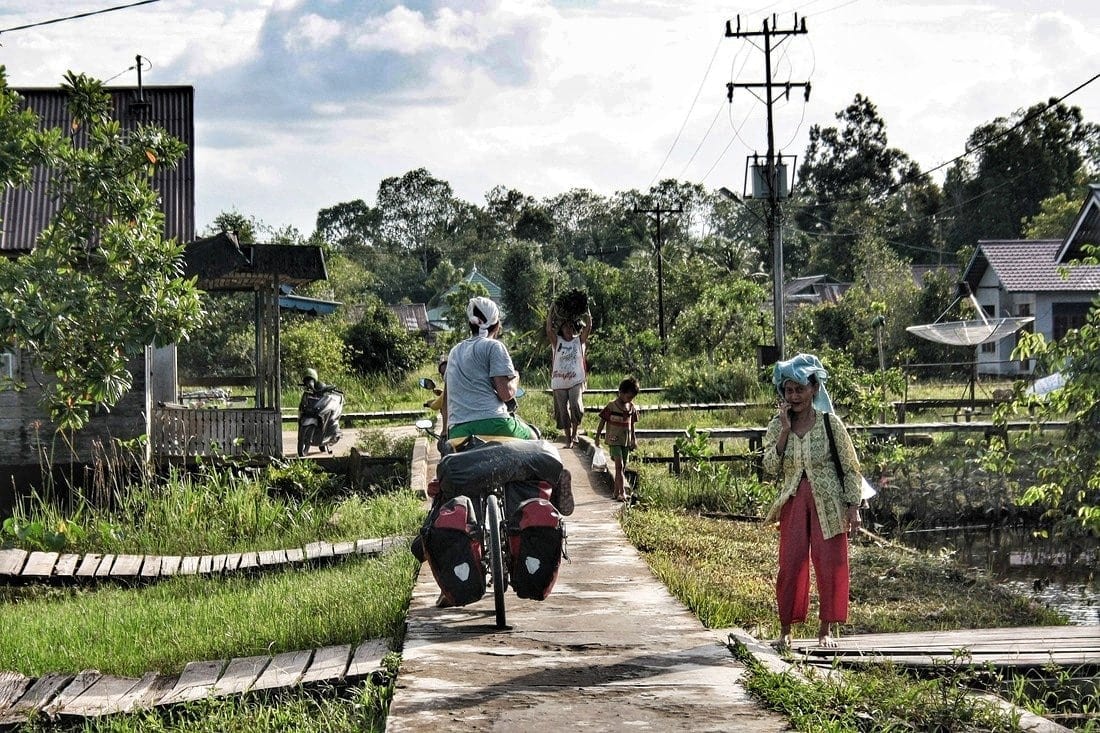 As far as we could figure out, there are three international overland border crossings between Sarawak (Malaysia) and Kalimantan (Indonesia):
the busiest and biggest at Entikong (ID) – Tebedu (MY), on Malaysian H21 south of Serian
the small Lubok Antu (MY) – Nanga Badau (ID), next to the reservoir of Batang Ai
The little known Aruk (ID) – Biawak (MY), near Lundu
The only border where you can get Indonesian Visa on arrival is the Entikong – Tebedu, for all the other options you should have a visa already in your passport. If you already have an Indonesian visa, our advice is to absolutely cross the Aruk border.
Nature, landscapes, and people change immediately once crossing the border. Everything is wilder in this area. reaching towards Sambas you can visit some astonishing and unknown floating villages.
---
28. Sambas, the Venice of Borneo
Sambas (West Kalimantan, Indonesia) is a small city at the crossing of three rivers, it was an independent sultanate until the foundation of the Indonesian Republic, and has recently been the theater of a horrible massacre.
This place is unknown to most tourist guides but is wonderful. The side streets are suspended wooden walkways and even the houses are suspended on stilts. Everything is built along the river and often on the river.
You can visit the sultan's palace (Istana Alwatzikhoebillah) but the beauty lies in the rest of the city. People bath, brush their teeth, and children plunge into this great river.
Learn more about Sambas
29. Singkawang, the city of the spirits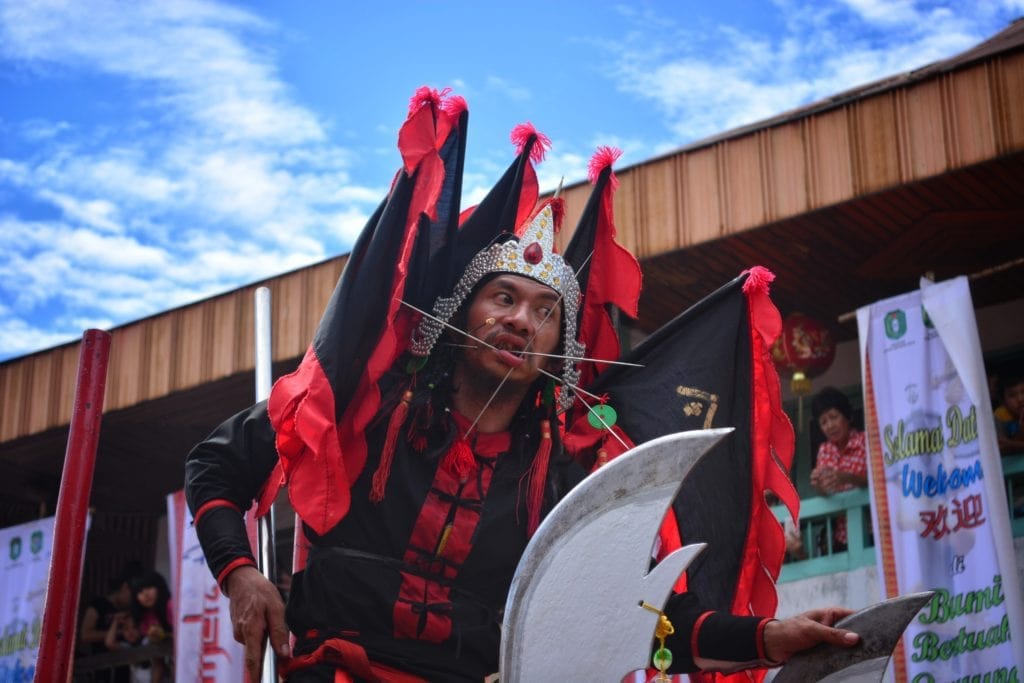 Singkawang is nicknamed the "city of a thousand temples" and really has a thousand temples, large, small and microscopic. It's Taoist Chinese majority town, The Chinese settled here more than three hundred years ago, as miners and traders, and had become Indonesian citizens since generations.
The city itself is very peculiar, with its porched streets, scattered temples, and overall Chinese atmosphere. On the fifteenth day of the Chinese New Year, an incredible religious festival is held here, called Cap Go Meh.
The streets must be metaphysically cleaned to be ready to welcome the new year. On the fourteenth day of the Chinese New Year, believers go to pray in all the temples of the city and surroundings. On the fifteenth day, the Tatung, as they are called in Indonesia, are possessed by the spirits. Falling into a trance, they sit on sharp blades and pierce their faces with various tools.
This is one of the most intense festivals we've ever seen, and a must among the things to do in Borneo, so much so that is worth planning your trip according to it.
30. Kutai National Park – East Kalimantan
Patricia from Ze Wandering Frogs – Instagram.com/zewanderingfrogs
When thinking about Borneo, the lush, thick jungle comes to mind. Indeed, the largest island in Asia features one of the oldest rainforests in the world, that the endangered Bornean orangutans call home.
Deforestation and palm-oil plantations have gradually reduced their natural habitats, though national parks, Rescue and rehabilitation centers help preserve a few remaining habitats.
Among these protected areas is the little-known Kutai National Park, one of the four different national parks where to see orangutans in Kalimantan, the Indonesian side of Borneo.
According to the park rangers, about 600 wild orangutans live in the Kutai, with around 30 close to the lodge. After decreasing in the 2000s, their number has been steadily increasing since, a testament to the conservation efforts done by the park.
During our two days there, we managed to see several orangutans, from young males showing territorial behavior, mums feeding high in the trees, babies playing and jumping from creepers to creepers. A male even came a short distance from our lodge, where we spent hours watching feed on ripe fruits. What an incredible sight, an experience of a lifetime!
Located closed to Samarinda, two entrances led into the Kutai National Park. The easiest is via Sangkima, the other is via Prevab which is more remote and thus less visited, The 20-minute boat ride on the Sangatta River adds to its appeal, and we recommend Prevab as the preferred entry point.
Here's a tour of Kutai National Park, book it now!
31. Tajun Puting National Park – Central Kalimantan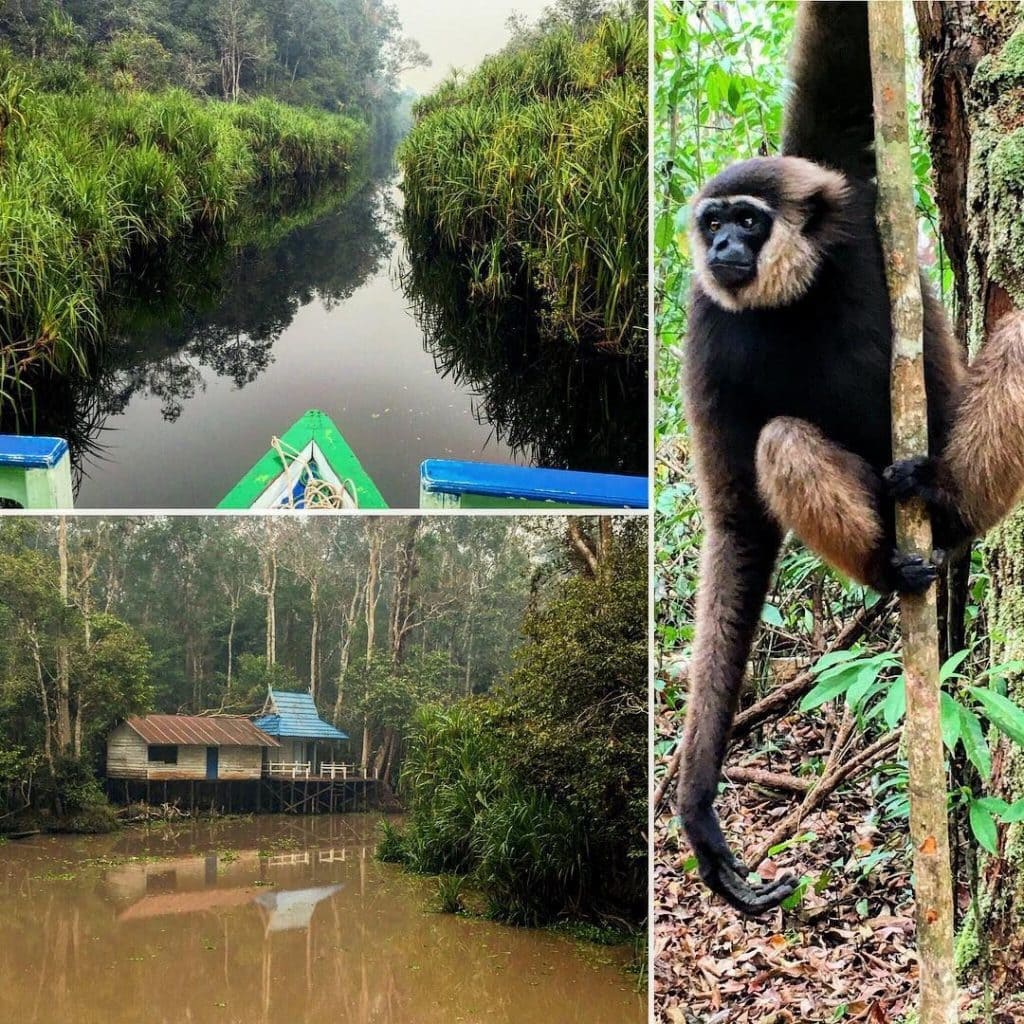 Contributed by RoadGoat – facebook.com/roadgoat
What's more fascinating than taking a boat tour in a jungle and getting to feed orangutans? Well… the Tanjung Puting Klotok tour! Exploring the breathtaking natural wonders of Borneo, this tour is an excellent experience for those who love nature and exploration! There are different types of the tour offered regarding the amount of days/nights you book.
Typically, the tour boat begins at the Kumai River, where you'll likely see several kinds of primates and other animals (especially birds). In fact, you might come across orangutans, gibbons, monkeys, or proboscis monkeys — which are unique to Borneo!
Before you reach the park, you'll stop at a local village, where you can experience their culture and traditions. There will also be a night hike experience after you've eaten — food is cooked and served on the boat! You'll most likely see around ten types of primates before you arrive at Tanjung Puting National Park.
From there, the guide will take you to three different locations to feed the orangutans. Get your camera and watch in awe as the guide's loud orangutan call causes hungry orangutans to emerge from the trees for food! But that's not all — when night falls, you'll sleep on the boat, cradled by the sounds of the sleeping jungle.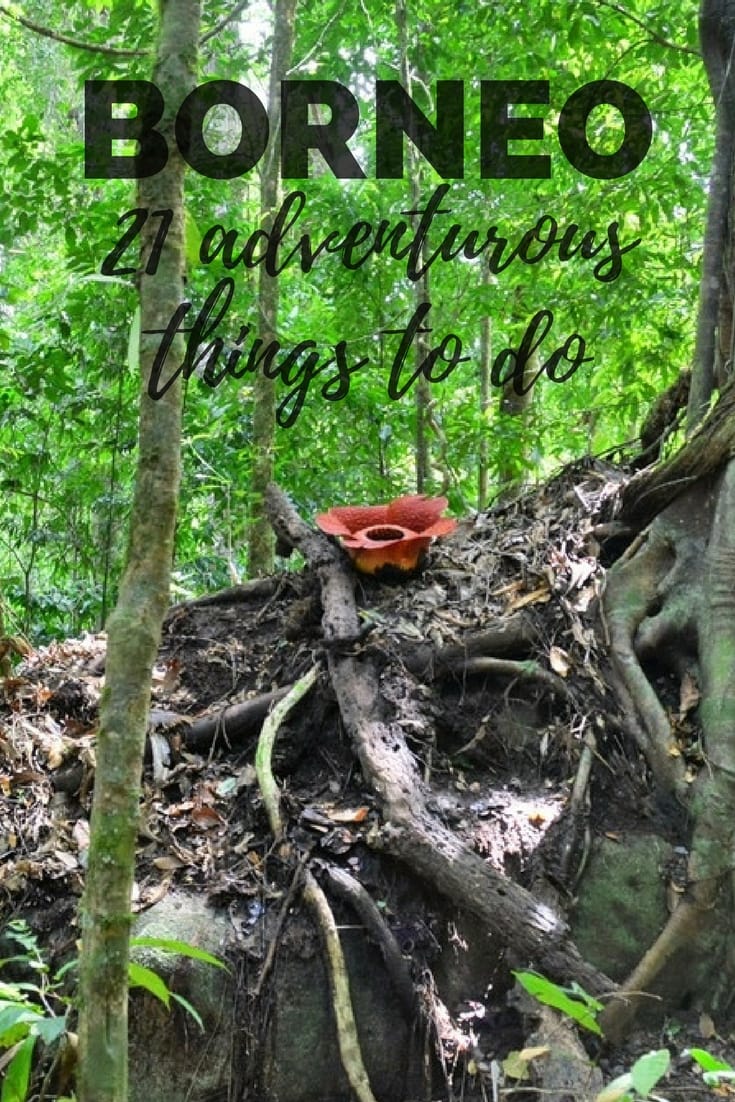 Stay in touch while we get lost! Follow us on Social Media