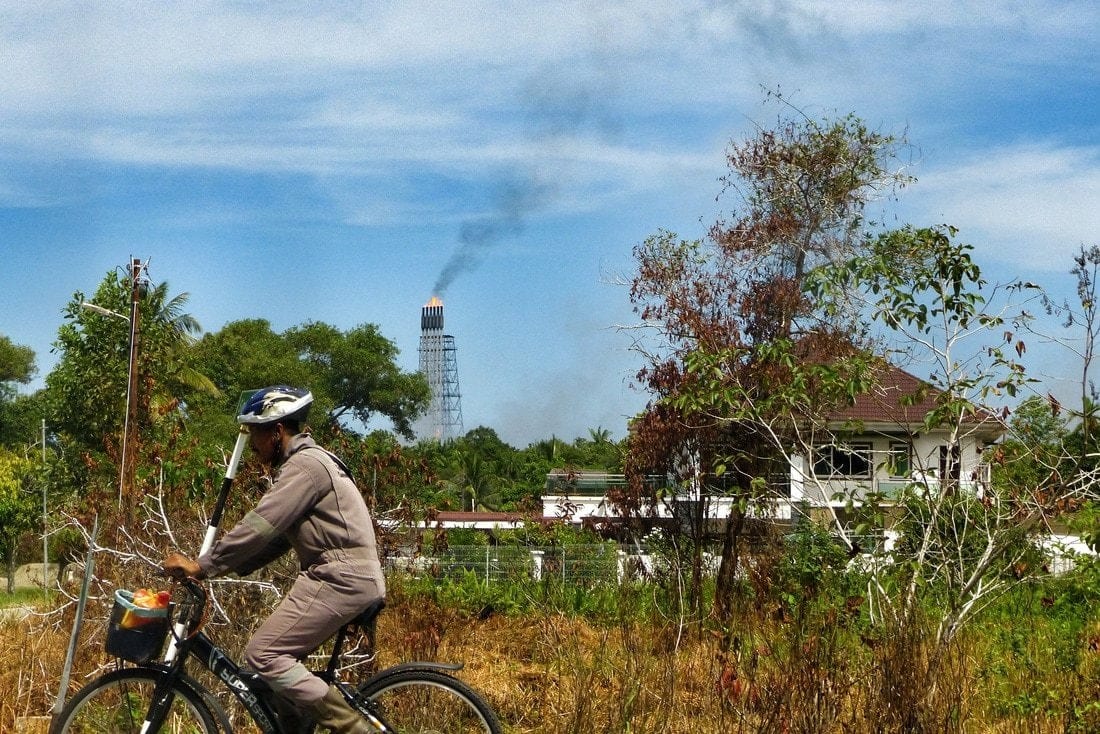 Traveling in Brunei: our trip, bicycle touring and backpacking Brunei
This article is part of our "DIY Adventure Travel in Borneo" series, the detailed description of the 3rd part of our Bicycle Touring itinerary.
Crossing the Brunei Sultanate and the border between the two Malaysian states of Sabah and Sarawak, 318km from Beaufort to Miri.Links to the other parts are at the bottom of this page, together with a map of the route with elevation profile and a street level photo map taken from our bikes.
Here are some general things to know travel Borneo on a Budget.
Check also
21 highlights to include in your Borneo itinerary
Few facts about Brunei
Brunei is one of the only two remaining Sultanates in the world, the other being Oman, it has the 4th GDP per capita in the world (World Bank source, 2015) and the Sultan is the 4th richest Royal (Forbes), indeed crossing into this small state the wealth difference from the not-so-poor Malaysia is astounding.
Although only 5,765 square kilometres big, Brunei still doesn't make it in the top 10 smallest countries in the world, but very small it is indeed, enough to be crossed in only one day on a bicycle.
Brunei is divided into two parts, not connected to each other, both surrounded by Sarawak, we'll call them "Small Brunei" (27km) and "Big Brunei". Kilometers indications in this article are meant from Beaufort.
From Beaufort to Lawas
Disclosure: Some of our articles contain affiliate links. This comes at no additional cost for you and helps us keep this website up and running. (as Amazon Associates we earn commission from qualifying purchases)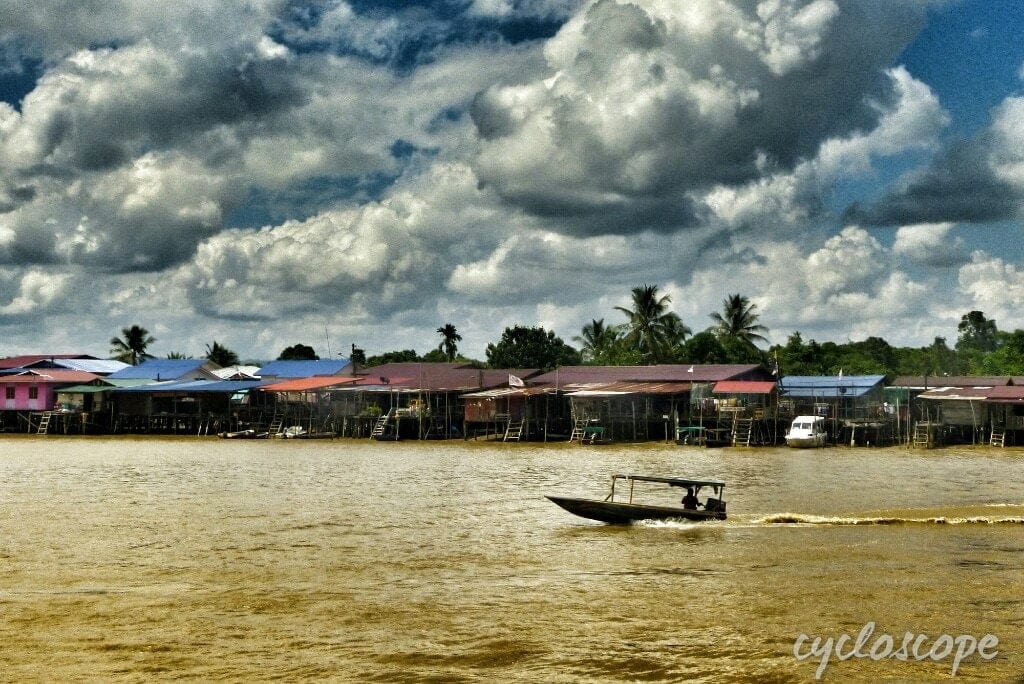 From the negligible town of Beaufort the ride is flat, indeed here they appear, on the left and on the right, endless plantations of oil palms.
There's a short stretch where the situation improves a bit, next to the Klias Forest Reserve, the landscape reminds us of the Philippines, green rice fields and majestic mountains on the horizon.
After 44 km we cross Sipitang, a coastal village with brown sea water, perhaps because of the monsoons or perhaps for the nearby refineries, there's a boardwalk with a lot of restaurants here, good for a lunch stopover.
We cross the border between Sabah and Sarawak, they stamp the passports as if we are crossing the border of two different countries. Sarawak and Sabah are the two regions that make up the Malaysian part of Borneo.
Palm oil camping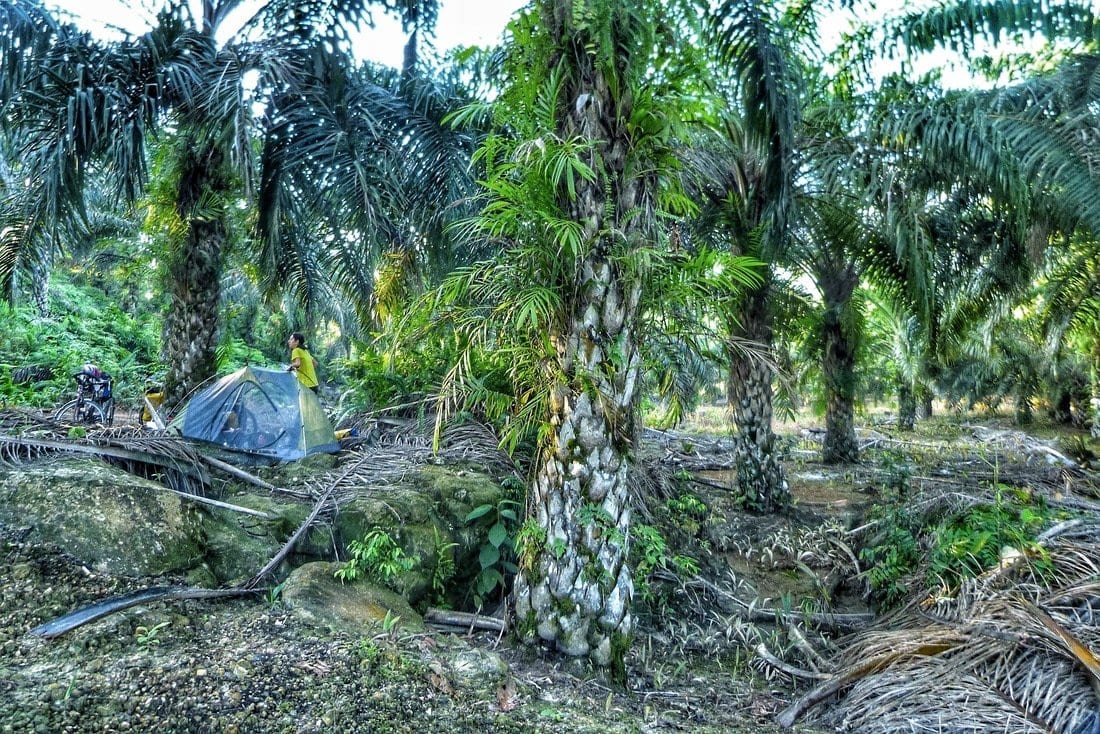 In a short while, the oil palms begin again, we pitch a tent in one of those plantations, we go look for somebody to ask permission but see nobody around but mice. Near the tent, there is a mysterious source of water.
Deforestation to make room for the palms destroyed rivers and streams, but this odd source is here, forms a pond of two square meters with a lot of fish, looks quite deep and the water is clear, good to get rid of the sweat. We sleep well enough through another rainy night. 65km today, taking it easy.
In the morning, we cross a small hill from where it's possible to realize the immensity of the plantations, 'til the horizon. But at least there is something nice to see in this area, the traditional stilted houses, beautiful and colorful, mostly made of wood, with manicured gardens and flowers beds.
At km95 there's the small river town of Lawas, which has plenty of accommodations, some interesting stilted villages out of town and a boat connection o the Tax-Free island of Labuan.
From Lawas to Limbang: across Small Brunei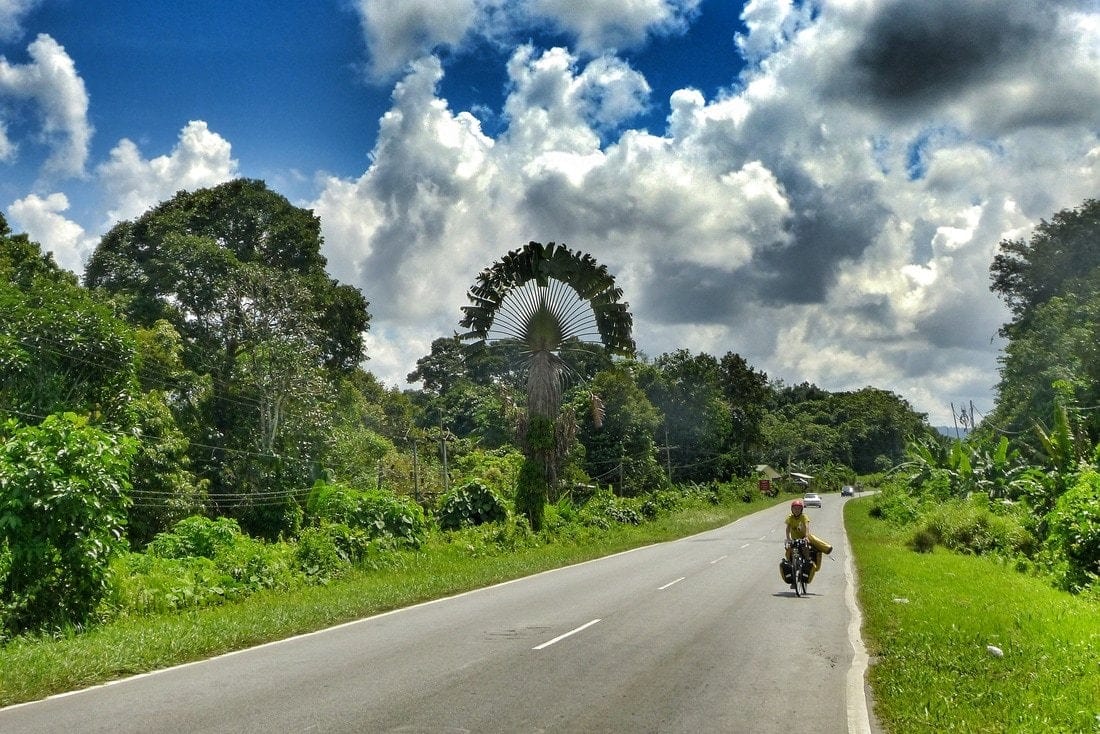 Around 120km from Beaufort is the first Brunei border. Entering the Small Brunei, not even a flag or a "welcome in Brunei" greets us, so no souvenir photo here. This part of Brunei is easy to cross in less than two hours, just 27km from border to border.
There are very few houses and the forest is almost on the road, here they have so much oil they may not need to plant oil palms, their kind of oil is much more valuable. So the atmosphere is very different from Malaysia, much wilder. Indeed the Sultanate is very committed in the preservation of its forest and it is also developing forms of responsible tourism in Brunei.
We see a few large gray monkeys in the trees (macaques), loud sounds of insects never heard before filling the air, or maybe they are birds. One sounds like a dog and another like a firework always about to explode but never doing it. We like this part of Brunei.
The only town here is Bangar, near the border with Malaysia, very nice and tidy, there are a few small but cute mosques.
Without even noticing we are back in Malaysia. The road to Limbang, the next town, is densely populated, beautiful stilted houses again, there are not many places for the tent, 15km from the border and we get to the town of Limbang to find a cheap hotel.
Limbang is not that bad, has a nice riverside, from where to watch the longboat go past, on the other side of the river rudimentary spilings are surrounded by mangroves.
Across Big Brunei, to Miri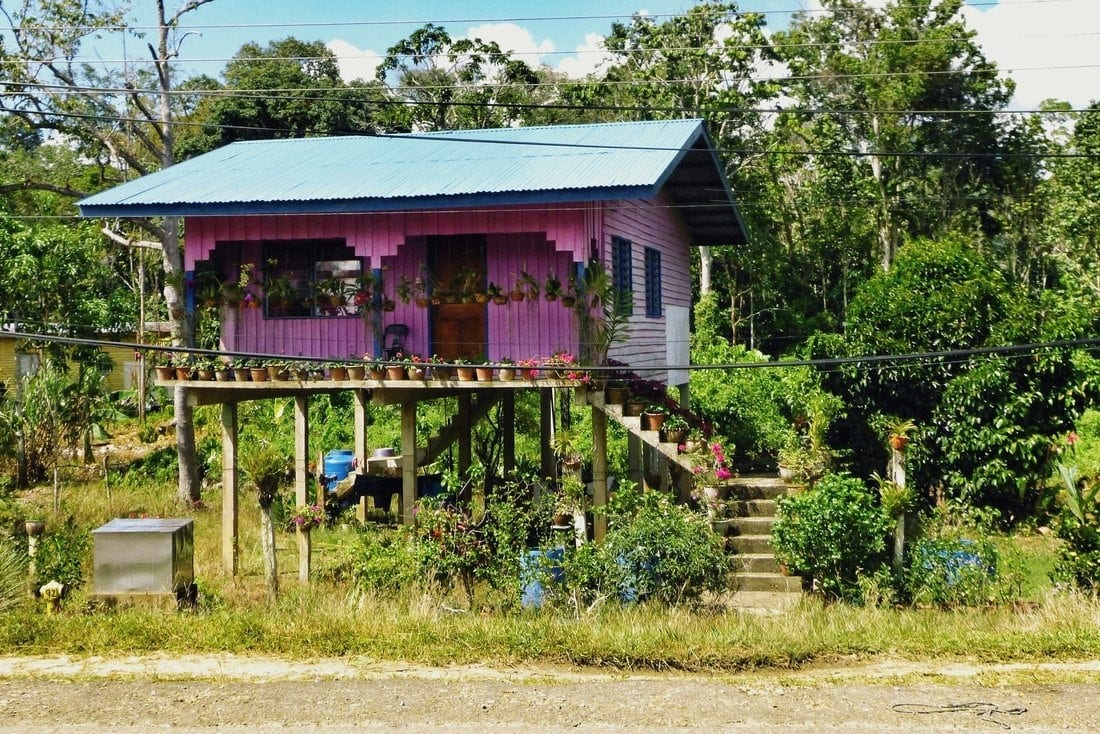 43 flat kilometers past Limbang, we are in the "Big" Brunei, the larger part, where the Sultan lives and where the capital is. This is about 60km from part to part.
Very important: there are no money exchange nor ATM until you reach Tutong! Change your money in Limbang!Not knowing the prices in the Sultanat we eat at a Chinese restaurant just before the border.
Past the checkpoint (30 days visa free for most nationalities) we immediately notice the difference in wealth: the houses are big and luxurious, in front of each villa at least 4 or 5 cars are parked; cars are very cheap here, no taxes.
This part of Brunei is more urbanized, the first 45 km have a few unremarkable hills, a supermarket and not much else, we have no money and no water, luckily an Indian guy buys us some liquids.
Oily ways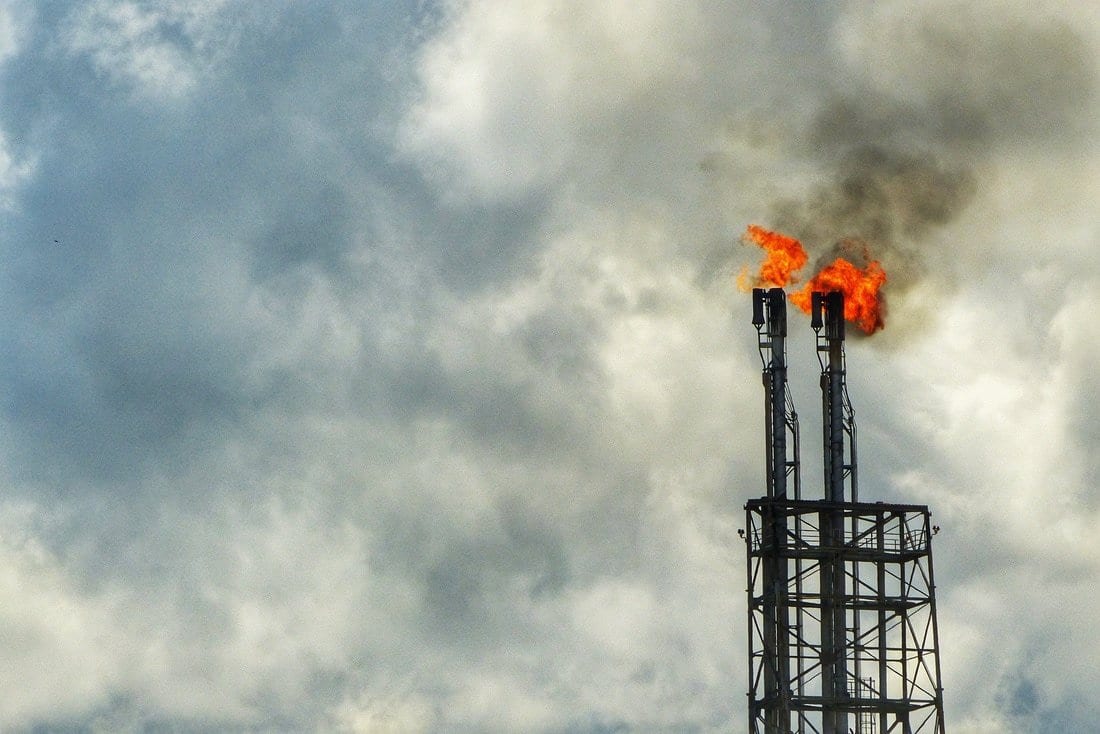 We arrive in Tutong, the small town where we can finally withdraw some cash. We plan to sleep on a platform along the riverwalk but the sign "danger crocodiles" makes us change our mind.
We ask for hotels in town, there's only one apparently, about 60USD per night! We get on a little hill above a football field and assemble the tent, where we take refuge quickly, it is full of mosquitoes. Urban stealth camping.
The next morning we have breakfast in a bakery shop in the center of the town and leave again, from here the road is not very nice, a busy highway until Seria, where most of the refineries are. Seria is a town full of expats working for oil companies, it's not a nice place but an aspect of Brunei that is interesting to experience.
Everywhere are chimneys on fire, some small roads lead to the sea, water is green/brownish and many extraction platform line the horizon. The only pleasant thing is the restaurant where we have lunch, more expensive compared to Malaysia, but really delicious, fried breaded mussels for me and a tofu soup for Elena, the menu is endless.
Astounding close encounters of the 3rd kind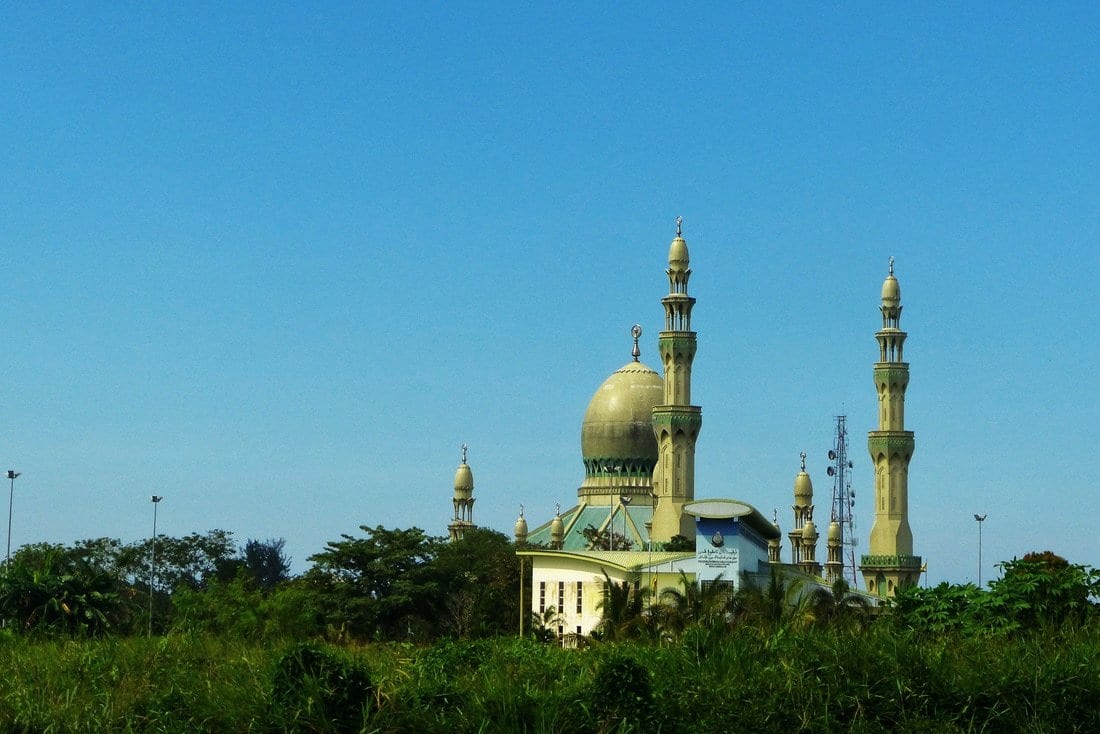 Leaving Seria, things get nicer and we have the most unexpected encounter. For this last 20 km Brunei gets really narrow, we are surrounded by nature, the road is quite and the only noises are bird and insects.
Then it happens, two hornbills, in the middle of the road! I try to approach quietly, they fly to a nearby tree, I still can see them. Hornbills are large-beaked birds, very rare and on the verge of extinction, the one we see are Rhinoceros Hornbills, the symbol of Sarawak, recognizable from the banana-shaped yellow casque. There are just a few left, it's very hard to see one in the wild, lucky strike!
"…some Dayak people, especially the Ibanic groups, believe it to be the chief of worldly birds or the supreme worldly bird, and its statue is used to welcome the god of the augural birds, Sengalang Burong, to the feasts and celebrations of humankind"(Wikipedia).
The road is flat and pleasant, forest on our side and many monkeys. One of them apparently wants to kill us and threatens not to get close to the tree where he lives.
Strip-tease of the no-man's-land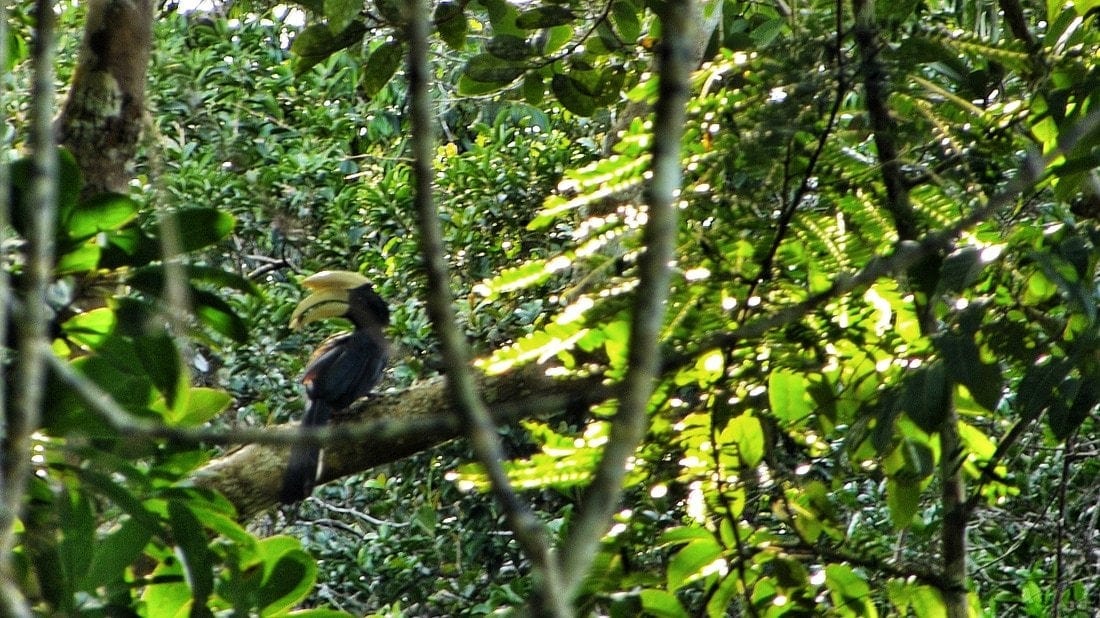 We greet Brunei and return to Malaysia, in a couple of days we have collected ten stamps in the passport. It 's almost dark, in the no-mans-land between Brunei and Malaysia, there is a hotel with adjoining strip club runt by Chinese people. It seems a funny place and we decide to overnight here. The room is clean, has air-conditioner, hot shower but no windows…
Many from neighboring Brunei come to spend the evening in this place where there is everything that is forbidden in their home country, especially beer and all sort of alcohol, but not less important, half-naked girls.
It's a surreal situation, there are Chinese strippers, a Chinese long-haired cook covered in tattoos, a nerd maid and her grandmother who is at the counter doing origami, and counting money. Long live to the Chinese. Welcome back Malaysia.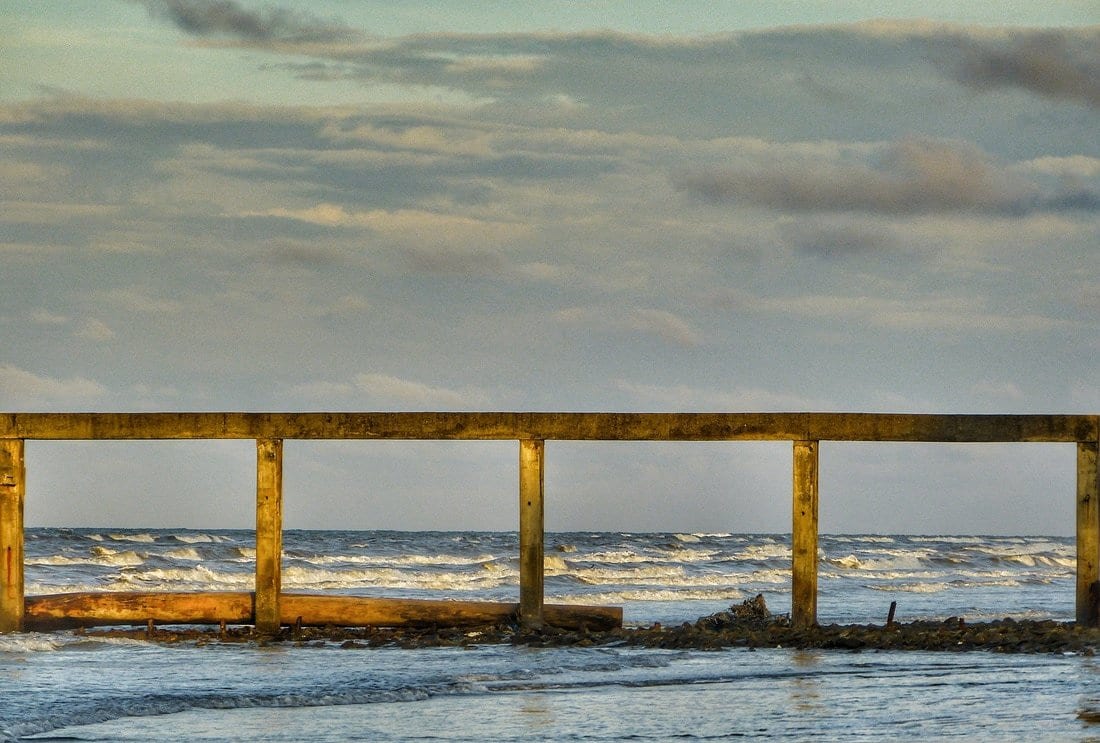 Did you like this article? Like it and share it! Do you have something to add? Comment!
Our cycling adventures in Borneo
From Beaufort to Miri (with elevation profile)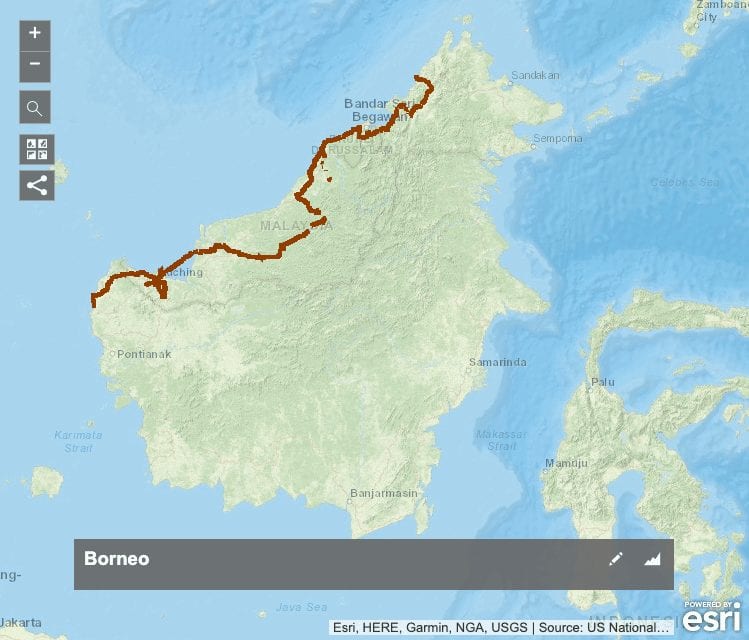 Follow Us
Stay in touch while we get lost! Follow us on Social Media