Cycling Indonesia – everything you need to know about
bicycle touring and bikepacking the archipelago of marvels
(with 9 islands itineraries and GPX tracks)
Indonesia might not be a cycling-friendly destination for cycle touring beginners but, among the 42 countries we explored by bike so far, it usually pops up as our number-one favorite.
With more than 17,500 islands, Indonesia is a universe that you'll never finish to explore. Each island is a planet per se, with different languages, cultures, religions, architecture, landscapes, cycling Indonesia never gets monotonous.
We spent three full months bike touring Indonesia, cycling through the islands of Borneo, Java, Flores, Sumba, Sumbawa, Lombok, Bali, and Nusa Penida – we often think of coming back and do more, we really left our hearts in Indonesia.
Traveling Indonesia on bikes though is certainly not without difficulties – the extreme heat, the heavy downpours in rainy season, the steep hills, the language barrier, the lack of food in some of the most remote islands, the difficulty of access… all these factors make cycle touring or bikepacking in Indonesia quite challenging.
This doesn't mean you have to be a trained semi-pro to travel Indonesia on a bike, just be realistic and don't overestimate yourself, especially if you're not used to the heat.
---
You might also like:
Cycling in Japan – the ultimate guide
South Korea on a bicycle – everything you need to know
Cycle Touring in the Philippines: an itinerary of Visayas Islands
Bits and Facts about Indonesia
Climate: Tropical
Currency: Indonesian Rupia (+/- 730Kw to 1$ – 840Kw to 1€)
Visa: 30 days/75$ on arrival for most countries
Population: 246 millions (2017)
Population Density: 140 pp x sqKM
President: Joko Widodo
Resources: oil, copper, tin, bauxite, timber, gold, natural gas, nickel
Indonesia is the 4th largest country in the world by populations and the largest Muslim majority nation. More than 50% of the Indonesian population lives on the island of Java, which has a population density of 940 people/sq. km, among the highest in the world.
Cycling Culture in Indonesia
Disclosure: Some of our articles contain affiliate links. This comes at no additional cost for you and helps us keep this website up and running. (as Amazon Associates we earn commission from qualifying purchases)
Indonesia is a very hilly country, getting around by bicycle is not easy for the locals so a popular bike culture is not very widespread, unfortunately Indonesia has more of a motorbike "culture" than a cycling-related one.
Cycling as a sport though is becoming increasingly popular, especially among the rising middle-class, with many local bike races and Critical Mass events. The Tour of Indonesia is part of the UCI calendar while the newly launched Tour the Flores hopes to be part of the international circuit within a few years.
Mountain biking and road cycling in Indonesia are growing, but also bicycle touring has seen a significant improvement with many Indonesians venturing on bike trips within the archipelago and abroad, the cycle touring community in Indonesia is really growing fast. Refer to the Facebook group Warmshowers Indonesia to meet local cyclists and fellow travelrs.
---
What to bring when cycling in Indonesia
Indonesia is a tropical country, pretty hot all-year-round – you definitely won't need winter gear, although a jacket is highly recommended as it gets cooler at altitudes.
Rain gear won't really keep you dry under a tropical downpour, we usually found shelter or just got wet, sometimes a shower is even welcome.
A regular touring bike will do great here, but also a basic and cheap mountain bike. Just be sure to have adequate gearing for the steep hills.
Cyclo-camping gear is not essential, guesthouses are cheap and camping is not easy nor always pleasant in Indonesia. You might bring some camping gear as a back-up but that's not really necessary.
Visa for Indonesia

Citizens of most nationals (170 countries) can get a 30 days tourist visa on arrival on almost any port of entry. Indonesia though, is a very large and beautiful country, and if you feel like exploring more, then the 30 days visa-free is definitely not enough, you'll need a long stay one. Especially if, like us, you're traveling by bicycle. The problem is that this kind of Indonesian tourist visa cannot be extended! Meaning you have to get out of the country before the 30th day. How then to visit Indonesia without having to run from one place to another, or give up seeing many places?
We entered in Indonesia with the Social Budaya Visa (Social Visit visa), a visa that allows you to stay in Indonesia for 60 days and is extendable up to a maximum of six months in total. That means you can get a 30 days extension up to four times.
This article explains how to get this type of Visa, if you need to know
how to extend a Social Visit (Social Budaya) Visa, everywhere in Indonesia, click here
Social Budaya visa can be requested in every embassy and most of the consulates of the Republic of Indonesia.
We applied at the Indonesian Consulate in Kuching, in Malaysian Borneo. It happens to be one of the best places to do it, processing only takes half a day, meaning that you apply in the morning and get the visa in the afternoon, sweet ain't it?
Weather – Best Time to Cycle Indonesia

Cycling in Indonesia during the peaks of the rainy season can mean riding under constant rain for hours and even days. Some of the many Indonesian islands are amongst the wettest places on earth. Western Sumatra, Java, Bali, the interiors of Kalimantan, Sulawesi, and Papua experience more than 2,000 millimeters (78.7 in) per year.
The extreme variations in rainfall are linked with the monsoons. Generally speaking, there is a dry season (June to October), and a rainy season (November to March) but this can greatly vary from island to island. Local wind patterns, indeed, make Indonesian rainfall hard to predict, especially for such an extended country.
The temperature, on the other hand, is quite constant throughout the year with the only way to escape the heat being climb up the next mountain.
Ideally speaking the best time for cycling in Indonesia would be the end of the rainy season, with its clouded skies and quick showers as an ally against the heat.
If you intend to cycle mostly on dirt roads though, you might want to do it in the dry season, unless you like to get stuck in the mud. This is valid especially for the wettest regions mentioned above, while Nusa Tenggara's road conditions should withstand better.
Geography of Indonesia
Indonesia is an archipelago state of more than 17,000 Islands, spreading for over 3 meridians (and thus 3 time zones) on two continents. Indeed half of Indonesia lays on the Asian continental shelf while another half lays on the Australian (Oceania) Plate. Those plates are separated between Bali and Lombok.
Indonesia stays entirely on the Pacific Ring of Fire, one of the most active volcanic areas of the world. Indeed Indonesia is home to 127 active volcanoes, some of which are truly spectacular and ideal for extreme bikepacking.
Being such a big and widespread country, it's hard to describe geographical features common throughout the country. Each island is very different, most of them are mountainous or hilly, but vegetation and coastal area vary greatly.
Where to stay when cycling Indonesia
Accommodation in Indonesia goes from the ultra-cheap basic guesthouse to hostels and backpackers lodges, to high-tier luxury resorts.
Basic guesthouses cost between 10$ and 20$ for a double room, prices vary island from island, with Java, Bali, and Sumatra being the cheapest and better value for money (especially great value in Bali) while other islands like Flores or Sumba are slightly more expensive.
Some guesthouses might be a bit dirty and cockroaches are not uncommon, rarely there's a restaurant or a bar in the accommodation premises. Usually there's free drinking water available though, it is worth to spend a few bucks more for a guesthouse that offers that, bottled water is quite expensive.
Mid-range hostels, lodges, and backpackers accommodations go for 30/50$ for a double room, some have bar and restaurants or can anyway arrange a meal if notified in time.
When it comes to luxury, of course the prices can hit the sky, the … in Sumba is one of the most famous eco-lodges in the world and goes for about xxx$ per night. Some of these places are real paradises.
Campsites and Wild Camping in Indonesia
Since overlanding is not exactly easy in Indonesia, campsites are very rare – only a few in the whole country, mostly in Java and Sumatra.
Wild Camping in Indonesia is not easy, the country is very densely populated, very hot and humid also during the night-time, and often rough and steep.
Less populated islands like Sumba and Sumbawa have good spots but, if you want to camp, the best option is always asking a local homestead to camp on their land.
Roads of Indonesia
Although conditions greatly vary, generally speaking, Indonesia has well paved roads crossing most of the islands. Traffic is among the worst in the world in most of Java and Southern Sumatra, main roads in Bali also get very busy.
Most remote islands might have a single paved road, while most side-road will be gravel, although we never came across very terrible roads. The most notable exception is Papua, which has almost no roads – cycling Papua is almost impossible.
Island Hopping with Bicycles in Indonesia
How to get your bike from an island to the other? The huge whole of Indonesia is connected by a system of ferries, that go from fast boats running from the major neighboring islands – Sumatra to Java, Java to Bali, Bali to Lombok, or Nusa Penida, etc are all easy connections.
There are usually two types of ferries providing this relatively short rides, RoRo ferries (that can take cars and other vehicles) and speedboats.
Some speedboats will allow you to take your bike on board, but it's usually easier to use the Roll-On/Roll-Off (RoRo) when going from island to island – those are also cheaper, although of course slower and less frequent.
To reach more remote islands you'll have to fly or embark on multi-day journeys on the national flagship naval company, the Pelni.
Pelni ships stay at large for weeks and weeks, connecting the westernmost tips of Sumatra with the far-east in Papua, literally another continent!
Sailing on a Pelni ship is an experience itself, casting light on the life of the Indonesian people, nevertheless, it is not necessarily a pleasant one.
Pelni ships are maintained and refurbished every now and then, and some might be surprisingly clean and good, with clean meaning only a few dozen cockroaches around.
But when taking a Pelni ship, you have to account for the fact that you might end up in one that has been neglected for a while – this could mean poor safety equipment, faulty engines, and possibilities to get stuck in remote islands, general discomfort and literally MILLIONS of cockroaches.
Pelni ships' schedules are also hard to fathom, because of the huge delays and general unpredictability of the Indonesian weather, especially at sea – overall I think Pelni does a very difficult job and I respect it, however you'll not be the only one to lose your nerve after the umpteenth call without an answer.
This is the website for the schedules and booking, a bit difficult to use, we hope to write a guide about Pelni ships soon.
Food in Indonesia
Indonesia is a food-rich tropical country, there's almost everything here: fruit, fish, chicken, various meats (even pork in non-muslim islands), vegetables… Unfortunately though, is not always easy to find stuff.
---
Restaurants, Eateries, and Street-Food in Indonesia
Getting good food in Indonesia can go from very easy to incredibly hard. Bali, Java, and other main touristic hubs have a lot of restaurants, some very good ones with pretty cheap prices (a meal in an inexpensive tourist restaurant goes for 3$ to 7$).
In places like Sumatra, Sumba, Sumbawa, and even Flores might be difficult to find decent food if not in the few major tourist spots.
Eateries are the most common kind of restaurants, here the food is pre-cooked and often poorly preserved (in non-refrigerated glass shelfs often under the sun).
Eating in these places is not really recommended if you have no alternatives go for hot stuff like stews and curries, which last longer before getting rotten.
Food stalls in markets are much more reliable, food is mostly prepared on spot and it's usually fresh. Here you can try Gado-Gado, Satay, and other stuff. Markets are great stops for the hungry cyclist.
Food to try in Indonesia
Refer to this article for more denomination and descriptions of Indonesian food
Supermarkets and Grocery Stores in Indonesia
Properly stocked supermarkets in Indonesia are found only in the biggest cities of the major islands, even in Bali you'll find supermarkets only in Ubud, Kuta, and Denpasar.
Supermarkets selling western food do not exist in most of the other islands – even Mataram, the busy capital of Lombok, only has a mediocre supermarket.
Small shops do not sell much, here you can find rice, instant noodles, sometimes pasta, and rarely canned food (mostly sardines).
Fruit in Indonesia

A fruit-based diet is the best way to go when cycling Indonesia. Hundreds of different tropical fruit are available throughout the year, with some trees and plants fruiting even 3 times per year.
Mangoes, bananas, watermelon, dragonfruit, mangosteen, rambutan, coconut, and many more kinds of fruit are easy to find, often sold along the road by street vendors and small stalls.
---
Drinking in Indonesia
Indonesia is a Muslim majority country but there's also a large number of Christians, Hindus (in Bali area and some parts of Lombok), Buddhists, and of course many other religions (which are not officially recognized by the government). In Muslim areas finding beer and alcohol, in general, might be difficult, look for the Chinese shops.
In Christian and other religions' areas, beer is quite easily available, a local Bintang costs about 1.30USD. Aruk, tuak, and other traditional alcohols might be bought from the locals, be careful as they are sometimes poisonous, buy only from trusted shops or establishments.
Water Access in Indonesia

Tap water is not-drinkable in 98% of the country. Resort to restaurants and guesthouses to fill your bottles, otherwise, you'll need to buy a lot of plastic, which is also not cheap at about 1.20USD for a 1.5L bottled water.
Most of Indonesia is wet all-year-round, there's no lack of freshwater streams where to rinse the cyclists from their hard produced sweat, you can even bath in a ricefield canal if you dare. Watch out for polluted streams near the cities.
Many restaurant toilets have buckets and sometimes the amazing butt-gun, which are a nice surplus to help you stay clean.
You can be interested in The 10 Best Travel Water Filter and Purifiers for Cycle Touring, Bikepacking, and Hiking
Language in Indonesia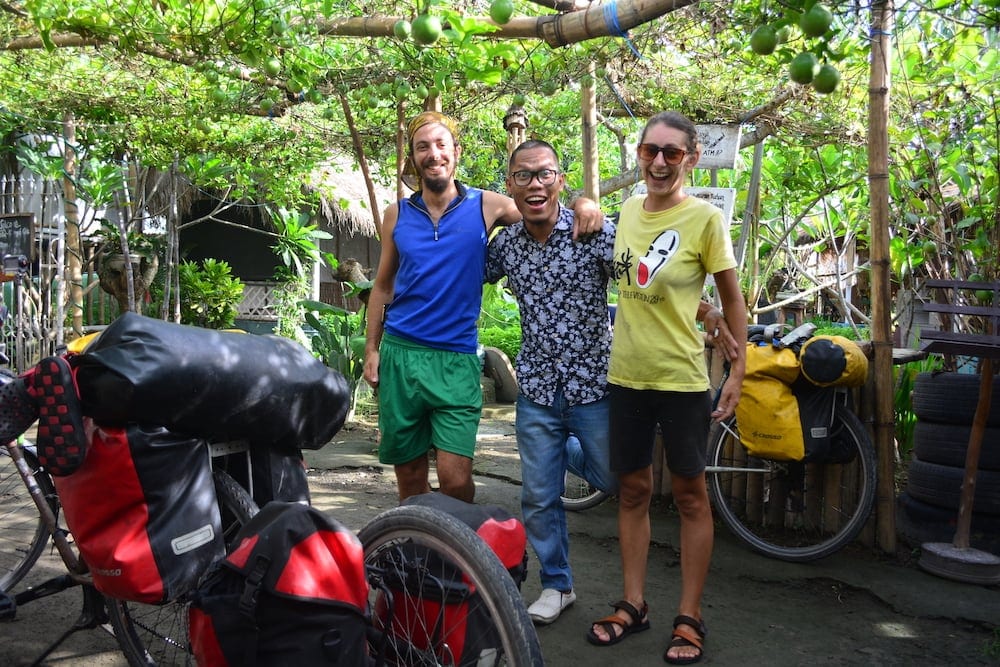 Over 300 different native languages are spoken in Indonesia. While Bahasa Indonesia is spoken as a mother tongue by only 7% of the total population, it is the national language and is used by 200 million people as their second language.
Bahasa Indonesia is a very simple Language, almost identical to Bahasa Malaysia, it's very easy to learn a few basic words and you definitely should try.
English is not widespread, besides tourism-industry workers, you won't meet many English speakers, especially outside the major cities and islands. Keep your sentences as simple as possible, speak slowly, and try to adapt your accent to theirs.
---
Useful Phrases in Indonesian Language (Bahasa Indonesia)
Permisi (per-mee-see) / excuse me
Terima kasih (te-ree-ma ka-seeh) / thank you
Ya – Tidak (ya – tee-dak) / yes – no
Sama-sama (saa-maa saa-maa) / you're welcome
Saya tidak mengerti (saa-yha tee-dah me-nger-tee) / I don't understand
Di mana toilet? (dee maa-naa toilet?) / where is the bathroom?
Belok kiri, belok kanan (bae-lok kee-ree, be-lok kaa-naan) / turn left, turn right
Enak (e-nak) / delicious
Berapa harganya? (be-raa-paa harr-gah-nyaa) / how much is this?
Terlalu mahal (ter-laa-luw maa-haal) / too expensive
Ini, itu (ee-nee, ee-two) / this one, that one
---
Numbers
Satu (saa-too) / 1
Dua (doo-wa) / 2
Tiga (tee-ga) / 3
Empat (em-paat) / 4
Lima (lee-ma) / 5
Enam (é-num) / 6
Tujuh (too-jooh) / 7
Delapan (dhe-laa-paan) / 8
Sembilan (sem-bee-lan) / 9
Sepuluh (se-poo-looh) / 10
Ratus (raa-toos) / hundred
Ribu (ree-boo) / thousand
Nama kamu siapa? (naa-maa kaa-moo see-a-pa) / what is your name?
Nama saya … (naa-maa saa-yaa …) / my name is …
And then the most important word of them all, the one you'll hear everyday
Bule is a generic term to describe foreigners, especially those who are Caucasian-looking. It's not meant to be derogatory, although some foreign tourists have found it racist or inappropriate. The truth is, most of the time it's just a common descriptive term used among locals.
---
Cycling Itineraries in Indonesia
With so many islands, all different and all beautiful, it's hard to choose an itinerary for a bicycle trip in Indonesia. We cycled in 8 different islands during our 3-months stay, and we liked them all.
Cycling Java
As already mentioned, Java is the most populous island in Indonesia and has among the highest density of inhabitants in the world.
Although its landscapes and cultural marvels are certainly an interesting attraction, most of Java is not pleasant to cycle at all, just too much motorbike and minibus traffic, unbreathable air, and often a lot of concrete.
East Java though, is a bit different, fewer vehicles and less big cities… and it is one of the most scenic volcanic regions of Indonesia.
Staying off the main roads as much as you can, you can enjoy exploring Java by bicycle following this suggested itinerary:
Starting in the cultural capital of Jogjakarta, passing by the big temples of Borobdur and Prambanan (the most famous UNESCO sites in Indonesia), visiting most of the best attractions in Central Java, the Mount Bromo, and the Ijien to reach the easternmost tip of Java, from where you can sail to Bali (from where you could fly out, see below).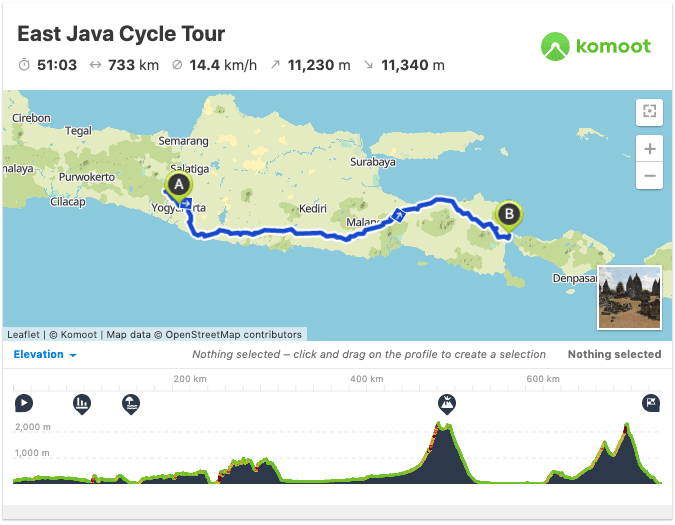 Bali by Bicycle
Bali is certainly one of the most visited places in the world, it was even awarded the title of the best place to visit on the whole planet by TripAdvisor community.
Its beauty though is not about beaches (which are pretty average, and even poor compared to other places in Indonesia), but in the unique culture and art forms, the lush mountainous interiors, the many volcanoes and waterfalls of Bali, and the affordable and restorative yoga retreats.
Iconic rice paddies, thousands of temples, ceremonies accompanied by mesmerizing music, and two big active volcanoes make Bali surely a must-visit-once-in-the-lifetime destination.
Cycling in Bali though is very tough. With a very hilly interior and crazily steep roads, it's certainly not a bicycle touring destination for beginners, especially if you suffer the heat.
A bicycle trip, anyway, is still one of the best ways to experience Bali in all its fascination, which is to be found far from the most popular tourist routes. There are several tour operators offering bicycle holidays in Bali, we, of course, recommend doing it yourself.
Bali has also one of the better-connected airports in Indonesia, you can fly for cheap from the Denpasar Airport to many destinations within Indonesia and out of the country.
You can read our full Cycling in Bali article and check our suggested itinerary 
Cycling in Nusa Penida
Nusa Penida is the nemesis of Bali, its dark sister, the place where all the evil entities reside. Ghosts, demons, dark spirits, and the most fearsome of them all: I Macaling, the bearer of diseases. A deeply magical island which you shouldn't miss, here Balinese culture is even better preserved than in Bali.
Nusa Penida has a very different landscape compared to its bigger sister, much dryer, with low vegetation and not a single grain of volcanic sand. It consists of a limestone plateau, mostly made of white rocks.
Besides the main coastal road in the North, all the roads in Nusa Penida are challenging rocky gravel, very difficult to handle on a loaded bicycle, you might want to leave part of your luggage in Bali before coming here. The island is very beautiful, with its gorgeous cliffs, white-sand beaches, crystal-clear waters, and weird temples.
Refer to our Nusa Penida Travel Guide for itineraries and points of interest
Lombok on a Bike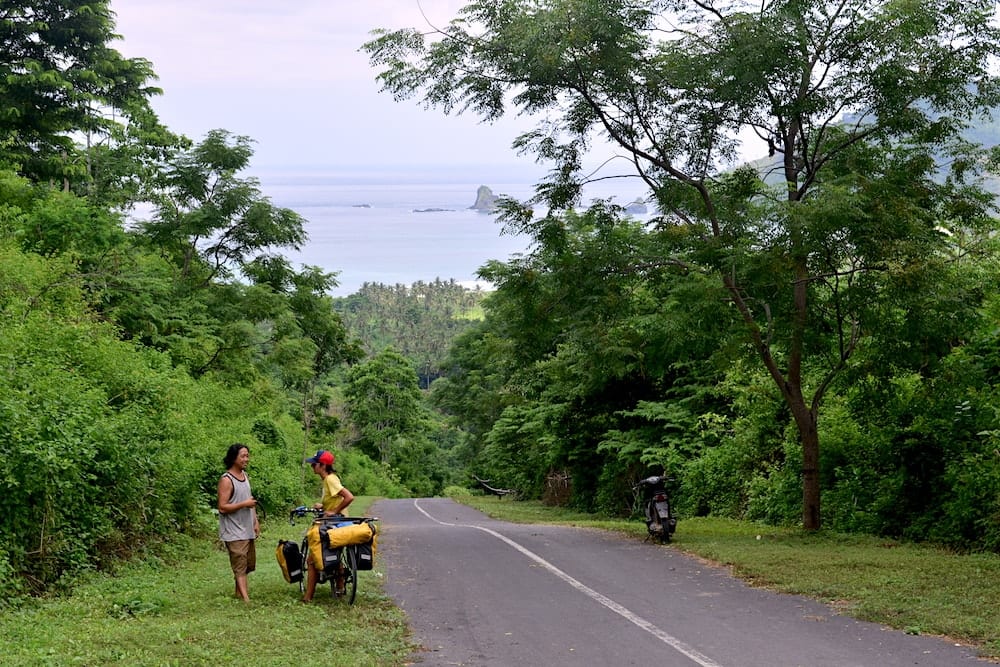 Lombok is very small, with most of its land occupied by the gigantic and spectacular Mount Rinjani, the second-highest volcano in Indonesia with its 3,726 meters (12,224 ft).
It's a Mulsim majority island with the Sasak as the main ethnic group, another unique cultural pearl of Indonesia, Balinese Hinduism is also present. The name Lombok means chilly in Sasak… be warned.
There's a main ring road going around the island which is nice in the North and the East but a bit busy in the more populated West, where the capital Mataram lies. Mataram itself is a good spot to extend your Indonesian visa and a lively city where we had good times, check for Couchsurfing hosts.
The nearby Gili islands and the town of Senggigi have a backpacker vibe (which often means they are also kind of a tourist trap), but that coastal road is scenic and easy to ride.
The South is wilder, with the best beaches and most interesting dirt roads, the wide sand beaches at Kuta Lombok, and the fascinating Sekotong Peninsula with its less known Gili Islands.
The island can be deeply explored in just about 4 days following an itinerary like this, adding three more days to relax by the beach or climb Mount Rinjani and make it an unforgettable week in Lombok.
Sumbawa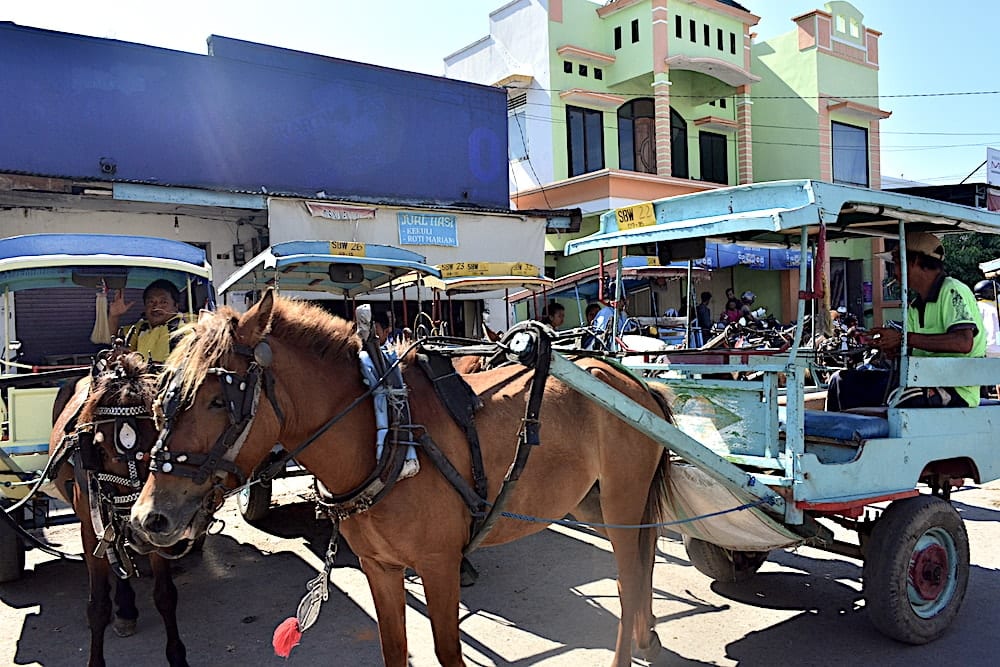 Located in the middle of the Lesser Sunda Islands chain, with Lombok to the west, Flores to the east, and Sumba further to the southeast, Sumbawa is a rather large and sparsely populated island.
Its landscape is among the dryest in Indonesia, with lower average altitudes. The island is dominated by the Mount Tambora, the volcano said to be responsible for the invention of the modern bicycle.
Sumbawa was maybe our least favorite island in Indonesia, that doesn't mean though that it is not nice and interesting. Riding options though are very limited, mostly the main road traversing the island from West to East.
Sumbawa is a Muslim island inhabited by three different ethnic groups speaking different languages, worth mentioning are its colorful architectonic styles and the ubiquitous small horses used for transport.
Check Pictures, Reviews and Things to Do in Sumbawa
Do You Dare Cycling in Sumba?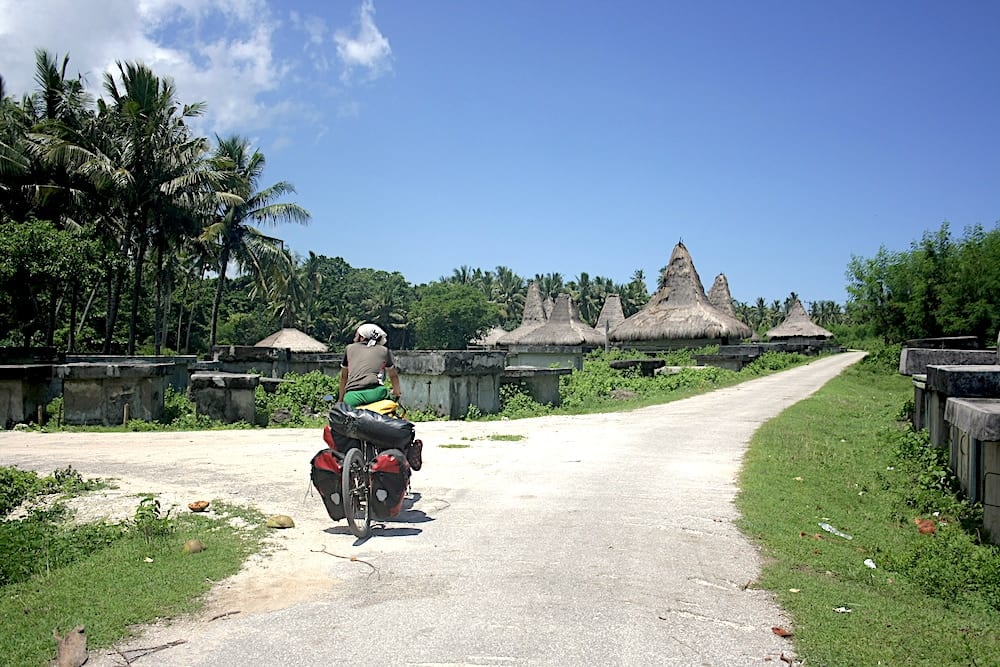 Sumba Island, Archipelago of East Nusa Tenggara, 650,000 inhabitants, one of the poorest Indonesian islands, is living on agriculture and livestock. More than half the population has no access to drinking water, malaria and dengue are widespread. The doctors are scarce and those that there are expensive.
The island was colonized in the sixteenth century, but neither the Portuguese nor the Dutch made it a real colony. The island offered sandalwood and a little more, not very profitable compared to spices from nearby islands. This lack of interest has favored the maintenance of an original culture and religion, one of the last megalithic cultures surviving on the planet.
Sumba is really another world, kind of stuck in another time and space. The whole island is surrounded by untouched white sand beaches, it's low vegetation is similar to that of Nusa Penida and so are its roads, pretty challenging when trying to reach the hilly interior or the beaches. It was definitely one of our favorite islands of Indonesia, and no doubt the most intense – you won't regret the hardships involved in getting there.
Indeed the "easiest" way to get to Sumba is by taking a very hectic and pretty dangerous RoRo ferry from Bima, Sumbawa.
If you want to know more about this incredible island, have a look at our article about the Pasola of Sumba, an ancestral ritual still performed nowadays, which we had the luck and honor to witness.
Cycling Flores Island
Flores is an Island of the East Nusa Tenggara archipelago in Indonesia, mainly famous for the Komodo National Park, the only place in the world where you can see the Komodo Dragons and a diving Mecca.
Flores Island is one of the poorer islands in Indonesia but also one of the richest in diversity, both culturally and geographically speaking. 17 volcanoes, 6 different languages, cultures and costumes still tied to the old traditions, and last but not least, stunning beaches. Its vegetation is mainly tropical, with patches of jungle spaced by its peculiar and majestic spiderweb rice paddies.
Flores is becoming more and more popular among the more adventurous tourists, mostly fed up with the crowds of Bali and the Gili islands. Even though most of them stick to the western part, using Labuan Bajo as a base to explore Komodo National Park, there's much more to see in Flores, and bicycle touring is the perfect way to see it.
Check our Full Guide about Cycling in Flores Island
Sumatra
Sumatra is the sixth-largest island in the world, with a lot to see and do – unfortunately we haven't been to Sumatra yet so we'll rely on second-hand information.
The best part of Sumatra for a cycling trip is probably the North, wilder, and more mountainous, with the well-known Toba Lake and the less popular Mount Sinabung as two of the many highlights of this island.
Sumatra used to be home of a huge rainforest, which is constantly being destroyed by manmade fires in order to make space for oil palm plantations. Avoid the dry season at all costs because it's then (August/September usually) that the fires are at their peak, making the air unbreathable as far as peninsular Malaysia.
Aceh Region has been devastated by the 2004 Pacific Ocean tsunami and kept constantly in unrest by a minority of radical Muslims.
Sulawesi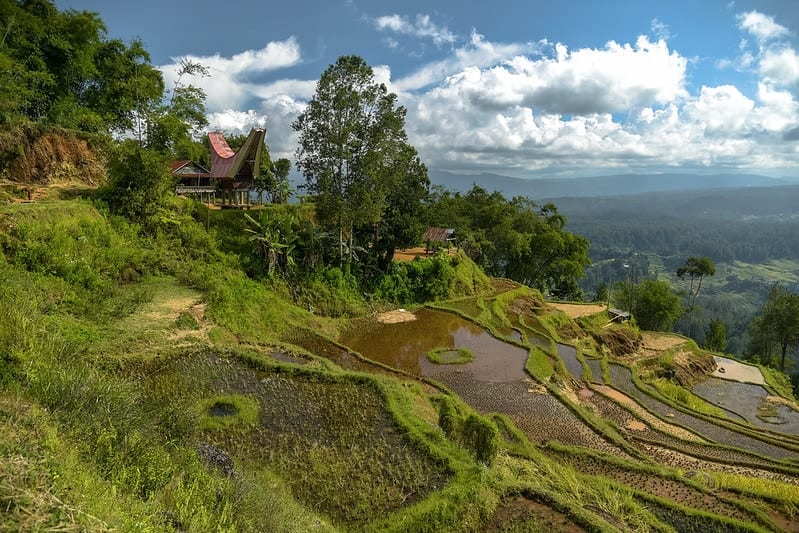 Sulawesi is another island that we didn't have the chance to visit yet, its weird shape makes it not so easy to explore throughout. Sulawesi is also home to unique cultures and art forms, like the famous Toraja Culture.
The South of Sulawesi, near the capital of Makassar, can be very busy with traffic while heading north things get wilder and more interesting.
Reviews, Pictures and Things to Do in Sulawesi
Conclusions
Indonesia is not an easy country to cycle in, but there literally isn't a more interesting place to visit in the world. We hope this blog article/guide has given you all the basic info about cycling in Indonesia, and that you'll start planning your trip now.
Stay in touch while we get lost! Follow us on Social Media