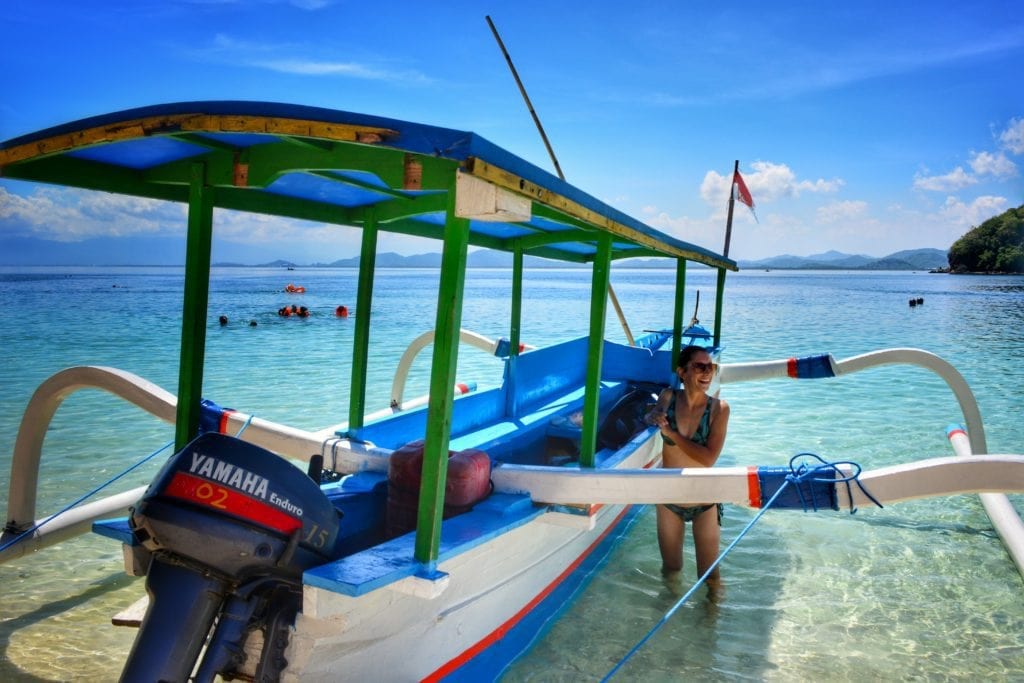 Review of Gili Nanggu, Gili Sudak, and Gili Kedis, the secret Gili island in the Sekotong peninsula of Lombok, Indonesia.
How to get there, where to stay, and things to do.
A travel guide to the alternative Gili
The three famous Gili Islands of Lombok, Gili Meno, Gili T (Trawangan), and Gili Air, are probably the biggest South East Asia tourist sensation of these last years. From the harbors of Padangbai (in Bali) and Pamenang (in north-western Lombok), dozens of boats depart every day, loaded with all kinds of backpackers, luxury seekers, families, and all kind of tourists. Definitively not our cup of tea.
Not many know yet that there are other Gili islands, in the south west of Lombok near the Sekotong peninsula, that are still untouched by mass tourism, and have nothing to envy from the most famous Gili in term of natural beauty. Here we'll talk about Gili Kedis, Gili Nanggu, and Gili Sudak, some of the best places to dive in Indonesia.
Going to Indonesia?
Cycling Indonesia – a full guide and 9 itineraries
Check out our articles about Flores Island
Learn about the Traditional Dances of Bali, the impressive Kecak
Cycling Bali, the best way to explore
See what to do in Nusa Penida, the dark sister of Bali
Disclosure: Some of our articles contain affiliate links. This comes at no additional cost for you and helps us keep this website up and running. (as Amazon Associates we earn commission from qualifying purchases)
How many Gili Islands are there in Lombok
Gili just means small island in Sasak, Lombok's local language, so the expression Gili Island is a misnomer. There are about 50 "Gili" around Lombok, and more around Sumbawa (where Sasak is also Spoken).
There are three small groups of Gili offshore the northern coast of Sekotong, the easternmost are Gili Nanggu, GIli Sudak, and Gili Kedis, and these are the ones we visited, then there are Gili Gede, Anyaran, Asahan, Rengit, and the small Gili Goleng, before the village of Labuhanpon, and three more small islands, near Pantai Elak Elak, whose names Google maps ignores.
Reaching Sekotong from Mataram
With our fresh visa extension stamped on our passports, glad to have a third month to keep exploring Indonesia, we leave Mataram and head south to Sekotong. You can take the smooth and brand new highway, which has a lane for mopeds and bikes, or, as we did, get on the parallel alternative roads that pass through interesting Sasak villages.
After passing Lembar, a small town where ferries leave for Bali, we stop to eat in a very good Rumah Makan (eatery). Jackfruit soup, goat soup, water, and coffee, for the "ripping-off" price of 2€, they even give us a 30 cents discount. Here we meet a guy who works for the ministry of tourism, he is very angry about all these bureaucratic complications related to visas, saying they damage tourism. He makes us write a letter of complaint that he will deliver to his boss.
As usual for us, we reach Sekotong from Mataram riding our trusted bicycles. There are only 40km from Mataram to Gili Nanggu, so it's an easy ride also by scooter and it should be cheap to hire a driver to get here.
Where to stay in Sekotong
We continue the coastal up and down arriving in the area of Sekotong from where the boats depart to these alternative Gili, Nanggu and her sisters. There's not really any village here, just a jetty, a few guesthouses, and a bigger resort. The area seems to be undergoing quick development though. But as for now, it's very difficult to even find an half-decent place to eat.
We try first a nearby hostel for backpackers, recommended by Lonely Planet, where everything costs twice as much, both the rooms and the food, not mentioning the fees they ask for a boat trip to the islands. We absolutely advise avoiding this place like the pest. Unfortunately, I can't find the name anymore, it's the ugliest anyway, with concrete bungalows.
We find instead a very nice bungalow at a low price at Coral Palms Hotel, and the local rumah makan, which has not yet increased to prices. Perhaps we are the first foreigners entering here because the lady is a bit panicked when she sees us. But then, seeing that we know two words of Indonesian, she seems reassured. tomorrow we will take the boat trip to visit three of these islands.
The boat trip to the alternative Gili Islands: Gili Kedis, Gili Nanggu, and Gili Sudak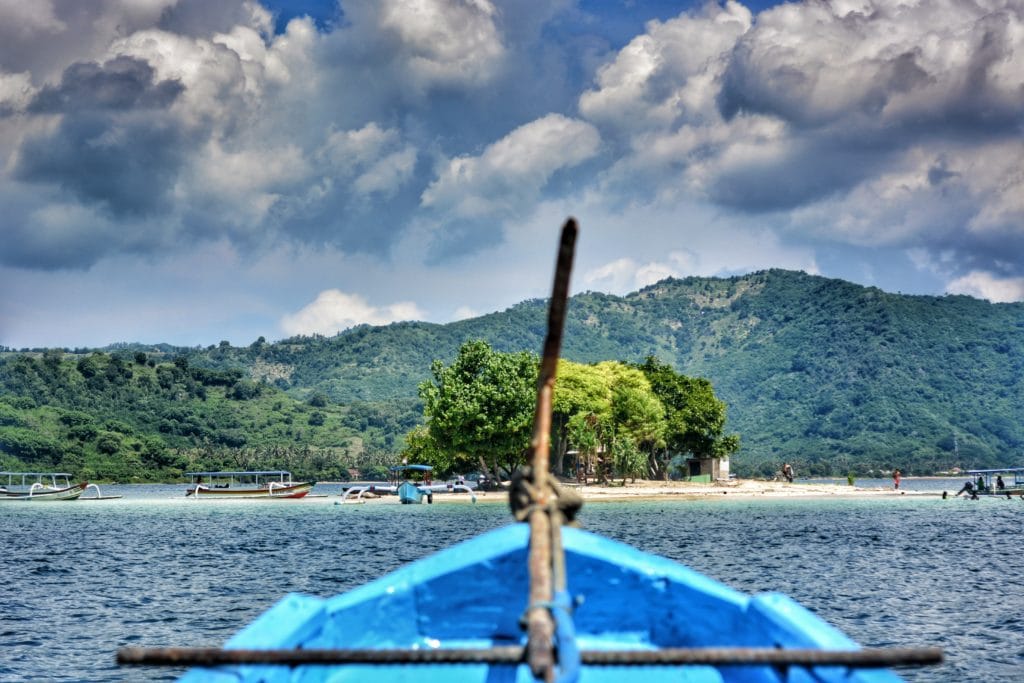 We get to the jetty and, after a bit of bargaining with the boatmen, we reach an agreement, 13€ for the whole day, snorkeling equipment included. It's very easy to find a boat ride to the small Gili, everywhere around the Sekotong peninsula locals will approach you trying to sell the full day ride. If you're not approached by them, just ask your guesthouse or get to the jetty, where boatmen are waiting for customers all morning and even in the early afternoon.
Gili Sudak
First, we visit Gili Sudak, the best for snorkeling. Just a few meters from the perfect white sand beach we are already submerged by many colorful fishes. They are setting up some metal structures underwater to make the corals prosper here. There's also a resort if you want to spend a night on the island, it's called Nirvana Gili Sudak.
Gili Nanggu
Then we sail to Gili Nanggu, maybe the most interesting, where there are a small fishing village and some restaurants. Walking the small island interior among the fishermen houses gives you an insight of the local life on a small tropical island.
Here you can witness the Sasak people fishing using their traditional methods, half submerged into the water.
Gili Kedis
The third island, Gili Kedis, is a mini island, you can walk around in three minutes, it is microscopic. A couple of trees on a white sand beach, just like a little kid could draw an island. Also here the underwater life is colorful and bustling.
Follow Us
Stay in touch while we get lost! Follow us on Social Media