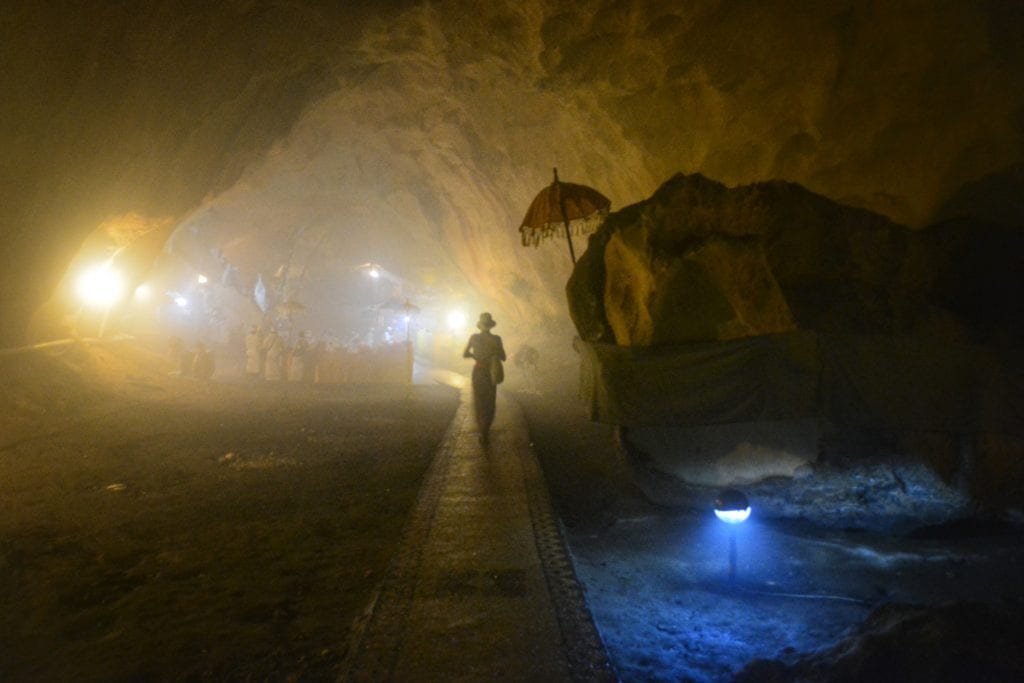 Things to do in Nusa Penida
the ultimate travel guide and itinerary to see the best of the cursed
sister of Bali
Explore the black magic island: beaches, temples & more
In this article, we won't just offer you another list of things to do in Nusa Penida, but also an insight into its peculiar culture, and the myths that envelope it. Although recently became more heard of, Nusa Penida is still the less touristy place around Bali, but that's not going to last long, so you better head this way as soon as possible.
Here the Balinese culture is more authentic, visiting Nusa Penida will get you an idea of how Bali probably looked like 40 years ago.
As soon as we approach the port of Sampalan, we immediately notice how clear the water is, we can see meters deep. Setting foot on the island, wandering a bit around in search of an accommodation, we see many bare-brested women, as it was common on Bali up to 50 years ago.

The architecture is in typical Balinese style, each house has its own shrine, the doors beautifully decorated with intricat mythological motifs.
Check also
Cycling Bali: itinerary and hacks to explore Bali by bicycle
Where to see Legong and Barong, the traditional Balinese dance
History and modern practice of Kecak, the "monkey chant" of Bali
---
---
Things to do in Nusa Penida in a Nutshell
Diving (Manta Point)
Snorkeling (Crystal Bay)
Swimming
Hiking (Teletubbies Hills, Tembeling Forest)
Visit Temples (Cave Temple, Car Temple)
Cycling around the island
Birdwatching (look for the Bali Starling)
Playing Gamelan with Locals
---
5 Facts to Know about Nusa Penida
Disclosure: Some of our articles contain affiliate links. This comes at no additional cost for you and helps us keep this website up and running. (as Amazon Associates we earn commission from qualifying purchases)
1 – The island of darkness
Here they live, mulling over evil doings in the darkness of deep caves, below the nervous waters crashing on the deadly cliffs. All those things whose names must be kept secret.
Nusa Penida is the nemesis of Bali, its dark sister, the place where all the evil entities reside. Ghosts, demons, dark spirits, and the most fearsome of them all: I Macaling, the bearer of diseases.
Also known a Jero Gede Macaling, this dark manifestation of God is blamed for every environmental disaster in Balinese land. Stories of his origins mostly refer to the half-mythological times of the Majapahit invasion of Bali, when he was still a human, hand of the King Dalem Dukut, ruler of Nusa Penida.
Thanks to his army of invisible creatures (wong gamang) I Macaling repelled the invasion of the Majapahit twice, before being killed by the fang of a Naga (holy snake, or dragon). His name indeed comes from the word Caling, fang in Balinese. It was this metaphysical battle of light and darkness that gave the island its name. Nusa Penida, the island of priests.
His power though was so great that he became a God, capable of bringing havoc to the kingdom. Only by paying him the due respect, disasters can be prevented.
That's why every Balinese Hindu must make a pilgrimage to this island at least once in a lifetime (the more the better), to visit the Pura Dalem Ped, the temple where I Macaling is buried.
Nusa Penida is still considered Angker (scary, terrifying) by the Hindus of the "mainland", black magic is believed to still be practiced. Some locals told us that it's true.
In any case, Balinese Hinduism respects both good and evil, which are equally necessary to keep the universe in balance.
2 – Geography of Nusa Penida
That Nusa Penida is the nemesis of Bali, is also just so evident when you first cast your sight on it.
Its territory is completely different, although being a great destination for a tropical holiday, Nusa Penida is pretty arid to be so close to the equator, with low vegetation and not a single grain of volcanic sand.
Nusa Penida is a limestone plateau, mostly made of white rocks. Except for a few wells drilled along the low coastal regions, all local water is from cisterns, called locally Cubang, made from concrete. There is generally a large, concrete underground storage tank, again concrete lined.
Cultivating rice is almost impossible, and all of it is imported from outside, Nusa Penida's economy mostly rests on fishing, corn, sweet potatoes and, most importantly, seaweed.
3 – The seaweed farming in Nusa Penida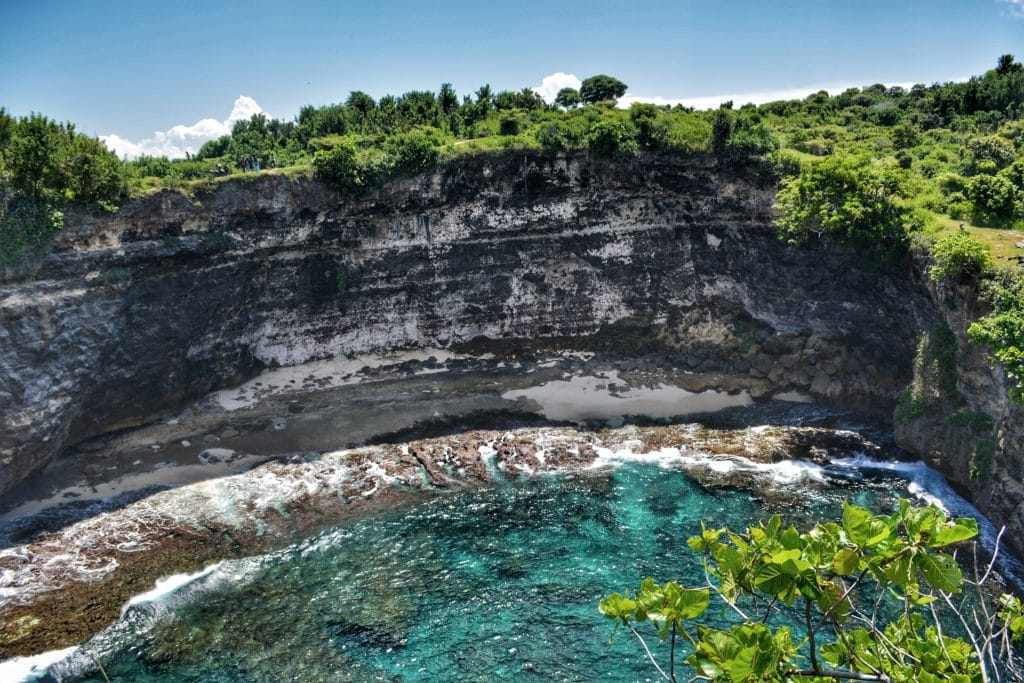 The biggest and most interesting exporting industry is the commercial growing of seaweed, which takes place along the northwest coast of Lembongan, in the channel between the two small islands, and all along the north and northeast coast of Nusa Penida.
Almost 900 families, or a total of about 2,700 people participate in this industry on Nusa Penida. The beach-dried product is sent by boat to the mainland and exported from there, either to Japan or to Denmark for processing into Agar or Carrageenan.
---
4 – The rarest bird in the world, the Bali Starling
Nusa Penida, and neighboring Lembongan and Ceningan islands, are bird sanctuaries. The islands communities have used traditional Balinese village regulations to create the sanctuary with the help of the Friends of the National Park Foundation (FNPF).
In 2006 all 35 villages (now 41 villages) agreed to make bird protection part of their traditional regulations ("awig-awig"). Since then, the FNPF has rehabilitated and released various Indonesian birds, most notably the critically endangered Bali starling which is endemic to Bali but whose numbers in the wild had declined to less than 10 in 2005.
After a two-year program by FNPF in which 64 cage bred birds were rehabilitated and released onto Nusa Penida, their number had increased to over 100 in 2009. Other released birds include the Java sparrow, Mitchell's lorikeet, and sulphur crested cockatoo.
It is possible to join a volunteering program with the FNPF, we'll talk about that later, in the "things to do in Nusa Penida" section.
---
5 – Public Gamelan Orchestras
Have you ever dreamed to play Gamelan music? I did. In Nusa Penida you can try it for free! Each village has its own Gamelan orchestra (sets of gong instruments, drums, and cymbals), available for everyone to use. Just go in and play!
In the evening the villagers often gather here, and they will invite you to join. Don't worry, they are not professionals and they will direct you to the easier instrument and explain what to do.
Although these can also be found in Bali, in Nusa Penida they are very common and locals will be more welcoming, since they see fewer tourists here.
Where to Stay in Nusa Penida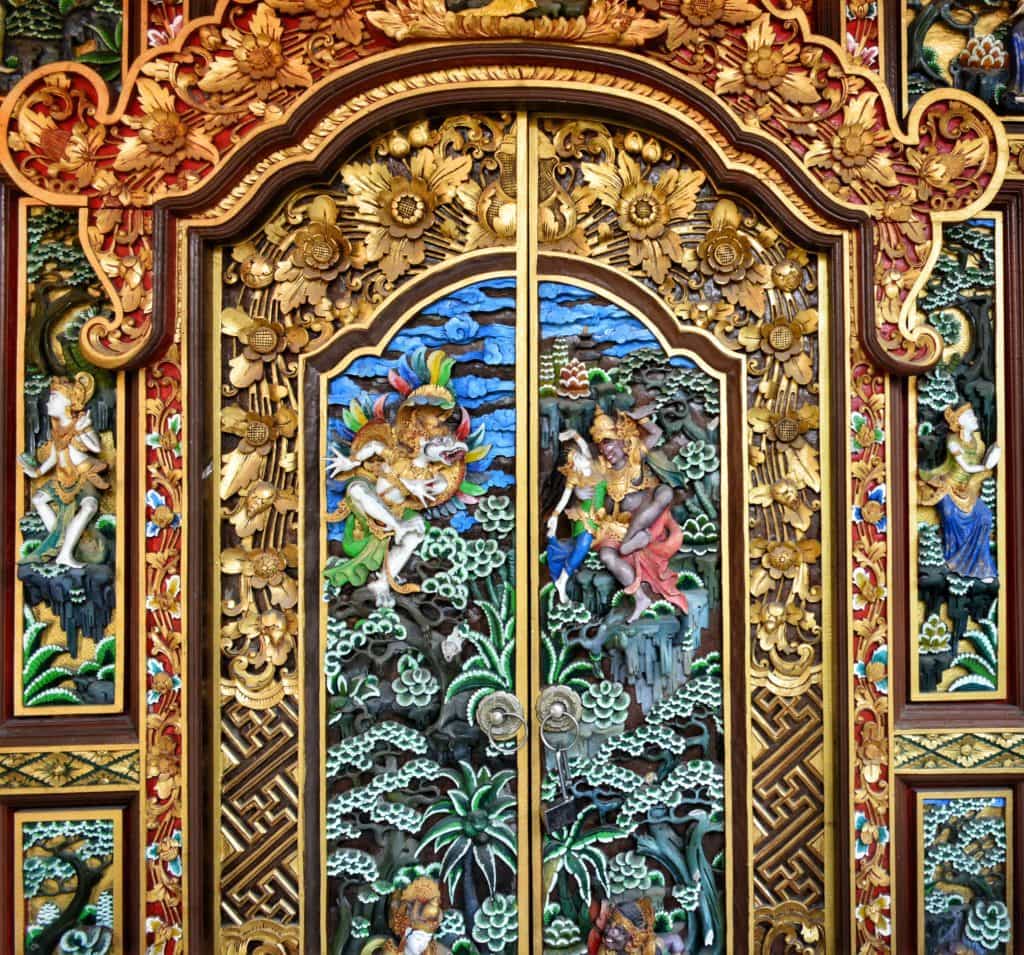 Accommodation
Until just a few years ago there were only a few guesthouses on the island, the situation has changed but not much, accommodation in Nusa Penida is still scarce and mostly concentrated around a few spots.
There are indeed only two "urbanized" areas on Nusa Penida, the one around Ped in the North-West and Sampalan in the North. Besides some remote resorts near the beaches, all of the accommodations are around these two spots.
Prices are slightly higher than in Bali but with a bit of bargaining, you can find a comfortable guesthouse for 15/20USD per night if that's you are on a budget.
Of course there are also a few great upscale resorts for those looking for luxury accommodation in Nusa Penida.
Free Camping in Nusa Penida
Nusa Penida is a free camping paradise, the island is scarcely populated and, as opposite of Bali, farming is pretty rare. So there's plenty of land for you to pitch your tent, even nearby some stunning spots like Broken Beach or Kelingking (also known as T-Rex viewpoint). Pack food and water as there are very few places where to find those.
What to see while traveling Nusa Penida
Best Beaches of Nusa Penida
Crystal Bay
The "easiest" and most accessible snorkeling point in Nusa Penida, Crystal Bay is an arched strip of white sand with a lively coral reef just offshore.
The geography of the bay keeps the water calm even when the sea is rough (which is the norm in Nusa Penida), however the sea gets deep and we experienced here some of the strongest currents ever, be careful.
There's a pricey but nice resort right next to the beach. Crystal Bay is just 9km from Ped and the ride is easier compared to the rest of the island.
Broken Beach (Pasih Uug) and Angel Billabong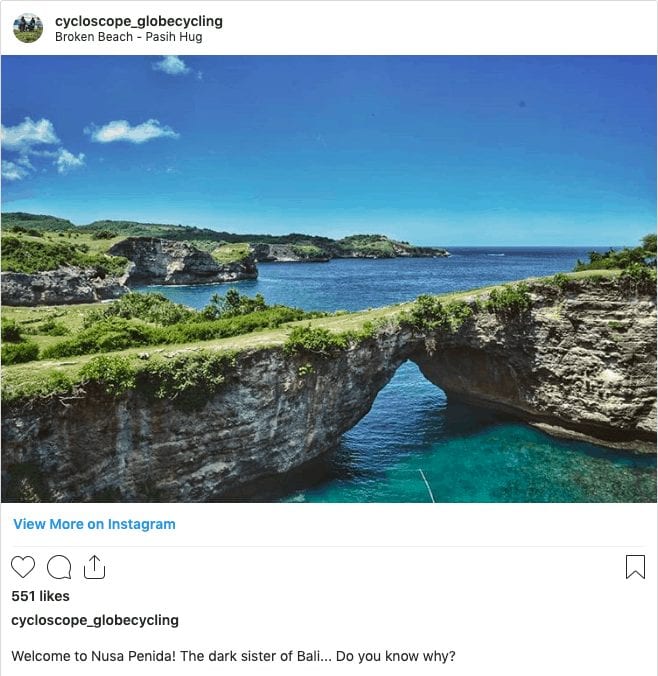 Situated on the easternmost corner of Nusa Penida, Broken Beach is not a beach. It is instead a huge circular hole in the cliff, with an arch connecting it to the sea, it was probably a cave before the ceiling collapsed.
The view is quite mesmerizing, with the rough sea crashing big waves on the cliffs, watch out not to dragged by one of those for some Instagram vanity.
Angel Billabong is a nearby natural "infinity pool", filled with water and marine life splashed in by the very same rough sea.
There is a stall selling water and snacks and it's possible to camp in this spectacular location. Although being only 20km from Ped, it will take about one hour to get here since the road conditions are quite extreme.
---
Suwehan Beach
Suwehan Beach is a secluded, untouched, pristine white sand beach with a limestone pinnacle as a guest star. It is located at the bottom of a hill and, despite it being halfway between Crystal Bay and Broken Beach, you'll have to make a detour, riding the usual narrow and rocky road, before hiking down for about ½ hour. The safety is again non-existent so wear proper shoes.
---
Kelingking – also known as T-Rex viewpoint

The most "instagramable" place in Nusa Penida is also the main reason why this island is getting more and more under the radar lately. While the shape of this bluff resembles more a whale to us (or a hand with a pinky finger for the locals, since Kelingking means indeed pinky finger), doesn't really matter where it brings you fantasy to wander, it's just undeniably astonishing.
There's a sort of a path to get down to the beach that is honestly quite dangerous, so watch out if you want to venture down. We didn't because we found it too scary and we heard the waves and current don't allow to swim down there.
---
Atuh Beach
Sitting on the westernmost point of Nusa Penida is another mindblowing beach featuring otherworldly rock formations.
You can reach this place from the north route (paved), or the south one (the hilly interior passing by the Teletubbies hill). Both ways you'll have though to leave the main road and ride the usual rocky track.
From the viewpoint there are two ways to get to the beach, one route with proper stairs and another one wich is just a path. Take the stairs. The place is more pleasing when the tide is high.
---
Pura Paluang (Car temple)
The cutest temple in the world was one of our favorites Nusa Penida attractions. Located very close to Kelingking T-Rex viewpoint, there's really no reason not to visit it during your trip around Nusa Penida.
The peculiarity of this temple is that two of its shrines (pelinggih) are in the shape of cars. The story behind Pura Paluang (also spelled Puraang) tells there was a local who wanted to make a plantation in this place. But there was a large rock that needed to be moved.
After being transferred, the next day the stone returns to its original place, again and again. According to the story, during the night local residents often heard the sound of the car's roar and horn.
They so made this temple, where locals bring their vehicles for a blessing. The view from Pura Paluang is truly stunning.
Temples of Nusa Penida
Goa Giri Putri Cave Temple
The Goa Giri Putri Temple is another unmissable spot for those traveling in Nusa Penida, one of the Island's major cultural attractions. This large cave temple is in the village of Suana, on the north-eastern part of Penida. Clear signs lead you to the site along the Jalan Ped-Buyuk main road.
A shrine and a priests' praying shelter guards its entrance, as usual, you have to rent a sarong to get in. The entrance itself is a very narrow hole in a rock face. You'll need to stoop down low to be able to squeeze and get through. But when in, you'll be amazed to find out how big is this cave.
There are lights but very soft and lots of incense. The atmosphere is magical and powerful. There are many pilgrims, probably coming from Bali.
At Goa Giri Putri Temple, there are a total of six praying spots. One at the outside entrance and five inside the cave. Visiting pilgrims must go through all of them, consecutively.
Another unique feature of this cave temple is the final praying spot. This is devoted to Chinese deities such as Guanyin, the Goddess of Mercy, as well as the god of the earth and sky. It's adorned with red Chinese lanterns and ornaments that you would usually find at a Chinese temple. Many pilgrims pray here and ask for blessings of better business and prosperity.
At the end of the cave, there is a Hindu and Buddhist temple, all together. Ah, not far from a statue of Confucius. We are witnessing the ceremony from a little distance, but the priest invites us to sit down and bless us with holy water, we must purify our talk and our thinking. Then he gives us some rice that we have to stick to our foreheads and put on white, red and black bracelets, to represent the three most important Hindu deities. We really feel a bit blessed.
---
Pura Batu Medawu and Pura Batu Mas Kuning
Two more important Hindu temple on Nusa Penida, those are situated close to each other on the eastern end of the northern main road.
Pura Batu Medawu is made of white stone and its architecture is particular and beautiful, while Pura Batu Mas Kuning is a small but important temple, whose story comes from a big fish who was washed here by the sea, and, when thrown back on the water, was found again near Pura Dalem Ped, the residence of I Macaling.
The fish was believed to be cursed since most of the seaweed crops went to waste that year. So the temple was built to avert the curse (or at least that's what I was able to figure out by google-translating this page).
---
Pura Dalem Ped
Pura Dalem Ped is the most important temple in Nusa Penida, despite being not particularly spectacular, this big temple is the home or Geru Gede Macaling, or I Macaling, his evilness in person.
As previously mentioned, each Balinese of Hindu religion must come here at least once in the lifetime to honor the dark side, so to keep the life in balance. The temple is located in Ped and it's very easy to access.
---
More places to see in Nusa Penida
Tembeling Natural Pools and Forest
Among the few jungle areas in Nusa Penida, Tembeling is a stunning place with a holy significance. From the small parking area, there's a ten minutes easy hike through luxurious jungle, past a small temple, before you get to a fresh natural spring just a few meters away from the ocean.
There are three pools, the top one, hidden in a small cave, is a sacred pool, where bathing is not allowed but for ceremonial purposes, the water there is holy and there's a small shrine.
The second pool is the big one, about 80 square meters and 5 meters in depth. Supposedly, as the local custom, only males are allowed to swim here. But we when we saw a local couple bathing together we went for it too.
The third pool, small and shallow but still inviting, is for the women. Located down by the beach it features a pretty view and a water drop that makes up for a pleasant natural massage.
The beach itself is majestic, surrounded by tall, vertical cliffs and with a limestone pinnacle standing in the middle.
---
Peguyangan Waterfall
Peguyangan waterfall is a small waterfall dropping in the sea. There are a small temple and a holy pool at the base. To reach it you'll have to do down hundreds and hundreds of steep steps, a pretty scary staircase with great views of the cliffs.
The hike down takes about 30 minutes, consider 50 minutes more to get back. One more unmissable thing to do when backpacking Nusa Penida.
---
Teletubbies Hills
Ok, hang tight, there's actually a village in Nusa Penida called Teletubbies (it is actually spelled Teletubies), it's located in the south-west of the island, not too far from Atuh Beach, and accessible by a rollercoaster road that's actually paved (even tough potholed).
The surrounding hills are just like those inhabited by cheerful puppets, they remind a bit of Bohol's Chocolate Hills. I don't know who had the brilliant idea of calling the village like this and if the inhabitants are happy.
---
More things to do in Nusa Penida
Diving and Snorkeling in Nusa Penida
Nusa Penida is a world class diving destination, with a living coral reef and a bustling marine life. The main stars of the island are the giant manta ray, the sunfish, whale sharks (not common), and huge tuna. There's also a fake underwater temple, put there just for the tourists, but nevertheless cool to swim around.
Unfortunately, when we tried to get to see the mantas, the sea was too rough to reach the Manta Point. The ride was very bumpy and even a bit scary at some points.
It's possible to spot the mantas from above the manta point, but we couldn't figure out how to get there, even though we tried hard.
---
Taking a boat ride around Nusa Penida
This is usually part of the snorkeling/diving excursion, but it's seriously worth going for a boat ride even if you are not willing to snorkel.
The south coast of the island is a continuous rugged cliff, dotted with big caves and spectacular pinnacles. The sight of the waves crashing on the cliffs is really dramatic and totally worth it.
---
Seaweed farming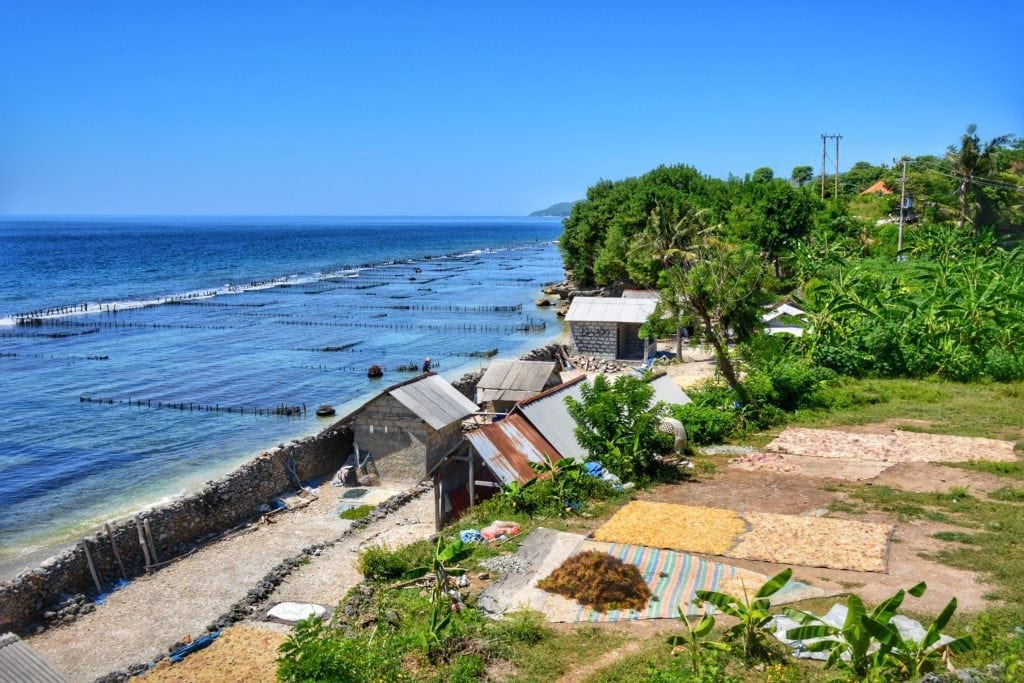 The north coast of Nusa Penida is instead lined with peculiar seaweed farms. That's nowadays where the island's main income comes from.
The sight of the farms and the weed laid to dry under the sun gives a somehow romantic insight on Nusa Penida rural lifestyle. Including this area into your Nusa Penida itinerary is very easy. The road is paved and even buses go there!
---
Volunteering at the Friends of the National Park Foundation
You can sleep and volunteer with this association, who's in charge of the bird sanctuary. It's actually great if birdwatching is your thing since this is the best chance to see the rare birds endemic to this island. The accommodation is pretty basic and a bit pricey at 16/18€ per night.
I think it's still a nice initiative and a great experience, if you want you can also sleep elsewhere and come here to volunteer, this is the website of the association.
---
Traditional Sarong weaving at Tanglad Village
The most authentic and unique sarongs are hand-woven in the village of Tanglad. Nusa Penida is famous for two designs called Rang Rang, based on a mountain motif known as Gunung, and Cepuk, a "star-in-a-diamond" motif.
One full-size sarong can take up to two months to create and is priced around 700,000 to 800,000IDR. These pieces are exported to Ubud and are usually doubled in price by the time they arrive.
---
Get in and around in Nusa Penida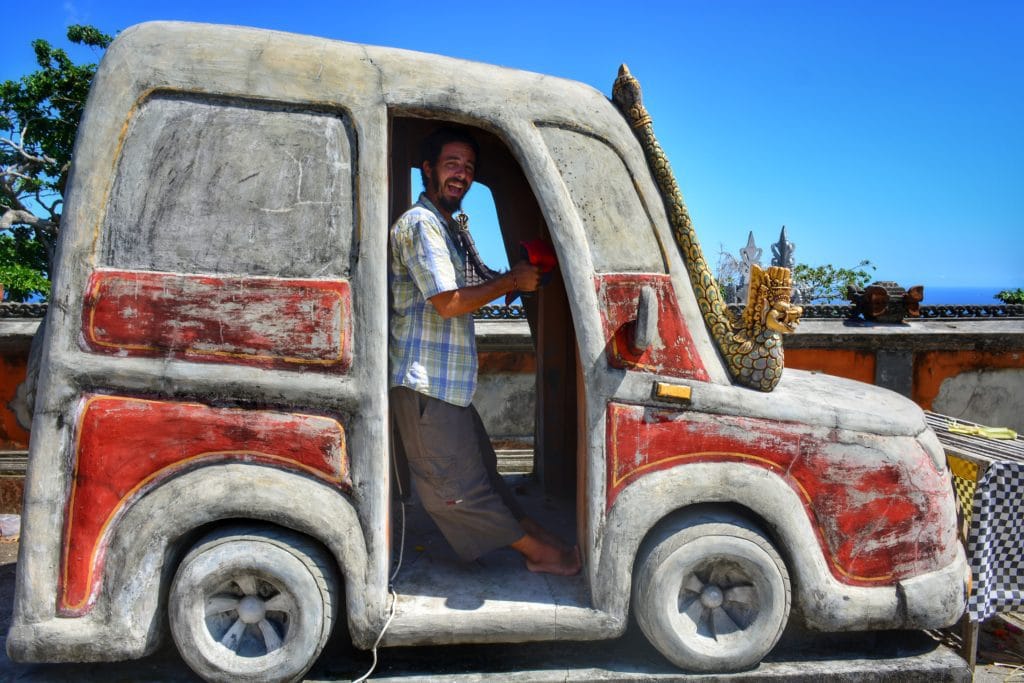 Cycling and motorbiking around Nusa Penida – roads and advice
Bringing a car to Nusa Penida is the worst of the ideas, there's only one decently paved road on the island, going along the northern coast. All of the other roads are pretty rough, small, and hilly, going from potholed concrete to stone tracks.
Cycling is an option if your bike can withstand this kind of road conditions, although we highly advise leaving most of your gear behind.
Renting a motorcycle is the most practical option, a decent deal will be about Rp 60,000 x day. Finding it is the least of your problem, they will find you most likely (otherwise, just ask around).
Local public transport is in small old bemos or on the back of a truck. Those are basically only available on the main road, along the north coast.
Although distances might seem short, keep in mind that road condition will really slow you down. Be sure to get your tank full before leaving into the hills as fuel will be used quickly in this rough conditions. If you run out of gas, ask around, some people sell bottled gasoline for double the price or more.
Ferry schedules from Bali to Nusa Penida
Quite troublesome up to a decade ago, getting to Nusa Penida now is quite straightforward. There are public boats from Sanur, Kusamba and Padang Bai in Eastern Bali.
From Padang Bai
The cheapest, way is catching the daily public ferry at 11:00 am, it's a large boat that can board vehicles, the only chance to bring your motorbike, car, or bicycle to the island.
A passenger ticket is Rp 31,000 each way and can be purchased at 10:00 am inside the building marked "Loket". To bring your own motorbike costs an additional Rp 50,000, purchased at the gate as you drive up. Bicycles go for free.
This ferry arrives in Sampalan on the North-East corner of the island, just off of the main road. This is a preferable way to get in and out from Nusa Penida. The boat is fairly stable on the water, you'll have great views, bathrooms, and the possibility to walk around the boat. The ride takes about 1 hour.
There is also a smaller private speed boat service that typically carries up to 20 people. This departs from Padang Bai beachside every morning. You should be on the beachside by 06:30 to catch this public speedboat. Buy the ticket from the ticket office near the beach and wait until the boat has enough passengers for the boat to depart. The ticket cost is Rp 45,000 each way for locals and 75,000 Rp for foreigners.
This smaller boat requires walking thigh deep in water and being packed into a boat like sardines. It's fast but not really as comfortable as the less expensive ferry.
From Kusamba
Gangga Express operates several speedboats a day from Pelabuhan Tribuana in Kusamba. Price for foreigners is Rp 100,000 each way and takes about 30 mins.
There is a daily public boat between Pelabuhan Tradisional in Sampalan and a port next to Pelabuhan Tribuana in Kusamba. It leaves Sampalan at around 6 am and goes straight back after reaching Kusamba. Price is Rp 45,000 and takes 45 mins.
From Benoa Harbour
Quicksilver runs daily cruises from Benoa Harbour in Bali to their monstrous pontoon which floats off the northwestern shore of Nusa Penida. The trip includes water sports activities centered on the pontoon. Rp 570,000 per person.
From Sanur
If you are staying in Sanur, scheduled departures to Nusa Penida from Sanur Beach are at 07.30, 16:30. Departures from Sampalan, Nusa Penida at 08:30, 15:30. It's new speed boat service, just 2 times daily to Nusa Penida. One way Rp 75,000/person for locals and Rp 175,000/person for foreigners. Operated my Mola Mola Express.
Caspla Bali Boat, Sanur Beach in front of Ananda Beach Hotel, (+62 361 791-2299). From Sanur Beach at 08.00, 11:00, 14:00 and 16:30. Departures from Buyuk, Nusa Penida at 08:00, 12:30 and 16:00. One way fare Rp 150,000/person and return Rp 300,000/person.
Maruti Express, Hangtuah Street (Sanur beach) in front of Diwangkara Holiday Villa, (+62 813 3875 4848) departures at 08.30, 10.00 and 16:00; from Nusa Penida at 07.30, 09:00 and 15:00. One way Rp 175,000, return Rp 300,000.
From Nusa Lembongan
Public boats depart daily at 06:00 close to the suspension bridge between Nusa Lembongan and Nusa Ceningan and run to Toyapakeh or Buyuk Harbour in northern Nusa Penida. There are also services from the Jungut Batu area of Nusa Lembongan to Nusa Penida. All of these can be a little 'worrying' at times and are often very crowded.
Charter boats are also available, departing from and arriving at the same area as the public boats. If you are staying on Nusa Lembongan, ask at your hotel. If not, go to the shoreline close to the suspension bridge or to the beach at Jungut Batu and ask around amongst the boatmen. Rates can vary but expect to pay around Rp 300,000.
Info of this paragraph is mostly taken from Wikitravel.org
---
Check also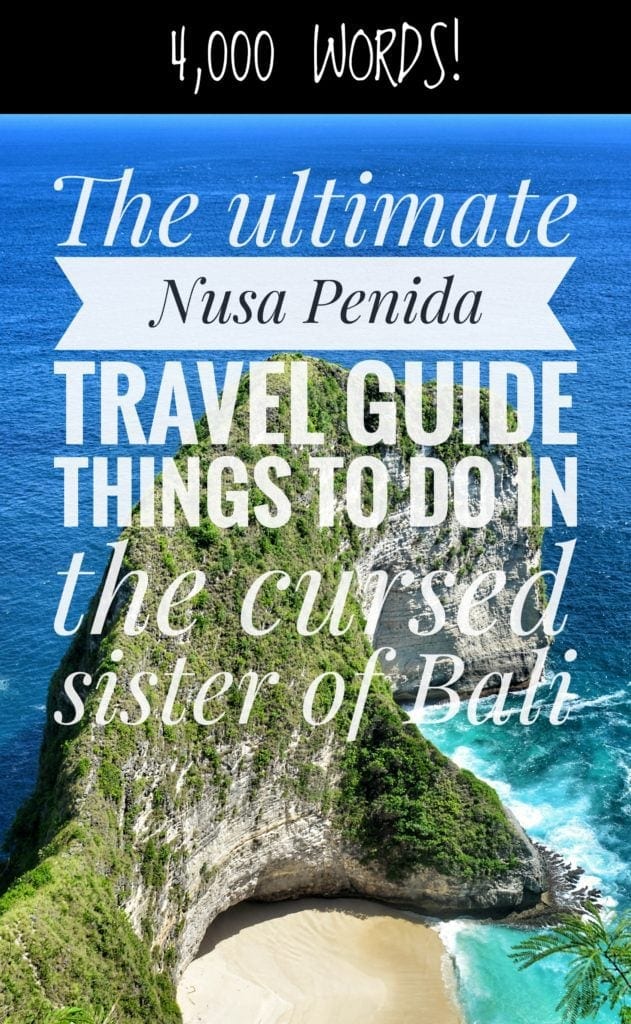 Stay in touch while we get lost! Follow us on Social Media