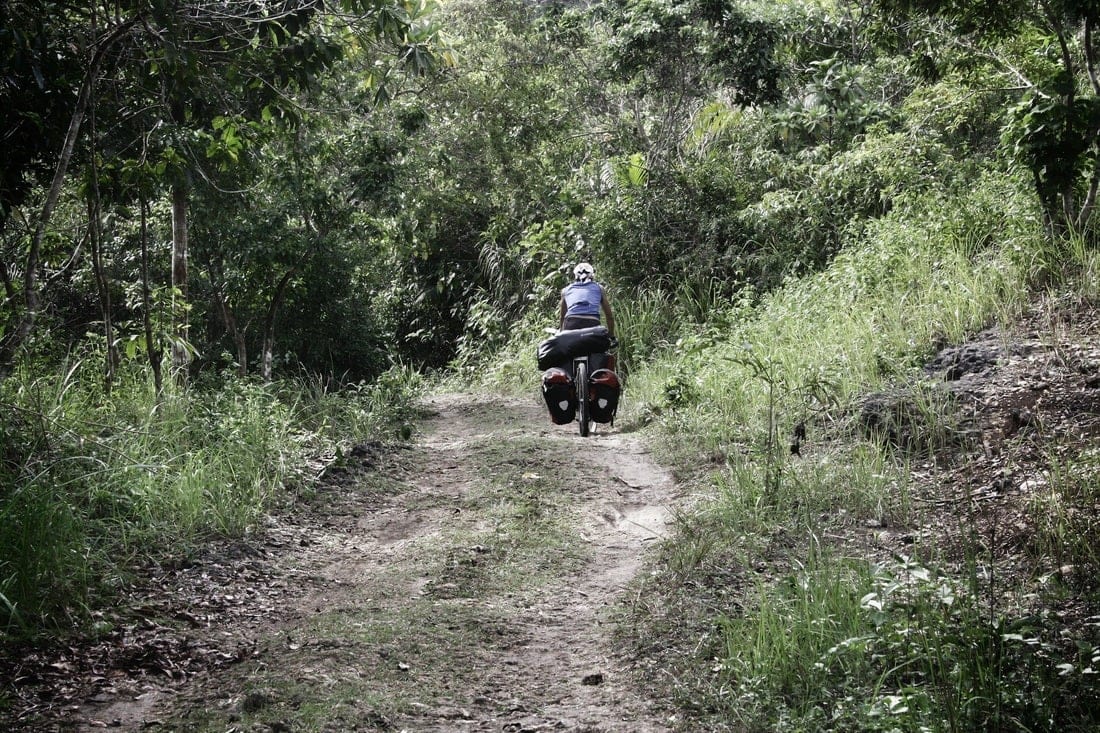 What to see and do in Bohol, a pearl of the Visayas
An itinerary to travel Central Philippines bicycle touring or backpacking
This article is a part of our guide to adventure travel the Philippines on a budget
Check the rest of our itinerary in the Philippines for more inspiration
Maybe because this was our first real impact with the rural Philippines, we developed a strong affection for this beautiful island. I think it's really a no-miss destination for a proper tour of the Philippines.
Bohol is part of the Central Visayas province and is inhabited by around 1.3 million persons. It is one of the most popular destinations in the Philippines, mostly for the Chocolate Hills and Panglao island, but there's really much more on this island.
Our loop of Bohol took five relaxing days, for 270km, but it can be done faster. We reached Bohol from Cebu City with the fast ferry (unfortunately the short visa didn't allow us to explore Cebu island) read our section about ferries for more info) and it cost us 400P in December 2015, slow boats are cheaper but less frequent (some schedules here).
Tagbilaran City
The boats from Cebu and other islands, all arrive and sail from the port of Tagbilaran, the chaotic small capital town of Bohol.
With around 100.000 inhabitants this is the sole urban area on the Island of Bohol, it has a few supermarkets, a fairly big fresh market, and a shopping mall. Stock here if you're looking for more peculiar goods, not that you can find a lot of stuff here, but still better than the rural areas.
Our bicycle trip in Bohol – the route
Down below is the map of our tour of Bohol island, the track is recorded by our GPS and you can display elevation profile by clicking on the portion of the track you're interested in.
Panglao Island
Disclosure: Some of our articles contain affiliate links. This comes at no additional cost for you and helps us keep this website up and running. (as Amazon Associates we earn commission from qualifying purchases)
From Tagbilaran you have the choice if to go north, south, or to explore the touristic area of Panglao while you think about it, the latter is what we did.
The whole tour around Panglao consists in less than 40 flat and pleasant kilometers. Though this is a tourist area, you will not see many of them around, most live enclosed in their resorts, which actually have taken possession of most of the beaches on the island, so don't expect to easily find where to swim here.
There's a big public beach on the westernmost tip of the island but water is very shallow here, sand is so white though that it's worth a look.
Here, like almost everywhere else in the Philippines, it's amazing to see the creativity people put in their buildings, houses, huts, small shops, food stalls, all so different from each other and mainly made of bamboo and rattan.
Cycling Bohol's southern coast
After bicycle touring Panglao, we decided to follow Jens's advice and cycle a loop in the south area of Bohol.
Heading south along the coast from Tagbilaran can be stressful for the first 10km or less, where you'll still feel the roar of the homemade tricycles and jeepneys; but after that, it really becomes the paradise.
The sea is visible most of the time in this first stretch, and you can bath to cool yourself down, with low tides it can be slightly difficult though (shoes recommended).
We slept here in a very cheap (300P/7$), nice and friendly place called Hilario's. Along this road there's also the interesting Baclayon Church, the oldest in Bohol, made of coral stones, here local youth often meet to train their acrobatic skills on their BMX and skates.
Bicycle touring the interiors of Bohol island
Reaching the village of Loay, we left the coast heading to the interiors, where the famous Chocolate Hills are. Few flat kilometers and then a short but steep climb up to 300msl.
In the village of Loboc we slept in a nice place in the jungle called Nuts Huts, very nice location by the Loboc river (you could cruise it or rent a kayak) but not worth the effort if you stay only one night here.
There's a 2km not easy dirty track and then a few hundred steps to get to the place, not so bike-friendly (impossible for a wheelchair), moreover nobody helped us with the baggage.
From here, you're not far from the Chocolate Hills, the most famous touristic attraction in Bohol, next to the village of Carmen. Those are hills shaped like bon-bons, few are visible from the road while you have to pay (50P) to get to the viewpoint. We decided not to go when we saw four big tourist buses out there.
But, in our opinion, the most interesting thing about getting here is instead the road, with lush rice fields, rock with palm trees that look like islands in the middle of the green, traditional houses and people at work, a postcard from the Philippines countryside.
You will also pass through the nice and shady man-made Bilar mahogany forest, though this forest seems to have a dark side.
Anda and the way back to Tagbilaran
Once you pass the Chocolate Hills, tourists suddenly disappear and the island is all for yourself. The bike ride is still pretty easy and scenic up to Sierra Bullones and Alicia, where we turn left to get back to the south coast, through Candijai.
So we get to the area of Anda, one of the best beach areas we ever saw. Also here, private resort exploit the beauty but is not as hard as Panglao to find public beaches. These are just perfect, crystal-clear water and snow-white sand, often it's possible to swim to private beaches, water is so calm here.
There's a sort of road that tours around the Anda peninsula in a loop but we didn't do it, there's a short but tough stretch of dirty track with steep parts, we took it easy and went back from the same road. Lazy morons we are.
And so Anda was the easternmost point of our trip to Bohol, then we started going back to Tagbilaran, this time following the coast. Sea is on our left for the whole ride now, spectacular views in a very low-touristic-impact area.
Reaching the town of Jagna there's a small resort called Paseo del Mar where the very nice Silvio, an Italian ex-pat, owns a dive shop. It's the only place where you can buy snorkel and mask in Bohol, according to our experience. Here you can snorkel from the beach but you will need shoes.
Back to Loay, you can choose to go to the interiors, where the Tarsier Sanctuary is (entry fee 50P), between the towns of Corella and Sikatuna.
The tarsier is the smallest primate in the world and a very rare creature, but we decided to spent one more night at Hilario's so we didn't go. Even though this is a so-called sanctuary and the animals are free, it feels to us they must be really annoyed by all this tourist wanting to take pictures while they sleep (tarsier are nocturnal animals).
So we went back to Tagbilaran and took a boat to the island of Negros (check here for our itinerary in Negros). Of course, there's much more in Bohol and this article is based just on our (wonderful) experience on this magic island, if you know some more interesting places or roads to ride please contribute in the comments!
Follow us
Stay in touch while we get lost! Follow us on Social Media