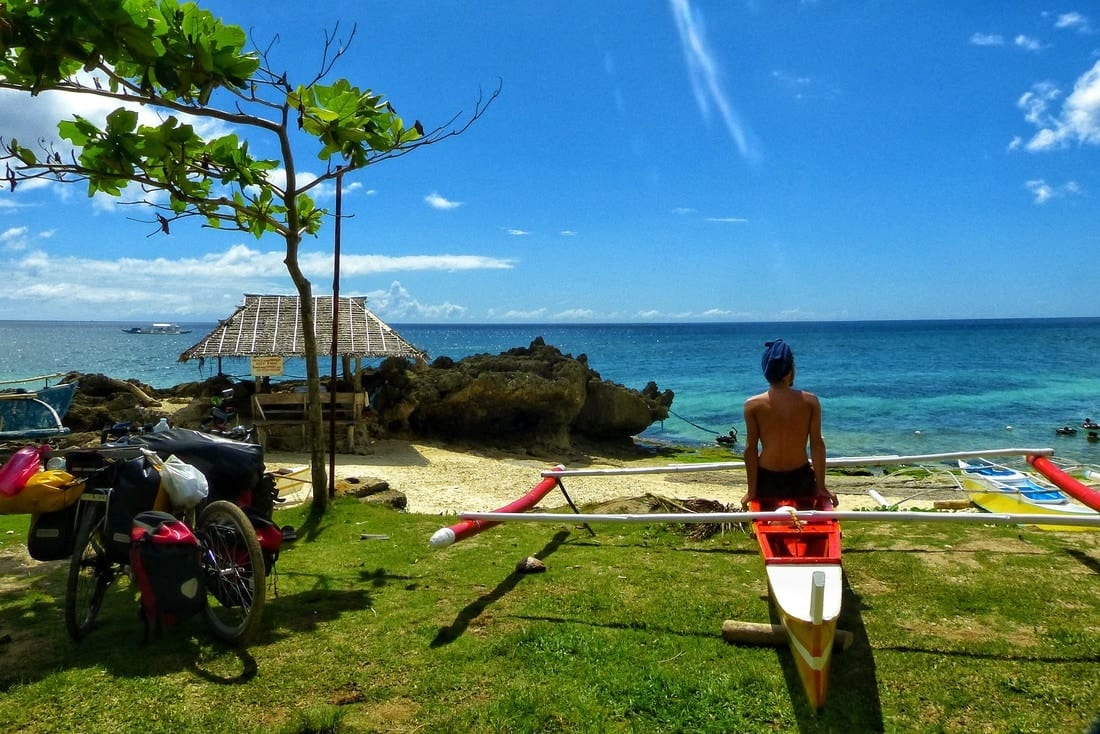 Cycling and backpacking Philippines on a budget
A budget travel guide for adventurous wanderers
Although ours was a bike trip, this articles aims to be a travel guide with useful tips also for those backpacking Philippines on a budget.
We ended up bicycle touring the Philippines almost for fortune, for a series of coincidences, but this was the country where we really thought to stay for a while.
This is because the Philippines is a fun, friendly and beautiful country, rich in positive vibes and human creativity. Moreover, the Philippines are also a very cheap destination, cheaper than the already low coast mainland South East Asia, a real paradise for the budget travelers, being them cycling tourists, hitchhikers, backpackers, and all sort of wanderers with a little sense of adventure.
Ours was a one-month cycling trip mainly in the Visayas, the central archipelago of the Philippines. As usual, we think that a bicycle is the better tool to deeply explore, get in touch with the real and experience landscapes and people.
Nonetheless, it's also the best way to keep the travel budget very low. Even though cycling the Philippines is an inexplicably underrated, you should really consider the cycling option.
If you want to know about where to go, jump to our Philippines itinerary directory or straight to the articles about Bohol, Negros, Guimaras, and Panay!
Learn more about bikepacking and backpacking the Philippines
Disclosure: Some of our articles contain affiliate links. This comes at no additional cost for you and helps us keep this website up and running. (as Amazon Associates we earn commission from qualifying purchases)
Communicate when traveling in the Philippines
The language barrier is often a big frustration when traveling, but you would be happy to know that this is not the case in the Philippines. Not all of you may know indeed that all the Philipinos speak very good English.
The school is in English since the primary levels, so while this may have caused a cultural loss for the Philippines, but it comes very handy for the bike traveler or backpacker who wants to make local friends in the Philippines.
There are many languages in the Philippines, but Visayas and Tagalog are the most widespread. Learning some words in Visaya will provide you nice smiles, people are more proud of their language here. Anyway, it's not a must, you will get many smiles anyway.
Where to sleep almost for free
Free camping in the Philippines
The Philippines is a crowded place, you are never too far from other people. Thus, when considering free camping, curiosity and even a bit of rob risk must be taken into account. It's very easy to camp on the beaches but the verdurous interiors are more of a gamble. Camping is tolerated by the authorities at the time of writing this.
Backpackers and bike travelers friendly accommodation
Cheap accommodations are easy to find in the more touristic areas, though not so frequent on the less known paths, where the hidden beauty of the Philippines is sometimes to be found. Consider cheap a room up to 500pesos (10€). More popular areas often offer great value for money. Check for example these affordable resorts in Batangas.
In less touristic areas love motels are a good value, they have a price per hour but you can get a whole-night deal, bargain hard.
Couchsurfing is quite popular in the medium/big cities but don't expect it to be easy, it might be worth a try anyway when backpacking Philippines. Warmshowers counts a few active members which are very nice to meet.
While Filipinos are generally speaking very friendly and smiling people, being invited by strangers at their homes never happened to us, it's one of the few countries in twenty-six so far (2018) where nobody even treated us a meal. But it might have been just a case.
We found common in the Philippines for the locals to think all the foreigner, doesn't matter if backpackers or cyclists, are rich (we were asked seriously if we had come by private plane), so they will try to charge you often higher prices, sometimes even crazy higher, bargaining to a reasonable price is often a must, especially with accommodation but sometimes even for cigarettes.
Food
How to eat on a budget in the Philippines
When it comes to meals you can really stay on a tight budget in the Philippines, with a basic one in a cheap restaurant going around 1/1.50€. Vegetarian options are not many.
But not everywhere you will find a restaurant, if you are on the road you will happen to get familiar with the eateries. Those are stalls where already cooked food is served, the range of choice really depends on the area, in some guiltily forgotten stretches of coast in Negros you could happen to find just a few boiled fishes for kilometers.
Though mostly of a middle/low level, sometimes eateries can be a surprising experience and give you a taste of the real Filipino streetfood and homemade cuisine.
Another positive aspect of this places is that you eat a lot with less than 1€, be mindful though and beware of your body immunity defenses' strength if you're flying straight from a very hi-hygienic-standards country.
Very common are food carts selling fried chicken for as low as 10 pesos per piece, and hamburger stalls where you can buy a burger and grab one free, two hamburgers for 0.40€. Even though not very healthy, sometimes junk food is just what we want. Especially for this price.
Bakeries are another good deal, they are almost in every village and give you a vast choice of very cheap decent sweets for 2/5 pesos, almost free.
Supermarkets are rare and can be found only in the major towns. Don't expect the Japanese variety here. In the countryside, there are small shops that sell all the basics. Even those are not very common, to stock always a little of food is a good precaution.
Tropical fruit of the Philippines
Fruit comes in an overwhelming variety throughout the whole year, but it's not as cheap as you may have thought. Anyway well worth, you don't want to miss the tropical fruit experience for just a few bucks. Local markets are where the best deal can be found, those are nice, dark, sometimes crowded and regularly dirty places where to have a taste of real local life.
Liquids
Water from the tap is not drinkable, but water refill shops are really everywhere. In this places, you can fill your bottles for almost nothing, sometimes even for free.
Beer is widespread and the cheapest in South East Asia. 26 pesos is the price of a small (33cl) beer in the Philippines supermarkets. Another thing to enjoy in here.
Local Ron is dirt cheap and surprisingly good, you can buy half a liter for less than one dollar and, though I am not a sommelier, I can say that it tastes better than many commercial Ron sold in western countries.
Remember that getting drunk while cycling or backpacking Philippines (or any other country) is not a smart idea.
Connectivity in the Philippines
Free wi-fi hotspots are not common here, this is not Korea. But as opposite of Korea and Japan is very easy to get a local Sim card with data traffic. Those are available in every mobile phone shop and even in stall-style shops.
Activities in the Philippines
The Philippines has so many beautiful and interesting things to do for free that you don't really need to spend money on activities. Some of those are even unethical, like swimming with whale sharks in Cebu.
Worth a few bucks might be visiting some off-shore small islands, like Malalison in the Panay area.
Cycling Philippines – Road conditions
Roads in the Philippines are surprisingly good for such a poor country. Most of them are sealed, with asphalt or sometimes concrete, dirty tracks can be found if you try to get deep into side roads, to find a spot to free camp for example.
It's easy to find plenty of dusty road-works, usually they are not long stretches, and they are for making everybody's life easier in the future, so tolerate.
A nice thing for those beginners thinking about a bicycle trip in Southeast Asia is that it's really easy to ride long distances in the Philippines without any need to shift your gear. Coastlines are mostly flat and landscapes are beautiful.
Traffic in the medium/big cities is always a mess, with the local transport darkening the air with their polluting breath. But just outside the urban area traffic lightens and you will share the road with a few jeepney and tricycles. This will stay true only if you avoid the main roads.
Anyway, you will seldom find your yourself alone if you cycle the Philippines sticking to the pavements. The road network doesn't give you lot of choices but there's usually at least one alternative, consisting often of riding the island from the other side, if the main road goes follow the east coast you will choose to ride the west.
Transportations in the Philippines
Traveling the Philippines by ferry boat
Yes, islands. Many, small and big, far away and close to each other, an archipelago indeed. So dealing with boat transfer is almost impossible to avoid when cycling or backpacking the Philippines.
Ferries in the Philippines are managed by plenty of companies, understanding the schedules it's a brain-toasting game, better just show up at the port or the jetty for medium/short distances and find out there. The view from the deck is often pretty spectacular and it is to me a significant part of the trip.
Insider Tip! It can get surprisingly windy and chilly when traveling by boat in the Philippines, even when on-shore is very hot. Always include a light windstopper in your Philippines packing list.
Philippines speedboats
There are several kinds of boats that connect these 7,641 islands. So-called fast boats are the most common and frequent for medium/short distances. Usually medium sized two story ferries with the bottom one enclosed and air-conditioned to arctic temperatures, and the top one open to the sides, your choice.
Odd size baggage is kept on a small open deck at the stern of the boat and covered by a waterproof tarpaulin, this is where your bicycles will end up, together with all sort of heavy and odd stuff the Pinoys always carry on these ferries.
The loading procedure is not super-easy, there is a small plank that connects the stern deck to the jetty, always with steps. Usually, porters on this ships don't charge any tip but I will avoid to let them handle my bike without my supervision.
An odd size baggage fee always applies, together with a port fee, all of those are to be paid at a different desk, while ubiquitous mariachi-like guitar bands play folk songs in front of the closed gates to the jetty. It's more fun in the Philippines.
RoRo ferry, the bigger ships
If you want to avoid the pain of loading and don't mind going a little slower there is always at least one RoRo ferry that connects adjoining islands. Those are the ferries where the vehicles are loaded, much easier to ride in and with bigger decks. Their departure schedules are not as frequent as the fast boat, usually one or twice a day, with even fewer boats for the long-distance routes.
RoRo ferries are indeed sometimes the only option for distances above 100km, and if not, way cheaper than fast connection. For the long rides, the boats are equipped with rough common dorms, no blankets provided, a smelly experience. But this boats can be very funny, with a simple bar, karaoke (called videoke) and sometimes even unexpected group dances acted by the crew(!). It's more fun in the Philippines.
Pump boats – only for the fearless
Pump-boats are used for short distances, traditional wooden boats with two floaters on their sides. Loading cargo here is much worse than on the fast ferry, sometimes there's not even a jetty, you get on the boat straight from the beach, dragging your bike through the sand. You won't be alone though because people use to load also scooters on this boats, you will be amazed to see how they do.
Sailing on a pump boat is an experience itself, but it can also be a scary one, in less touristic areas this boats can be bad-maintained and with no safety equipment at all, avoid it if the sea looks rough, especially if you are seasick. Our sailing to Guimars from Negros was one of this bad feeling experience.
Overall safety is honestly a concern when traveling by boat here, with quite a few recent cases of lethal accidents.
Some more information about the ferry connections in the Philippines, with links to the main companies' not reliable websites (where you could find some sort of schedule for the boat trips) can be found in this article and this one.
Land Transportation
This is where the Philipino creativity really blows your mind off. Local transports here are weird and noisy handmade vehicles of several types.
Jeepneys are my favorite, this sort of crazy minibusses was originally made modifying American four-wheel drive military vehicles left behind after the war. Now they are almost hundred percent handmade, you can see the hammer signs on the haul.
Usually spray painted with kitsch designs that often include: a Christian figure (Jesus, St.Nino and Maria the most common), a member of the family's portrait, and something about speed or superheroes (Ferrari, horses, Spiderman and even manga heroes).
Jeepneys connect villages in the islands and I bet it's not hard to put your bike on the roof, although we never tried.
Tricycles are also very funny, these are small motorcycles with a covered handmade sidecar, made in various shapes. It's not rare to see as much as 15 people on one of this toys. They are good for short distances (up to 10km). Not a great option for cyclists, even though I would not be surprised the driver could find a place for all your stuff for a small surcharge.

Long distance couches are available in the major towns and more common in Luzon (the biggest of the islands where Manila is). It's usually possible to put bikes on these buses, paying usually a small overcharge directly to the driver. Be careful of your luggage if is in the trunk when the bus stops, especially in big cities, your best bet would be to travel with a carry-on backpack so to keep it always with you.
Overall, public transportation is a great, easy, and cheap way to backpack Philippines on a budget. The lack of comfort is compensated by memorable experiences.
---
Flying in the Philippines
Philippines national airline company is Cebu Pacific, one of the most bike-friendly airlines out there. They have very cheap rates for sports equipment up to 40kg, and fly to many destinations in the Philippines and Eastern Asia, with low-cost rates.
Weather
From the useful weather-and-climate.com:
"…Most of the Philippines have a typical tropical marine climate. So you will find typical hot and humid weather throughout most of the year. From June to September, the country experiences a rainy season. In this period typhoons are common. From October to February, the northeastern monsoon brings cold winds from the north, which creates cool and dry weather. From March to May the Philippines experiences very hot summers. The country's average temperature can range from 25 degrees Celsius to 32 degrees Celsius (78-90° Fahrenheit), with humidity around 77 percent. Highland areas are much cooler, with nighttime temperatures at night dropping to 20 degrees Celsius (68° Fahrenheit)…"
This scheme can be delayed and modified during El Niño occurrences years.
Expect short tropical showers even in dry season, and welcome this as appropriate refreshing moments from the usual bloody hot. Consider this when planning steep climbs in the interiors, not for faint-hearted. If you suffer the heat, stick to the beautiful coastlines, with the sea always by your side for a quick cooling.
Safety concerns in the Philippines
Criminal rates in the big metropolitan areas are high in the Philippines but don't imagine some sort of far west because it is not. Watch your things as usual, keep your money safe, and as a generally common-sense rule, don't show up your wealth if you have any. Watch your step in the darkness, and look far from you to where you're heading, to be warned in advance by suspicious situations (these rules are valid everywhere in the world).
In the rural areas, the atmosphere is really relaxed and people are mostly friendly, it's though a crowded place so in the night could happen to meet some crazy or drunk, or some desperately poor fellow looking for your sandals. Take care of your stuff if you wild camp.
Suggested itinerary map
Here is the map of our Philippines tour, as recorded by our GPS, it includes elevation profiles. Jump to our bicycle touring or backpacking Philippines itinerary for more details about our suggested routes.
Follow our budget friendly adventures
Stay in touch while we get lost! Follow us on Social Media