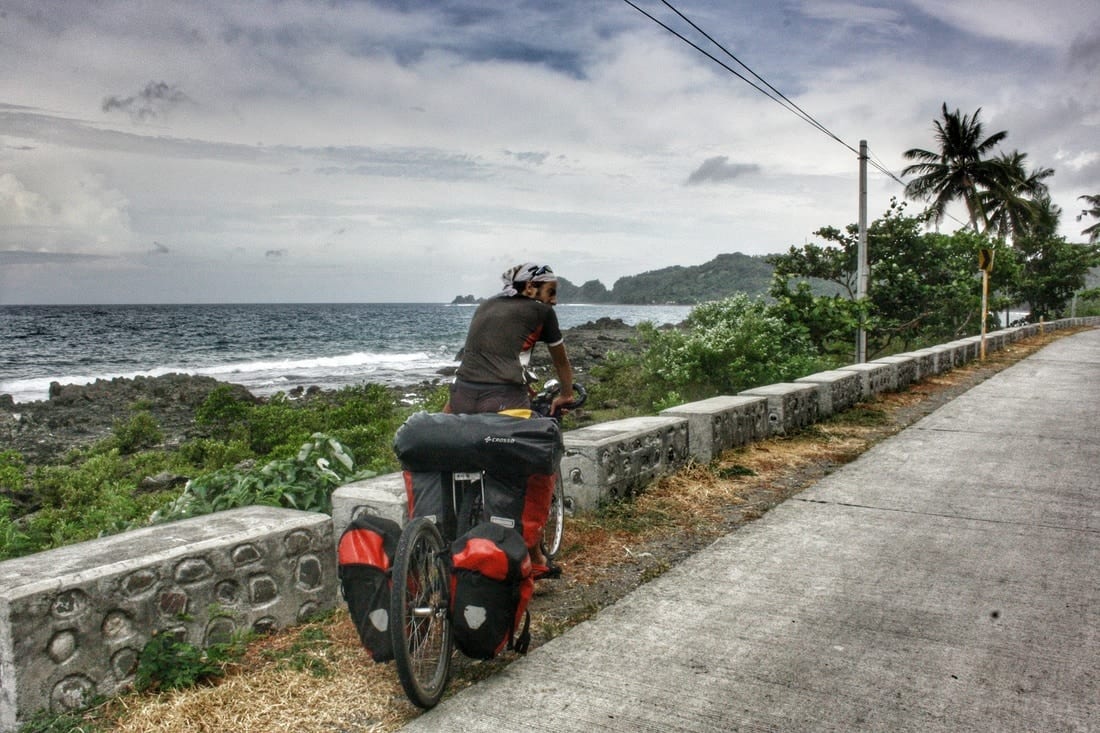 A road trip itinerary of Panay Island
Iloilo, Antique, Malalison Island, Caticlan and more things to do
Panay is mainly known as the gate to Boracay island, the most famous tourist destination in the Philippines and one of the most visited in South East Asia.
But to our eyes, most famous and most visited usually means most crowded and expansive. So, since we are more the "off the beaten path" kind of travelers we decided to explore Panay instead, and here is our itinerary.
Panay is the sixth-largest island in the Philippines, inhabited by around 4 million people, is located in the Western Visayas province. Our tour started in the busy capital Iloilo, coming by RoRo ferry from Guimaras, to end in the North-Western tip of the island in Caticlan, around 300km in seven days.
Ours was a bicycle touring trip, but the information listed below should be valuable for everyone who wishes to visit this beautiful island.
This article is part of our guide to adventure travel to the Philippines on a budget.
Check here our 4 itineraries for 4 incredible islands in the Visayas
Panay Island Suggested Itinerary Breakdown
Since we were cycling this itinerary took us 7 relaxing days to be completed. If you're traveling by any other means of transportation you can have a good experience of Panay Islands in just 5 days.
1 Night in Iloilo, visiting the Churches and local markets
1 Night in Nogas Island, visiting Miagao on the way
3 Nights in Antique, visiting Malalison and Batbatan, hiking the BatungBatu falls
The bicycle route
Down below is the detailed map of our itinerary in Panay Island, with elevation profile. It's the GPX track recorded by our GPS during the whole journey.
Iloilo City
Iloilo is a not so pleasant and chaotic 400.000 people city, with a good range of cheap but ugly accommodation and some "resorts" along the coast heading west. The sea here is quite dirty and not inviting, we suggest to just pass through.
If you have one night to spend in Iloilo you can visit the local markets, and have a look at some of the colonial heritage left by the Spanish colonist here, like the Jaro Cathedral, Lizares Mansion, Casa Mariquit, Molo Church, and Bahay Camiña Nga Bato.
Panay south coast and Miagao
Proceeding east the situation doesn't improve so much, the road is a little busy with not a lot to see but plenty of fighting-cocks breeding farms and the usual arena for the fights.
About 40km east of Iloilo is the town of Miagao which is beautiful and very interesting Sto. Tomas de Villanueva Parish Church, also known as the Fortress Church, designed to have thick walls to serve as protection from invaders.
The façade of Miagao church is very unique, ornately decorated bas-relief featuring a coconut tree depicted as the tree of life, St. Christopher dressed in local traditional clothing carrying the Child Jesus on his back, the daily life of Panay people, native flora and fauna – all this in the middle of two huge watchtower belfries on each side.
Riding this road it's easy to notice that Panay looks more wealthy then the average of the Philippines, the houses are mostly brick and concrete and you will see some big villas.
The Southwest and Nogas Island
Disclosure: Some of our articles contain affiliate links. This comes at no additional cost for you and helps us keep this website up and running. (as Amazon Associates we earn commission from qualifying purchases)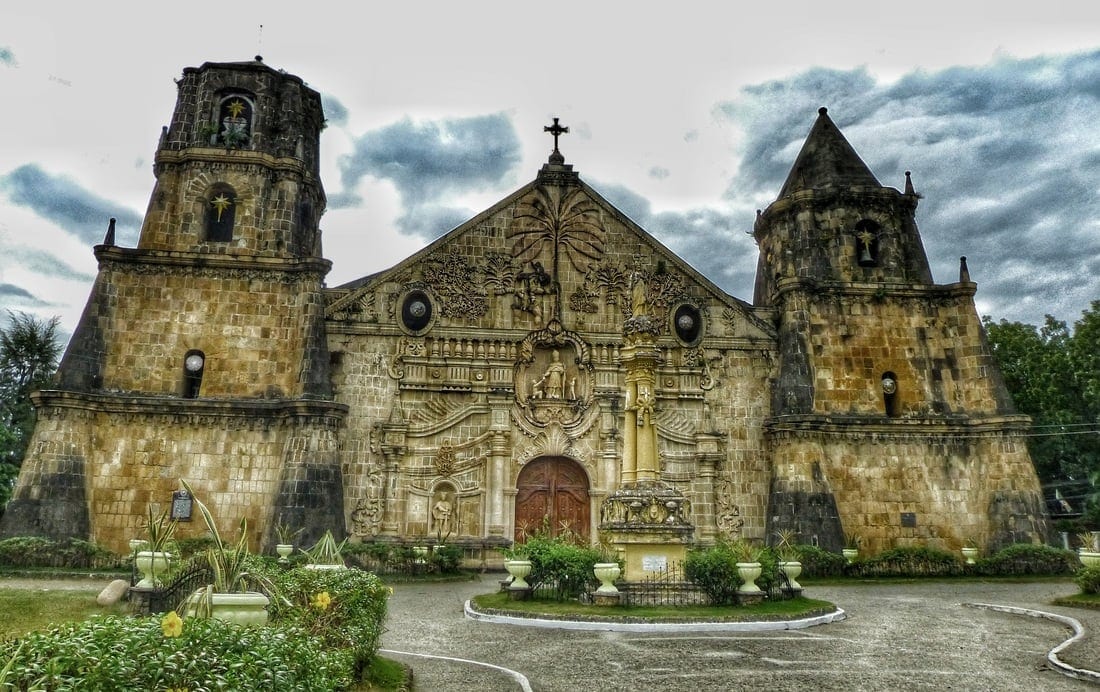 Some 15km further there's the town of St. Joaquin, the road here is a constant up and down, Past St. Joaquim you have the option to cut through the PC Barracks Road, but we advise to stick to the coast.
The scenery in this small peninsula is among the best on Panay's coast, up and down through lush green forest with great views of the half-rocky/half-sandy shore. There is accommodation here but mostly overpriced. There is also a hot spring resort if you really want to get boiled.
Just off the coast the beautiful island of Nogas, an underrated and unspoiled small islet reach in corals andwith beautiful white sand beaches.
Panay west coast – Antique and Malalison Island
Back on the main road, you will reach the municipality of Saint Jose de Buenavista, the capital of the Antique province. Some nice beach around here but nothing spectacular. Then 70 more kilometers to reach Tibiao.
In Tibiao we advise looking for Kasa Raja Inn and AdvenTours, a guest house owned by the super-nice Alex, an artist and an interesting person to talk with.
He can organize trips to the nearby beautiful islands, we went with him to Malalison island, just off the coast from Tibiao, the beach has nothing to envy to Boracay (besides the nightlife, if that's your thing), white coral sand and crystal clear water, with the advantage (at least for our tastes) to be the only tourist on the island.
There is a fishermen village with a basic homestay if you want to spend the night there. Just a few hours a day of electricity, perfect for a real break.
A short (30 minutes) but very scenic hike brings you up the small hills to the west side of the island, where a colorful pebble beach, a tiny islet, and a very small (two houses) fisherman community will enhance the sensation of magic.
There are two more islands in Antique province, the infamous but stunning Batbatan, and the remote Maniguin. Batbatan is known for its population kin to piracy acts, but you will be safe if going on a tour.
Hiking in Tibiao, Antique – Batung Batu Falls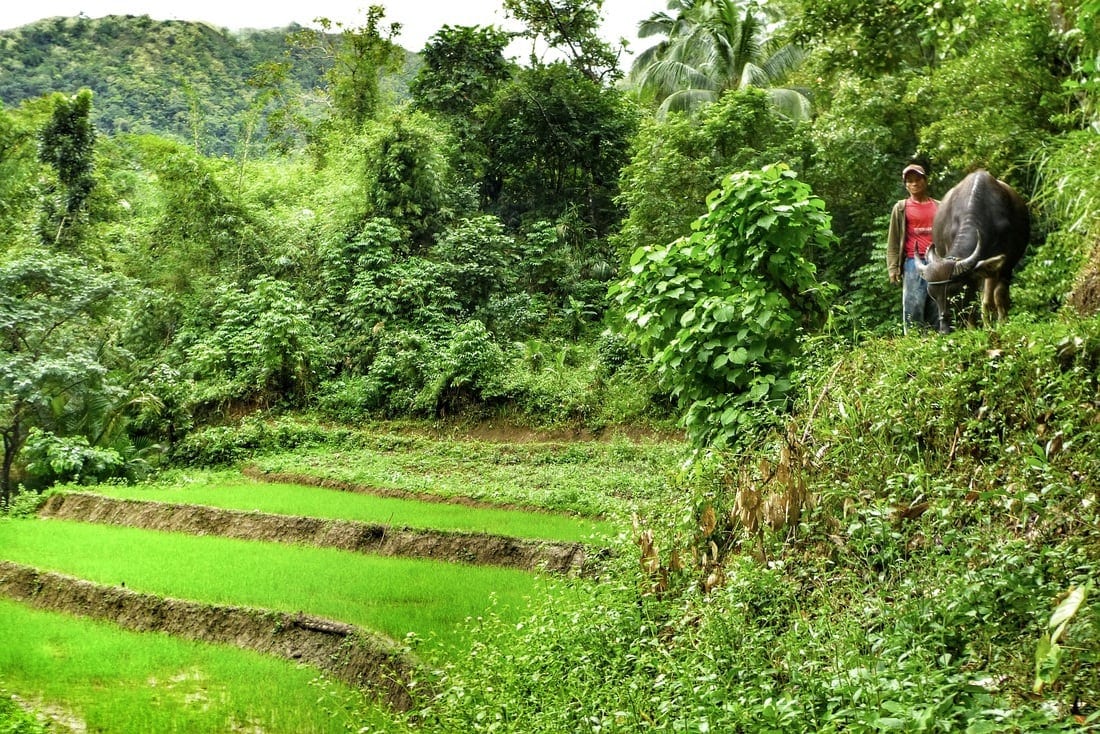 The same day we went also to the Bugtung Batu Falls, a series of seven waterfalls close to the barangay of Tuno (A barangay, often abbreviated to "Brgy.", is the smallest administrative division in the Philippines, sort of a village) around 15km from Tibiao, along the Tibiao River. They might not be as popular as the Kawasan Falls but they are not less stunning.
In Tuno you will pay a small fee of 100P and be asked to hire a local guide, not really needed but it's cheap and the guides are people of the village, so you will support the local community.
Of the seven waterfalls, you can visit only three but those are beautiful and have nice natural pools to bathe in.
To get to the third waterfall you must climb a rope on a slippery rocky surface, adventurous but really worth it. The hike itself is a short but beautiful walk through lush rice terraces.
Going further is apparently impossible on a day trip, you must set an overnight expedition, again Alex from Kasa Raja can help you with that.
More things to do in Panay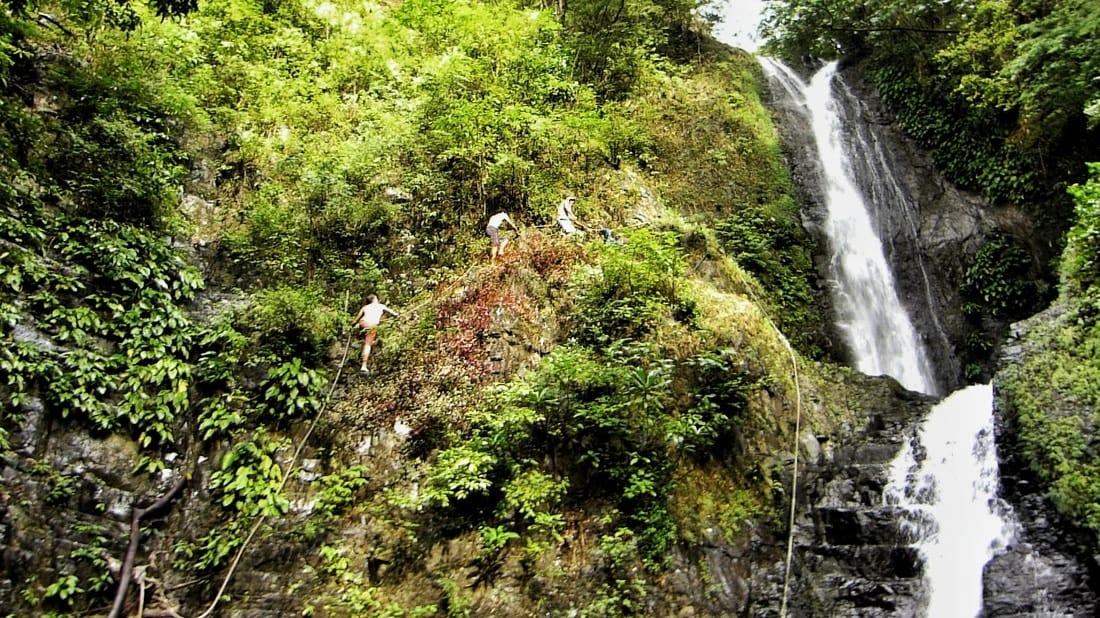 Some more attraction in this area are:
the Kawa hot baths. Huge pans where water and leaves are put, then the water is heated by a wood fire and you can bath in like you are being cooked by some cannibals.
Kayaking down the Tibiao River. That cannot be done during the dry season
the 1km long (two ways) zip line. For 300P you can fly, harnessed to a cable, over the river, and the rice terraces.
Bicycle touring Panay northwest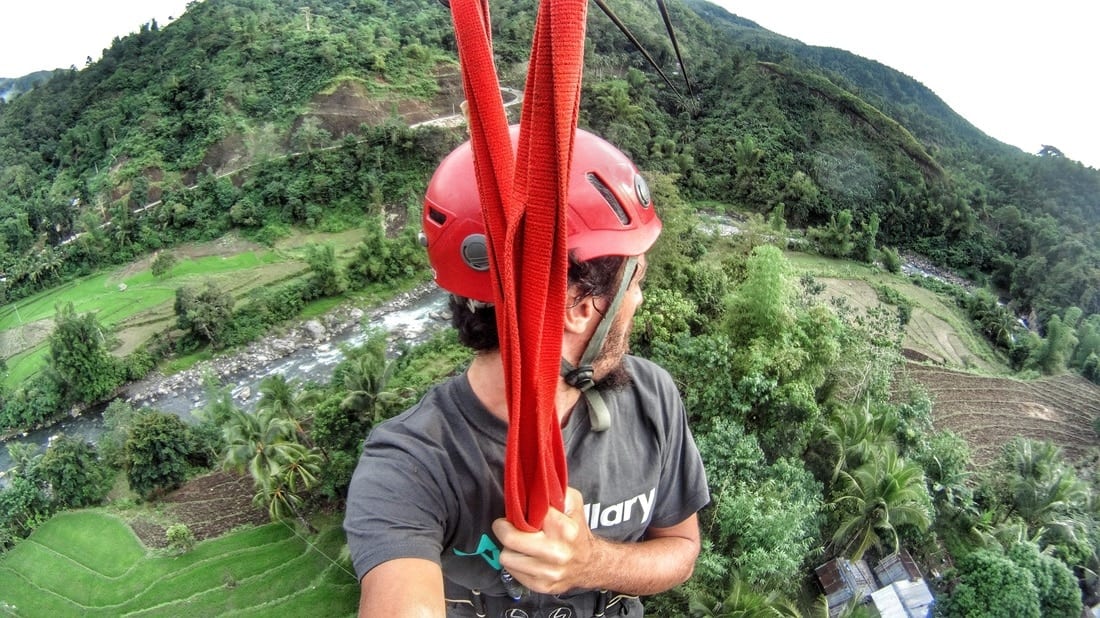 The remaining 93km is just nice until you hit the Northwest Panay Peninsula Natural Park, apparently a special permit is needed to visit the park but just riding along it offers some of the best views on the island. Going towards Caticlan there's one last climb, also with great views, and some very nice beaches along the road.
In Caticlan there is a wide range of accommodation and the big harbor, from where you could reach many destinations, yes, even Boracay… but once you'll be there and see the crowd of families and groups all going there… maybe you will reconsider.
Our plan was to go from here to Mindoro, but the island was still under a strong typhoon, so we took a 12h RoRo ferry to Manila, very funny, especially when all the crew began to dance(?). It's more fun in the Philippines.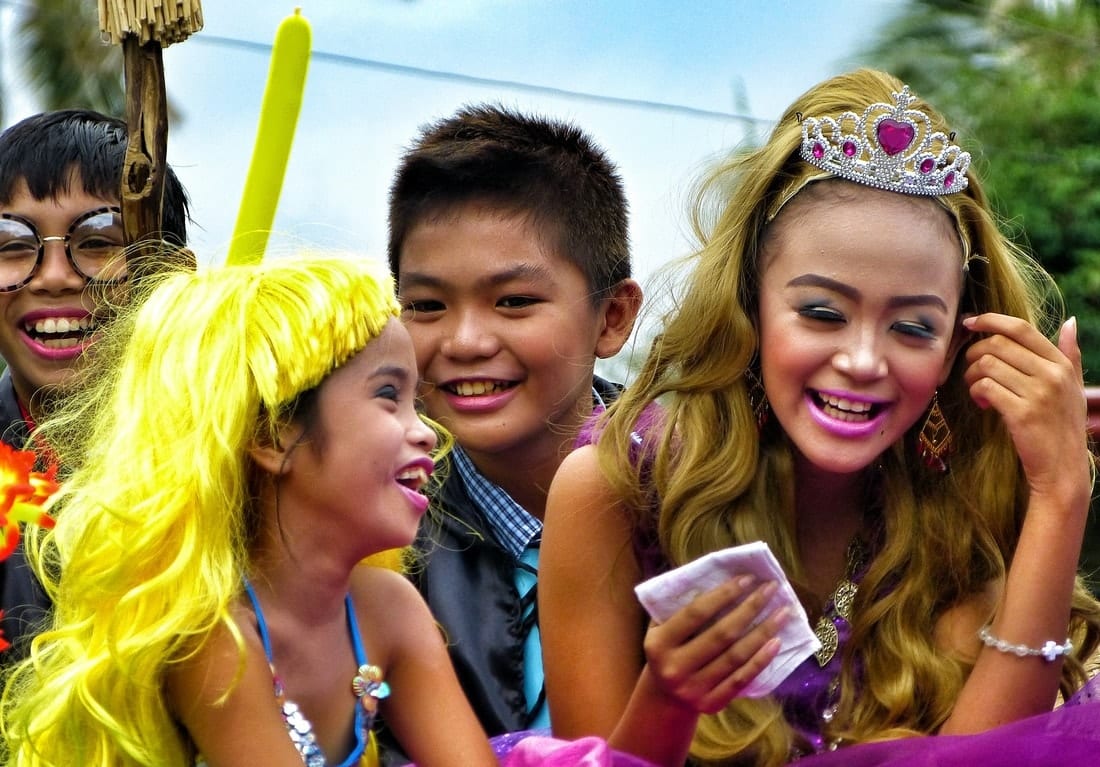 Stay in touch while we get lost! Follow us on Social Media