This article is part of our guide to adventure travel the Philippines on a budget.

Negros is not a famous destination in the Philippines, and that's a pity. It's an incredibly beautiful island, great to experience the real Philipino culture and lifestyle. Negros island is part of the Visayas archipelago, which constitutes the central part of the Philippines state, around 4.5 million people live here, not many considering this is the 4th biggest island in the Philippines.
The coastline is again mostly flat, with a few climbs, never longer then 5km, major roads are sealed and quite smooth. Some areas have very nice beaches, sometimes made of volcanic sand, indeed Negros is home to one of the most active volcanoes in the Philippines, the Kanlaon Volcano (2.465m).
Getting to Dumaguete from Bohol, it's quite straight forward, two hours with the fast boat (700P), check our general guide to adventure travel Philippines to know more about ferries in the Philippines and this website for updated schedules.
Our itinerary was 320km long and we made it in 8 days, including the ferry transfer. Down below is the detailed map of our itinerary in Negros, with elevation profile. It's the GPX track recorded by our GPS during the whole journey. Check here for all the four destinations for bicycle touring in the Philippines.
From Dumaguete
Disclosure: Some of our articles contain affiliate links. This comes at no additional cost for you and helps us keep this website up and running. (as Amazon Associates we earn commission from qualifying purchases)
Dumaguete is a small (100.000 inhabitants) pleasant town that serves as the administrative center for the province of Negros Oriental (Eastern Negros). Anyway, there's no reason to stay here more than one day, stock in supplies though, you're not going to find supermarkets for a while.
From Dumaguete, you can go north, following the west coast, or south around the island and then along the east coast. Since the north route is the main road it is busier, we suggest to go south and that's what we did. The first 30km are along the sea, not very inviting though, a little muddy. After that, there's a short climb up to 200msl, nothing heavy.
All of this 88km up to Santa Catalina are not very developed, there are a few resorts before the climb, in front of Apo Island, where the sea gets better (not astounding but good for swimming) and the beaches are made of black volcanic sand.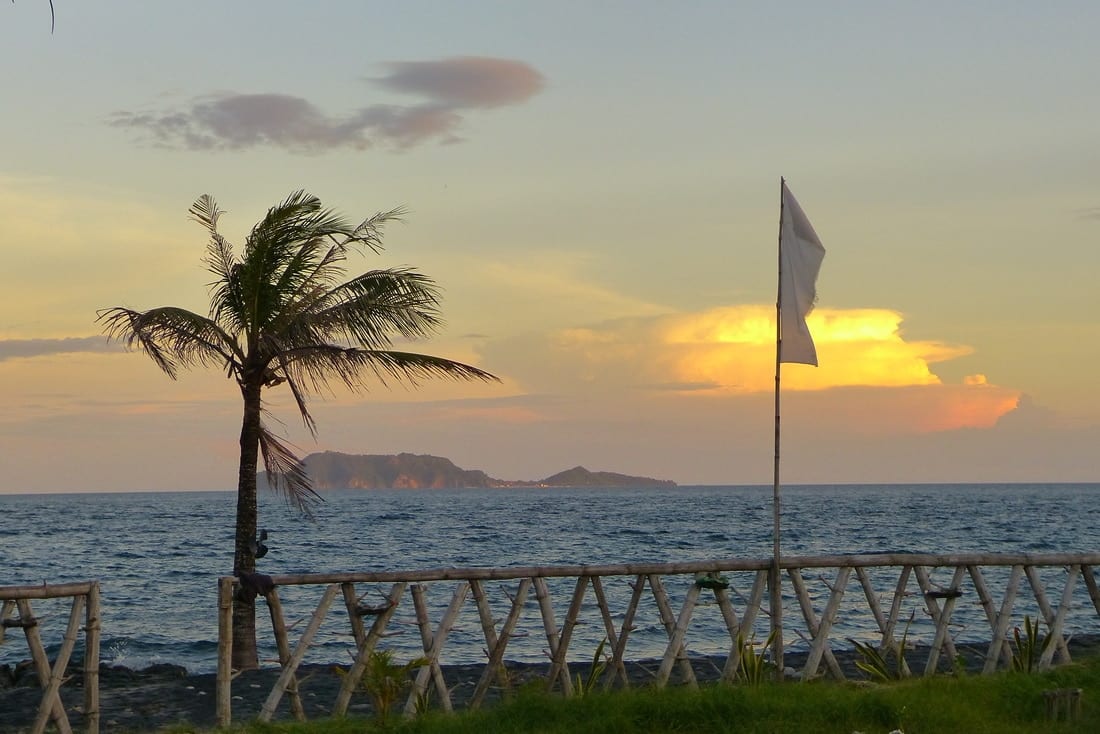 Cycling Negros west coast
After coming back to the seashore, the water quality improves but for some unknown reason there's no infrastructure here, it's even difficult to find an eatery. If you bath in this area, be careful about the jellyfish, we saw plenty but maybe was just that season.
Santa Catalina is a small market town, with a few accommodation options after the town center. There seems to be nothing in town. Some 50km north along the coast is Hinoba An, another small town, not much choice of accommodation here but you can find something. Ask for Noni in the market area if you want the cheapest (200P) room available, not very clean and comfortable but Noni is an interesting person to talk with.
Sipalay
Sipalay is just 30km north, after another short climb that we recall quite terrible, but probably just because it was midday and very hot. Sipalay is the most touristic town in Negros, don't expect many foreigners though.
The town itself is small and with a pleasant beachfront, many seafood restaurants and a pair of perfect beaches just around the corner.
We really advise to go to Sugar Beach, there's a short river-crossing to be done by boat, for a small tip to be given to the local kids, you must leave your bicycle behind if you came here with it. The beach itself is huge, with beautiful rocks, golden brown thin sand and emerald green water, a paradise. Here are a few more expensive resorts and most of the western tourist. If you find it wavy (can happen in the afternoon) just walk to the end, there's a nice bay where the water is usually calmer.
In Sipalay there's also Fredrik, a french touring cyclist who settled here and runs a restaurant, you can contact him through warmshowers.org.
Going further north, some more perfect beaches (a little hidden, take the dirty tracks) completely unknown to tourist are really worth to check if you are willing to see some fishermen's daily life. Most of the people who live here along the sea are very poor, there's a law that allows building bamboo houses along the shore for free, where the land is public, good idea until the next big typhoon.
Another little climb awaits you some 10km north of Sipalay, reaching the top you're in the western corner of the island, with a nice lighthouse and a great view, here to road turns east following the coast. Going west there's not much more to see, the road gets busier with sugar cane filled trucks, not many choices of accommodation either, be prepared to camp or ask people.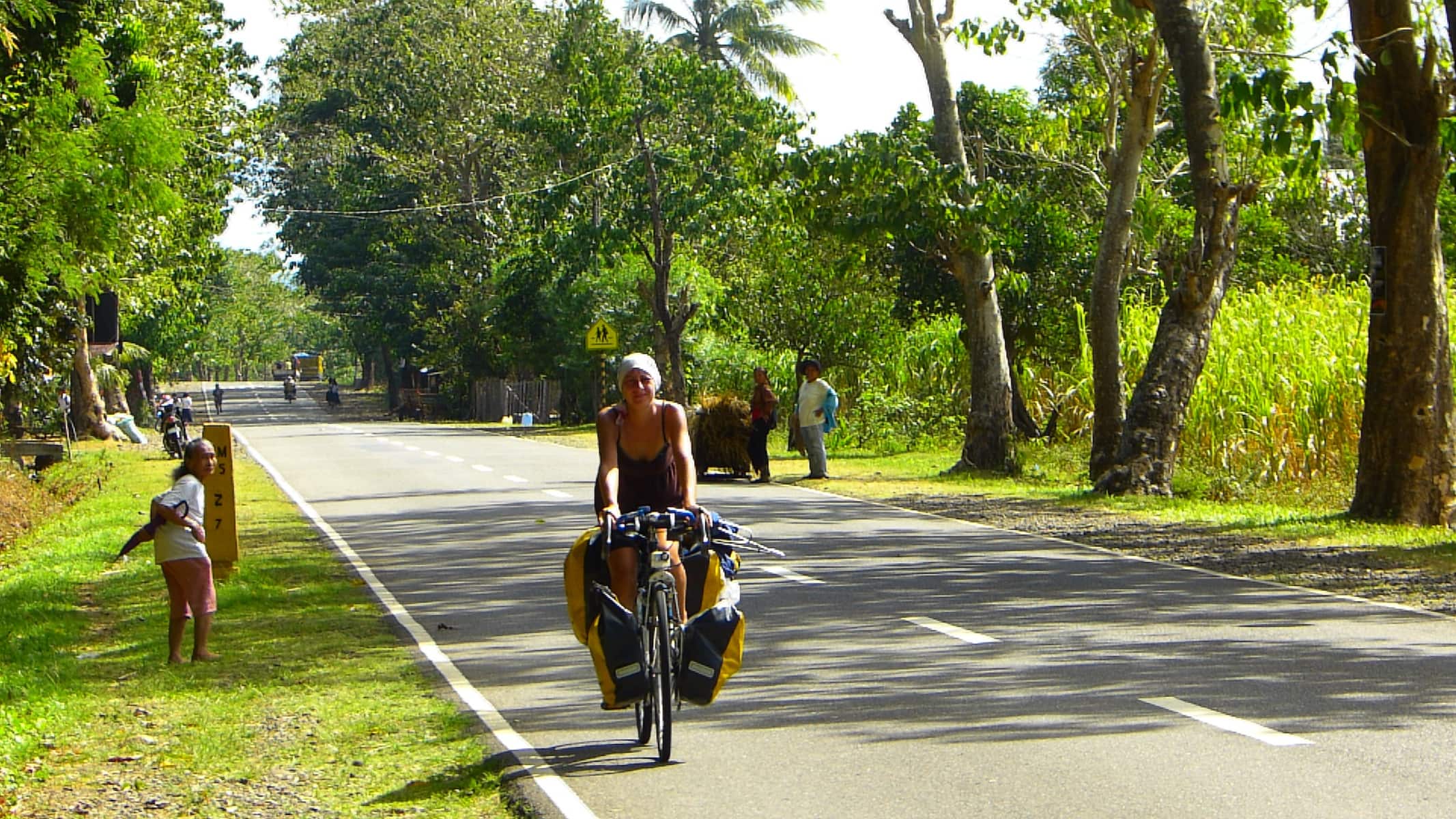 Before reaching the bigger town of Kabankalan, there's a secondary road that bypasses the city going to Ilog and Binicuil, very nice one but it was interrupted and we had to come back, ask before taking it.
The last stretch, turning north to Bacolod, is the most boring. This is the same main road we tried to avoid in Dumaguete, which cuts the island and then reaches Bacolod, the second biggest city in Negros. Very busy with trucks and lined by sugar cane plantations, it is anyway flat and can be done very fast (around 100km).
If you wish to visit Guimaras island it's possible to take the pump boat from Pulupandan, around 23km before Bacolod. For us this was a very scary experience, we really thought we are going to sink and die, so check accurately the weather condition or try to find another boat, there must be another way, though everybody told us this was the only one.
Conclusions
Negros is an incredible island, out of the beaten path, but a real pearl in the Visayas area. Include it in your Philippines itinerary if you can, it really deserves it.
If you're plannig to bicycle touring Philippines, or just want to know more about 4 off-the-beaten path destinations in the Visayas, have a look at the linked articles.
If you have been to Negros and have something to say, please contribute in the comment section below.
Follow us
Stay in touch while we get lost! Follow us on Social Media