First-hand tips, advice and itinerary to travel Bali on a bicycle
Is Bali a suitable destination for bike holidays?
Bikepacking around Bali on a budget off the beaten path
Bali is certainly one of the most visited places in the world, it was even awarded the title of the best place to visit on the whole planet by TripAdvisor community. its beauty though is not about beaches (which are pretty average, and even poor compared to other places in Indonesia), but in its unique culture and art forms, and lush mountainous interiors.
Iconic rice paddies, thousands of temples, ceremonies accompanied by mesmerizing music, and two big active volcanoes make Bali surely a must-visit-once-in-the-lifetime destination.
Cycling in Bali though is very tough. With a very hilly interior and crazily steep roads, it's certainly not a bicycle touring destination for beginners, especially if you suffer the heat.
A bicycle trip, anyway, is still one of the best ways to experience Bali in all its fascination, which is to be found far from the most popular tourist routes. There are several tour operators offering bicycle holidays in Bali, we, of course, recommend doing it yourself in bikepacking style.
Check Also
Cycling Indonesia – a full guide and 9 itineraries
Where to see traditional dances in Bali: Legong and Barong
Disclosure: Some of our articles contain affiliate links. This comes at no additional cost for you and helps us keep this website up and running. (as Amazon Associates we earn commission from qualifying purchases)
5 days cycling itinerary in Bali
Stage 1: From Ubud to Batur Lake (37km)
Day 2: Around Lake Batur (29km)
Day 3: Cycling from Batur to Kubu (29km)
Day 4: From Kubu to the easternmost tip of Bali (35km)
Stage 5: From Mt. Agung to Ubud (74km)
This is our Bali bike tour in a nutshell. But before diving into the cycling itinerary, let's get to know the basics needed to organize a bicycle touring trip in Bali.
Cycling The Roads of Bali
The main road in Bali is a ring skirting the whole island's coastal perimeter. In its southern section, it's a wide sort of highway, often very busy and not so pleasant to cycle, while the north and western stretches are more narrow and quite.
There are many roads cutting the island from north to south, they are all steep climbs, but also the ones worth cycling. South of Ubud is the bustling capital of Depansar, a hot and hellish place for a bike traveler.
Further south is the touristic area of Kuta, which we absolutely advise avoiding, except if you fancy some clubbing. Kuta is just a tourist zoo full of drunks, with an unworthy beach and everything is overpriced. Check this for a few more things to stay clear off in Bali.
Road conditions are generally good, although the terrain makes for some roller-coaster style up and downs which can be exhausting. Some side roads may be unpaved, but those are mostly dead ends or village streets.
Free Camping in Bali
Bali is not camping friendly. The island is very populated and each corner available is cultivated, even on rice paddies, orchards, or fruit trees. The only areas that are not, are just too steep to pitch a tent.
Camping is possible though on the many beaches of Bali, and there are some cool spots along the hiking trails, although these letter ones are not accessible to a loaded bicycle. There seem to be no laws about free camping in Indonesia, just exert the normal precautions, and keep clean.
Where to sleep in Bali
Accommodations in Bali are really great value. It's easy to find basic guesthouses for about 10/15€, which are usually much better than everywhere else in Indonesia. If you're willing to spend a bit more, let's say 20/25€, you can really treat yourself with some luxury.
Big rooms, swimming pools, and nice locations are common around Ubud, Amed, and other major towns. Another great base with cozy hotels is Canggu, on the coast west of Kuta. Bargaining is possible in less touristic areas and also in the major ones outside peak seasons.
Food
Food in Bali is probably the best in Indonesia, although outside the touristic areas it can get monotonous again. There are amazing supermarkets in Ubud and Denpasar, where to stock in western goods if you miss your favorite cheese or want to cook a pasta on your camping stove.
Bali is also the best place in Indonesia for drinks, there's even a few places selling craft beer in Bali. In more remote areas though, is not always easy to find something to eat, so having a backup plan is always worth it.
Water Supplies
Tap water in Bali is not drinkable, unfortunately you'll have to rely on bottled water or fill your bottles from restaurants' water tanks. There are no coin water dispensers like in Malaysia or Philippines.
Water in the mountains though is pristine so you can drink from one of the many waterfalls of Bali, be careful though if you're not at a high altitude.
To rinse yourself from sweat, the best are rice paddies irrigation canals, also named (by us) ball-washers.
Weather and best times to visit Bali for a bicycle trip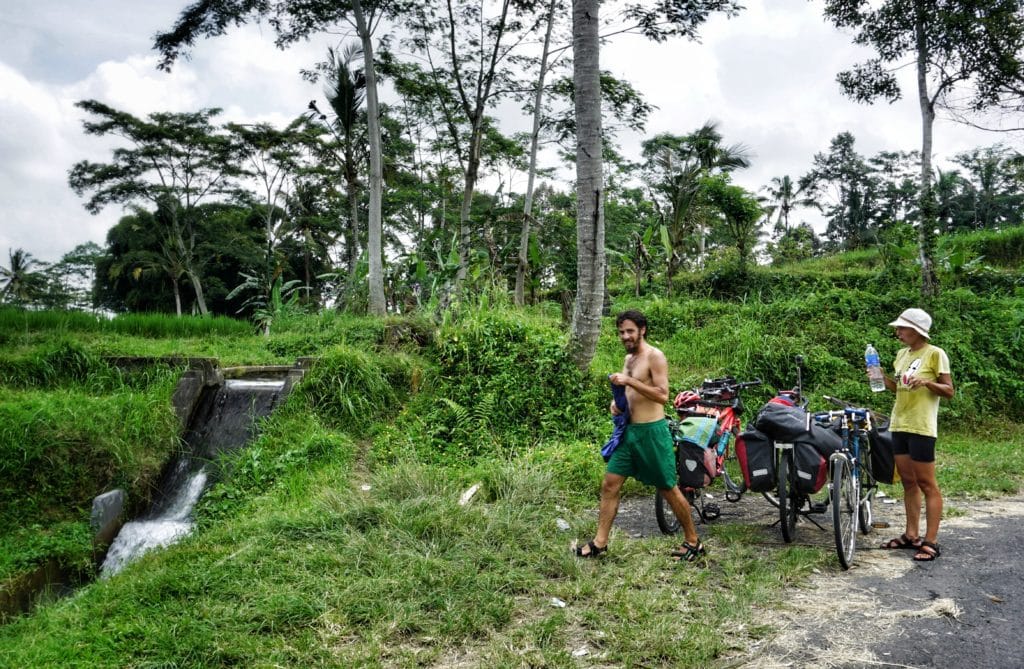 Bali's is located very close to the equator, therefore you can expect an average year-round temperature around 30°C, with a humidity level of about 85%. Bali's central mountain area is cooler and also rainier than the coastal areas. Temperatures can drop to 15 degrees in certain areas higher up near the volcanoes, like Kintamani.
The dry season is between April and September, Bali is busier during this period and sunny skies are good to enjoy the beaches but not the best cycling weather here. Rainy season is from October to March, fewer tourists around but full rainy season can have an average downpour rate that could put your spirit down.
Overall, in our humble opinion, the best time for a bike trip in Bali is the end or beginning of the rainy season, when the skies are often cloudy. We think this is the best time to cycle the whole of South East Asia, following the end of the rainy season.
Anyway, especially in the last years, seasons aren't reliable anymore in the whole of SEA. Sometimes even the locals are surprised how dry a rainy season can be, and how rainy a dry season can be.
Wi-Fi and Connectivity
Wi-Fi is available in most (if not all) guesthouses in major tourist towns like Ubud or Amed. Overall is very uncommon to find accommodation who doesn't provide wifi, even the more basic have it. Bigger restaurants also have Wi-Fi while minor eateries (warung) often not.
Indonesian SIM cards are easy to purchase, can be found literally everywhere and are among the cheapest in the whole South East Asia.
Language
Like each island in Indonesia, Bali has its local language, indeed more than one. There are different ways to communicate between the casts and clan members. Balinese society has deep feudal roots and in many ways even today it's still "quasi-feudal", some social protocols of the times of the kings are still in place. Most Balinese belong to the Sudra caste (anak jaba, outsiders) and speak the common Balinese language among themselves.
Bahasa Indonesia, Indonesian national language, is of course spoken almost universally, so learning a few words will make you appear nicer. Indonesian is one of the easiest languages in the world.
English is more common here than anywhere else in the country, although don't expect everyone to speak or understand it. In tourist places, of course, that is very common, but outside them try first with very basic phrases and speak slowly.
Scams and Safety
Although Bali may be considered pretty safe, scams and petty crimes like pickpocketing are more common here than on other Indonesian islands. I guess the axiom is more tourist=more scams.
Try to get an idea of a fair price and stick to it, pay a bit more if really needed but just a bit, please don't forage the scammers by thinking that is still cheap to you. Beware of getting drunk in Kuta clubs and exert the standard precautions.
Drugs are very common in Bali, but keep in mind Indonesian laws contemplate death penalty for drug crimes.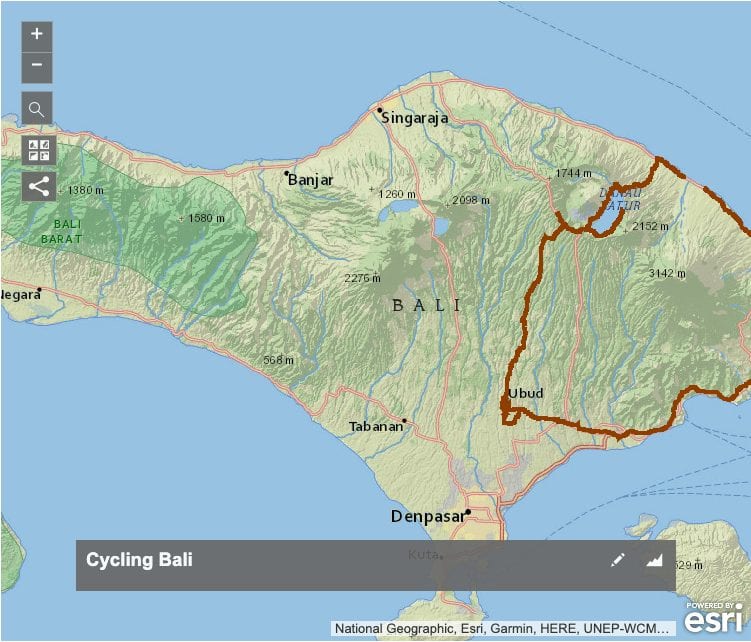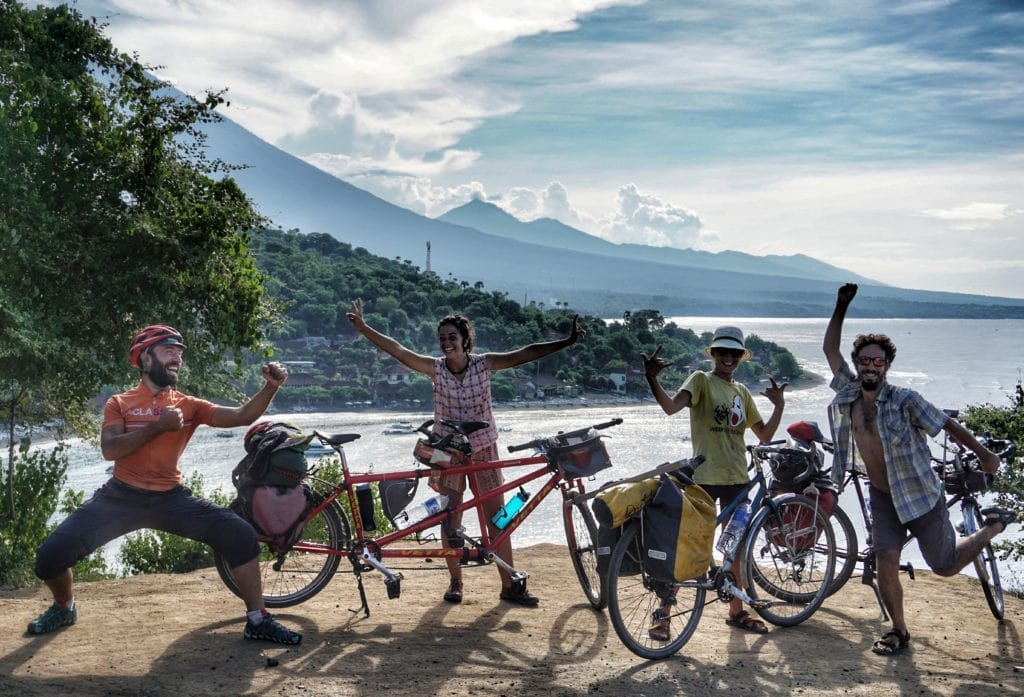 Our bicycle trip in Bali
The Godimundi, Alessandro and Stefania, are finally here. We have been in touch for two years but never met. We couldn't see each other before leaving, even though Prato (where they used to live) and Bologna (where we used to live) are very close, but we get to know each other here, 20,000 kilometers later, on the Indonesian island of Bali. They are also on the road since 2014 but by tandem bicycle!

We will be together for a week then they will fly to New Zealand and we'll go to Peninsular Malaysia. So, before we find ourselves again on two different continents we decide to do a bit of cycling in Bali, heading north, where there should be fewer tourists.
If you want some ideas on a Balinese route, and also on which road do not do absolutely, below is the map of our route.
Choosing a bicycle touring route for Bali
Let's decide together the path, or rather Daniele and Alessandro. Which seem to have one thing in common, looking at the maps and saying "this road doesn't seem too steep, should be fine" and punctually we end up facing 20% slopes.
As already mentioned, Bali is very hilly, so there is no way to avoid steep climbs if you want to visit the interiors. And you want to, since it's here that the unique beauty, and the hidden gems of Bali are to be found.
Our route will start from Ubud, the tourist capital of Bali. It's worth spending a few days in Ubud, watching some traditional performances and visiting local attractions such as the Monkey Forest.
We'll then head north to Lake Batur and homonymous volcano. From there we'll hit the north coast in Kobu, cycle along it to the westernmost tip of Bali, and back to Ubud following the south coast.
This whole loop turned out to be very beautiful but tough, it's 250 km and we cycled it in 6 days.
Bikepacking Bali – Stage 1: From Ubud to Batur Lake (37km)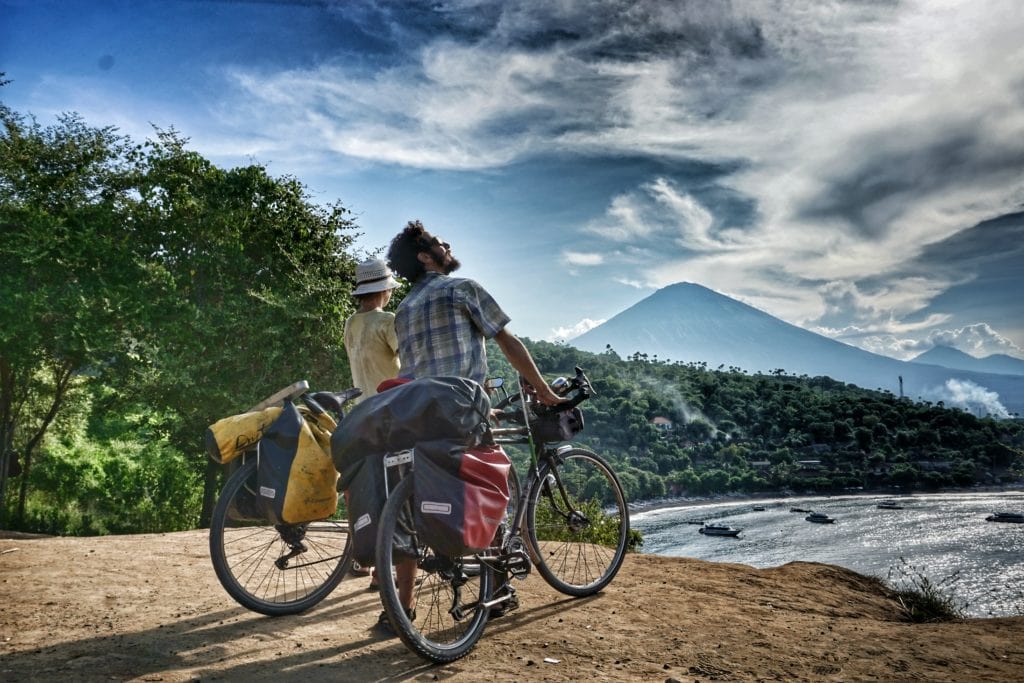 Being the first time for us to cycle in a loop, we are pretty happy to leave a lot of our ballast at the guest house. We are as light as we have never been. The plan was to leave at 9 am but at 11 we are still drinking an excellent espresso by Antonio (Mamma Mia, the best Italian restaurant in Bali we became addicted to after so much crappy food in Flores).
To reach Lake Batur, the highest lake in Bali, located inside the caldera of the homonymous volcano, we'll be facing 1,000 meters of ascent today. There are several parallel roads going from Ubud to Batur, all of them have very similar gradients. So we decided to go for the smaller one.
Just outside Ubud, the road begins to rise, but maybe the twenty fewer kilos or the coffee boost, it doesn't seem so heavy. The road is narrow but there is not much traffic and we are soon to cross rice fields, villages and an infinity of temples. At lunch, we stop to eat the usual rice accompanied by various things, and we already miss Antonio.
Balinese ceremonies and greasy peasy uphills
In the afternoon we stumble upon a ceremony in a country temple, many women are coming with the classic ritual offerings on top of their heads. In addition to flowers, incense, and fruit, roast chickens and pig heads are not lacking. I'm menstruated, so I'm forbidden to enter the temple. Probably in the evening, there will be music and dance but it is still too early to stop and we continue towards Lake Batur.
The climb begins to get more though, my rear derailleur looks like it's going to die soon, my chain is constantly on the ground and my hands turn very oily. In the last section, we are all pushing our bikes, except Daniele, who, stoic, feels like "the Pantani of the third millennium" (cit.).
At the top, the rewarding view of Lake Batur and the majestic volcano relief us all from the suffering. We thought we could find a place to camp here, but there are not many possibilities, it's a bit late and chilly. But above all, a guy with a very funny wig intercepts us and drags us to his guest house, he says that he's a cyclist too and we can sleep there leaving an offer.
There is hot water and the wife cooks us dinner. We put our socks for the first time in months and sleep under the blankets. If we were not in a hurry we would gladly stay here for a couple of days to cool down.
Bicycle Touring Bali – Day 2: Around Lake Batur (29km)
We go to the nearby village, Kintamani, to fix my derailleur and visit the Pura Ulun Danu Batur temple, dedicated to the goddess of lakes and rivers. To enter the Balinese temples is mandatory to wear a Sarong, a cloth wrapped around the waist and reaching to the ankles. It is possible to rent it on the spot but we have bought two to save money and to be able to enter all the temples, even in those where there are no ticket office and rental services.
After paying the entrance fee of 35,000IDR you have to go through a room where they rent or sell sarongs. We point out that we already have ours so we do not need anything, a lady says that we must also wear a belt at the waist, a piece of cloth, and Daniel must put the traditional hat on his head, we know it is not true.
She asks us for a crazy price, something like 5USD, more than a new Sarong. After a long discussion in which I point out to the lady that trying to defraud people and make money with religion will not be good for her karma, we will only go out by renting the belts for a small charge.
The temple is interesting, rebuilt up on the caldera ridge in 1926 after an eruption of Mount Batur destroyed the old one down in the crater. There are a large number of shrines, and huge eleven roofed meru.
Lake Batur
There's a dirt track going down in the caldera of Batur Volcano, mountain bike tours are held there, but it seems a bit rough for our loaded bicycles. So we take the asphalt road that goes down to the lake, on our left the volcano Batur. Even this road is quite a roller coaster with a couple of ups and downs at 20%+ gradients. Moreover, there are twists covered in slippery sand, and I even get a flat tire.
We reach the last village where the ferries to see the Trunyan cemetery depart from, where the road ends and there's no choice but to backtrack. In the village, which is indeed called Trunyan, there are no guesthouses, we ask a guy where we can sleep and he shows us one of his house's room, it's too small for the four of us. Besides that, he also wants a lot of money and the village does not generally convey a good atmosphere.
Bali is not like the rest of Indonesia, although the locals are generally friendly, scams are more common. The relationship with garbage though is the same, people throw it directly into the lake in front of the houses and the children bath between bottles and plastic bags.
Cockfighting in Bali
Cycling our way back, we come across a roster fight. It's very popular in Indonesia, although illegal. Except here in Bali. The Balinese, in fact, have told the government that for them the cockfighting is a religious ritual and therefore the government allowed him to continue practicing it.
It's pretty obvious there is nothing religious here, just people betting money. Unfortunately, we did not bet because we would have won. To the roosters have a knife applied on the paw so when the opponent is hit it gets a cut. Eventually, one of the two cocks dies, and who survives is the winner, pretty neat.
Folk dances of Bali
Struggling along the roller-coaster road, we are finally back to where we started. We find a guest house at 100,000 rupiahs.
From our rooms, we hear music in the distance. Even though it's already dark and we're pretty exhausted, we decide to go see what's going on. And we don't regret it.
There's a ceremony in a nearby temple, Gamelan music plays loud and frenetic. The place is packed with locals, an incredible number of different dances are performed by the people, they are not professional dancers but it looks like everyone in Bali has some artistic talent. The costumes are amazing as usual. These are not the kind of court dances like Legong and Barong, but folk ones, although some are pretty complex. A real ceremony, completely different from the ones "packaged" for tourists in Ubud.
In Bali it is easy to come across ceremonies, there are recurrences and festivals all the time.
Day 3 – The steepest road in the world: Cycling from Batur to Kubu (29km)
Today we should go down and so we are happy, but it does not last long. After having skirted the lake with a view of Lake Batur on our left, 2 kilometers of unbearable climbing are waiting for us, we have to push the bike in two. And then the descent, even more impractical.
The road that goes down from 1200 meters to the sea level in about 7 kilometers! The slopes are impossible, we have to do it all on foot with bikes fully braked, Stefania helps me, and somehow we do it. It takes all day. Once we get to the beach we finally take a bath, happy to be able to put on a bathing suit without attracting people's looks (like instead happens in some more remote areas of Indonesia).
We find a good camping spot by the sea, a beautiful sunset, cool breeze, and perfect sleep.
Check this Mount Batur Volcano – Sunrise Trekking Tour with Breakfast
Bali Bike Trip – Day 4: From Kubu to the easternmost tip of Bali (35km)
Today we'll go around Mt. Agung, the highest peak in Bali with its 3,031m it is, of course, an active volcano. We leave early and stop by some beach along the way for a little 'snorkeling. Another small climb is ahead and it looks like there are no places to sleep, neither guesthouses nor camping spots.
We stop in a little village, right on the eastern tip of the island, to ask for the nearest guesthouse and a guy offers us hospitality at his house, they prepare two rooms, they will sleep in the living room. There is no way to make him change his mind. They cook fish, rice, and hard-boiled eggs, all very spicy, we think of Antonio.
This remote village is one of the poorest we saw in Bali, they are much better off though than on other Indonesian islands we visited before. They have water, TV, washing machine and electricity. We leave an offer to the family, although they try to refuse in every way.
Cycle Touring Bali – Stage 5: From Mt. Agung to Ubud (74km)
We have to go back to Ubud, the Godimundi have their flight to New Zealand the day after tomorrow. We have a lot of tiredness on our legs, I cannot bend my knees after that ten kilometers of crazy descent.
At lunch, while eating yet another Nasi Goreng (fried rice in palm oil) we think of evil plans, the idea is Daniel and Alexander in tandem and I and Stefania, who has the influence, by bus. But then, on a full stomach and after coffee we decide to keep on pedaling. At worst, we'll take a ride.
We make the main road which is quite busy and there is not much to see, besides the wide black sand beach near Padangbai. Antonio and Mamma mia are always closer, we have to make it. We imagine ourselves sitting at the table with a plate of goat's sauce tagliatelle in front of us and ride fast. We arrive right at dinner time.
Our video from Bali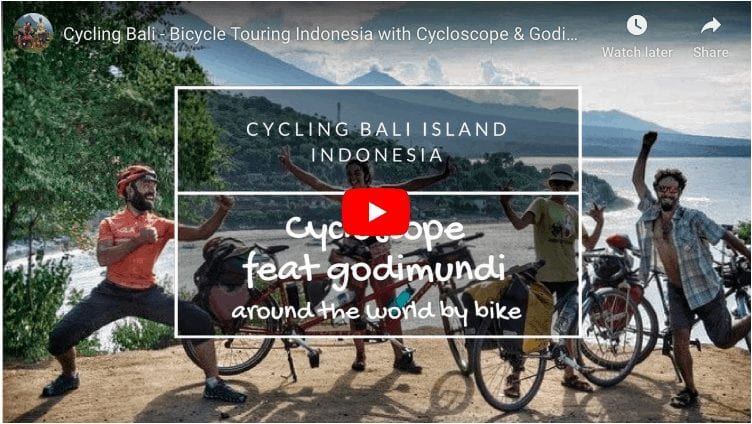 What to pack for a cycling holiday in Bali
---
Pro Tip!
You don't need an expensive bike to cycle here. You can easily ride on a refurbished bike that you can get for free (or almost free) – learn how here!
Cycle Clothing
Pro Tip!
Use common running shorts to cover your cycling shorts in conservative countries!
Accessories
Stay in touch while we get lost! Follow us on Social Media