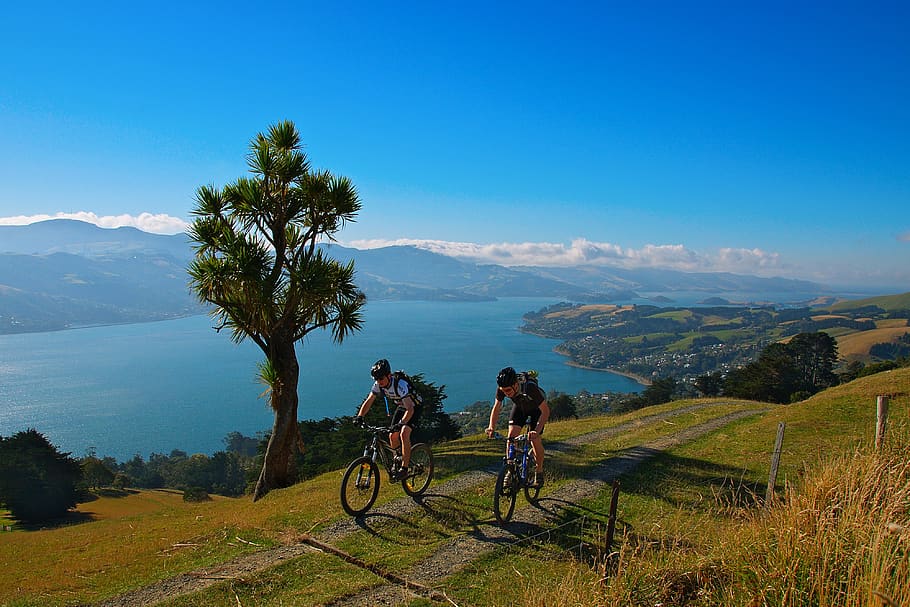 Cycling is an activity that is very common in New Zealand. If you like cycling and would love to visit New Zealand, here are some cycling destinations you should visit.
Cycling is an activity that is very common in New Zealand. The local people have been cycling since immemorial time.
Bicycle Touring pioneers have explored this incredible country long time ago, while modern bikepackers nowadays flock from every corner of the globe to cycle in New Zealand.
The country has interesting cycling sites that are great NZ travel destinations for foreign and local tourists. If you like cycling and would love to visit New Zealand, here are some cycling destinations you should visit.
1. The Redwoods
Disclosure: Some of our articles contain affiliate links. This comes at no additional cost for you and helps us keep this website up and running. (as Amazon Associates we earn commission from qualifying purchases)
The Redwoods based in Rotorua is a 5000-hectare forest. It is one of the best cycling sites in
New Zealand.
It contains more than 100kms of trails, which range from sedate to treacherous. If you would like to have a ride, go to Waipa Mill car park, where you will get bikes for hire if you do not have one.
You can choose to ride along with the inner core or the forest trails. Whether you are a newbie, family group, or an experienced cyclist looking for intense action, there is something for everyone. This cycling destination is free to access.
2. Old Ghost Road
The Old Ghost Road is located in the Paparoa NP, in the North West corner of the South Island – one of the most interesting national parks in New Zealand.
This cycling trail was created from a revived old miners' road that was long-forgotten. The trail connects the Upper Buller Gorge to the great Mokihinui River.
When you cycle on this 85Kms trail, you'll navigate the indigenous forest, river flats, tussock
tops, and forgotten valleys.
The Old Ghost Road is an upcoming cycling trail that offers a really enthralling experience to the cyclists. On the trail, you'll also pass through four ghost towns in the former mining villages.
3. Great Taste Trail
On top of New Zealand's South Island, you'll find The Great Taste Trail located in the Tasman
region. The trail starts from Nelson Airport all the way to Kaiteriteri.
You'll need around four days to cycle through the 178kms trail, but it depends on your cycling speed.
As you ride, you will encounter food, wine, and art. You will come across fruit stalls, a brewery,
and cafeterias from Motueka to Kaiteriteri.
At Kaiteriteri, enjoy yourself at the beach before embarking on riding. The Great Taste Trail is a loop trail suitable for those looking to start and finish in the same location.
4. Puketapu Loop
Puketapu Loop is one of the best cycling places because of its good weather. It also has a good topography making cycling easier.
The loop follows the Tutaekuri River up on one side and back down the other. It also boasts of spectacular vineyard views, and at the halfway point, there is the Puketapu Pub.
The 18Kms trail can be cycled in either direction. But, if you prefer longer rides, you can start
from Waitangi Regional Park and cycle inland.
It is almost 10Km from the coast to Taradale along the limesand trail. With this option, you'll cover around 38Kms return. If it rains, avoid the underpass at Awatoto as it usually floods.
5. Huka Falls Trails
Rides here are along the riverside trails. The ride begins at Taupo's thermal Spa Park to
Waikato River.
At Huka Falls is where you can pass the time before going back. You can also choose to go ahead to Aratiatia Dam or into the Crater's Mountain Bike Park.
Some of the great features you'll enjoy along the trail include the exciting snaky single track, and amazing indigenous bush sections.
The geothermal streams, gigantic Redwood trees, and the Aratiatia Dam are other memorable things you'll encounter.
6. Karangahake Gorge
Karangahake Gorge is a section of the Hauraki Rail Trail that follows an old railway line. It
stands out because of the outstanding railway tunnel that is 1100 meters long.
If you want to go through the tunnel, use a torch. You'll head into the gorge from Waikino Station. You'll pass through interesting sites along the Karangahake Gorge.
For instance, you can make a stopover at the Owhatoa waterfall and swim if you like. You'll find the waterfall up the Waitawheta road.
Another intriguing site is the heritage site where Victoria Battery was located, and the arcs of the cyanide tanks are still standing. Before reaching the other end of the trail, you'll have navigated through great historical sites.
7. Arrow River Bridges Trail
This is a 100km trail that starts at Arrowtown. Follow the Arrow River and cross five bridges over the Arrow River on your way to Gibbston.
Enjoy picture-postcard cottages along the country lanes. The trail will then meet AJ Hackett Bungy center at Kawarau Bridge.
If you are a rookie, you'll find this comparatively easy trail friendlier to navigate. Families with
kids will also love this picturesque terrain.
The Southern Discoveries suspension bridge offers one of the most inspiring photo stopover sites.
You'll also go past Victorian cottages and horses grazing next at the Whitechapel country.
You'll also love the AJ Hackett Bungy Center, an amazing piece of architecture. You can stopover for a snack at the café at the center.
8. Queen Charlotte Track
To get to Queen Charlotte Track, you need a boat ride, sweeping downhills. It is a 70km track. It is good for those looking to enjoy a day trip.
There are Marlborough Sounds' views starting at Anakiwa. You can also choose to enjoy the scenes along the road.
You'll need around two days to traverse the whole trail. It is designed to cater to mountain bikes and walkers specifically.
It would help if you were prepared to cycle through a rough terrain that gets slippery whenever it rains. Some terrains are made of steep slopes that require extra caution when ascending and descending.
9. Roxburgh Gorge Trail
Roxburgh Gorge is a 34km Trail making it ideal for one-day cycle adventures. It offers a
spectacular ride along the Clutha River between Alexandra and the Roxburgh Dam.
Ride through the rocky Gorge and emerge into a gold mining area. Part of the trail is currently not available to cyclists; therefore, you'll have to hop on a jet boat, which will take you down the river before completing your journey on your bike.
You'll enjoy cycling on this trail during different seasons as the scenery changes with the seasons.
10. West Coast Wilderness Trail
This is a 120km bicycle touring trail that goes to Ross from Greymouth. The trail has glacial rivers, rainforest, wetlands, and lakes.
You can also have a view of the wild Tasman Sea and the snow-capped Southern Alps. You might not have a smooth ride from Greymouth because of the lagoons and dunes along the Tasman Sea Coast.
If you are a crazy cyclist, you'll enjoy this rugged trail. You'll also need a few days to traverse
the entire West Coast Wilderness Trail.
Conclusion
New Zealand has some of the best bike riding trails in the world. Some have friendly terrain,
while others are rough. Before you decide to go down a particular trail, ensure you understand its terrain.
It would be best if you also considered your biking experience. If you are rookies, it would be
best to start with friendlier terrains and move to more intense ones slowly.
To make your experience more fun, you can bring your friends and family along. Your safety is also important.
Ensure you have the necessary safety gear for your safety as you cycle to avoid injuries that could ruin your experience.
Stay in touch while we get lost! Follow us on Social Media