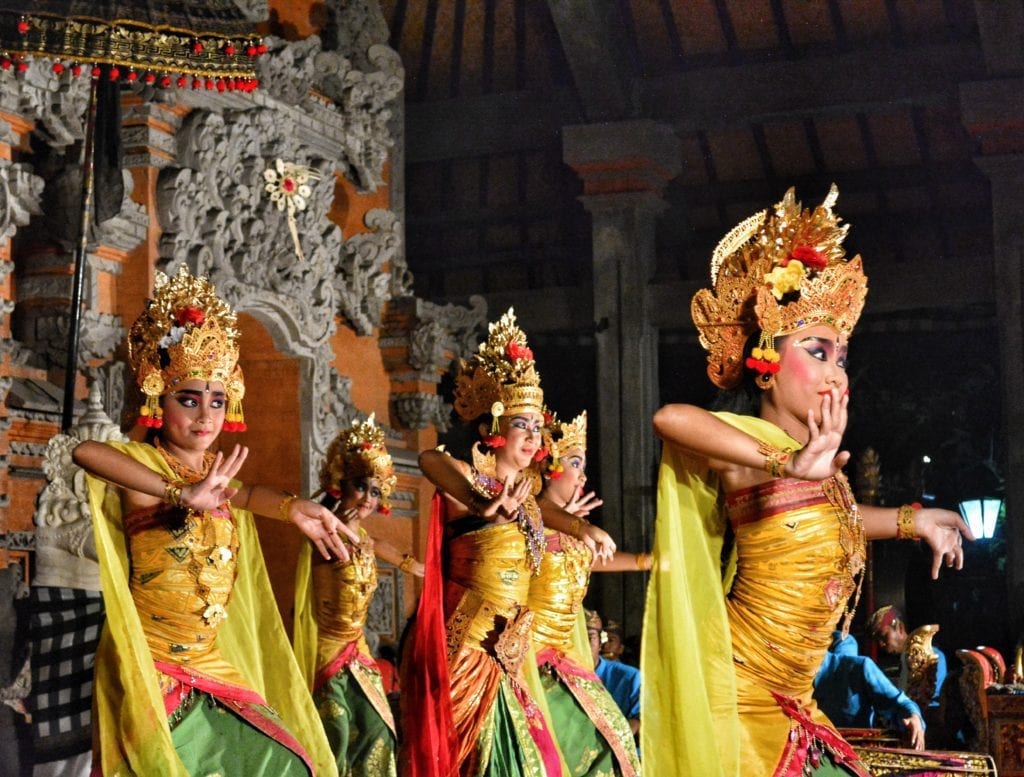 How to see Balinese dance, music, and theater shows
The many venues for cultural performances from Bali in Ubud and beyond.
Legong and Barong with Gamelan
Bali is one of the most visited places in the world, not everybody knows though that its beauty doesn't lay in beaches (which are pretty average, and even poor compared to other places in Indonesia), but in its unique culture and art forms, traditional dances, theater forms, music, and rituals.
Balinese people are mostly Hindu, although Balinese Hinduism widely differs from the Indian one. Being isolated from contacts with India it's artistic and ritual expressions have been strongly influenced by Javanese culture.
In this article, we'll talk about a performance show we saw in Ubud, that featured excerpts from two different traditional Balinese dance forms, Legong and Barong.
Check also
History and modern practice of Kecak, the "monkey chant" of Bali
Cycling in Bali – itinerary and tips to explore the best of Bali
Where to see Legong and Barong in Bali
A bit of Legong's history
Disclosure: Some of our articles contain affiliate links. This comes at no additional cost for you and helps us keep this website up and running. (as Amazon Associates we earn commission from qualifying purchases)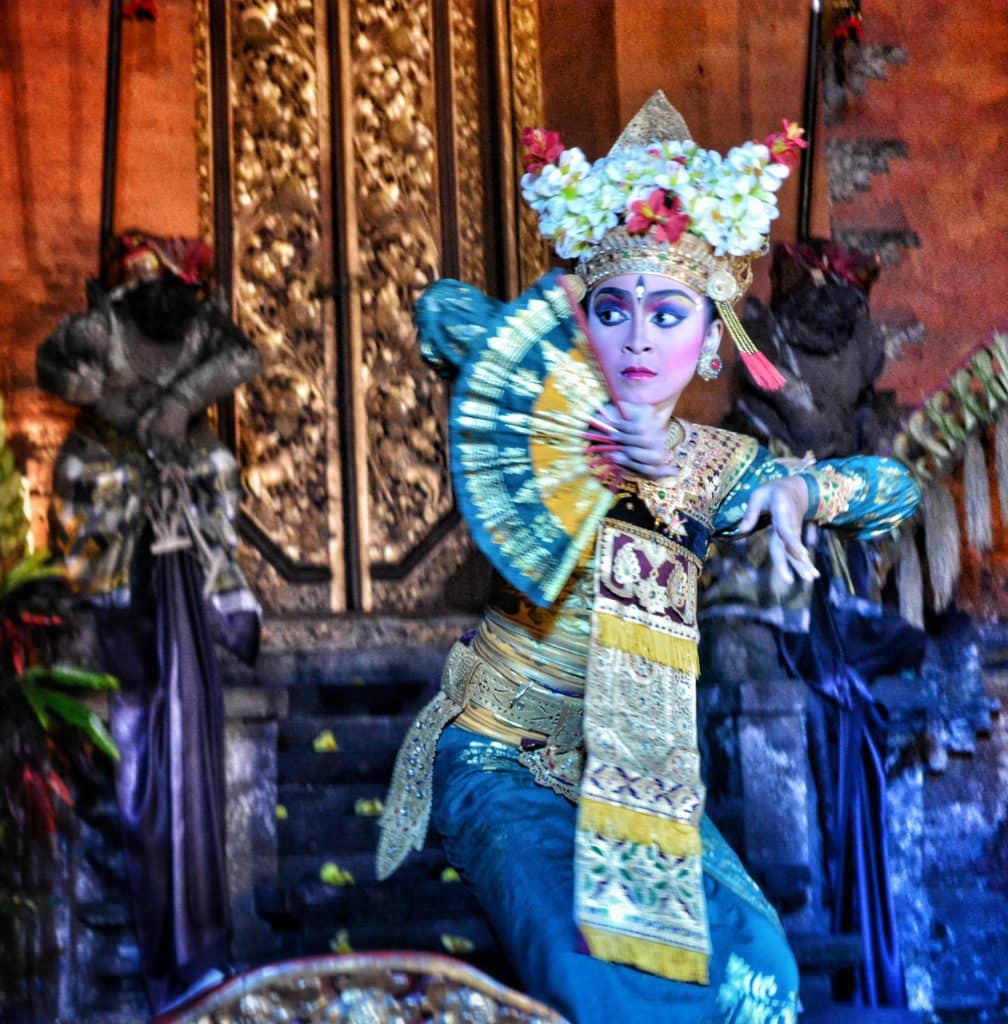 Among the many forms of Balinese dance, Legong is one of the most refined, characterized by intricate finger movements, complicated footwork, and expressive gestures and facial expressions. You probably thinking about Legong whenever you imagine the typical Balinese dance.
According to the legend, a prince of Sukawati fell ill and had a vivid dream in which two maidens danced to gamelan music. He enjoyed this dream so much that he decided for such dances to be performed in his royal court.
The Legong we see nowadays probably originated in the 19th century as royal entertainment. Some believe it generates from the sanghyang dedari, a ceremony involving voluntary possession of two little girls by beneficent spirits.
One interesting fact about Bali, in past times, Legong dancers were girls who have not yet reached puberty, the hard training began at the age of five. The dancers were are highly regarded in society, often ending up marrying royal personalities or wealthy merchants. 
After marriage, they would stop dancing. However, in present Indonesia dancers may be of all ages. Performances by men in women's costumes are also recorded.
At present, Legong is danced at public festivals, ceremonies, and presented for the tourists.
About Barong
Barong instead, is a masked dance representing the eternal battle between good and evil. The Barong itself, a lion-like creature, is the king of the spirits, leader of the hosts of good, and enemy of Rangda, the demon queen and mother of all spirit guarders.
The battle between Barong and Rangda is featured in Barong. Costumes and masks of the Borong theater are pieces of art.
Barong is considered a native Balinese dance, predating Hindu influences. Similar mask dances can indeed be found across Indonesia's most remote islands, where the original Austronesian is still vibrant.
They represent ancestral or natural spirits and enacting the dance is a way for the Earthlings to connect with them.
Barong performances are also accompanied by a traditional bronze Gamelan orchestra.
Where to see Legong and Barong
The town of Ubud, the cultural tourist center of Bali island, is certainly the best place to see traditional dance and music performances.
Although it's true that, while roaming around Bali, it's highly probable to stumble upon traditional celebrations and rituals that involve many kinds of dances, theater, and music, there's almost no way to plan that in advance, the only way to see a real Balinese ceremony is to be in the right place at the right time.
In Ubud instead, there are performances every day (except for the Nyepi, the Silent Day) the venues are mostly in Ubud town center, not far from the Royal Palace, while some different activities occur in nearby villages, such as the Jegog (the bamboo Gamelan), for these shows, free transport from Ubud Tourism Office is provided.
Each and every day there are several performances, so that is easy to get to see whatever fancies you most even if your time is short.
The tourist information center, placed near Ubud main crossroads in the north of the town (near the Royal Palace) can provide you with a list of the upcoming shows, with timetables and fees. You can check the schedule online here.
The entry fee for most of the shows is around 7USD, the duration of the shows stays within 60 minutes, they all take place around 7 or 7:30 pm.
About the venues
Although very scenic, the venues are not even close to the western concept of a theater. They are mostly temples and palaces and are open-air, providing the visitors with plastic chairs, while sometimes you can also end-up sitting on the floor.
When we saw this show it started raining, so the performance was interrupted and we all moved to a nearby covered pavilion, which ended up being pretty packed.
Check also
History and modern practice of Kecak, the "monkey chant" of Bali
Cycling in Bali – itinerary and tips to explore the best of Bali
interested in Balinese culture? have a look at
Purification ritual at Tirta Empul Temple
Our video-adventures in Bali!
Stay in touch while we get lost! Follow us on Social Media