How to plan a bicycle trip to Flores. A travel guide to plan a perfect road trip
This article aims to give some basic hints and advice on how to carry out a successful bicycle trip in Flores Island. Although these are mainly targeted on how to travel Flores by bike, they can be pretty useful for anybody willing to travel Flores off-the-beaten-path, by any means of transport.
Flores is certainly not an easy bicycle touring destination for beginners, if you want to try yourself and start from the top, check our beginner's guide to bike touring. If instead, you prefer motorized means of transport for your Flores road trip, you can rent a motorbike or a car both in Labuan Bajo and Maumere, or use public transport (check below) and then rent motorbikes in the various towns.
---
Check Also
Cycling Indonesia – a full guide and 9 itineraries
to plan your road trip and learn how to get to Flores, check our
Check also our in-depth articles about:
Maumere and Koka Beach
Moni and Kelimutu Crater Lakes
The ancestral villages of Bena, Gurusina, and Wolondopu
---
About Flores Island
Flores is an Island of the East Nusa Tenggara archipelago in Indonesia, mainly famous for the Komodo National Park, the only place in the world where you can see the Komodo Dragons and a diving Mecca.
Flores Island is one of the poorer islands in Indonesia but also one of the richest in diversity, both culturally and geographically speaking. 17 volcanoes, 6 different language, cultures and costumes still tied to the old traditions, and last but not least, stunning beaches.
Flores is becoming more and more popular among the more adventurous tourists, mostly fed up with the crowds of Bali and the Gili islands. Even though most of them stick to the western part, using Labuan Bajo as a base to explore Komodo National Park, do snorkeling or diving and seeing the famous dragons, there's much more to see in Flores and bicycle touring is the perfect way to see it.
As we know may wonder about this, we will immediately answer the question you're most likely to ask, is beer available in Flores? Yes, it is. Flores is a Christian majority island, and as opposite as the Muslim majority islands of Indonesia, beer is everywhere.
Check also our in-depth articles about:
Maumere and Koka Beach
Moni and Kelimutu Crater Lakes
The ancestral villages of Bena, Gurusina, and Wolondopu
Disclosure: Some of our articles contain affiliate links. This comes at no additional cost for you and helps us keep this website up and running. (as Amazon Associates we earn commission from qualifying purchases)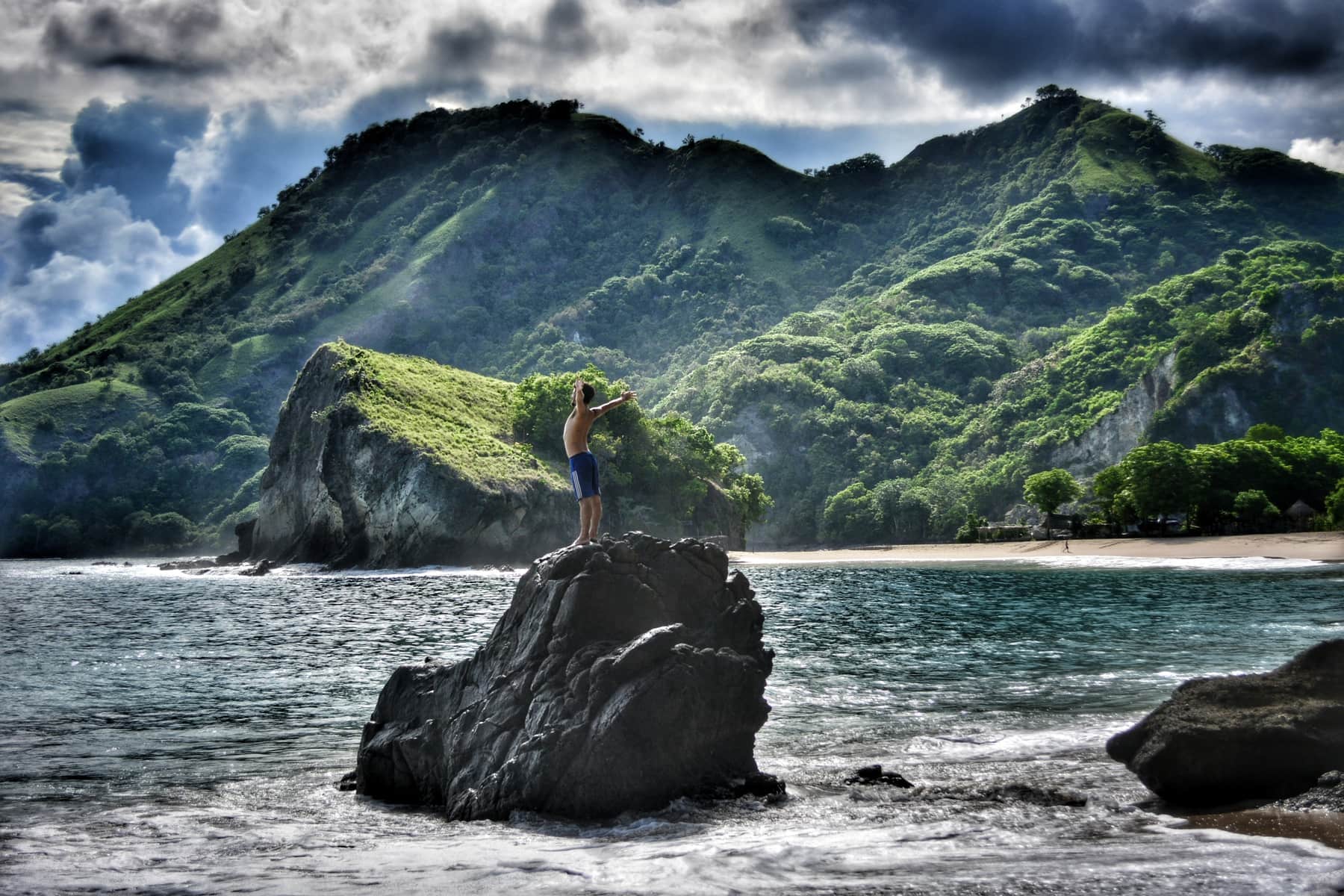 Bicycle Touring Flores Island, East Nusa Tenggara Indonesia
Cycling Flores is incredibly though, in around 530km from Maumere To Labuan Bajo, you'll go four times from the sea level to more than 1,000msl, climbing incredibly steep slopes under while being baked by the heat.
If that doesn't scare you, bicycle touring Flores will reward you with a lush and mountainous interior, stunning volcanoes and ancestral cultures. one of the most beautiful islands we've ever seen.
It's difficult to underline the highlights of this road trip since the whole route is gorgeous: Ruteng with its scenic spiderweb rice paddies, the traditional village of Bena, near Bajawa, where Christianity melts with ancestral beliefs, the Kelimutu crater lakes, so close to each other but so different in colors.
And then the white sands of Koka beach and the black ones of Ende, the perfect shape of the nervous volcano Inierie (2,245msl), the pristine jungle all around.
Free Camping in Flores
Flores is certainly not the most free-camping friendly destination. Its steep mountain crests and thick jungle make it very hard to find a place where to pitch a tent. Camping on the beaches could be an option, but you'll be very exposed and the heat will make it hard to sleep.
For those bicycle touring camping addicts, Flores feels anyway pretty safe, the worst that could happen is some curious locals trying to figure out what the hell are you doing. As far as wild animals, beware of macaques and snakes. We only pitched the tent once and it was inside a small bamboo restaurant.
---
Accommodations – Where to Sleep in Flores
A basic guesthouse will cost you from 10 to 15USD, most if not all of them are equipped with basic squat toilets, electric fan, and bucket showers. In the hilltop areas some guesthouses have hot water, look for them as you'll need it up there.
With 20/25USD you can get nicer beach resorts with AC, go east of Maumere and you'll find some. Be aware that there are no accommodation options between towns, so plan your bicycle touring day accordingly to reach a town at the end of the day. If you can't make it, try to ask locals or schools.
As a general rule, always ask to see the room before checking in. Since the prices are fairly similar be sure to avoid the dirty ones. WiFi is not very common in basic guesthouses.
Food in Flores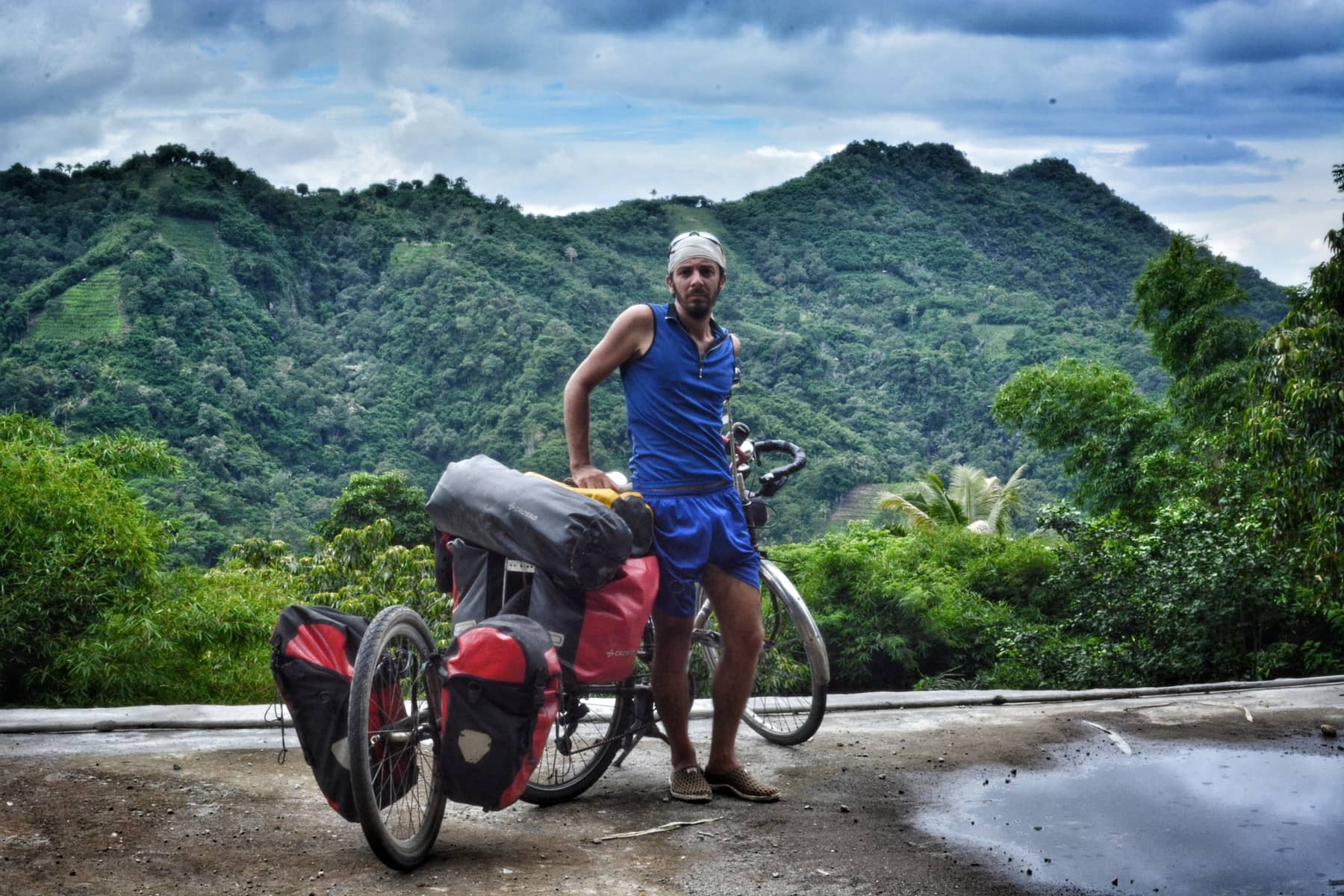 Flores is a wonderful island, but its food is mostly hideous. Many warung (eateries) cook their food in the morning and then leave it under the sun in unrefrigerated shelves. Sometimes it can also be older than one day.
Always smell the food before buying it, and prefer soups over cold dishes, as those are more likely not to be rotten. In the most touristic towns, usually guest houses serve their own freshly cooked food, some are even halfway good.
Always pack some supplies, since there are very few options (if any) between a town and another, fresh fruit is the best way to go for the bike traveler.
Water Supplies
Although Flores is full of clear streams coming down from the mountains, drinking water is not easy to find. We always bought our water in shops, sometimes packing up to 5 liters each, the hot weather and steep climb demand for good and constant hydration when cycling in Flores.
There are anyway many water sources, good to cool yourself down, get rid of some sweat, and even drinking if you carry a water filter.
---
Supermarkets
Out of Maumere and Labuan Bajo, supermarkets are non-existent in Flores. In small shops, it's possible to buy biscuits, instant noodles, water, beer, rice, and a few other things.
Fruit sellers (mostly bananas) can pop up in the most unexpected locations but are not so common as one may think. Some roadside stalls may sell boiled eggs and tempe.
Roads
Roads in Flores are surprisingly good, mostly paved and pothole free. Gradients are extreme but that's because of the geography of the island, and they make bicycle touring Flores the gorgeous challenge that it is.
The main problem when traveling Flores by bike (or by whatever other means of transport) is the constant danger of landslides. Landslides are incredibly common in Flores, especially during the rainy season. We met three fresh ones, and we had to wait more than one hour each time for the road to be cleared, and countless landslides that were one or more days old but still not completely removed. I guess this makes cycling in Flores a bit dangerous.
There's not much traffic in Flores, a relief after the hell of Java. Bus drivers, as usual, are the biggest danger on the road. The remaining traffic is mainly slow broken scooters.
Transportations
Flores island is mainly served by minibusses, those are privately owned and fairly common to come across almost everywhere along the main roads.
Should you happen to be sick or tired of cycling the steep mountains of Flores, you can easily wave one of those and they will get you and your rig on for a very cheap price (2/3USD are fair for a hundred kilometer, be prepared to be asked a bit more, but please don't get scammed, bargain to a reasonable price). Hitchhiking trucks is another option.
Motorbike rentals are available in every town, prices go from 4 to 10USD per day.
Safety
Although Elena was once chased by an harrassing motorbiker when I was not in sight, I will say Flores island looked averagely safe to us. Of course, exert the common precautions, such as not showing off your wealth and not getting drunk or high.
Maumere at night looked a bit creepy, and so are also certain areas of Bajawa or Ruteng, be careful when going out after dark. Labuan Bajo instead, is pretty safe, but don't forget that drunk tourists are always appetizing preys.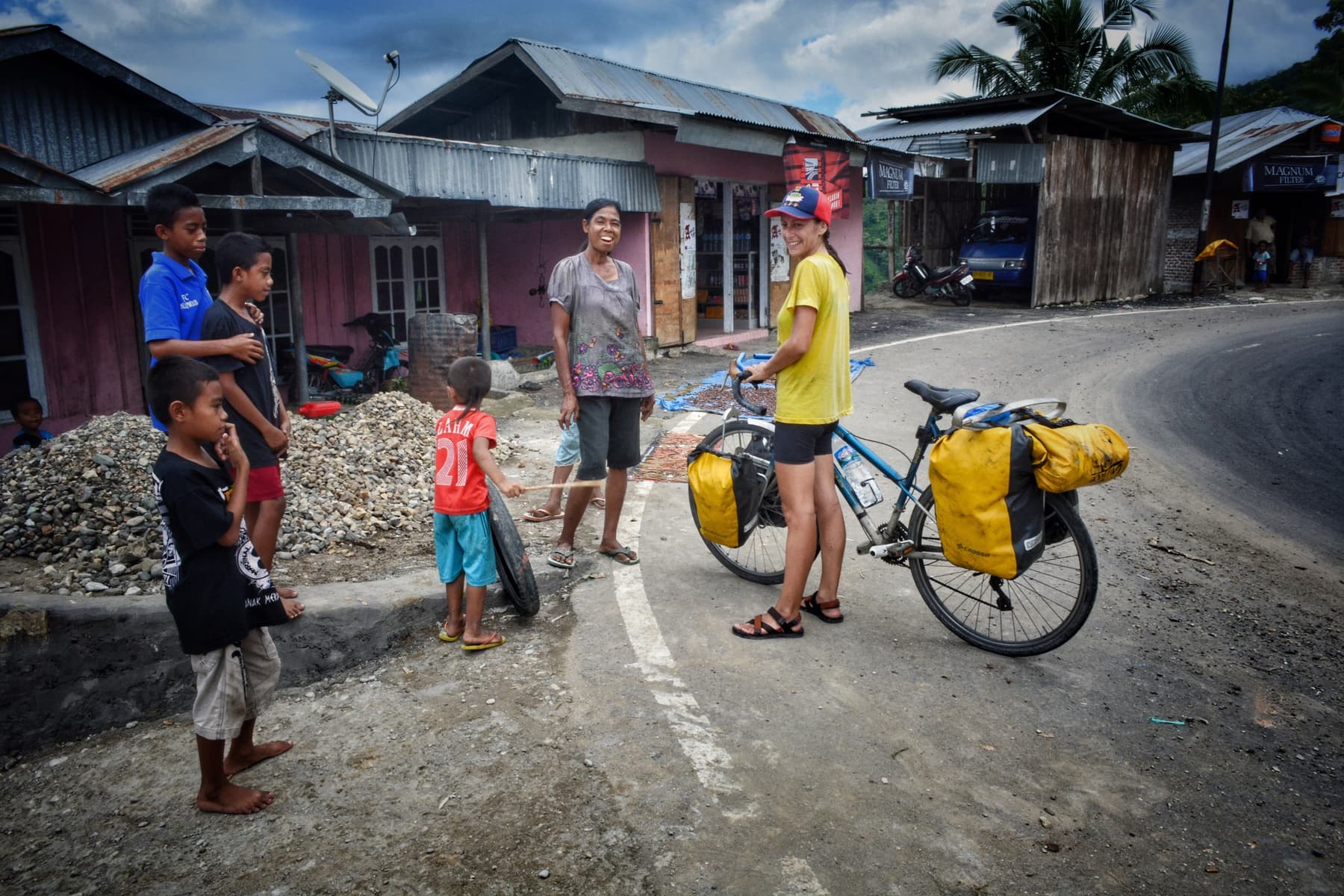 Language Communication and Internet Connectivity
Basic English is spoken in most guesthouses and is not uncommon to also meet locals who can blabber a few words, the amount of English speakers here is way higher than in Japan or Kazakhstan for example. Don't expect to communicate with everyone in English though, always use basic sentences and speak slowly.
Although there are more than 6 official languages and countless dialects spoken in Flores, Indonesian is still the national language and 99% of locals can speak it. Learning a few words of Indonesian is useful and fun, Indonesian is one of the easiest languages in the world.
As previously said, WiFi is not so common on Flores Island so we advise getting a local SIM card. You can buy it, cheap and easy, in any town.
---
Ready to cycle Flores Islands? Check our
Check also our in-depth articles about:
Maumere and Koka Beach
Moni and Kelimutu Crater Lakes
The ancestral villages of Bena, Gurusina, and Wolondopu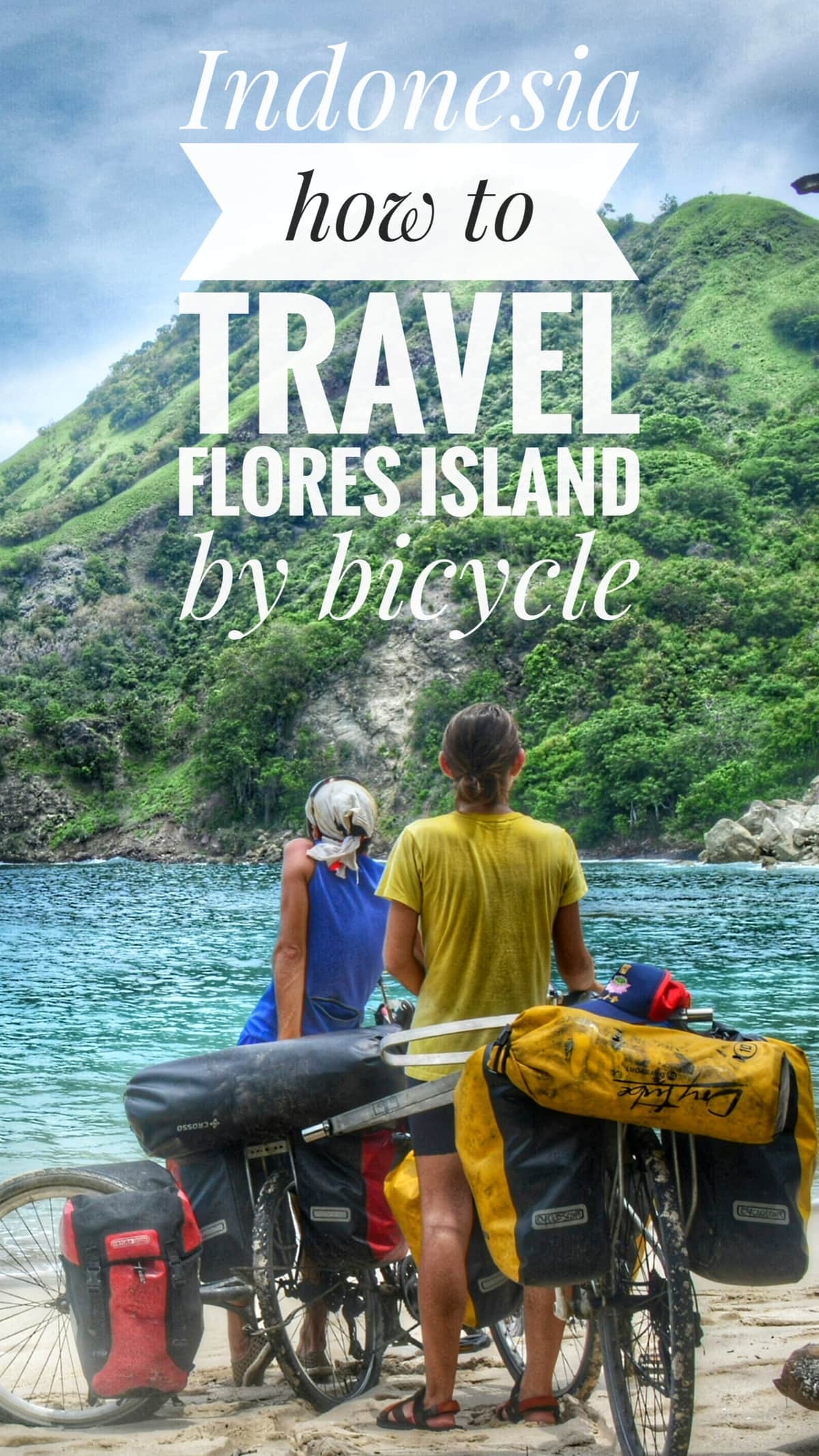 Stay in touch while we get lost! Follow us on Social Media