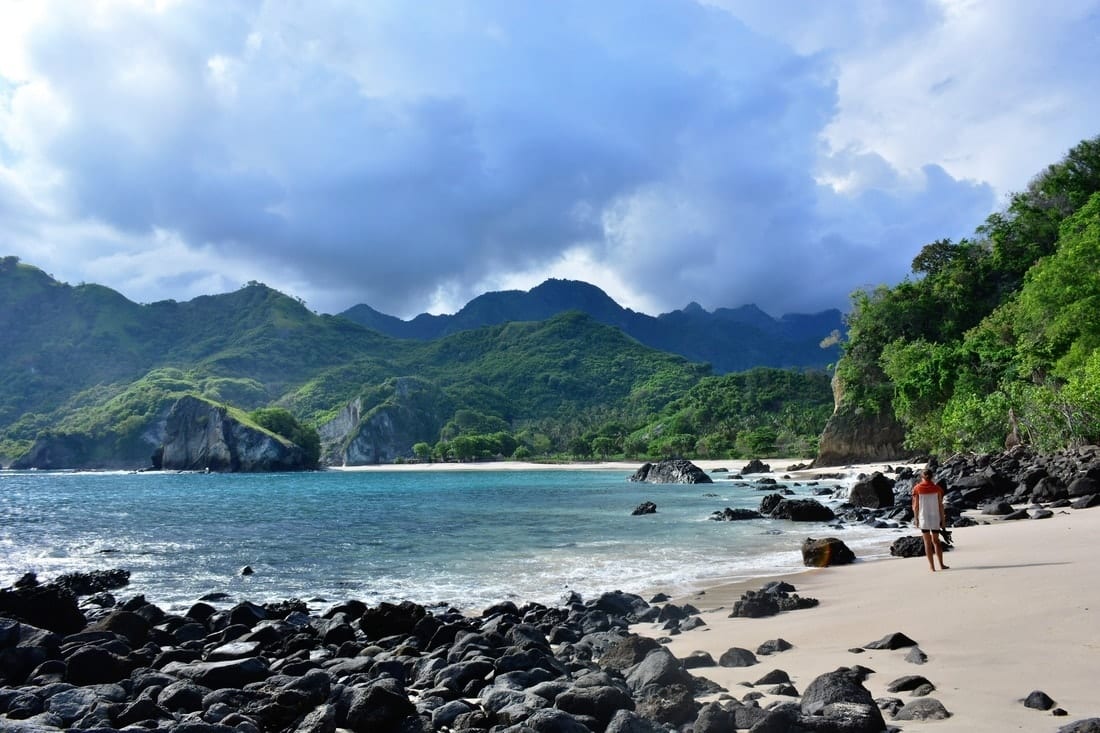 Things to do in Maumere and Koka Beach
a West Flores Travel Guide
Flores island is becoming more and more popular among the more adventurous tourists, mostly fed up with the crowds of Bali and the Gili islands. Even though, most of them stick to the western part, using Labuan Bajo as a base to explore Komodo National Park, do snorkeling or diving and seeing the famous Komodo dragons.
Flores though is not just about Komodo, it's instead one of the most beautiful islands we've ever seen, with its lush and mountainous interior, volcanoes, and ancestral cultures.
This article describes the first part of our bicycle tour of Flores, from Maumere to Koka Beach, one of the most beautiful beaches in Flores. It is part of our Full Flores Travel Guide.
Check Also
The perfect Flores Island Road Trip Itinerary
Advice for bicycle travelers and adventurers in Flores
Moni and Kelimutu Volcanic Lakes
The ancestral villages of Bena, Gurusina, and Wolondopu
Things to do in Maumere and Koka Beach
What to do in Maumere
What to do in Koka Beach
Swimming
Hiking
Meet Ricky Cowboy
Meet the Magic Horse
Meet the Cursed Coral
A short video about Flores
Disclosure: Some of our articles contain affiliate links. This comes at no additional cost for you and helps us keep this website up and running. (as Amazon Associates we earn commission from qualifying purchases)
About Maumere
The major center of Flores island is the "city" of Maumere, capital of the Sikka Regency. Situated on the north coast of the island, Maumere is the west port of Flores, it's here that we arrived by ship from Surabaya (Java), and started our bicycle road trip on Flores Island.
Maumere is an ugly town, like all the major towns of Flores. There are a small market and a church that can be visited if you have some time to kill. Accommodations in Maumere are below average, if you plan to spend some days in the area try looking for decent beach resorts east or west of town.
The reefs in areas surrounding Maumere (the Maumere Gulf) were once considered some of the finest diving in the world. However, a 2007 report found that 75% of the coral reefs had been significantly damaged or destroyed by the practice of bomb fishing, the use of toxic chemicals in fishing, and earthquakes.
One priority of the local community and government is the promotion of tourism. However, they are still lively and worth a day of snorkeling.
First Impact with Maumere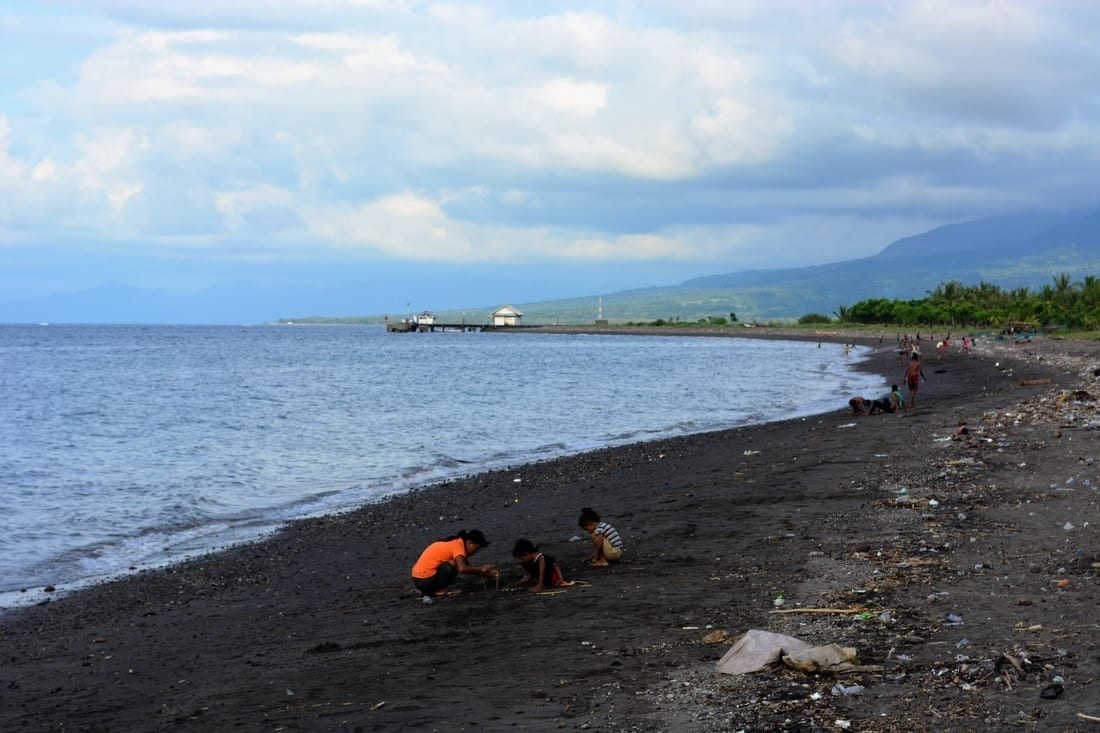 We arrive in Maumere after 18 hours on the ferry, 11 pm. The faces here are very different from those in Java, curly hairs, resembling Australian natives, from which they actually descend. Needless to say, they speak a language completely different from Bahasa Indonesia, there are 6 languages and dozens of dialects here in Flores.

The atmosphere, maybe for the late hour and the few drunk people around, does not feel very safe. We find a shady guesthouse, big cockroaches roam under the beds.

In the morning we are served "breakfast", a coffee and a sticky-rice-dough-thing. Elena still feels sick, she keeps on having a fever, coming and going since a couple of weeks. This Indonesia is debilitating.

We stop for a couple of days in a nice beach bungalow, about twenty kilometers east Maumere. Here we can snorkel straight from the beach, we see many colorful fish and corals and huge seahorses. The manager prepares us some food, finally something good. Elena feels a little better. After a bit of relaxation and we are ready to hit the road again.
The Road from Maumere to Koka Beach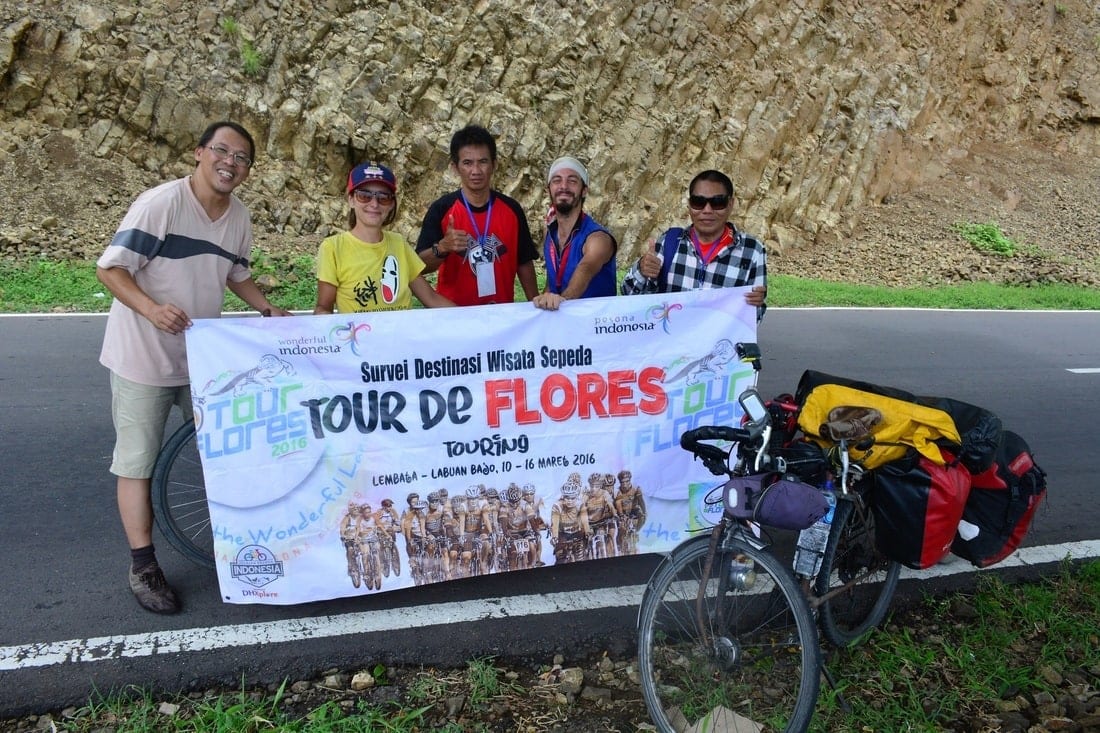 And it's immediately a climb, we have to get used since we'll be facing a lot of these during our bicycle trip here in Flores. The first twenty kilometers are not difficult, despite the heat.

It's a constant "Hello Miss, Hello Mister", everyone cheers to us. Kids coming back to school chase us laughing, some are a bit annoying. The sky covers and there is a nice shower that cools us down a bit, we reach 350msl, then descend for a short stretch and up again to 500msl.

This section of road cuts the island from north to south, and it's more densely populated than most of the other areas of Flores. The jungle is lush green everywhere around.

And then we reach the sea, to the village of Paga. Beautiful beaches and practically no tourists. We meet a nice guy and we stop sleeping in the guesthouse managed by his family. On the ground floor there is the restaurant and upstairs the rooms, all in bamboo. We pay 7$.
Koka Beach – The best beach in Flores?
The boy tells us there is a very nice beach only known by the locals (not true, a few tourists make it here). It is called Koka Beach and it is about 8 kilometers further on the way we'll be following to reach Bajawa.

Let's go, there's a short but heavy climb and then a roller-coaster style road, we meet the organizers of the Tour de Flores, a bicycle race that will be held in May, it will be the first edition.

We get to a junction where a signpost points us to Koka beach, a steep and rocky descent of about 1.3 kilometers. The beach, in fact, is beautiful, we pay 5000 rupiahs for entrance, 30 cents. No junk here, as opposite as on most Indonesian beaches.

Koka Beach is formed by two bays, separated by a cliff. The sand is snow-white and the water is slightly different in each of the bays. The cool thing is that the sea is usually wavy in one bay and calm in the other.

We are welcomed by Ricky, a nice guy who deals with beach management and a tiny homestay, which consists of a single bamboo/palm-tree hut, very cute. There is a small solar panel to power a light bulb, the bed has the mosquito net and we can have as many coconuts as we want for free! Costs 5$ for couples, 3 for singles. He is planning to build more lodges for tourists. (UPDATE: Ricky has recently upgraded the bungalows, check it out).

Ricky has a leather jacket, a cowboy hat, and rides a vintage motorbike. Meeting him is part of the experience of visiting this gorgeous place.
Spending the night in Koka Beach
A boy climbs fast on a palm tree and, armed with a machete, brings us 3 nice fresh coconuts. We are in paradise. There is almost no one, only a few fishermen and a lady who runs a "restaurant" (two wooden tables), she's really very pretty and cute and smiling but doesn't know how to cook… The Nasi Goreng we eat is covered in black pepper, almost unedible.

The night we only stay at the beach, watching the tide rise, large waves breaking on the rocks, everybody is gone, we are left alone in this corner of heaven.

During the night two fishermen, surprised by the rain, come to shelter under our canopy. The silence is overwhelming, the stars glitter in the sky.
The Ghost Horse
In the morning Ricky is back. We have a chat and I ask him if there are any corals around. He says there's only one, a big one, in the left bay. He points the direction but he's very serious when he says "don't go there, don't even try to swim nearby".

Needless to say, I wear my snorkel and go for it. There are waves moving the sand and it's hard to see. When I think I found it, a strange current brings me down, I panic and then a big wave, bigger than the others, throws me on the shore. While I pant reaching for air, I clearly hear a horse neigh.

I am puzzled, I haven't seen any horse around. I go tell Ricky and he bursts into a smile. "So you hear it!".

He tells us that the legend wants that his grandfather had to go to war, leaving his beloved horse on the beach. The horse, not being cared for by anyone, died and is said to have turned into a coral.

Ricky is very happy that someone has heard the horse of his great-grandfather and runs across the beach to tell to all those who didn't believe the story.
Check Also
The perfect Flores Island Road Trip Itinerary
Advice for bicycle travelers and adventurers in Flores
Moni and Kelimutu Volcanic Lakes
The ancestral villages of Bena, Gurusina, and Wolondopu
The route map of our road trip in Flores, click the track for elevation data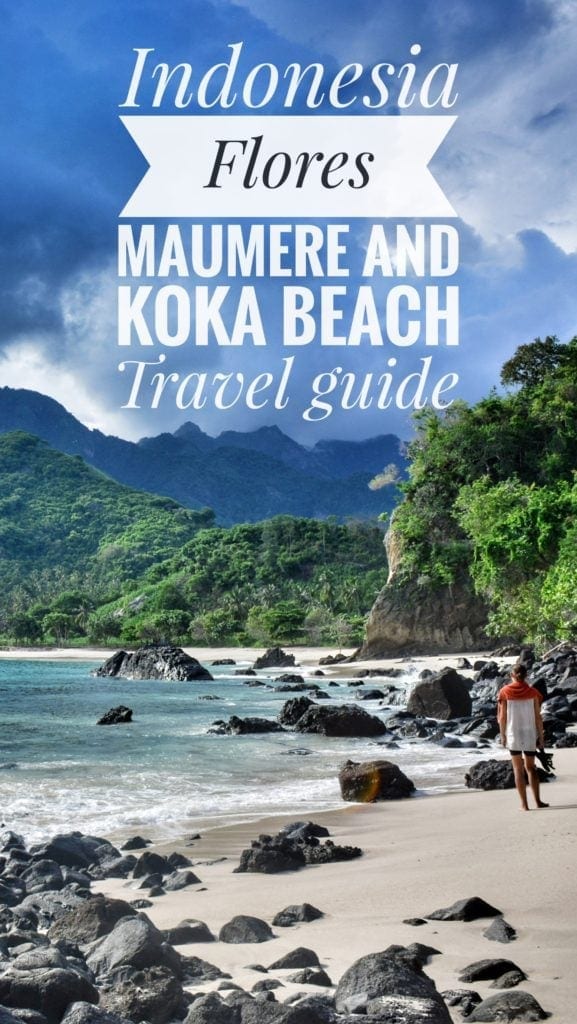 Stay in touch while we get lost! Follow us on Social Media