Kelimutu Volcano Crater Lakes travel guide
and Things to do Moni – West Flores, Indonesia
Flores island is becoming more and more popular among the more adventurous tourists, mostly fed up with the crowds of Bali and the Gili islands.
Even though, most of them stick to the western part, using Labuan Bajo as a base to explore Komodo National Park, do snorkeling or diving and seeing the famous Komodo dragons.
The volcanic lakes of Mt. Kelimutu are the second most visited attraction in Flores after Komodo National Park. The percentage of Komodo visitors that come here though, is incredibly low, given the unique beauty of this volcano.
Flores is not just about Komodo, it's one of the most beautiful islands in Indonesia, worth exploring in-depth, with its lush and mountainous interior, volcanoes and ancestral cultures.
This article describes the second part of our bicycle trip in Flores, from Koka Beach to Moni and Kelimutu Volcano. It is part of our Full Flores Travel Guide.
Check Also
The perfect Flores Island Road Trip Itinerary
Advice for bicycle travelers and adventurers in Flores
Check also our in-depth articles about:
Maumere and Koka Beach
The ancestral villages of Bena, Gurusina, and Wolondopu
---
Moni Travel Guide and things to do
Moni is almost a fake town, basically a bunch of guesthouses that seem to have agreed to charge all the same price (10€), not very smart since some are way better than others.
Some offer breakfast, some don't, ask about this, and be sure to take a look at the room, some are really not worth the money.
There's really not much to say about Moni itself, most of the restaurants are also guesthouses, there's a small market, and a bar just out of town with a big mural of Bob Marley.
We stayed at Arwanti guesthouse after peaking almost all of them. It looked to us the cleaner and nicer one, the shower gave us some problems but the owner helped us fix it. Their restaurant was the best we tried in Flores, although the overall level of the Island is pretty low.
Just out of Moni, direction Labuan Bajo near the Bob Marley bar, there's a nice waterfall where it is possible to bathe (not in rainy season).
How we got to Moni, the road from Koka Beach
Disclosure: Some of our articles contain affiliate links. This comes at no additional cost for you and helps us keep this website up and running. (as Amazon Associates we earn commission from qualifying purchases)
Our Flores bike trip travel journal, from Koka Beach to Moni
We leave the lovely Koka beach, Ricky, and his great-grandfather's horse and head to Moni. Getting back to the main road and were soaked in sweat already, this 1.3km must be something like a 20% gradient.
The first five kilometers on the main road are a slight downhill, then begins the ascent. Opening in front of our eyes a scenery of stunning valleys and jungle-covered mountains, we watch the sea appear and disappear in the distance.
There are many churches around, Flores people are mostly Catholics, although the ancestral religion of the island is still alive and kicking (we talk about this in our article about the Nggada village of Bena).
It's hot but there are so many rivers and waterfalls where we happily dive with all the clothes, in seek of some refreshment.
There are no shops or restaurants along the way, after about twenty kilometers, we find a small market where they prepare instant noodles while some children harass us. They are chased away eventually so that the adults can start bombing us with questions.
Fawns Cows, Reggae Music, Betel Nuts, and more facts about Flores
Everybody yells at us "buleh buleh", which should mean white people, but in a sort of way similar to how "niggers" means black people. At least I believe. White man should be "orang putih", but we hear it very rarely.
We see the first bamboo houses with the large traditional thatched roofs and so many cows that look incredibly similar to fawns. Women, but also some men, have reddish teeth and gums, when smiling at us they look a bit creepy.
Chewing betel nuts is very common here, it's believed to have unlimited thaumaturgic proprieties, besides the drugging effect of energy boost and sweet feeling. Apparently, though, the side effects overcome the benefits, at least according to scientific studies.
After the lunch break, the ascent becomes more demanding, but the sky comes to our help. It's the end of the rainy season and, fortunately, every afternoon the clouds come and some refreshing shower pours down. Cycling South East Asia during the rainy season is not bad at all!
We hear local reggae music coming from the houses and see lots of people on scooters carrying guitars. Looks like the young generations here in Flores adopted reggae music as their new favorite style.
Arriving in Moni
At 650msl, the road starts going down, the landscapes are unreal. Forest, terraced rice fields, all of a bright green. We don't like this descent though, since the road soon begins to go up again, this time steeper.
We are back at 250msl, frustrating. In 8 kilometers the road reaches 700msl again, then another 2 km downhill before we finally arrive in Moni, 1000msl.
Moni is the village working as a base camp to visit the Kelimuto Lakes. It is a small town born to welcome tourists, there are just homestay, restaurants, and a small market.
The price of all homestays is fixed at 10€. We finally have a hot shower after months. In the evening, it's cool and we sleep with the blanket. The owner cooks us noodles with fresh homemade tomato sauce, really good.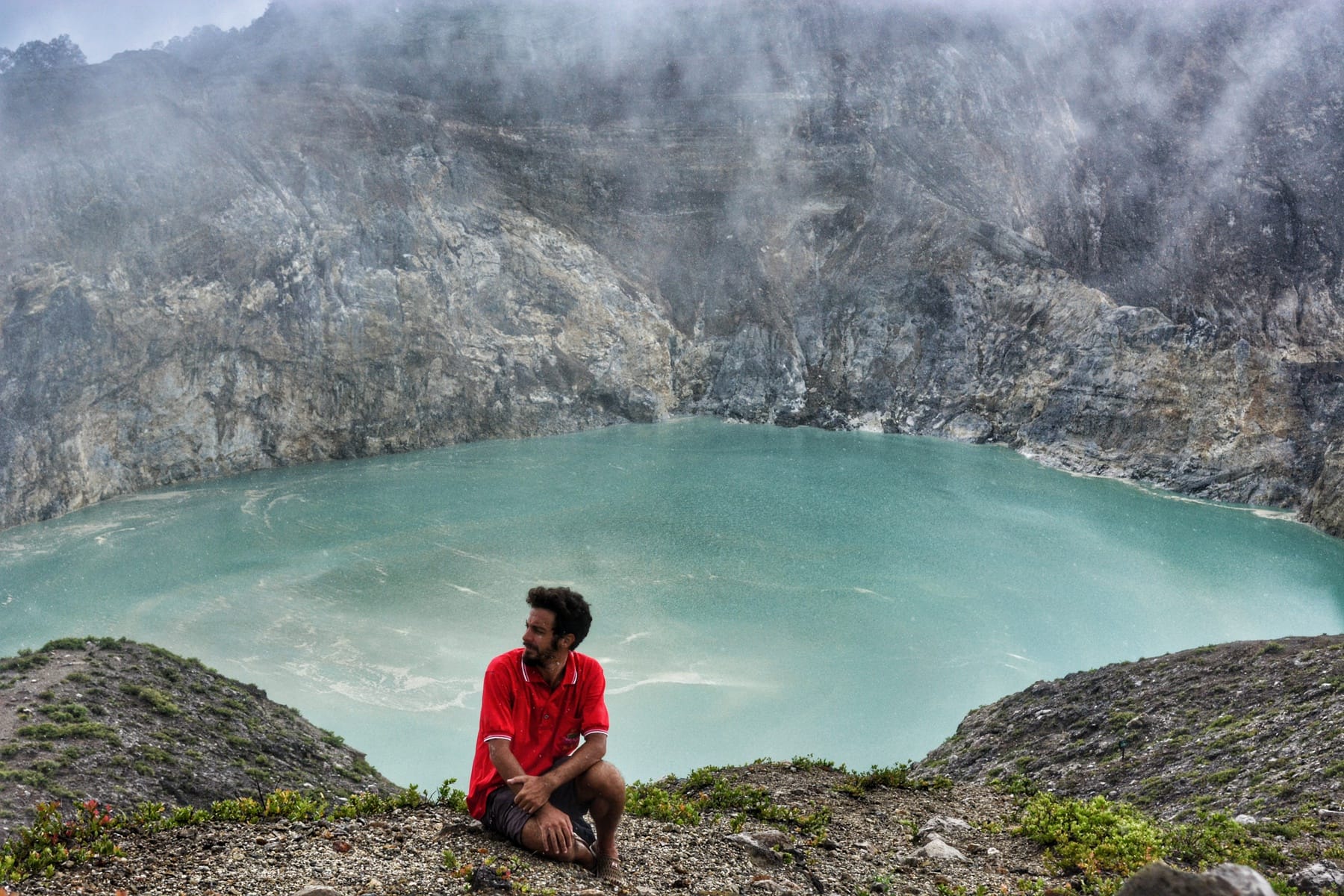 Kelimutu Crater Lakes
From Moni, we reach the Kelimutu Crater Lakes, the main local attraction, one that alone can be a good enough reason to come to Indonesia.
There are about 8km of steep road to reach this famous Indonesian landmark. We decide to rent a motorbike (6€ for the whole day) to have more time to spend at the lakes. The climb anyway, didn't look so steep and there's not much of a hike to do up at the craters.
The road is spectacular, as usual in Flores, we absolutely advise not to hire a driver but to get up there yourself, renting a motorbike, cycling, or walking if you have time.
The Kelimutu is a dormant volcano, whose craters are filled with water. The peculiar thing is that these lakes, despite being very close to each other, have very different colors. Moreover, they also change color during the day, from black to red to green and blue.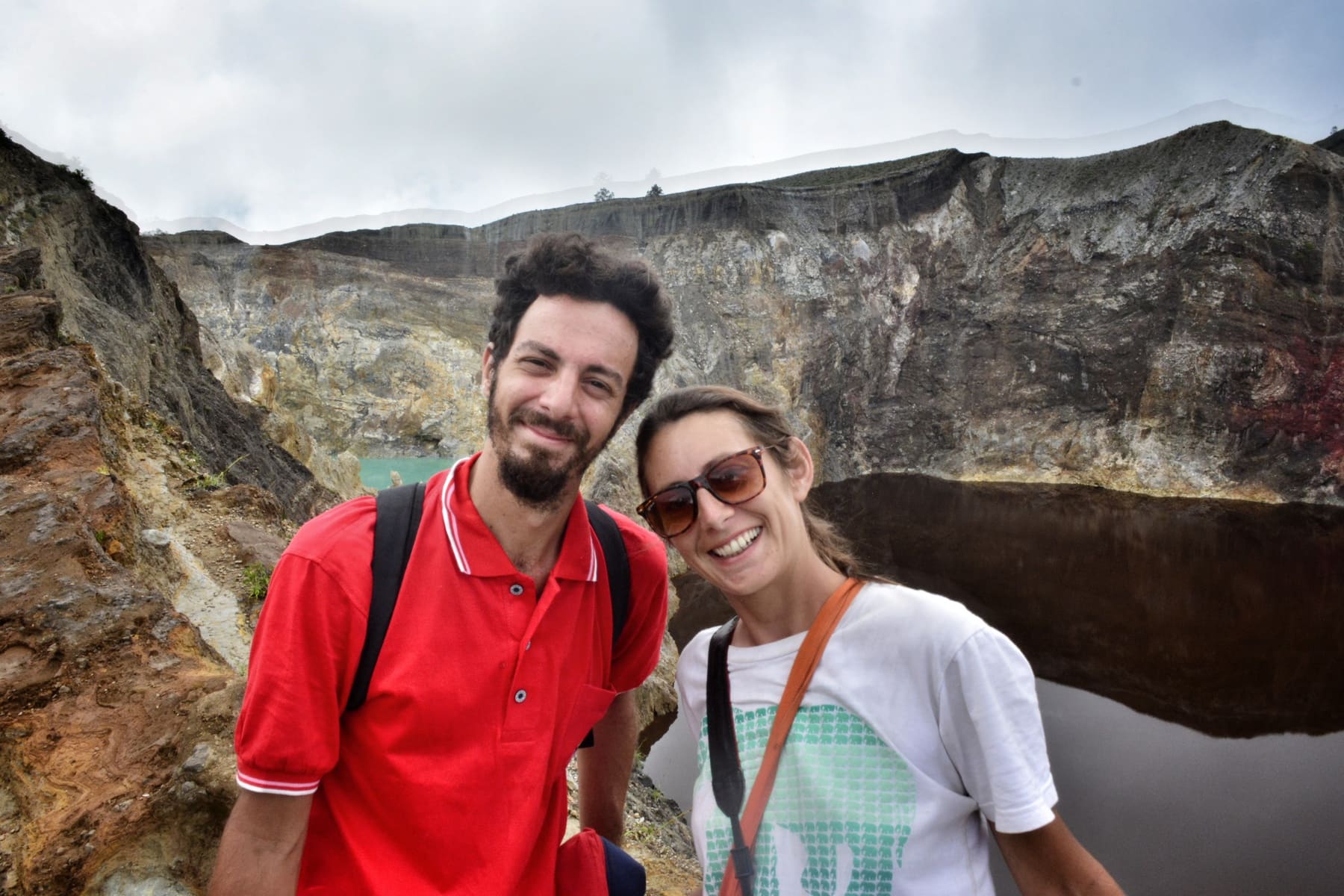 The Legend of the Kelimutu Crater Lakes
According to local beliefs, the lakes are where the souls of the dead go. The souls of the wicked end up in the Tiwu Ata Polo, the lake that is most often dark in color, the souls of young people go to Tiwu Nuwa Muri Koo Fai, usually blue-green, while those of the elders end up in the Tiwu Ata Mbupu, separated from the other two, usually of deep blue color.
It's said that the change of color occurs when a new soul reaches the lake. Every year a ceremony and a pilgrimage are organized from the surrounding villages to lakes.
---
Entry fee and the hike to Kelimutu
We heard there's a secret hike from Moni that lets you bypass the ripping off entry fee. Indeed, the ticket costs 3000 rupees for the locals (20 cents) and a steep and unreasonable 10€ for us buleh (12 on Sundays!).
Anyway, it seems that today will rain and we don't know if the alternative path is in good condition, so we decide to go from ' official entrance. A few hundred meters and we arrive at the first two lakes in the craters. Those are very close to each other and so different anyway. Appalling.
The third lake, Tiwu Ata Mbupu, is some 500 meters away, so there's really nothing to hike up here. You'll be done in one hour.
It's very important to know that, almost every day, clouds gather above the Kelimutu in the early afternoon, making it nice and misty at first, and then totally invisible. Keep in mind this if you plan to do the whole hike from Moni or go in the afternoon.
Air Panas, the Kelimutu Hot Springs
Turning back begins to rain a lot, we see the sign "Air Panas" which means hot water. there are two free-access hot springs along the road from Moni to Kelimutu, providential to us since we caught a heavy downpour and the temperature up there wasn't so warm.
The first one, Kolorong Air Panas, can be found on Google Maps. It is a big manmade tub, we decide to stop here waiting for the rain to stop.
The second one is very small and hidden among the rice paddies, harder to find and mostly used by the locals. Indeed there are a few kids bathing with shampoo and soap.
How to Get to Moni (source – Wikitravel)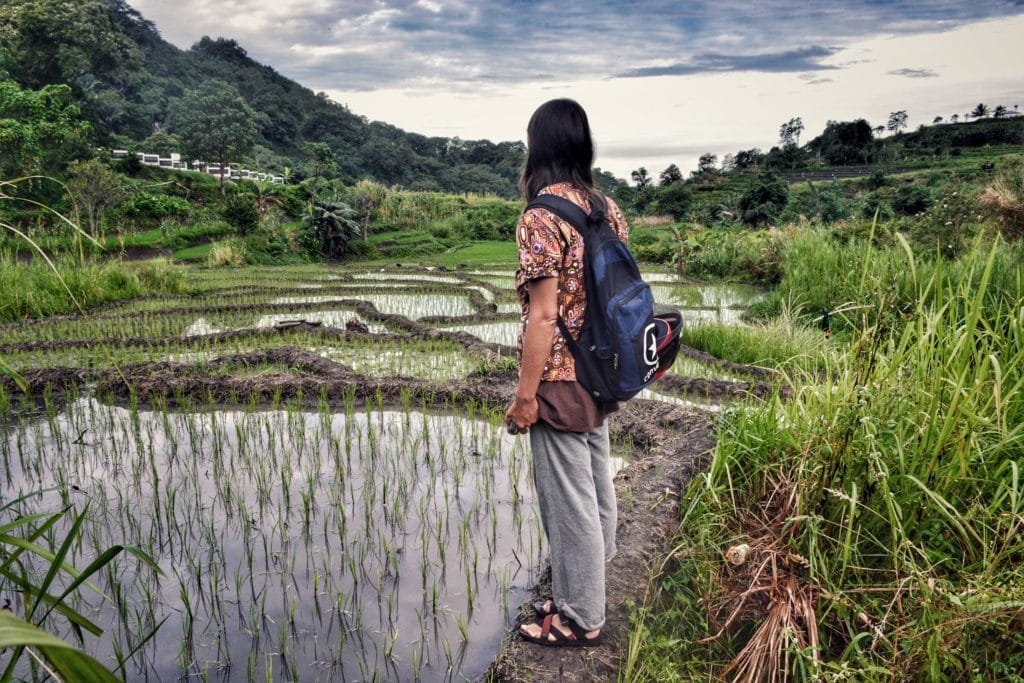 "Buses from Bajawa (7 hr, Rp 80,000) start at 6 am. Gunung Mas runs 12-seater "Travel Bus" from Ruteng to Moni (continuing to Maumere) at 7 am and 1.30~2 pm. It takes 10 hr from Ruteng to Moni (6 hours from Bajawa) and they will pick up from hotels by prior arrangement.
From Ende there are more options. Public cars (2 hr, Rp 40,000), Toyota Kijang are normally the most comfortable option. Bemos (Rp 20,000) and buses (Rp 30,000) also ply the route in 2.5 hr. If you're feeling adventurous ojeks will take you there for Rp 100,000 letting you make your way at your own pace and stop for photos along the very scenic route.
From Maumere (3-4 hr) there is the same plethora of buses (Rp 30,000) and public cars (Rp 60,000), just ask at your hotel.
From Riung, the public bus to Ende (50 000) leaves at 6 am and you can catch a bus to Moni from there." (info taken from Wikitravel.org)
---
Planning a trip to Flores? Check Also
The perfect Flores Island Road Trip Itinerary
Advice for bicycle travelers and adventurers in Flores
Check also our in-depth articles about:
Maumere and Koka Beach
The ancestral villages of Bena, Gurusina, and Wolondopu
The route map of our road trip in Flores, click the track for elevation data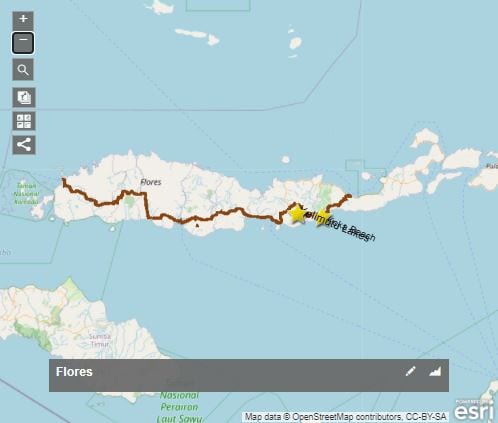 Stay in touch while we get lost! Follow us on Social Media