Cycling in Cambodia – Everything you need to know to plan your bike tour
With its tragic history and centuries-old culture, Cambodia is a country that is sure to move your feelings. Cycling Cambodia is really the perfect way to explore this country, no big mountains, lots of quiet roads (although some main ones might be a bit heavy on traffic), cheap accommodation and friendly people.
Cambodia may not be the best in South East Asia regarding landscapes, but a laid-back atmosphere, the eagerness to rise again after so much struggle and the dramatic Mekong shores really made it one of our favorite destinations, probably the most interesting in continental SEA.
While Cambodia truly is still a cheap country you may find some of the hints here useful if your budget is really tight. If you don't know much about this country, check these interesting facts to know about Cambodia.
If you're interested in an alternative cycling itinerary of Cambodia, here's the detailed description of our bicycle tour in Cambodia, complete with map and elevation profile:
part1: from Koh Khong Thai border to Kampot
part2: from Kampot to Phnom Penh
part3: from Phnom Penh to the Lao Border. Kampong Cham, Kratie and Stung Treng
Contents
Cambodia Cycling Itinerary in a Nutshell
Day 1 – Koh Kong to Trapeang Rung
Day 2 – Trapeang Rung to Kampot
Day 3 – Kampot to Takeo
Day 4 – Takeo to Phnom Penh
Day 5 – Phnom Penh to Kampong Cham
Day 6 – Kampong Cham to Sturm Treng
Day 7 – Sturm treng to Lao Border
Camping in Cambodia
Well, not the most camping friendly country this one. Not that there aren't spots but, especially during the rainy season it is quite hard to find a dry one. But most important there are still tons and tons of unexploded landmines, which makes stealth camping not the best of the ideas.
If you still want to camp while cycling in Cambodia, the better option is for sure to ask some locals, you could easily pitch your portable house under one of those stilted homes, even though it may be wet even there during the monsoon season. Leaving a couple of bucks to the family may be polite.
---
Accommodation
Even though Google and Open Street Map don't know that, there's usually at least one guesthouse in any settlement that looks like one (I mean not just four or five houses together, but something that at least comprises a market). That means more or less accommodation every 40 or 50km.
Prices are pretty even, ranging from 5USD to 12USD for a double room with fan and usually 5/7 dollars more for A/C. If you have any choice, ask to see the room first, check the pillows, the mattress and, most important, the fan. Bargaining is worth a try, mostly works in tourist areas.
Since drinkable water is not the easiest nor the cheaper thing to get, if the place has a water dispenser may be worth a couple of bucks more, if you have bottles to fill.
Especially in not touristic areas guesthouses are usually love-motel style, ground floor, which is nice if you have heavy baggage and bicycles. Some rooms have water kettle but if there isn't any just ask the owner to provide some boiled water if you need it. Many guesthouses, even the one you wouldn't say, have free WiFi.
Guesthouses are normally announced by signs, sometimes very small, keep your eyes wide open, if in an un-touristy area missing one could mean having no other choice for a long while!
Disclosure: Some of our articles contain affiliate links. This comes at no additional cost for you and helps us keep this website up and running. (as Amazon Associates we earn commission from qualifying purchases)
Sleeping in Buddhist temples
Here's another option to try when cycle touring in Cambodia, but don't think it will be as straightforward as in Thailand. First of all, Buddhist temples in Cambodia don't receive any aid from the government and survive on the donation of people that are amongst the poorest in the world.
No fancy stuff here, toilets are usually very basics, even for monk's standards. Monks may ask you for a donation, if they don't, consider leaving it anyway.
Worst of all, at least in our experience, is being woke up one hour before dawn by the preparation for the morning prayer, if you are a heavy sleeper you may not notice, but no chance you'll oversleep the huge drum being played at dawn. So if you're up for an early rise and want to try the experience, well… do it, at least once.
But if a good night of sleep is what you're after my advice is to stick to guesthouses and resort to temples only if you have no other choice.
When we did it we left a 4USD donation (the elder monk asked for it), just two more dollars and we could have had a real bed, a shower, and sleep as long as we wanted if only there was a guesthouse there…
---
CouchSurfing and Warmshowers? Or Workaway, Helpx, and Woofing?
Phnom Penh, Siem Reap and maybe Kampot and Sihanoukville are the only places where you could have a chance to find couchsurfers or warmshower hosts. Volunteering instead is pretty easy, with a lot of associations, some a little shady, some with plenty of good feedback, to whom you can lend your skills and time in exchange for shelter, food, and experience.
Some of this ask you a fee to volunteer, I feel I wouldn't trust them, unless you really know where does your money end up, moreover, this article is about budget travel so I assume you don't want to pay to volunteer. Check our articles about the best work exchange websites and about Couchsurfing and its alternatives.
Cheap food in cambodia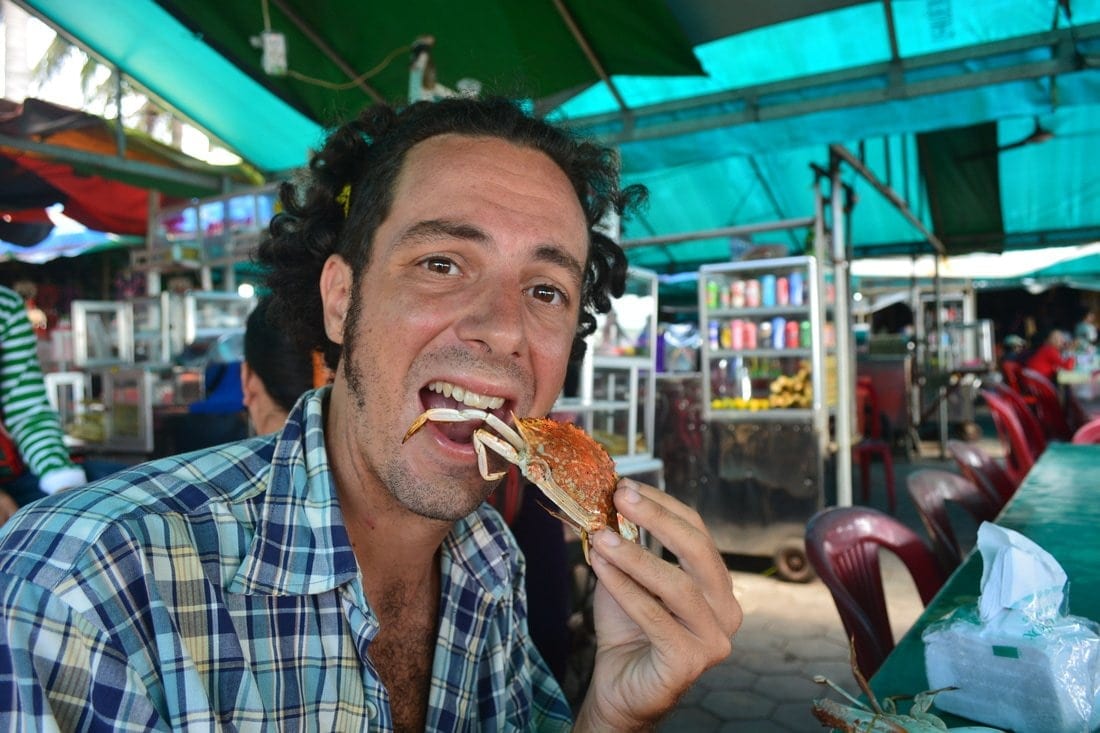 Eateries and Restaurants
Food is definitively not the first reason to come to Cambodia, apart from the nice seafood in the coastal towns (Kep being the best) the average Cambodian eatery boasts a menu of basically two dishes, fried rice, and noodle soup, especially in the countryside and poorer areas. Not really a great variety to fill-up a hungry cyclist's belly.
Some better ones may have boiled rice with stuff, beef, pork, chicken, and vegetables. But here is the bad news, food ain't any cheap in Cambodia.
Besides noodles and rice, that you can find for 1.50/2USD (in tourist areas even more expensive), all the other dishes come at around 3 to 5USD for meat and even more for fish, sometimes really not worth it.
Occasionally, but not very often, it's possible to find that kind of eateries with pots on display that are so common in the Philippines, here at least you can jump beyond the language barrier, but don't expect this to be a great meal, usually soups made with coconut milk and some boiled bony meat.
Western food can be found in every touristic town, usually in guesthouses, being a mix of fake Italian spaghetti and American style stuff such as hamburgers, tacos, and ribs. Prices are not cheap, from 4 to 6USD for a burger that may not fulfill your needs. Try the crabs in Kep, that is cheap and very tasty, and the Italian food stall in Kampot.
Shops, Markets, and Supermarkets
Forget about western-style supermarket outside Phnom Penh, period. Shops are the most chaotic I've ever seen, hard to find anything, for the lack of organization but also because they basically have nothing there. Shelves display a hundred pieces of the same product (usually instant noodles or diapers) to make the shop look full, even biscuits are not easy to find.
Markets are the right places to buy fruit, bargain hard. They also have some food stalls, better off in the morning when the food is freshly cooked, than in the afternoon, when it has been already some hours in the unforgiving heat.
If you just came here from a developed country beware of food poisoning, your stomach may not be equipped to handle the germs on the lady's hand.
I got poisoned in a market, even though I was coming from 8 months in SEA, and felt I could stand the bad hygiene. Sometimes we resorted to instant noodles, but be careful, once we saw the lady of the shop taking the water for the noodles from a rusty barrel collecting rain from an asbestos roof.
Oh, I almost forgot the most important of the hints! Almost all Cambodian beers can give a prize, look under the tab of the can when opening it if there's the symbol of a can you won one free beer! It's surprisingly common to win free beers, almost one on three or four cans is a lucky one!
---
Baguette and bakeries
Here's the lifesaver, God bless the French (well not really, they did the worst kind of colonial shit here, but…). When we first saw a Baguette, after being so long in Asia, so far from any kind of bread worth the name, that felt like a dream, we wanted to cry.
The sad part: baguettes are hard to find in remote areas. Happy part: where there's a market, there's a baguette. For 1/1.20USD they fill it with some sort of meat, vegetables, and sauce. Big and cheap, will fill your belly.
Bakeries are rare, better on sweets than salty pastry. However, when we saw one we usually stock a few pieces. Not bad overall, considering the average quality of Cambodian food.
How to get water when cycling in Cambodia
Unlike the Philippines, water refill stations are not common in Cambodia, if not almost nonexistent. We relied on guesthouses with water dispenser, filling four 1.5l plastic bottles every morning usually made our day until the next GH.
Bottled water is quite expensive, almost 1USD for 1.5l, so as said before, may be worth paying a couple of dollars more for a guesthouse with free water.
---
Communication
Unlike Thai, Laotian, Vietnamese, and Chinese, the Khmer language is not tonal, meaning that it is easier to grab a few words and be understood when you try to repeat them. Alphabet tough is a big barrier in the restaurant's menu and more or less everything else.
English is almost completely unknown outside of touristic areas and Google doesn't have a downloadable Khmer language package for translate.
Rely on gestures and simple phrasebook, order food by pointing at somebody's else dish, or just cope with whatever they might bring you, which would probably be a noodle soup anyway.
This being a generalization, Cambodian people are mostly friendly but not very helpful, don't rely on their direction so much and don't expect them to help to drag your bike out of the mud.
---
Connectivity
This is a nice surprise. WiFi in Cambodia is very widespread, sometimes you will find a free WiFi sign even in small shops or motorbike repair stalls, many guesthouses have it, and decent restaurants too.
We didn't feel the necessity to purchase a local SIM, even though this can be easily done, for slightly cheaper than in Thailand (not as cheap as Indonesia however).
Roads of Cambodia – cycle touring dream or nightmare?
Cambodian roads have improved enormously during the last ten years, all the major roads are sealed, may not be as smooth as in Thailand but they are usually ok. Some of them may have heavy traffic, while some may be almost desert.
Not so rarely there's no side lane to ride in, so if the road is busy with trucks, it may feel (and actually be) quite dangerous. Check our bicycle touring itinerary in Cambodia (part1, part2, part3) for detailed information about this.
When leaving the main road hunting for alternative routes, the whole story takes a U-turn. It's here that the real Cambodia reveals itself, the slow rhythms of a country which somehow still lives in the middle ages. Hand-pulled wooden looms, ritual horse carts, run down temples and people wearing traditional clothes.
This all comes at a price, which is basically clouds of red dust in dry season and pools of mud during the wet one. While dust may not be nice but still bearable with a bit of cover-up, mud can make some road completely unrideable, a hell on earth sometimes.
Think twice when trying one of those, check if you'll have any chance to get back to the pavement and avoid the risk if there was a recent downpour longer than a few hours, try asking the locals but don't trust them 100%, sometimes they will say it's ok when really it is not, maybe ask more people.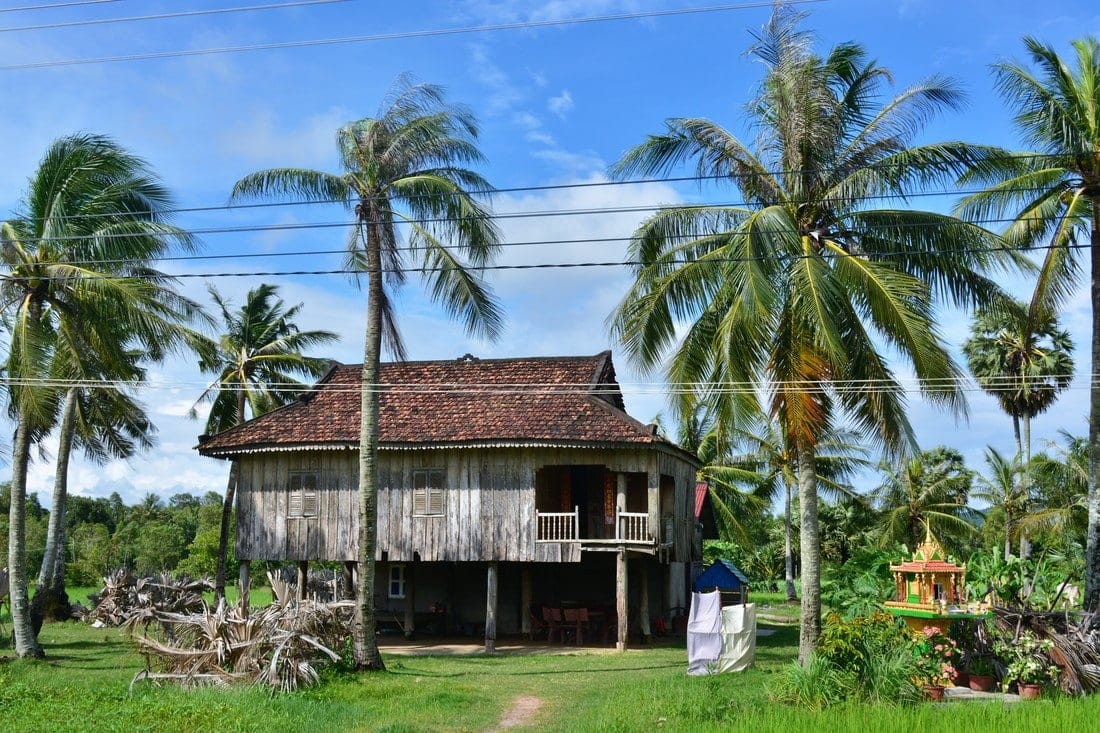 Safety concerns when cycling Cambodia
Our perception of Cambodia is one of an overall safe country. Still, apply some caution, this is not Japan or South Korea. The bulk of the "criminal activity" (theft and scams mostly) is of course where the bulk of the tourist is, bus stations and major touristic attraction.
Respect the basic rules: money on you, passport on you, do not leave nothing valuable or important in your panniers, backpack, or whatever your baggage is, if this is loaded in the trunk of a bus or taxi, don't pay stuff in advance, trust your instinct, don't make rushed choices, don't be drunk or high if you have valuable stuff with you.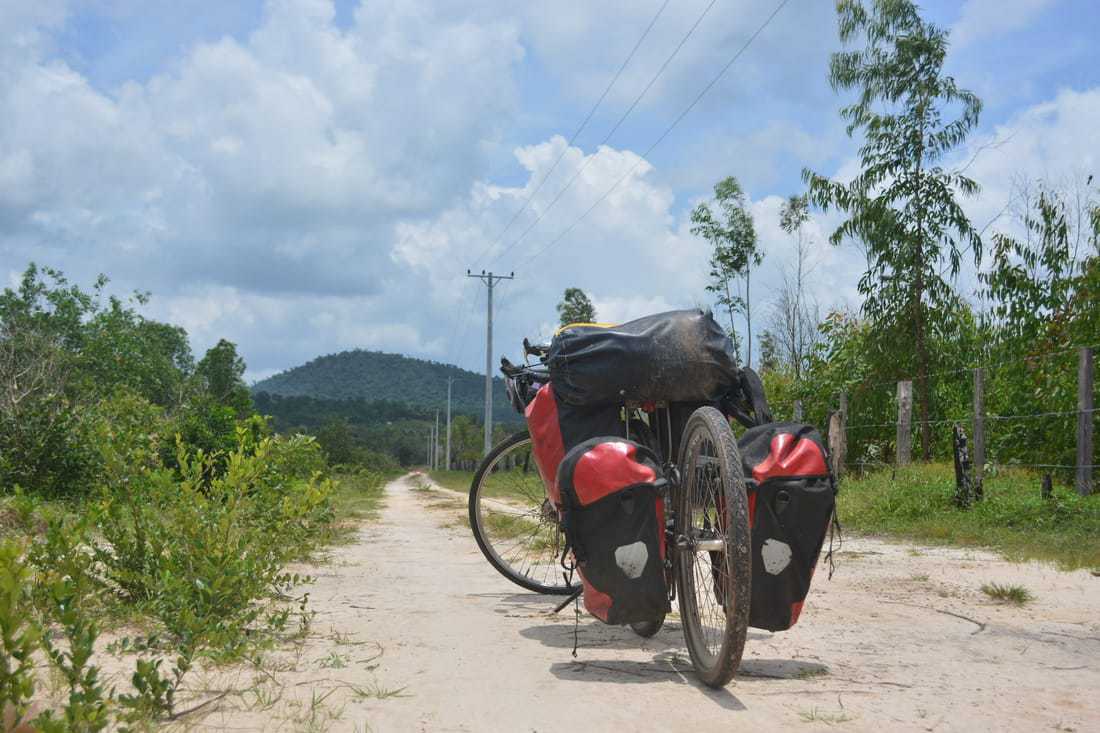 Our cycling itinerary in Cambodia
Our bike trip in Cambodia took a whole month, but this 900km cycling itinerary could actually be completed in a much shorter time-span. With only 4000m of elevation gain, this route is almost completely flat, excluding the climb to Bokor National Park.
As usual for us, we took it very easily, with lots of rest days – cycling an average of about 50km per day. This itinerary doesn't touch the most famous touristic highlights of Cambodia, such as Tonle Sap Lake or Angkor Wat, it might be thus considered to be quite off-the-beaten-path.
Coming from Thailand in August 2016 we crossed this beautiful and deeply emotional country, heading to the only border with Laos. The first 255km brought us from the Koh Khong border to Kampot.
gWe started with a very beautiful bike ride on road 48, going East you'll have the Cardamon mountains ("Krâvanh" in khmer) on your left and Botum Sakor national park on your right. This is probably the longest stretch of untouched jungle we ever saw in more than ten months around South East Asia.
An easy 15km after the border you will cross the long bridge that will lead you to the nice town of Koh Khong (not to be confused with the island). Then we passed through the tiny village of Tatai, which has a guest house, two food stall and a big waterfall. J
The next village, Trapeang Rung (this is actually the name of the river, on some maps the village is called Phumi Chrang Khpos), where a community-based tourism association can be found.
The landscape stays amazing and untouched until Botum Sokor, after which comes the flat and the real Cambodian feeling, rice paddies, water buffaloes and wooden houses on pillars. 36 super-easy kilometers of quiet paved road lead us to Srae Ambel, a nice town, set on a small hill overlooking the Sre Ambel River.
The cycling friendly road 48 terminates in the less amusing National Highway 4. Even though road stays flat the traffic gets pretty heavy, with lots of trucks in a row to share the narrow road with.
This ugly stretch terminates near the village of Prey Nob, the road splits here, the Highway 4 leading south-west to busy Sihanoukville, the new resort town of Cambodia. We skip that and head East instead, following National Highway 3, to Kampot.
The traffic lightens noticeably, finally, on the left, the Bokor cliffs emerge in their majesty. Although the road runs along the coast, there are very few spots from where the sea is visible, through this 58km of flat road there are basically no places to get drinks or food.
But Kampot is not that far and there will be all the western comfort you would like there.
Read the detailed description of this section of the route – cycling from Koh Khong to Kampot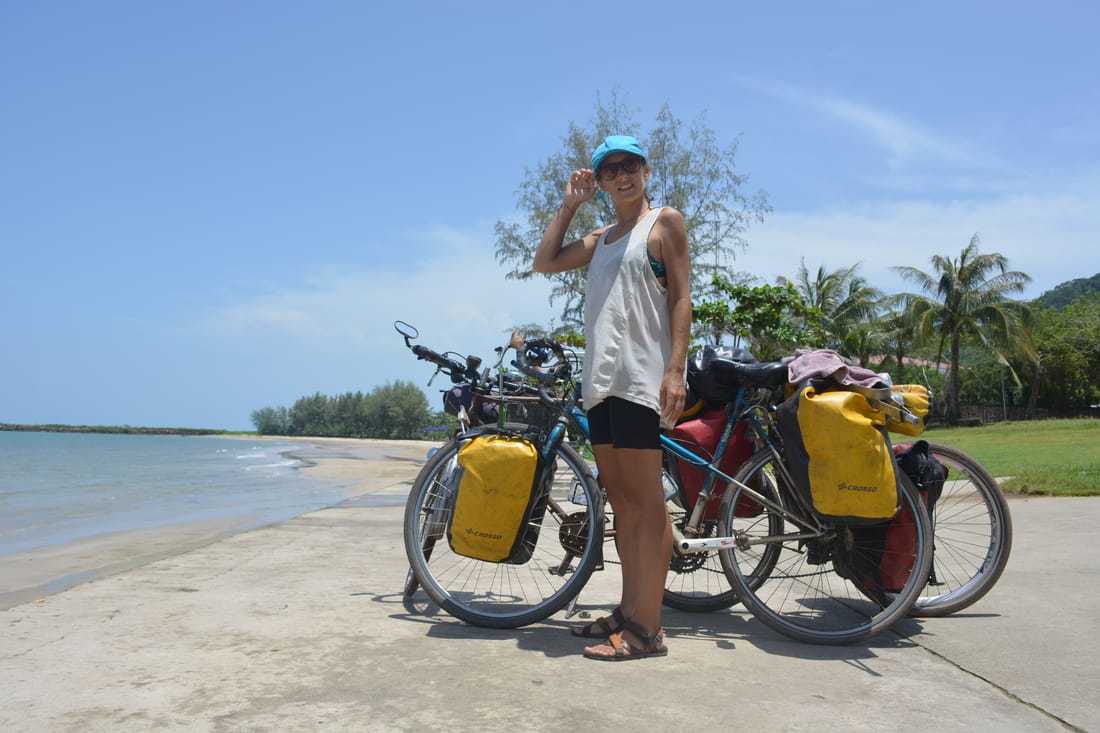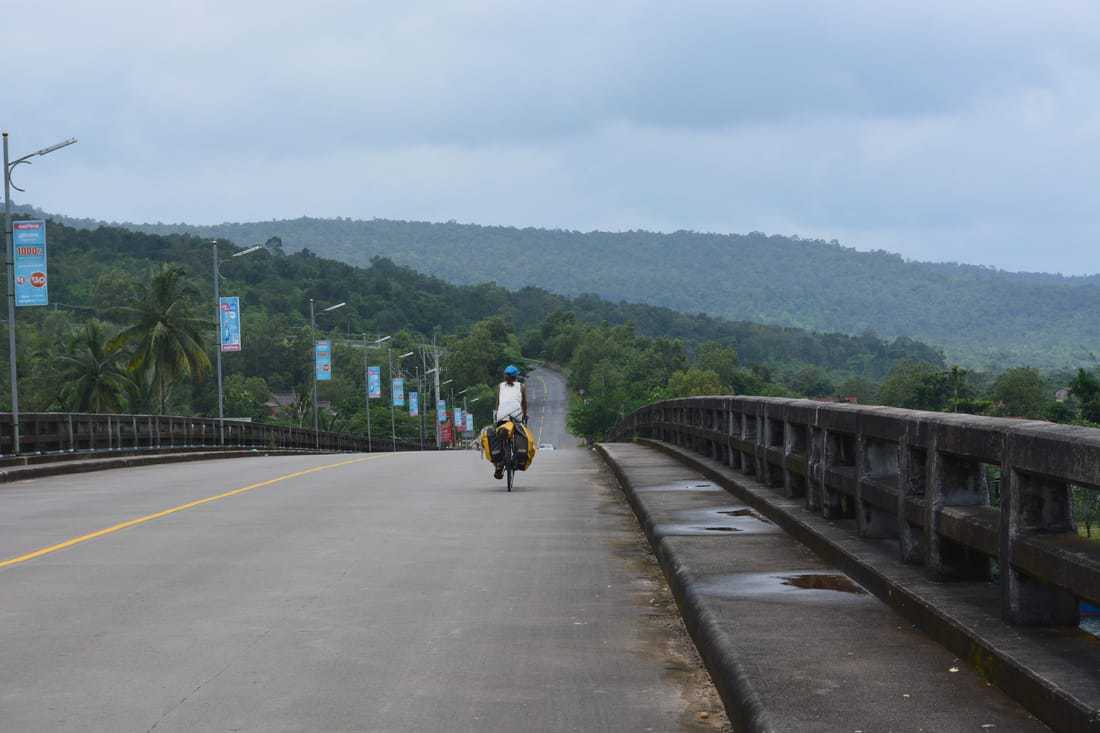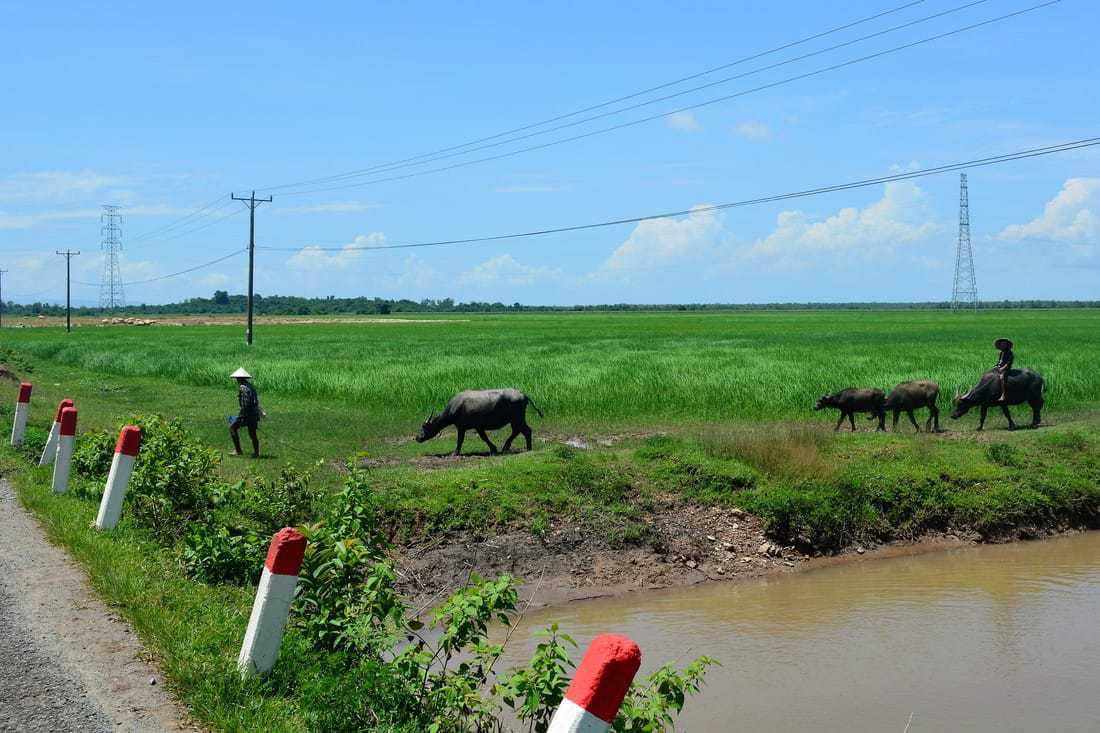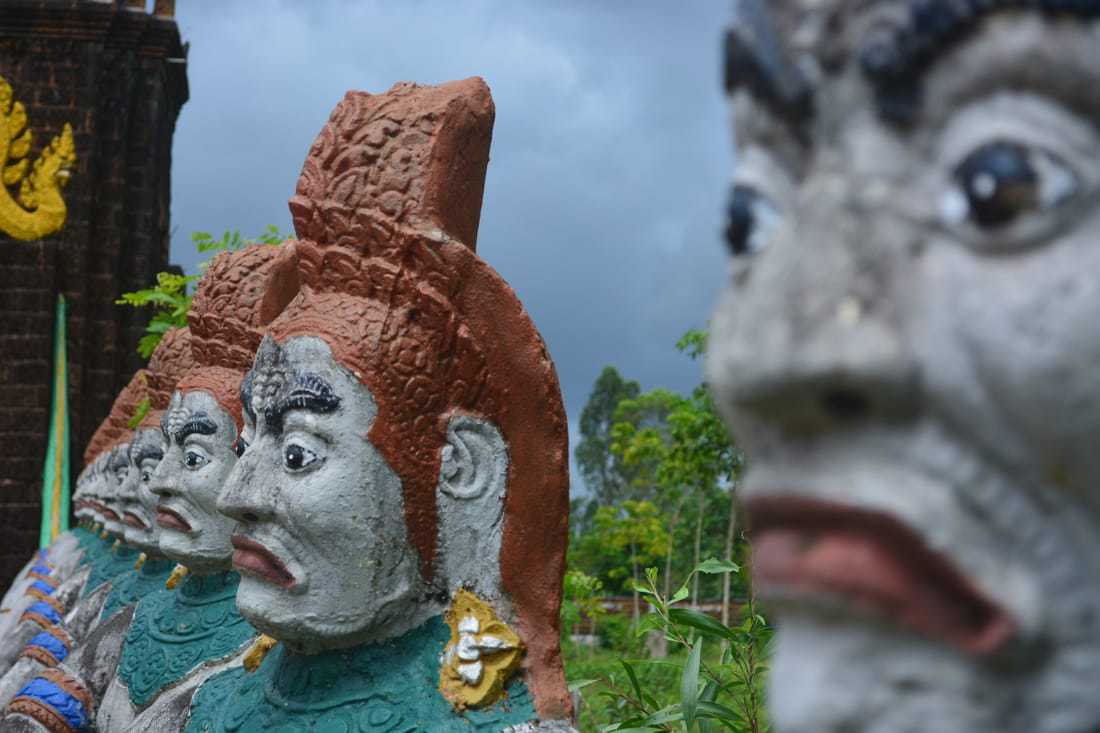 Some people ride this in one day, we rode in 4, taking our time to explore the rural areas around. There are several ways to reach Phnom Penhfrom Kampot when cycling Cambodia, the longest one being heading to Kep along route 33 and then joining National Highway 2to Takeo; the shortest ones are instead national road 41 or Highway 3
After a detour to Kep and an exploration of the extremely interesting Bokor National Park, we headed off to Phnom Penh choosing a mix of Highway 3 and 2, with some detours on dirt tracks when possible, this stretch is not the most beautiful, whatever road you chose, being mostly plains with monotonous rice paddies and ugly little towns. The more you can detour from the highway the nicer it can become.
However National Highway 3, despite its name, is not busy at all, with good pavement and usually a wide enough side roadway where to stick not to be bored by the few trucks.
As usual along Cambodian main roads there are accommodation more-less every 40/50km, we overnight at Chhuk before taking the cut the brings us to the provincial capital of Takeo on Highway 2, after 12km. Takeo is big for Cambodian standards, and we found it pretty ugly and giving a sensation of unsafety (just a sensation).
There are several Angkorian temples near Takeo area, we decided to visit Phnom Chisor, which is not far from Highway 2 on the way to Phnom Penh. A beautiful 32 unpaved kilometers, crossing traditional Khmer villages and rice paddies (literally inside the fields).
Back on Highway 2, the road gets more and more busy and less and less interesting. Leaving Highway for Choeung Ek road at Krang Svay, we pass beside the biggest and most infamous of the Khmer Rouge killing fields, 10km before Phnom Penh.
Cycling in Phnom Penh is a nightmare, one of the worst cities in South East Asia and thus in the whole world. It's though worth spending a a few days in the capital city of Cambodia, here's suggested 3 days itinerary for Phnom Penh. Bear in mind that it is as hot as hell.
Read the detailed description of this section of the route – cycling from Kampot to Phnom Penh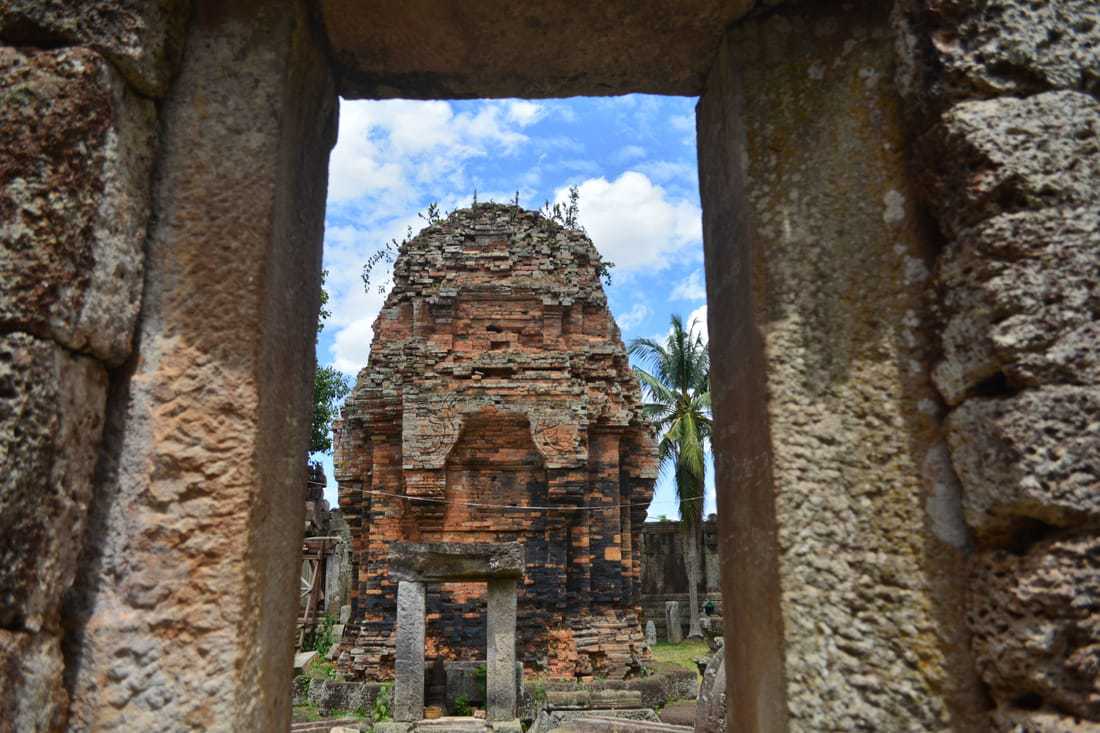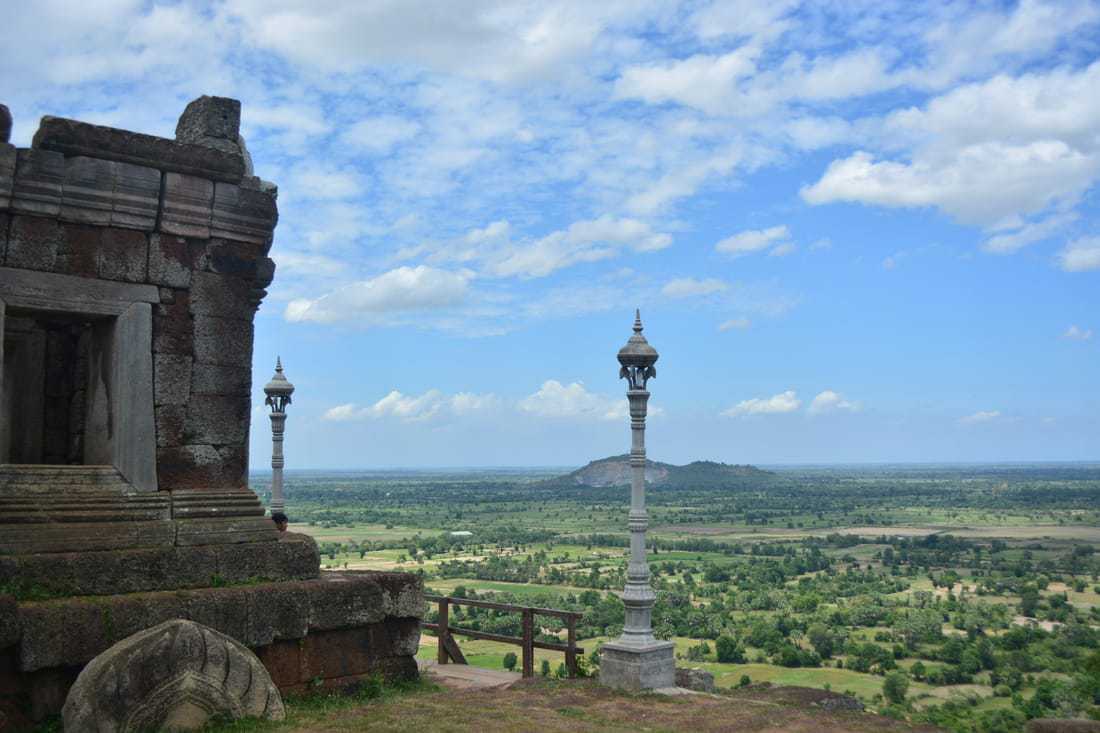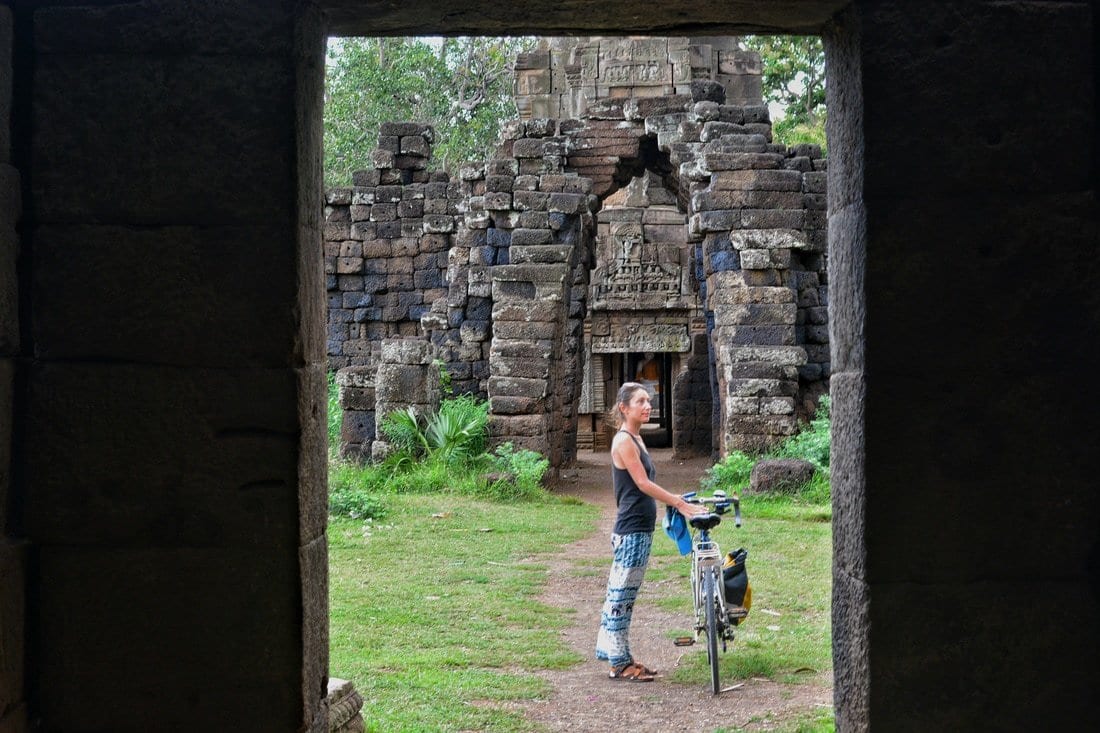 Leaving Phnom Penh northward is no big deal compared to getting in from South. Get to the Mekong and follow it, there's the main road, Highway 6. For a big stretch it has a much nicer side road that runs parallel, on the very shores of the Mekong, follow that as far as you can. Many villages and restaurants.
At KM40 there's the first bridge across the Mekong, that leads to the town of Khsach Kandal (ខ្សាច់កណ្ដាល). From here we followed road 381 and then turned right (check the detailed map on the linked article).
So from here begun a 43km unpaved leg, the road was a little tricky sometimes but still rideable, even though it rained the night before, keep in mind however that taking unpaved roads in Cambodia is always a gamble, and don't blame us if you find yourself in a river of mud.
This stretch of road, however, is really beautiful, especially the last 20km along the river, a glimpse of Mekong lifestyle, these kind of roads are the reason why we love bicycle travel.
Near the village of Oleng, there's a ferry crossing, a slow barge going approximately every hour, that goes to Kang Maes, at the crossroad between roads 70 and 223, the latter brings you to Kampong Cham in 25 super-easy kilometers.
Kampong Cham is one of the most beautiful Cambodian cities, a model to follow for neatness and decorum, with a splendid riverside lined with restaurant and guesthouses it aims to become a major tourist center in the next decade. We really enjoyed Nokor Wat (coordinates 12°00'00.3″N 105°26'20.6″E, less than 5km from the city center), an 11th century Angkorian temple lying in disrepair but completely tourist free.The next easy 124km will bring you to the touristic town of Kratie, where you could go on a river cruise to meet the endangered Irrawaddy Dolphins.
Past Kampi the last settlement for miles and miles is Sangkum, after which we find ourselves in one of the poorest areas of the world we've ever been. Just 19km and the road joins highway 7, from now on there's nothing, I mean really nothing, until Stung Treng, 120km past Sangkum.
Stung Treng could be beautiful but is not. The highlight is no doubt the big market, plenty of fruit, clothes and dubious food stalls.
From Stung Treng to the Lao border is 63 more lazy kilometers of nothingness, being the only crossing between Cambodia and Lao, the border is surprisingly quiet, if you're unlucky you could meet one of the few big busses that could slow the thing down.
Read the detailed description of this section of our Cambodian cycling route – From Phnom Penh to the Lao Border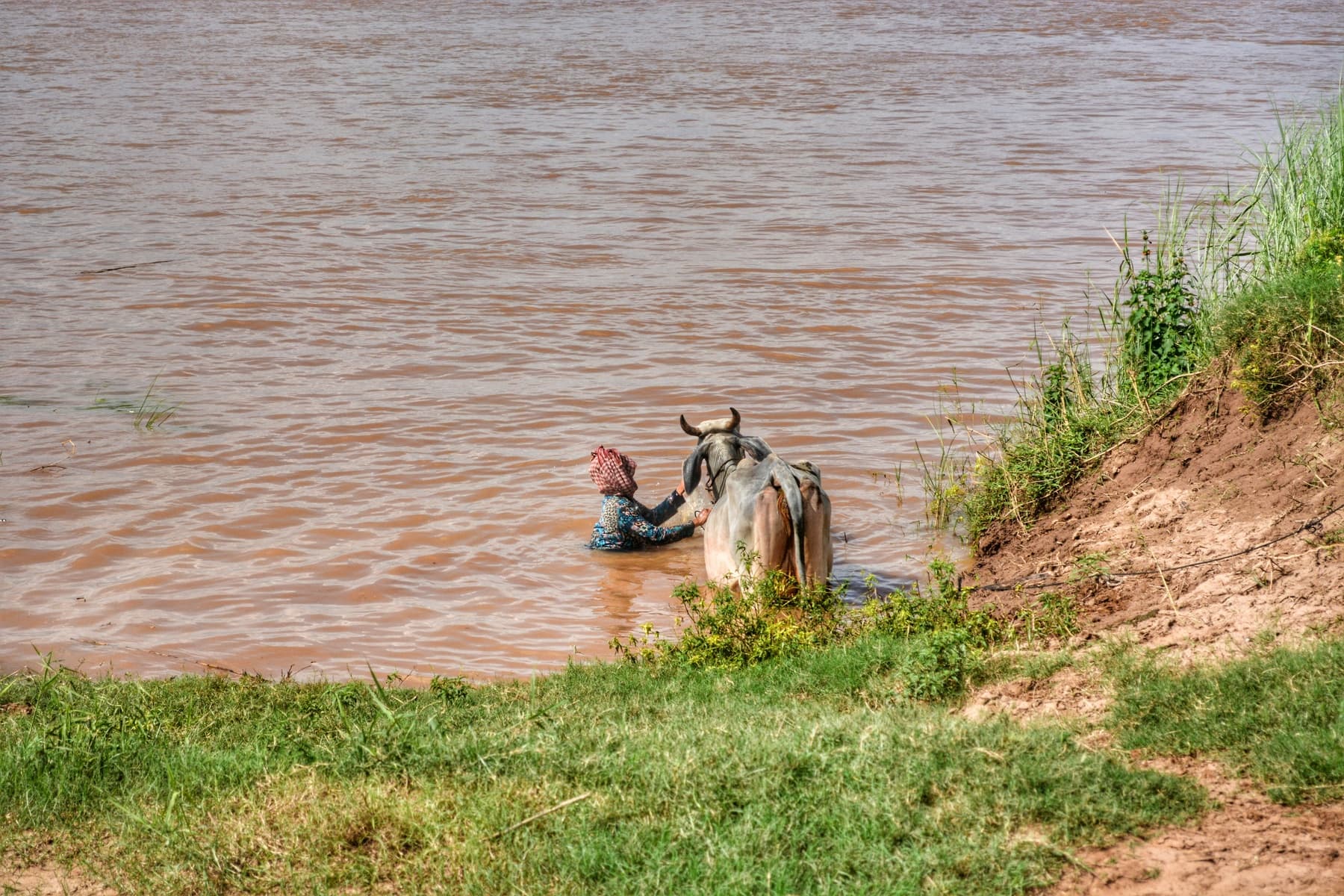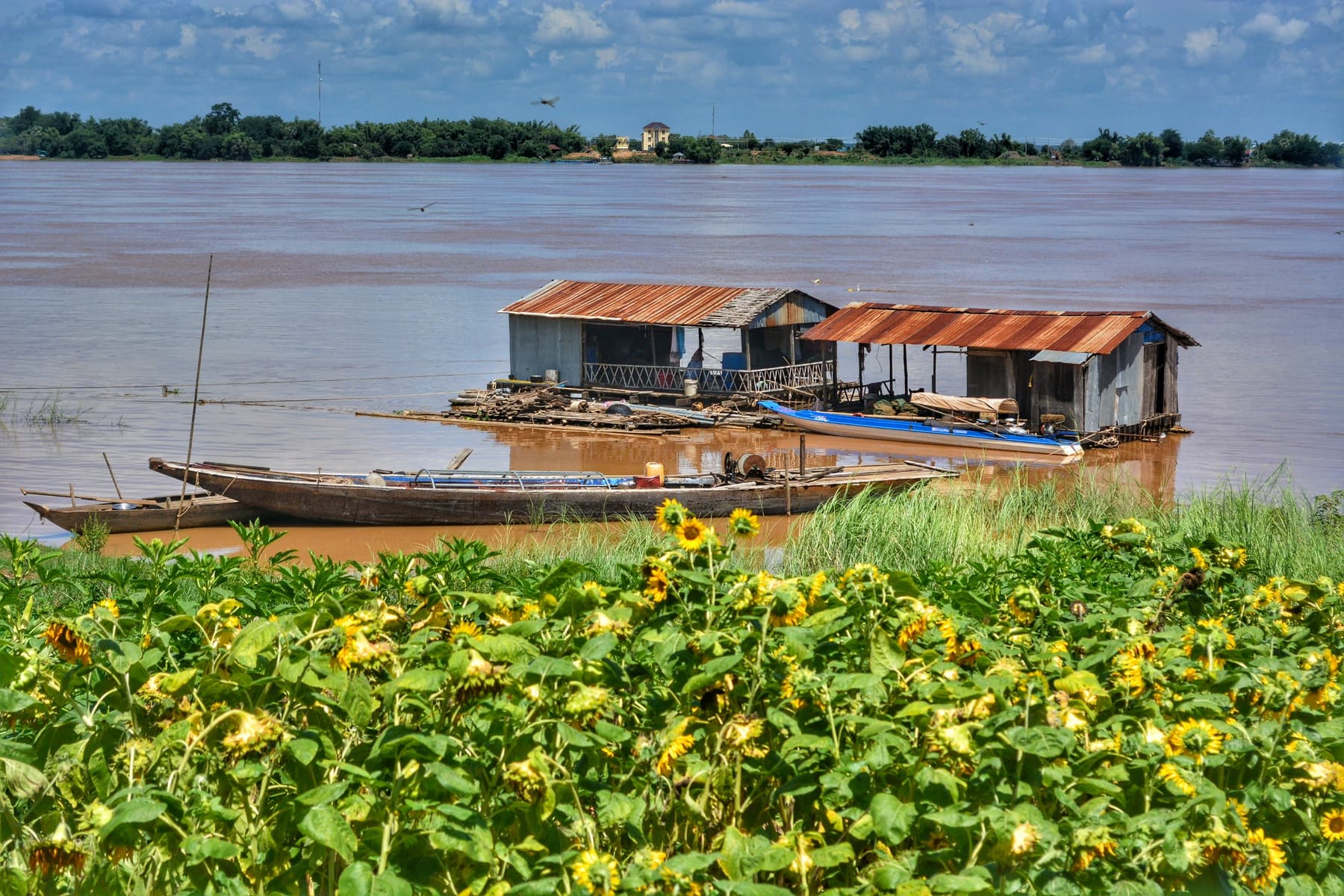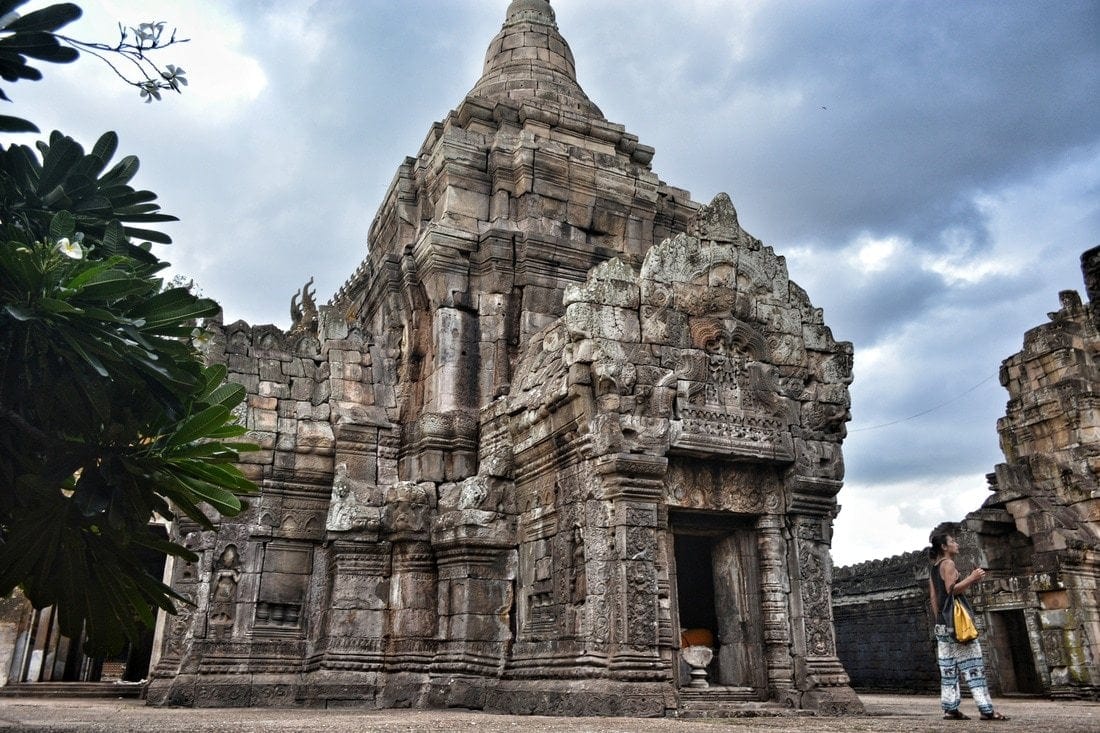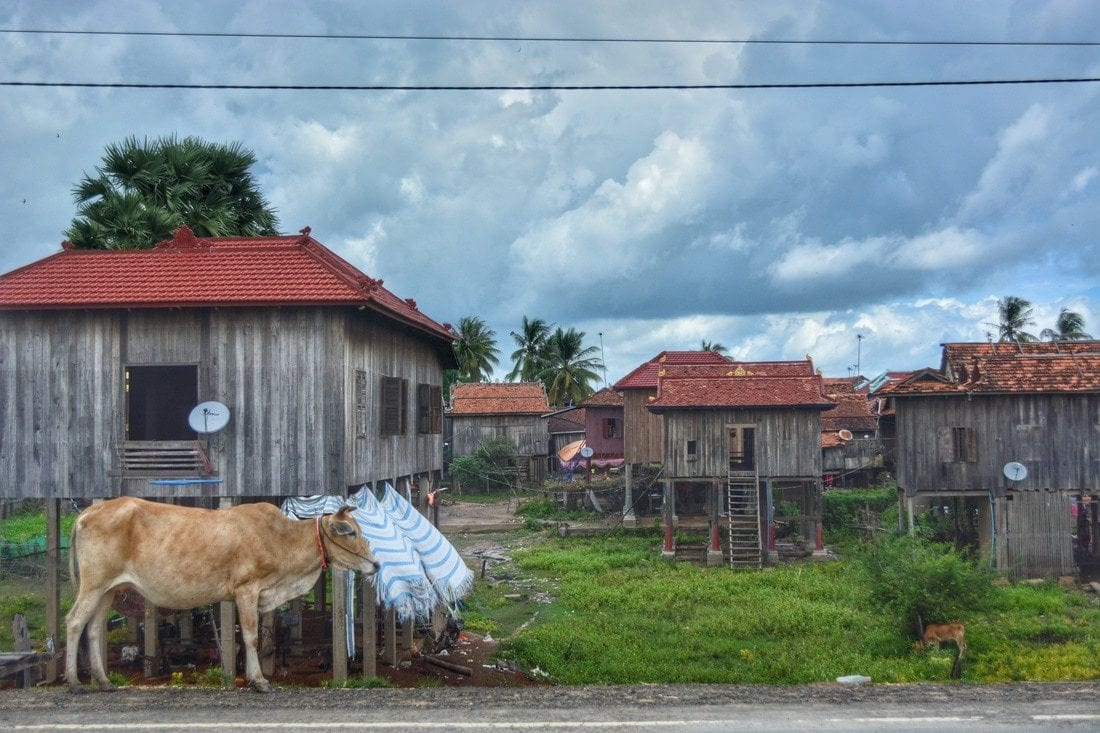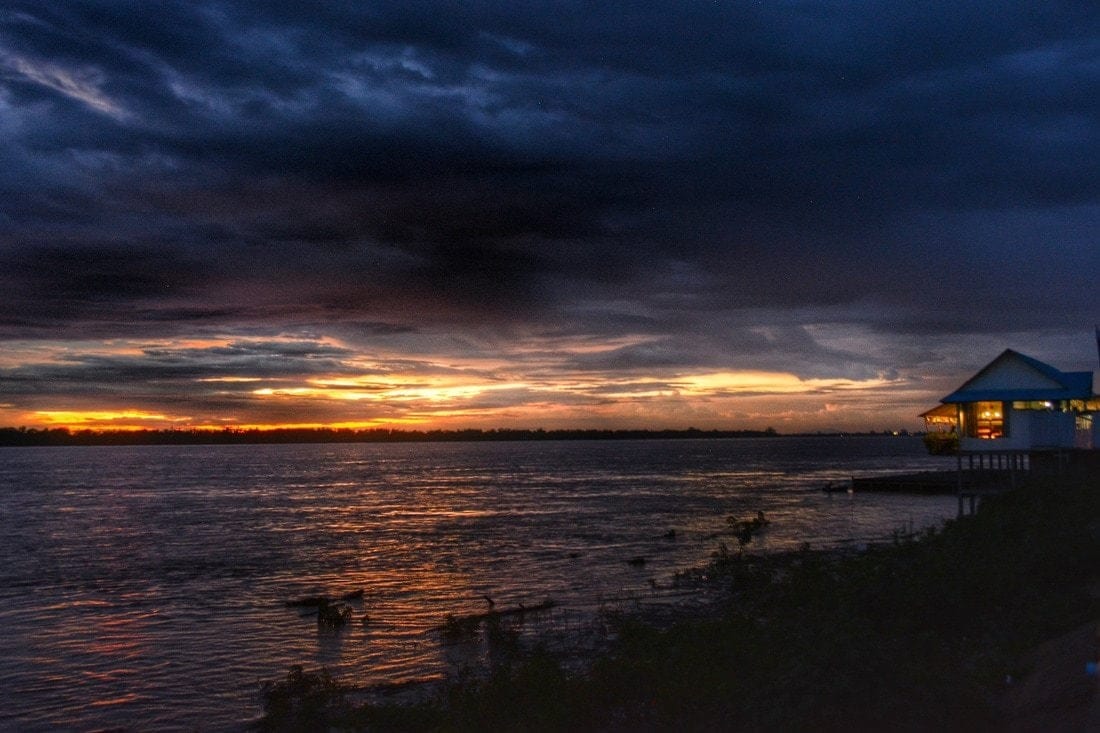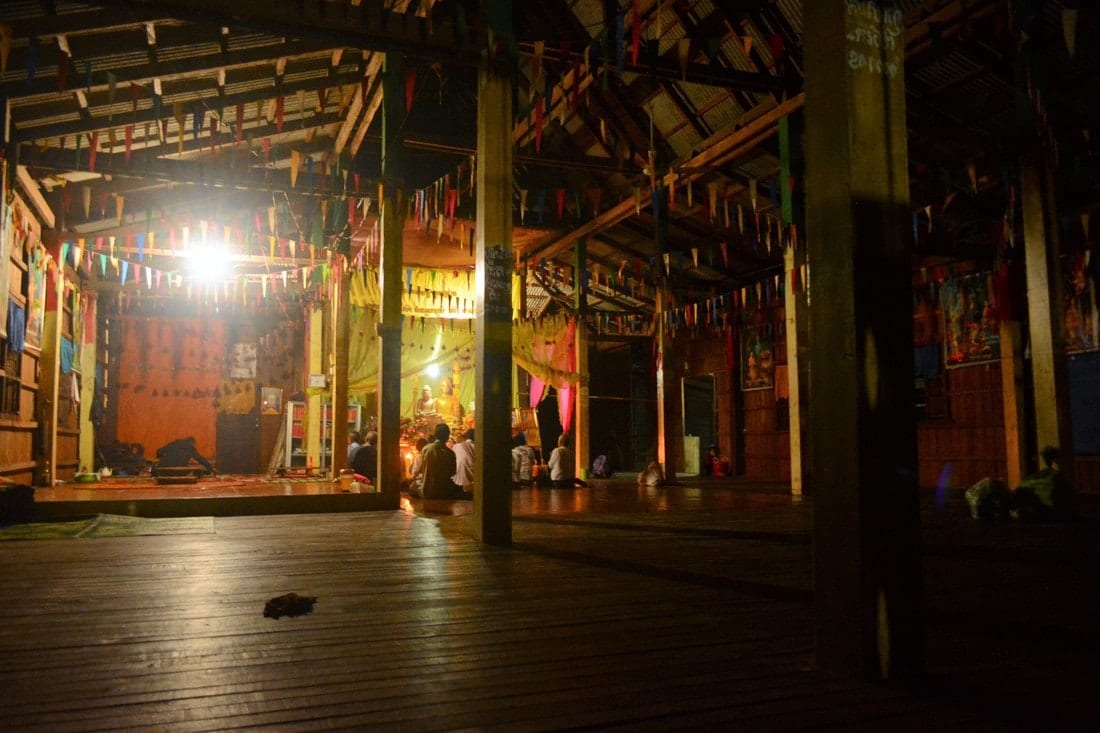 Travel Insurance for Cambodia
It doesn't matter how safe a country is, things can always happen – accidents, thefts, injuries, etc are unfortunately very common in the real world. We recommend ALWAYS getting a TRAVEL INSURANCE

The most versatile and best value-for-money is undoubtedly WORLD NOMADS, have a look at their website to get a quote.
---
When it comes to flights our pick, since already several years, has always been Kiwi.com. It is, in our opinion, the best search engine for flights by a long shot.
Kiwi has a very flexible search function – you can, for example, select several departure locations or a variable geographical radius, and then check for flights to a wide region (like Southeast Asia for example) or even to "everywhere".
You can then compare the best deals, combining the various options of departure and arrival.
Also the dates are super-flexible, Kiwi allows you to select entire months or even longer periods of time, and then select a trip duration (the interval between the departure and the return flight) which is also flexible!
You could, for example, search for flights from "Italy+Austria+Switzerland" to "Southeast Asia" between "June 6" and "September 24" with a duration of "24/32 days", what other flight engine gives you that?
Through Kiwi.com you can also check the fees for luggage and sports equipment (ie. bicycles). In general, flying to Bangkok or Hanoi would be cheaper than getting into any Cambodian airport.
---
What to pack for a cycling holiday in Cambodia
Bike Gear
Pro Tip!
You don't need an expensive bike to cycle here. You can easily ride on a refurbished bike that you can get for free (or almost free) – learn how here!
---
Cycle Clothing
Pro Tip!
Use common running shorts to cover your cycling shorts in conservative countries!
---
Accessories
---
Taking Public Transports with your bike in Cambodia
---
If you have limited time, or just want to skip a boring leg of the journey to explore more interesting places with calm, bringing your bike on buses or trains is not a problem.
We recommend using 12Go Asia to book long-distance buses and trains in Southeast Asia, it has complete schedules and their service is reliable.
---
Follow us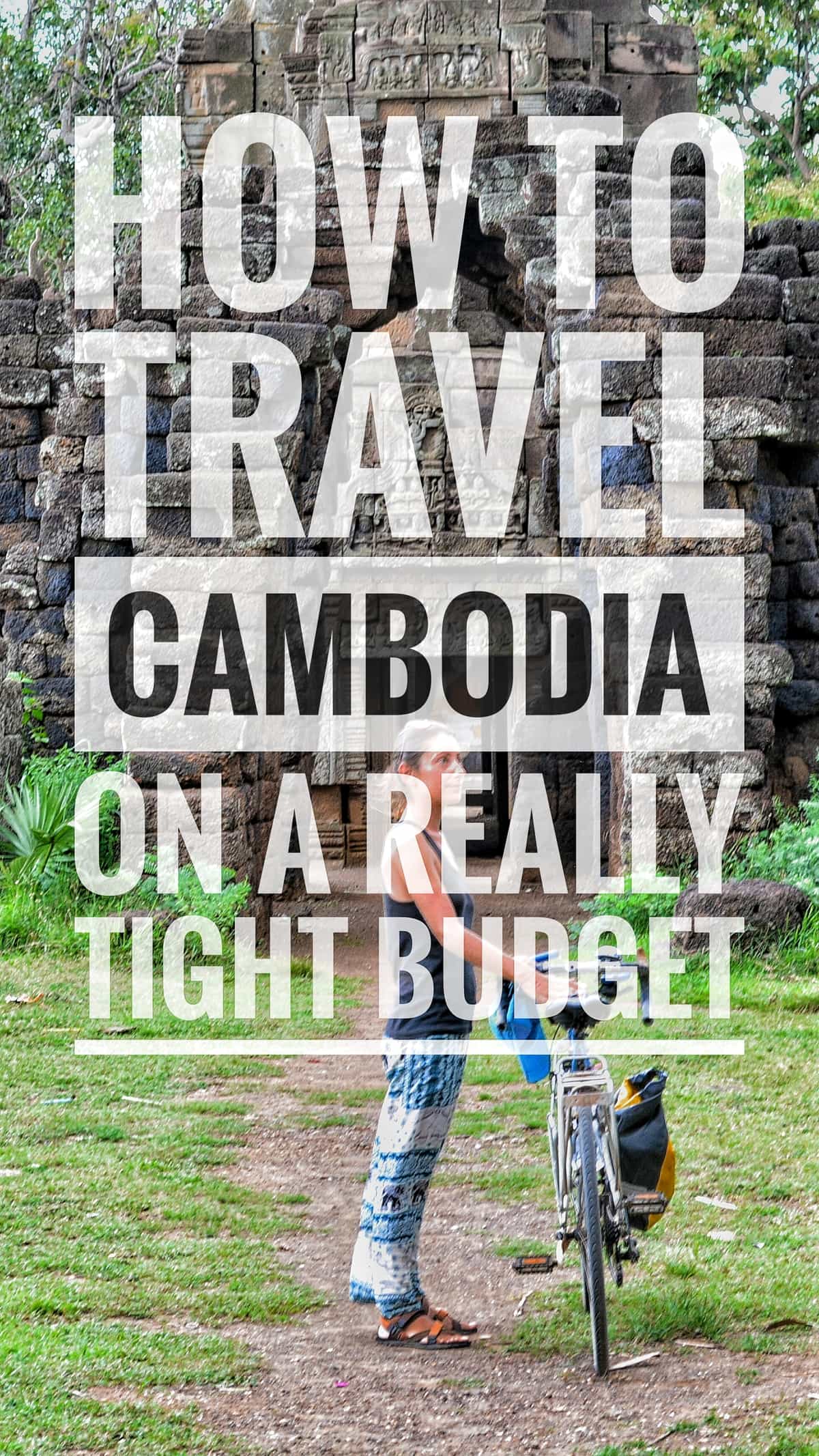 if you found this article useful please don't forget to follow us on
facebook, twitter, instagram and youtube
If you have more information, please feel free to contribute in the comments!
Stay in touch while we get lost! Follow us on Social Media