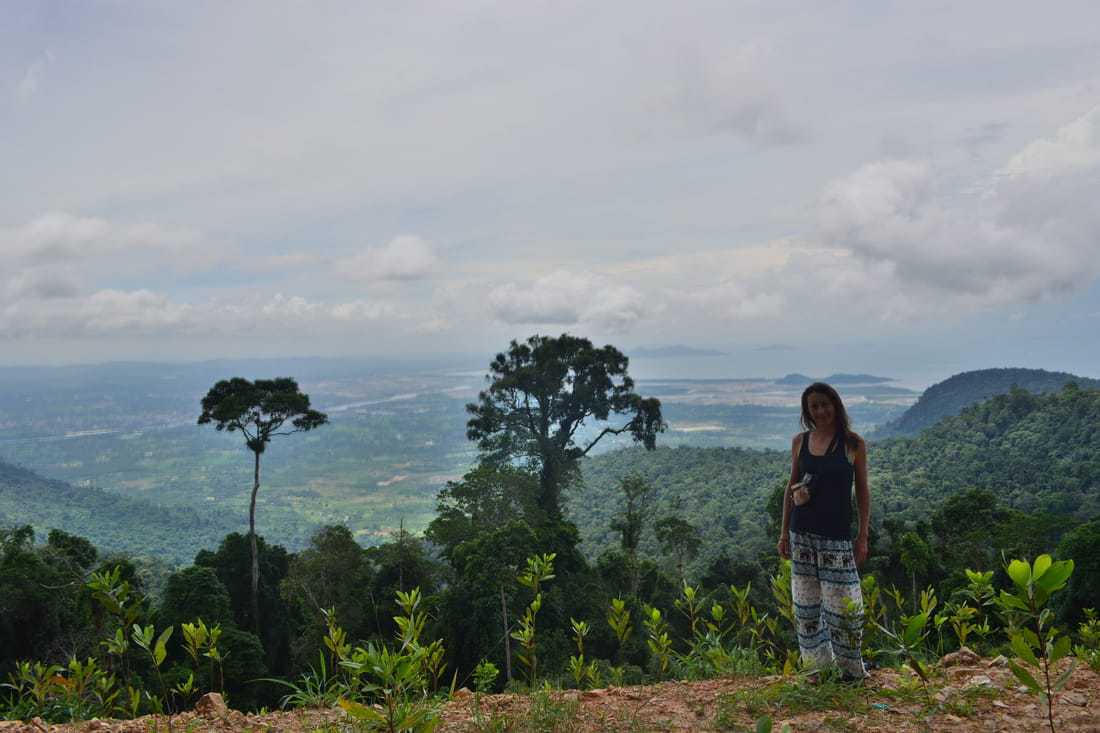 Kampot: decadent French colonial architecture, riverside, plenty of restaurants and bars, pizza everywhere, happy pizza too ( also called marijuana pizza)..
This is just a brief article about Kampot, to know details about the route to get here check out Cycling Cambodia – part1.
Kampot
Decadent French colonial architecture, riverside, plenty of restaurants and bars, pizza everywhere, happy pizza too (yes, also called marijuana pizza): Kampot is the first touristy destination we ended up visiting during our Cambodian bicycle tour.
For the first time, we see other foreigners and not a few. Even though Kampot is not a primary touristic spot this is already a lot more than we're used to. Backpackers, backpackers eating pork ribs, and backpackers on expensive Tuk Tuks. Anyway, we can cope with that, it's been a while since we've been in a place like this and eating a Pizza doesn't sound that bad.
With around 40.000 inhabitants, Kampot is to be considered a medium-sized town, even big for Cambodian standards. Capital of Kampot province is mainly famous for its incredibly tasty pepper, fame well deserved indeed. It's a good base to explore the southern coastal area, the historically interesting town of Kep and Bokor National Park.
Things to do in Kampot
Disclosure: Some of our articles contain affiliate links. This comes at no additional cost for you and helps us keep this website up and running. (as Amazon Associates we earn commission from qualifying purchases)
We settle in one of the hundreds of hostels of Kampot, all very similar, not bad indeed after what we've seen in the countryside. Prices are usually around 7 to 8USD, like almost everywhere in Cambodia.
The atmosphere in town is laid back and relaxed, this place seems to attract western ex-pats and indeed many restaurants are run by foreigners.
To our taste, the best place here is doubtless "Ciao!", an Italian restaurant which looks much more like a local food stall. Just a metal roof on wooden pillars, standing on the sidewalk next to local noodle soup restaurants, two big tables that can accommodate a maximum of 8 people each.
Its owner, Dario, a guy from Pescara, has a great philosophy, his food is great and cheap compared to other western restaurants.
He makes a tasty pizza and a few more Italian dishes with ingredients mostly made by himself, try the sausage, Kampot pepper really boosts the flavor. Have a peek at his tiny kitchen and the handmade iron wooden oven, just amazing.
Besides eating, drinking, and relaxing, there aren't many things to do in Kampot. Tasting local durian is another must, if you can endure the smell, indeed there's a very cool durian statue in the middle of a roundabout.
In addition to the already mentioned Bokor Mountains and Kep, there are some caves not far from here, east on the road to Kep, where also the salt fields are to be found. One of the caves has a little shrine in it and, though not unmissable, makes for a nice stopover en route to Kep and its ghost villas.
We take a day of rest drinking beer and 1$ Gin Tonic, getting ready to explore the surroundings before heading to Phnom Phen.

Follow us
Stay in touch while we get lost! Follow us on Social Media