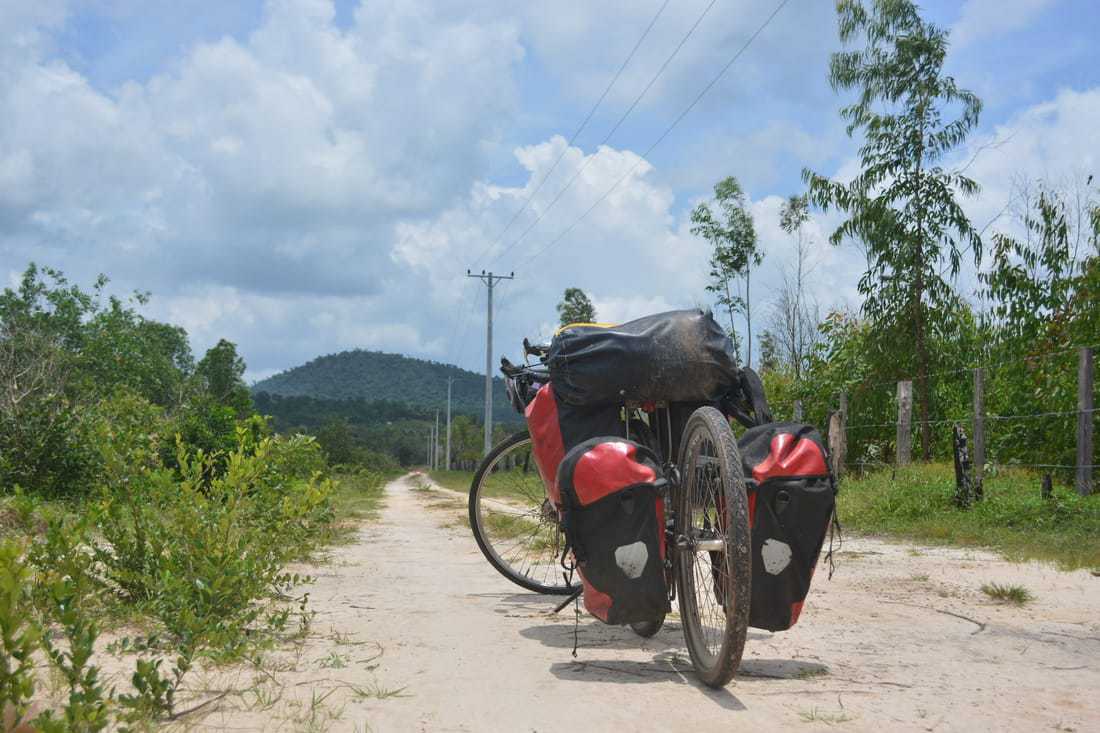 Bicycle Touring in Cambodia, an off-the-beaten-path itinerary
This is part of our Cambodia's bike tour. Coming from Thailand we crossed this beautiful and deeply emotional country, heading to the only border with laos. Here's the description of the first 255km, from the border to Kampot.
More bicycle adventures in Cambodia
part2: from Kampot to Phnom Penh
part3: from Phnom Penh to Lao border, through Kampong Cham, Kratie and Stung Treng.
At the bottom of the article is the map of the whole Cambodian tour, click on the track to get the elevation profile.
For general hints and tricks to keep your budget extremely low when traveling Cambodia, here's another article.
Thailand/Cambodia border (Koh Khong) to Batum Sokor – 108km
This is a very beautiful ride on road 48, going East you'll have the Cardamon mountains ("Krâvanh" in khmer) on your left and Botum Sakor national park on your right.
This is probably the longest stretch of the untouched jungle we ever saw in more than ten months around South East Asia.
Crossing from the southernmost border with Thailand makes immediately clear you entered in a less developed country. The road is not so well sealed as it was in Thailand and there are almost no crops or plantations, this is indeed an area where landmines are still a problem.
Koh Khong
An easy 15km after the border you will cross the long bridge that will lead you to the nice town of Koh Khong (not to be confused with the island). It's a pleasant riverside city with plenty of guesthouses and restaurants, including some western-style ones.
The atmosphere is more lively than in Thailand, the places are open until later (not very late) and Cambodians seem to enjoy their life more. There's a beach nearby and a mangrove forest that make for nice but not unmissable day trips.
Trapeang Rung
Disclosure: Some of our articles contain affiliate links. This comes at no additional cost for you and helps us keep this website up and running. (as Amazon Associates we earn commission from qualifying purchases)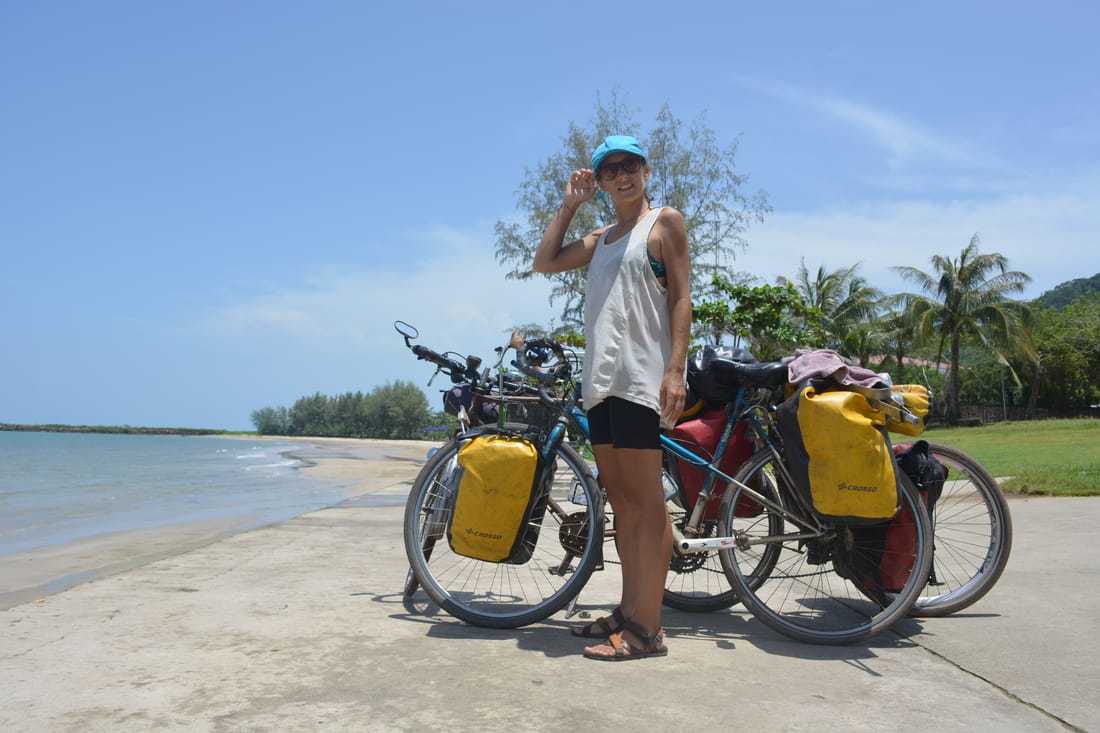 5 km outside Koh Khong heading east there's a very easy climb up to 200msl and then slightly downhill to the tiny village of Tatai, which has a guest house, two food stall (very bad in my opinion) and a big waterfall if you're up for an off-road detour.
Just left the village there's a steeper but short climb up to 400msl and than downhill, 40km to the next village, Trapeang Rung (this is actually the name of the river, on some maps the village is called Phumi Chrang Khpos), where there is a community-based tourism association.
There should be an office but we didn't say it, just ask the people and they will bring you to one of the houses, we paid 3USD but the room was VERY BASIC, no fan, no plugs, and no clean blankets. No food either, so eat something in the village, there are a few eateries with not much choice.
Botum Sokor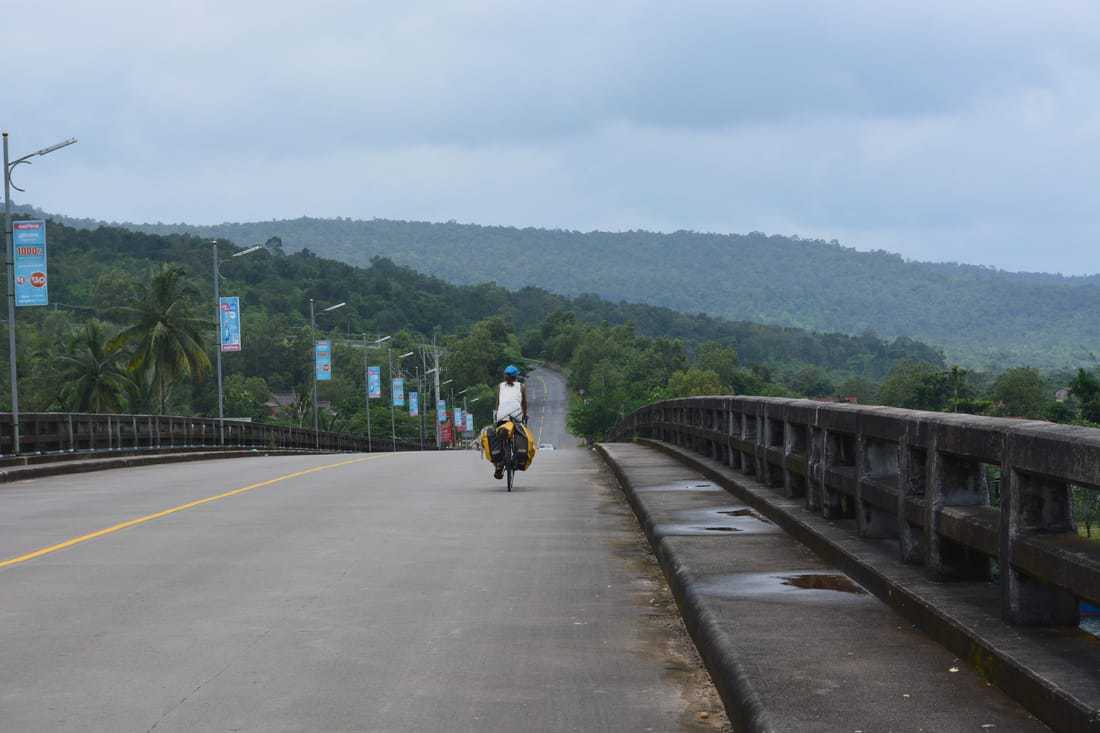 he landscape stays amazing and untouched until Botum Sokor. Two hills, one of which steep but just 1km long, are the only challenges here. There's still a lack of places to eat and sleep, not to say of all other sorts of comforts.
Botum Sokor itself, if this is really the name of the village, has a couple of guesthouses for around 6USD, nothing fancy but with WiFi (at least the one we went in), a market and nothing more.
Eateries are few and bad, we try one but not trusting the hygiene we chose to have some instant noodles there.
Nevertheless, the lady boils some water from a rusty tank collecting rain dropping from a roof that's probably made of asbestos, we eat them anyway and we survive.
Cycle touring Cambodian flatlands – Sre Ambel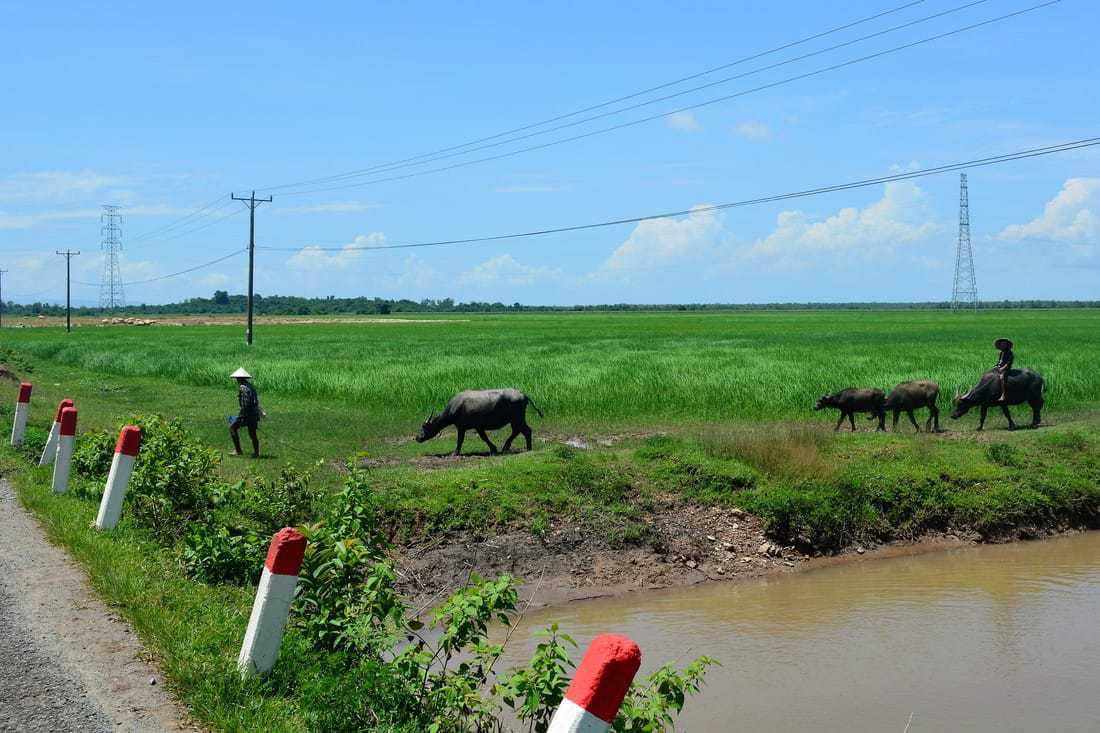 Botum Sokor to Kampot – 147km
Here comes the flat and the real Cambodian feeling, rice paddies, water buffaloes, and wooden houses on pillars. 36 super-easy kilometers of the quiet paved road lead us to Srae Ambel.
There are houses here and, though not many, some feeding and water options. Food is mostly crap but hey, this is Cambodia.
Srae Ambel is indeed a nice town, set on a small hill overlooking the Sre Ambel River. Two guesthouses are in the center of the village, atop the hill, and few more a little bit further out of town.
There's an interesting Buddhist temple, the usual market, the usual fried rice, and noodle soup.
National Highway 4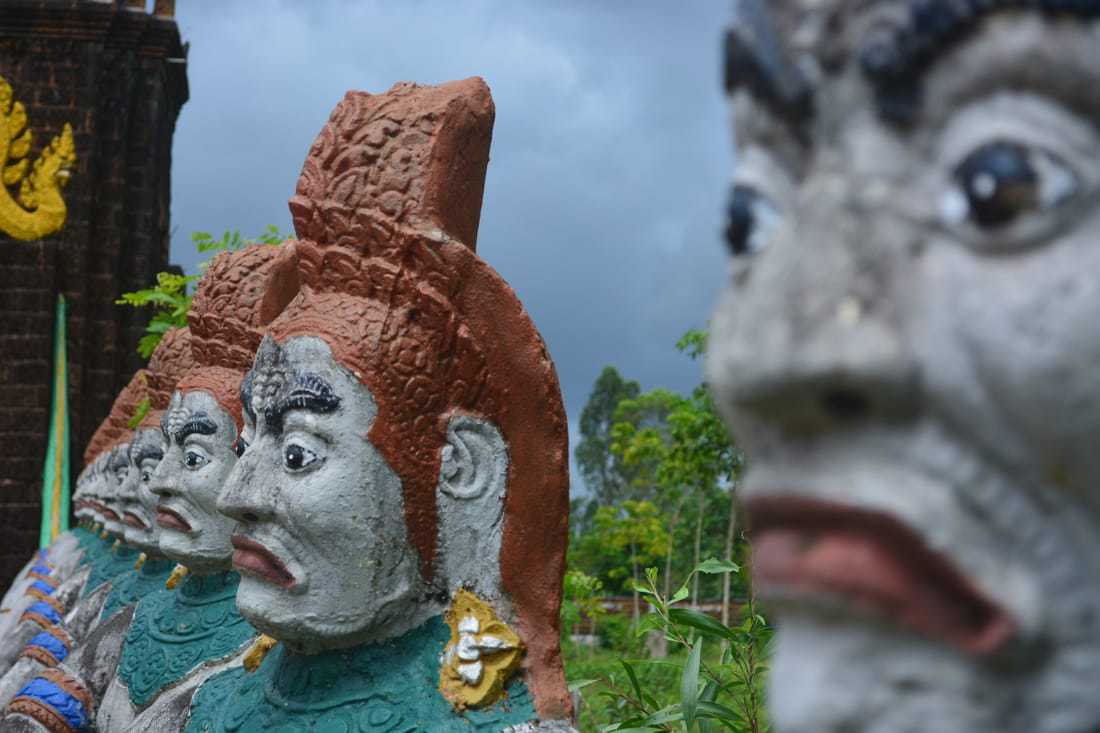 Not ten km after the village the cycling-friendly road 48 terminates in the less amusing National Highway 4. Even though road stays flat the traffic gets pretty heavy, with lots of trucks in a row to share the narrow road with.
There are about 45km like this, maybe the worst road we cycled in Cambodia. Moreover, the infamous oil palm plantations begin to line the road, nothing compared to Borneo but still annoying, cutting off the view of the cool limestone mountains of Bokor National Park on our left.
One nice surprise we found here is a clear stream where it is possible to bath and even swim, indeed many locals do it, this is pretty rare in Cambodia, where most of the rivers are muddy. These are the GPS coordinates:
N 10°56'48.2″ E 103°47'42.1″
Cycling from Prey Nob to Kampot
Luckily, this ugly stretch terminates near the village of Prey Nob, where, despite what Google says, there are quite a few guesthouses and finally a decent restaurant inside the gas station before the crossroad.
And indeed the road splits here, the Highway 4 leading south-west to busy Sihanoukville, the new resort town of Cambodia. As you may guess we skip that and head East instead, following National Highway 3, to Kampot.
The traffic lightens noticeably, finally, on the left, the Bokor cliffs emerge in their majesty. Although the road runs along the coast, there are very few spots from where the sea is visible, through this 58km of the flat road there are basically no places to get drinks or food.
But Kampot is not that far and there will be all the western comfort you would like there.
if you found this article useful please don't forget to follow us on
Facebook, Twitter, Instagram and youtube
If you have more information, please feel free to contribute in the comments!
Follow us
Stay in touch while we get lost! Follow us on Social Media