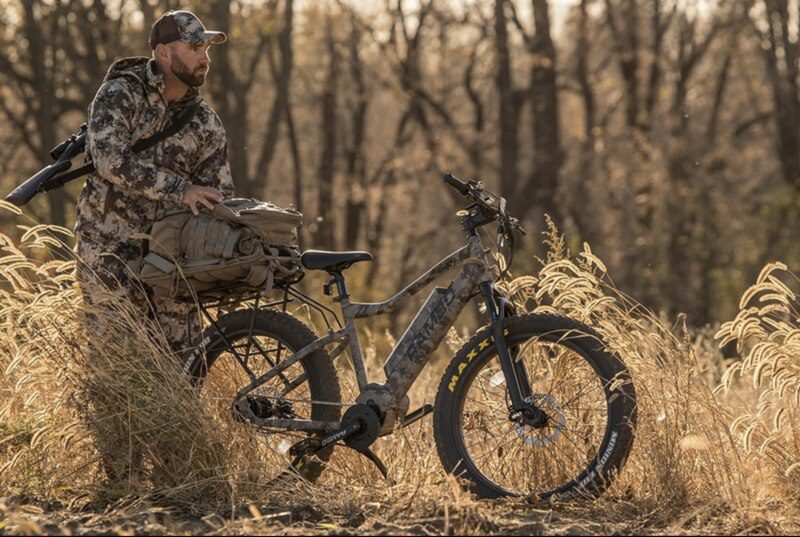 Discover the best hunting eBikes for the money
Off-road electric fat tire mountain bikes – from top to budget-friendly – Reviewed!
Welcome to our comprehensive guide on the "Best Hunting eBikes for the Money"! If you're an avid hunter seeking the perfect off-road companion to elevate your outdoor adventures, look no further.
These electric mountain bikes are designed to tackle rugged terrains, ensuring an unmatched hunting experience with their powerful performance and budget-friendly features.
Join us as we explore the top picks of fat tire eBikes for hunting, curated to meet your hunting needs without breaking the bank. Gear up and let's dive into the world of hunting eBikes that guarantee both excitement and affordability!
In this article, we have meticulously reviewed a wide range of hunting eBikes to cater to varying budgets and preferences. Whether you're looking for a more budget-friendly option or seeking the absolute top-of-the-line eBike for your hunting escapades, we've got you covered.
For those on a budget, we have handpicked the best hunting eBikes that offer exceptional value for the money. These eBikes may be more affordable, but they don't compromise on performance, durability, or off-road capabilities. We understand the importance of finding a reliable companion that won't burn a hole in your pocket, and our budget picks deliver precisely that.
On the other end of the spectrum, for those who demand nothing but the best, we have extensively reviewed the crème de la crème of eBikes for hunting. These top-of-the-line electric mountain bikes are equipped with cutting-edge technology, powerful motors, advanced suspension systems, and top-quality components. With these elite eBikes, you can confidently conquer the most challenging terrains and rugged landscapes during your hunting expeditions.
In our quest to provide you with the most insightful information, we have evaluated the features, performance, and overall value of each eBike. Our detailed reviews will assist you in making an informed decision, no matter your budget or skill level.
Disclosure: Some of our articles contain affiliate links. This comes at no additional cost for you and helps us keep this website up and running. (as Amazon Associates we earn commission from qualifying purchases)
How we compile our gear guides: during the almost 10 years of cycloscope.net our team personally tested dozens of similar pieces of gear. For what we can't test personally, we involve other people in the cycling community to give their feedback and opinion about gear they have used. Our decade-long experience in bicycle touring enables us to find the key cons and pros of every product we mention.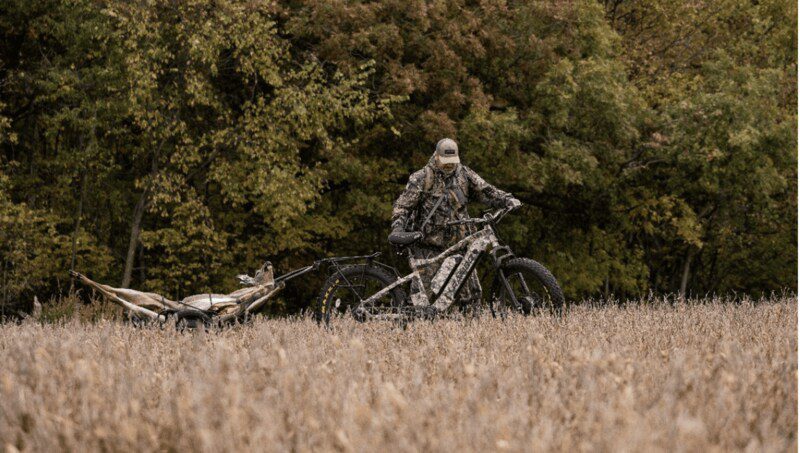 What You Must Look For In A Hunting Bike
When searching for a hunting bike, there are several essential factors to consider. Typically, opt for a bike with durable construction, preferably made of high-quality materials to withstand rugged terrains.
In addition, look for fat tires that offer excellent traction and stability on various surfaces, such as mud, sand, or snow. On top of everything, the bike should have a powerful motor, allowing for swift and silent movement during hunting trips.
And I strongly believe before choosing a hunting bike, consider one with a quiet operation to avoid scaring off wildlife. Comfortable seating and a smooth suspension system are also crucial for long rides in challenging environments.
However, while finalizing the decision, do consider the battery life and range to ensure the bike can cover enough distance for extended hunting expeditions.
11 best Hunting eBikes in a Nutshell
Evil Bikes The Epocalypse XT | +/- $10,000
Rungu Dualie XR Rubicon Trail Edition | +/- $8,000
Apex Pro Pre Bike | +/- $ 5,000
Wildtan M-5600 Mid-drive Fat Tire | +/- $3,000
Rambo R750 26 Pursuit 2.0 | +/-$3000
Wallke X3 Pro Mountain | +/- $1,800
Heybike Tyson Folding Electric Bike | +/- $1,700
SENADA Fat Tire Electric Bike | +/- 1,400$
UDON VOLTSTEED Electric Mountain Dirt Bike

| +/- $1,300

Osoeri Shimano 7-Speed Mountain Electric Bicycle | +/- $1,200
ECOTRIC Coolboy Electric Bike | +/- $999
11 Best eBikes For Hunting
Save yourself the hassle of researching and testing – I've compiled a list of the 11 best electric bicycles for hunting specifically. So, let's dive in and explore the best options available from the top of gamma to the most affordable budget-friendly hunting electric bicycles!
Let's begin with the best of the best! The Evil Bikes Epocalypse XT is an amplifier for thrill-seekers! As I venture into the wild, this long travel overlander electrifies my hunting journey, turning steep ascents into exhilarating challenges. The fusion of power and style positions the rider atop two 29" wheels, gliding through terrain with 166mm of rear suspension travel and 170mm below the bars, mimicking the dance of its Wreckoning sibling.
The Shimano EP8 motor at the core of the Epocalypse delivers a thunderous 85Nm of pedal assistance, propelling you through the trails. The robust 630Wh battery keeps the momentum flowing, promising maximum laps of excitement. The Epocalypse's low-slung design effortlessly embraces Shimano's power source, providing stability and unrivaled traction.
With its unique split-yoke design, you can maneuver through technical climbs with ease, while the SuperBoost+ Stiffness ensures stiffness and tire clearance. And, when you want to crank up the aggression, the flip chips deliver a more aggressive stance without compromising that signature DELTA leverage curve.
With Evil's meticulous protective system, this bike is shielded against wear and tear, giving you more time to focus on the electrifying journey ahead. It's not just an e-bike; it's an amplified forest shaker, and it will make you ready to conquer the trail like never before.
The Rungu Dualie XR Rubicon Trail Edition is an exceptional hunting bike and an ultimate off-road companion with unparalleled capabilities. It features the innovative "Double Up" Battery system, BOX Prime 9 gearing, and Maxxis Tires, enhancing its already outstanding performance on mud, snow, sand, and rocky terrains. The bike's stability, thanks to dual disc brakes front-wheel, unique weight distribution, and "Total Control" wheelbase, provides confidence on steep descents and tricky turns.
Climbing becomes exciting with the "Straight Up" climb-ability feature, conquering grades of over 50% while comfortably seated. The 52V mid-drive motor and impressive torque handle any off-road challenge, and the "Double Up" battery technology ensures double the range on a single charge.
With customizable color options and various riding modes, the Rungu Dualie XR Rubicon Trail Edition offers the freedom to personalize your adventure. It's more than just a bike; it's an experience that lets you embrace the wild and conquer the Rubicon Trail with ease. So go ahead, embrace the wild, and conquer the Rubicon Trail like the hunter you are.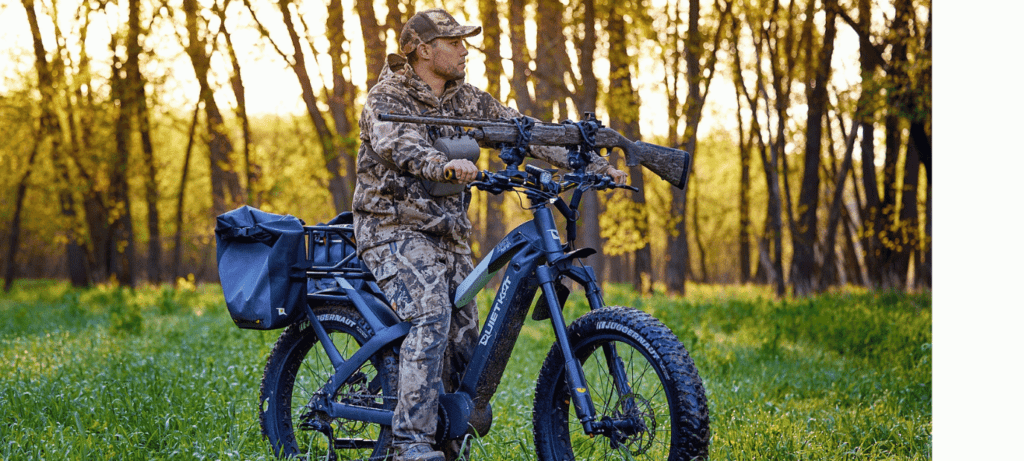 The Apex Pro E-Bike is a powerhouse designed to redefine performance and adaptability for outdoor enthusiasts like me, especially hunters. With its 1000W motor, it effortlessly handles steep inclines and challenging terrains, providing an exhilarating adventure. The inverted front suspension fork ensures a smooth ride, while the all-terrain fat tires offer exceptional traction.
Thankfully, the bike comes with a heavy-duty pannier rack for carrying up to 100 lbs of gear and offers customizable options with turnkey accessories. The VPO™ Technology allows for various power output modes, and the bike is equipped with reliable brakes and a 9-speed SRAM drivetrain.
The Apex Pro is available in multiple frame sizes, ensuring rider flexibility and comfort. Backed by a 109 Point Inspection, it ensures maximum reliability. It's the ultimate choice for conquering the outdoors with unparalleled power and adaptability – your best friend in your hunting expeditions I would say!
Step into the wild with the Wildtan M-5600 Mid-drive Fat Tire Electric Bike, an adventurer's dream. When I'm out exploring, whether hunting, fishing or simply enjoying the journey, its compatibility with various accessories ensures I can carry my essentials effortlessly, while the color options allow me to blend seamlessly into nature.
Conquering challenging terrains becomes a thrill as this e-bike powers through hills, bumpy roads, and wooded areas, surpassing the capabilities of city electric bikes. The 1000W Bafang mid-drive motor and sturdy fat tires make it a powerful beast, ensuring the rider can navigate any obstacle with excitement.
Equipped with a 17.5Ah Samsung battery and a 1000W BBSHD Bafang Mid-Drive Motor, this bike guarantees a wild ride through diverse landscapes. The air inverted fork with 120mm of travel adds to the comfort and control, while the 5-inch LCD smart color display keeps me connected and on track with its bluetooth and Google map features.
With Tektro Hydraulic Disc Brake HD-E500 and motor cutoff sensor, I believe my safety is a priority, even in challenging weather conditions. Explore untamed territories with the Wildtan M-5600, where power, resilience, and connectivity come together for an unforgettable encounter.
Having had the chance to ride both the Rambo R750 26 Pursuit and the 2023 Pursuit 2.0 electric hunting bikes, I can confidently say that the Pursuit 2.0 Full Frame is an exceptional choice, especially for those seeking an upgrade beyond the Rambo Savage.
The Pursuit 2.0 boasted significant improvements over the Savage, including the incorporation of front GT MRK suspension for smoother rides on rugged terrain, a custom-designed protective frame for the motor, and standard anti-puncture tires. This model was perfect for riders who desired these enhancements without compromising affordability.
During my experience, the Pursuit 2.0 Full Frame impressed me with its advanced features. The torque-sensing Rambo High Torque RTR1000TS motor provided robust climbing capabilities with an integrated speed sensor, offering a peak rating of 1000W and a substantial 110 N.m. of torque for superior hill-climbing performance. Unlike some competitors, this motor delivered quiet yet potent power, enhancing the overall riding experience.
The Pursuit 2.0 Full Frame's 48V LG15Ah battery ensured impressive range, allowing me to cover up to 60 miles on a single charge, and an impressive 116 miles when utilizing the dual battery option. This bike's well-constructed 6061 aluminum frame exhibited both lightweight agility and rugged durability, perfectly suited for navigating challenging terrains.
The 4-inch-wide anti-puncture tires delivered excellent traction, making the bike a versatile choice for various environments.
In terms of specifications, the Rambo Pursuit 2.0 Full Frame was a standout. With its torque-sensing motor, impressive battery capacity, and robust frame, it delivered an exceptional off-road experience.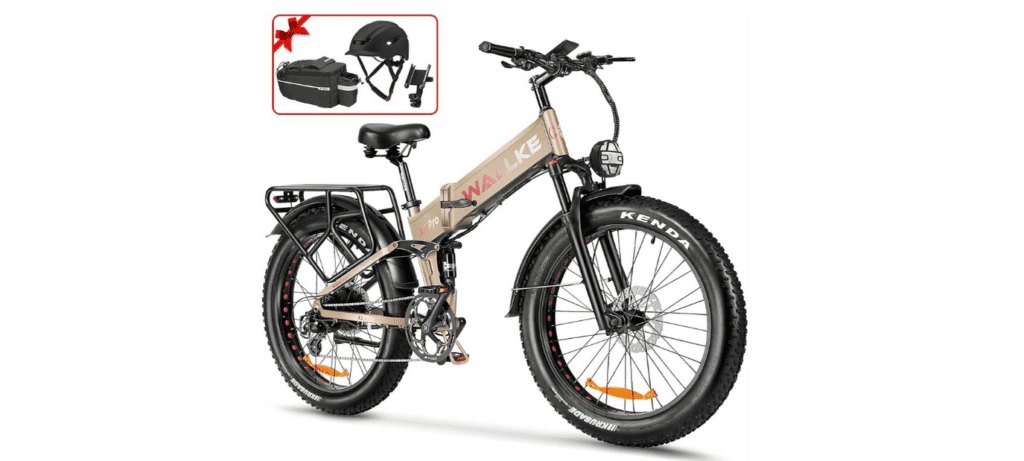 The Wallke X3 Pro Electric Bike for adults is a powerful and versatile eBike that elevates your riding experience. With its upgraded 750W motor, adjustable to reach a maximum speed of 32 mph, this electric bike offers effortless biking, whether you're commuting to work or exploring new trails. The smooth acceleration and consistent power make your rides enjoyable and efficient.
One of the standout features for me was the high-capacity Samsung battery, providing an impressive range of up to 45-90 miles on a single charge. It gave me the freedom to go the extra mile without worrying about running out of power, and the convenience of charging it while in the frame or when removed was a big plus.
Safety is paramount with integrated LED lights ensuring excellent visibility, and the high-performance hydraulic braking system providing reliable stopping power with four-piston and larger 203mm thicker rotors. Ride with confidence, knowing that your safety is taken care of.
Designed to absorb bumps and uneven terrain, the dual suspension ensures a smooth and stable ride, even on rough roads or off-road trails. Coupled with the all-terrain fat tires and oversize comfortable seat, enjoy enhanced traction, reduced fatigue, and greater confidence as you tackle any terrain with ease.
This electric bike offers versatile features for both urban and off-road adventures, with adjustable assist levels allowing you to choose between a leisurely cruise or a challenging workout. The foldable 6061 aluminum seamless welding design makes it easy to transport and store while supporting up to 350 lbs.
The advanced display comes with a USB charging port for cell phone charging, and the full-color screen helps monitor important data such as battery power, distance traveled, speed, riding mode, light on/off, and error codes, providing you with all the information you need on every ride.
Enjoy peace of mind with 85% pre-assembly, making it easy to assemble. Embrace the thrill of adventure and convenience with the Wallke X3 Pro Electric Bike for Adults Folding.
The Heybike Tyson Folding Electric Bike is a cutting-edge ride designed for both performance and convenience. Crafted from high-strength magnesium alloy, this bike boasts a sleek appearance and exceptional durability. Equipped with a powerful 750W electric motor, it effortlessly climbs slopes and reaches a top speed of 28 MPH.
The 20 x 4-inch fat tires were a real standout feature, offering remarkable versatility as they effortlessly handled various terrains. I loved the freedom it provided, allowing me to explore city streets and venture into more adventurous off-road trails.
Travel carefree with the 48V/15AH removable battery, offering a maximum cruising range of 40 miles in pure electric mode. Safety is paramount with the dual hydraulic suspension and hydraulic brakes ensuring a smooth and stable ride with reliable stopping power. The lighting system features light-sensing technology, automatically illuminating in the dark.
Stay connected with the TFT-4G Display and Heybike app, monitoring essential metrics and sharing your rides with friends and the Heybike community. Experience innovation and performance with the Heybike Tyson Folding Electric Bike, where style meets functionality, making every ride an exhilarating journey.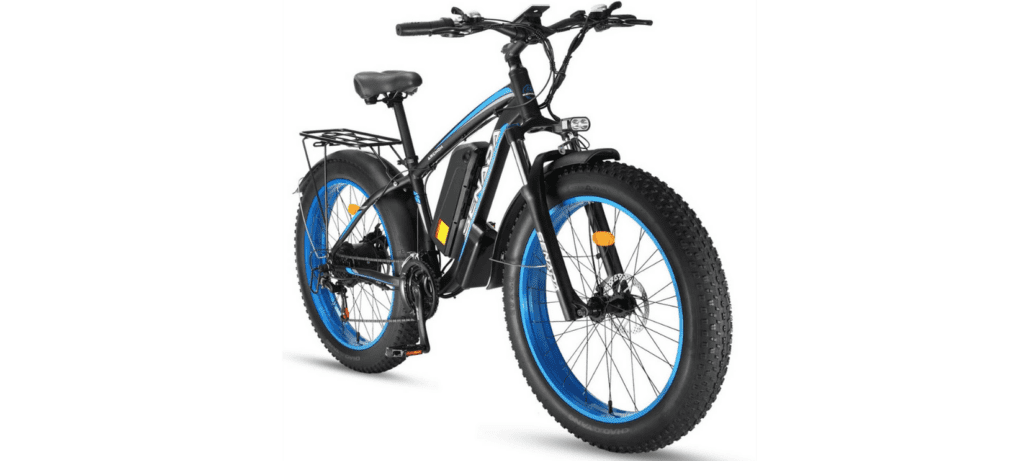 I recently had the incredible opportunity to personally test out The SENADA Fat Tire Electric Bike for Adults. It is a high-performance e-bike designed for thrilling hunting and outdoor adventures. With a powerful 1000W brushless motor, it reaches speeds up to 30 mph and conquers various terrains effortlessly. It blew me away that the 48V 17.5Ah removable lithium-ion battery offers a range of 40-60 miles per charge, and I think it's perfect for exploring remote areas.
Safety is prioritized with front suspension, SHIMANO 21-speed gear system, and speed series mechanical disc brakes for precise control. The 26″*4″ fat tires provide excellent grip on rough roads. The lightweight aluminum alloy frame enhances agility.
The bike's intelligence is displayed through the LCD screen, showing speed, mileage, and battery level. With three riding modes and five levels of pedal assist, customization is easy. With a two-year warranty and excellent after-sales service, SENADA ensures customer satisfaction and worry-free adventures.
The UDON VOLTSTEED Electric Mountain Dirt Bike for adults is a high-performance e-bike designed to elevate your riding experience. Its 20″ x 4.0 fat tires are built with a dense center tread pattern, ensuring exceptional ground grip and stability while preventing punctures from thorns, glass, and other obstacles. With a robust weight capacity of 330 pounds, this electric bike is ideal for adults over 16 years old, making it perfect for daily commuting and thrilling outdoor adventures across various terrains, including snow, beaches, mountains, and city roads.
Comfort takes center stage as the frame, crafted from high-quality aluminum alloy, ensures both strength and lightweight control. The dual front suspension and rear shock absorber, coupled with soft leather seats, offer a smooth and comfortable ride, effortlessly navigating bumps and rough terrain, enhancing your control and comfort, and adding to the joy of off-road exploration.
Ride with versatility using the Shimano 7-variable speed system, offering 7 different speeds to cater to all your riding needs, whether you're ascending, descending, accelerating, decelerating, or maintaining a steady pace. The dual disc brakes provide reliable braking power even on steep hills or wet roads, ensuring quick and smooth stops, prioritizing your safety.
Empowering your adventures is the 48V/15AH large capacity removable battery, easily rechargeable at home or in the office within 5-6 hours. With a remarkable range of 35 miles in pure electric mode and 50 miles in pedal-assist mode, this e-bike accommodates both mountain cross-country trips and daily commutes, meeting all your riding demands.
The 1000W high-speed brushless motor was an absolute powerhouse, offering impressive hill-climbing ability and reaching a thrilling top speed of 28mph. I also loved the thoughtful addition of ultra-bright LED headlights, the turn light with 80 lux power, and the backlit LCD HD display with a USB charging port, which added to the overall convenience and safety during my rides.
The Osoeri 26″ x 4″ Fat Tire Electric Bike is a powerful and versatile ride designed to conquer rugged terrains effortlessly. Its 750W BAFANG brushless rear hub motor, peaking at 1200W, offers a thrilling top speed of 28MPH and excellent climbing capabilities. With wear-resistant fat tires, this e-bike excels on mountains, snow, beaches, rocky roads, and urban areas.
Endurance is ensured by the 48V 16Ah battery, providing a range of 56-62 miles in assist pedal mode. Fast-charging technology allows full replenishment in 5-6 hours, and its removable feature allows easy charging at home or the office.
Safety is a priority with hydraulic disc brakes, offering quick and precise stopping power on dry and wet surfaces. Riding comfort is enhanced by the suspension system, smoothing out bumps and ensuring a seamless ride.
I appreciated the thought put into the bike's design. The lightweight aluminum alloy frame accommodates four riding modes and a Shimano 7-speed gearing system, catering to various preferences and distances. An adjustable seat and light-sensing headlights add to the user-friendly design. The LCD Smart Display was my trusty companion throughout the journey, providing essential ride metrics at a glance.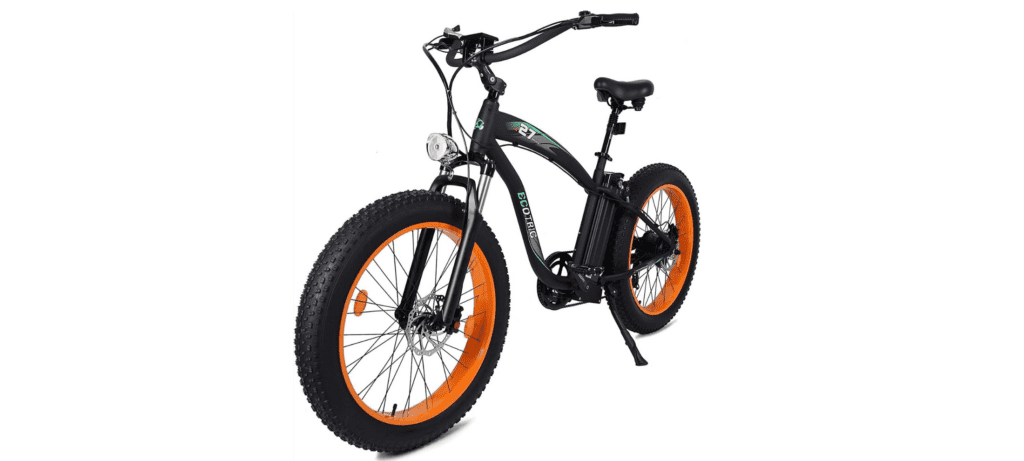 If you really are on a budget, the ECOTRIC Coolboy Electric Bike is a powerful 26″ fat-tire e-bike designed for mountain adventures that still could do the job as an entry-level hunting e-bike.
With a 750W brushless geared hub motor, it offers strong and efficient performance while remaining quiet and smooth. It provides four working modes for versatile riding experiences, from pedal-assist to fully electric options.
What impressed me the most was the bike's adaptability. The 26 X 4.0 fat tires handled all terrains with ease, whether it was rocky trails or sandy paths, and the maximum load capacity of 260 LB gave me the confidence to bring along my gear without worry. The LCD display offers control and convenience, with pedal assist levels and speed limits.
Even on a budget, safety was still a top priority for me, and the ECOTRIC Coolboy delivered with its hydraulic disc brakes and adjustable suspension. I felt in control and at ease during the entire ride, even on rough surfaces.
The ECOTRIC Coolboy is UL certified, meeting rigorous safety standards, providing assurance as a trusted and reliable electric bike for thrilling mountain and hunting adventures on a budget.
Wrap-Up
The electric bikes mentioned above offer an exciting array of features and performance capabilities to suit diverse riding preferences. From powerful motors and long-lasting batteries for extended range to reliable safety systems and comfortable designs, these e-bikes provide an exhilarating and safe riding experience.
Whether you seek urban convenience, off-road adventures, or daily commuting, these electric bicycles cater to your needs with versatility and style. With innovative smart displays and robust customer support, these bikes combine cutting-edge technology with excellent service. Explore the future of cycling with these electric wonders, where efficiency, comfort, and fun intertwine on every ride.
Stay in touch while we get lost! Follow us on Social Media