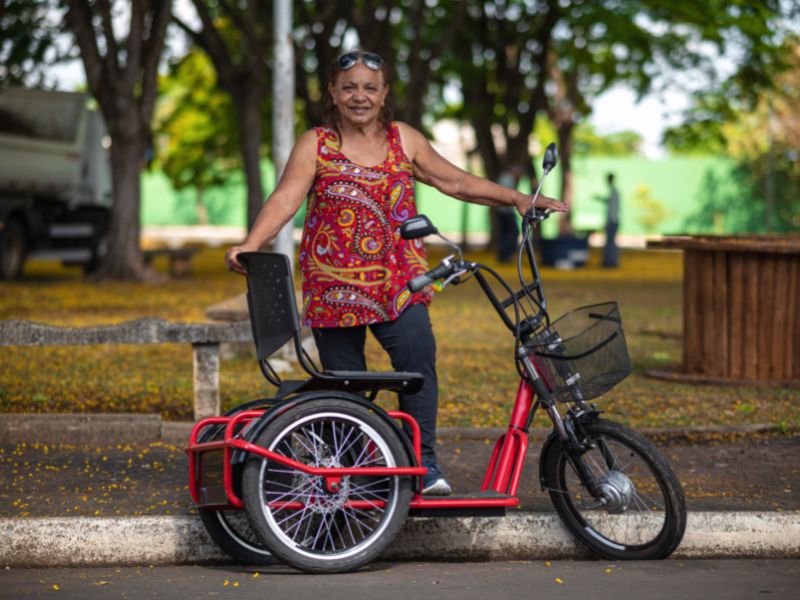 Explore the 7 best electric tricycles for adults. Carefully selected heavy-duty, fat tire, e-trikes ideal for seniors and overweight riders. Upgrade your ride to a 3-wheel bicycle!
Welcome to our comprehensive guide on the best electric tricycles designed for adults seeking a comfortable and efficient mode of transportation.
Whether you're a senior looking for a reliable means of getting around, someone with a bit of extra weight looking for a heavy-duty solution, or just an adult looking for some inner-child fun with a fat-tire tricycle, here we've got you covered.
In this article, we'll explore the top-rated electric tricycles that cater to the needs of seniors and those who are overweight, combining performance, stability, and convenience.
Join us as we delve into the world of E-trikes, highlighting their features and benefits, to help you make an informed decision and find the perfect electric tricycle to suit your lifestyle.
check also
> eBikes for Big Guys! 11 Best Electric Bikes for Tall / Heavy Riders
> Bikes For Big Guys! 25 Top Bicycles for Tall / Heavy Riders
> The 9 Best Folding Bikes for Heavy & Tall Riders
> 6 Best Bikes for Plus Size Ladies – Road, Commuting, MTB, Utility, Electric
Why an Electric Tricycle
Picture this: You're cruising down the street, wind in your hair, the sun shining down on you, and a huge smile on your face. But wait, you're not on a bike, you're not in a car, you're on an electric tricycle for adults! That's right, gone are the days of boring, traditional transportation.
Electric tricycles are here, and they're taking the world by storm. Whether you're commuting to work, running errands, or just out for a leisurely ride, these electric wonders are sure to make your journey a whole lot more fun.
Investing in an electric tricycle offers a plethora of compelling reasons.
Firstly, it provides enhanced stability and balance, making it an ideal choice for seniors or those with mobility challenges.
Secondly, the electric assistance eases pedaling, making it less physically demanding, particularly for uphill climbs or longer rides.
Additionally, electric tricycles are eco-friendly, emitting zero emissions, and are cost-effective, reducing reliance on expensive fuels.
With the added benefit of cargo capacity and a more comfortable riding position, an electric tricycle is the perfect choice for a convenient, efficient, and sustainable mode of transportation.
A fat tire e-trike in particular is also great fun! An absolute pleasure to use either on smooth roads or unpaved trails, and even on the beach!
Disclosure: Some of our articles contain affiliate links. This comes at no additional cost for you and helps us keep this website up and running. (as Amazon Associates we earn commission from qualifying purchases)
How we compile our gear guides: during the almost 10 years of cycloscope.net our team personally tested dozens of similar pieces of gear. For what we can't test personally, we involve other people in the cycling community to give their feedback and opinion about gear they have used. Our decade-long experience in bicycle touring enables us to find the key cons and pros of every product we mention.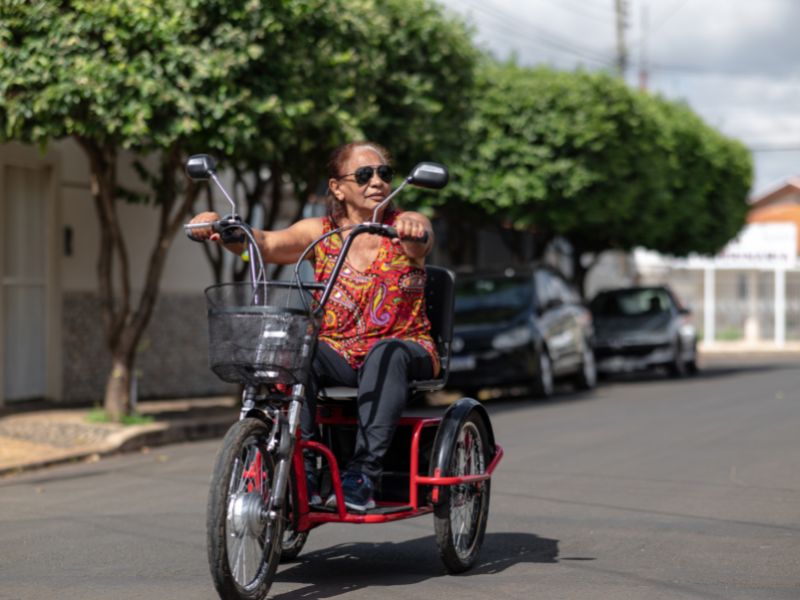 7 Best Electric Tricycles in a Nutshell
7 Best Electric Tricycle for Adults, Heavy Duty Fat Tire E-trikes for Seniors and Overweight
I have researched and shortlisted the finest electric tricycles and heavy-duty e-trikes tailored for adults and overweight individuals. And I strongly believe that the collection below is a curated selection of models that excel in weight capacity, durability, comfort, and performance. Hopefully this comprehensive guide will assist you in choosing a reliable and efficient three-wheeled electric ride to suit your specific needs.
Learn what makes touring around the world so interesting on electric pedals and why you should consider one.
The OROXCO Electric Tricycle for adults in black color is a remarkable 3-wheel electric bike that offers an array of convenient features. Designed with 20-inch wheels and an adjustable seat tube, this electric trike caters to individuals ranging from 4'3" to 6'1" in height, providing a comfortable riding experience for seniors, men, and women alike. Equipped with a SHIMANO 7-gear system, it ensures a smooth and effortless ride.
The stability of this electric tricycle is enhanced by its powerful components. With a 48V/10AH lithium battery and a stable 500W motor, it can reach a maximum speed of up to 20mph. The trike offers an impressive range of 30 miles in E-Bike mode and up to 50 miles in Assisted mode, making it suitable for most commuting and short trips. The smart lithium battery charger allows for fast charging within 4-6 hours.
Featuring a low step-through frame with a height of 15" (38cm), the OROXCO electric tricycle ensures easy access for elderly and disabled individuals. It boasts an oversized cargo basket measuring 20"x 9"x 12", providing ample space for shopping, picnics, camping gear, or even pets.
That's why I call this one simple yet user-friendly, this tricycle is designed with ease of use in mind. With basic functions such as power control, PAS level adjustment, twist throttle, and LED lights, it eliminates any unnecessary complexities and allows for a hassle-free riding experience.
The Bisiso 350W Electric Tricycle is a feature-packed 3-wheel electric bicycle designed for adults. Before I go too deep, let me tell you that this tricycle is crafted with attention to quality. Moreover, this tricycle boasts a 24-inch thick aluminum alloy mountain-wide flat rim, a high carbon steel tricycle rear seat frame, and a comfortable adjustable seat made of large sofa material. This ensures long-term riding comfort with a seat height adjustable from 29.5 inches to 33.4 inches.
Equipped with a stability-focused electric system, this tricycle offers three driving modes: electric, power assist, and pedal. The 350W motor allows for a maximum speed of 25 km/h, while the detachable 36V 12Ah lithium battery can be fully charged within 5-6 hours. With 5 adjustable gears in pure electric mode, the tricycle offers a maximum riding mileage of 35-40 km, and in power-assisted mode, it provides a range of 70-80 km—sufficient for daily commuting and short trips.
The Bisiso Electric Tricycle prioritizes convenience with its spacious rear basket, allowing you to carry various loads, be it shopping bags, picnic supplies, camping gear, and more, without compromising your comfort or visibility.
Safety is a key consideration, evident in the advanced rear and front brakes that provide efficient stopping power with minimal effort. Moreover, the tricycle features an integrated headlight for enhanced visibility during nighttime rides, while its large wheels with fenders offer both elegance and practicality. The ergonomic rubber handle further enhances the riding experience.
On top of everything. assembly is a breeze with the included detailed instructions and installation tools, allowing for quick setup of your e-bike. Furthermore, the motor, battery, and charger are covered by a one-year warranty (excluding wearing parts), ensuring peace of mind. The Bisiso Electric Tricycle is also available in a selection of nine vibrant colors to suit your personal style.
The 3SCORE Electric Fat Trike is a cutting-edge electric cruiser tricycle designed for optimal performance and convenience. This remarkable trike features a powerful 750W geared hub motor and a 48V lithium rechargeable battery, providing riders with the perfect balance of power and endurance. With a top speed of 30 MPH and a range of over 35 miles, this electric trike is built to take you on exhilarating adventures.
On a lighter note, charging the trike is so easy, as it only requires 5 hours to fully charge using the included smart charger. The trike's 24-inch fat tires provide excellent traction and stability, ensuring a smooth and comfortable ride on various terrains. Designed with convenience in mind, the 3SCORE Electric Fat Trike is foldable, allowing for easy storage and transportation.
I would strongly recommend not to neglect that with this tricycle, your investment is protected with the included 1-year warranty. Moreover, it also covers all components against manufacturing defects. The warranty period begins on the date of delivery, as indicated by the carrier's tracking data.
Equipped with a Pedal Assist System (PAS), this electric trike offers five smart levels of assistance. At level 0, the PAS is inactive, requiring a normal amount of pedal effort. However, at level 5, you'll experience the full power of the PAS, allowing for effortless pedaling forward. The trike also features parking brakes for added safety, as well as yellow turn signals, electric horn, and luxury rear view mirrors, enhancing your overall riding experience.
With its spacious rear basket and front basket, the 3SCORE Electric Fat Trike provides ample storage space without compromising comfort or visibility. Whether you need to transport groceries or other belongings, this trike ensures convenience and practicality.
This amazing trike features a vibrant color display, offering a high-contrast 3.5″ IPS matrix screen. The display provides various information such as mileage, odometer, trip distance, clock, and riding time. The clock display even functions with a small inner battery, allowing it to keep time even when the display is off. Additionally, the trike comes with a USB charger port integrated into the color screen, strategically placed for easy access and equipped with a rubber protector to repel water and dust.
Experience the thrill and convenience of the 3SCORE Electric Fat Trike, a reliable and feature-packed electric tricycle that is built to last.
The Emojo Electric Tricycle/Fat Tire Caddy Pro Trike is a heavy-duty and versatile hybrid bicycle designed for exceptional performance. This electric trike boasts a stable and robust design, featuring comfortable fat tires, a suspension seat post, front and rear fenders, and spacious front and rear basket cargo options.
What's more? Equipped with hydraulic brakes and a 7-speed transmission, the Emojo Caddy Pro offers advanced features for a smooth and controlled riding experience. The large seat with a backrest provides additional support and comfort during your rides.
With a powerful 500W motor and 48V battery, this trike is capable of carrying heavy loads, making it perfect for transporting groceries, performing delivery duties, or even giving your pet a ride. The aluminum alloy frame, weighing approximately 70 lbs with the battery, is designed for a remarkable weight capacity of 320lbs. Cruise at a top speed of 20 MPH and enjoy a range of up to 35 miles on a single charge.
The Emojo Caddy Pro is not only safe and functional but also exudes a cool and stylish appeal. Its unique fat tyres enable riders to confidently navigate various terrains, including city streets, trails, beaches, and even golf courses.
Rest assured with Emojo's commitment to quality, as this trike comes with a limited one-year manufacturer's warranty.
I strongly believe, The Barbella 3 Wheel Electric Bike is a versatile and efficient transportation solution designed specifically for seniors. With a powerful 350W motor, this adult electric tricycle offers a comfortable and convenient ride. The bike is available in two sizes, 24″ and 26″, catering to different height ranges. It features three riding modes: electric, auxiliary, and manpower, allowing riders to choose the option that suits their preferences and needs.
The bike's 7-speed rear derailleur, equipped with grip-twist shifters, ensures a wide gear range and smooth shifting, making it suitable for various slopes and road conditions. With a maximum speed of 16 miles per hour, this trike provides a balance between speed and safety.
Designed for practicality, the Barbella 3 Wheel Electric Bike offers a large load capacity, capable of supporting up to 350 lbs. The integrated folding basket provides ample space for carrying cargo, including pet cages or other belongings. The seat of the electric tricycle is adjustable, allowing riders to find the most comfortable position based on their height.
Equipped with a removable 36V 10Ah lithium battery, this electric bike can be fully charged in approximately 5-6 hours. The pure electric range of the tricycle is approximately 20 miles, providing sufficient distance coverage for daily commutes and leisurely rides.
Assembly of the Barbella 3 Wheel Electric Bike is hassle-free, thanks to the included instruction manual and installation tools. To further assure customer satisfaction, the bike comes with a one-year warranty on all defective or damaged parts. A 30-day return and money back guarantee are provided if the bike does not meet your specific demands. How cool is that?!
The Viribus Electric Trike Bike for Adultsis an electric tricycle that allows you to run errands, go shopping, and explore your neighborhood with ease. The adjustable seat and handlebars cater to adults of all ages, while the brakes on each wheel ensure smooth and even slowing and stopping.
Powered by a 250W brushless motor, this electric trike can reach speeds up to 15.5 mph. It can be used in pedal-assist mode to assist your exercise or turned off when you prefer to pedal on your own.
Designed with user-friendliness in mind, the spacious rear basket offers 2.3 cubic feet of storage space for your shopping or even your furry friends. The LED headlight and electric bell provide visibility and safety in low-light conditions, while the LCD display allows you to control and monitor the battery of your three-wheel electric bike at all times. The removable battery makes indoor recharging very easy.
Constructed from durable carbon steel, the Viribus Electric Trike Bike boasts a weight capacity of 220 pounds. Its protective white finish ensures years of corrosion-free performance, allowing you to enjoy your ride for a long time.
In my experience, assembly is also easy with the intuitive design and clear instructions provided. Get yourself this electric tricycle from Viribus with peace of mind, knowing that easier daily travel and improved health await you for years to come!
The Mooncool Electric Tricycle for Adults is a remarkable three-wheeled electric bicycle designed for convenience and reliability. With a powerful 350W 36V electric trike motor, this innovative vehicle offers a comfortable and efficient means of transportation. The trike boasts seven speeds, providing versatility and adaptability to suit various riding preferences. Equipped with a large basket, it allows users to conveniently carry groceries, supplies, or any other items during their daily shopping trips.
The tricycle requires assembly upon delivery and comes with a one-year manufacturer guarantee, ensuring that any defective or damaged parts will be replaced at no additional cost. Plus point, there is a 30-day return and money back guarantee, highlighting our commitment to customer satisfaction.
One of the remarkable features of this electric trike is the LCD display, which offers three riding modes: etrike, assisted tricycle, and normal tricycle. With this convenient display, riders can easily select the desired electric assist level to meet their specific needs. The trike is powered by a 350W motor, providing reliable support and reaching a top speed of 15.5 mph. The removable 36V/10.4AH battery offers a range of 25 miles per full charge, ensuring ample distance coverage for daily commutes and short trips.
For enhanced safety and control, the Mooncool Electric Tricycle features double rim and disc brakes. These braking options provide precise stopping power and steady speed control, especially during descents. The double rim also contributes to a more stable and secure ride, further enhancing the overall riding experience.
Moreover, this electric trike is equipped with a practical LED headlight, ensuring visibility and safety during nighttime rides. Whether you need to run errands or simply stay active, the Mooncool Electric Tricycle for Adults offers premium quality, exceptional service, and the reassurance of a satisfaction guarantee. In the event of any dissatisfaction, the company is fully dedicated to replacing or reimbursing every cent, emphasizing our commitment to customer care.
Final Thoughts
Electric tricycles offer a practical and enjoyable solution for adults seeking convenient transportation options. Whether it's for leisurely rides, running errands, or exploring the neighborhood, these three-wheeled electric rides provide safety, comfort, and versatility. With features like adjustable seats, powerful motors, removable batteries, and spacious cargo baskets, electric tricycles cater to the needs of a diverse range of users.
From seniors to adults looking for an eco-friendly and efficient mode of transportation, electric tricycles offer a reliable and fun way to navigate city streets, beachside paths, or even rough terrains. Embracing the technology and convenience of electric tricycles can enhance daily commutes, promote an active lifestyle, and contribute to a greener future.
Frequently Asked Questions about E-Trikes
Are electric trikes safe?
Like everything else, electric tricycles are safe when used responsibly and with proper care. However, as with any vehicle, there are some safety considerations to keep in mind:
.Stability: Electric tricycles, with their three-wheel design, offer more stability than bicycles. This makes them a safer option for individuals who may have balance or mobility issues, such as seniors or people with physical limitations.
.Speed and Control: Electric tricycles can reach higher speeds than traditional bicycles. It's essential to be familiar with the trike's controls and features, especially the braking system, to maintain control at all times.
.Helmets: Wearing a helmet is crucial for protecting the head in case of accidents or falls. It's a simple yet effective safety measure that should never be overlooked.
.Traffic Awareness: When riding an electric tricycle on roads or in traffic, it's essential to remain aware of your surroundings, obey traffic laws, and use proper signals when turning or changing lanes.
.Maintenance: Regular maintenance is crucial to ensure the electric tricycle remains safe and in good working condition. Check the brakes, tires, lights, and electrical components periodically.
.Rider Experience: Understanding the basics of riding an electric tricycle, especially if transitioning from a bicycle or other vehicle, can help ensure a safer experience.
.Terrain: Consider the terrain you'll be riding on. Electric tricycles may handle differently on hills, rough roads, or slippery surfaces, so adjust your speed and riding style accordingly, if you tackle a lot of unpaved roads, consider a fat-tire trike.
How fast do electric trikes go?
The speed of electric trikes can vary depending on various factors such as the motor power, battery capacity, rider weight, terrain, and local regulations. However, most electric trikes designed for adults typically have a top speed of around 15 to 20 miles per hour (24 to 32 kilometers per hour) in the United States and other countries where there are speed restrictions for electric bicycles.
Some high-performance electric trikes with powerful motors and larger battery capacities may be able to reach speeds of up to 25 to 30 miles per hour (40 to 48 kilometers per hour) or even higher in some cases. However, it's important to note that in many regions, there are legal limits on the maximum speed for electric bicycles and tricycles to ensure safety on public roads and bike paths.
How long does the battery last on a electric trike?
The battery life of an electric trike can vary significantly based on several factors, including the battery capacity, the power consumption of the motor, the level of pedal assistance used, the rider's weight, and the terrain.
Typically, electric tricycles equipped with lithium-ion batteries, which are the most common type, can provide a range of around 20 to 50 miles (32 to 80 kilometers) on a single charge.
Always remember that battery performance tends to degrade over time, which means that the range you get from a brand-new electric trike may decrease slightly as the battery ages.
What is the disadvantage of e tricycle?
Compared to electric bicycles, electric tricycles have some distinct advantages and disadvantages:
Advantages of Electric Tricycles over Electric Bicycles:
Stability: Electric tricycles have an extra wheel, providing more stability, making them an excellent option for individuals with balance issues, seniors, or those with physical limitations.
Comfort: Electric tricycles usually offer a more comfortable and upright riding position compared to electric bicycles, which can be more appealing for people who prefer a relaxed riding experience.
Carrying Capacity: Electric tricycles often come with baskets or cargo areas, providing more space for transporting groceries, shopping items, or other personal belongings, making them more practical for errands and daily use.
Easy to Handle: Electric tricycles are easier to handle at low speeds or when stationary since riders don't need to balance themselves, which can be beneficial for those who are less confident or have limited mobility.
Disadvantages of Electric Tricycles compared to Electric Bicycles:
Maneuverability: Electric bicycles generally have a narrower profile and two wheels, making them more agile and maneuverable, especially in tight spaces or heavy traffic.
Weight and Size: Electric tricycles are typically heavier and bulkier than electric bicycles due to the extra wheel and frame, which can make them more challenging to transport and store.
Speed: Electric bicycles can achieve higher speeds and have a more sporty feel, appealing to those who enjoy faster rides or want to cover longer distances quickly.
Pedaling Efficiency: Electric tricycles might offer slightly less pedaling efficiency compared to electric bicycles, as the added weight and drag from the extra wheel may require more effort when riding manually.
Cost: As mentioned earlier, electric tricycles are generally more expensive than electric bicycles, which could be a significant factor for some budget-conscious buyers.
Ultimately, the choice between an electric tricycle and an electric bicycle depends on individual preferences, needs, and physical abilities. If stability, cargo capacity, and comfort are top priorities, an electric tricycle may be the better option. On the other hand, if maneuverability, speed, and a more athletic riding experience are essential, an electric bicycle might be a more suitable choice.
Stay in touch while we get lost! Follow us on Social Media