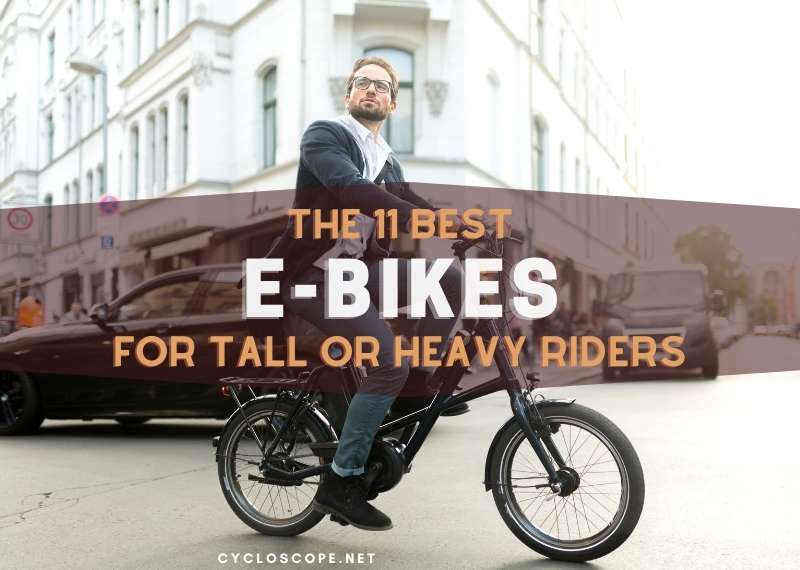 11 eBikes for Big Guys! the best electric bicycles for heavy / tall riders in 2023
Pedal assisted road bikes, MTB, city tricycles, and folding bikes for overweight adult men
As part of our "bikes for big guys" series, here we present our list of the best electric bikes for heavy and tall riders for 2023.
We know how hard is for tall cyclists to find an ebike that fits, and how stressful it can be to go through specs to be sure your new bike will be safe when you're an overweight man.
Good news is we've done the legwork for you and curated a list of the top 11 big guys' e-bikes, stuff that is built to last, offer ultimate comfort, and pack a powerful punch.
Whether you're commuting to work, hitting the trails, working on loosing some fat, or just enjoying a leisurely ride, our list of the best e-bikes for 2023 has got you covered, indeed we have organized these bestial rigs according to their category, thus giving you big folks options for cities and sport e-bikes, pedal assisted road racers, electric MTB and fat bikes, folding ebikes, and even an elictric tricycle for obese or people with limited-mobility.
So get ready to conquer the road with ease with our top 10 picks for the best e-bikes for big, tall, and heavy riders:"
11 Best Bikes For Big Guys in a Nutshell
How we compiled this list
In compiling this list, we gave attention to a number of characteristics we deem to be the most important when looking for the best ebike for big guys:
For tall guys, we firstly found a number of e-bikes that come with a XL frame option, filtering for size 61 minimum and then researching models with sizes of 62, 63, and even 64.
As frame sizes don't always tell all the truth when it comes to bike fitting for big guys, we also researched stack and reach values of each bike model.
Stack and reach are geometric measurements that describe the vertical and horizontal distance between the center of the bottom bracket and the top of the head tube. A taller stack will provide more room for a tall rider's long inseam (the distance between the feet and the crotch), while a longer reach will provide more room for a tall rider's legs and longer arms.
We also had a look at other measures, such as top tube length (the distance between the seat tube and the head tube, the longer the more clearance for knees), seat tube length (the distance between the center of the bottom bracket and the top of the seat tube), head tube length (distance between the top of the head tube and the center of the fork's steerer tube), and standover height the clearance between the top tube of the bike and your crotch when standing with both feet flat on the ground.
For overweight riders, we primarily looked for manufacurers' info about the maximum payload their electric bike can handle, secondarely we gave attention to components such as brakes (very important for heavy riders), tires, wheels (and number of spokes), and saddle – of course bike components can always be upgraded, so your priority as a heavy cyclist looking for an e-bike should always be the sturdiness of the frame.
Check also:
> 6 Best Bikes for Plus Size Ladies – Road, Commuting, MTB, Utility, Electric
> Bikes For Big Guys! 25 Top Bicycles for Tall / Heavy Riders
> The Most Comfortable Saddles For Long Distance Cycling
11 Best Electric Bikes for Heavy / Tall Riders
carefully selected, reviewed, and compared
Disclosure: Some of our articles contain affiliate links. This comes at no additional cost for you and helps us keep this website up and running. (as Amazon Associates we earn commission from qualifying purchases)
How we compile our gear guides: during the almost 10 years of cycloscope.net our team personally tested dozens of similar pieces of gear. For what we can't test personally, we involve other people in the cycling community to give their feedback and opinion about gear they have used. Our decade-long experience in bicycle touring enables us to find the key cons and pros of every product we mention.
City / Multi-Sport eBikes for Big Guys
Premium: Surly Skid Loader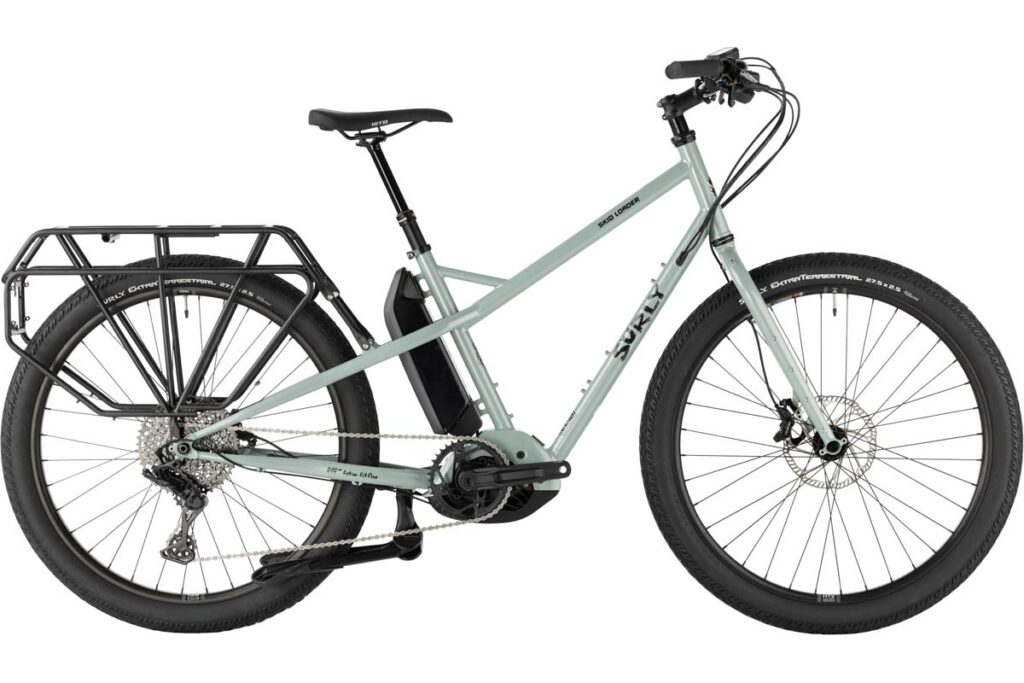 Model: Surly Skid Loader
Max payload: 400 lbs (181kg)
Max riders' height: 6″5 (200cm)
Motor: 600W
Top speed: 20 mph
Range: 15 – 50 miles (24 – 80km)
Brakes: Tektro 4-piston M745, Tektro 6-bolt 180 mm
Drivetrain: microSHIFT Advent X 10-speed
Materials: steel frame and fork
Price: $4,799
From legendary American touring bike brand Surly, here's the best bike for big guys you can think of. With a weight capacity of 400 lbs, this cargo monster is sure to haul even the heaviest of the asses around without skipping a beat.
Designed for hauling loads of stuff around, with its monumental built-in rear rack, The Skid Loader has the utility of a long-tail bike, but with a compact footprint that let it snug through the same tight spaces as a regular bike.
The powerful 600 Watts motor lets this beast of burden tackle even the steepest slopes under the heaviest loads, ideal if you are living in a hilly area.
Comfortable to ride and compliant under load, with a 27.5″ wheel platform providing ample tire options, it's built to withstand commutes from bus stop to bandit trail.
It is available in three frame sizes, the largest fitting tall riders up to 6″5, with adequate standover to fit all shapes and sizes, a dropper post, and useful accessory barnacles.
Trek FX+ 2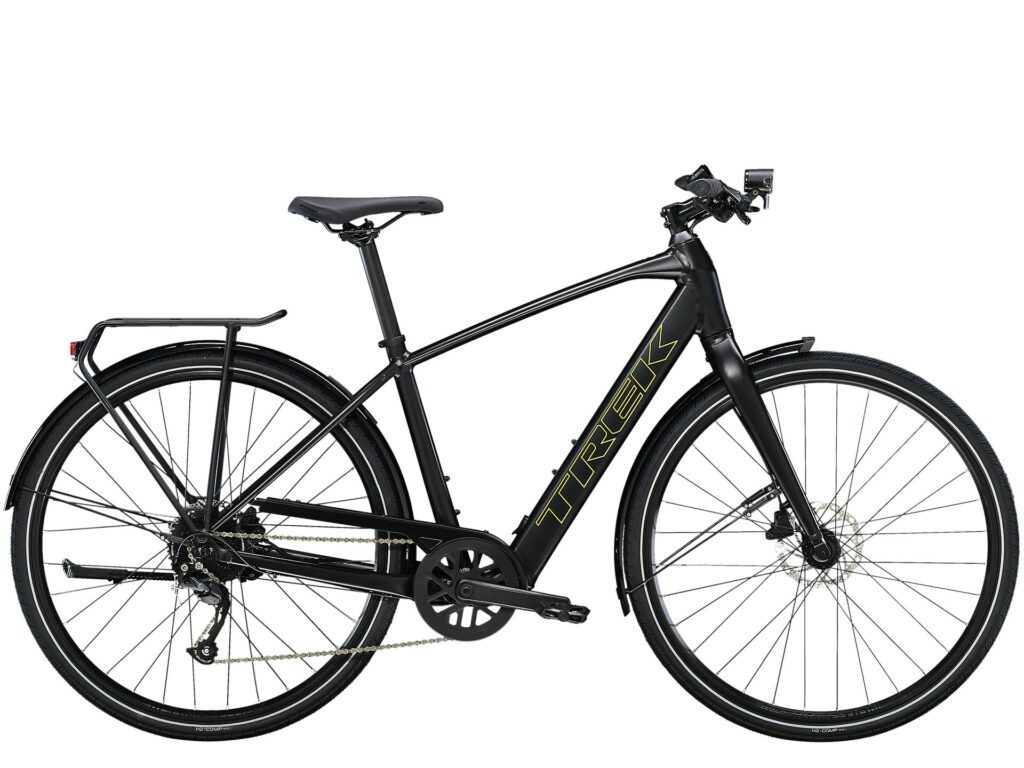 Model: Trek FX+ 2
Max payload: 300 lbs (130kg)
Max riders' height: 6″5 (200 cm)
Motor: 250Wh
Top speed: 20 mph
Range: 35 miles (56km)
Brakes: Shimano hydraulic disc, MT200 lever, UR300 caliper
Drivetrain: Shimano Altus M2010, 9 speed
Materials: Alpha Gold Aluminum
Price: $2,500
Premium: Stromer ST5 Elite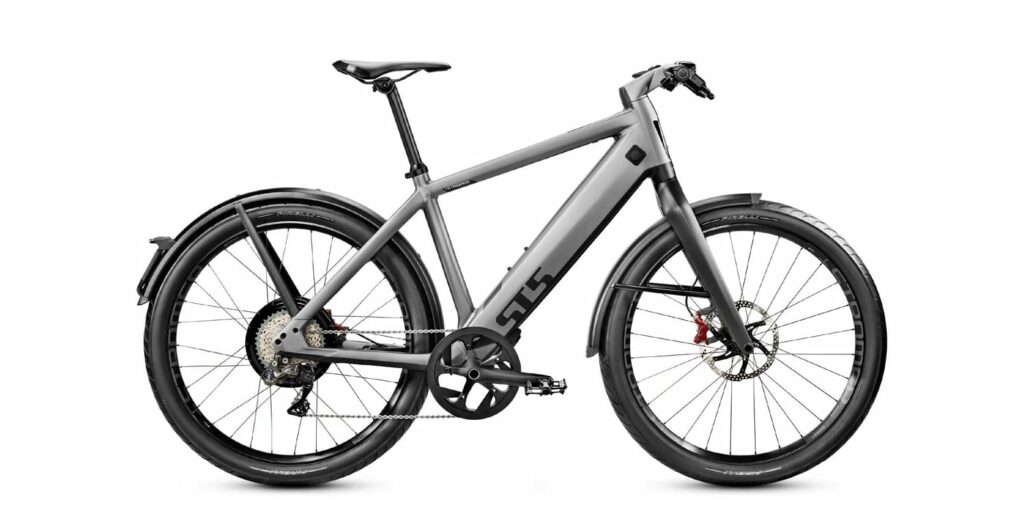 Model: Stromer ST5 Elite
Max payload: 136 kg (300 lbs)
Max rider's height: 6'5″ (200cm)
Motor: 500W
Top speed: 45 km/h (28 mph)
Range: up to 150 km (93 miles)
Price: +/- $10,000
The Stromer ST5 Elite is the Tesla of electric bikes. It's sleek, powerful, and will make you want to take the long way home. But let's break it down, shall we?
First, the battery. With a range of up to 120 miles, you can kiss range anxiety goodbye. This baby will take you further than four gallons of gas and it's way more eco-friendly.
Next, the connectivity. The ST5 Elite comes with a host of connectivity features, such as GPS tracking, theft protection, and the ability to control the bike's settings through the Stromer app.
Then, the drivetrain. With a Shimano XT Di2, shifting gears will be smoother than butter.
Tire clearance? No problem. The ST5 Elite can handle tires up to 47mm wide, so you can tackle any terrain like a pro.
Price? It's not cheap, but you get what you pay for. It's a premium e-bike and it's worth the investment.
Finally, the size. The ST5 Elite's frame size is 19 inches, which makes it suitable for riders up to 6'2″ tall. It's like a bespoke
Mid-Range: Trek Verve+ 2 Lowstep Electric Hybrid Bike
Model: Trek Verve+ 2 Lowstep
Max payload: 136 kg (300 lbs)
Motor: 250W Bosch Active Line Plus
Top speed: 32 km/h (20 mph)
Range: up to 88.5 km (55 miles)
Price: from $2,199
Trek has designed the Verve +2 Lowstep with the overweight friends in mind. The rig is designed to handle heavy loads and can support a rider's weight of up to 300 lbs.
It features a sturdy Alpha Gold Aluminum frame, and is equipped with a 250W Bosch Active Line Plus motor and a 400Wh PowerTube battery.
At 20 mph, this bike's top speed fails to impress, but that's certainly no F1 racer. The range instead, of up to 55 miles per charge (depending on the rider's weight and terrain) is quite great, allowing for long commutes or leisure rides.
Designed for the city, the Verve is also equipped with a number of features that make it comfortable and practical for heavy riders such as a step-thru frame for easy mounting and dismounting, a comfortable saddle and a suspension fork that absorbs the bumps on the road.
The maximum rider's height though is less than 190cm (6″2), so this is not the best bike for very tall people.
Best Electric Folding Bikes for Tall / Heavy Riders
Premium: Brompton Electric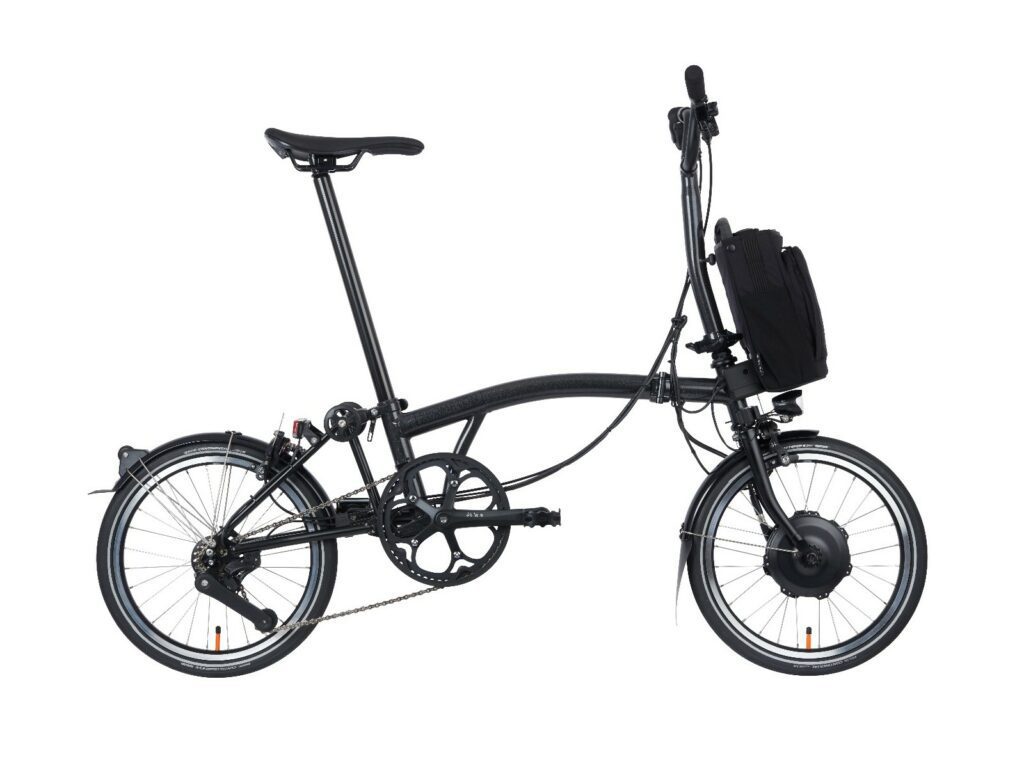 Model: Brompton Electric
Max payload: 110kgs (242 lbs)
Drivetrain: Brushless geared hub motor
Brakes: Dual pivot alloy caliper brakes
Tires: 16″ x 1-3/8″ Schwalbe Marathon Racer
Weight: Approximately 13.6 kg (30 lbs)
Folded size: H: 56cm x W: 59cm x D: 27cm (22″ x 23″ x 11″)
Price: from $3,500
The Brompton Electric is a folding bike that packs a punch. Its small size when folded makes it easy to take with you on the go, whether you're commuting to work or taking a trip on public transportation. But don't let its compact size fool you – this bike packs a powerful fist with its electric assist motor. The motor provides just the right amount of boost to make hills and headwinds a breeze.
The bike is built with a lightweight aluminum frame and comes with a variety of gears, making it easy to tackle any terrain. The handling is precise and responsive, allowing for a smooth and enjoyable ride. The folding mechanism is intuitive and easy to use, making it a great option for city dwellers or those with limited storage space.
For taller riders, the Brompton Electric offers a larger frame size, with a maximum rider height of around 6'4″ for the largest available frame. This allows for a comfortable and efficient riding position for taller individuals. Overall, this bike offers great value for money, with its impressive capabilities and convenient folding design.
Electric: Turboant Swift S1
Model: Turboant Swift S1
Max payload: 330 lb (150 kg)
Range: 35–60 miles (56–97 km).
Motor: 750W brushless gear motor.
Brakes: Tektro Aries disk brakes
Tires: 20″ × 4.0″ Kenda fat tires
Weight: 72.8 lb (33 kg)
Folded size: 38" x 23.5" x 31" (96.52 cm x 59.69 cm x 78.74 cm)
Price: $1,799
The Turboant Swift S1 is a folding electric bike that is great for city commuters. With its lightweight aluminum frame and powerful 250W brushless geared motor, it can easily reach speeds of up to 20 mph. The bike also features a thumb-throttle and pedal assist mode, allowing you to customize your ride to your preference. Its 8-speed Shimano drivetrain and mechanical disc brakes provide smooth and reliable shifting and stopping power. Additionally, the bike can fold down in seconds, making it easy to store and transport. With a maximum rider height of 6'2, the Swift S1 is a great option for taller riders looking for a compact and efficient mode of transportation.
The Turboant Swift S1 electric bike is a great option for overweight riders looking for a reliable and efficient folding commuter at an affordable price pint.
With a weight capacity of 330 pounds, the Swift S1 can accommodate most of the heaviest guys.
The bike also features a convenient thumb throttle and pedal assist system, making it easy for riders to customize their ride experience.
A sleek and compact design, making it easy to store and transport adds up points making it an excellent choice for overweight riders, but note that at almost 73lbs, this is not an easy toy to haul around.
Pedal Assisted MTB and Fat Bikes
Premium: Trek Fuel EXe 9.5
Model: Trek Fuel EX 5 Gen 5
Battery: 360Wh
Motor: TQ-HPR50, 50 Nm, 250 watt
Max payload: 300lbs (136kg)
Max rider's height 6″5 (200cm)
Frame: Carbon
Fork: RockShox 35 Gold RL, DebonAir spring, Motion Control damper, lockout, Boost110, 15mm Maxle Stealth, 150mm travel
Shock: RockShox Deluxe Select+ RT, 205mm x 60mm
Brakes: Shimano 4-piston hydraulic disc
Drivetrain: Shimano Deore M6100, 10-51, 12 speed
Tire clearance: 29×2.60″
Weight: M – 19.93 kg / 43.94 lbs
Price: from $6,500
If you're looking for the ultimate electric MTB for big guys look no further then the Trek Fuel EXe 9.5.
I've owned a muscolar Trek Fuel EX for a while and loved it, it has everything I look for in a mountain bike: incredible handling, sensitive brakes, a wide range of gear, and reliable and smooth suspensions.
The geometry is well-thought and can easily accommodate the needs of riders who are carrying a bit more weight, indeed the weight limits stands at a whooping 300 lbs, quite impressive for a carbon MTB.
The Fox 34 Float Performance fork and Fox Float EVOL rear shock work together to soak up even the roughest of terrain, allowing you to focus on the trail ahead.
Connectivity is hardwired with the ANT+ sensor integration and the dedicated app, designed specifically for the Fuel EXe.
The app can do a lot of things: from tracking your ride and navigate, to tune the performance of the TQ HPR50 motor and esteem the range. It can pair with a cycling computer and even with SRAM TyreWiz and AirWiz modules to provide live pressure readouts, and offer recommendations on setup.
In short, the Trek Fuel EXe 9 gen 5 is a bike that I would recommend to anyone looking for a high-performance hardtail mountain bike that is designed to accommodate the needs of riders who are carrying a bit more weight. It's a bike that is built to last, providing an unrivaled level of comfort, control, and performance. And the price, let's just say that you get what you pay for.
Budget: Aventon Aventure 2
Model: Avanton Aventure
Max payload: 180 kg (400 lbs)
Motor: 750W
Top speed: 45 km/h (28 mph)
Range: 45-90 km (28-56 miles) depending on the rider's weight and terrain
Price: from $1,700
The Avanton Aventure is the ultimate e-bike for the "big and tall" crowd. With a payload of up to 400lbs, this bad boy can handle more weight than a buffet line at a Las Vegas casino. It's like a forklift with pedals.
But don't let its impressive weight capacity fool you, this e-bike is packed with high-tech features. It's equipped with a powerful 750W brushless geared motor and a removable 48V 12Ah Lithium-Ion battery that can provide a maximum speed of 20mph and a range of up to 40-55 miles per charge.
The Aventure also boasts a 21-speed Shimano transmission system, which provides smooth and precise shifting, even when hauling a load.
The frame size of the Aventure can accommodate riders up to 6'5″ tall, so even the tallest of people can enjoy a comfortable ride.
Overall, the Avanton Aventure is the ultimate e-bike for those who want to tackle long-distance rides, whatever your size.
Cheapest: Ecotric Rocket Electric Bike
Model: Ecotric Rocket
Max payload: 120 kg (265 lbs)
Motor: 750W
Top speed: 32 km/h (20 mph)
Range: 64 km (40 miles)
Price: $1,199.99
If you're not above 265lbs or 6″2, here's a really cheap electric bike that can accommodate relatively tall or heavy guys.
I had the opportunity to test it and I can say that the 750W brushless geared motor, paired with the 21-speed Shimano drivetrain, provides plenty of power for climbing hills and reaching high speeds.
The removable 48V 10AH Lithium-Ion Battery provides a range of up to 20-40 miles per charge, which is quite impressive, while the 26-inch fat tires provide excellent stability and traction on various terrain.
The frame is built with high-strength steel and can support a max payload of 264lbs. Overall, I would highly recommend the Ecotric Rocket to anyone looking for a cheap e-bike that can handle various terrain and provide a smooth and powerful ride.
Road / Gravel E-Bikes for Big Men
Domane+ AL 5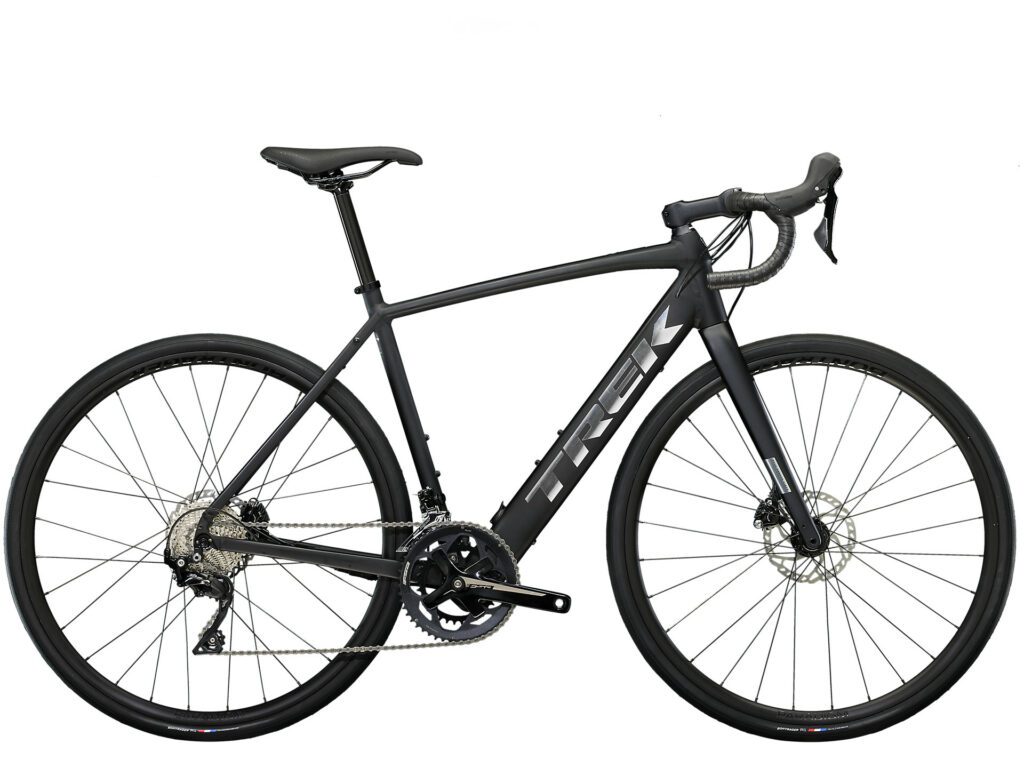 Model: Trek Domane+ SL 6 Disc
Motor: 250W
Materials: carbon fork, aluminum frame
Max payload: 275 pounds (125 kg)
Drivetrain: Shimano 105 2×11
Brakes: Flat-mount hydraulic disc brakes
Tire clearance: up to 35c
Top speed: 28mph (45km/h)
Range: 50 miles (80km)
Weight: 14kg (31 lbs)
Price: from around $3,500
The Trek Domane+ AL is the electrified version of Trek's best selling road bike. The Domane+ is a top-of-the-line road rig that can double as a light gravel. It's built like a tank, and that's exactly what you need when you're a heavy rider. It can handle a maximum weight of 275 pounds and still provide a silky-smooth ride.
Trek makes this bike in an aluminum version with carbon fork (Domane+ AL) and a carbon one (Domane+ SL), several choices of components are available for different budgets, here we'll talk about the Domane+ 6 AL in it's cheapest built.
For $3,500 The Domane SL 6 Disc is equipped with a reliable Shimano 105 drivetrain, which delivers it's tasks smoothly and promptly. The frame is lightweight 100 Series Alpha Aluminum, which keeps the weight at less than 31 lbs (14kg) for a size 56, impressive for an aluminum e-bike.
The 250Wh battery ensures a range of 50-60 miles on "Eco" mode, and up to 30 miles on "Turbo". "Switching modes throughout the course of a ride is a good way to maximize your range. Use Turbo mode for the big hills, or for beating a difficult headwind." says Trek.
Thanks to Trek's precision-engineered Endurance riding position and capacity for wide tires (by road bike standards), the Domane AL leaves you in full control, even when the track starts getting hairy. Although you can only get 35c width tires, which is on the thin end for the gravel world, they are grippy enough on lighter trails.
The carbon forks work with you to dampen the vibrations from the trail, leaving you to enjoy the view as you career through the wilderness. This is essentially a road bike built for long-haul comfort, a great combination when you are looking for a reliable gravel bike.
Also available with an enormous crank length of 61 for the tallest of the folks.
Learn more about
> All The Trek Domane AL Versions Compared – From $,1029!
Electric Trycicles & Trikes
ADDMOTOR Electric Trike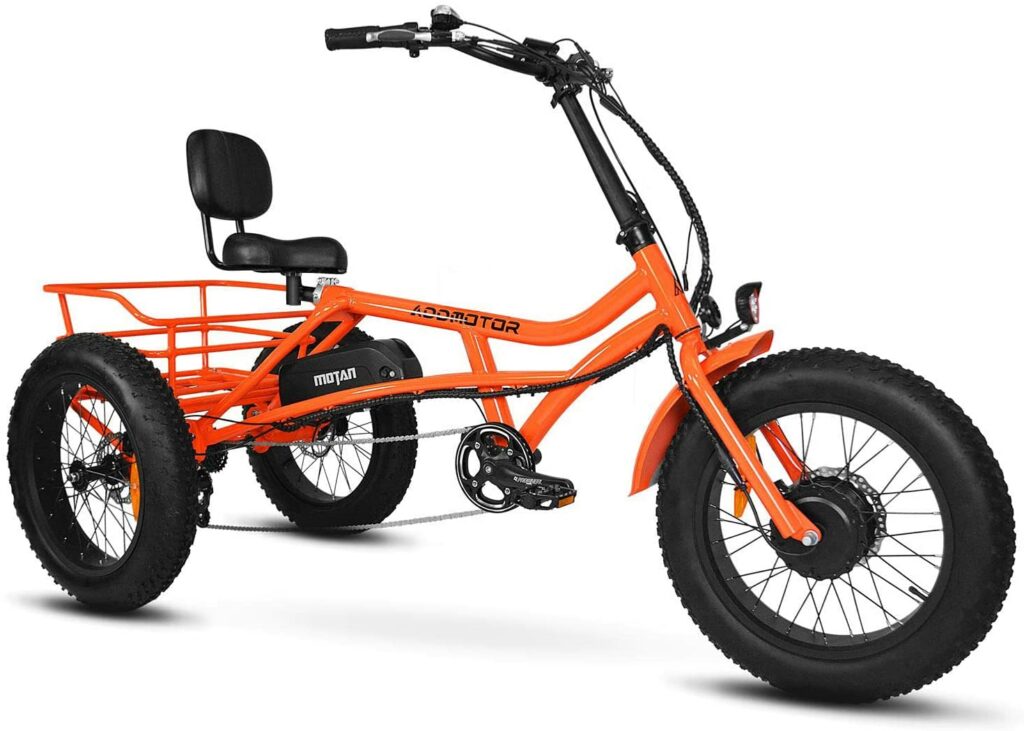 Model: ADDMOTOR Electric Trike
Max payload: 350lbs
Max rider height: 6'6″
Motor: 750W brushless geared motor
Drivetrain: 7-speed Shimano transmission
Tires: 20×4.0 fat tires
Weight: 86lbs
Range: 50-60 miles per charge
Charging time: 4-5 hours
Price: from $1,499.00
The ADDMOTOR Electric Trike provides a perfect solution for the biggest of the party, a combination of power and comfort that is both suited for severely obese people as well as tall folks.
With a max payload of 350lbs, even the most overweight person will feel like they are riding on a cloud, no more struggling to climb hills or feeling unstable on a regular bike.
For the "big and tall" folks, the trike is designed to be comfortable, with a max rider height of 6'3″, this trike will provide a comfortable and roomy riding position, no more feeling cramped on a regular bike. And that's not all, it also comes with a backrest that leaves a lot of room for excess fat in the back, making even the longest rides feel like you haven't moved from your couch.
The ADDMOTOR Electric Trike is not only comfortable but also extremely versatile, with its fat tires and powerful motor, it can handle any terrain and help you to carry groceries or any other stuff around with ease. This trike is a perfect combination of power, comfort, and convenience.
FAQs about bikes for big, tall, and heavy riders
Is there a weight limit for Ebikes?
Most Electric bikes' (e-bikes) weight limits are usually in the 220-300 pounds range, this is known as Maximum Payload. This weight capacity value is intended for the whole rig-rider system, bike, cyclist, and cargo.
Some manufacturers have designed e-bikes that are specifically intended for carrying heavy stuff, with higher weight limits of up to 600 pounds.
It's important to note that max payload values are usually conservative, it does not mean that the rider should exceed it. Carrying more weight than the specified limit can cause damage to the bike and increase the risk of accidents. It's always paramount to double-check the weight limit of an e-bike before purchasing and to use it within that limit.
Can a 250W ebike climb a hill?
If your 250W e-bike will be able to manage that climb it will depend on a number of factors such as the weight of the rider, the weight of the bike, the terrain, and the slope of the hill. Generally speaking, a 250W e-bike may be able to climb a moderate slope, but it will struggle on very steep hills. A higher-powered e-bike, such as a 500W or 750W, would likely have an easier time climbing steep hills.
A heavy rider or heavy cargo, while perfectly fine on flat or rolling terain, would make climbing a steep hill quite challenging for a 250W e-bike.
It's also important to note that e-bikes have different modes, some of them have a pedal-assist mode, which provides power to the rider depending on the level of effort they are putting in. This can make it easier to get up that mountain pass.
In summary, if you're a heavy rider and don't really want to sweat, we recommend getting a 500W or bigger motor.
Stay in touch while we get lost! Follow us on Social Media