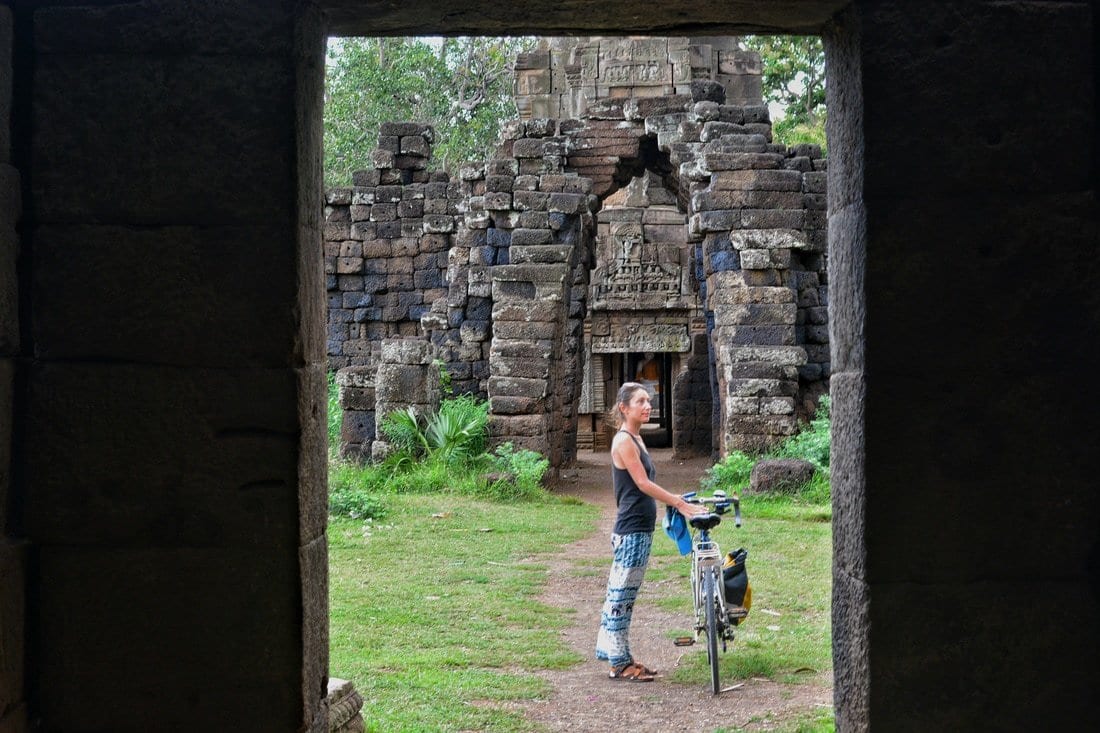 A bicycle touring itinerary from Phnom Penh across the gorgeous countryside of Cambodia. What to see and do in Kratie, Kampong Cham ann Stung Treng
This is the third part of a detailed description of our Cambodia's bike tour. Coming from Thailand in August 2016 we crossed this beautiful and deeply emotional country, heading to the only border with Laos. Here's the description of the last 439km, from Phnom Penh to the Lao border.

Click here for part1: from Koh Khong Thai border to Kampot
Click here for part2: from Kampot to Phnom Penh
At the bottom of the article is the map of the whole Cambodian tour, click on the track to get the elevation profile.
For general hints and tricks to keep your budget extremely low when traveling Cambodia, here's another article.
From Phnom Penh to Kampong Cham – 112km
Leaving Phnom Penh northward is no big deal compared to getting in from South. Get to the Mekong and follow it, there's the main road, Highway 6, not beautiful but wide, with plenty of overpriced accommodations. For a big stretch it has a much nicer side road that runs parallel, on the very shores of the Mekong, follow that as far as you can. Many villages and restaurants.
At KM40 there's the first bridge across the Mekong, that leads to the town of Khsach Kandal (ខ្សាច់កណ្ដាល), where there's a love-motel-style guesthouse with no WiFi.
Disclosure: Some of our articles contain affiliate links. This comes at no additional cost for you and helps us keep this website up and running. (as Amazon Associates we earn commission from qualifying purchases)
From here we followed road 381 and then turned right because locals said the road was messy (check the map). So from here begun a 43km unpaved leg, the road was a little tricky sometimes but still rideable, even though it rained the night before, keep in mind however that taking unpaved roads in Cambodia is always a gamble, and don't blame us if you find yourself in a river of mud.
This stretch of road, however, is really beautiful, especially the last 20km along the river, a glimpse of Mekong lifestyle, these kind of roads are the reason why we love bicycle travel. Near the village of Oleng there's a ferry crossing, a slow barge going approximately every hour (coordinates 11°55'25.1″N 105°16'07.7″E), that goes to Kang Maes, at the crossroad between roads 70 and 223, the latter brings you to Kampong Cham in 25 super-easy kilometers. However just beside the pier, visible from the boat, there's a very nice guesthouse with a view of the river (7USD), we loved that, WiFi available.
It's possible to reach Kampong Cham without crossing the river by ferry, through tricky countryside roads. My advice is to attempt this only in dry season.
Kampong Cham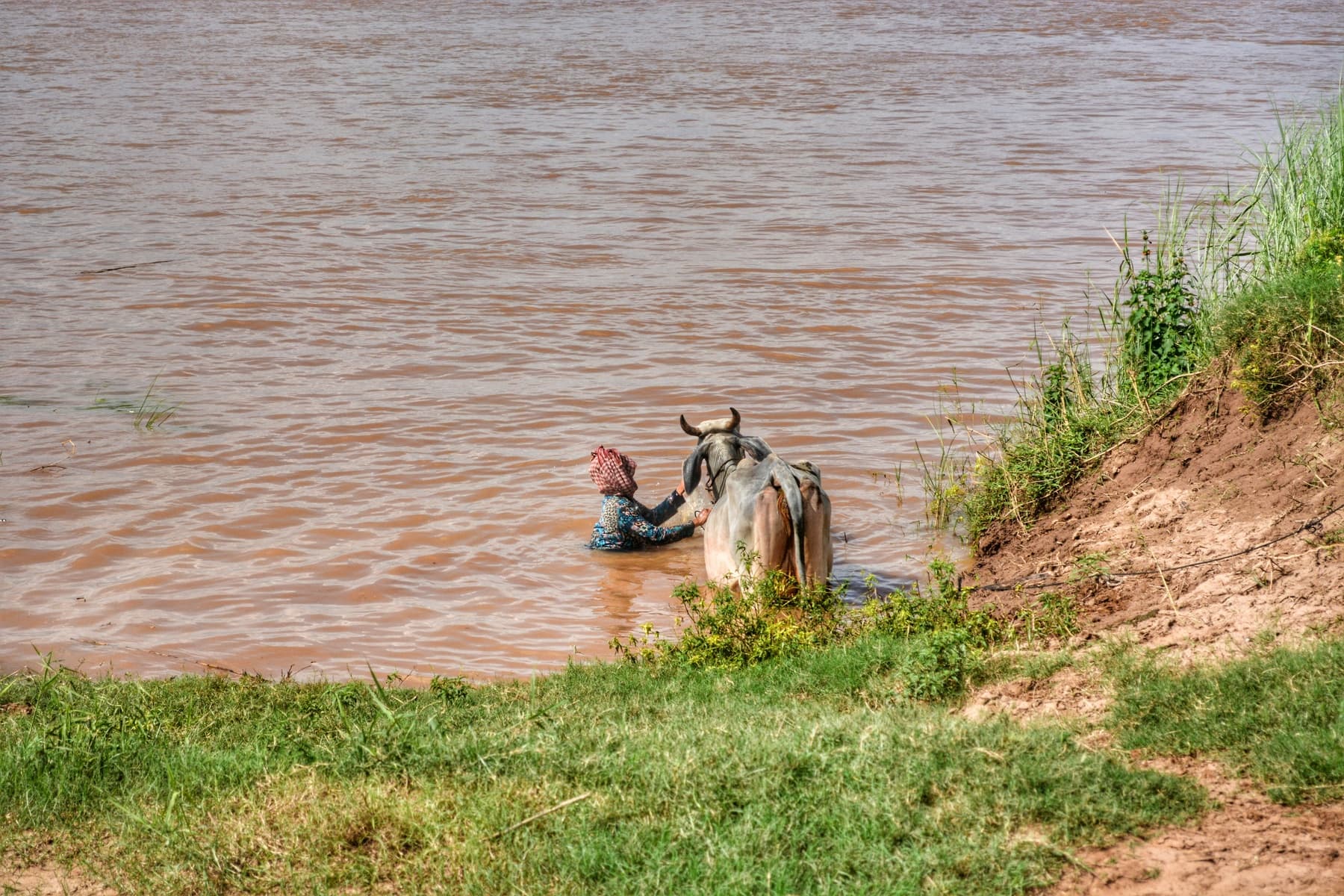 Cham is the name of the Cambodian ethnic minority, mostly following Islam, which indeed concentrates the most of the 217,000 individuals around this province. The area also played a key role during the Khmer Rouge uprise and seize of power: from here the Cambodian communist launched their assault to Phnom Penh.
The city was for a long while a stronghold of Pol Pot's army, and the local muslim community suffered even more than the rest of the Cambodian, not because of some racial issue but mainly because the reluctance of the Chams to abandon their traditions and rites.
Kampong Cham is nowadays one of the most beautiful Cambodian cities, it ranks 6th for population in Cambodia, with just 118.000 inhabitants. The town is a model to follow for neatness and decorum, with a splendid riverside lined with restaurant and guesthouses it aims to become a major tourist center in the next decade.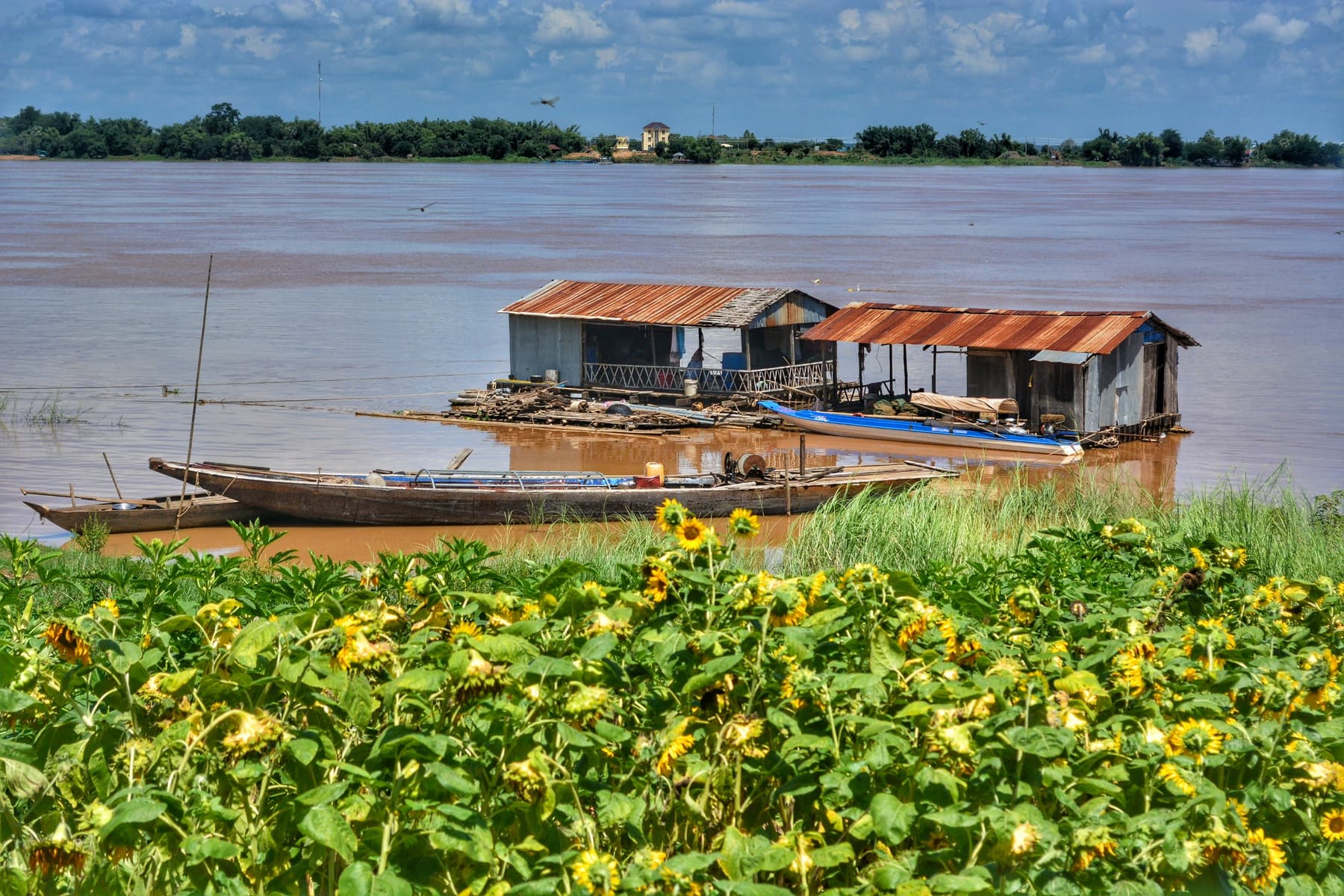 Beside the laid-back riverside atmosphere, there are a few things to see around the area, the best being probably the famous bamboo bridge to Koh Paen, an island inside the Mekong.
This is in the south part of town not far from the main bridge. However, we missed that, since it's washed away during the wet season and rebuilt every year.
What we really enjoyed is Nokor Wat (coordinates 12°00'00.3″N 105°26'20.6″E, less than 5km from the city center), an 11th century Angkorian temple laying in disrepair but completely tourist free.
In the same site, there's an NGO, named BSDA who trains disadvantaged kids in Apsara Traditional Dances, performances are on request so maybe contact them before. When we've been here the kids had just finished their daily training, we booked a performance for the day after (just for us! Based on donation) but unfortunately, there was a biblical downpour and since the place is open air…
Kampong Cham to Kratie – 124km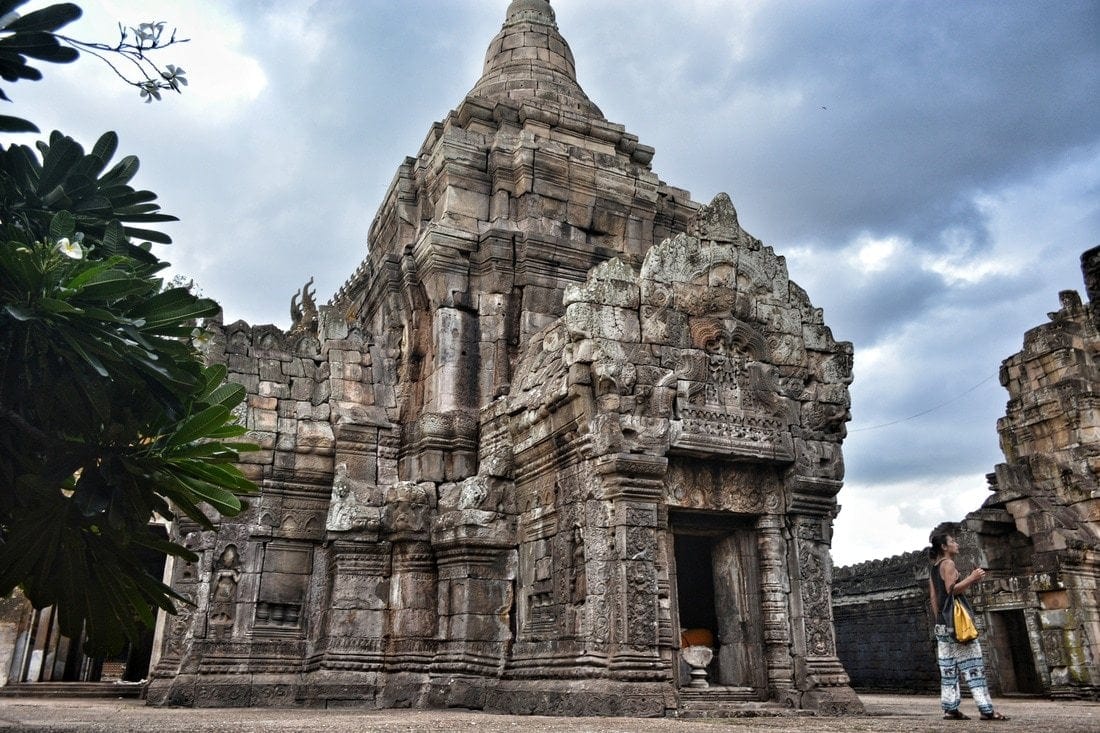 Cycling (or riding or walking or whatever you like) along national road 222, past the real Cham villages, is a very interesting ride, a good chance to cast a glimpse at this minority's lifestyle. A mosque on stilts above the water is sure a unique sight.
An easy 36km lead to Phumi Prek Kak (or Stueng Trang or Stung Trong), a sleepy village with a muddy riverside boardwalk, a crappy guesthouse and nothing more, from here there's a car ferry to cross the river, road 222 takes a turn west so to keep following the river one must cross to the east bank and hit road 308.
From there is a very nice 53km to the next guest house in Chhlong and 35km more to the slightly touristic town of Kratie. This part is beautiful, very tranquil, mostly with the Mekong on view. Traditional stilted khmer houses as usual, tall and made of wood.
Kratie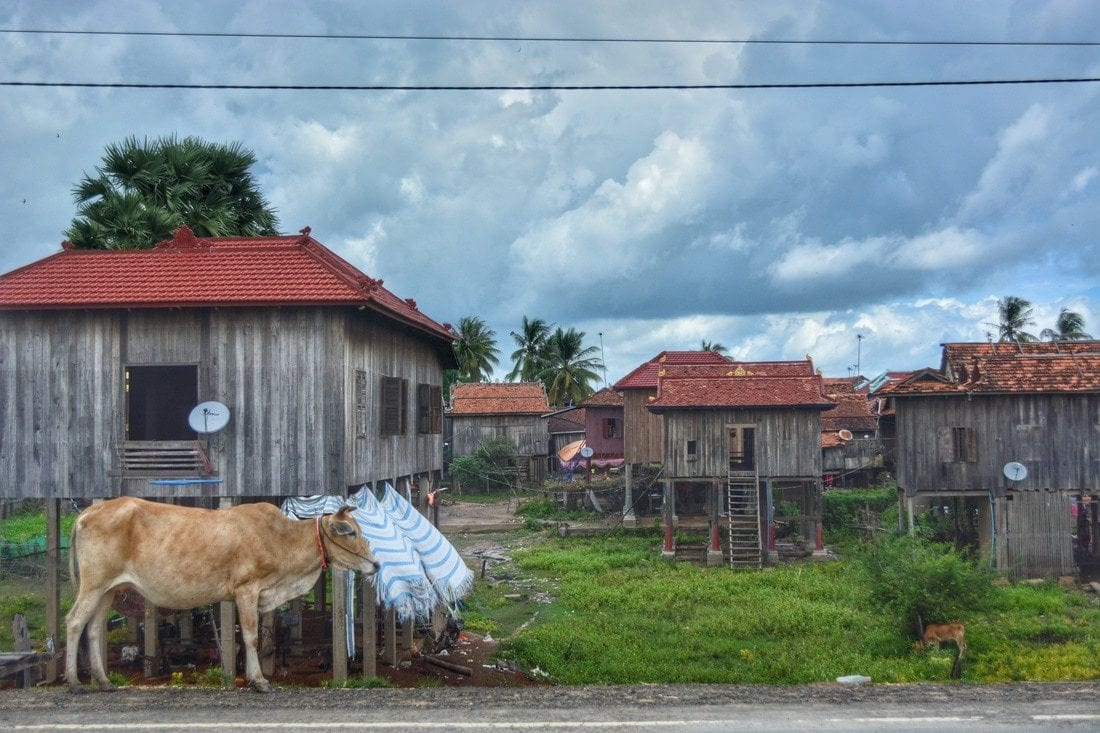 Kratie (Krong Kracheh) is mostly famous for being one of the few places in the world where the endangered irrawaddy dolphins live. The view spot itself is actually in the village of Kampi, around 20 nice kilometers northward, on a mixed concrete/dirt road. The town of Kratie itself is basically all about guesthouses and tourist restaurant, serving some mixed Western/Cambodian favorites. Cute colonial architecture, nice for a stroll on the riverside and a hamburger or tofu-burger, for the greenies.
Apparently the small island facing the town is lovely and with a cycling path that goes around it, but since either this and the dolphin view require a fee, needless to say we didn't do it, cash shortage being a classic for the poor cycloscopicos.
Kratie to Stung Treng – 140km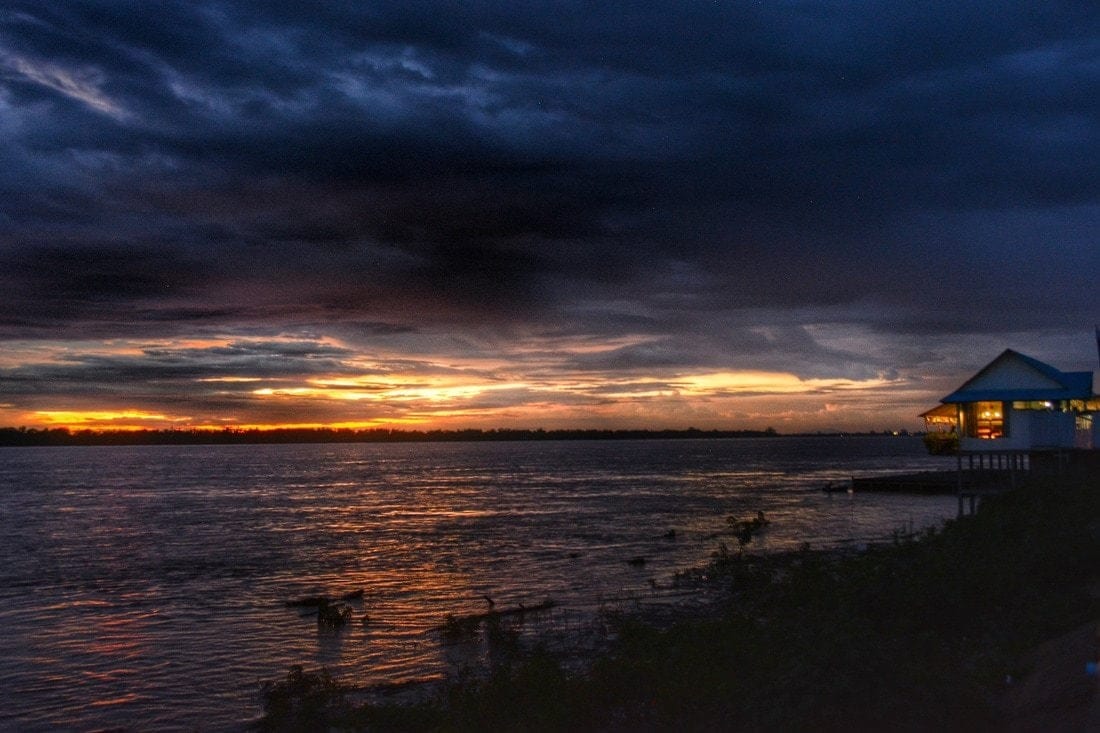 Past Kampi the last settlement for miles and miles is Sangkum, after which we find ourselves in one of the poorest areas of the world we've ever been. Houses are rotten, some miss walls, some miss roofs, some are made out of scrap metal sheet, kids clothes are torn apart, people look lazier than ever and sometimes even desperate. Many landmines left from the khmer rouge era make rice growing a deadly business here.
Just 19km and the road joins highway 7, from now on there's nothing, I mean really nothing, until Stung Treng, 120km past Sangkum. Small signs warn of the presence of mines, few bomb craters are visible. No food, no water, no accommodation, no houses, nothing, at all (18-01-2017 Update: it seems we're wrong about that, check the comments).
A wide flat road with few cars heading to Lao, that's it.
Here's when we found shelter in a Buddhist temple, we asked to the oldest monk and he agreed. In exchange for a 4USD compulsory donation, we could sleep inside the praying hall, which was not a great idea, since we have been woke up one hour before down by the prayer's preparation, before the deafening drum begun shaking the wooden structure, few meters from our ears.
Stung Treng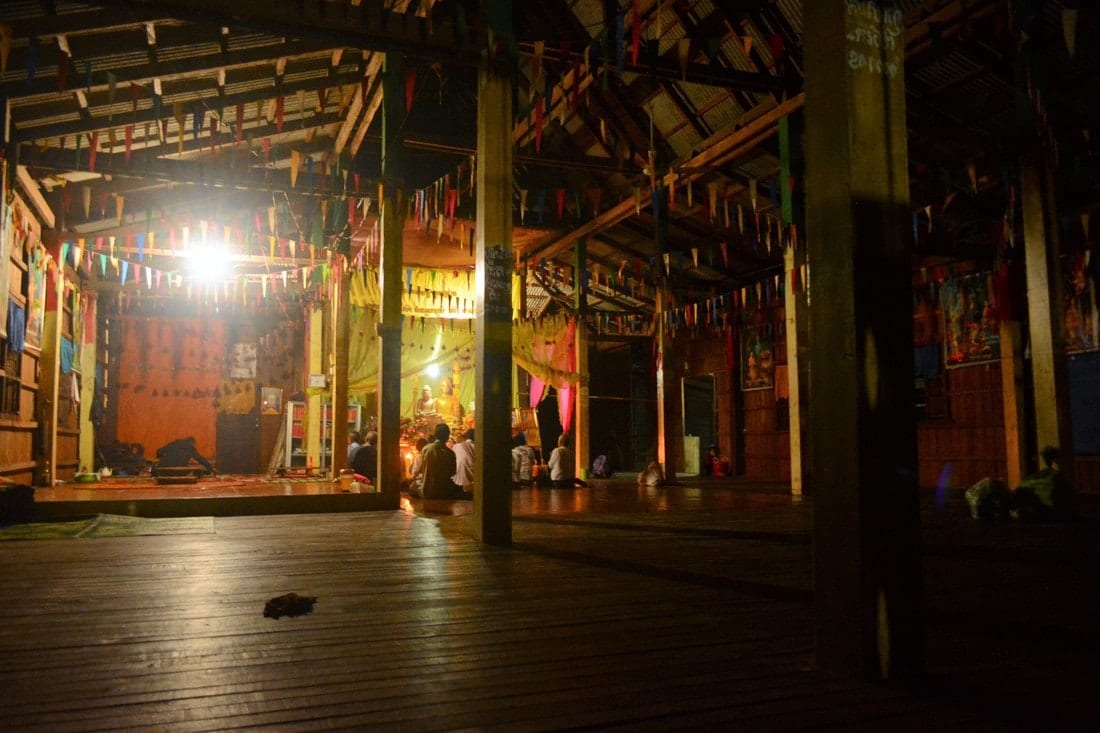 Stung Treng could be beautiful, but is not. A quite big town for cambodian standards, has a run down decadent atmosphere and a lazy way of being itself. Being mainly a stopover for tourist traveling from Laos to Siem Raep or other destination in Cambodia seem it doesn't aim at being much more, a pity.
Guesthouses are plenty, just don't go where all the backpackers go, the one in the muddy minibus parking lot with the restaurant inside, that really is the worst. Can make use of the restaurant tough, since there are only two serving few western style stuff (the other one being in front of the ATM, slightly better IMHO).
The highlight of Stung Treng is no doubt the big market, plentiful of fruit, clothes and dubious food stalls (visit them in the morning, when the food has just being cooked). This is the only place where we saw wild animals illegally sold as meat: turtles, monitor lizards, monkeys, a weird rodent and some more stuff whose identity was hard to figure out.
From Stung Treng to Lao border crossing – 63km
From Stung Treng to the Lao border is 63 more lazy kilometers of nothingness, the only small settlement being less than 10km from Laos, where the road takes a bend west and follows the border until the frontier checkpoint.
Being the only crossing between Cambodia and Lao, the border is surprisingly quiet, if you're unlucky you could meet one of the few big busses that could slow the thing down.
Anyway, visa on arrival procedure is smooth, pay the fee, depending on your country, 30 or 35USD for most countries, plus 2$ for the stamp fee, plus 1 or 2 dollars bribe… yes bribe, but this time there really was no choice, pay or stay in Cambodia. Anyway if they ask more try to bargain, tough I don't see much chance here.
There are also some more shady but official fees if you cross after 4 p.m. or in the weekends. The chance to be scammed are greater for tourists in groups than they are for bicycle tourers, as always.
If you found this article useful please don't forget to follow us on
facebook, twitter, Instagram and youtube
If you have more information, please feel free to contribute in the comments!
Our Itinerary
Follow us
Stay in touch while we get lost! Follow us on Social Media