A great and flexible itinerary to explore Taiwan, backpacking or cycling. Hikes, hot spring, and amazing sceneries of Taiwan north and east coast. A blog post about everything you need to know to plan your trip in Taiwan
Although not big, there's a lot to see on this island, a 14 days Taiwan itinerary should be enough to have a good panoramic. Taiwan is an increasingly popular tourist destination, every year more than 10 million foreigners travel to Taiwan, backpackers, cyclists, hot-spring addicts, and any kind of tourists.
Backpacking Taiwan is a great way to explore this island, where many travelers come seeking a Chinese atmosphere away from the hassle and difficulties of mainland China.
There are certainly some great highlights in Taiwan, but we think the best lies in its roads. That's why a road trip of Taiwan, made with you independent means of transport, is surely the way to go.
We indeed rode this itinerary by bicycle, and it took us 14 days to cycle about 600km (we took it really easy). Taiwan is meant to be cycled, and the Taiwanese know it, indeed you'll see dozens of locals traveling the east coast of Taiwan by bike.
If cycling is not your thing, you still can rent a scooter for a cheap price. An international driving license is required, although we heard there are rental services who don't really care about this rule that much.
Check also
Hiking and hot spring in Yangmingshan National Park
How to rent a bicycle in Taiwan
Never did a bike trip before?
Have a look at our beginner's guide to bike touring
Where to go in Taiwan
Disclosure: Some of our articles contain affiliate links. This comes at no additional cost for you and helps us keep this website up and running. (as Amazon Associates we earn commission from qualifying purchases)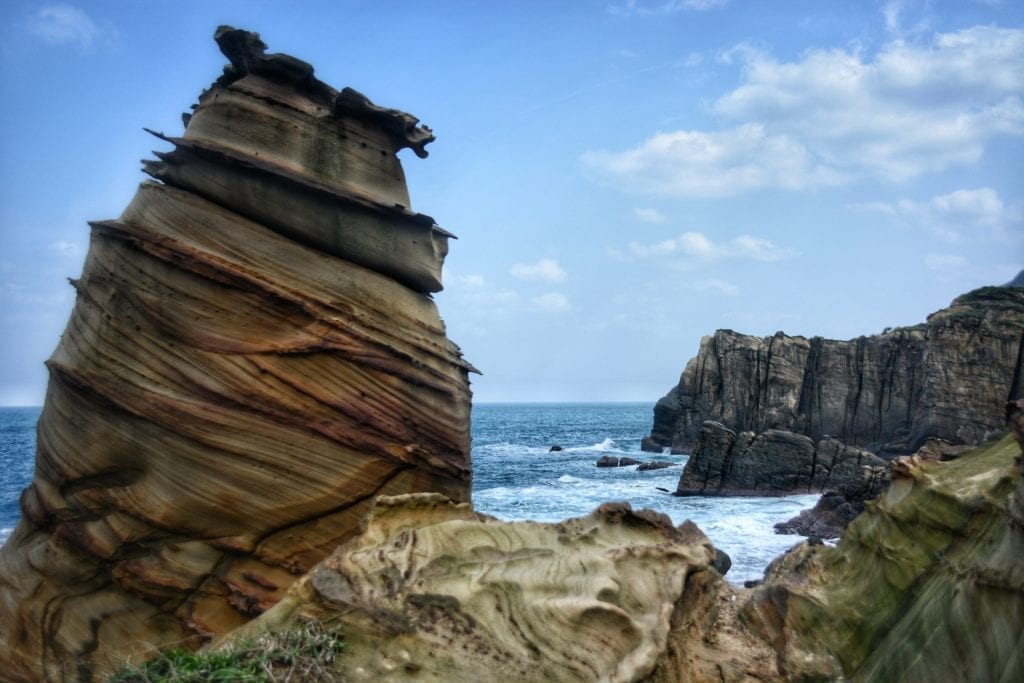 Being an oblong island, shaped like a seed, there are basically two coasts in Taiwan, east coast and west coast. The northern coast is very short but worth to be included in your itinerary. There's no southern coast, just a cape.
Besides the lush and mountainous interiors, there's no doubt that the best of Taiwan is to be found along the east coast. Its northern part is made of steep mountains dramatically dropping into the sea, covered in grass they look like anything else we saw in Asia, reminding a bit of western Ireland.
Going south, crossing the Tropic of Cancer, the landscape changes completely, becoming covered in thick tropical jungle. There are still mountains, but they get further away from the coast. The southernmost area is amazing and really a must.
The west coast is pretty horrible to cycle, one seamless urban area from north to south, not really worth cycling that part of Taiwan in my opinion. But it still could be interesting to travel if backpacking Taiwan by train, although we won't cover it in this itinerary there are some interesting Taiwanese cities to visit.
---
When to go to Taiwan: weather and climate
Taiwan is crossed by the tropic of cancer, which cuts it more less in half, the north part of so belongs to the sub-tropical climate zone, while the southern part is properly tropical.
Winters are warm and summers are hot and wet, with typhoons and thunderstorms, anyway there's a lot of rainfall throughout the year. We got considerably wet during our bike tour of Taiwan.
The best time to cycle is from October to April, when temperatures are milder, we went in February and experienced quite cold weather in the north, but 2018 was a peculiar year. When we reached the southern part, the weather was very warm and we even could take a couple of swims in the sea, and relax on some of the beautiful beaches in Taiwan.
---
Food and Water when Backpacking Taiwan
Water from the tap is not drinkable everywhere in Taiwan, the government advises to boil it first. Ask your hostel or guesthouse, or just some locals. Buying bottled water is never a problem, but it's not super cheap.
Taiwan is another convenience store country (like South Korea and Japan), 7eleven and family mart are in every town worth the definition. Here you can find the usual choice of junk food, drinks, and canned black coffee. Some have toilets and ATM, all have microwaves and boiled water, WiFi is available upon registration. Check here for the best 7eleven food in Taiwan.
Taiwan is famous for street food, the notorious Taiwanese night markets are pretty cool, you can find more than one in each city and sometimes even in small towns, Google maps knows all of them. The night market in Hualien is great but the best of the best is in Keelung, here we finally found out why the Taiwanese food is so famous!
What you'll mostly find is noodle soup restaurants whose quality honestly pales in comparison with Chinese soups, sorry guys. In the deep south, where Taiwan really gets tropical and the aboriginal natives are a majority, food stalls are more frequent but the variety is not great.
---
Map of Taiwan Itinerary
Taiwan itinerary in pills
1 or 2 days in Taipei
1 day in Beitou Hot Spring area, climbing the Yangmingshan in the morning and soaking in hot sulfuric water in the evening
1 day on the north coast, visiting Shimen, Jinshan, and Yehliu Geopark
1 or 2 days in Keelung
1 or 2 days in Jiufeng, exploring the area using the old railway
1 day around the northwest area road trip, spending the night in Toucheng Township or Yilan
1 day hiking in Taroko, getting back to Hualien to sleep
1 day visiting Shitiping, Sanxiantai, and Xiaoyeliu
1 day visiting Jiupeng Desert and Nanren Shore
1 day getting lost in Manzhou aboriginal area
2 days in Kenting or Hengchun: Fengchuisha, Longpan Park, Kenting beaches, and White sand bay
---
Planning you Taiwan Backpacking or Cycling itinerary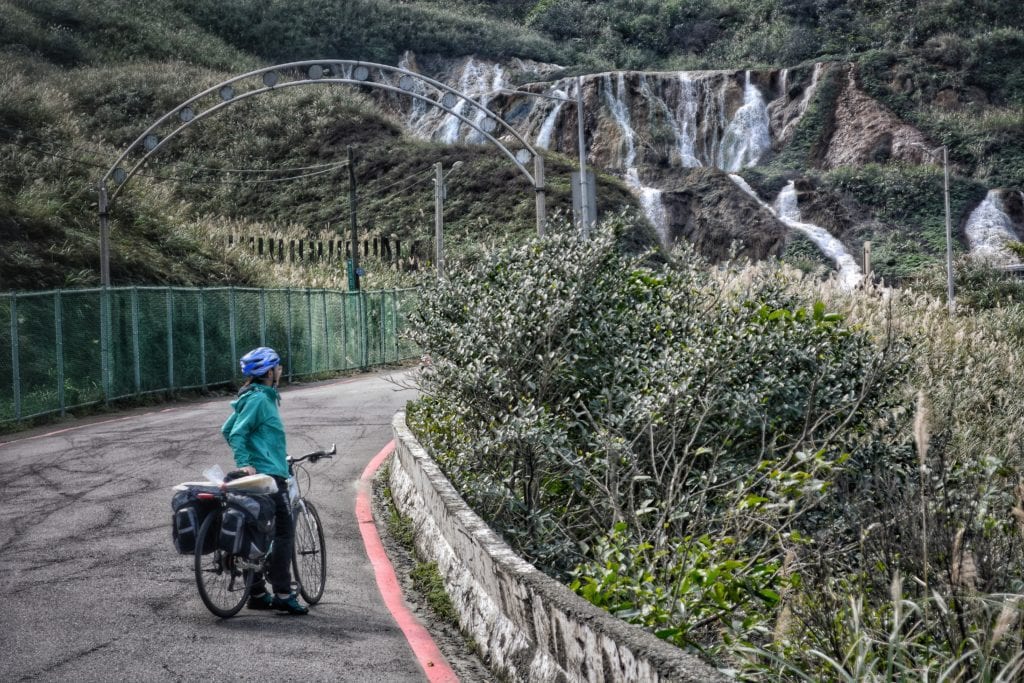 If you decided to explore Taiwan by bike, congratulations, you made the right choice! We indeed mentioned Taiwan as one of the best destinations for cycle touring beginners.
If your plan is to stick to the coast, there's pretty much one sole road to follow, with little detours available from time to time. The scenery is stunning almost everywhere along the east coast.
You'll only have to make a choice south of Hualien when the road splits in three. Remember that Highway 9 is the main one, so the one with heavier traffic, we advise choosing road 193 or stick to the coast (Highway 11). This is not the most spectacular section of the east coast, but still nice, and the traffic is light enough.
South of Taitung, where those three roads converge, is the ugliest stretch of road, the scenery is still cool from time to time but you won't enjoy much of it, you'll be busy watching yourself from the many trucks and tour buses.
Leaving Highway 9 to get to the southernmost province of Taiwan, everything gets nice again, very very nice. Don't miss this area, a bit hilly but totally worth it.
Winds mostly blow north to south, so this is the best direction to take for a bike trip in Taiwan. There's an official pamphlet about cycling around Taiwan, made by the Official Tourism Board, but honestly, it's pretty useless.
Learn everything you need to know about cycling Taiwan!
1. Start your Taiwan itinerary in Taipei
Unless you are coming by ferry from China, you'll probably fly in and out of Taipei. Taipei is a big crowded city, with a population of 8.5 million in its extended metro area. Taipei feels a bit like a Japanese city more than a Chinese one, with this 90s atmosphere you can also find in Tokyo. Indeed Taiwan has a strong relationship with Japan, maybe a way to refuse the Chinese influence. Have a look here for a list of things to know for your first visit in Taipei. 
Maybe because we saw so many cities in Asia, we didn't particularly like Taipei, its urban area seems to us an interesting place to live in but not especially cool for travelers. But if you've never been to Japan or China you might completely disagree with this statement.
The most interesting thing in central Taipei, besides the Taipei 101 (a skyscraper that used to be the tallest building in the world), is its bustling nightlife. The best night market to visit in Taipei is in Shilin district. Check also these 10 free things to do in Taipei.
Where to stay in Taipei
Taipei accommodations often have few vacancies, booking in advance might be a good idea. We liked a lot the Rose Boutique Hotel, but we have a strong taste for kitsch.
We advise spending one night in Taipei center, make it too if you particularly enjoy the nightlife.
---
2. Beitou Hot Spring Area and Yangmingshan National Park
Feeling like a foothill countryside town, despite being still in Taipei city with the great advantage to be reached by subway, Beitou must be included in your Taiwan itinerary.
It is here that all the hot springs in Taipei area are, mostly inside the hotels but with one public bath really worth visiting (nice local lifestyle insight and terrific sulfuric water).
Beitou is a great base to hike the Yangmingshan National Park, from here you can catch bus S9 that will bring you all the way up to where the main trail to hike Yangmingshan volcano starts.
Hiking Yangmingshan is very scenic and not too hard, it takes around 120/180 minutes to get to the other side, where another public hot spring is located. From there you can catch R5, S15 or S17, which will bring you back to the Taipei subway system.
Check our full article about
Hiking and Hot Springs in Yangmingshan National Park
We advise spending one night in Beitou, climbing the Yangmingshan in the morning and soaking in hot sulfuric water in the evening.
3. Itinerary of Taiwan North Coast: Shimen, Jinshan, Yehliu Geopark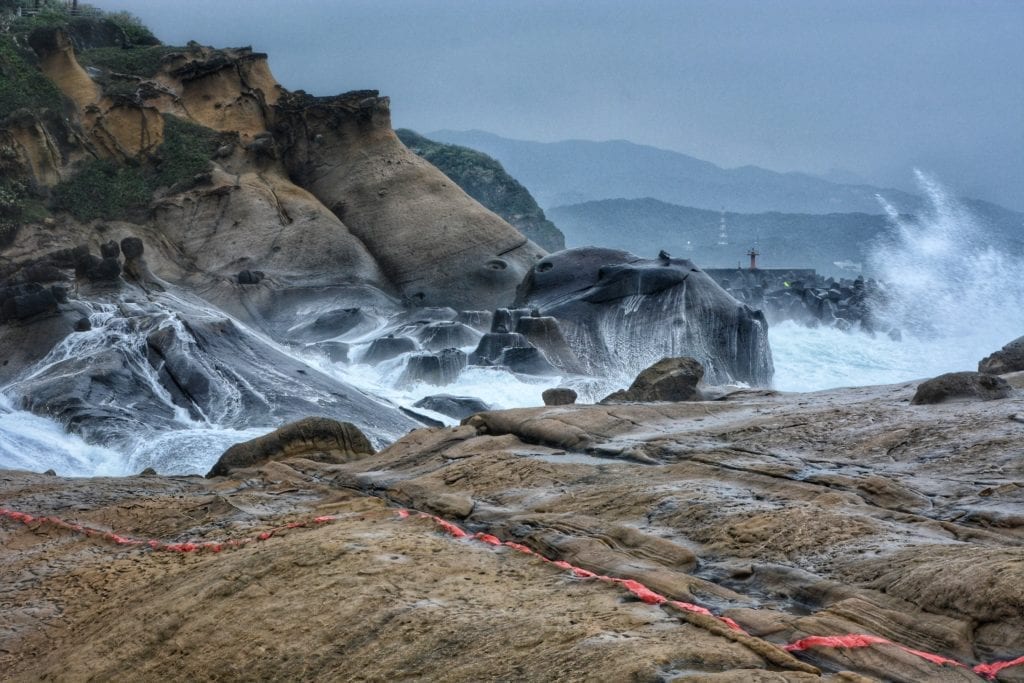 With the Yangmingshan mountain on one side and the sea on the other, this stretch of coast is pretty wild and interesting. Things get especially gorgeous from Shinmen towards the east, in Shinmen there is a nice short hike among the lavic reefs, a gorgeous wild beach, and the northernmost lighthouse in Taiwan.
Jinshan is another hot spring town, no open-air public baths though, so you'll have to book a hot spring hotel or get into the small rundown public bath, where rooms with just a bathtub are charged a small fee per hour. If you have time, take a walk to the so-called "Mysterious Coast", pretty mysterious indeed.
Yehliu Geopark is one of the most famous attractions in Taiwan, which you should include in your backpacking itinerary. Dreamlike rock formations dot the coast. The area seems small, but you should plan at least one hour for the visit, two if you like taking pictures.
We advise spending one night in the area, staying near Yehliu or in Jinshan
Pictures, Reviews and Things to Do in Yehliu
4. Keelung City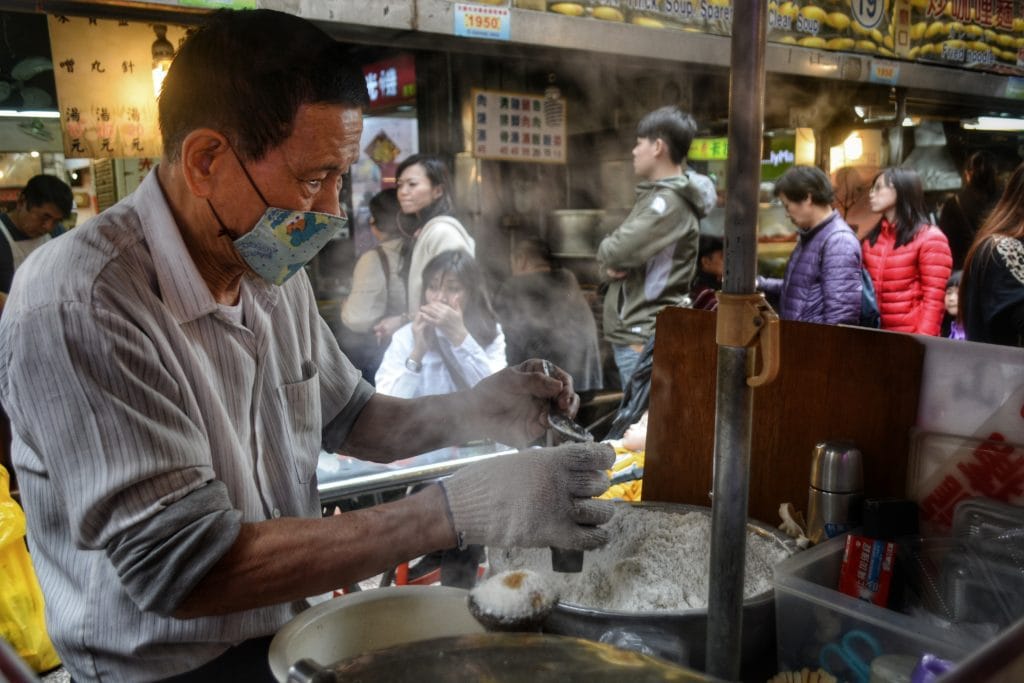 Keelung is really the food capital of Taiwan, we overlooked it at first but then decided to stay 2 nights. The city is very cozy, with the harbor at the center and surrounded by mountains, but the real attraction is its night market, here you can try foods that are hard to find elsewhere.
The night market in Keelung gets indeed very busy during the weekend, with hordes of Taiwanese coming from Taipei. In the middle of the market, there's an interesting Taoist temple, where we were lucky enough to see a traditional puppet performance.
We advise spending one night in Keelung, two or more if you are a real foodie
---
5. Jiufen Riufang and cozy local trains
Jiufen (also spelled Jiufeng, Jioufen, Chiufen…) is a magic town, all stairs, narrow alleys, and red lanterns, so magical that it inspired Hayao Miyazaki whose famous movie Spirited Away is set in what we could call "a parallel universe version" of Jiufeng.
Jiufeng is set on a hill some 30km east of Keelung, from here you can catch a very cute mountain train, an old railway which will bring you around a handful of cozy mountain villages, among which Riufang and Huotong Cat Village.
In the vicinity there's also the scenic Shifen Waterfall, certainly worth a look.
We advise spending at least one night exploring Jiufen, two if you want to explore around using the old railway
---
6. Northwest area road trip
There is not a single highlight worth mentioning in this area, it's a whole highlight itself! Steep spectacular cliffs dropping into the sea, waves smashing on the reefs, winding roads, fishermen harbors and so on.
To properly visit this area though, you'll need your own means of transport, whether it will be a bicycle (recommended), motorbike, or car. I don't know if there is any bus going around this area, but a bus ride won't give justice to this mesmerizing landscape.
We advise spending one day on the road in this area sleeping in Toucheng Township or Yilan
---
7. Taroko Gorge and Hualien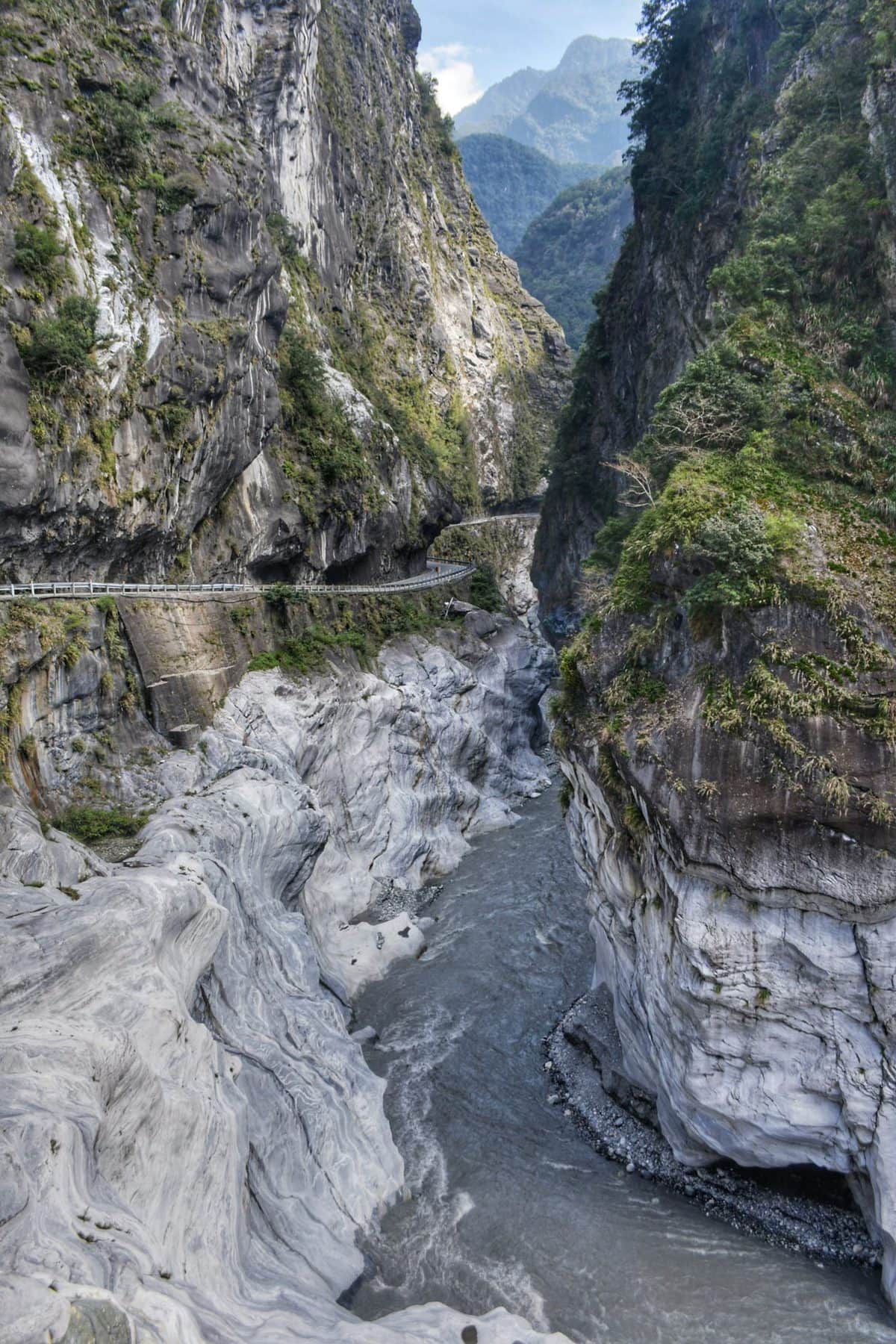 Taroko Gorge should be included in any Taiwan itinerary, no matter what. When we first researched online this famous Taiwan point of interest we weren't impressed by the pictures, and almost decided to skip it, we couldn't have been wronger.
The truth is, it's very difficult to capture the magnificence of Taroko Gorge on picture, the cliffs are so tall they will not fit even in the widest lens.
There are several hike opportunities in Taroko, some short ones, and a couple of very spectacular long trails, which require applying for a special permit in advance, be warned.
Exploring Taroko entirely by bus, stopping only at the so-called highlights, it's possible but not a great idea. If you have your own means of transport that would be the best.
What we did was taking the bus from Hualien and get down at the last stop, then just walked down, following a few hike paths and mostly the main road. The scenery was constantly astounding, and we are glad we didn't miss an inch of it.
Hualien is a cool city, a great stopover for those backpacking Taiwan. It has the cheapest accommodations in the whole country (yes, we'll call it a country) and one of the best night markets.
Hualien has a vast aboriginal minority, and you'll have the chance to taste some of their traditional food in this market, together with some opinable fusion cuisine. The further you go south along the east coast the more aboriginal people you'll meet, it's very interesting to learn about the original inhabitants of this island.
We advise spending one day hiking in Taroko, getting back to Hualien to sleep, if you want to do the longer hikes, add 1 more day.
---
8. Shitiping, Sanxiantai, and Xiaoyeliu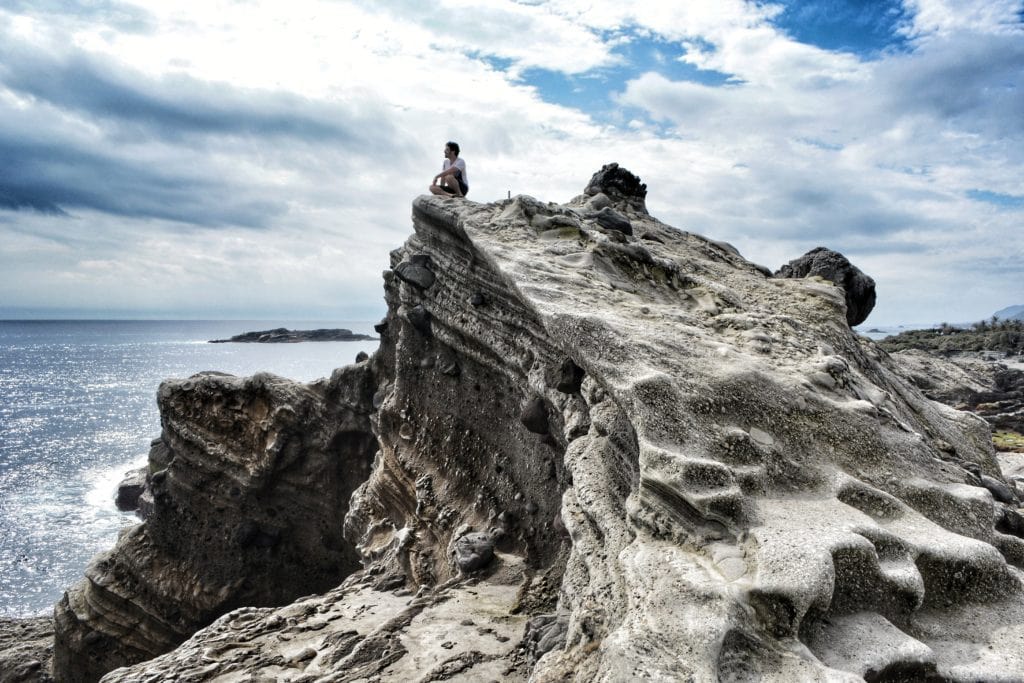 Shitiping is a small coastal area about halfway between Hualien and Taitung, it is not a must to include in a backpacking itinerary, but it certainly is a great stopover if you're cycling Taiwan. There are an official campsite and a few more gazebo where to pitch your tent with a spectacular view, if you like to be on your own.
There are also a few overpriced hotels, the best choice being the secret one just before the north entrance of the scenic area, ask the shop, they have rooms upstairs.
The peculiarity of Shitiping is again weird rock formations, really worth spending one hour taking pictures and admiring the alien landscape.
Sanxiantai is an islet connected to the mainland by a beautiful pedestrian bridge, made into a series of arches which reminds of a dragon, the islet's landscape is also pretty cool. Nearby, a few km north, is a small aboriginal village famous for goat breeding, a funny place to spend a night.
Xiaoyeliu is again another rock formations area, surrounded by a sort of botanical garden full of rare and beautiful plants. Also here there's an official campground.
You can stop to visit Shitiping while heading south to Sanxiantai and Xiaoyeliu, all of these places make as nice and relaxing 1-night stopover if you have time, especially if you're traveling by bicycle.
---
9. Jiupeng desert and Nanren shore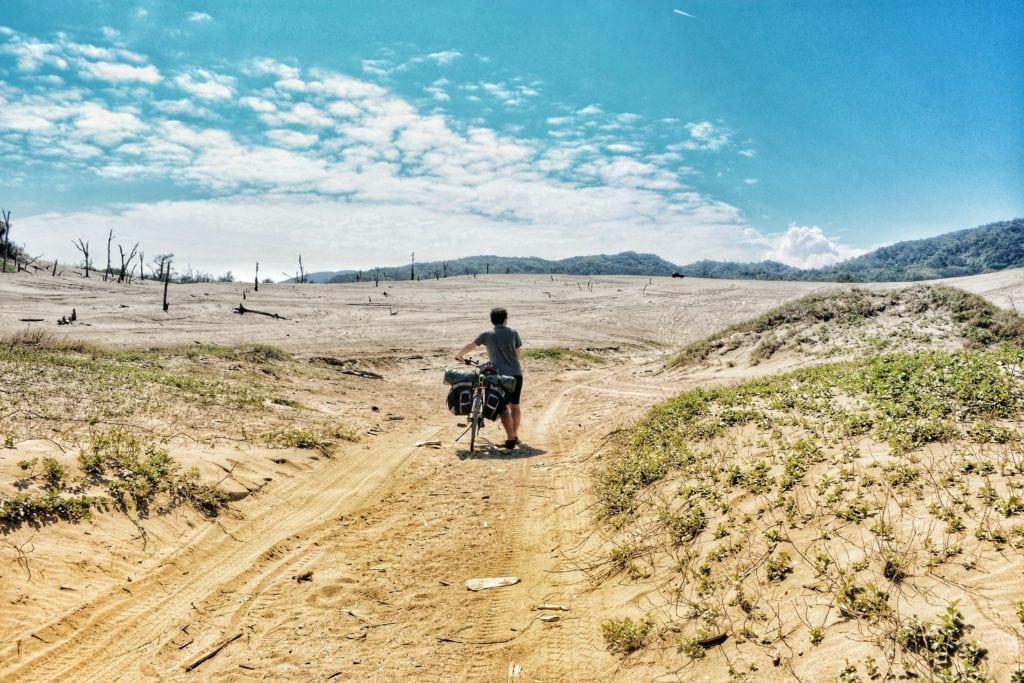 Jiupeng desert is a unique piece of landscape in this part of Asia. It's basically a big beach, about 2km long, surrounded by very tall sand dunes. It looks like being teleported straight from another planet, a desert cut-out from a lush green landscape.
It's possible to go on quad-bike or 4-wheel-drive guided tours for quite expensive prices, do it only if you don't care about destroying a beautiful and unique place. Otherwise, just take a walk and admire it respectfully, if the weather is good it's also a great place for a dip in the ocean.
Nanren shore is a short stretch of underdeveloped coastal road featuring spectacular beaches, very good for surfing, special vegetation, and, again, a campground. Remote and beautiful, keep in mind though that you'll have to backtrack, although Google shows a small road following the coast after Nanren Fishing Harbor this doesn't exist.
We advise spending one day exploring the area, half a day if you're more on a rush
---
10. Manzhou Township and Aboriginal villages area
The cute little town of Manzhou is at the center of a hilly area where many aboriginal villages can be found. It's a forested area really worth exploring, with plenty of amazing narrow roads where to ride your bike or scooter while getting in touch with the native Taiwanese people.
We advise spending one day getting lost in this beautiful area
---
11. Fengchuisha and Longpan Park
There are many reasons to make it all the way down to this southernmost province of Taiwan during your itinerary, but the biggest reason is to visit Longpan park.
This section of coast is really alien, sweet grassland abruptly interrupted by spectacular cliffs, leading down to a shore where mesmerizing trees and absurd potholes form an unbelievable sight.
Fengchuisha is basically a viewpoint over a huge dune, with a large beach down below. Absolutely worth a stop and a few pictures. Avoid instead losing your time to get to the southernmost tip, just an ugly concrete monument waits for you there.
You don't need to sleep here, you're just a stone throw from Kenting and Hengchun.
12. Kenting, Hengchun, and White Sand Bay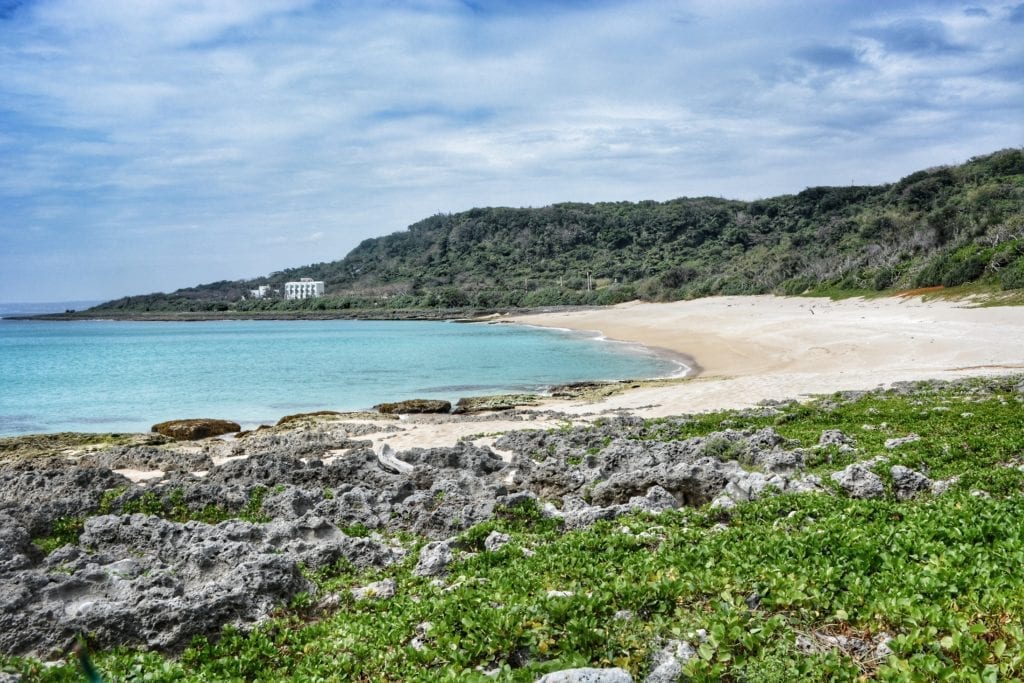 Kenting is the Taiwan backpacking mecca, you'll see plenty of foreigners here, so the local business adapted to the average backpacker's market.
Accommodation everywhere, pancake restaurants, and so on. If you like the backpackers' vibe this is definitively the place to stay. There are 3 very nice beaches near Kenting central area, with pristine water and some noisy watersport activities.
Hengchung is the major town nearby, and we personally liked it more there than in Kenting. There's a more local atmosphere, with a nice town center which is closed to vehicular traffic in the evenings.
Southwest of Hengchung is a small peninsula, a rural area interesting to explore by bike or scooter. On its western shores is the beautiful White Sand Bay, featured as a film location in the movie The Life of Pi, by Ang Lee.
---
Check also
Everything you need to know about cycling Taiwan
Hiking and hot spring in Yangmingshan National Park
How to rent a bicycle in Taiwan
Never did a bike trip before?
Have a look at our beginner's guide to bike touring
---
Follow us on Facebook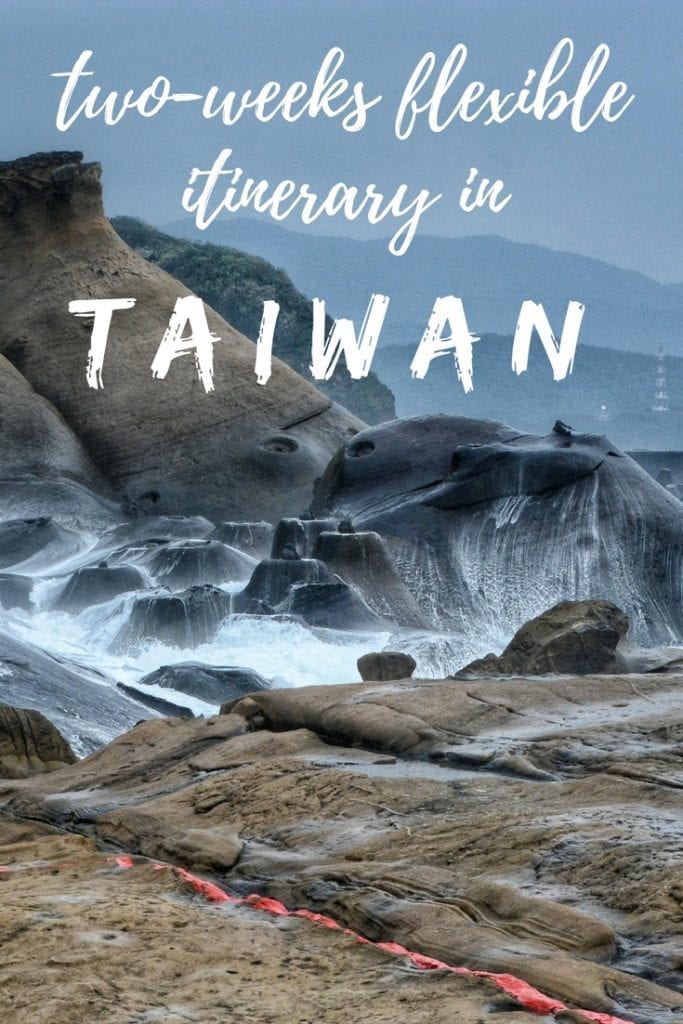 [sc_fs_multi_faq headline-0="h2″ question-0="FAQ about Backpacking in Taiwan" answer-0="" image-0="" headline-1="h3″ question-1="is Taiwan Cheap?" answer-1="Taiwan is a relatively cheap country. It's more expensive compared to most Southeast Asian countries (eg. Thailand or Cambodia) but cheaper than Japan or South Korea. You can travel around Taiwan with a budget of 10 to 50USD x Day. Food can be very cheap, a nice meal could cost you 3/4USD at the night market." image-1="" headline-2="h3″ question-2="is Taiwan safe?" answer-2="Taiwan is a very safe country. Criminal rates are very low, Taiwan ranks in 6th among the safest countries in Asia. Beware of car traffic though, cause it can get heavy." image-2="" headline-3="h3″ question-3="is Taiwan boring?" answer-3="Not at all! Who told you that?! Taiwan is a very modern country with loads of things to do, bustling city nightlife and many outdoor activities. Food is great and very diverse. Itàs hard to get bored in Taiwan." image-3="" count="4″ html="true" css_class=""]
Stay in touch while we get lost! Follow us on Social Media