Yangmingshan National Park
a Taipei hiking and hot spring itinerary
If you're looking for hiking and hot spring opportunities in Taipei, you should absolutely include Yangmingshan in your itinerary.
Yangmingshan National Park is a wide (114 square KM) mountainous and volcanic area located north of Taipei City, very easy to access from downtown. The area is famous for its hiking trails, vegetation and wildlife, volcanic features and hot springs.
Comprising different altitudes, ranging from 22msl to the 1,200 of Qixing Mountain, its flora is very variegated, from black pines, acacia trees, tea plantations, and the Formosan sweet gum, to a great number of seasonal flowers, rhododendrons and cherry blossoms in February and March, callus lilies in April and May, azaleas from May to October and silver glass throughout the year.
The Japanese influence on the area is highlighted by the area's countless hot springs around Beitou and Xingyi Road, some of those are public, many belong to private resorts, and a few are still wild.
Some popular Yangmingshan highlights are Xiaoyoukeng (Mt. Qixing), Lengshuikeng, Qingtiangang, Zhuzihu, Yangming Park Flower Clock and Erziping. Among which, Flower Clock and Zhuzihu are particularly popular during spring and the annual Yangmingshan Flower Festival.
Planning a trip to Taiwan? Check also
Disclosure: Some of our articles contain affiliate links. This comes at no additional cost for you and helps us keep this website up and running. (as Amazon Associates we earn commission from qualifying purchases)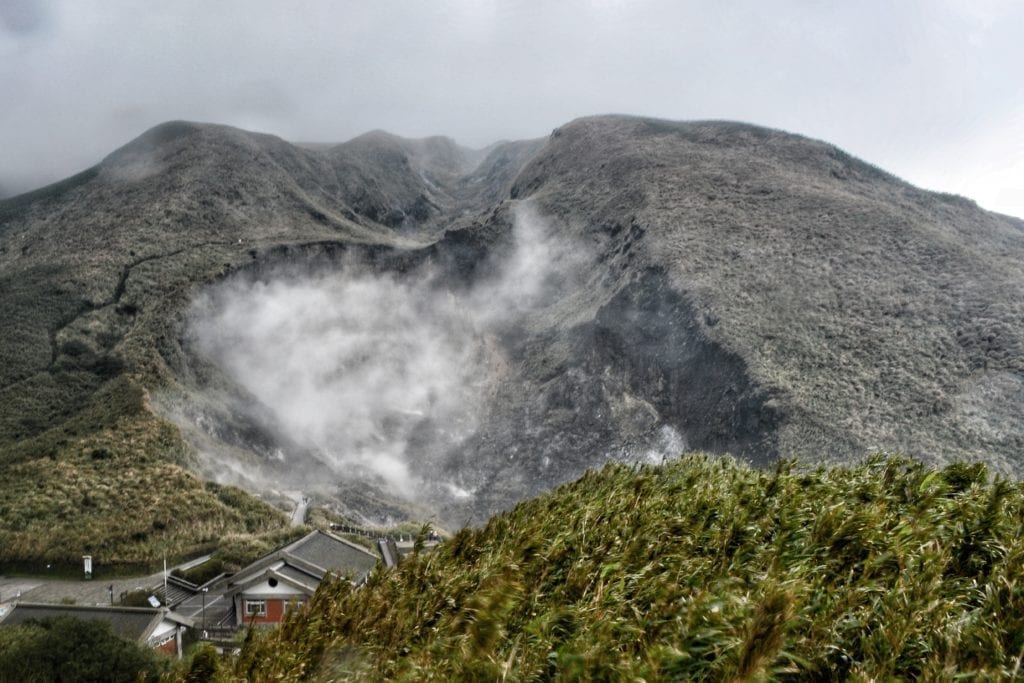 Taipei, Yangmingshan hot springs and hiking itinerary (1-day)
Check-in at your hotel in Beitou, arriving the night before will save you a lot of time
Take bus S9 to Xiaoyoukeng parking lot
Hike the Qixing Mountain trail
Soak in Lengshuikeng hot spring
Roam and relax in Qingtiangang Grassland
Take R5, S15 or S17 back to Taipei and then the MRT to Beitou
be sure to check the last bus departure schedule from this website
Beitou Hot Spring village in Taipei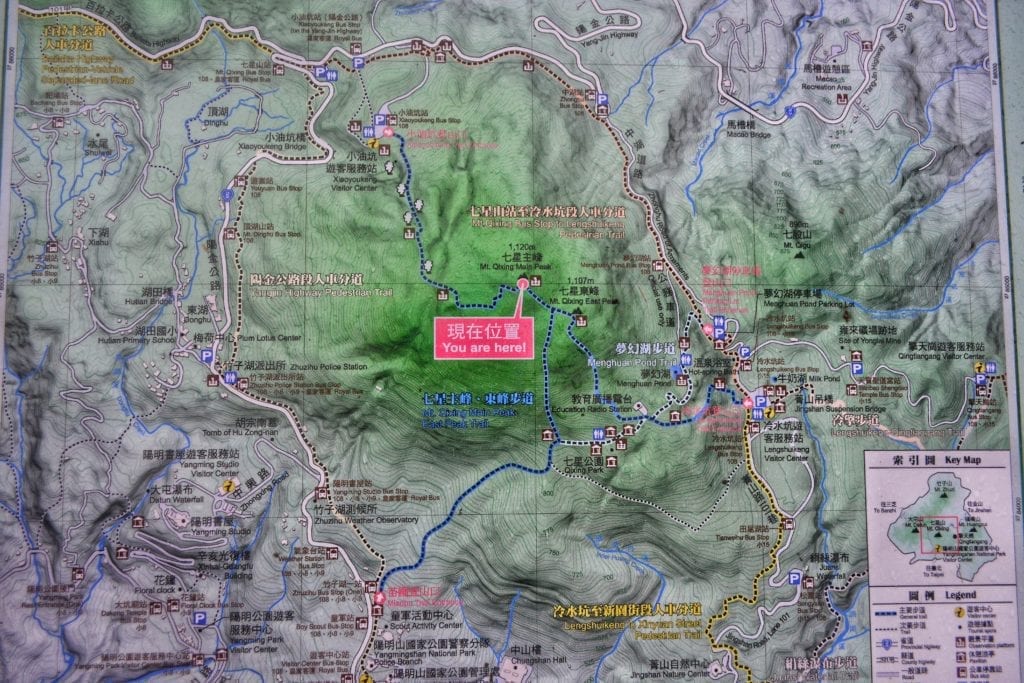 Feeling like a foothill countryside town, despite being still in Taipei city, with the great advantage to be reached by subway, Beitou must be included in your Taiwan itinerary.
It is here that all the hot springs in the Taipei area are, mostly inside the hotels but with one public bath really worth visiting (nice local lifestyle insight and terrific sulfuric water).
Beitou is a great base to hike the Yangmingshan National Park, from here you can catch bus S9 that will bring you all the way up to where the main trail to hike Yangmingshan volcano starts.
Where to Stay in Beitou
Hot Spring equipped accommodation is plenty in Beitou, so if you want to relax for a few days that's really a great spot. Here are our picks:
Beitou Hot Spring Resort offers elegant rooms with parquet flooring and a private hot spring bathtub. Rooms also have Air-con, a work desk, a flat-screen cable TV, fridge, seating area, tea/coffee making facilities.
Beitou Hot Spring Resort arranges also tours and activities and features a public hot spring pool. The in-house restaurant serves exquisite local cuisine and offers complimentary breakfast.
The Gaia Hotel SPA (250USD+ per night)
If you really want to splurge, this is the place for you. Gym, hot spring, sauna, outdoor swimming pool, hydrotherapy pool, and SPA centre. In addition, the hotel has free shuttle service between the hotel and MRT station.
Chyuan Du Spring Hotel (80USD+ per night)
If you still want in-house hot springs but don't want to sell a kidney, here's a budget friendly option for you which is great value for money.
The Chyuan Du is a great place to stay in Beitou, situated just a minute's walk from Xin Beitou MRT Station, it offers spacious rooms with a hot spring bathtub. It also features a business centre and complimentary Wi-Fi access.
On My Way Hostel (35USD+ per night)
For those on a budget, or just looking for a cool hostel vibe, On My Way Hotel is a very good option. Simply furnished, rooms at this hostel come with air conditioning, parquet flooring, desk, and personal reading light. Guests have access to a shared toilet and bathroom with shower facility.
On My Way – Taipei Hostel offers luggage storage, while a microwave oven, fridge and a common dining area is available for guests' use. Sightseeing activities and travel arrangements can also be made at the tour desk. The hostel is just an 8-minute walk to Beitou hot spring area.
Not sure yet? I know, Beitou has a lot of beautiful hotels to choose from, compare them here and make your choice wisely!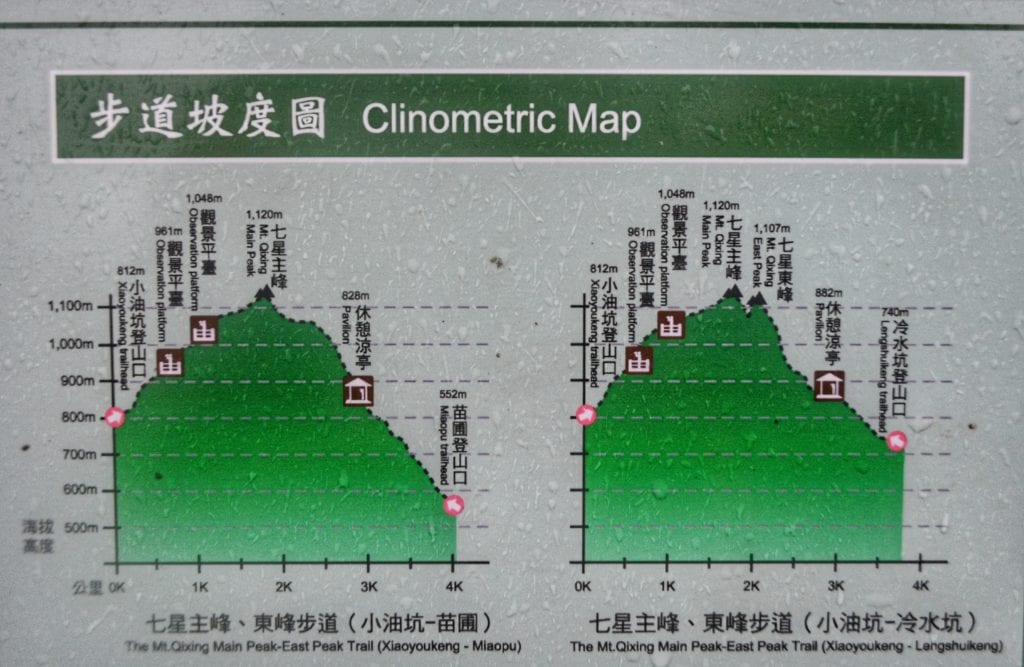 The best Yangmingshan hiking trail – Mt. Qixing
There are quite a few hiking trails in Yangmingshan National Park, but if you have to choose only one absolutely go for Qixing Mountain (Seven Star Mountain)
Qixing Mountain (1,120msl) is the highest mountain in Taipei and the tallest volcano in Taiwan. Located in the center of Yangmingshan National Park, in the Datun Volcanic Group began erupting about 700,000 years ago, it is now considered dormant but volcanic activity, in form of fumaroles, hot springs, and sulfur pits, is plentiful and evident.
This amazing Yangmingshan hiking trail starts at Xiaoyoukeng parking lot (786msl) and finishes at Miaopu (Qingtiangang Grassland) Yangminshan bus station (536msl). It is possible, of course, to hike the trail in the opposite direction, from Miaopu to Xiaoyoukeng, but it will take slightly longer.
Xiaoyoukeng is a post-volcanic geological landscape area located at the northwestern foot of Mt. Qixing, approximately 805 meters above sea level. It is here that many of the famous fumaroles, sulfur crystals and landslide terrain formed by volcanic activity are found.
From the visitors center, the trail starts with a series of steep steps, leaving the Xiaoyoukeng area on your right. All around the landscape is covered in mesmerizing silver grass, dotted by smoke pinnacles and bubbling muddy springs.
The trail is very well maintained, easy to follow and accessible even to kids, it's though a bit tiring, be warned. Also, note that the visitor center was closed undergoing restoration during the time of our visit (February 2018), so neither drinks nor snacks are available at both trailheads, pack water and food beforehand.
Qixing hiking trail is 5.7km long, it takes from 2 (very fast) to 3 hours and a half

Lengshuikeng
Lengshuikeng (冷水坑) is a public hot spring facility situated at the foothill of Mt. Qixing, near the Miopu trailhead and Qingtiangang grassland. It is a perfect rest spot to soak your limbs in hot sulphuric waters after the long Yangmingshan hike.
The water is not as hot as in other hot springs in Beitou and Yangmingshan area, reaching only 40°C (104°F), which is relatively low and hence the name Lengshuikeng (cold water pit).
There is a small restaurant/café, a formal hot spring building (where visitors are separated into genders and must enter nude), as well as an outdoor foot-soaking pool.
The entrance is free.
Qingtiangang
Qingtiangang (擎天岗) is one of the most scenic locations in Yangmingshan National Park. It's a vast expanse of grassland used as pasture. If you want an easy hike, or have no time to do the Mt. Qixing trail, the 2.4km long Qingtiangang Circular Trail is a good alternative.
Qingtiangang Circular Trail is the easiest trail in the park and a popular spot for picnic and wedding photoshoots.
A Yangmingshan itinerary through abandoned mines
Yangmingshan area is very rich in sulfur and has been mined for centuries to extract the precious minerals. Luckily, in recent years, conservation won over mining business and all mining operations have been shut down due to environmental effects.
Nowadays hikers can visit abandoned mines such as the one at Liuhuanggu.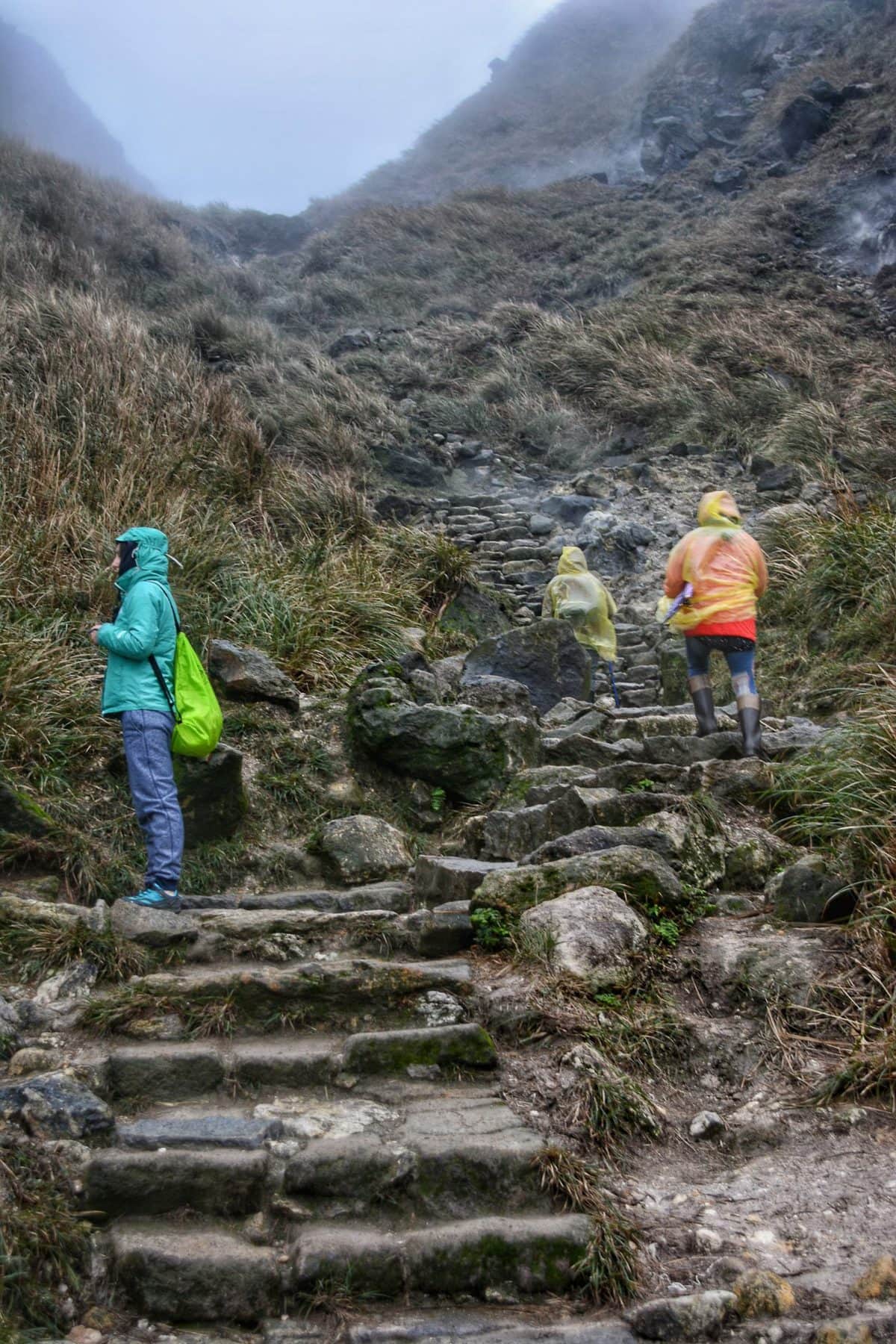 Bayan Wild Hot Springs in Yangmingshan
Bayan Wild Hot Springs in Yangmingshan (八煙野溪溫泉), is one of the few hot springs in the area which remained wild, unfenced, and uncommercialized. Its relative difficulty of access as contributed in keeping it at its natural state.
The most convenient way to get there is by car or scooter (provided your scooter is up to a mountain excursion), but public transportation is also an option.
Take bus 1717 from Taipei Main Station, just outside the M8 Exit, which takes you to the Bayan Hot Springs Resort. From the main road outside the Bayan Hot Springs Resort, take the road towards the resort, and before you enter you'll see the trailhead.
From there, go down the trail and start walking alongside the river, heading upstream. At one point you'll have to ford a small stream.
After you've crossed the stream, follow the trail uphill. You'll see a warning sign threatening trespassers with an NT$15,000 fine, but according to the locals, that's there to protect the park from lawsuits in case of injury. Continue past the sign and you're there.

Getting in and out Yangmingshan National Park
We advise spending the night in Beitou when hiking Yangmingshan. To reach Yangmingshan from Beitou you can catch bus S9, opposite the subway station, it will bring you all the way up to where the main trail to hike Yangmingshan volcano starts. It also does several stops in-between, around other points of interest in the National Park area.
S9 only comes by every 40 minutes, check the schedule on this website or scan the QR code printed on the bus stop signpost under S9 section.
From MRT Jiantan station (劍潭), Exit 1 (Shilin Night Market) you can catch R5, S15 or S17, all of these go to Qingtiangang Grassland, which is the last stop. There are about 41 stops, the buses run every 20 minutes. It takes about an hour, depending on traffic, to reach Qingtiangang.
If you do this, you'll hike the Qixing trail from the opposite direction, so we advise to use this route to get back to your accommodation, or in case you only wish to hike Qiantangang.
be sure to check the last bus departure schedule from this website, between 5 PM and 6 PM, according to the season.
Bus fares are 15NT, if you're spending a few nights in Taipei area, you can purchase a Taipei EasyCard.
Another great idea would be renting a bike in Taipei City Center and ride there. There are many cycling paths and the park is great to explore on a bike (need some fitness though, as there are quite some steep hills. We recommend the cool guys at MathewBike, way more relaxed then the Giant rental shops. Learn more about renting a bike in Taiwan.
Planning a trip to Taiwan? Check also
Stay in touch while we get lost! Follow us on Social Media