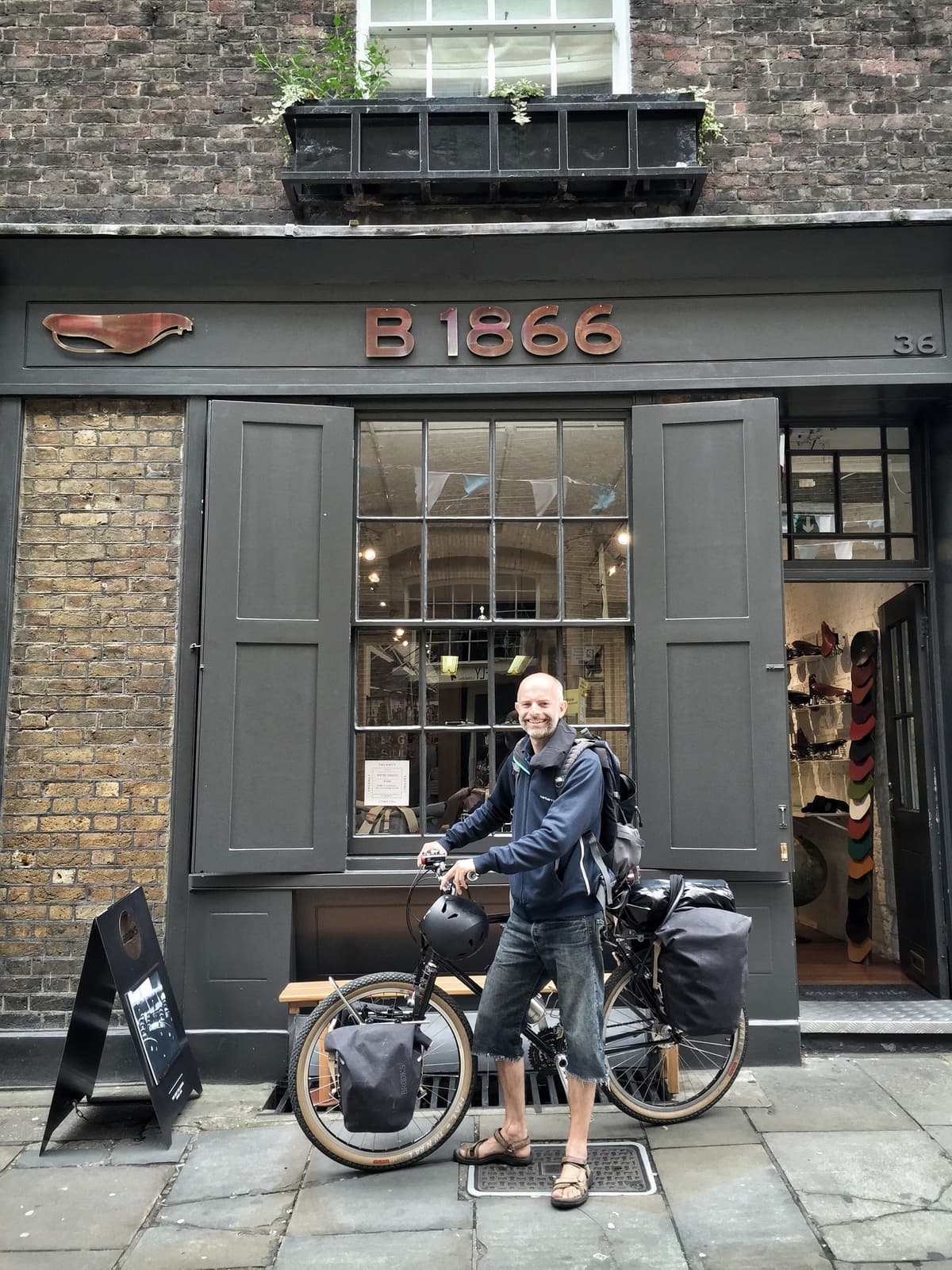 One of the top custom touring bike designers in the UK (and the whole world), Simon Stanforth, tells us about the birth of Stanforth Bikes
When my 80-years-old beloved bike died in Laos I needed to find a new rig for my world trip, and I knew it wasn't going to be easy to replace a bike like mine. I needed something equally special, so I started digging into custom-made bicycles. That's when, thanks to a fellow bike traveler, blogger, and friend, I found out about Stanforth Bikes, and I immediately fell in love with the elegant design.
Now (May 2018) my brand new custom made Stanforth Kibo Dirt Drop Expedition is waiting for me in Brighton UK, where Stanforth Bikes is based, and I can't wait to ride it from the Arctic to the Antarctic.
During this last months, I've been in touch with Simon, owner, and founder of Stanforth Bikes, and since I became more and more passionate about custom-frame building and design I decided to ask him a few questions, so here's our
Interview with Simon from Stanforth Bikes
Kibo expedition bike ???? @mayu_elliot #loadedtouring #worldbybike #ridewithaview #expeditionbike #steelbike #steelisreal #steeltouringbike #framebuilding #luggedframe #explorebybike #discoverbybike #aroundtheworld #ridetheworld #biketouring #cycletouring
Hi Simon, thanks for accepting this interview. First of all, tell us something about yourself and how did you become passionate about bicycles
I'm mid-forties, I live in Hove on the south coast of England, and have been passionate about bikes all my life. From hearing at a very young age about my great-great-grandad cycling in the 1908 Olympics in the Herne Hill Velodrome and getting my first road bike at 6, it was in my blood at a young age. My Dad took over Saracen Cycles in 1985 which was when my passion and involvement took a big step up…
I used to test the Saracen mountain bikes in my teens and mountain biking is still one of my favourite types of cycling, but it's touring which has always been closest to my heart. In the same way, mountain biking can take you away from everyday life, touring does the same thing but to a much greater extent. Going further whilst being self-supported gives an unrivalled sense of freedom. Being able to discover new countries, new cultures, amazing landscapes all by your own power really is fulfilling.
I suppose the first moment I saw this was when the Crane cousins were doing talks after they were the first people to cycle up Kilimanjaro. They'd done it on Saracen bikes so my Dad had asked them to do some talks about the trip – the photos and their stories had a big impact.
Have you done any extended bike trips?
Not as extended as I would like… Many 2-4 week tours including Sweden, Denmark, France, Spain, New Zealand, Vietnam, and closer to home in the Scottish Highlands and most areas of the UK.
Disclosure: Some of our articles contain affiliate links. This comes at no additional cost for you and helps us keep this website up and running. (as Amazon Associates we earn commission from qualifying purchases)
When and how did you decide to start manufacturing bicycles? Why touring bikes?
I started manufacturing in 2014 but I had decided long before then. I've always had an interest in geometry and touring bikes. As I've had the opportunity to ride so many bikes through my father's company I was keen to understand how handling changed as the geometry of the bike was altered, particularly how different geometries and tubesets responded to loaded panniers. About 5 years ago I decided the time was right to launch my own touring bike, the 26″ wheeled Kibo expedition bike.
Are you both designer and frame builder?
I design the frames and Lee Cooper builds the majority of them, either using lugs or fillet brazing. Lee is probably the most experienced frame builder in the UK; he's been building frames since the mid 80's week in week out. He was building frames for my Dad's company over 30 years ago. He's a master builder so every frame is built to a high standard.
We know you customize bikes starting from a few different models, can you describe them and the differences between them?
There's three ranges – the Kibo, Skyelander, and Conway.
The Kibo is the fully loaded, go around the world, across all terrain that the expedition takes you.
The Skyelander is the classic tourer. We do both 700c and 650b versions. The 700c is a classic British tourer with rim brakes and bar-end shifters, also very able on a world tour. The Skyelander 650b is more of a classic French randonneur tourer.
The Conway, recently launched, is a faster tourer, designed with input from lightweight touring specialist Sean Conway. It's designed for touring at pace with lighter baggage. It comes equipped with disc brakes and STI road transmission for higher gearing than the Skyelander and Kibo. Sean Conway has just broken the world record for the fastest unsupported crossing of Europe on this bike.
Update! Stanforth has recently released a new expedition model, the Stanforth Pamira – read our first impressions here.
What makes a bike a great touring bike in your opinion?
A bike that is comfortable for the rider is paramount, which is why custom geometry is important. It must be durable and fixable. It must be fit for purpose, by that I mean the tubes and components have been selected for the task that it needs to deliver, whether that be for fully loaded touring, or fast touring, or off-road touring.
What's the biggest challenge for a frame builder?
I think in the UK it's hard for frame builders to compete with the much cheaper frames and bikes that come from the Far East. It is very unusual to see a British-made frame in a bike shop.
I do think that if there's one type of bike that justifies having custom geometry and made by a top frame builder then it's a touring bike. A bike that you will be in the saddle on for many hours in a day. A bike that you will need to rely on whilst away on tour. A bike that needs to be strong enough to take loaded panniers. This is where a bike well made to suit the individual really comes into its own.
How do you choose the components?
On the standard models it's a combination of factors, the type of riding the bike is designed for. So, for example, the Kibo needs to have more of a tougher transmission with lower gearing for the loaded panniers in various terrains. Easily fixable is a key factor on a tourer which is why we don't have hydraulic brakes as standard on any of our bikes. Durability is also important on a world tourer.
I also find expedition and touring forums really useful where people share their experiences with what's working and what's not – in some ways, this is the most insightful research and has a big influence in our component selection.
How is the custom touring bicycles industry doing? Do you perceive it as growing?
Touring bikes are definitely in growth, but I think custom bikes remains steady. Part of the growth is coming from the bikepacking trend which is a form of touring, it's not new but just a new definition which is capturing people's attention. So I've seen a few tourers switching their panniers for frame bags, and mountain bikers venturing away for longer on bikes marketed as a bikepacking bikes or gravel bikes.
What are your plans for the future? Any novelty coming out?
We will always look to improve our bikes, testing out new components, it's something I love doing. I also speak to a lot of our customers about the components whilst they're on extended trips to see how they're performing. We've done a lot of developing and launching new bikes over the last couple of years, so I think it's now about establishing these. We've now got bikes for all types of touring, fully loaded to fast, and if there's a specific tourer someone is after we make a custom one for them.
As the bike industry is constantly innovating and introducing new components and methods we are always testing and assessing their suitability for touring.
---
Visit the official Stanforth Bikes Website
Like Stanforth Bikes on Facebook
Have a look also at
35 best custom touring bike frame builders in the USA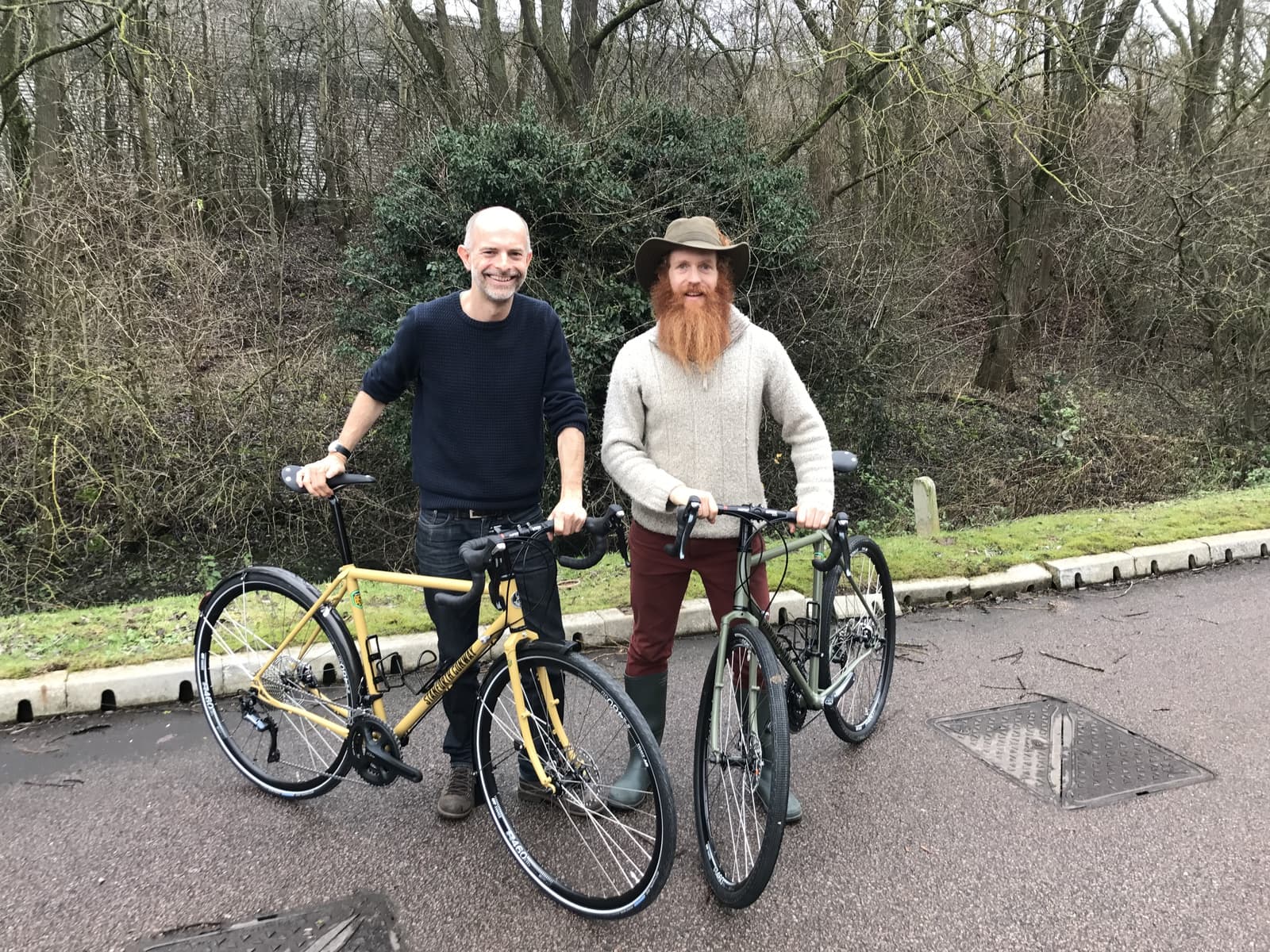 Stay in touch while we get lost! Follow us on Social Media