Ridley Kanzo Fast - Review
Pros
affordable
firm and compliant road grip
comfortable
fast and nimble
multiple colors
Cons
limited off-road capability
single front chainset
tires with excessive rolling resistance
one-piece cockpit limits adjustability
Ridley Kanzo Fast gravel bike, a review for 2022
Classified GRX VS Campagnolo Ekar VS GRX800 VS SRAM Rival 1
Frameset, geometry, tire clearance, weight, speed, groupset, specs
Disclosure: Some of our articles contain affiliate links. This comes at no additional cost for you and helps us keep this website up and running. (as Amazon Associates we earn commission from qualifying purchases)
Frame
Advanced-Grade Composite Carbon, 12mm thru-axle, disc
Drivetrain
1×11 / 1x 13
Brakes
Hydraulic Disc Brakes
Tire Clearance
700x42c
Size
XS to XL
Weight
6-10 kg depending upon the size
Size M: 8.56KG
Price
from $3,299.00
The Ridley Kanzo Fast gravel bike provides a robust cycling experience on different terrains, gravel, and tarmacs. This allows you to have a comfortable ride on any surface with maximum comfort and resilience to stress.
The Kanzo Fast for 2022 features a Carbon 30T carbon frame and a fork with a 12mm thru-axle frame, which provides the cycle with ultimate control over different land types. The bike's frame also includes WTB Venture tires that allow a robust grip over the land regardless of the weather conditions, although not offering the smoothest rolling resistance.
The bike has a higher stack and a shorter reach, providing efficient body shape and movement along the ride. The Ridley Kanzo Fast allows you to have a comfortable ride on the roughest patches.
The riding style can be adjusted as per the rider's requirement. Including different sizes, the rider can adjust the components as per their requirements.
The bike includes a Kanzo Fast Aero handlebar which provides a proper grip and smooth aerodynamics, with hydraulic brakes and an 11 gear single chainset.
Pros
affordable

comfortable
firm and compliant road grip
fast and nimble
multiple colors
Cons
limited off-road capability

single front chainset

tires with excessive rolling resistance
one-piece cockpit limits adjustability
Ridley Kanzo Fast
Classified VS Ekar VS GRX800 VS SRAM Rival 1
Kanzo Fast
Classified GRX800 DI2
Kanzo Fast Campagnolo Ekar
Kanzo Fast Shimano GRX800
Kanzo Fast SRAM Rival1
Groupset
GRX Di2
Ekar
GRX 800
SRAM Rival 1
Drivetrain
Electronic 1 × 11
1 × 13
1 x 11
1 × 11
Cassette
Classified GRX // 11s // 11-34
Campagnolo EKAR // 13s // 9-42
Shimano XT M8000 // 11s // 11-42
SRAM // PG-1130 // 11-42T
Rims
Forza Vardar db // TA 12x142mm // Clincher-TLR // Classified hub // 17mm Internal Width // 45mm deep
Fulcrum Rapid Red 500 DB // Campagnolo N3W // Clincher-TLR
Forza Norte db // Shimano-Campagnolo 11s // TA 12x142mm // Clincher // Forza 3 Beaufort // 20mm Internal Width // 23mm deep
Forza Norte DB
Price
€6,799
€5,399
€4,199
€3,299
Ridley Kanzo Fast Gravel: Geometry
With the Kanzo Fast, Ridley welcomes in the rooster an aerodynamic gravel bike with race oriented-geometry.
The frame is indeed based on the Noah Fast, Ridley's aerodynamically-optimized road bike,
With a few tweaks, the Belgian brand has adapted the design for gravel riding. The carbon frameset offers clearances for up to 700 x 42C tires and is compatible with the interesting Classified geared hub.
The bike's competitive ambitions are ever-present aboard the Ridley Kanzo Fast with an aggressive and stretched riding position.
The 168 mm long head tube though, offers a tad of relief, allowing a relatively more relaxed rider position.
The transition between the fork and frame, the F-Wings at the bottom of the carbon fork, the fully integrated cable routing and the aerodynamic, and the one-piece carbon cockpit are great features that place this bike in a different league.
Ridley offers plenty of customization and configuration options for the Kanzo Fast. All the groupset options you could imagine (for this league), plus 42 colors, and 7 designs. One downside though, the frame is only compatible with 1x drivetrains.
| Size | S | M | L |
| --- | --- | --- | --- |
| Seat tube | 495 mm | 520 mm | 545 mm |
| Top tube | 547 mm | 565 mm | 587 mm |
| Head tube | 144 mm | 168 mm | 197 mm |
| Head angle | 71.0° | 71.5° | 71.5° |
| Seat angle | 73.5° | 73.0° | 72.5° |
| Chainstays | 425 mm | 425 mm | 425 mm |
| BB Drop | 72 mm | 72 mm | 70 mm |
| Wheelbase | 1,017 mm | 1,026 mm | 1,044 mm |
| Reach | 380 mm | 385 mm | 393 mm |
| Stack | 563 mm | 587 mm | 613 mm |
Ridley Kanzo Fast: Riding Experience
The Kanzo Fast is a fast (indeed) and nimble gravel rig with a sporty feel balanced by the right dose of comfort.
Thanks to its compliance and the ability to absorb small bumps and high-frequency vibrations, it's a comfortable gravel bike for long-distance rides on mixed terrains.
Although larger bumps and rocky roads are not its cups of tea, the Ridley always remains predictable, stable, and stiff.
The Ridley Kanzo is an extremely responsive bike with a great performance in acceleration and a flowing feeling at moderate speeds.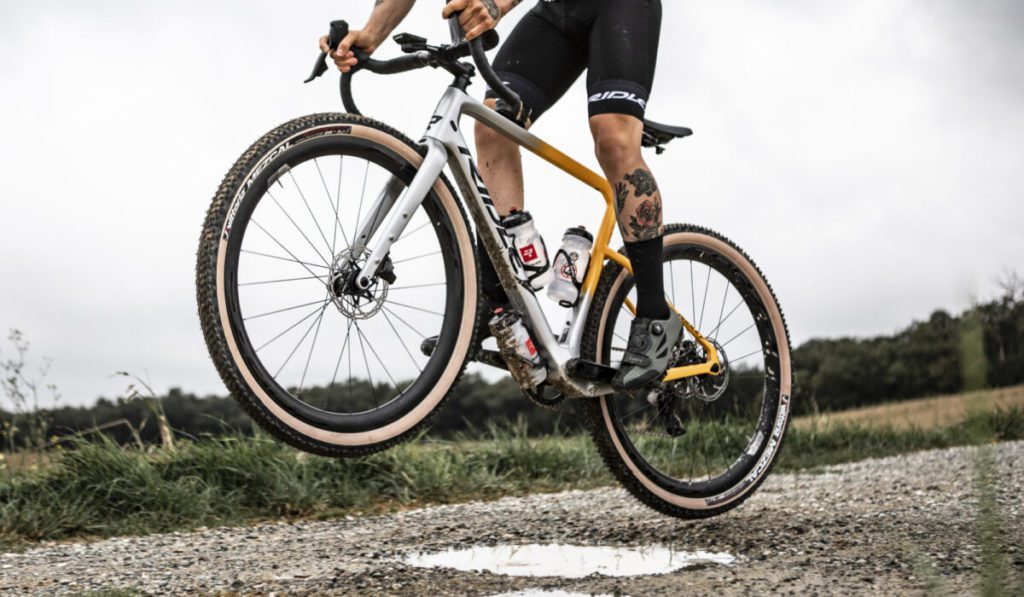 Ridley Kanzo Fast GRX Specs
For our detailed component overview, we've chosen to analyze the GRX version among the many build options offered by Ridley.
Weighing in at 8.56 kg in size M, it comes with a 1×11 Shimano GRX RX815 Di2 groupset with Rotor ALDHU aero cranks, a Forza Vardar db wheelset, and Ridley's Aero G1 cockpit.
Size compatibility is ensured at a component level by the different sizes available for the one-piece carbon cockpit and the proprietary Forza aero seat post.
The brake rotors are 160 mm front and just 140 mm at the rear and it comes with WTB Venture Road TCS tires – not the smoothest and fastest tires.
Wrap Up
For speed-lovers and competitive souls, the Ridley Kanzo Fast ambitious level will deliver an impressive performance on compact surfaces. Its stable handling and decent vibration-damping make it great for well-maintained gravel tracks but it's not enough to make it a proper off-road machine.
Overall, this is a great bike to go fast on tar and light gravel.
More Bikes:
> Yoeleo Gravel Bike Review! The G21 Carbon Frameset for 2022
> RIDLEY Fenix SLiC vs SLA [Review for 2022] Budget Aluminum to Top Carbon Road Bike
> Cervelo Aspero 5 – a Review for 2022!
> Niner MCR 9 RDO Review! Full Suspension Gravel Bike
> Trek Domane AL Review – Domane AL 2 VS AL 3 Disc VS AL 4
Buying guides
> 11 Top Gravel Bikes for Less Than 1000/1500$ – Reviewed for 2022
> Gravel Bike Touring – The Why and the 6 Best Gravel Bikes for Touring and Bikepacking
> 11+1 Best Gravel Bikes for Women – Gravel Grinding for All Budgets
> 11 Best Road Bikes for Ladies [from Cheap to Top, from Beginner to Pro]
Stay in touch while we get lost! Follow us on Social Media