Review: Cube Travel [2022] Touring Bike with a Cross Country Soul. Below $1,000!
Verdict
Probably the cheapest touring bike around. Great value for money!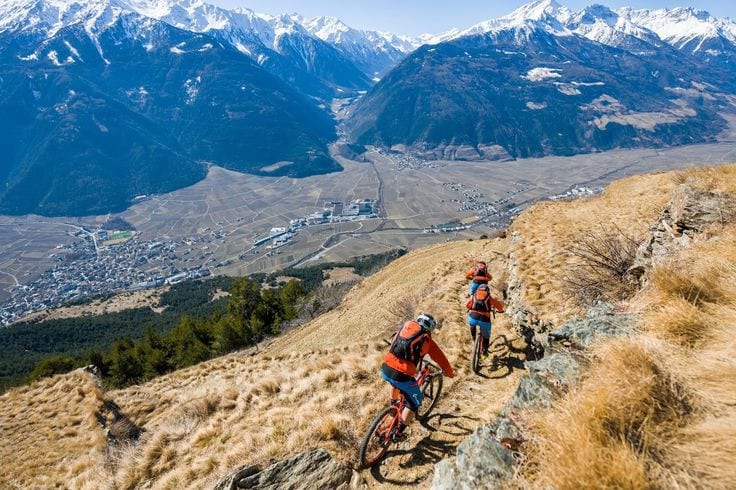 Review! Cube Travel [2022] Touring Bike with a Cross Country Soul Below 1000$ – Tire clearance, weight, gears
Cube Travel EXC VS Travel PRO VS Cube Travel SL
Frame Material: Chromoly Steel
Wheel Size: 29″ / 700c
Number of Spokes: 32
Number of Gears: 3 x 9
Max Tire Clearance: 2,15″
Drive Train: 48x36x26t x 11-34t
Weight: 15.2 kg / 35 lbs
Cube has one of the vastest and most varied catalogs ever. In fact, you may need a guide to spot this bicycle among the other ones: the Cube Travel stands last on the touring list section featured by Cube's ridiculously rich website.
The Cube Travel is not only one of the several bicycles the well-known German company assembles in its massive factory, but it is probably the most convenient bicycle on the market at the moment if you are looking for a flat bar 29er touring ready bike.
The Cube Travel Series is assembled with a unique combination of smart solutions that bring together all capabilities of the latest adventure bike models but adapted to fit a limited budget.
It's a classy 29er bicycle equipped with all desirable gadgets for a conventional touring setup, as it comes ready to ride with lights, fenders, and a rear rack.
The Cube Travel comes in four different version for 2022, we'll see them in detail in this article: For now let's just list name and prices.
Cube Travel – Price: $949
Cube Travel PRO – Price: $1,099
Cube Travel EXC – Price: $1,299
Cube Travel SL – Price: $1,899
Disclosure: Some of our articles contain affiliate links. This comes at no additional cost for you and helps us keep this website up and running. (as Amazon Associates we earn commission from qualifying purchases)
How we write our reviews: most of our reviews are based on first-hand long-term use or short-term test by a member of our team. For some new models or build variations, we rely on our experience with similar models and our team's experience in understanding bike geometry and components.
Cube Travel – The Frame Set
The frame is made with the patented Cube technology called "Aluminium Superlite'', using 7005 alloy tubes. All Cube Travel come with the exact same frame, except the trapeze version which of course has a slightly different geometry.
Follow this recipe if you want to make it at home:
Aluminium 91.0% – 94.7%
Chromium 0.06% – 0.20%
Copper <=0.10 %
Iron <=0.40 %
Magnesium 1.0% – 1.80%
Manganese 0.20% – 0.70%
Silicon <=0.35%
Titanium 0.010% – 0.060%
Zinc 4.0% – 5.0%
Zirconium 0.080% – 0.20%
Other, total <= 0.15%
This kind of tubing set lends the frame its major characteristics of stiffness, fatigue-proofing and corrosion-resistance. Tubes are double butted with thinner walls in the middle and thicker ones in proximity of the joints. Multi-profiled.
Tubes are conceived to create an aluminum frame that's both lighter and stiffer. Welding is smooth, resulting in a less-than-perfect, harmonious coating of seat and head tubes' junctions.
They are shaped with a slightly aggressive look; the seat tube is the only one with a rounded section in the visionary composition of this frame, that wouldn't be possible when using steel as production material.
The horizontal and lower tubes start with a thinner section at the seat tube's weld and gradually increase their section's thickness while approaching the head tube's junction. The horizontal tube literally hugs the head one. It surely is an eye-catching, forward-looking frame.
The rigid aluminum fork is solid like a tree trunk. It is composed by two symmetric and aerodynamic blades with a massive crown the same size of the head tube, resulting in a both accurate and versatile fork with enough clearance to run 29er tires up to 2.15 inches wide.
The fork has eyelets to mount low rider racks for a classic touring setup, but it doesn't support the cages which would be most convenient for the bike-packing purposes.
Two details contribute for a cleaner look: the rear rack is semi-integrated and the stand mount is nested in the chain stay.
Only the gear cables route inside the lower tube: the front derailleur cable comes out directly at the connection point, while the rear derailleur cable emerges less elegantly following the chain stay before to connect. The brake cables are placed outside the frame according to the old-fashioned standard.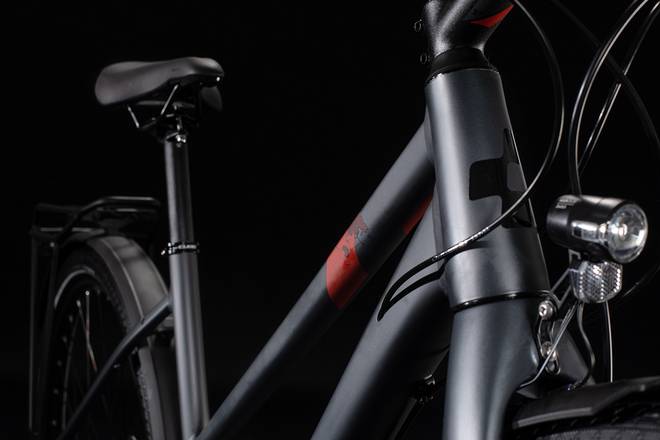 Cube Travel – Geometry
The overall geometry of the frame comes from MTB design, reinvented with comfort in mind. With a chainstay of 470mm, riders will need more than a natural push to perform a manual wheelie, and snapping the bike through tight corners won't come entirely spontaneous. The stable and relaxing position, however, can be modulated to handle some long off-road sections.
The seat-stay tubes don't join the seat tube at the same height of the top tube line; instead, they are welded few centimeters below, probably because of their large section. This solution partly recalls the rear triangle of more competitive models, without giving the same extra reactivity to the frame.
Both the seat-stay and chain stay tubes match the size of the other tubes' section, enhancing the general strength and balance of the structure. The final result is a perfectly integrated geometry not found in other high-end models, i.e. the Cube Travel Sport coming at almost double the price.
The chain-stay elegant curves would gain value once you'll upgrade the triple crankset to a more efficient double or mono crankset.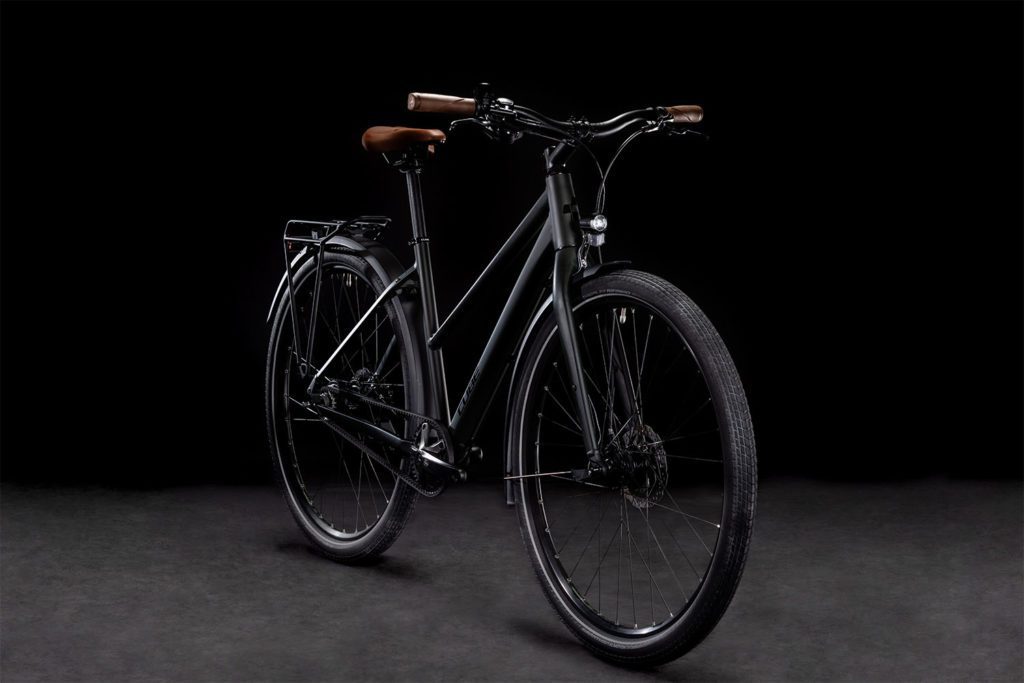 Cube Travel VS Cube Travel Trapeze Geometry
Since all the models of Cube Travel have the same geometry, although the EXC, being catered towards short riders, has a slightly lower top-tube. Here we'll just report the comparison with the step-through, or trapeze version of the Cube Travel.
A stack slightly longer for the Cube Travel Trapeze, and of course a much reduced standover height.; wheelbase is just 5mm longer in the diamond version.
| Bike | TRAVEL | TRAVEL Trapeze |
| --- | --- | --- |
| Wheels | 700c | 700c |
| Stack | 619 | 630 |
| Reach | 396 | 393 |
| Stack/Reach Ratio | 1.56 | 1.6 |
| Top Tube Length | 580 | 580 |
| Seat Tube Length | 520 | 520 |
| Head Tube Length | 155 | 165 |
| Head Tube Angle | 71 | 71 |
| BB Drop | 70 | 70 |
| Front Center | 642 | 638 |
| Chainstay Length | 470 | 470 |
| Wheelbase | 1103.4 | 1098.5 |
| Rake | 50 | 45 |
| Trail | 67 | 73 |
| Standover Height | 879.4 | 728.2 |
Cube Travel VS Travel PRO VS Travel EXC VS Travel SL
SPECS COMPARED!
The four versions of the Cube Travel differ only on a bunch of component. The basic budget Cube Travel is the only one featuring detailers, Sora and Altus for a classic 3×9 speed.
The Cube Travel PRO, EXC, and SL all feature a belt drive system with a Shimano Alfine 11 speed internal gear hub and a single chainring on the crank. A maintenance free system that is great both for touring and hassle-free commuting.
The Travel SL features Cube patented Super-Light Alloy and has the best components, being the most expensive. Besides the frame material, most of the price difference sits probably in the brake set, a Shimano Deore BR-M6000, Hydr. Disc Brake.
——-
Cube Travel
Travel PRO
Travel EXC
Travel SL
Online Price
€949
€1,099
€1,299
€1,899
Weight
15.2 kg
15.5 kg
14.1 kg
13.8 kg
Frame
Aluminium
Aluminium
Aluminium
Super-Light
Aluminium
Fork
Aluminium
Aluminium
Aluminium
SL Aluminium
Wheel Size
700c
700c
700c
700c
Brake Type
Hydraulic Disc
Hydraulic Disc
Hydraulic Disc
Hydraulic Disc
Groupset
Sora, Altus
1×11 Alfine
1×11 Alfine
1×11 Alfine
Drivetrain
3 × 9
Belt Drive, IGH
Belt Drive, IGH
Belt Drive, IGH
Drive Train and Standard Components
Rear Derailleur
Shimano RD-M3100, 9-Speed
None
None
None
Front Derailleur
Shimano Altus FD-M370, Topswing, 31.8mm
None
None
None
Crank
Shimano FC-T4060, 48x36x26T, 175mm
Gates S150 CDN, 46T, 170mm
Gates S150 CDN, 46T, 170mm
Gates CDX Center Track, 46T
Shifters
Shimano SL-M3100-R, Rapidfire-Plus
Shimano Alfine SL-S503
Shimano Alfine SL-S7000
Shimano Alfine
SL-S700
Cassette
Shimano CS-HG200, 11-34T
Gates Rear Sprocket CDN, 22T
Gates Rear Sprocket CDN, 22T
Gates Rear Sprocket CDN, 22T
Chain
KMC X9
Gates CDX, 113T Belt
Gates CDX, 113T Belt
Gates CDX, 113T Belt
Brakes
Shimano BR-MT200, Hydr. Disc Brake (160/160)
Shimano BR-MT200, Hydr. Disc Brake (160/160)
Shimano BR-MT410, Hydr. Disc Brake (160/160)
Shimano Deore BR-M6000, Hydr. Disc Brake (160/160)
The Cube Travel base model isn't assembled with the latest-fashion drive trains. The crank is a triple and the rear derailleur is a Altus 9 speed. This choice reveals a clear marketing strategy that allows Cube to offer a bicycle of remarkable caliber at a more than affordable price point.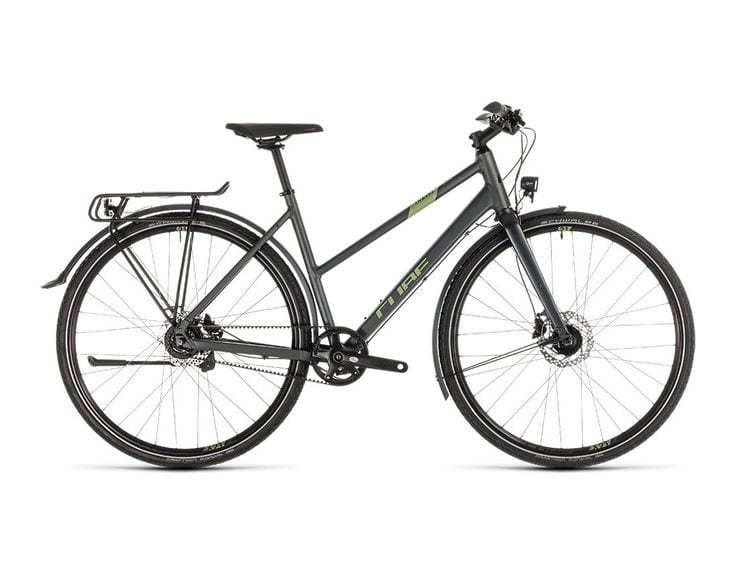 Best Riding Setups
This bicycle is recommended to anyone who is looking for a reliable all-rounder bicycle to ride every day.
The manufacturer specially designed the Cube Travel to withstand all sorts of terrains and situations, so that the bike can double as an optimal commuting ride, a weekend adventure rig, and, with only some smart upgrades, a lifetime companion for your long-cherished around the world tour.
Although it is not a monster cross, it's engineered by a brand with great MTB tradition, and it shows. Mounting proper grippy tires and removing mudguards you'll set your bike ready to get really dirty.
This way, under the appearance of a city bike with fenders, racks, stand and lights, the real potential of the Cube Travel frame's geometry will unveil its hidden cross country personality.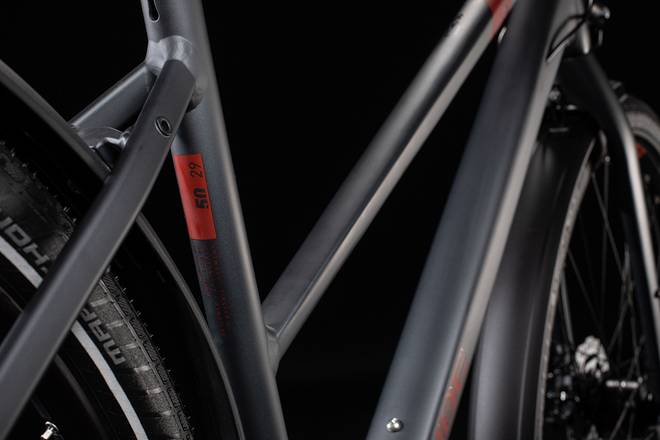 Conclusions
Cube Travel 2020 is a mid-range 29er bicycle that presents several interesting solutions. It is a faultless all-rounder bicycle: the integrated stand and comfortable frame setup will make your life easier in town, while the bike's true MTB soul will stand up immediately at the first use.
The combination of comfort and stiffness, the feeling of a bicycle endowed with both a full optional setup and the strength of a mountain bike won't disappoint the pickiest rider.
The Cube Travel is a bicycle with some qualitative characteristics offered only by smaller companies that pride themselves on being maniac of details (like Santos); Cube, in addition, guarantees also the benefits of a big industry that can set up the price range very low.
About Cube Brand
Cube is a Bavaria based bicycle manufacturer best known for its mountain bikes.
The tale of a young genius expanding his business from few square meters to a huge company is legendary: since Marcus Pürner founded a bike laboratory into his father's small furniture factory in 1993, Cube headquarter in Waldershof has enlarged to an area of over 55,000 m², now selling its products to 67 countries all over the world.
Well done, Marcus!
FAQs About Cube Travel
Is Cube a good bike brand?
Cube is a Bavaria based bicycle manufacturer best known for its mountain bikes. Assembly and quality control take place in Germany and it's top notch. Cube bikes are great value for money.
What does SL stand for in Cube Bikes?
SL stands for Super-Light Aluminum in Cube bike catalogue. Those bicycles marked with SL are the lightest bikes of their own series using a different lightweight alloy composite.
Want to know more about bikepacking? How to go bicycle camping with your MTB? If gravel bikes are good for travel? What's the best type of bike for touring? All the basics to go long distance cycle touring? What about folding bike adventures?
Cycloscope got you covered! Just follow the links above and get lost through the encyclopedic amount of bike travel content on cycloscope.net.
More bikes
> Kona Rove LTD 2022 – Review! – A Gravel Classic for Bikepacking
> Review! Surly Disc Trucker 2021: shall I buy it or not?
> Bombtrack Beyond – Review! Non-Plus Ultra Bikepacking Machine
> 6 Best Bikes for Plus Size Ladies – Road, Commuting, MTB, Utility, Electric
Stay in touch while we get lost! Follow us on Social Media