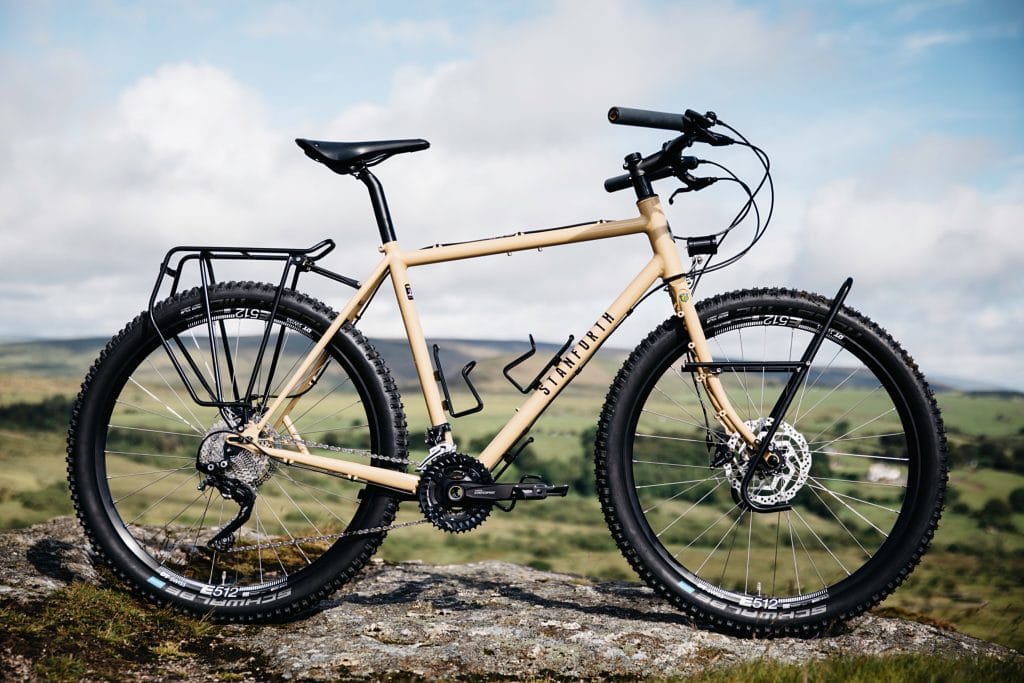 A first impression review of the Stanforth Pamira
specifications, geometry and more about this handmade customizable extreme adventure bike
In April 2019, the British bike manufacturer Stanforth Bikes released its new beast of burden, the Pamira. This extreme all-terrain expedition touring bike has already raised some sensation in the UK by winning the "Best Touring Bike" award at Bespoked UK bike show May 2019, and it's getting more and more international attention.
The bike is designed for long-distance touring with loaded panniers or bikepacking set up. It's called the Pamira after the Pamir Highway where the roads/tracks are particularly rough and where the Pamira would be in its element.
Stanforth Bikes is a one-man company owned by Simon Stanforth, who designs the bikes – all his frames are handmade in England, mostly by the well known frame-builder Lee Cooper. We interviewed Simon some months ago, you can have a look at the interview here.
Stanforth already has an expedition touring model, the Kibo, which is actually the rig we are using for our journey through Europe and Africa, so why another model? Well, first of all this is a 700c touring bike, as opposite to the 26″ Kibo, but the difference of course doesn't lay just here, let's have a look more in-depth.
---
Looking for a touring rig? Check also
20 best touring bikes under 2,000$
18 great adventure bicycles under 1,000$
Stanforth Kibo review after a 15,000km test
Ribble Adventure 725 – Overview and first impressions
The 2019 Dawes Super Galaxy and Dawes Ultra Galaxy
Got no budget?
Here's how to build a touring bike from scrap
Disclosure: Some of our articles contain affiliate links. This comes at no additional cost for you and helps us keep this website up and running. (as Amazon Associates we earn commission from qualifying purchases)
The Frame
The frame is handbuilt in the UK using a combination of heat treated Reynolds 853 and 725 steel in the main triangle, and air hardened 631 in the rear triangle. It has bosses for front and rear racks as well as the 3 mount system on the forks for carry-anything cages. It also has bosses for 4 bottle cages and mounts for mudguards.
The Stanforth Pamira has routing for both Rohloff and derailleur gearing, with dropout inserts easily switchable between the two (two different dropouts, sliding with inserts – which means that the gear system can be switched to Rohloff by just changing the insert).
The tube diameters are bigger than the Kibo, 34.9mm for the down tube and 32.8mm for the top, for increased stiffness on the rough ground so there is less flex with a load, the walls are thick enough to give the right combination of strength, weight and comfort.
The Stanforth Pamira has a maximum clearance of 27.5" x 2.4" tyres or 700c x 2.2", which should be enough to provide comfort and grip on most single tracks, thus making it suitable for off-road bikepacking expeditions.
Like all Stanforth Bikes, the Pamira frames are made to order, no standard sizes but tailored to the customer.
The Fork
With six brazed-on eyelets for rack and backpacking cages on each side of the fork, the Pamira has plenty of mounting points to suit a big variety of configurations. The fact that those eyelets are external to the structure of the fork, instead of being cut-out from the blade – although it might look a bit weird – is actually a great plus, the strength of the fork is not at all compromised this way.
The fork rake (or offset) is 61/66mm, 4 to 6mm more compared to the Kibo – but that's mostly because of the bigger wheels – which results in slightly slower handling at low speeds but in much more stability. The rake is here obtained by a curvature of the fork blades, which in turns gives a more cushioned feeling on rough pavements, a sort of "natural" suspension (thanks also to the flexibility of the steel).
Components
The Pamira wheels are a sturdy combo of Tubless Ready DT Swiss E512 32 holes rims, with a choice between 27.5″ or 700c (29″), and Shimano Deore XT M8000 center-lock disc hubs, and Schwalbe Nobby Nic 27.5 x 2.35″ or Schwalbe Marathon Plus MTB 700c x 2.1″.
Other components include a choice of Jones H-Bend bars or Jones Loop bars, Microshift friction/index shifters, and a Cambium C17.
There are a number of gearing options including double and triple chainsets, or a Rohloff speedhub. The excellent MTB TRP Spyke mechanical disc brakes provide the stopping power.
These are just the standard components though, as usual with Stanforth almost everything is customizable, e.g. dynamo hubs, different bars etc.

Geometry
Chainstays are pretty much similar to the Kibo at 470 (467-8 on the Kibo), it's really down to the bigger wheel/tire. They are relatively long chainstays, increasing the wheelbase for stable riding with a load, a bit longer than most of the bikepacking bikes out there as this bike is intended for long-distance loaded touring as opposed to a few days bike packing with lighter loads.
The increased fork rake we already mentioned, it does basically ensure the handling is a good combination of steady and controlled steering with a front load on rough terrain. It also ensures the front center measurement is sufficient for toe clearance with the 700c/29er x 2.2″ tyre.
The seat angle is also a little sharper at 73.5° in order to shift more weight to the front for more front end control on rough terrain while also helps to increase the front centre measurement for toe clearance.
This bike is fillet brazed as angles are more limited with lugs, especially with those wide tube diameters. Overall the bike is intended to be the perfect expedition bike for loaded touring on really rough tracks and roads which aren't actually roads.
Seat Tube Angle – 73.5°
Fork Rake – 61mm/66mm
Chainstay – 475mm
Top Tube C-C and Seat Tube C-T are made to fit.
---
Price
Price of the complete bike is £2,995 which includes the frame being custom built to best fit the rider. Frame and forks is £1,350. See the spec below.

Specifications
Frame & Forks: Fillet brazed frame hand built in England. Reynolds 853/725 main frame, Reynolds 631 stays. Paragon rear dropouts and inserts. Reynolds 853 disc specific fork blades. Crust Bikes fork crown.

---
Headset: Cane Creek 40 – upper 8mm stack, lower 4mm stack
---
Shifters: Microshift SL-M10 10 speed
---
Rear derailleur: Shimano XT
---
Front derailleur: Shimano XT double or triple

---
Chainset: Shimano Deore M6000 26/36 or 48/36/26 (other double/triple options available or upgrade to XT).

---
Cassette: Shimano Deore 11-36 10 speed for triple or 11-42 with double

---
Bottom Bracket: Shimano XT MT800 HollowTech II

---
Brakes: TRP Spyke MTB mechanical disc brakes / Shimano 180mm front & 160mm rear centre-lock rotors

---
Brake levers: Shimano Deore T610

---
Rims: DT Swiss E512 disc 27.5″ or 700c

---
Hubs: Shimano Deore XT M8000 32 hole centre-lock disc hubs

---
Tyres: Schwalbe Nobby Nic 27.5 x 2.35″ or Schwalbe Marathon Plus MTB 700c x 2.1″

---
Stem: 80mm alloy 4 bolt ahead stem anodized black (other lengths available)

---
Bars: Jones H-Bend bar (Or upgrade to Jones Loop Bar)

---
Seatpost: Aluminium, 350mm black, 31.6mm

---
Saddle: Brooks Cambium C17 black All-Weather with or without carve. Brooks B17 also available

---
Grips: ESI Chunky or Ergon GP1

---
Pedals: Shimano PD-GR500 MTB flat pedals black, or PD-A530 SPD single sided touring pedals

---
Colour: Sand double powder coat or one of our stock colours, or custom colour for extra charge

---
Racks: Tubus Cargo (+£90) Tubus Duo (+£85)
Stay in touch while we get lost! Follow us on Social Media