Review! 2022 Trek 920: All Roads Travel Bike for Adventure Addicts
Pros
A great all-roads touring bike
Cons
can't really think of any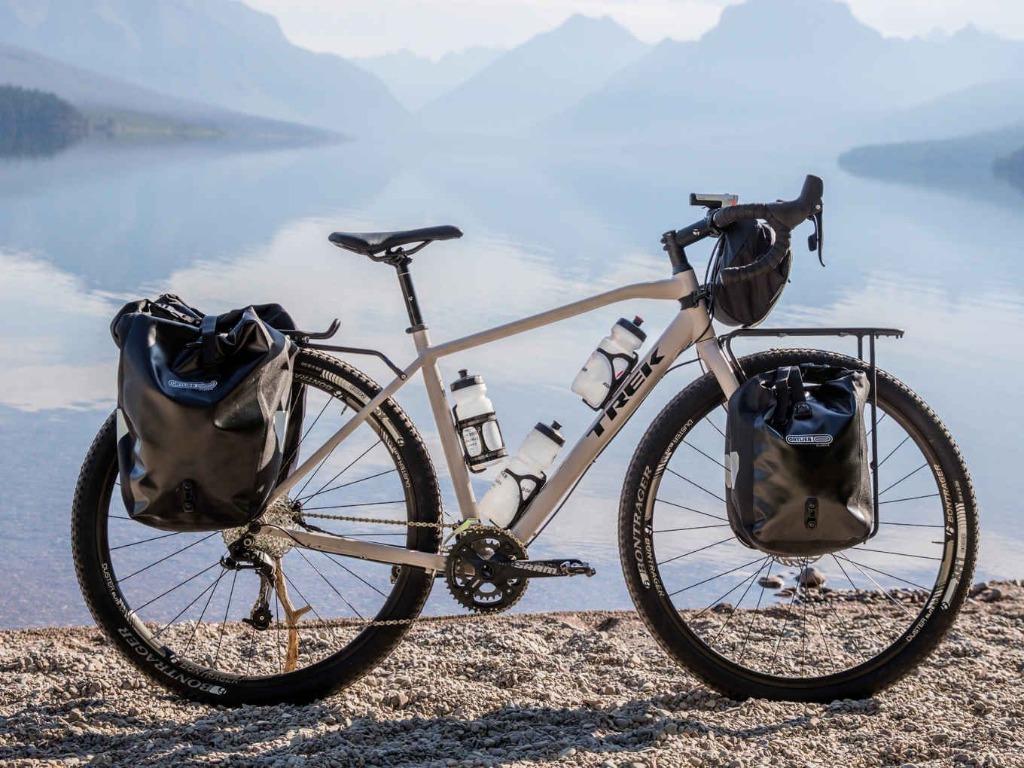 Review of the 2022 Trek 920 Disc. Specs, frameset, geometry, sizing, tire clearance, weight and price. Your next cycle touring & single-track bikepacking bike?
Disclosure: Some of our articles contain affiliate links. This comes at no additional cost for you and helps us keep this website up and running. (as Amazon Associates we earn commission from qualifying purchases)
How we write our reviews: most of our reviews are based on first-hand long-term use or short-term test by a member of our team. For some new models or build variations, we rely on our experience with similar models and our team's experience in understanding bike geometry and components.
| | |
| --- | --- |
| Tyre Clearance | 29″x2.25″ / max 55mm |
| Gearing | 42/-28T x 11-36t / 10 speed |
| Weight | 12.9kg (M-Size) |
The 2022 Trek 920 has already earned the thumbs up from all keen cyclists looking for a bike that's worth an upgrade of their current beloved two-wheeler.
Trek 920 was launched back in 2015. Five years don't look much on paper, but nowadays the bicycle industry makes progress in leaps and bounds, and since its first appearance the 920 has stretched to perfection all its main characteristics.
The 920 is the middle sister among the trekking and touring bike family proposed by Trek. It sits precisely in the middle between the classic steel tourer Trek 520 and the ultimate adventure bike Trek 1150.
The 920 here is definitely the most enjoyable and adaptable of the three. It has a rock-solid modern style, aggressive shapes, and an organic but elegant color, the Matte Sandstorm.
Trek 920 surely doesn't go unnoticed, for the great look as well as for some details, like the 28 spokes wheels on a bike that is also supposed to carry tons of goods on adventure expeditions. If you are still pondering over the differences between bikepacking and bike-touring and you want to be sure to get a bike that suits you, the 920 will definitely meet all your needs.
The Trek 920 is an all-aluminum trail-ready touring bicycle suitable for endurance and bikepacking trips.
It has drop-bars and 29inch MTB wheels for increased balance and capability to withstand any possible surface you may encounter, and it is equipped with a thru-axle that allows a more rigid connection between the frame and the wheels.
The 920 has a wide range of gears to encourage hopeful climbers to ride to the top even carrying sherpa-bike-kind-of loads. It copes painlessly on single tracks and it feels even better when fully loaded on gravel or service roads.
Allow just a few minutes to strip off racks and fenders, and the 920 is ready to brave that 100 miles gravel ride with friends with no fear of being outdone at all.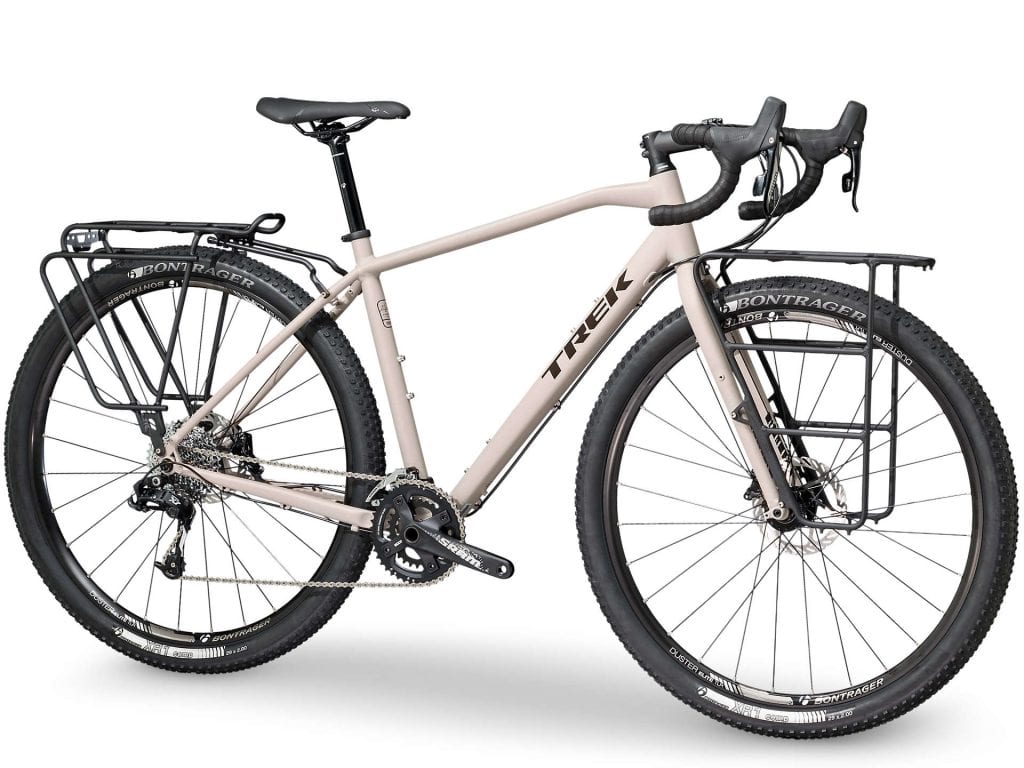 Trek 920 frame set
The Trek 920 is another aluminum bike that makes the difference with regards to comfort, stability and performance. The days ruled by the unquestionable motto "steel is real" are definitely over.
Aluminum is a material that will stand for a long time on bicycle frames and will have a big say about durability as well as innovation.
Trek, in collaboration with Alpha aluminum, has developed the 100 Series Alpha aluminum. Unfortunately, Trek doesn't show its secrets about the aluminum series, so for this time we cannot sneak over any blacksmith's recipes to try at home. Sorry guys!
Much alike the counterpart Cannondale, Trek has a comprehensive approach to frame design and construction. Aluminum frames are finely tuned to be stiff where necessary and compliant where possible.
The tubes are hydro-formed: it means they are molded by injecting fluids into a cylindrically shaped tube, in order to get a seamless transition between tubes during the welding and, consequentially, a more beneficial shape with regards to aerodynamic, distribution of weight and rideability.
The frame comes with plenty of bosses to mount racks and fenders, 142x12mm thru-axle, and 73mm threaded bottom bracket. The fork is also made by Alpha aluminum and lodges all what's needed for bikepacking and bike touring.
Trek 920 frame is affordable, resilient, and easily serviced. It's all set up to get seriously loaded but it can keep up effortlessly with those speed demons you can't help yourself racing with on the local bike path.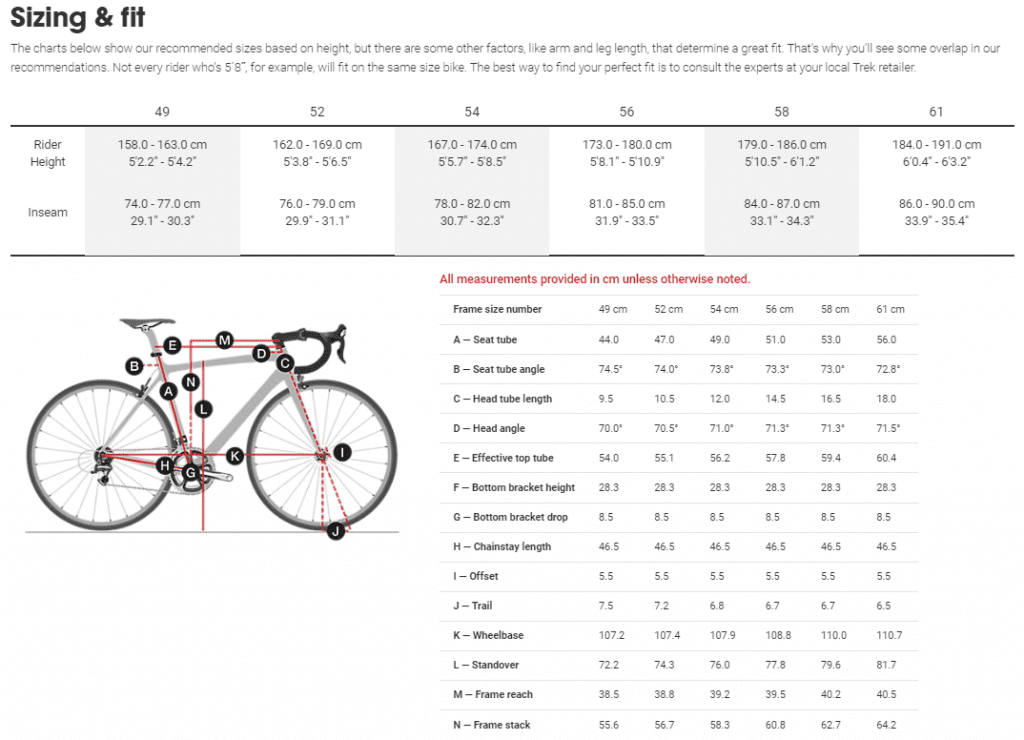 Trek 920 Geometry
Is it really built for stability above all? Hell yeah, the chain stay at 465mm is pretty damn long and the bottom bracket drop is low.
These two details alone are enough to define this bike as the opposite of nimble, but stability isn't the opposite of fun: with the Trek 920 you can just stop dodging stuff and simply smash through any road.
The 920 comes from a bike company that's an absolute leader in every cycling competition, so even if there's so much talking about stability, forget the cushion-like bicycle that bends instead of speeding up (thinking of Surly, for example).
The geometry of this rig focuses on giving excellent pace and responsiveness on gravel and tarmac, and it lacks a punch of nimbleness only on MTB trails.
Drive Train and Standard Component
Bontrager company, now part of the Trek corporation, supplies most of the components of the 920, from tires and rims to saddle and handlebar.
There is an agile range of gears on the 920. Long gone are the bar-end shifters. The 14-tooth gap between rings compellingly blinks on the crankset. The 42-28, combined with the 10 speed 11-36 cassette, ensures dynamic pedaling in all sorts of environments.
It's sadly true that the noisy derailleur's rub on the chain can still be an issue on the new Trek 920. The classic yet not obsolete choice of mounting the double drivetrain is still favored by Trek on this model. It is possible, though, to buy only the frame set and equip the bike with a single drivetrain.
Just in case the whole thing needs to be clarified: simply put, 1x (single) or 2x (double) refers to the number of chainrings on the crankset. Even considering the overlap, the double is still the configuration with a wider gear ratio in comparison to the 1x drivetrain.
The rims mounted on the 2020 Trek 920, the Bontrager Duster Elite, are asymmetrical. This expedient provides more uniform tension to the 28 spokes, and allows them to hold tight when riding corrugated roads with four bursting panniers, as might be expected from a self-assertive adventure bike.
What Are the Best Riding Setups for a Trek 920?
The 2021 Trek 920 is a bicycle for devoted cyclists, who either already ride a lot or want to cycle more. It's meant to convey a lot of fun whenever riding some respectable mountain bike single track, speeding it up with roadie friends, or just carrying weeks-worth amounts of groceries inside the panniers without any inconvenient.
The Trek 920 gives its best on long days on gravel roads since it's neither as snappy as a road bike on tarmac nor nimble and nervous on single tracks as an MTB with 27,5'' wheels. It would definitely suit most of those righteous cyclists that use the bike as their first means of transportation. 
Conclusion
How can a bicycle possibly be good if it aims to fit in most bike categories? Well, many self-promoting bikes just make unrealistic claims, but it's not the case with the Trek 920.
All avid cyclists have clear in mind what's good and what's not for a bike to be constantly useful and reliable: the 920 is exactly intended to gratify them, providing a frameset that's ready to be assembled with the favorite components they may already have in the shed.
The Trek 920 is undeniably a versatile, strong, and good-looking bike, with a great potential to give the rider intense enjoyment and extreme satisfaction for many years to come.
Components and specs of Trek 920
Frame size number
49-52-54-56-58-61
Frame
100 Series Alpha aluminum, rack & fender mounts,
142x12mm thru axle, 73mm threaded bottom bracket
Fork
920 alloy disc adventure, 15mm thru axle
Shock
N/A
Handlebar
Bontrager Race VR-C, 31.8mm
Stem
Bontrager Elite, 31.8mm, Blendr compatible, 7 degree, 100mm length
Seatpost
Bontrager alloy, 27.2mm, 12mm offset, 330mm length
Saddle
Bontrager Evoke
Shifters
SRAM S700
Front Derailleur
SRAM X5, 34.9mm clamp
Rear Derailleur
SRAM GX, Type 2, long cage
Cassette
SRAM PG-1030, 11-36, 10 speed
Chain
KMC X10, 10 speed
Crankset
ProWheel forged alloy, 42/28, 2-piece, 170mm length
Bottom Bracket
Sealed cartridge, GXP Type
Front Wheel
Bontrager Duster Elite, Tubeless Ready, 100x15mm thru axle
Rear Wheel
Bontrager Duster Elite, Tubeless Ready, 6-bolt disc,
Shimano 10 freehub, 142×12 thru axle
Tires
Bontrager XR1, 29×2.00"
Looking for a Travel Bike? Check these!
About Trek
Trek was up with the mission of changing minds already when their barn had only five employees on production in 1976. At that time there weren't any widely known US good bicycle producers apparently. Europe was still the motherland of all high-quality bicycle companies and Cannondale was yet to come. In just the first year Trek produced 904 touring frames.
From the very beginning, the objective of Trek was to lead the market. The founder John Burke always thought big, even before the establishment of the brand we all know.
His initial idea was to set up a nationwide chain of bicycle retail stores in college towns, but it didn't work. He realized that what creative college students wanted was not some cheap outsourced model, but good quality American bikes.
That's how that smart guy came up with the idea to found a new bicycle-producing company. In his own words, "Trek was never just a name. From the beginning, it was a summation of values." And a commercial strategy to beat up all competitors, isn't it, dear John?
Stay in touch while we get lost! Follow us on Social Media