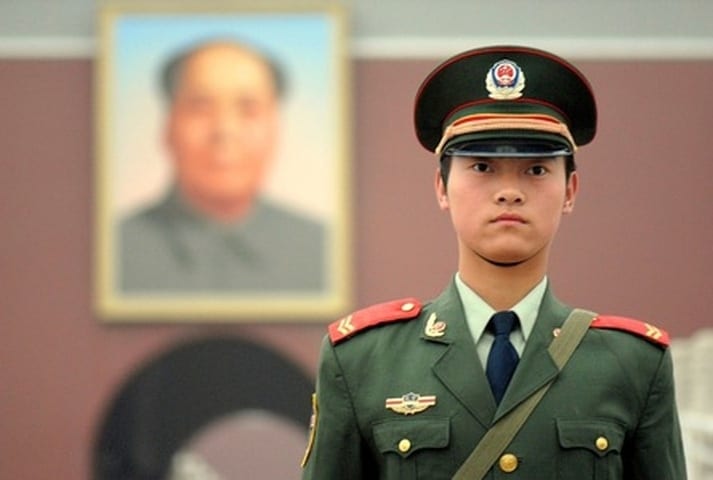 Datong, Qinghai, China.
I cycle, I'm in the back, I see Daniele stopped by military along the way. He had the GoPro on. You can not take pictures here. Okay, so we apologize, turn on the PC, show the latest photos and delete it, are you happy?
We think it's over then but the guy who stopped us is a little boy who only speaks Chinese, he doesn't really know what to do.
Call someone, his "boss" I guess, that speaks a little English. He says that we are in a "forbidden" area, but there's no sign to tell us and are given places of interest everywhere, in English.After a verbal fight and a nice shove trimmed to one that kept touching the bikes, the boss says we need to do some statement of apology for being there (?), that's fine if that's what they want.
Here comes the police car, escorts us to the office where we declare our entire itinerary so far, and that we did not know that this city was forbidden to foreigners.
Then why we have not yet figured out, probably for the minorities living there and ghostly military zones about whose those cops kept talking about.
And there should also be a nuclear power plant nearby, maybe not just a power plant. And then the fact that we passed through the Xinjiang just does not befriend them more.
In fact, in China you could not go on your own, the idea of traveling without organized tours do not fit in the government idea of tourism.
You are swept up in the tourist location from X and then Y but you cannot see what there is in between. At least in this area of China where minorities are not 100% under control and military experiments are going on.
Xining – the capital city of Qinghai region
Disclosure: Some of our articles contain affiliate links. This comes at no additional cost for you and helps us keep this website up and running. (as Amazon Associates we earn commission from qualifying purchases)
We spend hours in the police office with the military guy doing the interpreter. We write the statement, we sign complete with a fingerprint.
Ask us at least 4 or 5 times why we came from Xinjiang and seem not to understand that this region is 1/4 of China and is the only border you can enter from the west. We keep on telling them that it is late and we have to go to Xining before dark but nothing.
In the end, they tell us they'll bring us to Xining. They look very nice, they give us water. Well, ok. We think we're just not allowed to cycle in this city and that's it.
They look at the photos taken in recent days, including the one with the smiling cop who apparently was not aware of being in an area forbidden to foreigners. We load with all the bikes on a police car, we are six on it.
We go to Xining and we park next to another police officer, the PSB (Public Security Bureau), where we would have to renew the visa.
There is a young guy here who speaks English very well and tells us that most of the area is prohibited to foreigners because of the secret military bases.
We thank him for having talked of secret military areas of which we knew nothing before he spoke it. Weird way to keep secrets. We answer again all the same questions, why we were there if we have the maps of military zones and other such paranoia.
Too many spy movies. And we're not even American! Then he tells us that we must leave the bikes, passports, and all our electronics (cameras, phones, audio recorder, GPS, HD, laptop, SD cards…) because they must check all our pictures and videos! We tell him that there's stuff from Italy and that it may take a long long long time! No way.
They take us to another part of the office for the declaration/interrogation. The room has a chair where they can tie you hand and foot and there's a tool to give you the shock to the feet, the room is sound-proof.
They ensure us we don't have to sit there, we are Westerners. But if we were Tibetan or Muslim or anti-government I don't know… The torture chamber. In Italy when the police kill someone they try to hide it, but here not.
They make me sit on a "normal" chair and I answer again the same questions, this time video recorded. Finished the '"questioning" the policeman accompanies us to the hostel where we're practically under house arrest until they have checked all our photos and videos.
Once before the elevator, the policeman has to run to the bathroom, is white as a corpse and sweats! He runs into the bathroom while we check-in at the hostel, bad karma.
He says he will call us here tomorrow to tell us when we can take our things back. The next day no one calls is Friday. Let's go directly to the police officers and our "friend" tells there's a lot of stuff to check, who would have thought!
Our things are in another office responsible for monitoring, the famous Chinese censors' army maybe, he called them but they did not work on the weekend so we have to wait until Monday. WTF.
Since they have our passports we can not go anywhere, bikes are there and we are forced to pay for the hostel. Could accommodate them at least! We'll have a happy weekend in the capital of Qinghai.
Pork penis at the Hui market in Xining
We pay a visit to the museum of the region where all the minorities living in the region are represented, traditions and customs, and how happy they are to belong to the great China.
The museum is free inexplicably. It's very nice and there is also the story of what they call the Chinese Pompeii: during an ancient flood a village was over flooded and a few years ago the archeologists found the skeletons of the inhabitants embraced.
Then there are beautiful paintings and other things on the Tu minority that seems quite a colorful people.
Monday afternoon the police should let us know something. Waiting for them we go to the north temple, a Taoist temple nestled in the mountains, it does not even seem that a few meters away there is the highway and a gray Chinese city.
The atmosphere is very relaxed and the temple beautiful, with many grottoes hosting the weird Taoist deities.
Xining must have been once a beautiful city, we saw the old photos in a bar, there were pontoon bridges on the Yellow River running through the city, it is in the mountains and there were beautiful traditional houses.
Everything was razed to build giant apartment blocks, ugly and recognizable from each other only through the huge number on their side. The temple instead gives us a few hours of peace, we see that the monks here smoke a lot of cigarettes.
The temple is free because it does not seem to be touristy. In fact, we see around many of the faithful. We climb up to the top and once you get off we hear music coming from the temple below.
The monks are doing some ceremony, singing and playing gongs. We see a ceremony that is authentic, not for tourists. We are very happy, we leave a small donation to a goddess with fishtail hoping she'll help us.
North (Tolou) temple: a Taoist temple in Xining
Let's go to the police, we cross the bridge over the Yellow River that looks really filthy, I dare not imagine further downstream. PSB nothing new, we have to wait at least until tomorrow, maybe Wednesday.
The policeman even admits that it was a mistake of the Chinese Government to haven't put a sign that warned of the ban to go to that city. We continue to say that our visa expires on July 5 and we must renew it otherwise we can not get out in time.
Depressed we go to eat a giant platter of stuff for a few euro. The next day we go to the Hui market, obviously, we do not have any photos.
The Hui are Chinese Muslims. It's a nice market, the mosque at the center, selling everything, even pork penises. We eat for the first time the steamed dumplings, I say without meat and they understand, are stuffed with carrots and the very good pasta resembles that of steamed bread.
Xining is full of shops selling Caterpillar Fungus. We met those several times since Urumqi and we had not yet figured out what it was. It's the stuff the nomads tried to sell us after the pass a few days ago.
In practice, it is a caterpillar dead because of a fungus that comes out of his head. Located in the mountains above 3000msl, it is gathered in the month of May (it is explained by the owner of the hostel) and costs a lot, from 3000 to 50.000$ a kg.
It contributed in 2004 to 8.5% of the Tibet GDP. According to Tibetan medicine, it is good at almost everything, from virility to cancer treatment.
Caterpillar Fungus
Wednesday arrives, after almost a week of the hostel we basically runt out of money. It's time to call the Italian Embassy, the guy who answers us is kind.
He says he will try to call the police but they can not do pressure. Strangely, after 10 minutes, the police calls and said that we can go to collect our things.
When there, the guy takes them from under a sofa. I have the impression that they never moved from there and that no one checked our photos. But for the extension of the visa, there is no way, they can only extend it until July 15, absolutely not enough to get to the Qingdao ferry to Korea.
We also discover that our visa is of type M, business one, and in theory, it couldn't even be extended. We contact Serik, of the Kazakh agency, he says he applied for a tourist visa and that is a mistake of the Chinese embassy and the Chinese says it is the Kazakh agency fault to have applied for a business visa because it costs less.
We will never know what the truth is. We go to the station of Xining, the shipping office there is a very pretty girl who thanks to the translator on the phone can talk to us.
Here we leave the bikes that will be shipped today to Qingdao while we do the ticket for tomorrow night at 11, today there was no room.
Thirty hours of train hard seat will take us across China, we will arrive on July 5 and take a ferry to South Korea, where we can freely stay for up to three months.
The "out of the path" Buddhist temple not too far from Xining
Finally arrived on our last day in Xining, we decide to go for a ride out of town to a temple known to some guys in the hostel. It's supposed to be an "out of the path Buddhist temple" nested in the mountains some 50 km from the city.
We, an Irish boy who teaches English, a Chinese/American guy who also teaches English and one of their Chinese students, and a new French friend, Dominique, to whom we talked a lot those sad days secluded in the hostel.
We take two buses, it takes about an hour and a half to get there and if there hadn't been someone who spoke Chinese with us we might not have ever got there. On the road, we see the usual new ghost towns.
The temple is unknown to tourism, fortunately, is free and so authentic. The last part of the road is unpaved but they are asphalting, a sign that soon there will be a parking lot and you will pay even here.
We buy the yogurt yak milk with sugar over by some ladies out of the temple. We are at an altitude of 2800 meters, the temple is wonderful, in the mountains, from the top you see the golden roof of the main temple.
The monks are really nice and one of them wants to show us a video in English of a living Buddha but can not find it on the phone. We are startled when we realize the Chinese girl (the student) does not even know who Buddha is. For real.
Around 17 we go. We take a taxi and then the bus back to Xining. We eat a rubberish ball covered with sesame seeds and prepare our things for the next day by train. At 21:45 we take a taxi to the station, our bikes are now halfway.
Stay in touch while we get lost! Follow us on Social Media