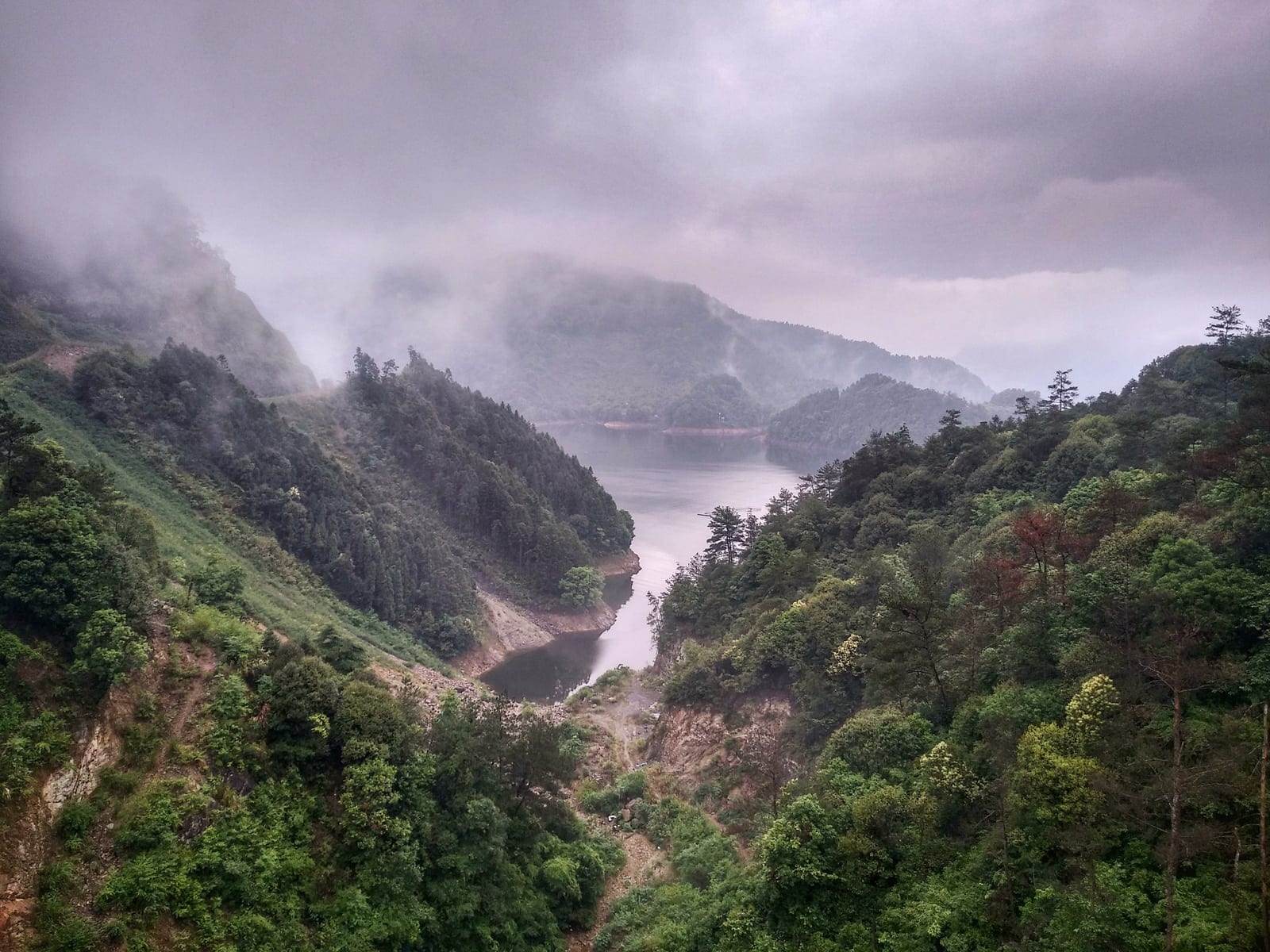 Things to do and places to see at the Qiandao Lake, the Thousand Islands Lake of Zhejiang, China
Cycling, kayaking, diving and the best place to swim near Hangzhou or Shanghai
Qiandaohu, literally One-Thousand Islands Lake, is a man-made freshwater reservoir that has been turned into one of the most popular tourist spots in Zhejiang Province of China. Just a 2-hour bus ride from Hangzhou and 3 hours from Shanghai, this lake is really worth visiting despite its controversial history.
While you might be disappointed by the growing "development" (read "devastation") of the lake area near Chun'an City, bear in mind that the lake is huge and still "undeveloped" in 99% of its area. We visited it as a weekend trip from Hangzhou during our two years stay in the Zhejiang Province of China.
Check also
Cycling in China – Itineraries and bike touring guide
10 best weekend trips from Hangzhou or Shanghai
Open-air Hot Springs in Hangzhou City Center
The history of the Thousand Islets Lake on Hangzhou
In 1959, Mao Tse Tung and Zhou Enlai gave birth to what was at the time the biggest hydroelectric project in China, the Xin'an River dam, in an attempt to solve the ominous issue of power shortage in China.
Flooding an area of 573 km2 (221 sq mi, almost four times the size of Lake Como in Italy) of hilly land in Zhejiang province, forcibly relocating 290,000 individuals and submerging dozens of villages, among which is the 2,000 years-old city of Shi Cheng (although apparently the remaining structures are "only" 1,300 years old).
The Lion City, once the center of politics and economics in the eastern province of Zhejiang, the Chinese leaders created what is now known as the Thousand Islands Lake. The 1078 islets are indeed what's left of those hills that are now underwater.
Starting in the early years of this century, following along the Chinese economic boom, the area has been gradually developed into a major tourist resort, with the city of Chun'an as its pivotal center.
---
Things to do at Qiandaohu
Cycling
Boating [SUP, Kayak, Canoe, Packraft]
Diving [to the ancient submerged city of Shi Cheng]
Take an official Boat Ride
Fishing
Drinking [Cheerday Beer and Nongfu Water factories]
Stroll the Qiandaohu Scenic Spot [avoidable]
Splurge in a 5-star hotel on a budget
---
Qiandao Lake – Places to Visit
Disclosure: Some of our articles contain affiliate links. This comes at no additional cost for you and helps us keep this website up and running. (as Amazon Associates we earn commission from qualifying purchases)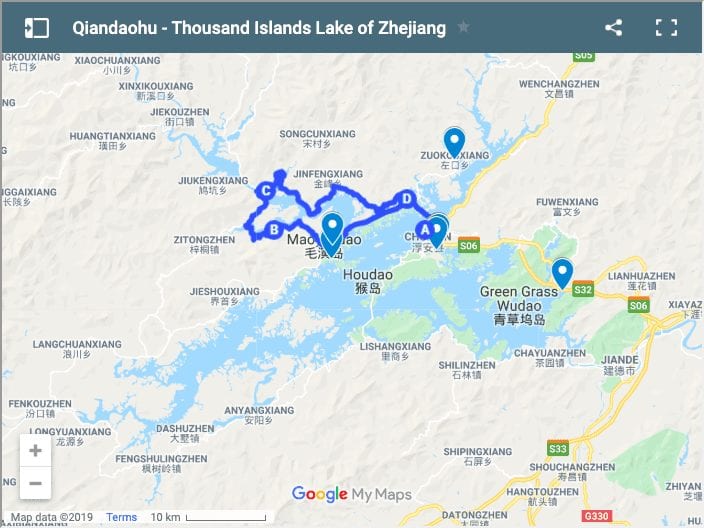 The Qiandaohu is huge, with a lot of branches going in all directions, all of them featuring beautiful scenery and interesting local communities.
Things to do and attractions around the lake are plenty and diverse, especially if you're an outdoors lover, you could easily spend 3/4 days here without getting bored.
---
Cycling the Thousand Islands Lake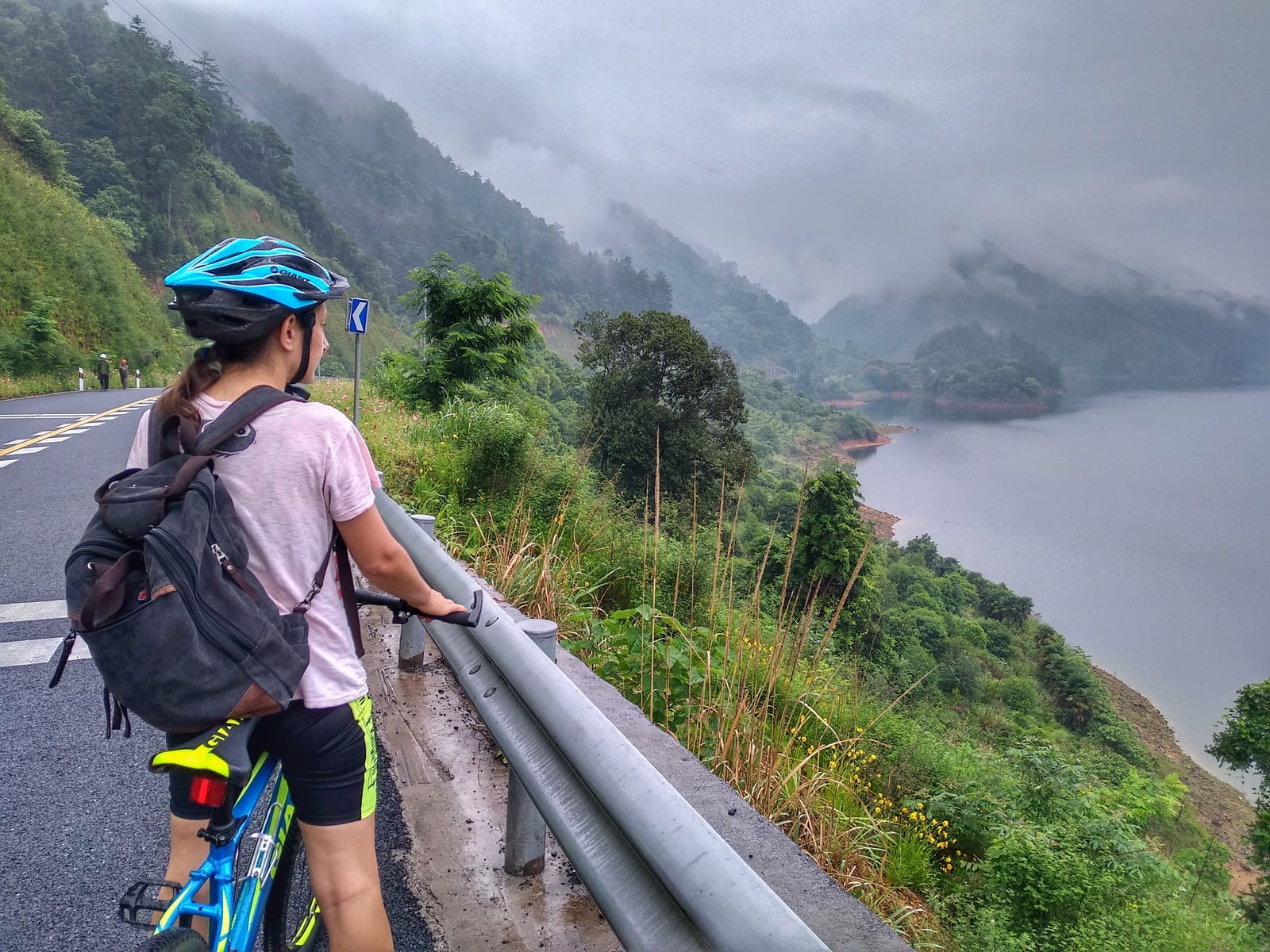 Cycling along the long and spectacular lake shores is one of the most popular activities on the Qiandao lake, every weekend dozens and dozens of Chinese amateurs come here to ride these scenic roads, indeed there was even a semi-professional bike race when we arrived here.
Like in almost every city of China, there's a public bike sharing system which is managed by the local tourist offices, the rental is very cheap but the bikes are slow and heavy city bikes, good if you want to get around the town a bit but certainly not comfortable for a long ride.
There are instead a few shops that rent Giant and Merida mountain bikes for the (not so cheap) price of 100 RMB x 24 hours, you'll be asked a deposit. The bikes are decent quality and well maintained, good enough for a 100km ride.
Circling the whole lake is though to do in one day unless you really are a trained cyclist (and preferably brought your own road bike), without exploring any of the lake's branches, the shortest loop of the lake is about 150km.
A shorter (85km) alternative is advertised as a popular semi-loop (you'll only need to backtrack about 10km) and it is indeed what we rode.
The route is stunning, very easy to cycle (only a few low hills), and super quiet with almost no traffic at all, going along the still undeveloped north-western branch of the lake.
Packrafting, SUP boarding, or Kayaking the Thousand Islets Lake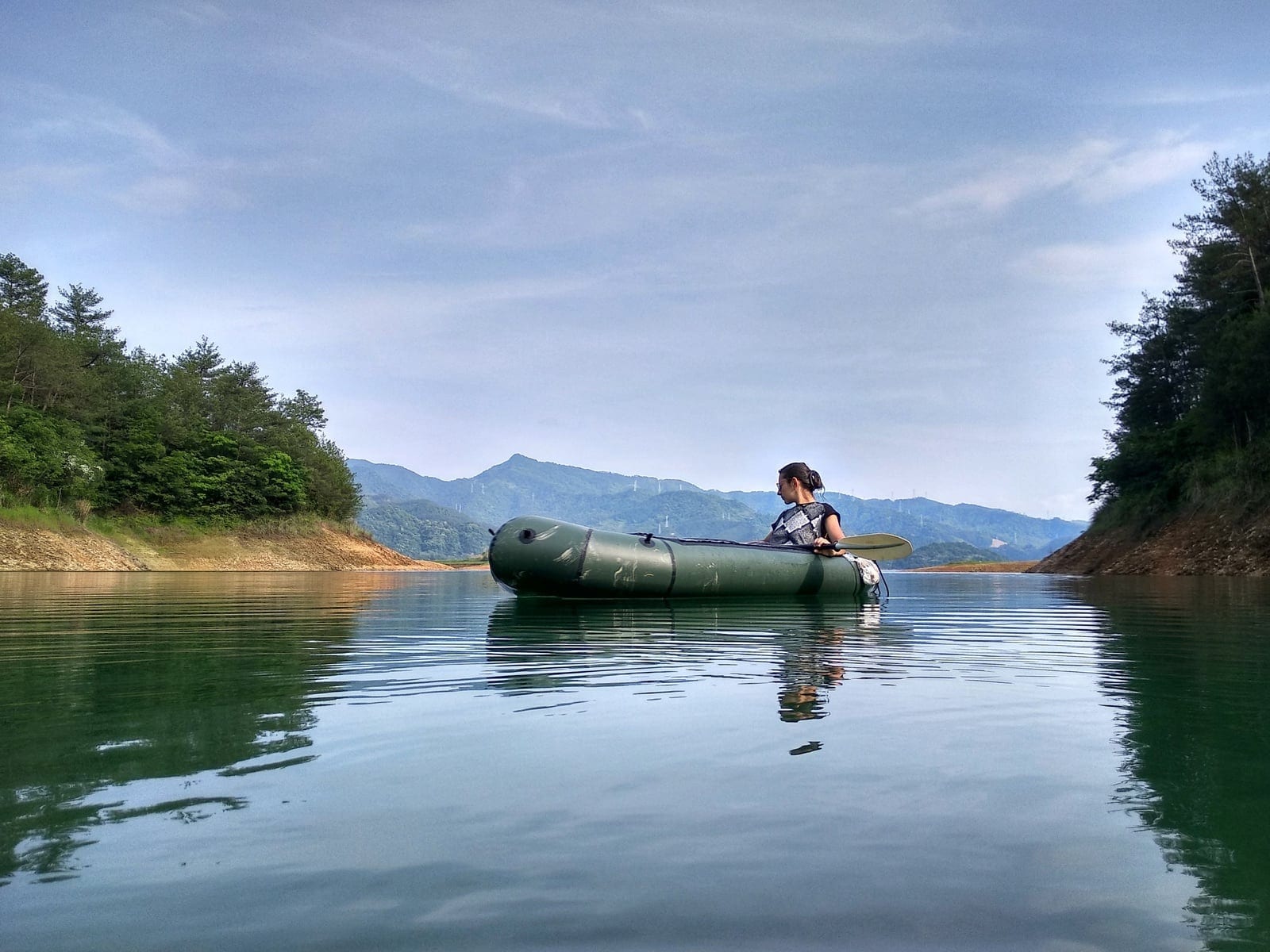 Another very popular activity to do when visiting the Qiandao Lake are those involving paddling, kayaking, SUP, or canoeing. There are several hotels who rent kayaks, as well as smaller rental facilities and a patented kayaking school.
If you're bringing your own boat (we did bring our packrafts), avoid using them in the central areas or crossing the routes of the ferries, look for a hotel a bit far from the main tourist areas.
We stayed at the Lao Tian Farmhouse Holiday Cottage Yododo Inn, a basic but quiet, friendly, and pretty bucolic place about 18 km from downtown. Across the main road, there's a very easy spot from where to sail and the scenery is quiet and beautiful.
The official boat rides
There are three different boat rides officially offered by the tourist office from the Central Lake District in Chun'an:
Luxury Boat: Ticket Price: CNY 65 for adults; CNY 35 for children from 1.2 and 1.5 meters.
Morning Route: Meifeng (Plum Peak) Island, Yule Island and Yueguang Island
Ticket Hours: 08:00 – 09:00 (departing at 09:15); 09:30 – 10:30 (departing at 10:45)
Afternoon Route: Meifeng Island and Longshan Island
Ticket Hours: 12:00 – 13:00 (departing at 13:15); 13:00 – 14:00 (departing at 14:15)
This ride lasts about 1 hour on a slow electric wooden boat. They also offer a "night-time" boat ride starting at 18:00, not sure of what's the purpose of taking a boat ride in the dark, sure there are a few kitsch city led lights to see, if that's your thing.
Yacht Charter: CNY 150 per person or CNY 3,800 for a single trip
Boat Charter: CNY 1,950 per boat
Two more options are departing from the wharf in the Southeast Lake District
Luxury Boat: Ticket Price: CNY 65 for adults, CNY 35 for children between 1.2 and 1.5 meters
Morning Route: Huangshanjian Island, Mishan (Honey Mountain) Island and Tianchi (Heaven Pool); or Guihua Inland, Tianchi Island, Huangshanjian Island
Ticket Hours: 08:00 – 09:00; 09:00 – 10:00; 10:00 – 11:00
Afternoon Route: Huangshanjian Island, Tianchi Island
Ticket Hours: 12:00 – 13:00
Yacht Charter: CNY 150 per person
---
Other Activities at the Thousand Islands Lake
A popular thing to do in Qiandao Lake is the cable car running from the north of the lake at the Meifeng Sightseeing Platform (70 RMB per person). There's a zip line but we weren't able to figure out where.
Tour operators also organize fishing trips, visits to the Nongfu (a popular drinking water brand) and Cheerday (local beer) factories.
It's also possible to dive to the ancient city lion city of Shi Cheng, which has been perfectly preserved.
The Best Swimming Spot from Hangzhou or Shanghai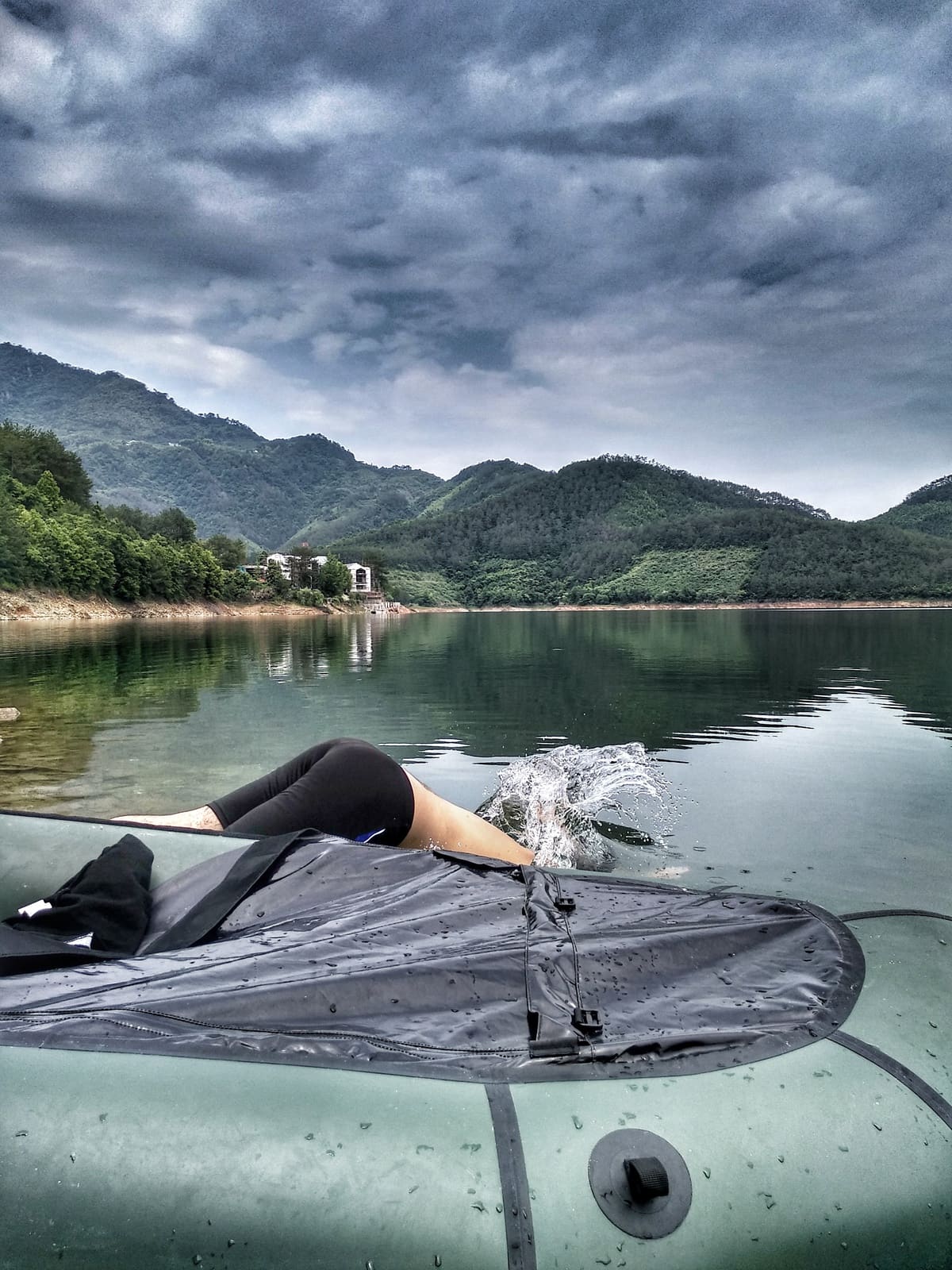 Yeah, You heard that right! The Thousand Islands Lake is the best place to really swim in the whole Zhejiang province.
The water is among the cleanest in Eastern China, its color is crystal clear, the temperature fresh and inviting, swimming the Qiandao Lake is a real pleasure!
Of course, the further you go from the urban area the better the water is. Near the city is likely to find some garbage thrown by inconsiderate people.
---
The Fenced Scenic Spot and the rest of the lake – The Qiandao Tourist Trap
Everything in China has an entry fee, even a man-made lake such as this… and these fees are often not cheap.
The ticket to the Qiandaohu Scenic Spot costs 150 RMB from March to November, and 120 RMB from December to February – children from 1.2 to 1.5 meters (3.9 – 4.9 feet) pay half price. This entry ticket is valid for one day only but can be extended to a second day for an extra 10 RMB.
What does this expensive ticket give access to? We have no idea. Is it really worth paying this fee? No, I don't think so.
Basically, this ticket gives you access to a relatively small area of the lake, the one area where all tourists are gathered like flocks of sheep.
What's so special there? We don't know because we didn't get in… but I guess just overpriced restaurants and water activities. For sure it gives access to some of the most famous islands like the Monkey Island, where monkeys have been placed to entertain the tourists, quite sad.
If you get there and pay this fee, please let us know in the comment what we missed.
---
Where to stay at Qiandao Hu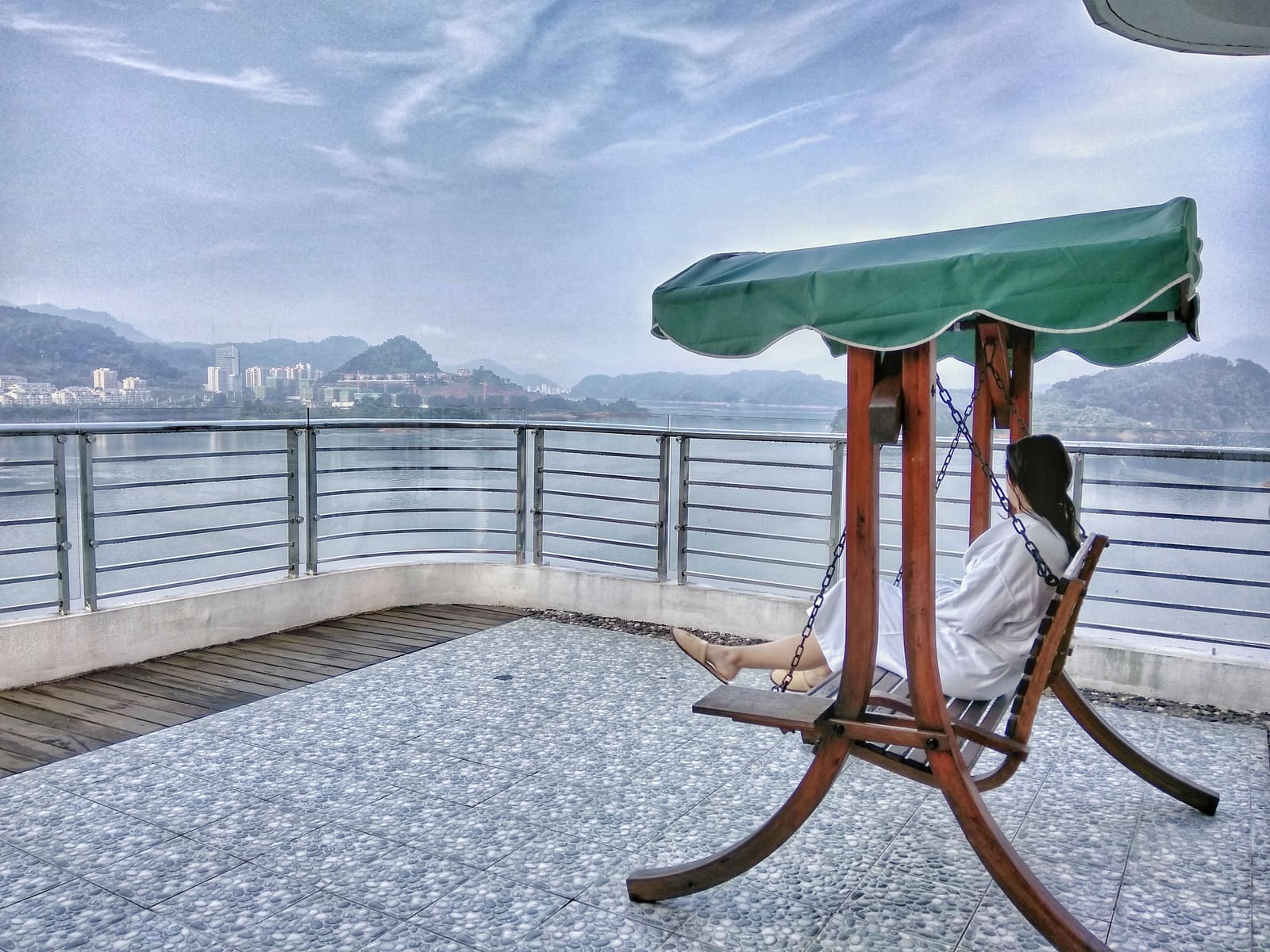 There's a plethora of hotel but, as usual, many do not accept foreigners. The best way is to use Ctrip to book the hotel, they have a very effective service that never lets you down: if the hotel you booked does not accept foreigners, they will call you and arrange another hotel for the same price and in the same area, often offering a small compensation.
If you want to stay in Chun'an urban area we feel like recommending the Yitu Lake View Hotel, a great value accommodation, conveniently located, with beautiful terraced suites, lake views, and a good quality breakfast.
If you are looking for a more retreated and quiet spot we would recommend the already mentioned Lao Tian Farmhouse Holiday Cottage Yododo Inn.
How to get to the Thousand Islands Lake on Zhejiang – From Hangzhou or Shanghai
From Hangzhou there is plenty of option to reach the Qiandao Hu:
From Xiaoshan Airport buses leave at 10:20, 11:50, 13:20, 15:10, 17:10, 19:00 – cost 90 RMB
From West Bus Station there's a bus every 20/50 minutes between 06:00 and 18:50 – cost 65 RMB
From Passenger Transport Central Station (Jiubao Passenger Transport) buses every 30/50 minutes between 7:00 and 18:20 – cost is 73 RMB
From East Railway Highway Bus Station between 7:20 and 19:15 with an interval of 30/70 minutes – 73 RMB
From South Bus Station at 7:45, 8:50, 9:55, 10:55, 11:55, 14:55, 15:55, 16:55 – cost is 70 RMB
The trip takes between 2 and 3 hours, depending on the traffic conditions. Some buses may leave you at a bus station a bit far from the city, you'll need to take a cab from there.
A new high-speed railway is programmed between Hangzhou and Chun'an, it will soon be possible to arrive by train in just about 30 minutes.
Arriving from Shanghai, just take the high-speed train to Hangzhou station (most trains go to East Railway Station) and then the bus from there.
The Qiandao Lake is not far from the famous Huangshan Mountain, the New National Express Bus connects the Yellow Mountain Scenic Area Bus Station to Chun'an. The buses are operated at 06:30 and 13:00.
There are also direct buses from Wenzhou and Wuxi to the Thousand Islands Lake.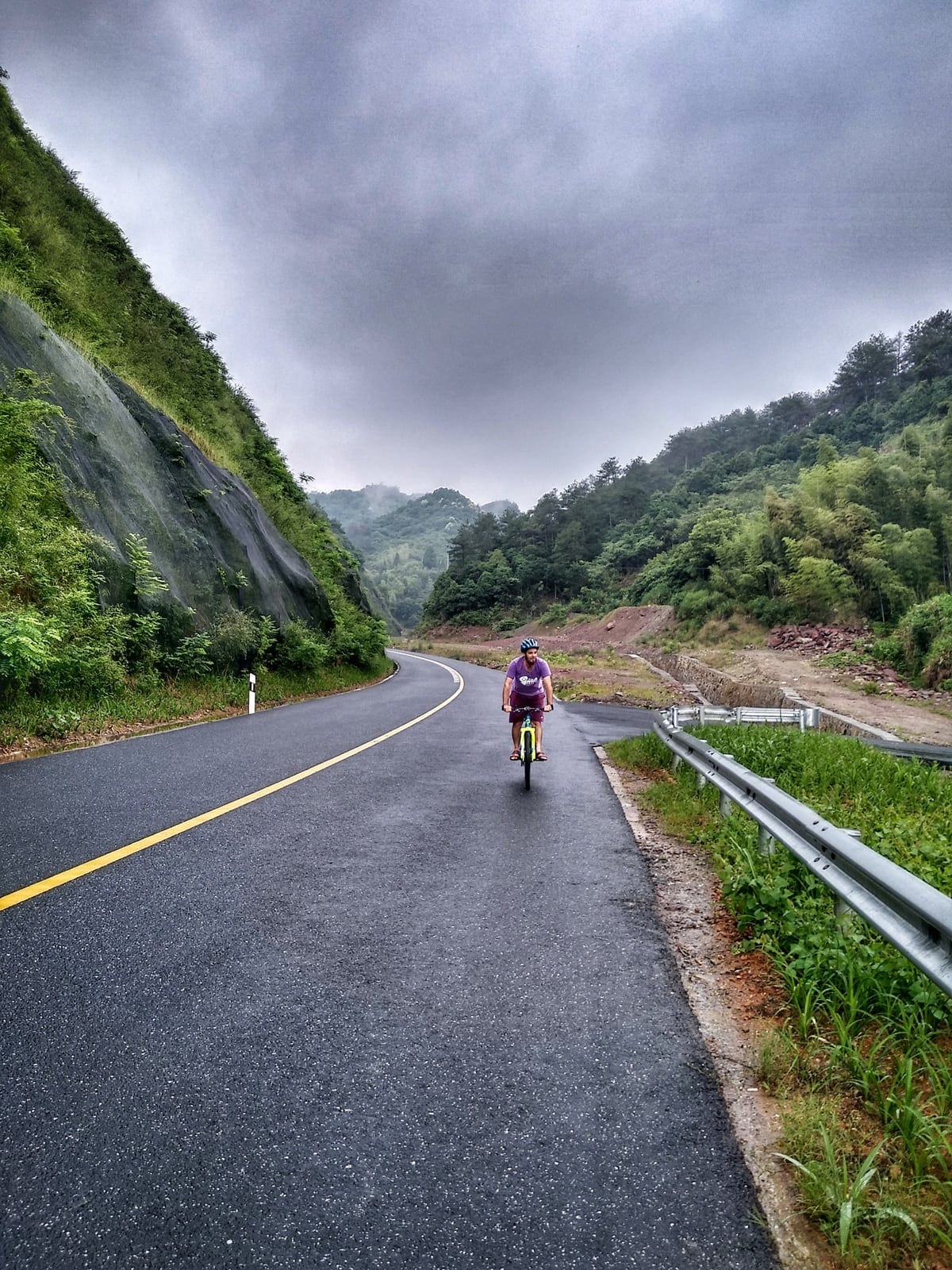 Best VPNs for China
To access most of the internet in China, you'll need a VPN app (Virtual Private Network). Most of the biggest websites are banned in China, including:
all Google products (even Gmail)
Facebook
Instagram
Twitter
and many others
The best VPNs are Express and Astrill, we have used Express VPN for a couple of years and have never had any major problems, absolutely recommended and worth the price.
There are also numerous free VPNs but many do not work or have a limited time during the day, usually an hour.

Stay in touch while we get lost! Follow us on Social Media