The hot spring resort just one hour from Shanghai, in Hangzhou city center
The First World Hotel
We spent 1 year and a half looking for a hot spring hotel and facility within easy reach from Hangzhou or Shanghai, we found a few and they were worth it, but it's only now, when in just a couple of weeks we'll leave China for good, that we find out there's a beautiful hot spring just next door, in Hangzhou city center! And you can get there by subway!
The First World Hotel is indeed a huge hot spring resort, located in one of the most beautiful and weird areas of Hangzhou, the Xianghu Lake area.
Check also
Cycling in China – Itineraries and bike touring guide
10 best weekend trips from Hangzhou or Shanghai
WuYi hot springs in Zhejiang
Xianghu Lake area of Hangzhou
Disclosure: Some of our articles contain affiliate links. This comes at no additional cost for you and helps us keep this website up and running. (as Amazon Associates we earn commission from qualifying purchases)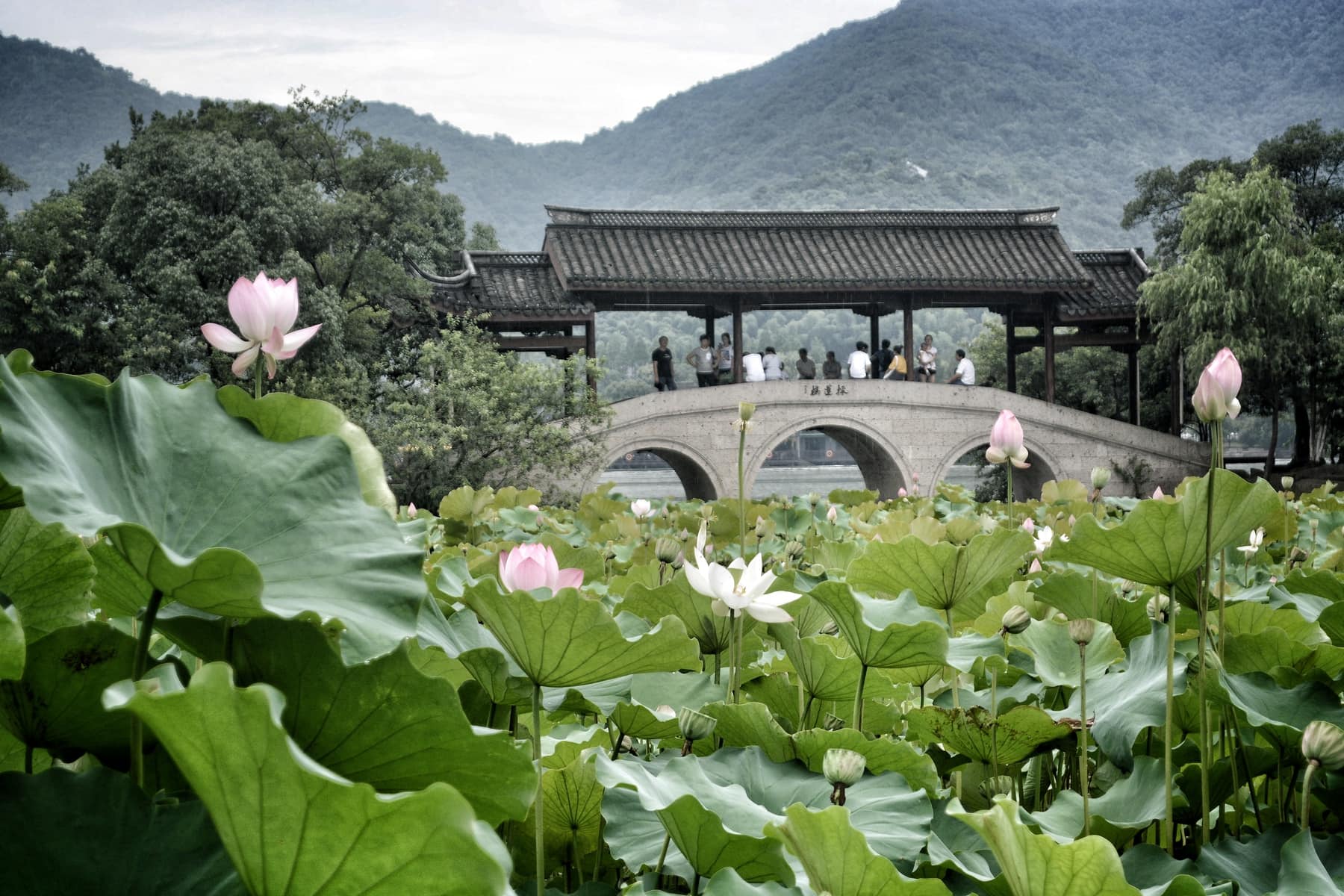 Xianghu's main attraction is certainly the stunning lake, a natural body of water surrounded by walking and cycling paths, ancient bridges, huge lotus ponds, and a few good restaurants around it.
A perfect area for a Sunday picnic and stroll, with also a few hiking opportunities if you feel more sporty.
But that's not the only attraction of the area, Xianghu is the place of excellence for typically Chinese weirdness in Hangzhou!
There's indeed a fake Venice, with a copy of San Marco bell tower and the Doge Palace, a water amusement park called Hangzhou Paradise (open only in summer), a residential area called Zurich (a sort of fake Zurich), an indoor amusement park for small children called Crazy Apple Land… ah, and there's also a very nice Buddhist temple if you really want something "authentic".
The First World Hot Spring Resort
The First World Hot Spring and Hotel are two separately managed structures in the same huge building.
This means you can access the hot spring area even without booking a hotel room, but the discount you get when actually staying in the hotel is so big that it might be worth spending the night here.
The Hot Springs of Hangzhou
The hot spring facility itself is an open-air set of about 20 thermal water pools, placed inside the court of the hotel. It's accessed from the hotel lobby, where the entry fee is paid at a dedicated desk.
After going through the well-equipped changing rooms you'll enter the open-air hot spring area, which is really cozy.
There are smaller and bigger thermal pools, each with a different fragrance (wine, mint, ginger…) and different water temperature (including a cold one). When we were there it was late spring and the temperatures were kept not too hot.
Some pools are covered with gazebos and romantic tents so you'll be sheltered in case of rain. There are also a wet sauna and a dry one, a bar with snacks and refreshments and a big pool with underwater deck chairs, all of this is located along a nice canal which makes for a very nice view.
Hint: the entry from the women changing room is pretty far away from the men's one, it took us a good 15 minutes to find each other! To reach the women exit, walk left along the hotel side, from the women's to the men's turn right and head straight
The First World Hotel
The First World is a luxury hotel at an affordable price. It is incredible what 80$ per night can get you in China, even in a somehow comparatively expensive city like Hangzhou.
The First World has a vast choice of standard double rooms, family rooms, and luxury suites, a big restaurant with private dining rooms and party rooms, a theater, a children playground, and a conference hall. Some English is spoken at the reception.
The First World Leisure Hotel
This might be confusing but it's actually a great deal, the First World Resort also owns another hotel, about 100 meters from the big one, called First World Leisure Hotel.
This is a budget business hotel with decent rooms for as low as 25$, which still grants the discount to the hot spring entry ticket.
If you have a knack for kitsch, the First World Leisure Hotel won't disappoint you, with rooms, lobby, and corridors decorated with ancient Egyptian motifs (yes, you heard that right).
Hot Spring Fees
As already mentioned, staying in one of these two hotels is not mandatory, you can use the hot springs as an outsider.
The fee for the hot springs is 200 RMB per person – about 30 USD
The discounted price for those staying in one of the hotels is 100 RMB, about 15 USD
Best VPNs for China
To access most of the internet in China, you'll need a VPN app (Virtual Private Network). Most of the biggest websites are banned in China, including:
all Google products (even Gmail)
Facebook
Instagram
Twitter
and many others
The best VPNs are Express and Astrill, we have used Express VPN for a couple of years and have never had any major problems, absolutely recommended and worth the price.
There are also numerous free VPNs but many do not work or have a limited time during the day, usually an hour.

Check also
Cycling in China – Itineraries and bike touring guide
10 best weekend trips from Hangzhou or Shanghai
WuYi hot springs in Zhejiang
Stay in touch while we get lost! Follow us on Social Media