Wuyi and the best hot springs of Zhejiang
a weekend or day trip from Shanghai or Hangzhou
When the gloomy winter days bring you down, maybe after a week-long of rain in a stressful city like Shanghai or Hangzhou, that's one of those moments you could really use a nice hot spring and SPA.
WuYi is a county under the administration of Jinhua City, Zhejiang, China and it's indeed famous for its many hot springs.
Just 1 hour away by bullet train from Hangzhou, the hot springs of WuYi make for one of the best weekend getaways from Hangzhou or Shanghai, if relaxing is what you're seeking.
There are a few hot spring resorts in WuYi county, we stayed at Tanfeng Hot Spring Resort, the best one according to Ctrip, so we'll give an account about that.
This post is part of our weekend getaways from Shanghai or Hangzhou, a collection of great off-the-beaten-path spots in Zhejiang and Jiangsu.
Check Also
Zhejiang Hot Springs in WuYi
Disclosure: Some of our articles contain affiliate links. This comes at no additional cost for you and helps us keep this website up and running. (as Amazon Associates we earn commission from qualifying purchases)
Tanfeng Hot Spring Resort
Tanfeng Hotel and Spa are very conveniently located on the outskirts of WuYi town, just one kilometer from its center and literally adjacent to Hushan Forest Park.
The facility is big and clean, divided into different traditional-style buildings. There are 220 rooms, all very beautiful and wide, refined with wood and marbles.
The rooms have a fridge, sensory shower, balcony, and comfortable king-size bed, there are rooms with small private hot springs, available for about 100USD.
The staff is nice but almost no English is spoken, food is the negative note though, breakfast is abundant but quite terrible, the restaurant is supposed to close at 10 pm but it was already shut at 8:30, forcing us to call a delivery service (the staff helped though).
Rooms rates start from as low as 360RMB out of peak season, which is really a great value for a hotel like this!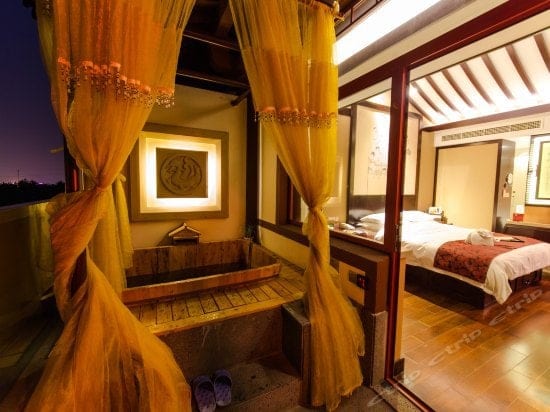 Tanfeng Hot Springs of WuYi, Zhejiang
Although the actual hot springs are on the same grounds as the hotels, there's separate management and a separate entry fee of 130RMB.
The good side of this is that you don't need to sleep at the Tanfeng Hotel to access these great hot springs, the downside is that the ticket gives you only one entry, meaning that if you come back to your room you'll have to pay the entry fee again to get back to the "onsen".
The hot spring area comprises about 30 pools, with different temperatures and water quality, some are open-air, while some are sheltered by pavilions.
With so many pools it's possible to find your tranquility even if the place is a bit crowded (although you'll probably still hear some old lady yelling for no reason). There's one main pool, big enough for a short swim, while the others are small, beautifully set into the artificial landscape.
One thing we loved is the Olympic size indoor swimming pool, with a 5-meters trampoline and all! It's just great to swim into the cool water after relaxing for a while into the hot one. There's also a gym in the same building. Boiled eggs and tofu are available for a quick snack.
WuYi town
WuYi is a typical mid-sized countryside town in Eastern China. Set at the crossing of two rivers, the Yongkang and the Wuyi, and surrounded by green mountains, its main attractions are the old Shuxi Bridge (熟溪桥), and Hushan Forest Park.
Hushan is directly accessible from the Tanfeng Hotel and it's an area really worth exploring, featuring a few noble country houses, some perfectly maintained and some laying in ruin. There are a few more attractions in WuYi county that you might want to check out while you're there.
If you want to save on accommodation you can also book one of the many cheap hotels in WuYi town and go to the hot springs as an outsider.
---

How to get to WuYi and Tangfeng Hot Springs of Zhejiang
Another detail that makes this a very good deal for a weekend getaway from Shanghai or Hangzhou, is that getting here is really a piece of cake! Just take the bullet train from Hangzhou or Shanghai to Jinhua and you'll be here in just a little more than 1 hour (77RMB from Hangzhou), making it possible to visit the hot springs even on a day trip.
The WuYi station though, is about 20km from the town, as often is the case in China, there are plenty of taxi drivers out there, waiting to bring you to your hotel. A fair fee is 40/50RMB.
---
This post is part of our weekend getaways from Shanghai or Hangzhou, a collection of great off-the-beaten-path spots in Zhejiang and Jiangsu.
Check Also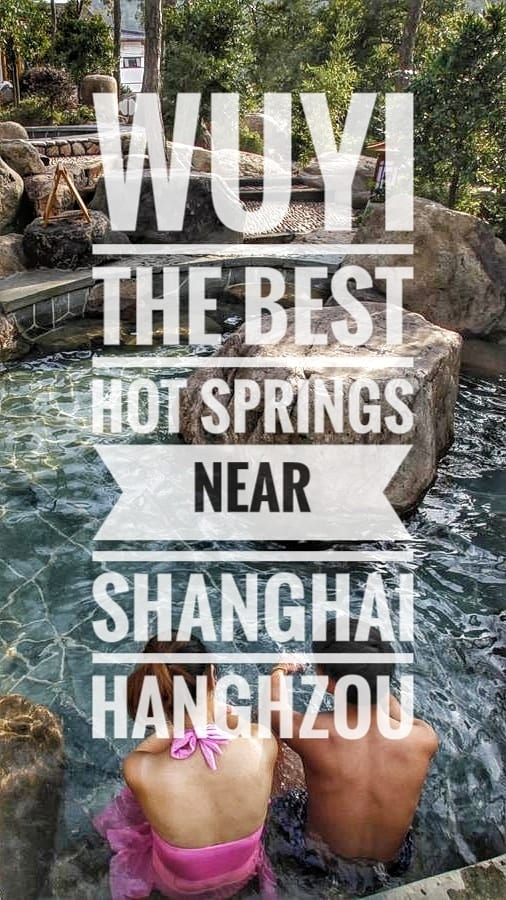 Found this useful?
Join us on Social Networks and Subscribe our Mailing List
Save
Stay in touch while we get lost! Follow us on Social Media