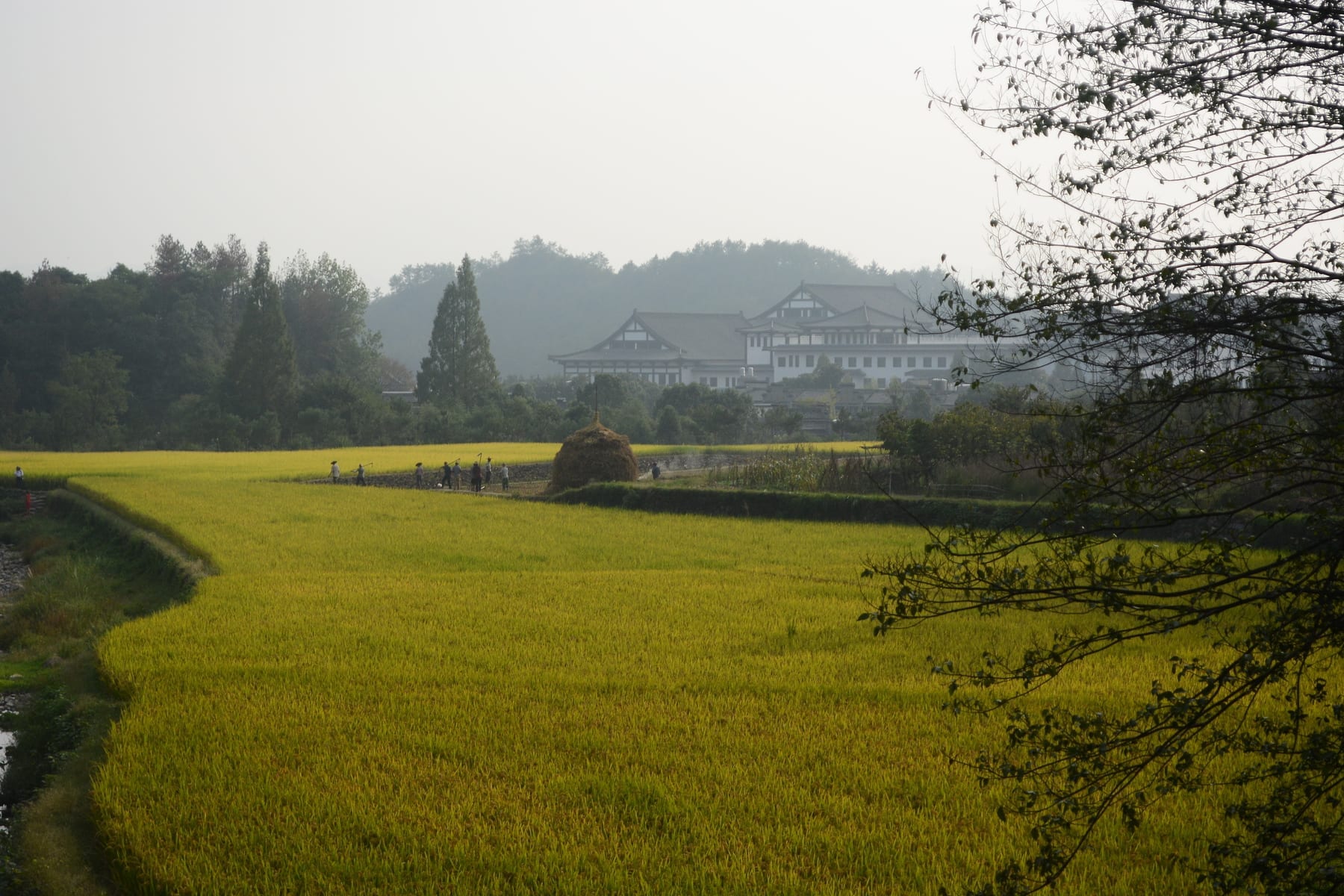 Guida di viaggio a Tiantai. Un'altra bella gita giornaliera da Hangzhou/Shanghai: Monti Tiantai e terme, tempio di Guoqing, Parco Nazionale di Huading, Qiongtai Xiangu
Tiantai Travel Guide
Another great day-trip from Hangzhou or Shanghai (although staying at least one night would be better) is the historical and naturalistic area of Tiantai. Tiantai has a long history indeed, it's birthplace and home of one of the most important Buddhist sects, the Tiantai Buddhism, with many followers all over China, Japan, and South Korea.
The Tiantai mountain is sacred both to Taoism and Buddhism, with thousands of pilgrims coming each year, it's also one of the most famous touristic spots in Zhejiang province. The area has lots of attractions, some are very beautiful, while some others are sorts of tourist traps, we'll try to guide you to the good ones through this little guide to one of the best places to visit in Zhejiang.
This post is part of our weekend getaways from Shanghai or Hangzhou, a collection of great off-the-beaten-path spots in Zhejiang and Jiangsu.
Check Also
Tiantai Travel Guide
Disclosure: Some of our articles contain affiliate links. This comes at no additional cost for you and helps us keep this website up and running. (as Amazon Associates we earn commission from qualifying purchases)
Tiantai City
Tiantai city is not beautiful, a fairly large town with wide roads and no old areas. The best parts where to find accommodation are: near the Guoqing Temple; north of Chicheng Scenic Area; towards Qiongtai Xiangu Scenic Area. Places to eat are everywhere, as usual in China, there are some brown (touristic) signs pointing to so-called "rural restaurants", we haven't been there but we saw a beautiful one north of Chicheng on Tianda Line, a stilted building on the river.
Tiantai Tourist Service Center
Tiantai Tourist Service Center is the transportation hub for all the main tourist attractions of Tiantai. From here you can buy tickets to each of these, and catch buses that will bring you right at the entrance. The employees speak some English, so it shouldn't be hard to move around. It is located in Faixia road, near Chicheng Scenic Area, north of Tiantai city center.
Guoqing Temple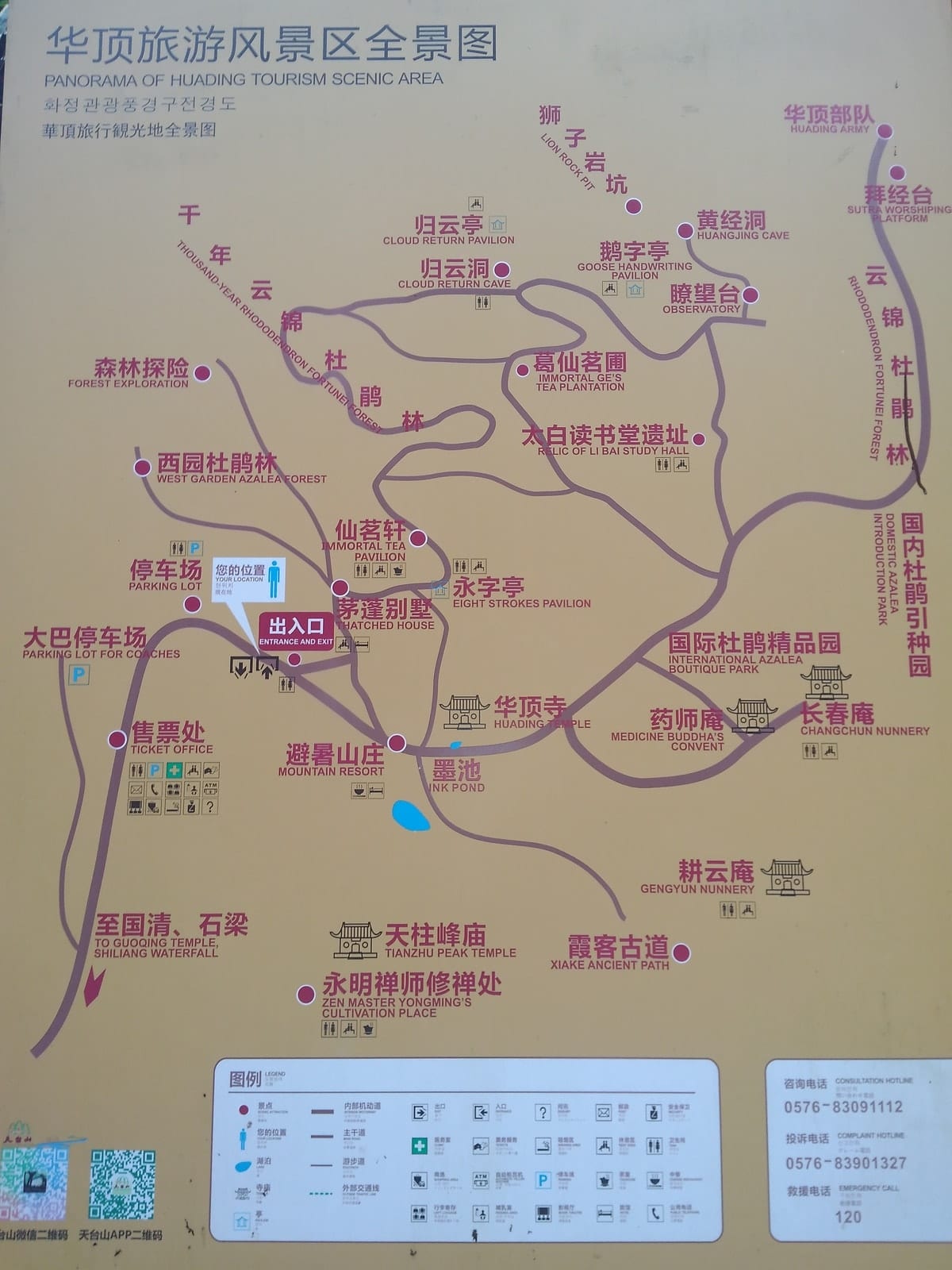 Guoqing temple is the birthplace of the Tiantai sect of Mahayana Buddhism, its history dates back to the late 16th century and, has previously said, is visited by thousands of pilgrims every year. The temple is big and has many halls, there is a stone pagoda on a nearby hill. The temple is surrounded by very old and beautiful camphor trees. Fortunately, there is no entry fee, so there's really no reason why you shouldn't visit this evocative place. You can learn more about its history on Wikipedia.
Tiantai Hot Spring Resort
Hot springs might not be what China is famous for, but there are many of them and some are stunning.
Just nearby the Guoqing temple is the huge Tiantai Hot Spring Resort, a huge facility with about 420 rooms, inaugurated in 2015. There are sever hot-spring pools in the hotel's courtyard, some are open air, some are sheltered by pavilions. It might be a great accommodation option if your budget is not to tight, rooms go from 680RMB up. You can book your stay on Ctrip.
Qiongtai Xiangu Scenic Area
Qiongtai Xiangu Scenic Area is the most visited attraction in Tiantai, it's a natural park comprising an artificial reservoir, a river, some waterfalls and a scenic mountain peak.
There are two entrances to Qiongtai Xiangu, one is on the top of the mountain, while the other one is at the bottom, next to the lower part of the reservoir.
Needless to say, if you enter from the bottom you'll have to climb all the way up, and vice-versa, so choose what fits you better.
The lower part welcomes you with a nice long pavilion above the reservoir, with an artificial waterfall falling from under your feet, then is a gentle and nice stroll along the river, with beautiful weird rocks and bathing-perfect ponds, too bad you're not allowed to swim here, although I think nobody will complain if you take a quick bath when the place is not crowded.
This swimming ban is common to all of China, and it's mainly a matter of safety, each year many Chinese drawn, most of them are not good swimmers, even if the government is trying to promote swimming all over the country.
You'll pass by a few nice waterfalls, after which the ascent begins. After the first ramps, the path turns into a suspended concrete walkway, that becomes more and more leg-wiggling while going up.
The scenery here is spectacular, but if you suffer from vertigo think twice about going up. Nothing compared to Shenxianju anyway.
At the top of the mountain, there's a sort of tower made of big rocks, it really resembles a Sardinian Nuraghe. It's called "the altar of the emperor's sacrifice", I presume it has been built recently but I'm not sure.
The whole hike takes about two hours and is fairly easy, although the steps up might be exhausting to some in very hot weather.
The entry fee is 65RMB, there are shuttle buses bringing you from one entrance to the other for 10 kuai. You can get here by bus from the Tourist Service Center of Tiantai, there are also local buses going there from the city center, ask around.
Huading Peak National Park
Huading is the highest peak of Tiantai mountains, so we thought this would be the place to visit to experience the holiness of Tiantai.
Unfortunately, the place is a bit of a scam. Catching the bus at the Tourist Center it's a very scenic ride up to about 900msl, this road could be worth the trip itself if only you could stop along the way to admire the scenery, the many traditional villages, and the big Tao temple next to the upper entrance of Qiongtai.
Unluckily, the road was too challenging for our e-bike, we would like to go up by bicycle someday. Anyway, if you have a proper gasoline means of transport or strong cycling legs, go up there and be amazed.
The Huading national park looks huge when you see it on a map, but the actual scenic area is very small and honestly unworthy of the 50RMB entry fee (plus the 40RMB for the bus, combo ticket bus-entrance is available for 80RMB).
It's actually no more than a nice walk in the woods, with an azalea groove and some tea terraces (nothing compared to the ones in Shibawo). There's also a Buddhist temple with an authentic atmosphere. We enjoyed Huading overall, but just because we were almost the only tourist there, I don't wonder why we were.
There are many more free paths in the park and around, where nobody goes, but the only way to get there is by having your own transportation.
The Tianpei Line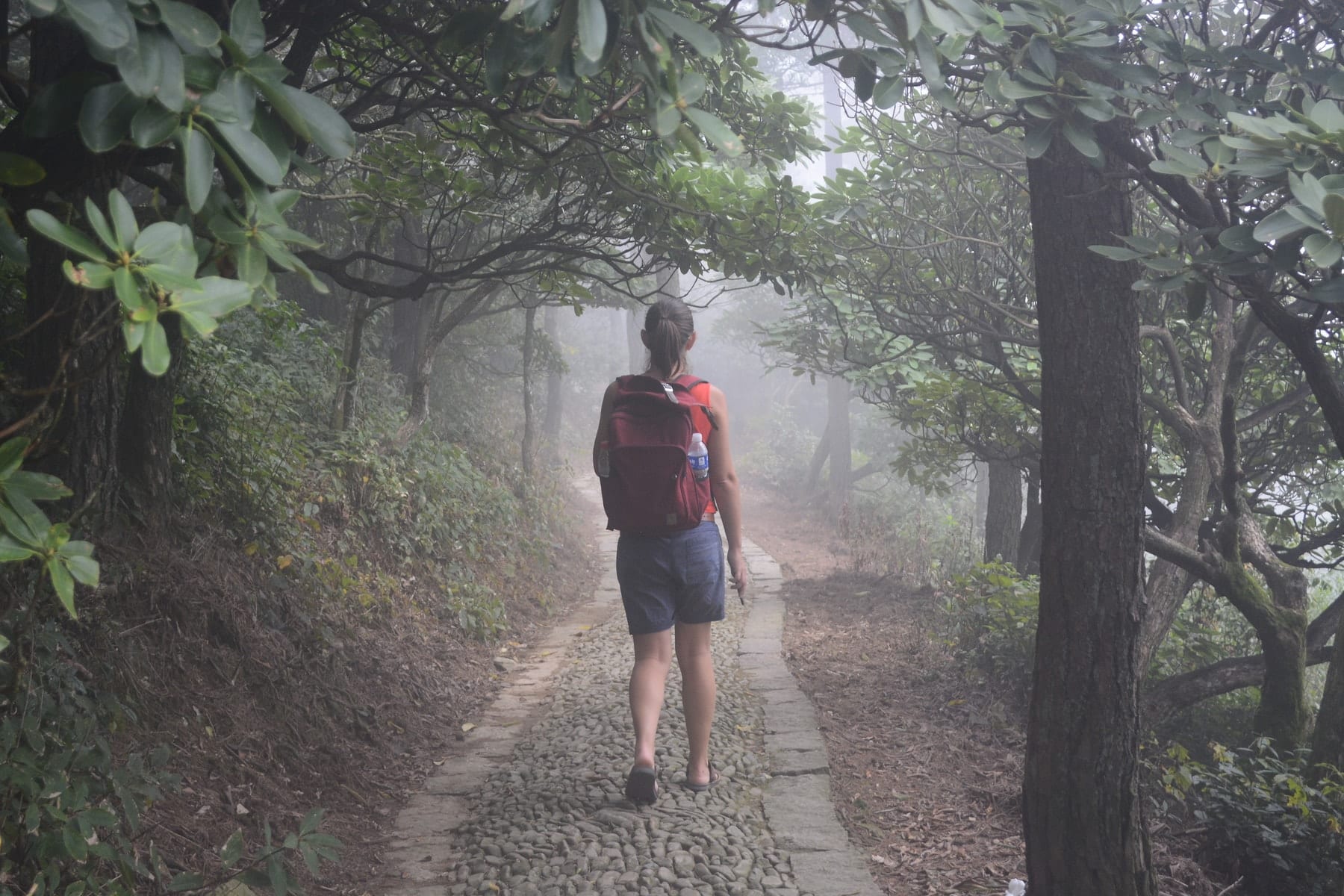 The Tianpei line is the road going north from the Guoqing temple, towards the mountains. This road is just beautiful, probably the best thing to see in Tiantai, going up steeply and crossing many traditional villages and temples.
There are country roads going left and right from it, upon cliffs or down the valley. Unfortunately, this also can be properly explored if you have your own transport, you could hire a taxi if you speak a little bit of Mandarin.
Some more things to do in Tiantai
Another famous area in the Tiantai mountain is the Shiliang Waterfall Scenic Area. It's also in the Huading national park, up high in the mountain, buses from the tourist center go there, the entry fee is 60RMB. We didn't visit it, sensing another scam, so we can't speak about it.
Near Guoqing temple and the hot spring resort is also the former residence of Jigong, a large area completely closed by high walls. It all looks built just yesterday, seeming just another one of the many fake old towns of China, I don't know if there's something original in there. The fee is 30RMB.
Chicheng Mountain is another scenic area, easily accessible from Tiantai Tourist Center by a short walk. It has a pagoda on its top, we don't know much more.
Where to sleep in Tiantai
Accommodation in Tiantai are plentiful, they go from the usual cheap Chinese-style hotel to the scenic mountain view luxury resorts, without forgetting to mention the hot spring hotel.
Most of the hotels in Tiantai accept foreign guests, we anyway advise to book your stay in advance through Ctrip, the best and most reliable booking website for China, if anything happens Ctrip will directly call you and provide solutions for any issue, we were always pretty happy with their services.
We slept at the Fengya Lanzhuang Hotel, a budget option just a couple of kilometers from Qiongtai Scenic Area, the typical not-so-clean Chinese hotel, the staff is very friendly though and they speak some English.
How to get to Tiantai
We came to Tiantai from Shibawo by e-bike, less than 40km, of which the first 25 on a beautiful road, with many spectacular switchbacks, surrounded by a thick forest where we spotted some superb birds, very colorful.
Tiantai is easily accessible by bus from Hangzhou. Two hours ride from Hangzhou Passenger Transport Central Station to Tiantai Passenger Transport Central Station. Bus fare is around CNY 79.
From Shanghai:
Take a long distance bus from Shanghai South Long Distance Bus Station or Hutai Road Long Distance Bus Station to Tiantai Passenger Transport Central Station. Bus fare is around CNY 140. It takes about 3 hours.
Get to Scenic Areas of Tiantai Mountain from Tiantai Passenger Transport Central Station:
How to get to Guoqing Temple:
Take bus No. 5 and get off at Guoqing Jingqu (Guoqing Temple).
How to get to Shiliang Waterfall and Huading Peak:
Take bus No. 1, 5, 3a or 3b from Tiantai Passenger Transport Central Station to Tiantai Tourist Service Area and then take a local bus. (information not totally reliable).
How to get to Chicheng Mountain:
Take bus No. 5 and get off at Chicheng Hotel Station and then walk for 1.4 km (0.9 mi).
How to get to Qiongtai Xiangu Scenic Area:
Take bus No. 8 from Passenger Transport Central Station. Then take the shuttle bus.
Best VPNs for China
To access most of the internet in China, you'll need a VPN app (Virtual Private Network). Most of the biggest websites are banned in China, including:
all Google products (even Gmail)
Facebook
Instagram
Twitter
and many others
The best VPNs are Express and Astrill, we have used Express VPN for a couple of years and have never had any major problems, absolutely recommended and worth the price.
There are also numerous free VPNs but many do not work or have a limited time during the day, usually an hour.

This post is part of our weekend getaways from Shanghai or Hangzhou, a collection of great off-the-beaten-path spots in Zhejiang and Jiangsu.
Check Also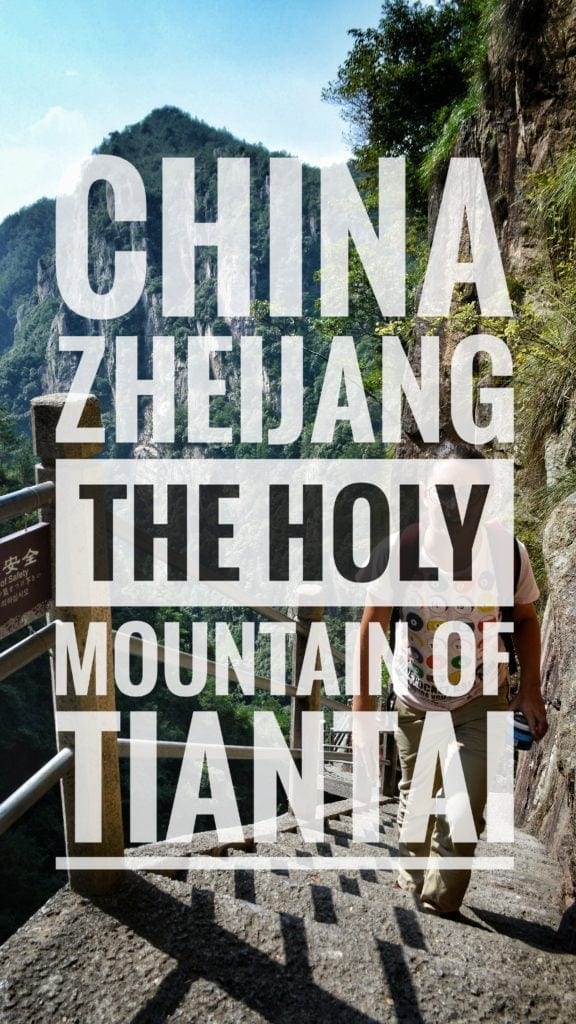 Was this useful?
If you think so Follow Us on Social Networks and Subscribe our Newsletter
Save
Save
Save
Stay in touch while we get lost! Follow us on Social Media