2-Weeks in Sardinia: a road trip itinerary
The best beaches of Sardinia & highlights in the interior
What to see/do on one of the most incredible islands in the Mediterranean
Sardinia is an incredible island, that has seen an increasing touristic boom over the last years, and not without reason. The quality of the crystal-clear seawater is unmatched, everywhere in Sardinia it's just perfect, even near the city!
The interiors are wild, rugged and poetic, the food is delicious, the beaches are beautiful and clean. Moreover, Sardina has a thousands-years-old history, with its unique and mysterious Nuragic culture from the bronze age.
Sardinia is famous for VIP tourism, the Costa Smeralda (Emerald Coast) in the north-east hosts every year the wealthiest of the wealthiest, strolling the coasts of Gallura with their fabulous yacht.
We say: avoid that part, sky-high prices, un-authentic mood, and overly-fancy feeling. The real Sardinia is elsewhere, literally everywhere else but there.
We put together this post, featuring our two weeks Sardinian itinerary, hoping to give you some ideas for your next trip.
At the bottom of this article, you'll find the map of our itinerary of Sardinia.
Interested in Italy off the beaten path? Here a beautiful itinerary: Alpe Adria cycling path
---
Our 14 days Itinerary of Sardinia in a Nutshell
Day 1 – Arriving in Cagliari
Day 2 – Desulo, Barbagia, Gennargentu
Day 3 – The mountains of Gennargentu
Day 4 – Cabras, Tharros, and the Sinis Peninsula
Day 5 – Putzu Idu, S'Archittu and Santu Lussurgiu
Day 7 – Sassari
Day 8 – San Pietro a Mare, Palau and Monte Pulchiana
Day 9 – Arzachena, Supramonte (Golfo di Orosei National Park), Urzulei
Day 10 – Santa Maria Navarrese, Arbatax, Capo Ferrato
Day 11 – Villasimius, Capitana
Day 12 – Cagliari
Day 13 – Pula
Day 14 – Ferry from Cagliari to Civitavecchia
---
Sardinia, how to get there
Sardinia has two major Airports in Cagliari (the region Capital, home of the international airport) and Olbia, where also two of the main seaports are located. The third major seaport is Porto Torres, in the north-west.
Porto Torres connects Sardinia with Barcelona in Spain and Marseille in France, while Cagliari and Olbia connect this beautiful island with the Italian mainland (which Sardinians call "the Continent").
If you're traveling by car is usually worth to bring your own by ship, since rental prices can be quite crazy in Sardinia, especially during the month of August.
When to Go to Sardinia
Disclosure: Some of our articles contain affiliate links. This comes at no additional cost for you and helps us keep this website up and running. (as Amazon Associates we earn commission from qualifying purchases)
Late July and the first three weeks of August are considered high-season everywhere in Italy, most of the Italians get their holidays during this period, absolutely avoid it if you can.
Prices sky-rocket, hotels are fully-booked, beaches are crowded and it's usually darn hot. The best times to go in Sardina are June or September, when temperature usually hot enough to enjoy the sea.
That said, we went during the peak season and still enjoyed a lot, avoiding some hot-spot may help, Sardinia is beautiful everywhere.
---
Get Around Sardinia
Public transportations in Sardinia are scarce but present, where trains don't go there are always busses. For a big tour like this though, having your own means of transport is a must. The little traffic and beautiful scenic roads of this island make it a great destination for bicycle touring.
---
What to Eat in Sardinia
Sardinian food it's astounding and it will deserve a dedicated article (which I'm not going to write). The price of a first course, usually pasta, is around 10/12€ in average restaurants, while a second course ,meat or fish, goes from 15 to 20€.
Portions are always super-abundant, so consider sharing, especially for lunch… if you still want to be able to swim without waiting 4 hours to digest.
Absolutely try: porceddu, culurgiones, fregola, and everything else you may find. For a light lunch, we advise panini with local cheese, pecorino, from the supermarkets, cheap and tasty.
---
Where to Stay in Sardinia
Airbnb has become huge in Sardinia, you can find a lot of solutions there. Many accommodations are also available on the usual booking websites, you can find some good deal in Cagliari here.
Old rundown hotels are worth a direct try, often you could bargain a good price, since nowadays people prefer BnB, these old facilities sometimes have many vacant rooms.
Campsites can be ridiculously expensive during peak season, reaching the price of a cheap hotel room (30€ per person or more).
Stealth Camping?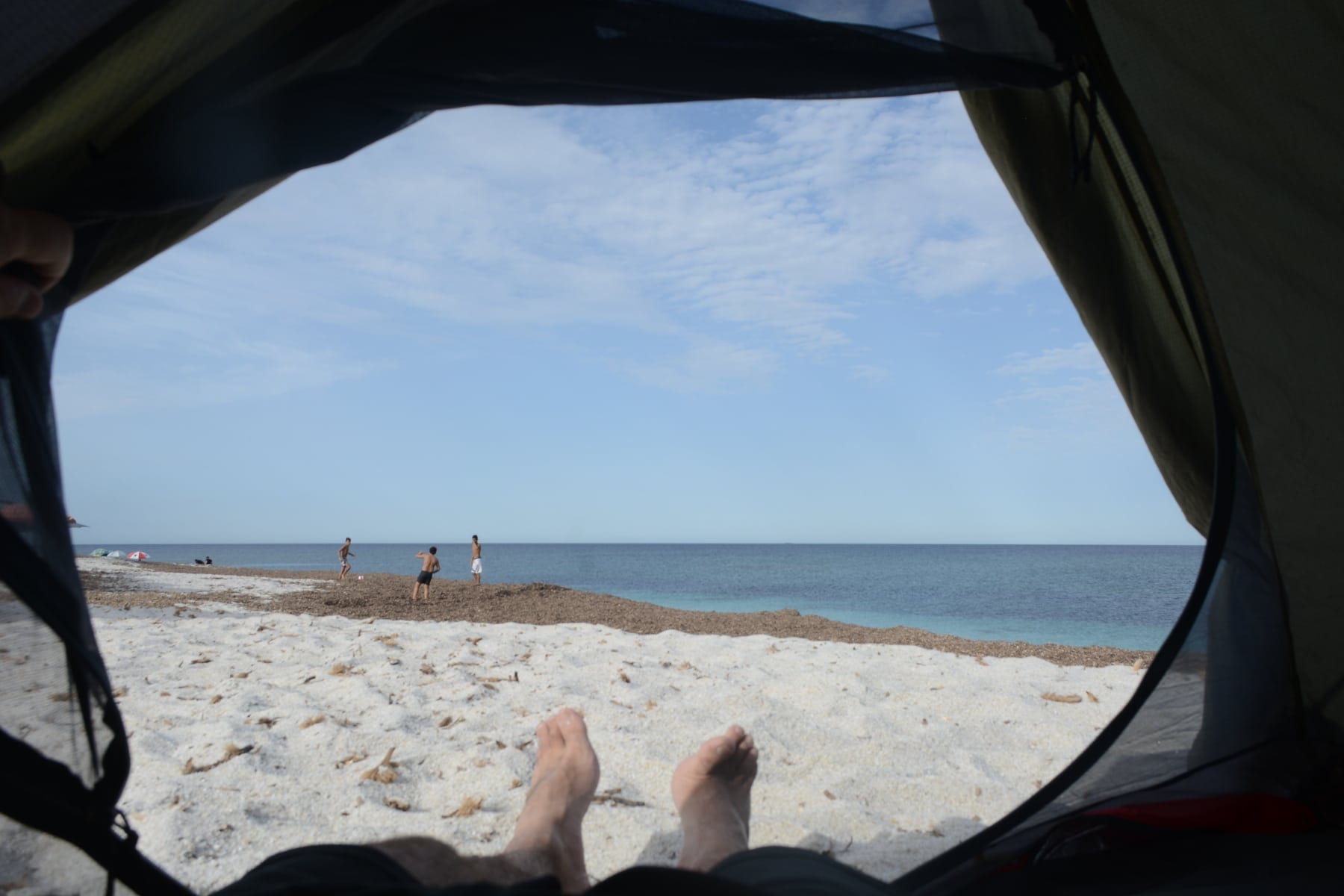 Is free camping legal in Sardina? Well, the short answer is: no. Pitching tents is forbidden on all the beaches and many parts of the interior (National Parks). It's although allowed (to the best of our knowledge) in non-protected areas for a maximum of one night.
That may seem great but it's not so easy: even though Sardinia is very sparsely populated (69/km2), almost everywhere there are fences, even lands where there's absolutely nothing are fenced, making thus quite hard to find a camping spot.
Anyway we did it, camping sometimes on the beach and sometimes in the interior, just following the basic stealth camping rules:
How to free camp and not get fined:
Set the camp after sunset and dismantle early.
Leave no trace, light no fire.
Don't play around too much with your flashlight, stay in the dark, enjoy the stars.
Ask the locals and stay where they stay (Sardinians free camp on the beaches, they know where it will be tolerated).
Stay far away from towns, bars or famous beaches.
A few more specific tips:
Sea police patrol every beach, passing once about one hour after sunset, try to be invisible.
Be aware that small crimes and robberies can happen, take care of your belongings.
Camp on people's property only after you got the owner's consent.
If you have enough money to pay for accommodations, avoid it overall.
Never do it on the Costa Smeralda, rules are much more strict there.
Stare at the moon but without stealing it please, don't do like the famous Italian/Sardinian movie.
Our 14 days itinerary in Sardinia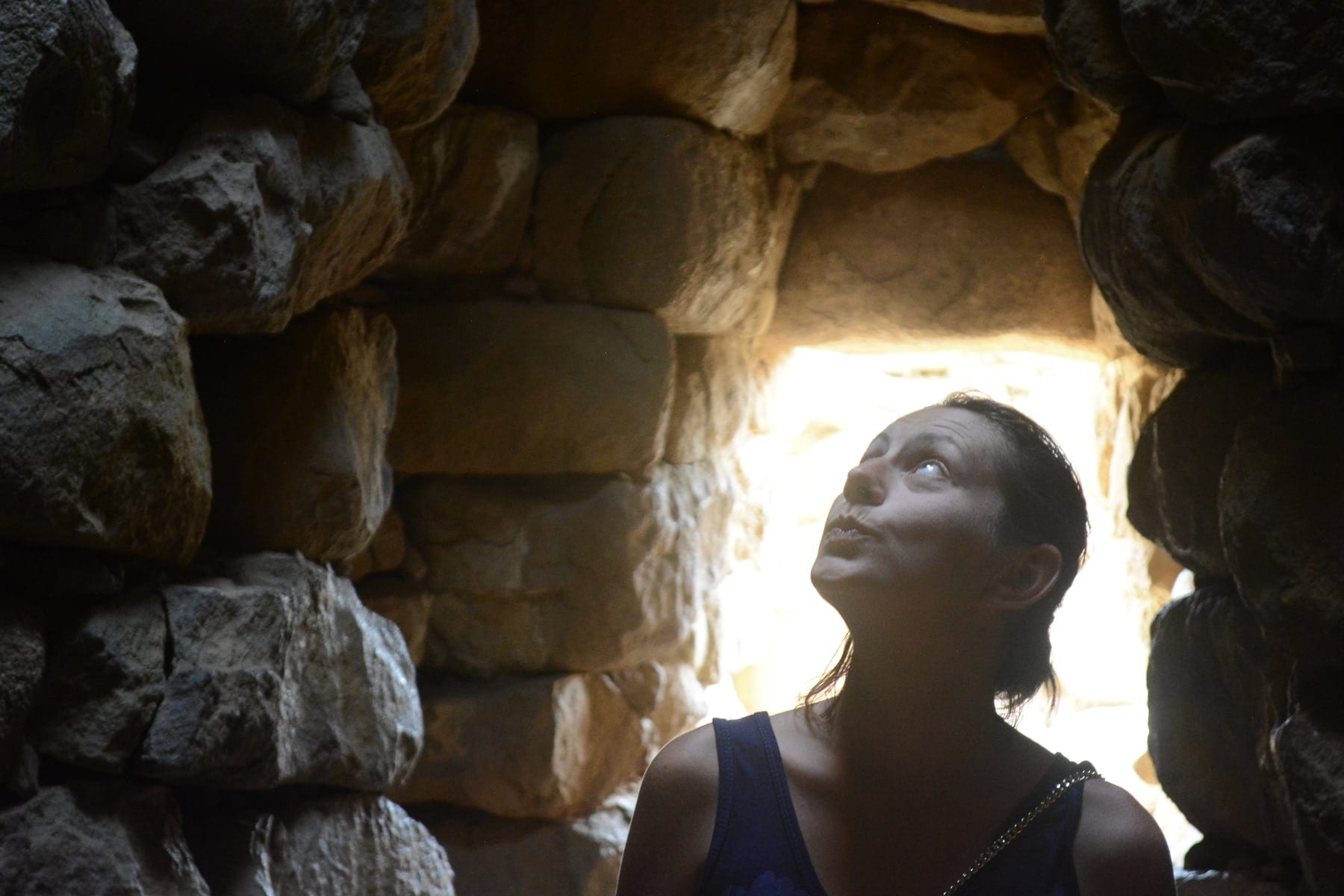 Our tour was done by car, around 1.000 km in 14 days, easy-going but without sleeping two nights in the same place, with the only exception of Desulo.
Given our taste for off-the-beaten-path destinations, our chronic lack of funds, and the fact that we were there in peak season, we almost totally skipped the famous Costa Smeralda. That's where the rich and VIP go, everything is so fancy, more expensive and less authentically Sardinian.
Our detailed itinerary in Sardinia
Day 1 – Arriving in Cagliari
I and Elena arrived separately in Cagliari, while I flew from Catania with RyanAir for 80 €, she took the ferry from Palermo, 50 €, 12 hours night-time. We bypassed Cagliari and slept for free at a Couchsurfing host near Quartu Sant'Elena.
Day 2 – Desulo, Barbagia, Gennargentu
While Elena and I arrived in Cagliari, our friends (the ones with the car), arrived in Olbia from Livorno, so we diced to meet somewhere in the middle. So we went to Desulo, where we have a dear friend, who came pick us up in Quartu (typically Sardinian).
Along the SS197, near the town of Barumini, is the Nuragic site of Su Nuraxi (entrance fee 11€), one of the biggest and best-preserved in Sardinia, absolutely worth a stop.
Past the village of Laconi, things start getting interesting, we're in the mountainous region of Barbagia. The road climbs among the woods, passing the small nice settlements of Aritzo and Belvì, reaching Desulo at almost 900msl.
Desulo is a small village (about 2,000 people), perched on the steep side of a narrow valley. We were so lucky to stumble upon one of the many local festivals, free food, and traditional music.
Everywhere in Sardinia, there are festivals, especially in spring and summer, but in the mountainous areas, those are always more authentic and less commercial.
Spending at least a couple of days in the mountainous interior is a must for every tour of Sardinia that aims to completeness. Has one local girl told us: "we from the mountains and those from the coast… we are two different nations".
---
Day 3 – The mountains of Gennargentu
We take the day to explore the amazing landscapes around the area, going to the base of the footpath that leads to the highest peak of Sardinia, Punta la Marmora (1,834msl), but we didn't attempt the hike (we had lunch with our hosts, an incredible amount of food). In the evening we head towards the coastal area of Oristano, passing the nice town of Sorgono.
Day 4 – Cabras, Tharros, and the Sinis peninsula
The Sinis peninsula is simply incredible, probably the best beaches we saw on the whole trip (and it's a hard competition).
Cabras is the hometown of Bottarga (dried mullet eggs), we stopped here to taste it, we can recommend Attilio's restaurant. East of town there's a big pond where you can see pink flamingos.
Here someplace to sleep in Cabras. San Giovanni di Sinin is the south cape of it, and it features beautiful golden sand cove beaches with crystal clear water, a Spanish watchtower (those are literally everywhere along the coasts of Sardinia) and the ancestral settlement of Tharros. Tharros was first a Nuragic village, then was used by Phoenicians and finally by Romans.
From here you must absolutely take the unpaved road that runs along the shore, here are the mind-blowing quartz beaches (Is Arutas beach)… yes, beaches made of small quartz pebbles, resembling rice grains. The water is deep blue and cold. We saw some locals camping here and so we did, a beautiful starry night in one of the best beaches in Sardinia.
Day 5 – Putzu Idu, S'Archittu and Santu Lussurgiu
Putzu Idu is a small resort village on the northernmost tip of the peninsula, the beach is quartz also here (although the southern ones are wilder and less crowded).
The beach of Sa Mesa Longa was honestly disappointing (compared to the Sardinian standards), while the cliffs of Su Pallosu (just around the promontory) are not to be missed.
Beautiful rock formations, transparent water, and interesting snorkeling. Here where to sleep in Putzu Idu and its vicinity.
S'Archittu has a small beach but very interesting cliffs around, it may be worth to rent a kayak to explore around ("S'Archittu" means "The small arch").
We headed to the interior in the evening, towards Santu Lussurgiu where we had the worst Airbnb experience ever. Anyway, the area is nice, with narrow valleys and epic landscapes. Worth passing by. There are not many accomodation in Santu Lussurgiu, you can find some here.
---
Day 6 – Bosa and Alghero
Going north from Bosa, we followed the coastal road (SP49), an astonishingly scenic road. The small cove beach of Compolitu is not to be missed, a short hike down from the road leads to this picture-perfect place, nestled between weird granite cliffs shaped by the forces of nature.
The road stays amazing until Alghero, this historical city has a beautiful city center and many choices for accommodation, food, and souvenirs. A very touristy place, but deserving to be seen.
North-East from here is the National Park of Porto Conte, very scenic. The boat trip to the Neptune Cave may be interesting, but the boats were overcrowded when we saw that.
Day 7 – Sassari
Sassari is the second largest city in Sardinia (urban population 127,000), interesting for its architectural heritage, a mix of baroque, neoclassic, medieval, gothic and romanesque. It also has a lively nightlife and a young population. The nearby archeological site of Monte d'Accoddi, on the road to Porto Torres, is a unique prehistoric monument with a step pyramid construction.
---
Day 8 – San Pietro a Mare, Palau and Monte Pulchiana
The coast to Castelsardo has sand beaches, among which quite notable is San Pietro a Mare: incredible sand dunes (unique in Italy), a long pond in the back, golden sand as far as the eye can see. Arriving in Badesi we absolutely advise heading to the interiors, where a place really off-the-beaten-path is to be found, Monte Pulchiana.
Monte Pulchiana is almost unknown, also among Sardinians, but is probably the place that most astounded us. A huge granitic monolith, surrounded by a dreamy landscape that reminded us of Cappadocia.
We'll let the pictures describe that. The places is between the villages of Aggius and Luogosanto. The area also features many cork trees. We're now in the region of Gallura.
The resort town of Palau is already part of the famous Emerald Coast, not as fancy as Porto Cervo but already too fancy for us, we visited it just to meet a friend working there. If you pass by the area, take the road to Capo d'Orso for a great view of the Maddalena Archipelago.
Day 9 – Arzachena, Supramonte (Golfo di Orosei National Park), Urzulei
Another beautiful day. In Arzachena, we visited some notable archeological sites: the Nuraghe of La Prisgiona, a Nuragic village of about 100 huts, with a perfectly maintained central tower; and the nearby Giant's Tomb of Su Coddu Vecchiu, an ancestral megalithic site.
Then we hit the road, 190km to Santa Maria Navarrese. Here we faced a difficult choice:
Option 1: following the highway until Nuoro and then heading south, in order to visit the town of Orgosolo, famous for its peculiars Murals.
Option 2: getting out of the highway at the Drogali/Cala Gonone exit, thus cutting through the mountainous area of Supramonte, following the road SS125.
We chose option 2, and we didn't regret it. SS125 is one of the most scenic roads we've ever ridden. Sheering over a hundreds meter deep crag, a river running below, granite rocks from outer worlds, superb.
We tried to see the local horse race in the small village of Urzulei, but they took too long to start and our stomachs cried, so we finally got to eat the real "porceddu" (roasted baby pork) and an overall great dinner at the nice family run restaurant Sant'Anghilu, cheap prices, kind service and amazing view. We free camped next to the beach at the southernmost end of Santa Maria Navarrese.
Day 10 – Santa Maria Navarrese, Arbatax, Capo Ferrato
If you like long, wide, golden sand beaches, Sardina's west coast is meant for you. Santa Maria Navarrese, Arbatax, Bari Sardo, and further south, is a long line of beach-side pine grooves campings, cheaper than the ones in the north.
After a relaxed morning, we pay a quick visit to the Golgo Plateau, accessible from Baunei. The places would have deserved a deeper exploration, many hiking paths lead to magnificent beaches. Unfortunately, we only visited Petra Longa beach (not really a beach), stunning.
In the evening, we head south stopping at Capo Ferrato. Nice little cove beach, the remnants of an old volcano, and again pine grooves where locals do free camping and so do we.
Day 11 – Villasimius, Capitana
The Villasimius area is a jewel, perfect white sand beaches, picture-perfect tropical style water, cliffs, and nazes. All the beaches in the area deserve a visit, but Punta Molentis is seriously mandatory.
A rocky foreland, incredibly shaped by mother nature, is connected to the land by a narrow strip of white sand, sea on both sides, and dunes… big, soft, white sand dunes, never seen something like this before. During high season there's a mandatory 5€ parking fee, valid all day for all beaches in the area.
Porto Giunco beach is also stunning, again backed by a pond hosting pink flamingos all year round. Unbelievable water and white talcum-powdery sand.
After a beautiful day on the beach, we went west towards Cagliari to find a place to free camp. Not only we succeeded, but we also found an incredibly evocative place.
Just a few km before Capitana, there's a place called Is Mortorius. Here stay the ruins of an old fishermen village, already suggestive enough, but exploring deeper something very weird comes out: it's the former military battery "Carlo Faldi", an anti-naval outpost, perfectly camouflaged into the landscape.
Two observation towers are made from pre-existing nuraghe, a series of underground tunnels connecting hidden machine gun stations. A very curious place to visit.
Day 12 – Cagliari
Cagliari is the capital of Sardinia, but it's still a small city with only 157,000 inhabitants living in the urban area. Cagliari is rich in history and architectural heritage. Climb up to the castle and explore this beautiful area.
The most famous beach of Cagliari is located in Quartu Sant'Elena, also here tons of Flamingos.
Day 13 – Pula and ferry from Cagliari to Civitavecchia
For our last day on the island, we went south-west, towards the only area we didn't touch on this trip. We stop between Pula and Chia to see the famous pink sand beach, narrow and not so pink, but with astonishing water as usual.
The ferry back to the mainland is crowded, we purchased a dock passage ticket way in advance, otherwise, we would've been stuck in Sardinia.
Dock passage means you can sleep on the couches of the bar, or on the floor, there is fitted carpet everywhere. Board as soon as you can to get a decent spot. The ferry ride takes about 10 hours, after which you're in Civitavecchia, not far from Rome.
---
Two Weeks Sardinia Itinerary Map
Liked it? Don't forget to follow us on social networks!
Stay in touch while we get lost! Follow us on Social Media