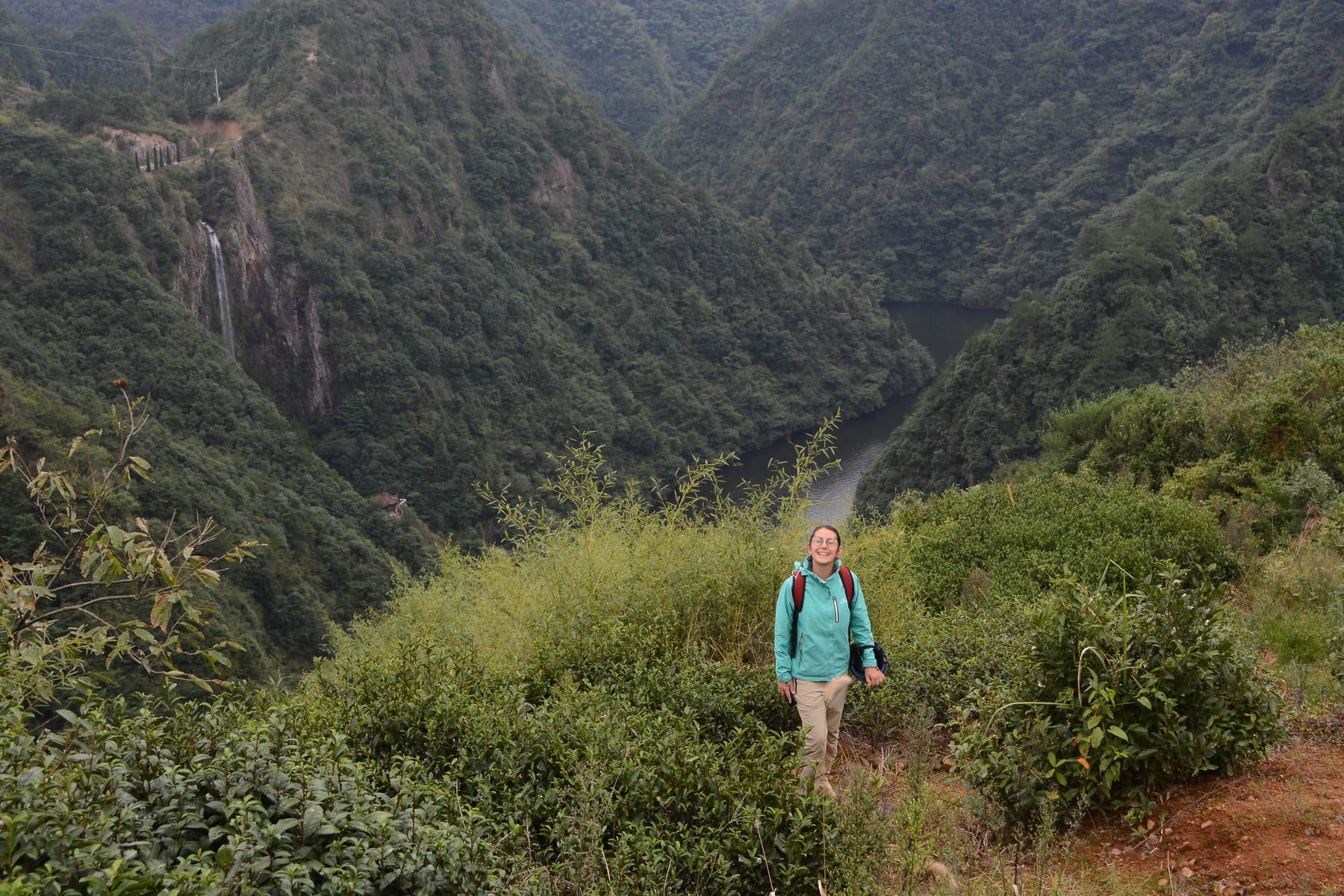 Shibawo Scenic Resort in Pan'an County – Zhejiang
One of the best weekend trips from Hangzhou or Zhejiang is the Scenic Resort of Shibawo, in the village of Jianshanzhen, Pan'an county, Zhejiang province. The area is beautiful and features some of the best tea terraces in China (or at least in Zhejiang).
There are two scenic areas here, Shibawo and Wolongxia, along with Dapanshan Geopark, another natural attraction situated south of the city of Anwen, quite far from Jianshanzehn.
But the best of this place is not one of these, it's instead for free and you can find it with the help of this little guide about things to do and see in Pan'an County.
This post is part of our weekend getaways from Shanghai or Hangzhou, a collection of great off-the-beaten-path spots in Zhejiang and Jiangsu.
Check Also
The best things to see in Pan'an County
Disclosure: Some of our articles contain affiliate links. This comes at no additional cost for you and helps us keep this website up and running. (as Amazon Associates we earn commission from qualifying purchases)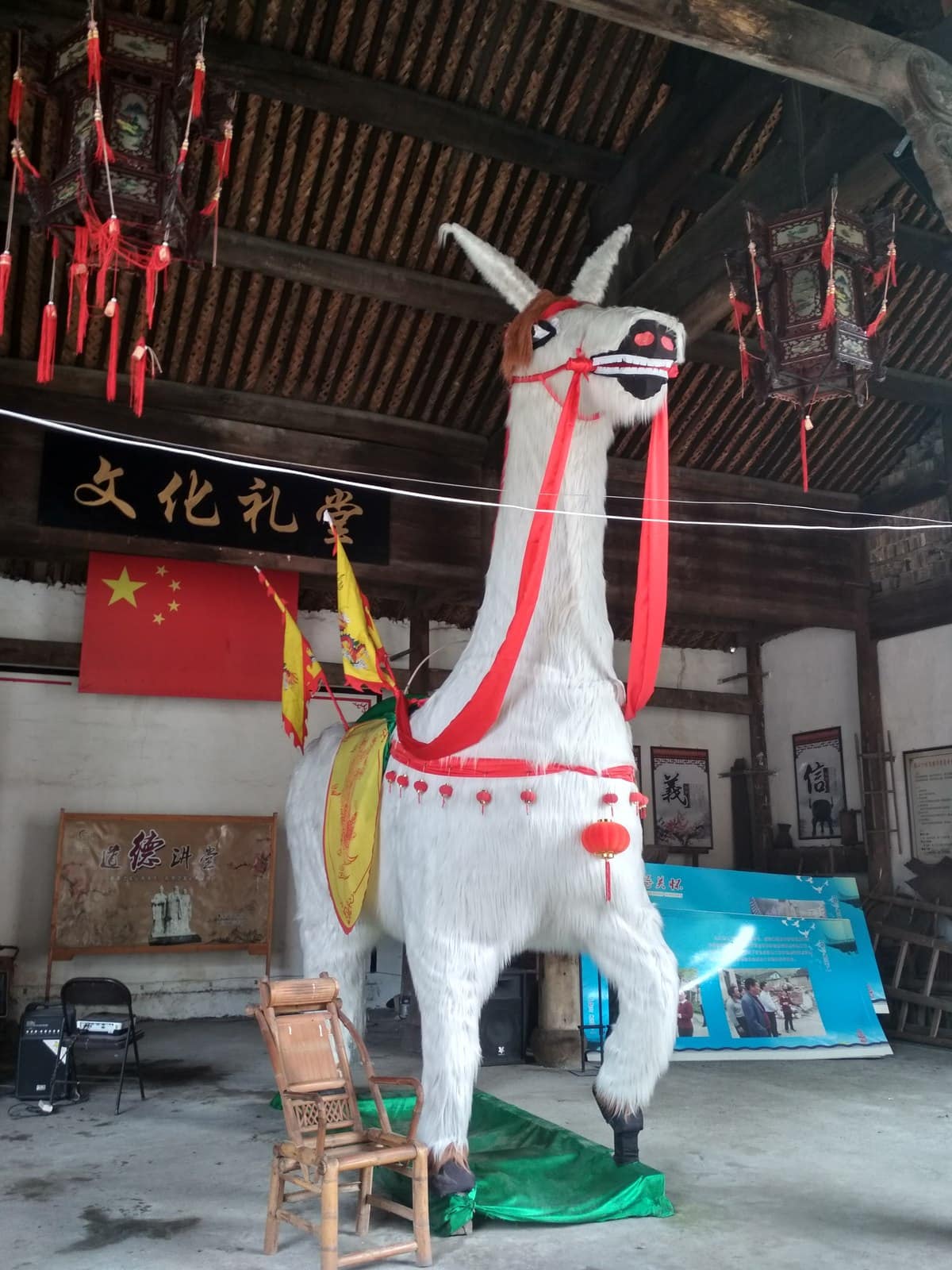 How to get to Pan'an county and Shibawo Scenic Resort
Not so easy and quick to get here, unfortunately. We arrived at Shibawo from Anwen (Pan'an) by e-bike, less than 50km on a very scenic road, itself worth the trip.
If you're not lucky enough to have your own transportation, get to the city of Anwen, Panan county capital, from Hangzhou by bus, they are regular and take a little over 2 hours.
From Shanghai a bus is available once a day and takes about 5 hours, so better to travel by train to Hangzhou and then take the bus from there.
From Yiwu busses are frequent and take about 1.5 hours.
To get to the village of Jianshanzhen and the Shibawo scenic area, take a local bus from Anwen bus station.
Alternatively, you can take the fast train from Hangzhou to Ningbo and then a bus to Tiantai (spend a day here for sightseeing if you have time).
From Tiantai you can hire a taxi (shouldn't cost more than 150RMB), or ask if there's a bus, I'm pretty sure there is, but couldn't find it online.
Anwen, the capital city of Pan'an County
Anwen is apparently nothing special, but it has its charm. No big avenues here, instead there a few main streets, lined with trees, and a nice riverside, along the Anwen brook, which is larger than the name may suggest. At night the riverside is lighted by iridescent led lights and red lanterns.
Pan'an is somehow the city of junk food, a lot of small places sell fried stuff, grilled buns, and even Takoyaki.
When we were there (during the golden week, in early October) a lot of street vendors sold delicious chestnuts, fresh fruit is everywhere and very tasty, there's also a small traditional market. Musician playing traditional Chinese instruments gathered in a pavilion nearby the river.
Anwen is surrounded by green mountains, two small ones are adjacent to the town center and are used as city parks. There's a small old town, interesting to stroll, to admire the traditional architecture and lifestyle of Zhejiang.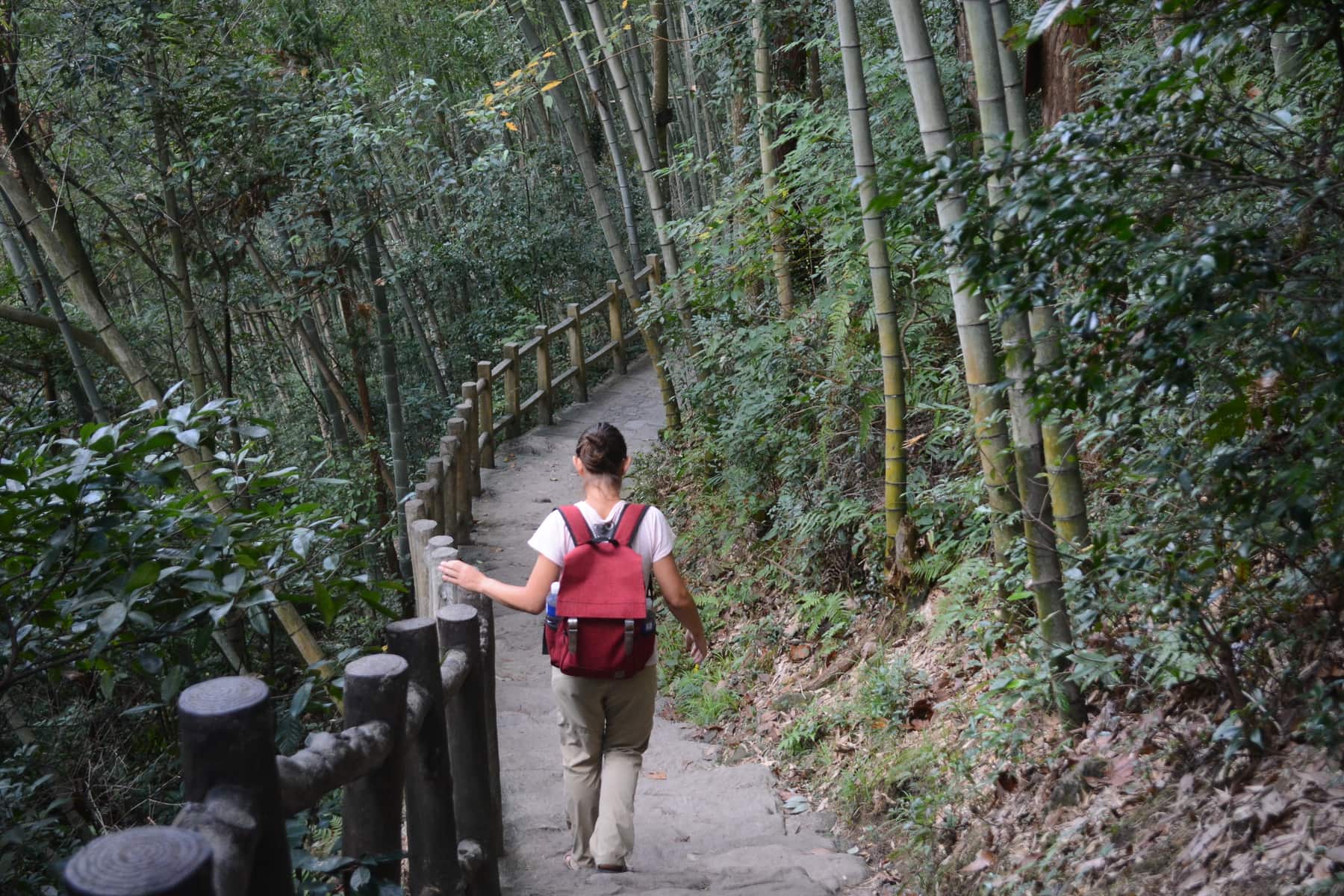 The road to Shibawo Scenic Resort
This road is just amazing, a reason itself to visit this area. If you have the chance to ride this 50km by bicycle or e-bike you should absolutely go for it.
The road is improperly named Panxin Highway since is more of a mountain road than a highway. It leaves the S218 (connecting Pan'an to Xianju and passing beside the Dapanshan geopark) in the village of Molinxiang, going through the mountains, beside a beautiful river, crossing many old traditional villages that are famous for hosting curious festivals.
Unfortunately, we couldn't understand more about these festivals, when and exactly where they are held remains a mystery, we just saw a big horse made of papier mache.
Approaching Jianshanzhen, tea plantation start to flourish everywhere, wildflowers line the road in a booming of colors. From Jianshanzhen there are 6km more to get down the valley to Shibawo, a spectacular series of steep turnpikes that really challenged our electric scooter the way back.
This is also the road that leads to Tiantai, if you proceed further to this other tourist destination you won't regret, the scenery stays astounding.
Shibawo Scenic Resort
The natural park of Shibawo is a bit of a tourist trap, don't get me wrong, the place is very nice, but the entry fee of 65RMB is absolutely overpriced. Moreover, anything will dim if you visited Shenxianju before.
The park consists of a loop hike: the first part is in the woods above the Jiaxi river, the vegetation is very variegated and allegedly also the wildlife, with pictures of a sort of cute armadillo everywhere (it's probably very unlikely that you're going the meet this guy in person).
The second part is along the river, geologically and scenically interesting for its many potholes and weird rock formations.
This place could just be perfect if only you could swim in the river. Unfortunately, this is forbidden, although I'm not sure anyone will complain if you'll take a short bath when the place is not crowded.
Inside the park there is a waterslide (45RMB) and a small adventure park (30RMB), you can also sail for a short distance on a bamboo raft similar to the ones we saw in Xianju (10RMB).
The whole hike is very easy, about 3km, mostly flat, doable in less than 2 hours at a very slow pace and a lot of pictures stops.
Wolonxia Scenic Area
Wolonxia is a brand new scenic area, upstream the same Jiaxi river. There is a suspended glass bridge, a zip line, an electric car that brings you down the valley to another stroll along the riverside, where is possible to take a boat ride to a big waterfall.
We didn't go in, the basic fee is 60RMB plus many additions for each of the things mentioned above, up to 130RMB, really to much for a walk along the river and a waterfall. But don't worry, you can enjoy a great view of the waterfall for free, following the instruction from the next chapter.

Tea Terraces and Traditional Village
The real reason to come to Jianshanzhen is the rural life, here there are some of the best tea terraces in China (or at least in Zhejiang) and one of the most beautiful traditional villages we've ever seen in China.
It is located south of the town, to get there, take left before reaching Wolonxia's entrance, it's very easy to find it, just take any narrow alley where you see old houses and cultivated fields.
The dwelling is astounding, so many different styles of houses: top floors made out of wood, drywalls with stones of different colors, mud-houses, and a lotus pond in the middle of the village.
You'll see people busy with their daily activities, unfortunately only old people, the younger left for more lucrative jobs. That's a sad trout and a serious issue in China, very old people doing very hard work.
From the village, you can easily enter the fields. The villagers were very happy to see us wanting to explore their cultivations, appreciating their work. Head towards the river, which is some hundreds of meters down, if you go further enough you'll be rewarded with one of the most amazing views you can find in Zhejiang.
The gorge will open before you, marvelous tea terraces all around, going steeply down in the canyon, vegetable garden forming geometric patterns, and last but not least the incredible sight of the very same waterfall you're asked 65RMB to see at Wolonxia. The waterfall is about 100m high and very scenic.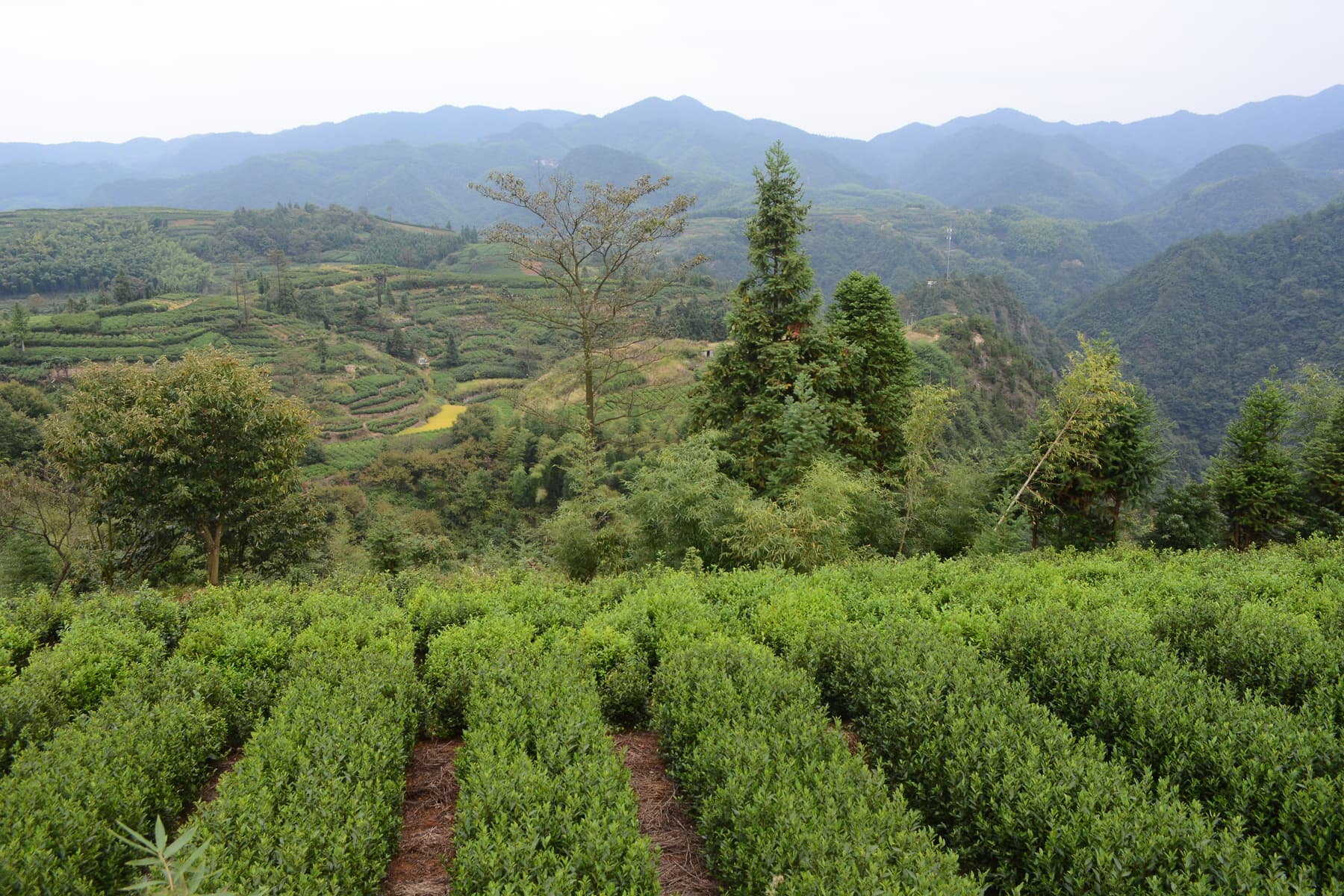 Dapanshan Geopark
Dapanshan Geopark is another scenic area in Panan County, situated about 20km south of Anwen next to road S40. We haven't been there and haven't found any information on the internet.
If you are in the area, give it a try, and maybe let us know something about it in the comment section below.
Where to sleep in Shibawo
There are a few cheap hotels in Jianshanzhen and some more expansive ones near Wolonxia. We stayed at the Xi'an Hotel for just 170RMB in peak season. The room was very nice, with a beautiful view over the tea terraces.
Use Ctrip to book your stay, it's just the best booking service in China, they are very helpful and professional.
Best VPNs for China
To access most of the internet in China, you'll need a VPN app (Virtual Private Network). Most of the biggest websites are banned in China, including:
all Google products (even Gmail)
Facebook
Instagram
Twitter
and many others
The best VPNs are Express and Astrill, we have used Express VPN for a couple of years and have never had any major problems, absolutely recommended and worth the price.
There are also numerous free VPNs but many do not work or have a limited time during the day, usually an hour.

This post is part of our weekend getaways from Shanghai or Hangzhou, a collection of great off-the-beaten-path spots in Zhejiang and Jiangsu.
Check Also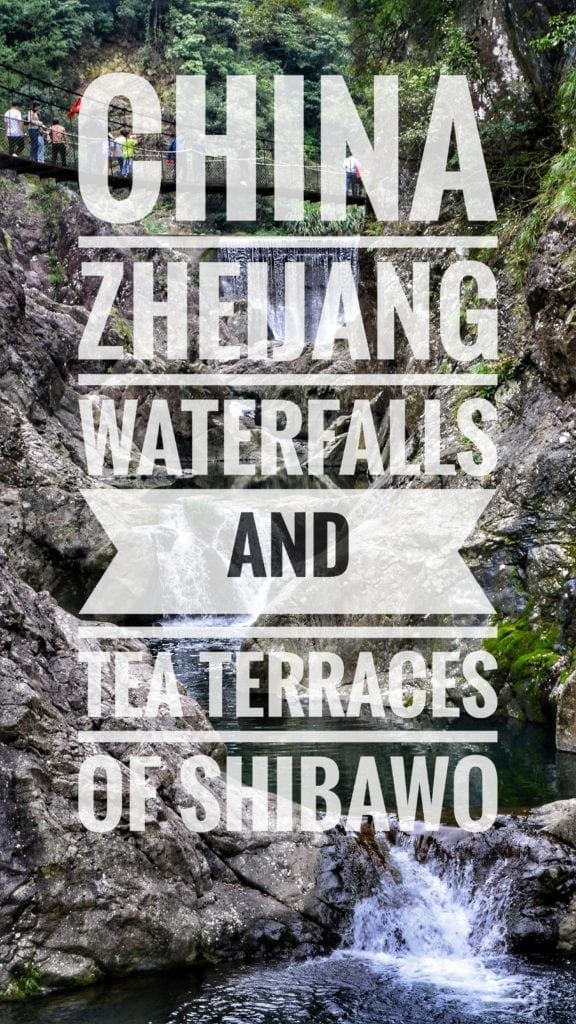 Save
Stay in touch while we get lost! Follow us on Social Media