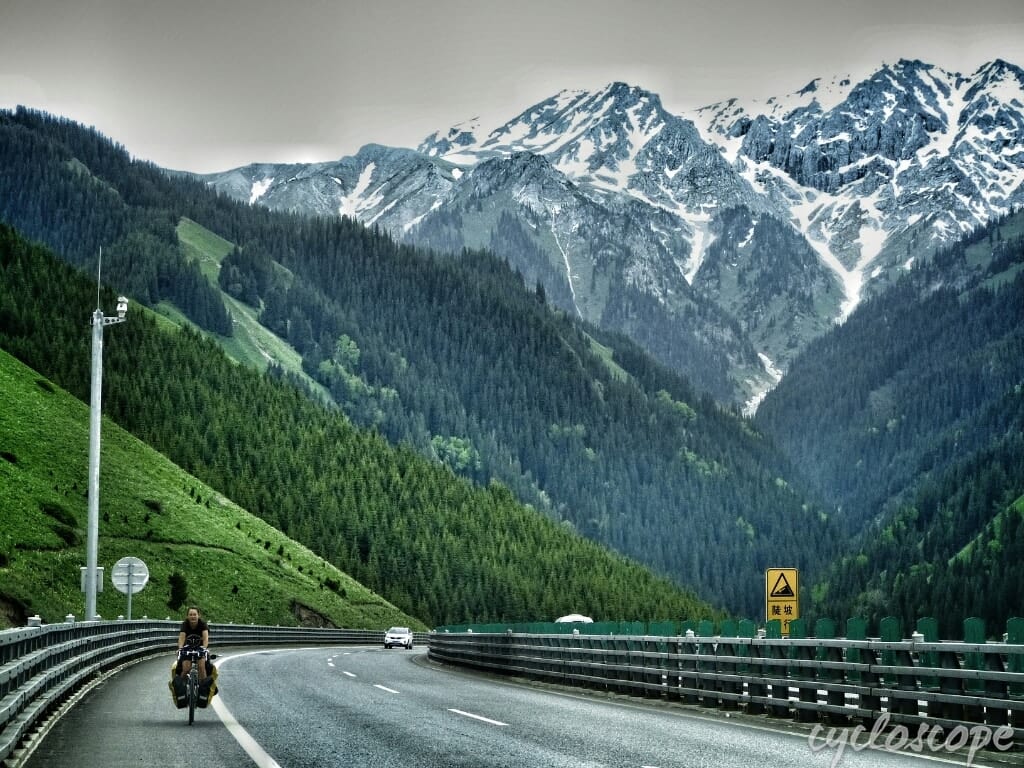 Overland border crossing from Kazakhstan to China
Bicycle touring in Xinjiang, around the Sayram lake
Some things to know about Xinjiang
Bicycle touring to China was our first goal when we set off for this bikepacking journey, and we finally made it! We're cycling Xinjiang, the biggest and westernmost province of China.
Coming overland from the west, there's no other place where you can end up, Xinjiang borders Kyrgyzstan, Kazakhstan, Russia, Mongolia, Tajikistan, Afghanistan, and Pakistan.
Xinjiang is a beautiful and very interesting region, it features huge mountains and alpine lakes, the vast desert of Taklamakan and part of the Gobi, steppe and tundra, and nomadic cultures.
In our trip, we got to see some of the best places in Xinjiang, so read-on and discover this magical, tormented, and incredibly underrated region of China.
Bicycle touring Xinjiang – Our Blog Diary
And so we are in XinJiang "autonomous" region, the biggest province in China, which borders 8 countries and is one of the "hottest" areas in China in political terms.
This region is indeed the home of many minorities, most of whom are Muslims, the Uyghur, in particular, are a majority in the region, despite the government attempts to "Chinesize" this area.
There's a strong independence movement, which is strongly repressed with an iron fist.
Xinjiang is also the less densely populated area of China after Tibet and is home to many nuclear power plants and military experiments.
Disclosure: Some of our articles contain affiliate links. This comes at no additional cost for you and helps us keep this website up and running. (as Amazon Associates we earn commission from qualifying purchases)
Border crossing from Kazakhstan into Xinjiang, China
We cross overland from Kazakhstan in Khorgas (霍尔果斯), smooth border, apart from having to make a long turnpike, about 8 kilometers into the no man's land between the end of Kazakhstan and the Chinese soil. But no problems getting in, no controls, not even a bags check.
Just outside the passport control we are in China, assaulted by guys who want to change our money illegally. Seems like bicycle touring opens up some doors here.
The first impact with China:
1. Total illiteracy (ours) but, despite what everyone said without ever being here, there are more people who speak English than any other place visited during this trip. All the cops at the border spoke English.
2. The smoothness of the asphalt. Wonderful. Half the effort when cycling.
3. Funny 3 wheeled electric scooters and motorcycles of different sizes everywhere.
4. This should be a small town but it's indeed bigger than many Kazakhstan district capitals.
Making a Chinese SIM card in Xinjiang
We enter for the first time in a Chinese mini-market, there are a lot of things already cooked and vacuumed. Let's try the tofu in the evening.
Ah, the first day in China we can also do the SIM card. We had heard it was a complicated thing but just takes a document of identity and they give you the card. As it is the case in Italy.
It may seem strange to many, having to give a document, but it's actually pretty normal. And last but not least, luckily the guy in the store spoke a bit of English.
For sure there are millions of stereotypes about all peoples and countries of the world, but perhaps even more on China.
Free camping in China
We do some flat kilometers and stop in a meadow next to a small stream. The first night in the tent, we didn't know how's about free camping in China but it seems just cool.
Some Uygur guys offer us cigarettes and say that we can go out to eat with them somewhere close by, but of course, we cannot leave the tent already assembled and bicycles.
There's a very strong wind, we enter the tent to eat our tofu and also the Uygur shepherds go to eat. The next morning, my gut tells me that he hadn't greatly enjoyed that tofu.
Wine and ganja – production of Xinjiang
This area is full of vineyards, it seems that China is trying to boost wine production from this region. But wines are quite expensive here so we don't have the chance to taste it.
There's also a nice lavender garden where we stop for a rest and buy nice lavender honey. Also here there's plenty of marijuana, but not wild as in Kazakhstan and Kyrgyzstan, here is planted on purpose to take the bugs away and leave the lavender to the bees.
After 40 kilometers from the border, the road splits, you go North or South, both mountainous, both along the highway. Alessandro, who we met in Bishkek last year, and who did this road in the opposite direction, recommended the North one, passing near a beautiful lake. Lake Sayram.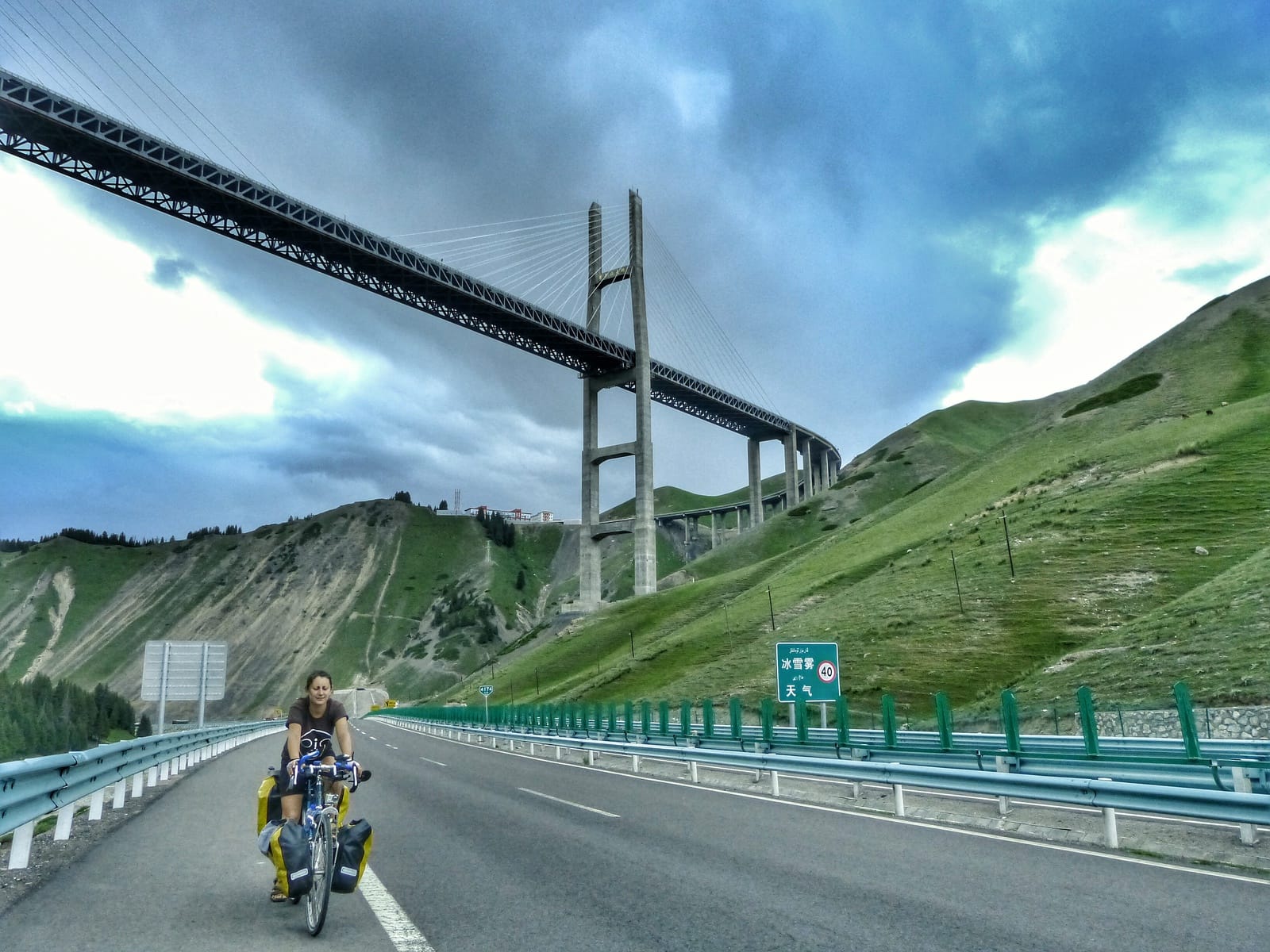 About cycling highways in China
Pretty often in China, alongside highways or major roads there is another small parallel road for bicycles, scooters, and cars to be used by the inhabitants of the villages along the way. That's true, especially in the most remote areas.
The only problem is that the motorway is closed with fences and barbed wire on both sides and then it is quite complicated to come and go where there are villages.
Sometimes, especially in the most desert part, you need to ride the highway, it's theoretically forbidden to bicycles but no one complains, also because this is the only road leading to Urumqi.
Sayram Lake
The road to Sayram Lake is a continuous ascent, from 0 to 2000msl is around 40km. The scenery is pretty nice, with white cliffs, green trees, and a lovely stream that runs through the valley.
As we climb we meet two other cyclists, they only speak Chinese so we cannot exchange much information.
Almost at 2000msl, there's a 2 km tunnel at the end of a huge turnpike. These bridges are impressive here.
We reach Sayram Lake at 6 pm. It starts to rain and the weather gets chilly, the highway goes along the lake for about twenty kilometers, but we stop now, we don't know where the next barbed wire break could be.
In the Kazakh language, Sayram means 'blessing'. The lake is also known as Santai Haizi. It is the largest (458 km²) alpine lake in Xinjiang and also the highest (2,070 m).
"There is a touching love story about Sayram Lake. It is said that it was composed of the tears of a couple of Kazak young lovers. A beautiful girl and a young man were deeply in love. One day, a cruel devil was captivated by the girl's beauty. He captured the girl and confined her to his residence. The girl took a chance to escape, but the devil found out very soon and went after the girl. She was forced to jump into an abyss. Later, her boyfriend heard of this and he was so sad that he jumped into the abyss to be reunited with his lover. Their painful tears flooded into the abyss and formed Sayram Lake."[1]
Sleeping in a Kazakh yurt in China
We ride for a few kilometers then there's a gate: the entrance to the road that runs along the lake, to get in you must pay an entry fee of around 70rmb (10€) per person.
We stop before that, there are Kazakh yurts where is possible to sleep for 100 yuan (about 14 Euros) we think we deserve to sleep in a warm yurt after the long climb.
And then the price includes dinner and breakfast. Of course, no shower though.
The view of the lake from here is astonishing. This is another Jailoo, a summer pasture of nomad people, just like Song Kul in Kyrgyzstan (indeed the landscape is pretty similar), so are we still in Central Asia? I think so.
So finally we found the Kazakh nomads, who are no more possible to find in Kazakhstan after Stalin's purge.
Thanks to our Chinese skills (?), we can make it clear that I don't eat meat while Daniele does.
We go to the main yurt, where they live and eat with the whole family, around 12 people. Fried eggs, fried potatoes (which here are cut into narrow strips), and boiled sheep meat.
We taste for the first time the local style of tea with milk (horse, sheep, or yaks we don't know). Really good.
Let's get back to our little yurt and sleep under 5 blankets, too many, we can not move, that's how heavy they are. But there is no horse poo heater here.
Entrance to the Sayram Lake and alternative road
We have breakfast with the Kazakh family and they try to ask 300 yuan instead of the 100 agreed last night. But the attempt was just an attempt, we give them 100 and we go.
A few hundred meters from our yurt is the entrance to Sayram Lake. If you want to ride the brand new smooth road along the lake, you have to shell out 70 yuan (10€). We manage to pay 70 in total for two persons (which is still too much), but in China so it works.
If you want to see the natural and artistic beauty you have to pay. It's communism, isn't it?
The road is stunning, lovely grassland dotted with colored flowers. The glittering lake on our right.
We ride twenty kilometers and then take a small road to the north (for free) that after a few kilometers of slow climb begins to be a gentle downhill, leaving us to enjoy the scenery without even pedaling. One of the best roads of our whole trip.
Only slight problem is that we get caught first into a hail storm and then, an hour later, into a huge hail storm, a single endless thunder of 10 minutes.
We try to take shelter from the icy bullets behind the bikes, some hailstones are as big as an egg. And our poor rain gear can't cope with such great power.
Being in the middle of nowhere, helpless against the might of nature, is a scary and very intense experience.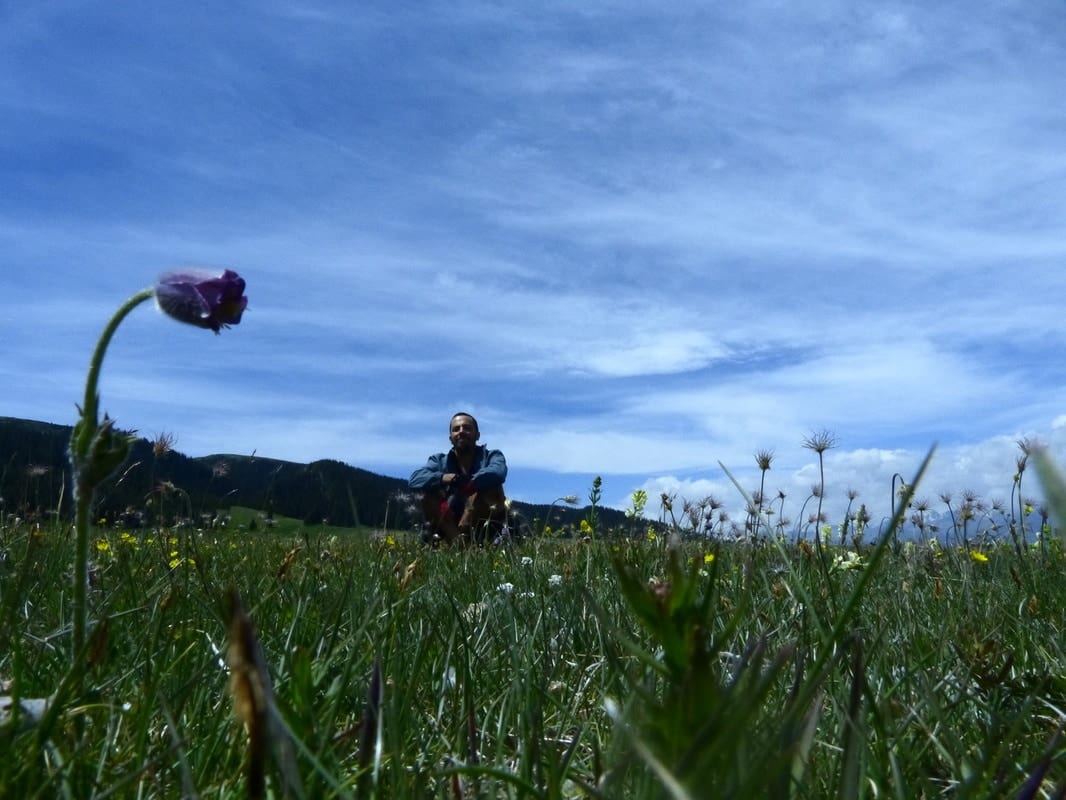 Saved by a police-shepherd
When it's over, we resume our ride downhill. We're soaked and freezing. Luckily, we spot a tiny house, it's open but nobody is inside. It's a room with no furniture, there are only two helmets and two batons on a desk. In the courtyard there are goats.
It vaguely resembles a police station. In truth, here in Xinjiang, there is often a table with helmets and batons, in stores or in public offices. You never know what's the use of those.
We take shelter for a little while, waiting for the dwellers to arrive. We change our clothes and eat some bread and honey.
Shortly after arrives the owner of goats and helmets, a policeman who actually is a goatherd!
It does not seem surprised at all, that two Western cyclists are in his office in underwear and socks, or he must be good at concealing his emotions. Comes also the wife from the adjoining house, she invites us inside and gives us some boiled water, typically Chinese.
It seems that for some veiled reasons, maybe connected with Taoism, most Chinese people avoid drinking cold drinks (cold is Yin, so negative). Their house is small, made of mud and with no floor. Not an easy life for police-shepherds here in the bare mountains.
Nomads and Buddhism
We continue our slow descent and we meet the first signs of another religion, finally!
We see a pile of stones (looking like a Mongolian Ovoo) surrounded by classical Tibetan Buddhist colored flags (Lung Ta), a mix of Mongolian shamanism and Tibetan Buddhism (perhaps).
Some locals are willing to take pictures explaining that it is a belief of the Mongol minority (so we understood). In this area, there are yurts that are not round like those of the Kyrgyz or Mongolian but shaped like a house.
Into the flatland of Xinjiang
After the mountainous part, occupied by nomads and pastures, begins an endless series of cultivated fields. Through small villages, all poor, made of mud.
We are now on a "minor" road that goes almost parallel to the highway G30 some 70km north, we hope to follow this road as much further as we can since the south one is mostly a fenced highway in the desert.
We stop at a convenience store, the owner is an old, small, nice lady. We buy noodles, soy this time, never tried before. Today we managed 99 kilometers. We stop in a small group of trees near the road and cook pasta with tomato sauce, we carry it with us from Kazakhstan, probably the last for a while.
Food, maps, and camping
It's our 4th day in China. Today we ride and only see fields and fields and fields. Mostly corn and onions. At one point there appears before us a supermarket, the first in four days! We are delighted! We buy various junk.
And we blame ourselves because it's full of nice vegetables that would be just fine if we had had a real kitchen or at least a decent stove.
Seeing all these types of eggplant and cannot make a "pasta alla norma" is heartbreaking…
Even if it's hot the road is in the shade, the Chinese like to sow rows of trees along the roads. Good habit.
We stop by a gas station to get water from the tap, but nothing comes out. They give us some good ones. It seems that in China tap water is just not good, the taste is actually a bit disgusting. After the experiences in Azerbaijan better not to risk with muddy water.
Trying to keep on following the north route we almost get lost, Opens Street Maps of China really sucks, but I think mainly because there are so many brand new roads, the old ones being dismantled very fast so that is hard to keep pace with this.
And Xinjiang is one of the most remote areas of China. So eventually, we end up going back towards the highway, too bad.
There aren't many places where to camp so we pitch the tent between a few small saplings. Daniele cooks the worst dinner ever. Sticky "noodles" accompanied by unknown vacuumed vegetables with a weird vinegar flavor. We will see if we`ll ever clean the mess from this starchy stickiness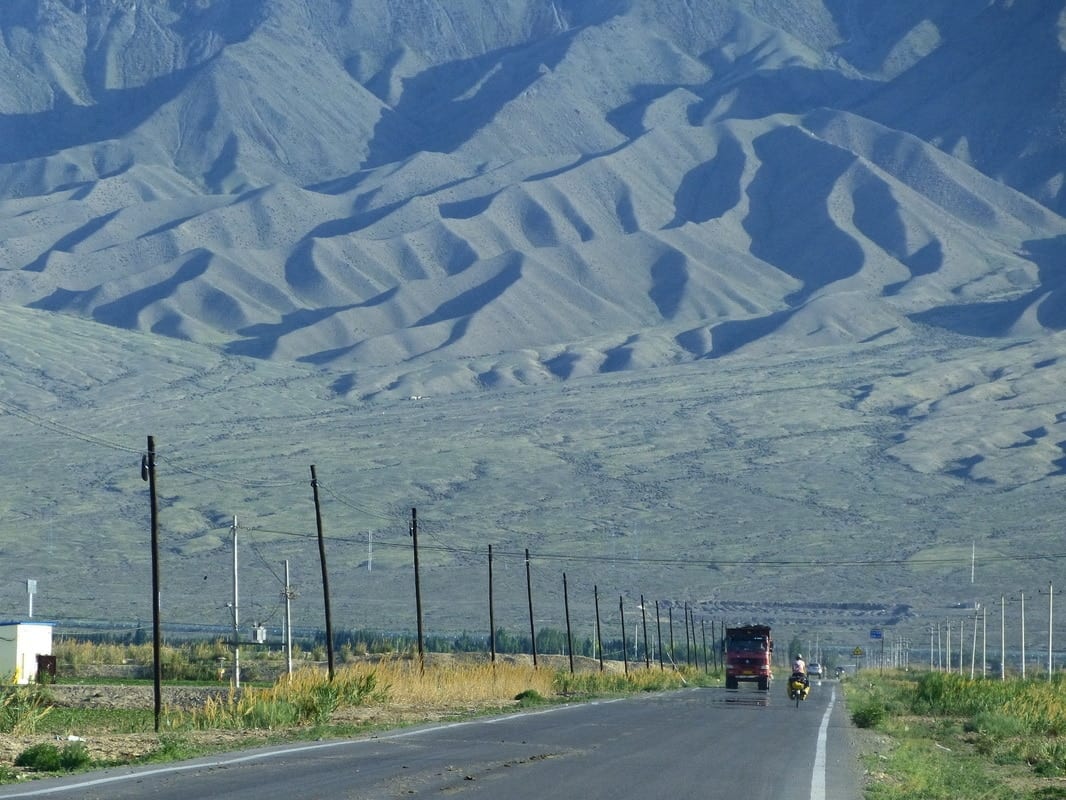 Read it later! Save it on Pinterest
Follow us while we get lost
Stay in touch while we get lost! Follow us on Social Media