Things to do in Urumqi and facts to know
about the capital of Xinjiang
Urumqi, the capital of the Xinjiang Uyghur Autonomous Region, can still be considered a medium-sized city to Chinese standards, despite its more than 3 million citizens. It's famous for being the most remote city from any sea in the world.
The city has charm, under the thick veil of pollution that envelopes it (similar to Beijing).
Here we had the occasion to witness the activities of Chinese city parks: group dances, calligraphy competitions, and a huge variety of weird sports. We also witnessed firsthand the militarization of the region and the repression of the Uyghur people.
Bicycle touring to Urumqi from Kazakhstan was pretty cool for the first 5 days. After a very beautiful ride around Sayram Lake though, we have no choice but to follow the highway G30, where we got caught in a sort of toxic storm.
Nuclear wind and bus to Urumqi
Disclosure: Some of our articles contain affiliate links. This comes at no additional cost for you and helps us keep this website up and running. (as Amazon Associates we earn commission from qualifying purchases)
Good morning highway G30. There's a crazy wind, of course against us, we can't do more than about 7 km/h, even though we are in the flats.
After a while, the wind starts blowing stronger, raising nasty clouds of dust. We consider the hitch-hiking opportunity but we should get on the highway to attempt this. Now we are on a side road that rides just beside, a couple of meters below.
It is not an easy task, we have to find a break in the bobwire, climb the steep ridge of the road, and jump the fences. This part of the road along the desert is really boring and also quite impractical with this wind, we would like to spend our few days on the visa to see something more interesting.
So we begin to hitch-hike, but here is not Kazakhstan and it takes longer. In the end there stop a bus that goes to Urumqi, will bring us there for 300 yuan (two people + two bikes), we agreed and got on board, and do not regret it at all!
The wind gets stronger and stronger, bringing with it a huge yellowish cloud that envelops everything, no longer you discern what's land from what should be the sky.
A sort of nuclear winter, or at least as one could imagine it. The stench is felt through the closed windows, we are in a great desert with huge towering factories, and the road is full of sand. Honestly, I don't see the point of cycling this hell.
Hostel in Urumqi
We get to Urumqi, it's raining. We find the hostel, very cute, it costs 40 yuan each in a dormitory, not so cheap but here most of the hotels don't accept foreigners. In China is pretty common, especially in big cities in sensitive areas.
To host a foreign customer a hotel must have some sort of special permit which I think could be quite pricey, probably not worth it in a not really touristic area like this. After a nice shower, we go to eat at a nearby restaurant.
A customer who speaks a bit of English orders for us. We eat noodles in broth with quail eggs, Daniele takes mini shashlik (kebabs similar to "arrosticini") and I bean that later turned out to be peanuts, and in a huge quantity, I cannot finish them because of my cholesterol rebels.
Life in the city parks of Urumqi
The next morning Daniele is struck by a stomach ache so we stay in Urumqi one more day to take the opportunity to see the city. Actually, it is prettier than the first impression we had on the bus.
We cross a few parks in the city, People's Park, Hongshan(Red Hill) Park, Nanhu Park, and Culture Park. Here, for the first time, we get to see what Chinese people do in the parks:
1. Group dancing to Turkish music, attended by all ethnic groups together (under the "vigilant" eyes of heavy-armed military anyway).
2. preposterous gymnastics (there are those who walk backward, who scratch their back against some special tool, or their butt against concrete columns).
3. Then, there is an area where old men practice calligraphy, writing on the ground with brush and water.
4. Other people play Xiangqi (Chinese chess)
5. While some play tennis with a ball tied to the racket by a string (?).
6. And then obviously some table tennis monsters (every Chinese is such, according to our European standards).
The Ethnic Unrest Between Uyghur and Han
While strolling the streets of Urumqi, it's very easy to be aware of how this is considered a "hot zone".
There are soldiers everywhere, even some tanks, all the parks or shopping malls have metal detectors everybody has to go through.
Here, as opposed to the countryside of Xinjiang, the majority of the population is made up of Han Chinese (the main and dominant Chinese ethnic group). To reach this demographic goal, the Chinese People's Party encouraged the migration of Han people, offering convenient tax conditions and other incentives.
This situation joined with the justified feeling of the Uyghur people of not being Chinese, the repression of religious expressions, and the lack of decisional power (among many other factors), brought the city to a breakdown and a subsequent situation of perpetual unrest. From Wikipedia:
July 2009 riots and subsequent unrest
See also: July 2009 Ürümqi riots and September 2009 Xinjiang unrest
In the largest eruption of ethnic violence in China in decades, major rioting broke out in July 2009 between ethnic Han Chinese and Uyghurs. The New York Times reporter covering the riot described the violence as "clashes with riot police and Uighurs rampaging through the city and killing Han civilians.
Then, for at least three days, bands of Han vigilantes roamed Urumqi, attacking and killing Uighurs."[28] Before the riot broke out, young Uighurs had marched through the city "to protest a case of judicial discrimination".[28] According to official figures, most of the 197 killed in the riot were Han, a statement disputed by Uighurs.[28][29]
Staying one more day in Urumqi was interesting, and we're glad we came to see this city we so often heard about.
Tomorrow we leave for Turpan, an oasis town along the Silk Road, and also the hottest and lowest place in China.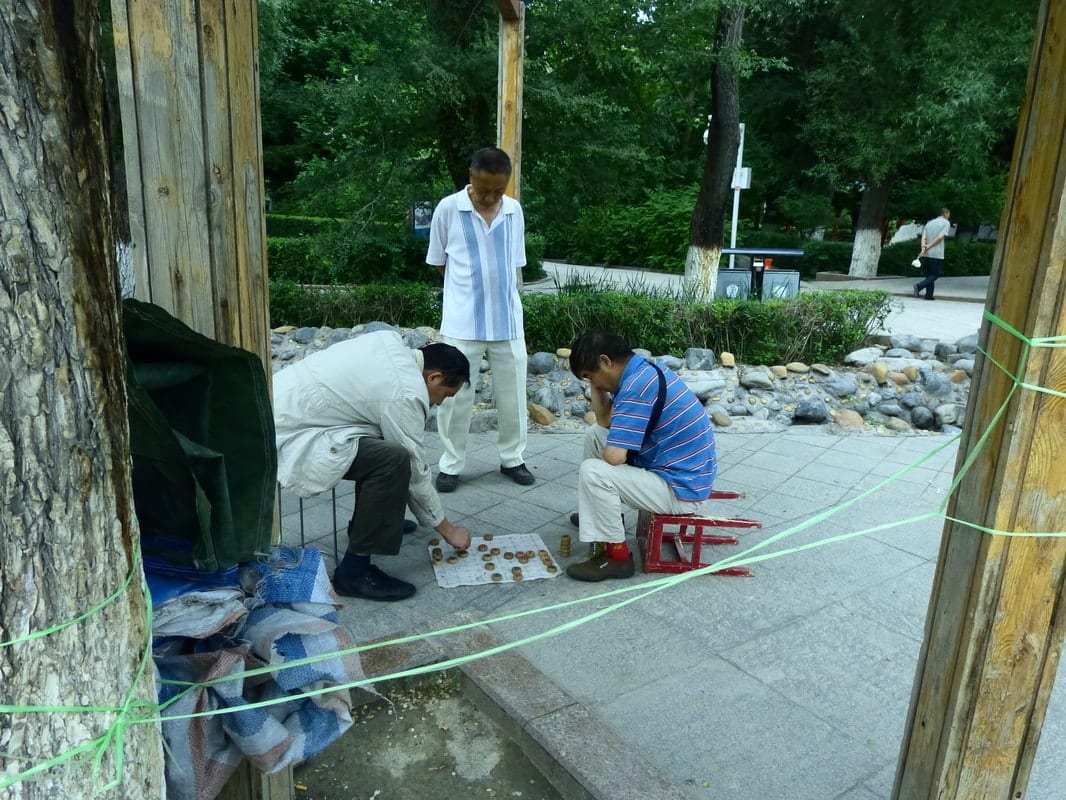 Stay in touch while we get lost! Follow us on Social Media