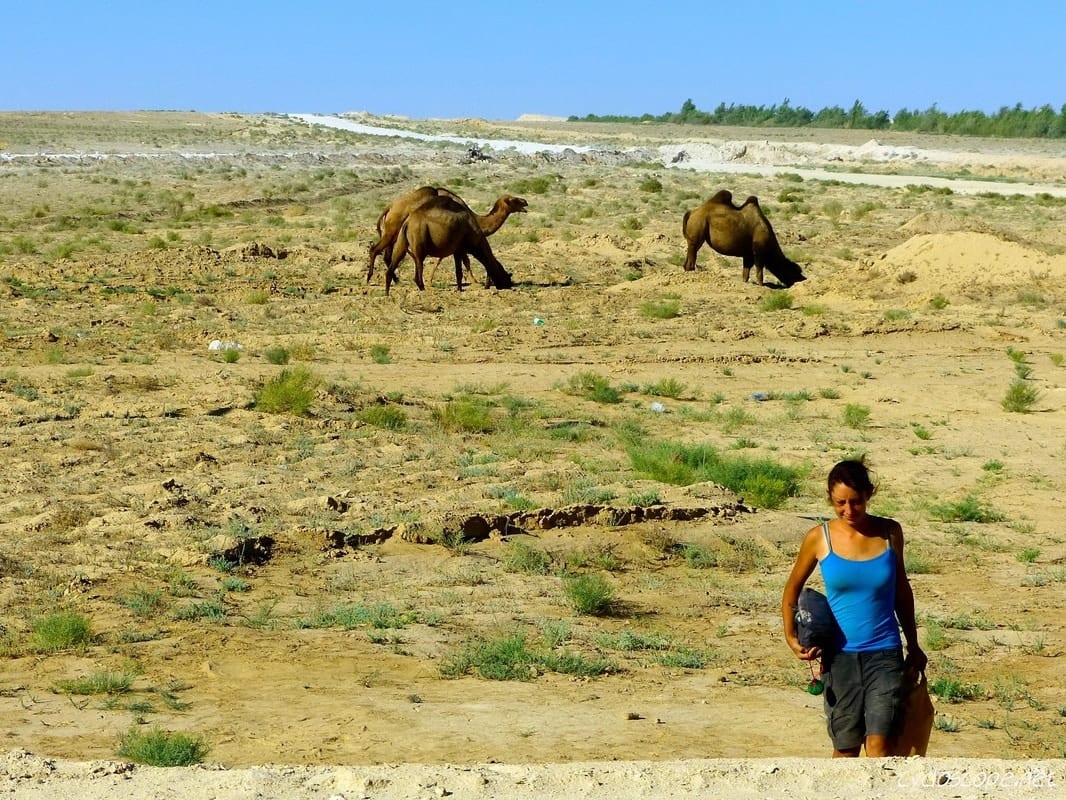 Hitchiking the Kazakhstan steppe from Aktau to Beyneu and on a Soviet-era train from Atyrau to Aktobe. A different style of bicycle touring in Kazakhstan.
Having been denied the visa for Uzbekistan, we're forced to cross around 4,000 miles of desert in 15 days. The length of our free visa in Kazakhstan. We must get to Kyrgyzstan, the only visa-free country which borders Kazakhstan.
Apparently there seem to be no train tickets to anywhere so we're forced to hitchhike, let's see how it goes.
From Aktau to Shetpe (160km) – the Mangistau district
And so we'll be Lorry-scope for a little while. We get out of the unnoteworthy city of Aktau, a settlement in the middle of the desert, placed there by the Soviets to exploit the Caspian Sea oil, and begin hitchhiking.
After ten minutes, a jeep with two brothers stops by, and they speak English (they will remain almost the only English speakers we'll ever meet in Kazakhstan). We load the bikes on the roof and we're off.
They are going to the funeral of a relative, about 80 km from there. Not many, but better than nothing. They stop at the lookout point, we are in the great depression of Karagiye, about 140 meters below sea level.
The landscape is beautiful from here, there are not yet bare steppe, it's hilly around the depression, but not a single tree anyway.
The guy is quite proud of their region, the Mangistau Oblast (district), where we're now. They say it's a pity we're in such a rush, there are apparently a lot of interesting things to see here.
Disclosure: Some of our articles contain affiliate links. This comes at no additional cost for you and helps us keep this website up and running. (as Amazon Associates we earn commission from qualifying purchases)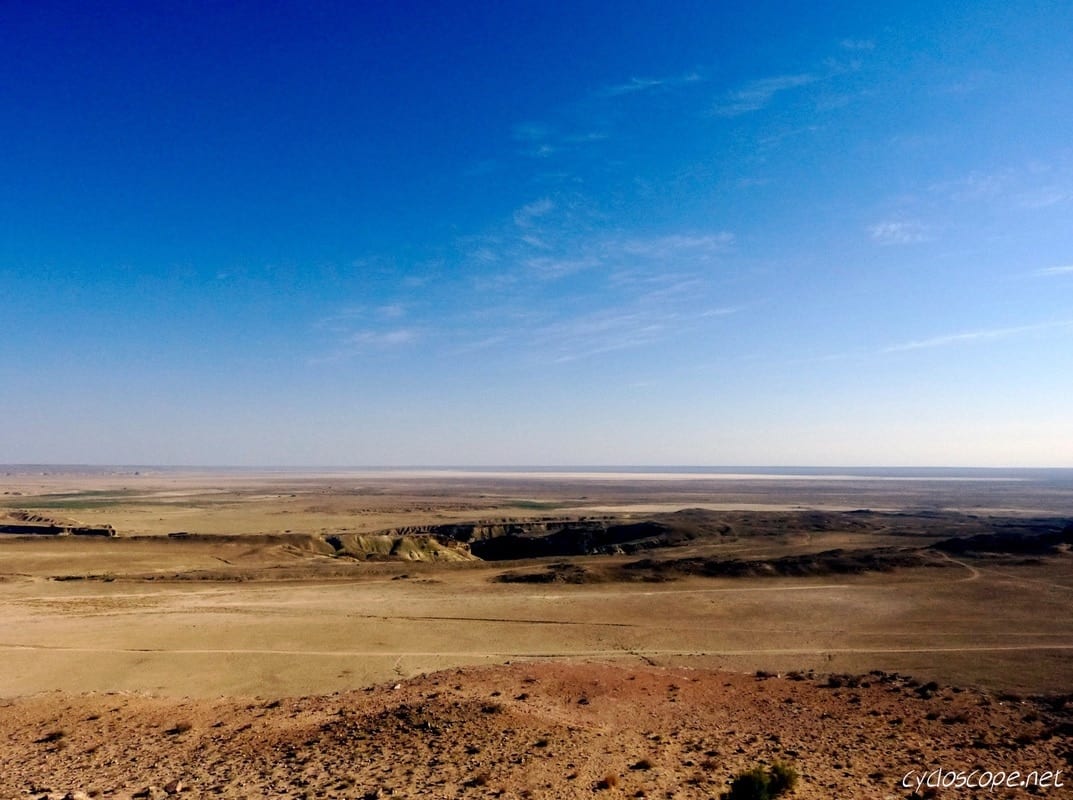 They want us to taste the Kazakh national drink, called Chal or Shubat, fermented camel milk. But in the "bar" where we stop they don't have it, and I think, "luckily"… I'm afraid that my gut can react badly.
These two guys are fantastic, they buy water, beer, and also a Kazakh sim card, (very easy and cheap to get)! And last, but not least, they start asking around for somebody to carry us to Shetpe, another hundred kilometers.
Our new driver is a Kazakh trucker with blue eyes, maybe around 50 years old. The truck is one of those small ones for construction works, really shaky and dirty, poor bikes.
At about 8:30 pm we arrive in Shetpe, it's almost dark, not much left to be done for today. We prepare for our first night in the steppes!
Shetpe – Beyneu (308km)
Upon waking, a little silted up, we reach the center of Shetpe, ask the station for a train to wherever but even here "biliet nietu" (no tickets).
The two guys from yesterday told us that it is enough to give 500 tenge (2 euro) to the cashier and the ticket would have appeared, but this girl did not seem corruptible. Better hitch-hiking.
It's hot! We stop just outside of town in front of a gas station, not many trucks here, but this is the only road anyway, so everyone has to pass from here. And here comes a big truck with a trailer.
The driver, a Kazakh named Gary, just goes to Beyneu. Perfect, we load the bike onto the truck, there is space between the tanks he's carrying (I think it's gas).
The journey is endless, just 300 km but it takes all day! The first part is still interesting, with some nice sany-rock formations. The rest is steppe, steppe, and steppe.
The road from Shetpe to Beineu is not paved for several miles (but they are building it), and so there are quite long parts of something that's nothing more than a sandy dirt track.
The sky is obscured by the dust and we think that it would be very hard to breathe outside. We see several cars and trucks stuck, with smoking engines or dead suspensions.
In addition, our driver stops to get gasoline in a house in the middle of the steppes, who lives there has got contraband petrol (much cheaper than the already cheap official gasoline) and the refill is done "by hand", it takes at least an hour.
The place is quite surreal, there's a goat head rotting on the ground, camels roaming, and an infinite nothingness as far as the eye can see.
We wonder how could people live here, it's like 150km from the nearest town and there are just sand and wandering camels in between.
Almost blew up: a little fire accident
Finally, we get to a parking lot for truckers a dozen kilometers from Beyneu, it's 9 pm, we put the tent near the truck, always in the steppe of course.
We prepare something to eat but Daniel makes a colossal mistake with the alcohol bottle and I catch fire! Basically he adds a bit of ethyl alcohol on the fire directly from the bottle and of course, the alcohol gets back, and the bottle blows, he throws the bottle and I get fire on my leg. Luckily I extinguish it immediately.
We're just behind a truck with tanks of highly flammable stuff, not bad a risk. The driver, who is sitting in the driving seat, asks what happens, we tell him everything is fine, we just saw a scorpion (poker face).
My leg hurts and I have some bladder. Gary calls us for tea, then, of course, comes the vodka, and also some food, something that for me is friggione and is eaten with bread.
He's going to Atirau but can't take us over because his truck is not approved for more than two people and says that there is a police checkpoint in Beyneu. Tomorrow we will try to take the train or another truck.
Beyneu and an unsuccessful Kazakh registration
Quiet night, on waking camels are all around, Gari us prepare tea and coffee and biscuits.
We greet him and cycle to Beyneu, which is really a city in the middle of nowhere. It's probably some sort of soviet outpost town, built to be a stop station between the southern Caspian oil wells and the main motherland Russia, but its history could be more complicated, can't find much about it on the web.
Mnoga djarka(very hot), indeed more than 50°C! We try again at the train station, some sort of ritual, same old story of course. Today is Monday, so we can try to do the registration at the migration office.
There is a cue of Uzbeks waiting, after more than one hour in the cue they tell us we can't register here, we have to go to the office in Atirau, just 500 km away! We try to insist, we get upset, thinking it could work with post-soviet bureaucracy as it works with Italian, but no way.
We call the Italian Embassy, and it's immediately clear that people are paid to sit in a villa and maybe spend Sundays at the golf club. Really crap, but to insult someone in your own language is a great satisfaction after four months.
A brief explanation about registration in Kazakhstan:
Once in the country, you have five days to get to a migration bureau and get a stupid stamp on a stupid card they give you at the border.
If you don't, you get fined an unspecified amount of money (maybe up to the officer there), we saw people fined 100$ for each day late.
Since we arrived around 11:45 pm on Friday we lost one entire day for 15 minutes (lucky guys) and then Saturday and Sunday the office where closed… so we have to run, tomorrow is the last day to register!
Beyneu – Atyrau (437km)
Immediately after the city, we stop thumbs out and, as always, after less than five minutes we get on a truck.
The driver is Turkish but lives in Bishkek, where he bought the truck. He's going to Uralsk and the truck is empty, perfect!
His name is Methin and he smokes like a real Turkish, one cigarette after another. We communicate speaking five languages together, he knows a few words in a lot of languages and mixes them all.
But we communicate, and we can even talk about politics. Luckily, because this stretch has the most boring landscape we've ever seen so far!
We stop at 80 kilometers from Atyrau, we take a bath in a dusty parking lot for truckers. There's a bath where water is warmed with live fire from the guy outside, old style.
We try to pay the bath for Methin but he gets really upset, never try to pull out your wallet in front of a truck driver!
We sleep in the truck, not so comfortable, very hot, we regret not using the tent tonight. Methin will take us to Atyrau tomorrow, and wait for us as we go to do this damned registration, so we can continue with him until Uralk. We love truck drivers.
Kazakh registration in Atyrau and losing Methin
We arrive in Atyrau around 11 AM. It's again another oil factory town, with the biggest oil field discovered in the last 40 years just nearby, and with actors from all over the world came here to exploit this resources, with the Italian Eni in the front line (if you want to know more we recommend this article: Giant oil field in Kazakhstan it's a tickin time bomb).
We stop in a parking lot, leave all the stuff on the truck and take a cab, looking for the migration bureau, no one knows where it is. On the third attempt, we find it, fortunately, the driver is Chechen, and perhaps for this reason he knows where to go.
Outside the building, there is no sign, not even a flag. So here are the coordinates of this elusive office, if they didn't change location in the meanwhile.
Atyrau Migration Bureau coordinates:
N 47 06'15.9″ E 051 55'34.9″
There we meet four Romanian motorcyclists, they also had their problems with registration and are two days late. They had to pay a hundred dollars each for fine and have been waiting since yesterday for the registration.
Moreover, the office closes for lunch, and it's not clear when they'll re-open.
We jump on a taxi back to the truck, take bikes and stuff, and greet our wonderful driver. We don't know how long we must wait for the stamp, so we cannot let Methin sit there and wait all day.
Back to the office, we wait for the reopening after the lunch break. At 3 PM we get our stupid stamp!
Atyrau – Aktobe by train (about 550km)
Stuck in a sort of repetitive ritual, we try the train station again, no tickets of course. But this time Daniele goes straight to the conductor on the platform and starts arguing.
At the end, we can board the train, but we have to pay a bribe which is two times the price of the ticket, and after long bargaining (it started with ten times the price).
Loading the bike is a massive undertaking. Mine is stuck in a closet and Daniele's is over our heads, in a one square meter local with a sink and a lot of buttons.
This will be our cabin for a while, but they promise a place to sleep and shower as well, later. Outside the window only steppe and steppe and steppe. Seem endless.
We end up sleeping (trying to) on top of the beds, on the baggage shelf, less than 1.5 meters long, and with no more than 40cm of air from the roof.
Very comfortable! And they seem to have forgotten about the shower. But at least in the morning, we're in Aktobe.
We get off the train one station before Aktobe (because there we may be asked a ticket we don't have) at 8 AM, we ride to the city station, but no tickets again and the bike fee remains an enigma.
We don't want to bargain with another conductor and sleep another night on the baggage shelf, so we go look for a truck.
Follow us while we get lost!
Stay in touch while we get lost! Follow us on Social Media