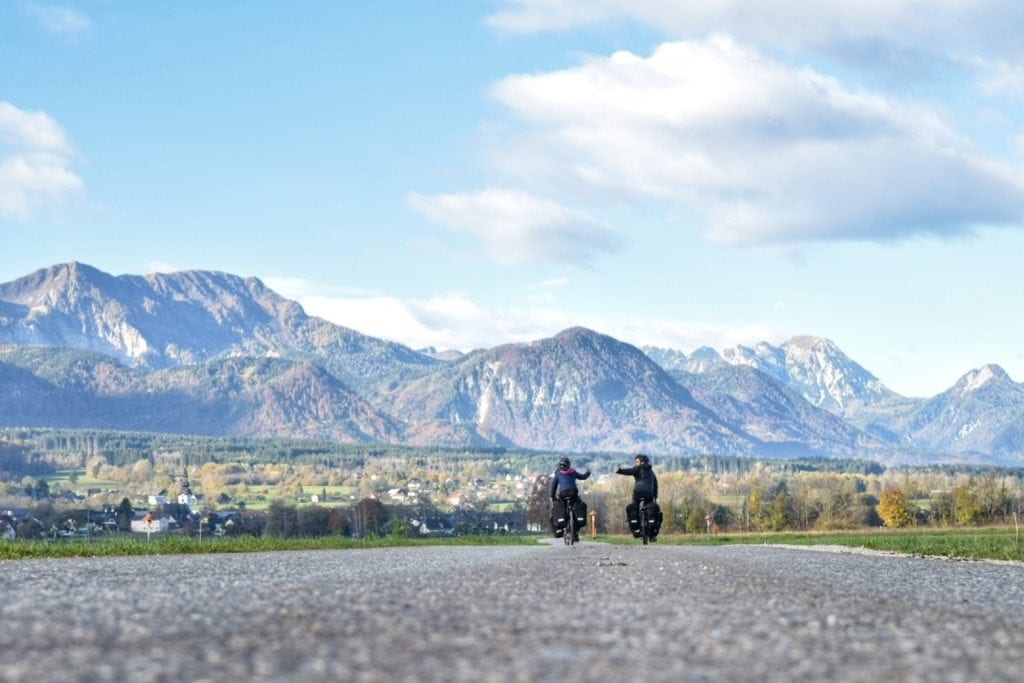 Cycle touring across, bikepacking through, or easy bike holidays in Europe?
Here's the ultimate guide for cycling in Europe!
Routes, advice, & itineraries for each country.
Cycle touring Europe is a big topic, easy bike holidays as well as adventurous bikepacking expeditions are picking up at a fast pace in Europe, but so is long-distance or medium-term bike travel.
The European Union has tried to promote cycling vacation by establishing a network of cross-europe bike routes called Eurovelo.
The Eurovelo website though, doesn't really constitute a complete guide about cycling in Europe, and we can tell from first hand experience that sticking to the Eurovelo routes might result boring and dull for many.
The aim of this article is to gather all our guides about cycling in the European countries in one single directory.
It's hard to say what the best bike routes in Europe are, as there's no best. It all depends what kind of bicycle touring experience you have and you want.
Through this guide you can start planning any kind of bike trip in Europe, from Expert to Beginner; once you have your destinations in mind, dive deep into the specific guides and advice articles that you'll find linked.
We'll constantly expand this article with first hand information from our own experiences or those of our collaborators. So check in every now and then and see what's new.
Disclosure: Some of our articles contain affiliate links. This comes at no additional cost for you and helps us keep this website up and running. (as Amazon Associates we earn commission from qualifying purchases)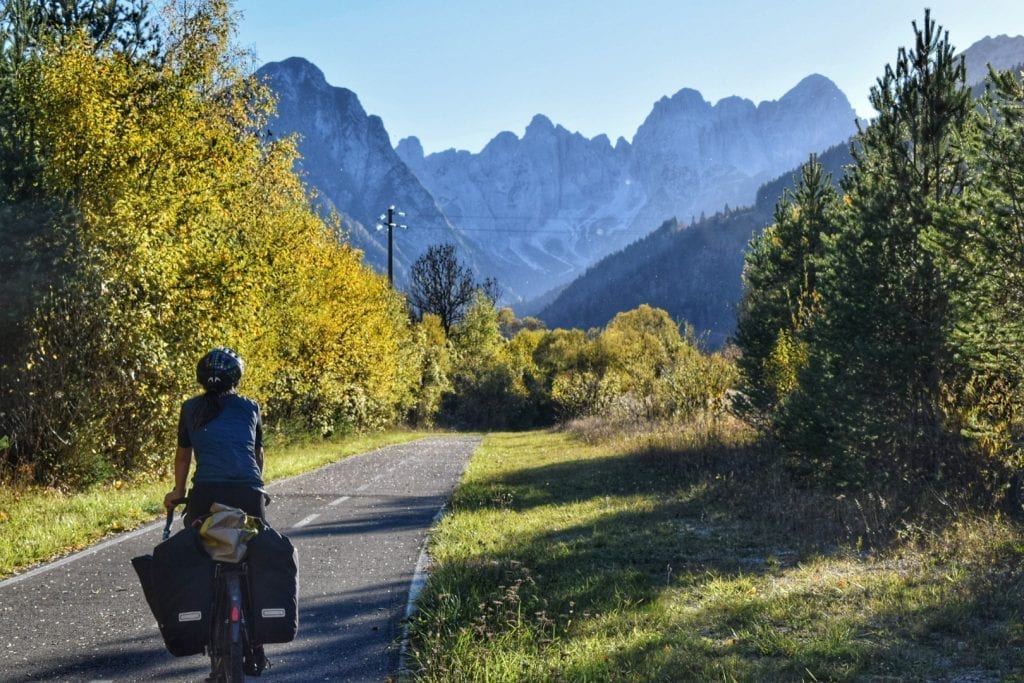 Bikepacking in Europe: what you need to know
Although not a proper continent Europe is a vast and diverse landmass, cradle of cultures that dominated the world (often cruelly) for many centuries.
27 of 44 countries adhere to the European Union, but they are still very different from each other in terms of culture, geography, climate, and prices.
Southern Europe is where most of the highest mountain ranges are to be found, while most of the East and Central Europe consists of vast plains and rare hills.
The North is home to some of the most beautiful landscapes in the world and its low population density and generalized "right to roam" make it ideal for the real adventure seekers.
Looking for a travel bike? Check all our reviews here!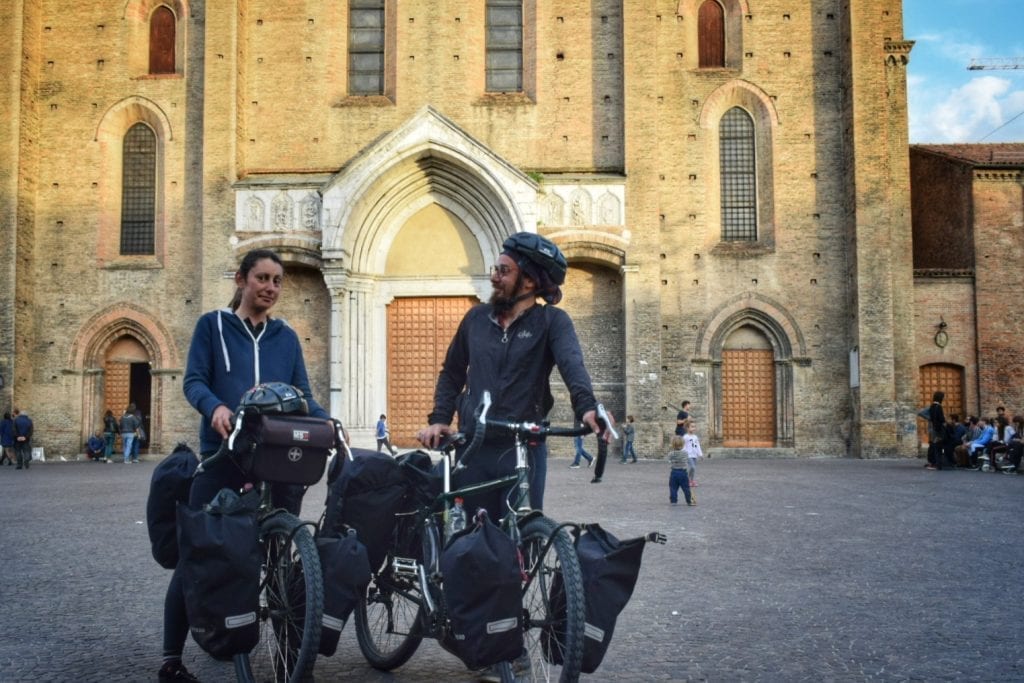 Easy Cycling Holidays Destinations in Europe
If you're looking for something relaxing, that can be done in safety by the whole family, you should look for countries with few hills and lots of cycling infrastructures, our recommendations are:
---
Long Distance/Bikepacking Cycle Routes Across Europe
Of course the option are limitless when it comes to choose a long-distance cycle route through Europe. Eurovelo already offers quite a few option that, when combined end edited according to anyone's taste, can become much more spicy than when followed blindly.
Spend time planning your route as it's part of the fun. Research the territories you want to cross and their point of interests, this collection of guides will help you do that.
Don't forget to always remain open to improvisation and variations of your route, don't always stick yo a plan… sometimes go with the flow.
Here we present 2 route ideas which are a modified version of our two long distance bike trips through Europe (2014/2018).
The tracks here are to be taken as a rough guideline, check each country's guide for more detailed routes.
---
The Great North
This is an epic trip that most people can do without too much training. The whole route has surprisingly few climbs, the biggest challenge is presented by the unpredictable and harsh Norwegian weather .
If you don't want to freeze your ass, timing is also an important consideration for this itinerary. The whole length of this proposed itinerary requires at least 2 months also for the most experienced riders (unless you're up for an endurance challenge). Three months is a more realistic timing that will allow for appropriate rest days.
---
The South and the East
Although shorter than the previous one, this route is much more challenging. Long mountain climbs and poor infrastructures make this a tour for intermediate/experiences bike tourers. Which doesn't mean you can't try it as your first tour, of course…
Instead of the shortest way to get from A to B, in this zig-zagging route we invite you to explore the challenges of the Appennini and the Balkans. This is really just an outline, the embryo of a route – research is and personalise it according to your tastes.
New Itinerary! Check this out!
London To Istanbul by Bike: a first-hand account
Costs of a Cycling Trip in Europe
If you have a long term cycle touring experience, you know that a bike trip costs as much as you want it to cost.
You can certainly travel across Europe with very little money, see our budgeting advice here, I you can adapt and leave your comfort zone.
At the same time, if you want to splurge in food and accommodation, sky's the limit to how much you can end up spending.
By way, average costs of a cycling holiday in Europe greatly vary by country, so refer to the specific guides for costs calculations.
Cheapest Counties for Bicycle Touring in Europe
N.B. Georgia is not part of this guide yet, but we wrote a lot about it and it's one of our all-time favourite bikepacking paradises, check all our articles here.
European Countries with Right to Roam – Where it's legal to Free Camp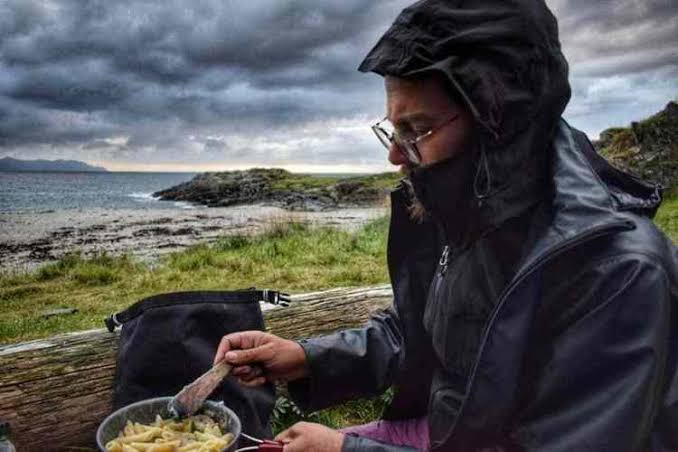 Scotland
Ireland
Norway
Sweden
Finland
Denmark
Average Campsite Costs in Europe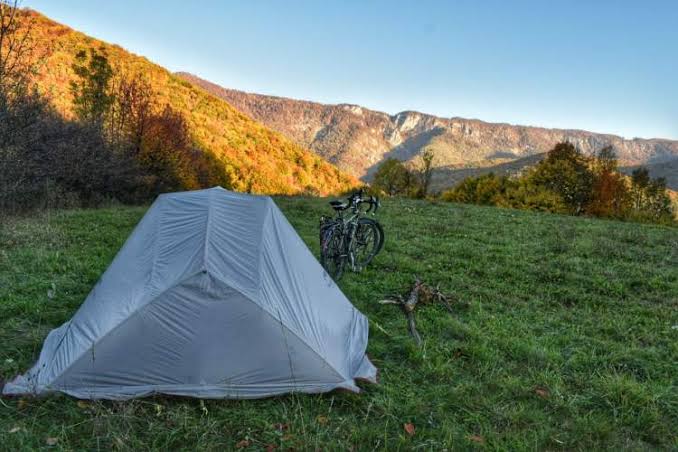 Norway – 10/15€ x Tent
Finland – 15/30 x Tent
Baltic Republics – 5/10 x Tent
Ireland – 10/15€ x Tent
The Netherlands – 20/30€ X Tent
Poland -10/15€ x Tent
Slovakia – Very Rare
Cycling Routes of Northern Europe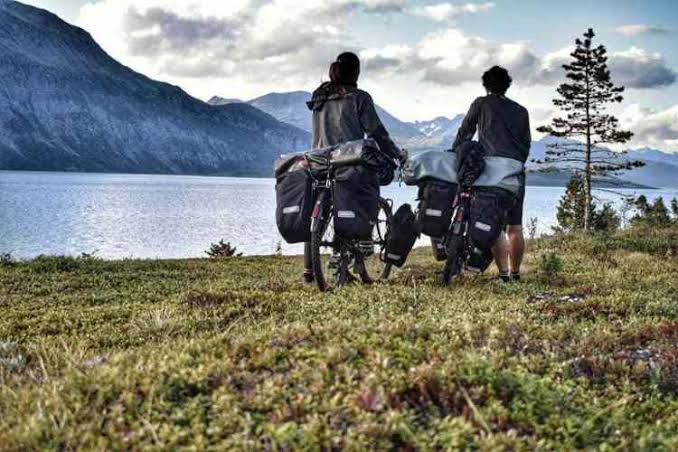 With their low population density and pristine wilderness, Scandinavian countries are great cycling destinations for nature lovers.
If Finland and Sweden are bushcamp paradises but lack a bit in variety, Norway is probably one of the most beautiful countries in the world.
Belgium, Holland and Danmark have the best infrastructures for family cycling holidays, but might be boring for the adventure seekers.
The British Isles five their best in the Highlands of Scotland and the Wild Atlantic Way of Ireland. Cornwall is another gorgeous cycling holiday destination.
Iceland is on a league of its own, with its lunar artic landscapes that require a bit of experience to be tackled.
Here are our 5 favourite bikepacking destinations in the North of Europe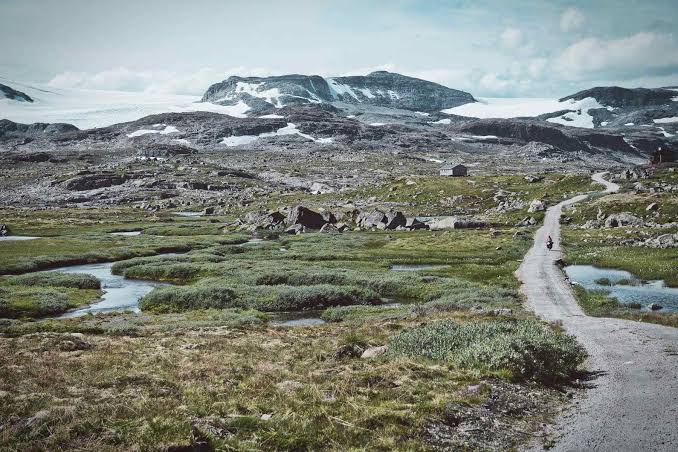 Norway is the ultimate European destination for all kinds of cyclists. Expert bicycle travelers, road cyclists, avid mountain-bikers, all of you will face the embarrassment of choice when starting to plan your bicycle trip in Norway.
Norway has certainly all it takes to make even a short cycling holiday into a trip of the lifetime, but of course reserves its best for those who are willing to accept all the challenges it offers, and they are many, and fierce, and rewarding.
Easy Cycling Routes in Norway
The Great North of Norway has some of the most scenic roads in the world – these routes are mostly flat and easy to ride for cyclists of all levels.
The weather though is never friendly in Norway, so be ready for long rains, strong winds, and chilly nights.
Lofoten
Andoya
Senja
Atlantic Ocean Road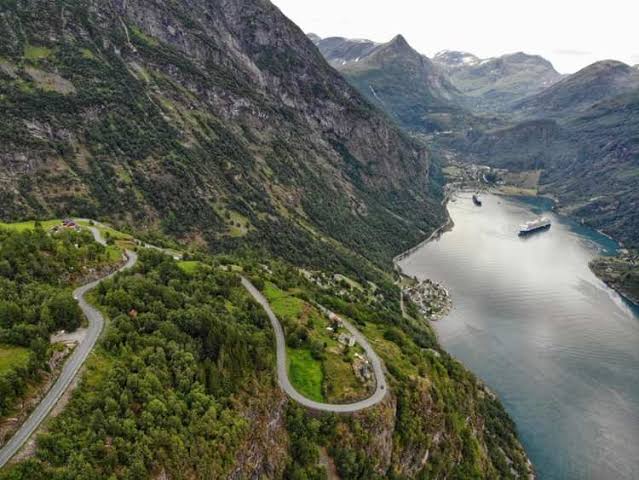 Intermediate Cycling Routes in Norway
Those are some iconic climbs of Norway, beautifully scenic and not too hard.
The Rallarvagen especially, is among our top 3 bike rides ever.
Rallarvagen
Eagle Road
Trollstigen
Southern Coast
Best long distance route in Norway
For those up to the weather challenge, cycling the whole coast of Norway will make for a trip of a lifetime. We guarantee marvel at every turn.
Eurovelo 1 – Atlantic Coast Route
All of these routes are detailed in our free guide
---
Finland is a sparsely populated country, the forest covers 72.5% of its area, dirt roads and tracks cut deep in the remoteness of these woods, making this country an ideal cycling destination for those looking to get lost in nature while having fun on gravel roads.
Finland can be a very easy destination for those who want to tackle a bike trip, naturally only if faced in the hottest season.
First of all, Finland is flat, all of it, so you can grind many kilometers a day without too much effort, considering you do not get a headwind. The only hills are found in the North, near the Norwegian border is the Mount Halti, 1,324 meters high, the tallest peak in Finland.
Cycling Finland in winter is, of course, a totally different matter. You will need to be more physically and technically prepared to face the harsh and long nights of the north.
Finland's silence and wilderness will get deep into you, the uniqueness of the Lapland tundra has metaphysical powers over those with the right state of mind… don't expect though a great variety of landscapes, cycling in Finland is more of a meditative trip, and to some it can be boring.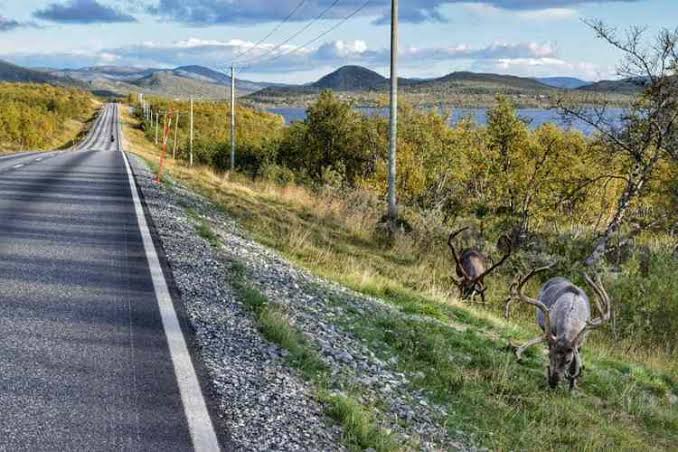 Easy Cycling Routes in Finland
Aaland Islands
Saimaa & the region of a Thousand Lakes
Intermediate & long distance bike routes in Finland
Lapland
The Iron Curtain Cycle Route EV13
All these routes are detailed in our free guide
---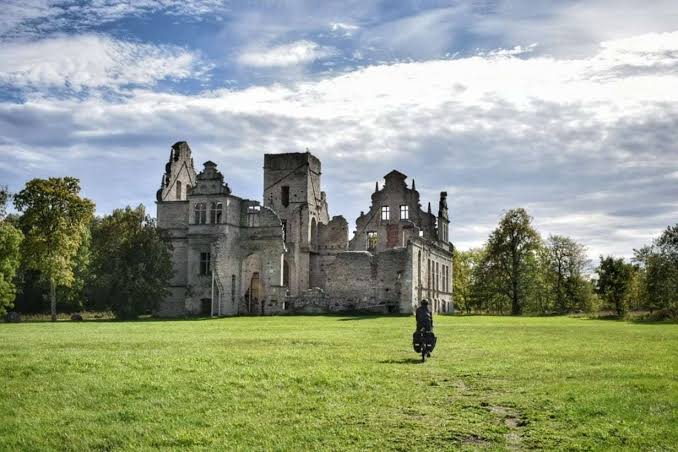 The Baltic countries – Estonia, Latvia, Lithuania – are small enough to be visited on a single trip. They are safe and easy to ride even with kids.
Estonia is a small flat country, an ideal first destination for bike touring beginners, for a family cycling holiday or just to spend a few days/weeks relaxing without the need for any particular physical training.
In recent years, Estonia is attracting more and more tourists, both for its nature and for the beautiful medieval cities, but also for what remains of the period of Soviet occupation.
If you are specifically interested in military heritage, the best option is to travel in Latvia. Here you will find one of the calmest parts of the trail, with easily located points of interest from Soviet Union times. Below, you can find some tips and recommendations for your perfect experience of traveling in Latvia.
EV13 follows the Latvian seacoast. Aside from Latvia's capital, Riga, which is included in the route, the areas are sparsely populated but not forgotten.
Lithuania is the smallest and maybe less interesting of the three (only when it comes to cycling), but Vilnius and the Hill of Crosses are worth adding to your itinerary if you have time.
Check our articles

>How to organize a bike-camping trip in Estonia
>Cycling in Latvia on the Eurovelo 13
Easy bike routes in the Baltics
Tallinn – Rummo – Haapsalu
Tallinn – Sadam Submarine Base
Riga – Jurmala
Long distance bike routes in the Balitic
The Iron Curtain Trail starts in Finland and goes all the way down through Poland. A very convenient ferry connection from Helsinki to Tallinn also doubles as a funny highlight.
---
4. The Netherlands: family cycling heaven of Europe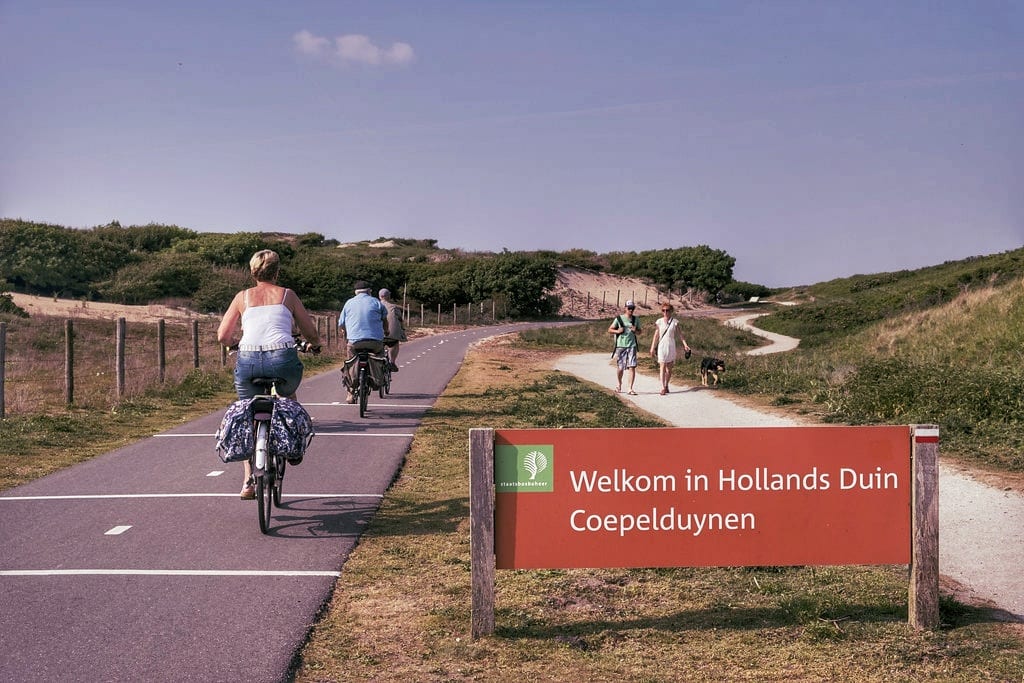 Holland is the cycling country par excellence, with thousands of kilometers of dedicated cycling paths. The Netherlands is actually the place where our Cycloscope project started, the Dutch bike culture literally changed our lives.
The Netherlands are perfect for a family cycling holiday with kids, flat and friendly. For expert cyclists thought, the excitement might lack a bit.
Besides the cute countryside, it's of course worth spending a couple of days in Amsterdam and at least one in Utrecht, one of the most beautiful cities in Holland, the bike will be your best friend also in exploring the cities
Best Cycle Routes in the Netherlands
Amsterdam – Uitdam – Monnickendam [25km]
Haarlem – Den Helder [80km]
From Den Helder, you can continue on the Breezandijk, the longest dam in the world, where strong winds may favour you or make you sweat.
From there there's plenty of routes where to get lost among the hundreds characteristic tiny villages.
We haven't wrote a full article guide about the Netherlands yet, you can refer to https://www.hollandcyclingroutes.com/, a really valuable resource.
---
5. Ireland: Bikepacking the Edges of Europe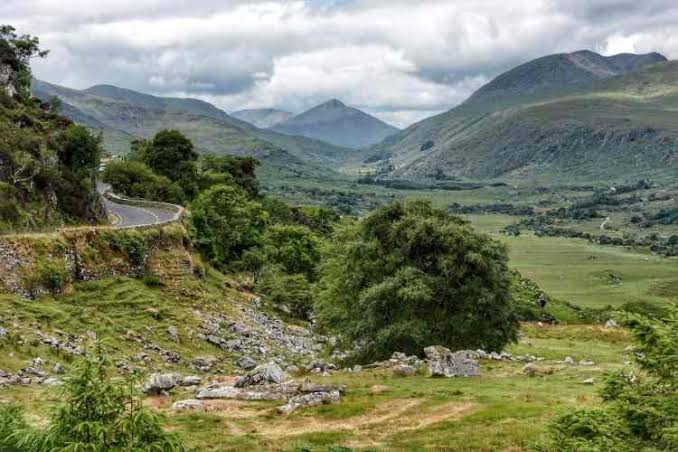 One of the best-known routes in Ireland, for cyclists and non-cyclists, is the western part of the coast to the south of the island which includes the famous Cliff of Moher and the Ring of Kerry.
Part of the very long (2500km) Wild Atlantic Way, which includes the whole northern and western coast, meanders along jagged cliffs, alien landscapes, and beautiful beaches.
Several people had warned us about the narrow streets and the traffic, especially in the summer.
And in fact, both things are true: narrow and poorly paved roads and many tourists with rental cars and campers make Ireland not exactly a destination for cyclists beginners or families.
But even in Ireland, it is possible to cycle on alternative routes – choosing the right roads will free you from the cars. Poor asphalt instead you will never get rid of.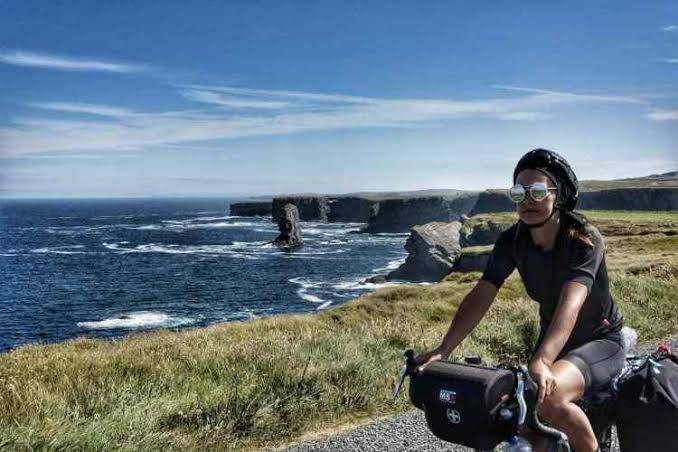 (not exactly) Easy Cycle Routes in Ireland
Ring of Connemara
Doolin and Cliffs of Mother
Long Distance Touring Route in Ireland
Check our full guide about
---
4 Best Biking Countries in Central Europe
This section of the guide still lacks information about Germany, France, and Switzerland – we haven't been there yet, we promise to make up for that ASAP.
You'll find information about beautiful routes in Poland, Slovakia, Austria, Slovenia, and a bit of Hungary, so read on!
Update: check also
Cycling the Pyrenees – bikepacking route and GPX track
Poland may not seem to be amongst the most popular tourist destinations, but over the years it is surfing on an increasing hype.
The country's investments in tourism are attracting a different type of travelers, those looking for cycling holidays are getting more and more interested.
Poland has been building cycling infrastructures for years, many international EuroVelo routes pass through the country, while the totally-Polish GreenVelo crosses the nation from north to south.
Poland is a rather large country, with stunning well-preserved and dynamic cities, many UNESCO World Heritage sites, and then the beauty of the Baltic Sea to the north and the Carpathians to the South.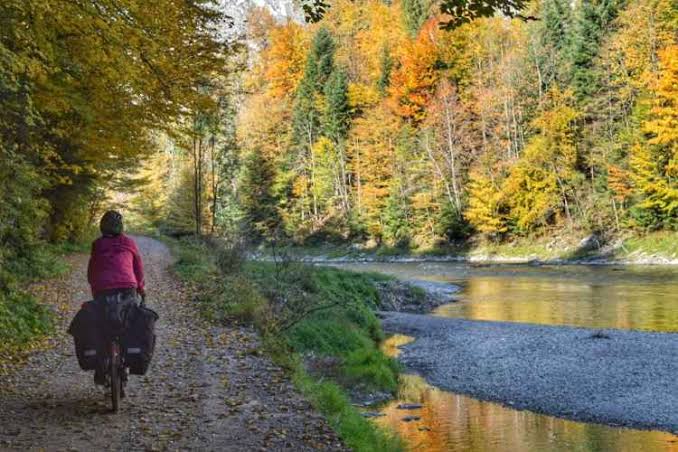 Short Bike Routes in Poland
Easy Long Distance Cycling Routes in Poland
For detailed bike itineraries refer to
---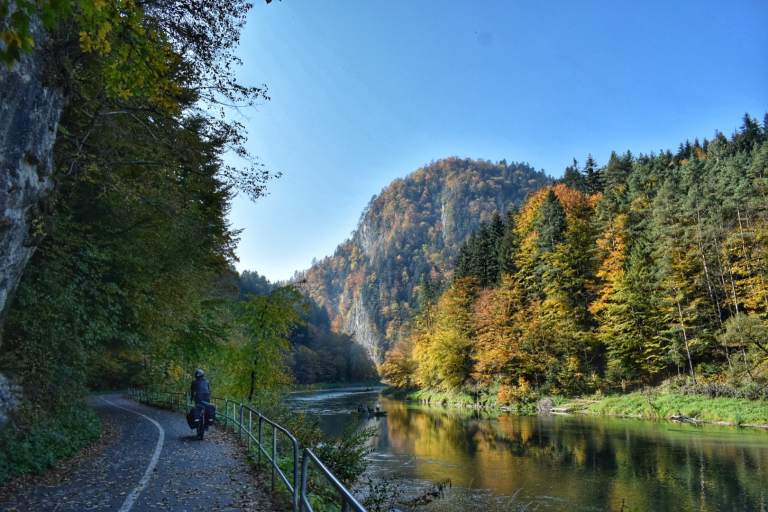 Slovakia is an underrated bike trip destination, bicycle touring beginners often opt for flatter and more popular places, expert adventure cyclist mostly overlook such a tiny country ending up crossing it at speed in a few days on their European Continent bicycle adventure.
But Slovakia can make for a really astounding cycling destination, the highest Carpathian peaks, the great Danube, and an interesting historical heritage are enough to keep you entertained for 7/10 days.
The westernmost section of the Carpathian Arc makes half of the country, with the bare and magnificent High Tatra mountains acting as a northern natural border with Poland, here the highest peaks of Carpathians are found. Slightly south is the smaller and forest-covered chain of the Low Tatras, offering a lot of cycling opportunities for those looking for tough climbs.
Each season has its own beauty in Slovakia, but cycling here in Autumn is a pure show. The colors are amongst the most vivid we've ever seen, competing (and winning, IMHO) with the marvels of the Japanese mountains.
Easy cycling Holidays in Slovakia
Tough Bike Rides in Slovakia
See our detailed guide
---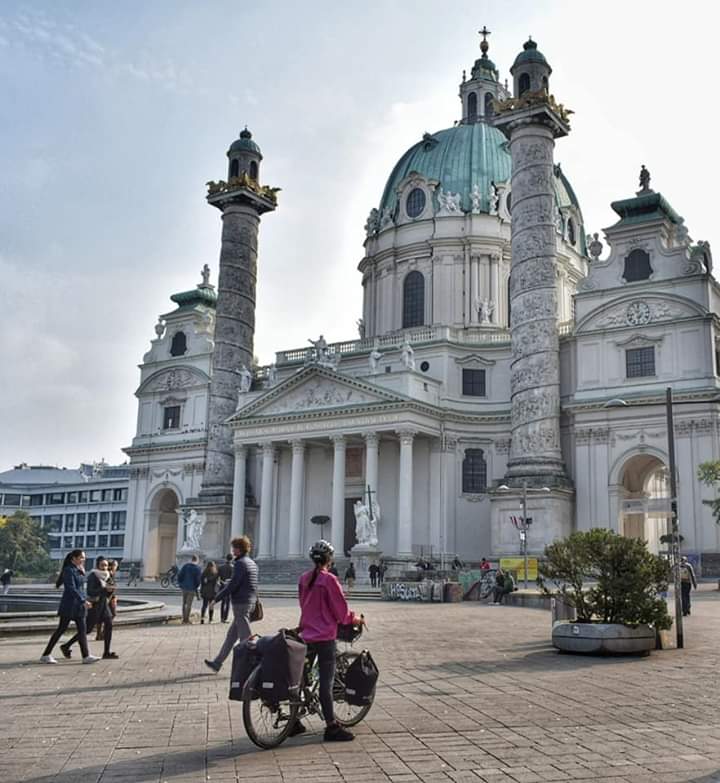 Austria is really a gem of a country, not just for its mesmerising alpine landscapes, but also for its great food, gorgeous architectural heritage, and very friendly people.
Although the north doesn't offer much in term of landscapes, it still makes for one of the most popular bike holiday rides in Europe, the Danube River Cycling Path. Which is always an easy and entertaining solution for beginners.
The best bike rides in Austria though, are without a doubt in the alpine range.
There are some of the toughest climbs you can ever ride in Europe in this beautiful mountains, great challenges also for pro cyclists.
Passing through the Alps anyway, doesn't necessarily require to be the fittest cyclist. There are a few routes that are perfectly suitable for intermediate riders.
Beautiful valley roads, which involve some climb but can easily managed by almost anyone.
Easy Cycling Holidays in Austria
Cross Alps Bike Route for Intermediate
Advanced Mountain Passes to Ride in Austria
Timmelsjoch
Rettenbachferner
Großglockner
Kitzbüheler Horn
Here's our full guide for


For mountain passes
---
Slovenia really the perfect bike destination, whether for hobby cyclists or nature lovers.
Not only this tiny country offers a dynamic and diverse landscape, stunning nature, countless routes to enjoy your time by bike, a pleasant climate but also excellent infrastructure and safety for cycling lovers.
The country has been announced the world's first green destination and Europe's most sustainable country.
Slovenia is very safe and the cycling trails are very well maintained and marked. There are also special Information centers that offer bike maps, individual cycling tracks, and bike tour guides.
Besides that, Slovenia is still a much more affordable country compared to the others who share the Alps, it's also a gourmet paradise.
Easy Bike Holidays in Slovenia
Bled to Vintgar Gorge
Eastern Slovenia Prlekija Region 2 days
Long Distance Cycle Trips in Slovenia
Ljubljana – Bled – Pirano [340km]
See detailed cycle routes here
---
Best Bicycle Touring Destinations in Southern Europe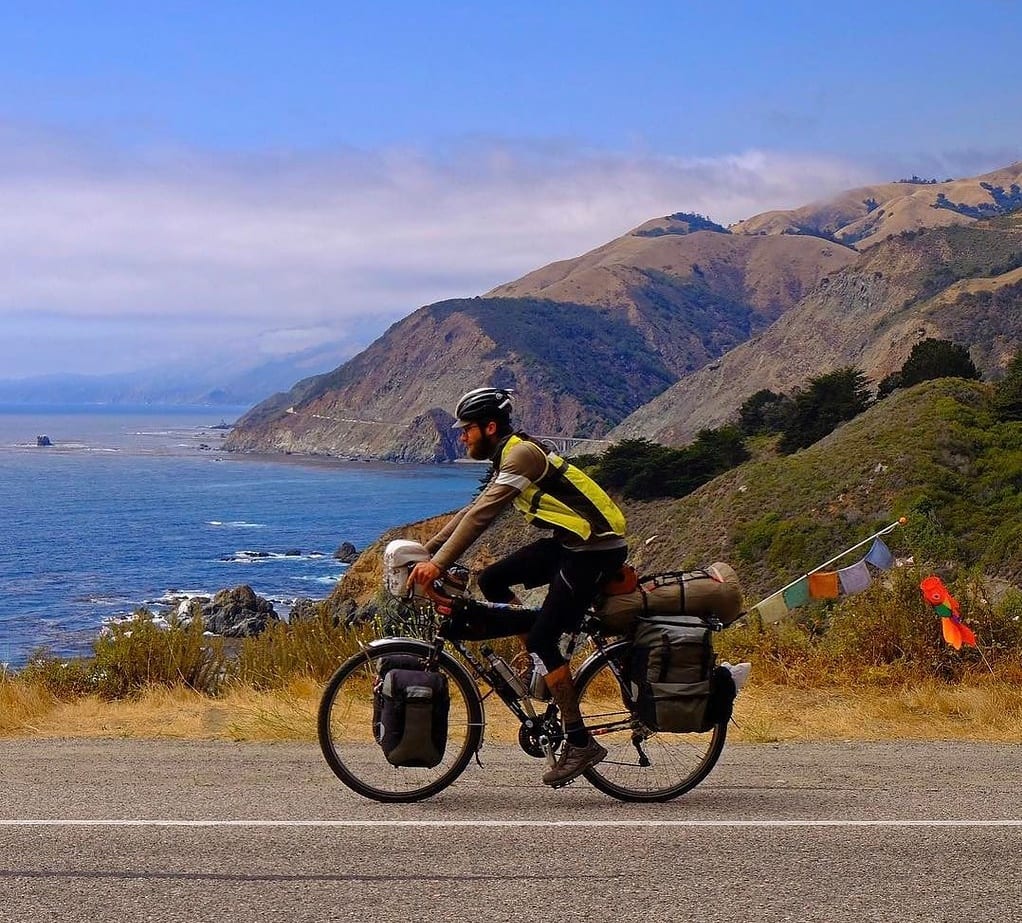 Although we ourselves are southern European, or maybe exactly because of that, we haven't cycled much around the Mediterranean countries.
We promise to expand this section of our guide as soon as possible, either with the help of other cycle travelers (maybe you?) or going there ourselves.
For now, we'll only mention our home country.
Update! check also
Cycling Northern Spain – bikepacking route and GPX track
Bikepacking Andalusia and the Southern Coast of Spain
1. Cycling in Italy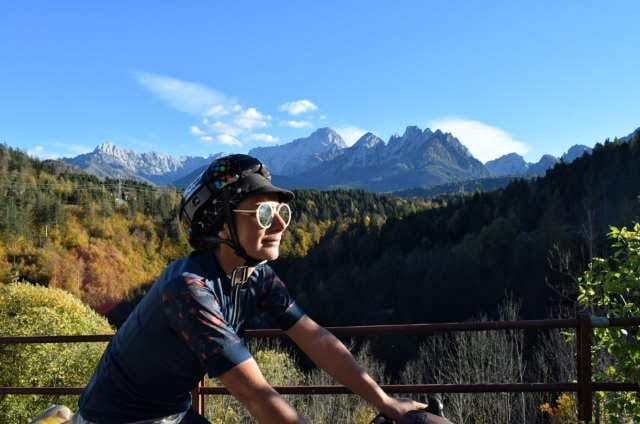 Ah Italy… Love and pain, our home but not anymore. Cycle touring has been for us a way to escape Italy, that's why we didn't ride so much of it – but we traveled it thoroughly by other means and we can assert it really is the most beautifully variegated countries in Europe.
3000+ km of coastline topped by the highest alpine peaks, Italy is a landscape of wonders – and we are not even mentioning the food and the architectural heritage.
There's such a variety of choices when it comes to cycling in Italy, we absolutely recommend our friend's website Lifeintravel, which is the Bible for cycling holiday routes in Italy.
2 Underrated Cycling Destinations in Italy
Sardinia
Although this article of ours describes a car road trip around the beautiful island of Sardinia, the itinerary featured is just perfect for a two-week bike ride. Check it out!
Alpe Adria Cycle Trail
A beautiful cycling path connecting Italy and Austra across Alpine valleys. Although the Austrian section requires quite some stamina, the Italian section is very suitable for beginners – enjoying the alpine peaks without too much effort.
---
5 Bicycle Touring Destinations in the Balkans
Although proper cycling infrastructures are lacking in the Balkans, this area of Eastern Europe is probably our favourite.
The Balkans are full of beautiful landscapes, inhabited by the friendliest kind of Europeans, and still very cheap.
The tough climbs and sometimes challenging road conditions make the Balkans one the best cycling destinations in Europe for experienced cyclists.
The long coastline of Croatia is a popular cycle touring route. It is indeed a very scenic bike trip.
Part of this route will force you on a main highway, but there's a mountain biking route under development.
Level: intermediate
Update! We've wrote a full guide about this:
Cycling Croatia: the ultimate bikepacking routes
2. Trans-balkanic bike route
If you're up for serious mountain climbs, amazing villages, and thoughtful experiences, a trip across former Yugoslavia is one of a great kind.
From the unreal paradise of Plitvice in Croatia, across the hills of Bosnia covered strawberries (and mines), the harsh peaks of Kranjska Gora in Montenegro to a final highlights in the Bay of Kotor – few bike routes in Europe are so dense.
You can really stick to secondary roads and even gravel tracks for the whole bike trip, it's going to be beautiful but challenging.
Level: expert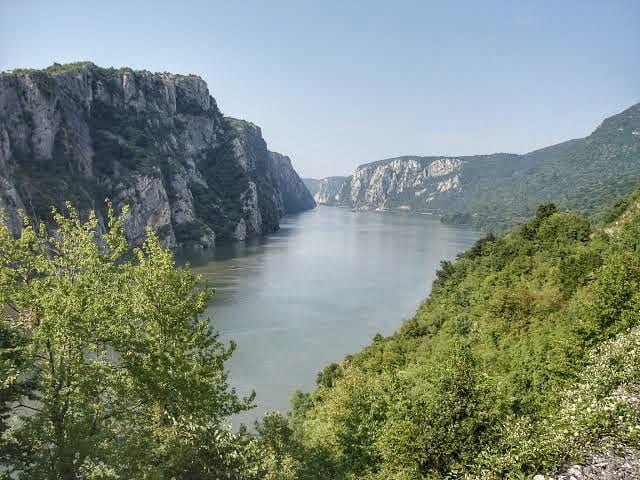 3. Serbia/Romania – The Iron Gates of the Danube
Although the most popular part is the already mentioned section from Passau to Budapest, the most beautiful cycling route along the Danube is the Iron Gates gorge between Serbia and Romania.
There's no dedicated cycling path along this section but the traffic is light and the feeling generally safe.
Level: adventurous beginners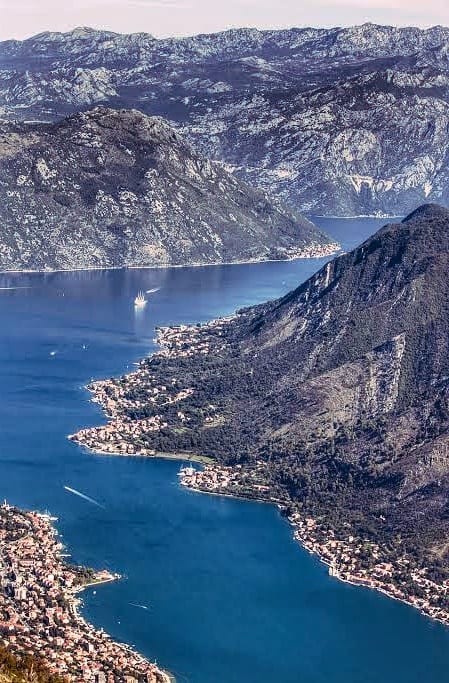 4. The Bay of Kotor
A stunning corner of Europe which makes for one of the best cycling holidays imaginable.
Level: beginner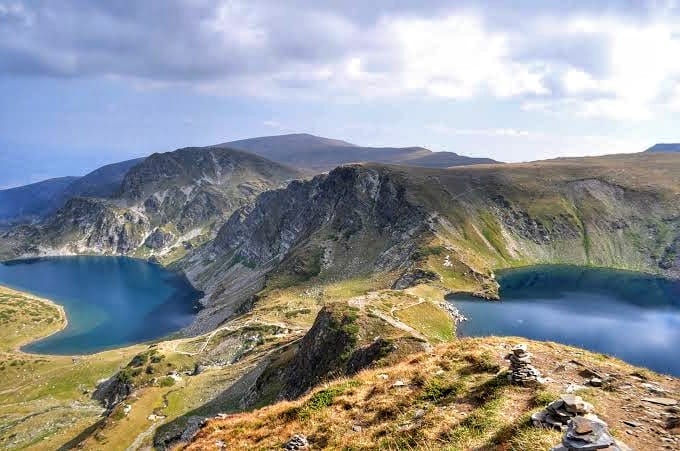 5. Balkan Mountains – Bulgaria
A secret mountain biking paradise, the Balkan range is covered in verdant forests and crisscrossed by single-track trails that will challenge the most skilled MTBers.
Of course bike tours on asphalt are also possible in the region, for those who like some hard slopes.
Bulgaria is also one of the cheapest countries in Europe – another vantage point.
Level: Advanced
Read also:
Stay in touch while we get lost! Follow us on Social Media