Timetables, services and description of the Helsinki – Tallinn ferry
The Love Boat of the Baltic Sea, connecting these beautiful northern capitals
There are several ships nicknamed Love Boat, the most famous are those that connect Helsinki to Stockholm and Helsinki to Tallinn, the races are daily and operated by Viking Line, Eckerö Line, and Tallink Silja. On both lines, you can transport your car, bicycle or motorbike.
After having pedaled Finland from the cold wilderness of Lapland, we boarded the ferry for the route Helsinki-Tallinn (Estonia), Tallinn is probably the most beautiful Baltic capital, and this ferry is a great way to get there.
There are two options when it comes to sailing this route: you can easily hop on and off in two hours, which is the actual travel time for the boat from Helsinki to Tallinn (and vice-versa). The second and cheaper (yes!) option is for you to sleep on the ship, overnighting moored at the port of Tallinn (or Helsinki) and leave calmly by noon the next day.
You may wonder why sleeping on the ship costs less than going down once you get there, the answer is simple: Booze! The ships, no matter which company's, have several bars with live music, a disco, and numerous restaurants. Those who stay on the ship have fun and in the meantime spend money, paying very little for alcohol compared to the prices they would pay on the ground, especially in Finland.
In fact, many locals spend the weekend this way. The shipping company earns and the young Finns can get drunk at a reasonable price, also they don't have to drive back home once drunk, sleeping instead in a comfortable cabin.
You can figure out the reason why this ship is nicknamed "love boat", there are many love affairs born between one beer and another, but if you do not care to drink at the bar or buy liquor at the tax-free shop you will still have saved the cost of the accommodation for one night, moreover, the ship offers much more than any hostel, where there is usually no pool and sauna…
Keep an eye on the offers, especially during low season and out of weekends, the prices can drop vertiginously. There are various last minute offers and prices are very variable.
We love beer and sauna and swimming, we had a lot of fun, we paid 17€ in total for the crossing and a basic cabin for two, our bikes traveled for free. We must say, however, that once we got off we had to find a hostel in Tallinn to rest and get rid of the hangover 🙂
---
Check Also
Book or check the tariffs for Helsinki-Tallin ferries
Itineraries and advice for a bike trip in Estonia
Everything you need to know about cycling in Finland
Visiting Tallinn in 3 days
---
Viking Line
Viking – Line Routes
Disclosure: Some of our articles contain affiliate links. This comes at no additional cost for you and helps us keep this website up and running. (as Amazon Associates we earn commission from qualifying purchases)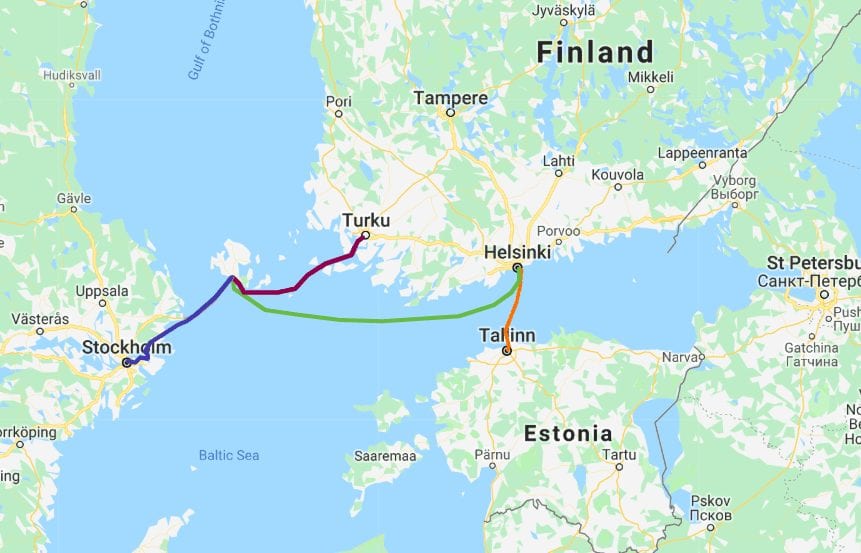 Travel with Viking XPRS, spend the day in Tallinn and then come back the same evening. The journey with Viking Line lasts only two and a half hours and there are 3 or 4 daily trips. It is also a very convenient option if you plan a comprehensive Baltic itinerary.
Viking Line operates daily connections from Helsinki to Tallinn, there are 4 different options available:
One-day cruise with a stop in Tallinn
Helsinki-Tallinn-Helsinki night cruise, with an overnight stay on board. No landing in Tallinn.
Overnight cruise with one day in Tallinn, with overnight on board and one day in Tallinn, a departure from Helsinki in the afternoon and return the evening of the day after
Day-cruise with a day in Helsinki, a departure from Tallinn in the morning and back in the evening (Tallinn-Helsinki-Tallinn)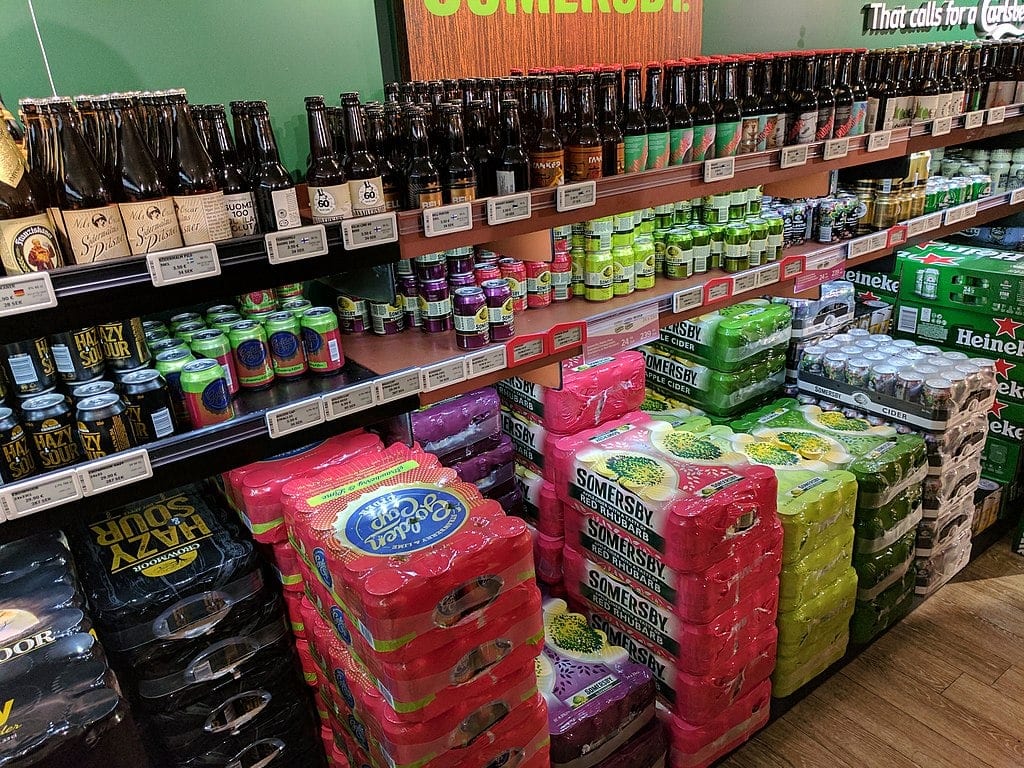 ---
Viking Line also offers other national and international connections:
Turku (Finland) – Aland Islands (Finland)
Aland Islands (Finland) – Stockholm (Sweden)
Helsinki (Finland) – Aland Islands (Finland)
Helsinki – Tallinn
---
Services onboard – Viking Line
WiFi, download the Viking Line app before embarking
Shows and live music, about 200 artists perform on Viking ships every year
Disco Club
Slot Machine
Tax-Free Shops (booze, clothes, gadgets, toys, etc.)
Spa
Sauna
Heated Pool
---
The Viking Line cabins
You can book any type of cabin, naturally more luxurious will be your choice and the greater the cost. If once you get on board you want to change cabin and get a higher level you can request an upgrade, subject to availability, at check-in.
Check here to book or learn more about Viking Lines cruises and services
Here to book the most convenient accommodation in Tallin
Silja Traghetti
Map of Silja routes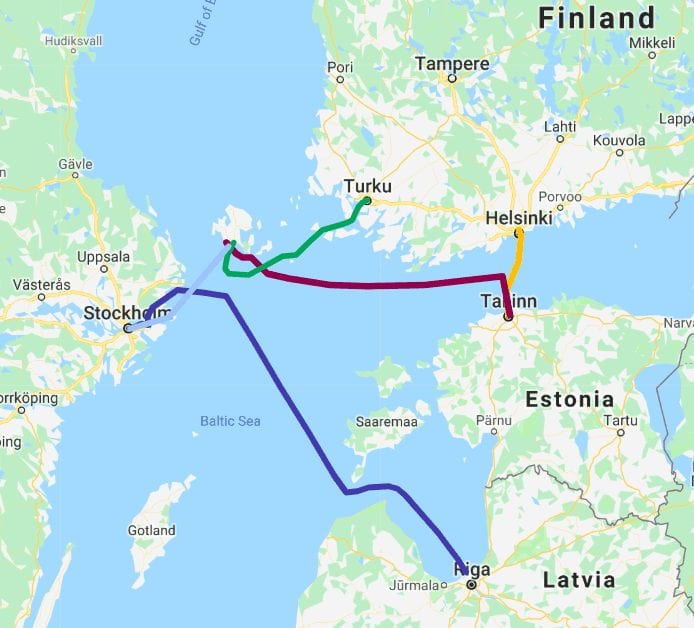 Silja Ferries is the second company offering the Helsinki-to-Tallinn connection, up to seven trips a day. Also in this case there are different solutions, from the simple 2 hours of crossing to round-trip cruises for a total journey of 22 hours. We took this ship from Helsinki to Tallinn and we enjoyed it.
Both the Viking Line and Silja can transport cars and caravans, while bikes usually go for free. It is also possible to book lunch or dinner at one of the many restaurants on the ships.
The boat we took, Silja Europa, had a heated swimming pool with adjoining sauna which could be accessed until midnight by paying a separate ticket for 8€ if you do not have the swimming-attire you can rent at a cost of 2€.
Other services available on the Tallinn – Helsinki ferry operated by Silja are:
Bars and clubs with live entertainment, music, and dance
Indoor heated pool
Sauna
Beauty salon
Hairdresser
Tax-Free shopping
Kids playground
Conference room
Billiards
---
Cabins
We slept in the cheapest cabin available, it was on the lower floor of the ship, so no sea view. A cabin with two bunk beds but it was all available to us, it was spotless, with private bathroom and tv, towels, and blankets are included.
Of course, all types of cabs are offered, from the 75-square-meter luxury suite to the simplest cabins, there are also cabins for people with allergies, the materials used are all anti-allergenic.
---
Silja Line also offers other national and international connections:
Turku (Finland) – Aland Islands (Finland)
Aland Islands (Finland) – Stockholm (Sweden)
Tallinn (Estonia) – Aland Islands (Finland)
Riga (Latvia) – Stockholm (Sweden)
Helsinki – Tallinn
---
Here a list of the best hotels in downtown Helsinki
Eckerö Line
Eckerö Line is a Finnish company that travels the Tallinn – Helsinki route 3 times a day. Also in this case it is possible to book the outward and return journey with the spare day to visit one of the two capitals.
We do not have much information on this line since the website is only in Finnish or Swedish. If you have traveled this route with this company and you have more information please contribute in the comments.
---
Check Also
Book or check the tariffs for Helsinki-Tallin ferries
Itineraries and advice for a bike trip in Estonia
Everything you need to know about cycling in Finland
Stay in touch while we get lost! Follow us on Social Media