All About Cycling in Slovenia
Mountain Biking Trails [MTB], DIY Bike Touring, Bikepacking Routes, Road Cycling
Lubljana, Lake Bled, and the Alps
Thinking of bike touring Slovenia? That's a great idea. Slovenia is indeed the perfect bikepacking destination, whether for hobby cyclists, competitive riders, or relaxed nature lovers.
Not only this tiny country offers a dynamic and diverse landscape, stunning nature, countless routes to enjoy your time by bike, and a pleasant climate but also excellent infrastructure and safety for cycling lovers. Bikepacking Slovenia will surely be an experience you'll never forget.
In this guide, we offer all the basic information you need to know before you head on your cycling day or bikepacking adventure in Slovenia.
We always recommend doing it yourself, but if you're looking for guided or planned cycling holidays and tours in Slovenia this article will give you all the info needed.
This article has been written with the contribution of Local Experts Leo and Neža from SafariNomad.com
Planning a bike trip around Europe? Check also
Bike touring beginner? Have a look at
The best cycling itineraries and bikepacking routes in Slovenia
Bike Touring Slovenia Route Maps and GPX Tracks
Even though is a small country, there are a lot of interesting routes you can take for your DIY cycling tour of Slovenia, here are a few recommended ones.
1. Bikepacking Slovenia From Lake Bled to the Coast
Disclosure: Some of our articles contain affiliate links. This comes at no additional cost for you and helps us keep this website up and running. (as Amazon Associates we earn commission from qualifying purchases)
Distance: 340 km

In this multi-day bikepacking tour of Slovenia, you will experience how the landscape changes quickly in front of your eyes – from mountain views, green valleys, towns, rivers, and karst scenery with caves to end with the Mediterranean beauty of the coast.
From Bled the road takes the cyclist toward Bohinj and its lake – another spectacular tourist attraction, also a perfect destination for bikepacking. Before your arrival in Bohinj, you will be awarded by breathtaking views of the mountains. There you can also visit one of the highest waterfalls in Slovenia with a drop of 78 meters – Savica waterfall.
You will enjoy the picturesque valley, which is on the edge of the Triglav National Park. Nature here is unspoiled and calling you for relaxing and taking a break and just admiring its beauty. Once you are there, you can feel its therapeutic effect.
You will pass by some villages – Bovec, Tolmin, Kobarid, and other remote places that can take your breath away. You can take a detour to climb over the Vršič (1,611 m), which is the highest mountain pass in Slovenia.
You can choose some routes along the emerald Soča river, Koritnica, Tolminka and Idrijca river. Do not forget to visit Tolmin gorge with numerous natural hidden gems. If you have time you can also try some adrenaline sports on the river Soča.
Once you arrive in little Brda hills you will be surprised how rich is nature here – vineyards terraces, olive trees, orchards full of cherries, and other fruit. The villages here are lovely, small with narrow alleys and numerous cultural attractions. Brda hills are also very popular among local cyclists.
Vipava valley is a paradise for cyclists, where there are a variety of cycling challenges. The trails run through varied terrain – vineyard-covered hills, slopes of the region's towns and villages with many natural and cultural features along the way, lowland trails, and steep climbs.
Explore the mysterious karst region with underground caves (Postojna cave, Škocjan cave) – the most visited cave system in the world, castle, green forests, and lakes.
Your route finishes on the Slovenian coast – time to refresh yourself and visit Piran – "the little Venice" and the most beautiful town on the coast.
2. Day-Trip: Road Cycling From Ljubljana to Lake Bled
Distance: 70 km
Start your adventure by cycling around the capital of Slovenia, Ljubljana. Explore this romantic city with its mighty castle and lovely, vibrant traffic-free city center. There are enough things to do in Ljubljana to keep you busy for at least a couple of days.
After exploring the capital head to Lake Bled – the most beautiful Alpine village and country's #1 tourist attraction and a symbol of Slovenia.
The route from Ljubljana to Bled is beautiful and will lead you through small villages, many forests, hills, and valleys until you reach Alpine region and your final destination – Lake Bled.
Enjoy breathtaking scenery, cycle around Lake Bled in a loop, visit the Bled Castle and the island chapel.
The best time of year for this route is probably late spring, but visiting Lake Bled in Autumn is also a good idea, autumn foliage and misty weather can make the scenery even more impressive (although there are risks of getting pretty wet).
To make your day perfect, pamper yourself with a famous local dessert – Bled cream cake ("kremšnita"). Also, 10 km away from Bled you can visit Vintgar Gorge, one of the most touristic places in Slovenia.
The town of Bled boasts a diverse range of hotels, private apartments, and even a campsite. Have a look here to check all the accommodation options in Bled, from cheap to splurge.
Cycling around Lake Bled is a very popular activity, there are many organized bike tours in the area.
3. The Big Slovenia & Southern Austria Bike Loop
This is a generic loop of Slovenian cycling highlights, which includes a detour to one of the most interesting regions of Southern Austria. It's a tough 480+ km bike touring route, with more than 6,000m in elevation gain.
You'll cycle through Maribor, Luljiana, the cozy town of Tromostovje, and the world-famous Lake Bled – while also challenging some the most difficult mountain passes in Slovenia.
4. Mountain Biking [MTB] in Slovenia
Mountain biking is very popular in Slovenia, the Alpine landscape is crisscrossed by hundreds if not thousands of mountain bike trails that will lead you through the most pristine nature. Here are some 5-star MTB trails in Slovenia with GPX tracks.
6 Reasons to explore Slovenia by bike
The country has been announced the world's first green destination and Europe's most sustainable country. The environment is well preserved, the country is covered by 54% of the forests, clean water (rivers, lakes, waterfalls), diverse wildlife and fresh air. What's more, one of the country's missions is also supporting cycling as a form of tourism.
Slovenia offers different geographical regions (The Alps, Karst, Vineyard hills…) with different vegetation and different climates. It's amazing to see how quickly a landscape changes.
No matter if you like to discover the country in a day or in a week, every corner in Slovenia is accessible. The country is small but also varied and rich.
Slovenians are keen on outdoor activities. Cycling is deeply in their culture and they always take advantage of cycling with a family or individual when the weather is pleasant. Furthermore, you will find many local bikers with whom you might join the trail and competitions or simply ask for help before/on your cycling tour.
The country is very safe and the cycling trails are very well maintained and marked. There are also special Information centers that offer bike maps, individual cycling tracks, and bike tour guides.
Slovenia has a rich history and culture. Many cycling trails lead to interesting ruins, sights, museums, castles, etc.
Geography of Slovenia
Slovenia is located in Central Europe with an area of 20,273 km2 and has a population of over 2 million.
It's a tiny country, yet the land is diverse, and has its own characteristics and unique features – the Alps, the Dinarides, the Pannonian Plain, and the Mediterranean coast. This tiny country is dominated by rivers, lakes, mountains, and greenery.
Over half of the country is covered by forests, which makes it the third most forested country in Europe. In the Pannonian plain, toward the Croatian and Hungarian borders, the landscape is mostly flat.
Slovenia's Adriatic coast is 47 km long, from Croatia to Italy. The southwest of Slovenia – the Kras region between the capital of Ljubljana and the Mediterranean, contains limestone regions of rivers, caves, and gorges.
The Alps extend across the northern part of the country along its long border with Austria. Slovenia's highest peak is Mt. Triglav at 2,864 m altitude above sea level.
Weather & Best Season for Cycling in Slovenia
Despite its small size, Slovenia is divided into three climatic zones. There is a sub-Mediterranean climate near the coast, the continental climate on the central and northern Slovenia and a severe Alpine climate in the high mountain regions.
Average temperatures on the lowlands in winter is 5°C and around 23°C in summer. Summer is warm or even hot; whereas the winters are cool and fresh. This area is also exposed to strong and cold wind – bora. The rains are frequent throughout the year with a maximum in autumn.
Towards the interior, winter is cold and snowy with an average temperature of 0°C, while summer can be warm to hot during the day but the nights are cold with a temperature of about 20°C.
In the mountains, the climate is colder with abundant snowfalls, mainly in the mountains of western Slovenia.
Slovenia is a wet country, so you will find beautiful green nature reserves here. But be sure to bring your cycling rain-gear.
So, when should you go Bikepacking Slovenia?
Every season of the year in Slovenia brings something different and unique. When is the best time for cycling in Slovenia also depends on your preferences, what do you want to experience, where do you want to bike, and the duration of your bikepacking holiday.
In spring you can enjoy nature blossoming in all the colors, lush vegetation, gentle breeze and warm days.
Summer is a good choice if you wish to leap into the water (lake in the mountains, rivers, the sea). At the same time, if you don't like cycling in the heat or if so, you will be limited by cycling during the morning or late in the afternoon.
The only period not recommended is during the winter as it can get very cold, icy roads, especially in the mountain regions.
Costs of cycling in Slovenia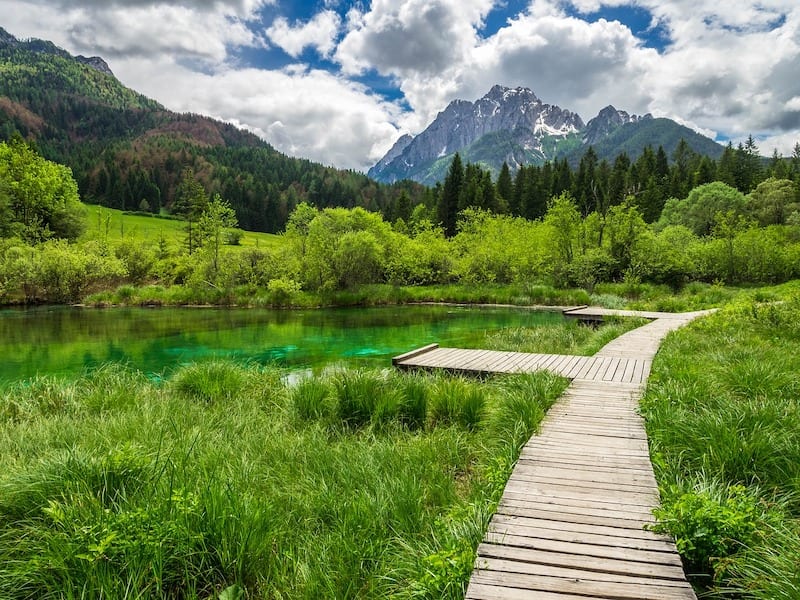 Slovenia is quite cheap compared to some near countries – Austria, Italy, Switzerland and Germany but more expensive than other Balkan countries.
Supermarkets are very well stocked having a large supply and variety of things, from local, national to foreign products. There you can find vegan, vegetarian, gluten-free products, also with eco and bio certification. The prices vary but many times are accessible.
If you are searching for local products, such as dairy or fruit and vegetable from local farmers you can find it in markets (usually in bigger cities) but are many times pricey.
Some examples of prices (November 2019):
Banana (1kg) 1.26 €
Local cheese (1 kg) 9.72 €
Lettuce 1.05 €
A meal in an inexpensive restaurant 6 – 10 €
Budget double room 30 €
Bed in hostel dorm 10 €
Do you want to know what kind of food is typical in Slovenia? Find it here.
Take into account that prices are many times higher in the capital and on the coast, while a private apartment in Triglav National Park can be pretty cheap.
What makes pricey are the private cycling tours – depending on the season and the length of a tour, from 40 € for a day tour to multi-day trips of 700 €.
What to Pack for a Cycle Touring Holiday in Slovenia
Bike Gear
Pro Tip!
You don't need an expensive bike to cycle here. You can easily ride on a refurbished bike that you can get for free (or almost free) – learn how here!
Cycle Clothing
Pro Tip!
1. Use common running shorts to cover your cycling shorts in conservative countries!

2. This should be enough until a few degrees below the zero. If you plan something a bit more extreme, consider lightweight insulated down jackets like this one.
Accessories
Biking the roads and Cycle Routes of Slovenia
There are numerous cycling routes that run on various terrains and various difficulty levels. There's enough to satisfy every rider, from great road cycling to mountain bike trails in Solvenia.
Slovenia's trails are suitable for those looking for an easy family-friendly ride but also those looking for more demanding bike routes. If you want to get lost while tackling the hardest Alpine pass that's the country for you, with slopes up to 20% and breathtaking views.
All the trails are well-marked, easily accessible, well kept and maintained, with good infrastructure. Slovenia makes easy to explore the attractions of the country by bike.
On the roads with less traffic (away from the main highways), you can enjoy the scenic countryside, running through hills, valleys, forests, and flatlands.
There are several asphalt roads, very safe and meant only for cyclists. Dedicate tar cycling paths. If you are looking for a family cycling holiday, the most popular area is in the countryside of the Pannonian Plain, small towns, and villages, where the terrain is flat and surrounded by vineyards and farms.
There are also numerous mountain bike parks throughout Slovenia. The parks have different challenging features, such as ladders, bridges, downhill trails, etc. These parks are mainly found around ski slopes. We'll discuss them more in detail later on in this blog article.
Drivers here are mostly considerate, almost every car in Slovenia gives priority to bicycles.
EuroVelo Routes in Slovenia
The only Eurovelo Route that really crosses Slovenia is the Eurovelo 9 – Baltic/Adriatic Route. This official cycling route gets into Maribor from Austria, leads you to Lubljana, and then ends up on the short Slovenian coast, where it intersects with Eurovelo 8 (Mediterranean Route).
The Eurovelo 8 (Mediterranean Route), crosses Slovenia only on its tiny coastal section, actually on a dangerous road, on it's way from Italy to Istria and Dalmatia in Croatia.
The Iron Curtain Trail (Eurovelo 13), also touches Slovenia for a very short stretch, along the border with Hungary. More info about the Iron Curtain Cycling Route can be found in our articles about cycling in Finland, bike routes of Estonia, and Poland by bike.
Hotels, Guesthouses, and Camping in Slovenia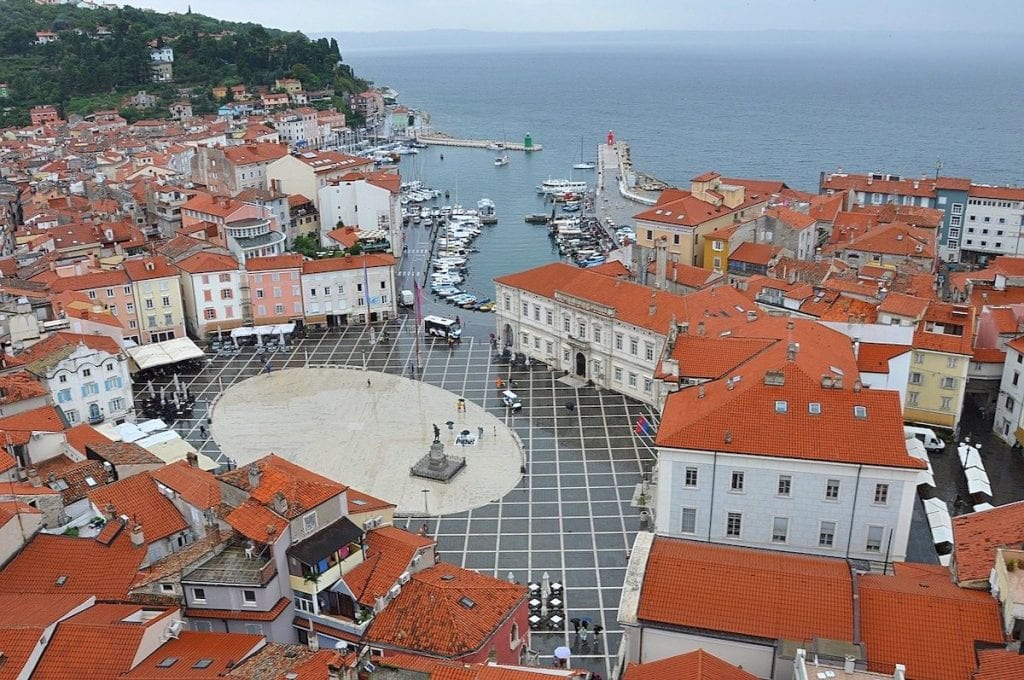 In Slovenia, there are cyclist-friendly accommodation providers that acquire bicycle symbols specifying the quality of what it is offered to cyclists. Just like a star rating, but with bikes.
Accommodation services range from 1 to 5 bicycle symbols, where five bikes symbol means all the average biker needs are fulfilled and cycling facilities are available (cycling program, individual bike tours, high-quality bikes on offer for rent, saunas and massages, etc).
The average cost of a budget hotel room in Slovenia is 30 Euros – it can get a bit more expensive in Lubljana.
Wild camping isn't permitted anywhere in Slovenia and may be punishable by fines. So, do not wild camp in National Parks, public places (such as Lake Bled, Bohinj, etc.). You can only camp on private grounds (if you get permission from the owner) or using campsites.
The good thing is that Slovenia offers numerous camps, which are generally clean and safe. Usually, you will find them in the countryside, near farms, rivers, lakes or the seaside.
Some campsites offer more than basic services – wellness centers, bicycle rentals, excursions, etc. There are special biker-friendly campsites, where there are organized cycling tours, also special services for cleaning bikes, safe bike storage, transport of bikes, and renting of good-quality bikes.
If you still want to risk wild camping, absolutely avoid national parks and try to hide as deep as you can. Of course, leave no trace.
Renting a bike in Slovenia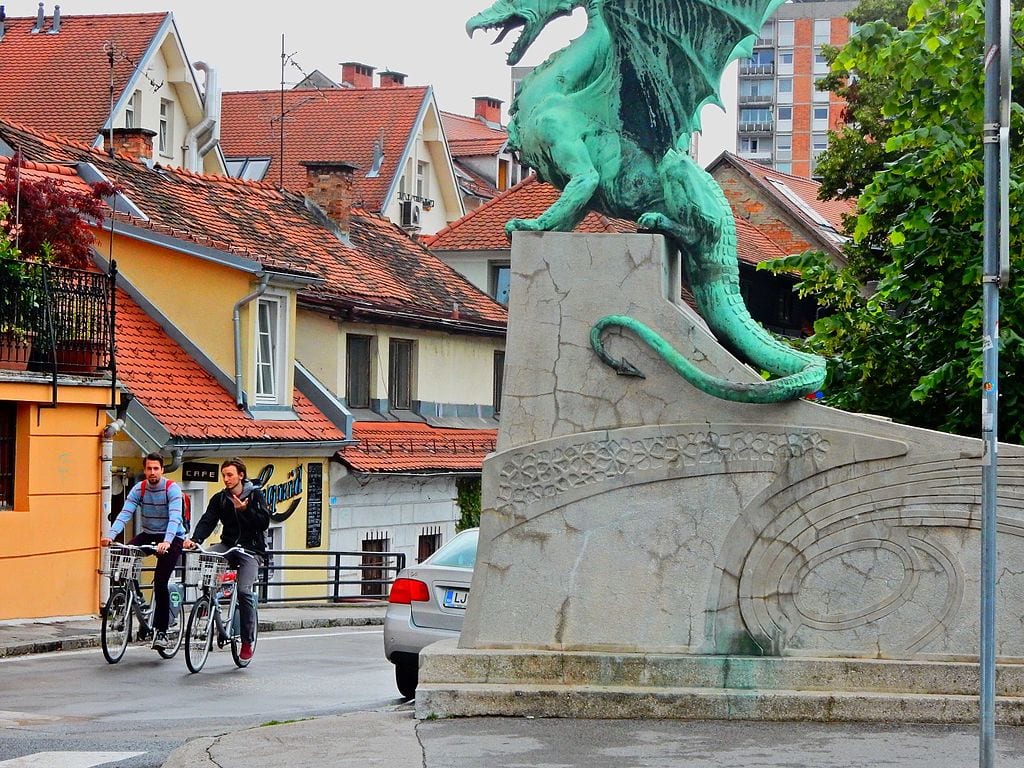 Slovenia has a strong cycling culture and bike rental shops and services are plentiful. If you want to book your bike ahead we recommend using BikeBooking, a reliable service present in about 80 countries, you can pick your bike everywhere and leave it anywhere else at the end of your cycle trip in Slovenia.
Other online bike rental services are available for Slovenia. Here you can Rent a Trekking bike in Bovec, Soca valley, while this company offers an interesting bike rental with e-guide. Check this for the cheapest bike rental in Bled.
Safety in Slovenia
Slovenia is a quiet country, classified as the 10th safest country in the world by the World Peace Index. One of the safest countries in Europe.
In major cities, you might come across homeless people who are not dangerous. Even being out late at night, you don't need to worry.
Languages and people
The official language is Slovenian, which belongs to South Slavic languages, similar to the Serbo-Croatian language. Despite the country's small size, it has 50 dialects and pronunciation differs from area to area.
There are two minority languages – Italian and Hungarian (co-official languages). Croatian and Serbian languages are mostly spoken by immigrants from countries of ex-Yugoslavia.
Slovenian culture has a strong influence on other neighboring cultures, so it's not a wonder why Slovenians love languages. Hardly you will find a Slovenian who doesn't speak English.
They have at least a basic English level but mostly speak English very well. Not only English is the first foreign language taught at school, but also the German language has a special position in the national curriculum.
Flying Into Slovenia
When it comes to flights our pick, since already several years, has always been Kiwi.com. It is, in our opinion, the best search engine for flights by a long shot.
Kiwi has a very flexible search function – you can, for example, select several departure locations or a variable geographical radius, and then check for flights to a wide region (like Southeast Asia for example) or even to "everywhere".
You can then compare the best deals, combining the various options of departure and arrival.
Also the dates are super-flexible, Kiwi allows you to select entire months or even longer periods of time, and then select a trip duration (the interval between the departure and the return flight) which is also flexible!
You could, for example, search for flights from "Italy+Austria+Switzerland" to "Southeast Asia" between "June 6" and "September 24" with a duration of "24/32 days", what other flight engine gives you that?
Through Kiwi.com you can also check the fees for luggage and sports equipment (ie. bicycles).
Read also:
Stay in touch while we get lost! Follow us on Social Media