Bicycle touring tips about cycling in Slovakia. Maps, itineraries, landscapes, wild camping, accommodation, roads, costs, weather… everything you'll need
Cycling Slovakia, has this even ever crossed your mind? Slovakia is an underrated bike trip destination, bicycle touring beginners often opt for flatter and more popular places, expert adventure cyclists mostly overlook such a tiny country ending up crossing it at speed in a few days on their European Continent bicycle adventure.
But Slovakia can make for a really astounding cycling destination, the highest Carpathian peaks, the great Danube, and an interesting historical heritage are enough to keep you entertained for 7/10 days.
We cycled in Slovakia for 8 days in October 2018 (with a short overnight in Hungary), entering from Poland through the High Tatras, and exiting towards Vienna along the Danube.
In this article, we'll try to give our readers any basic information needed to start planning a bicycle trip to Slovakia, there is also a navigable map of our suggested itinerary.
Geography of Slovakia
Slovakia is a small landlocked country of 49,000 square kilometers and 5.4 million inhabitants in Central Europe. Despite its small size, its scenery is amusing and diversified.
The westernmost section of the Carpathian Arc makes half of the country, with the bare and magnificent High Tatra mountains acting as a northern natural border with Poland, here the highest peaks of Carpathians are found. Slightly south is the smaller and forest-covered chain of the Low Tatras, offering a lot of cycling opportunities for those looking for tough climbs.
Between the two Tatras is the Hornád river valley, a more densely populated region. The east of the country is hilly while the South-West is part of the Great Hungarian Plain, with the Danube separating the country from neighboring Hungary.
Weather and Climate in Slovakia
Disclosure: Some of our articles contain affiliate links. This comes at no additional cost for you and helps us keep this website up and running. (as Amazon Associates we earn commission from qualifying purchases)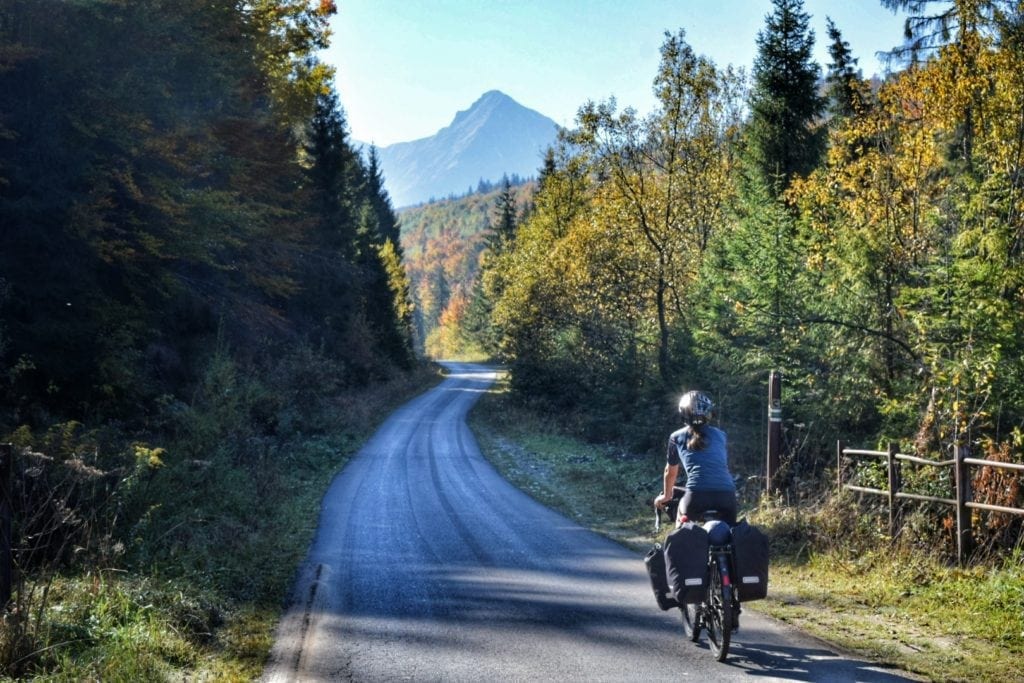 Slovakia has a typical European continental climate, with warm and dry summers and fairly cold winters. Upon the mountains, there is an average of 120 snowy days per year, only 40 in the lowlands, winter also brings strong winds from the northeast (Bora).
In summer daytime temperatures easily reach 20-25°C, sometimes getting as high as 30°C or more. Although summers are mostly dry, sometimes heavy Thunderstorms can occur at the end of the day, especially in the mountainous regions.
July is the warmest month with an average Temperature of 22°C. Annual Precipitation varies from 400 mm in the southern lowland areas and up to 1000 mm in the mountainous regions.
Best time to cycle in Slovakia
Each season has its own beauty in Slovakia, but cycling here in Autumn is a pure show. The colors are amongst the most vivid we've ever seen, competing (and winning, IMHO) with the marvels of the Japanese mountains.
October is still quite warm, with daily averages around 16°C, and nightly usually around 2°/4°C… not too chilly to camp with decent equipment.
Cycling the Roads of Slovakia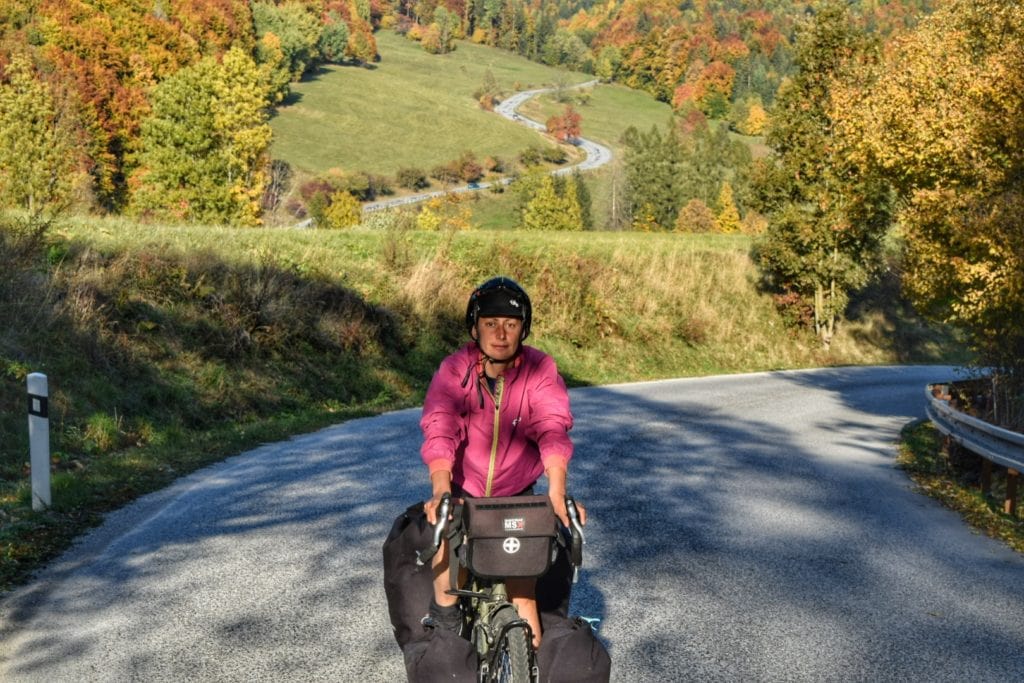 Generically speaking, road condition in Slovakia is not bad for cycling. Most roads are narrow but have good pavement, traffic is heavy only on main routes.
Being mostly a mountainous country, it's kind of obvious that the few flat roads collect most of the Slovakian traffic. Despite being crossed by a highway (D1), the Hornád river valley is busy even on its secondary roads.
Road 537, at the foothill of the High Tatras, does look very good on a map but it's not so great to ride. The mountains are mostly hidden by trees and the route is pretty touristic, and thus busy. It's worth riding here if you are willing to tackle one of the many hikes the High Tatras have to offer.
The roads crossing the Lower Tatras are marked as state roads but traffic is not too intense there, both on route 66 and 72, given the gradient of the climbs involved, those road are mostly truck-free.
The Danube river cycling path, going along the border with Hungary, is honestly a bit boring, rarely very close to the river, and often with a very poor pavement, sometimes it is worth just staying on the state road 63 (not great) or on smaller adjacent roads, we'll talk about this route in detail in an upcoming article.
There are many small and hidden gems in Slovakia, one we really feel like recommending is the road going through the fairy-tale village of Osturna, near the Polish border (see map).
Wild Camping in Slovakia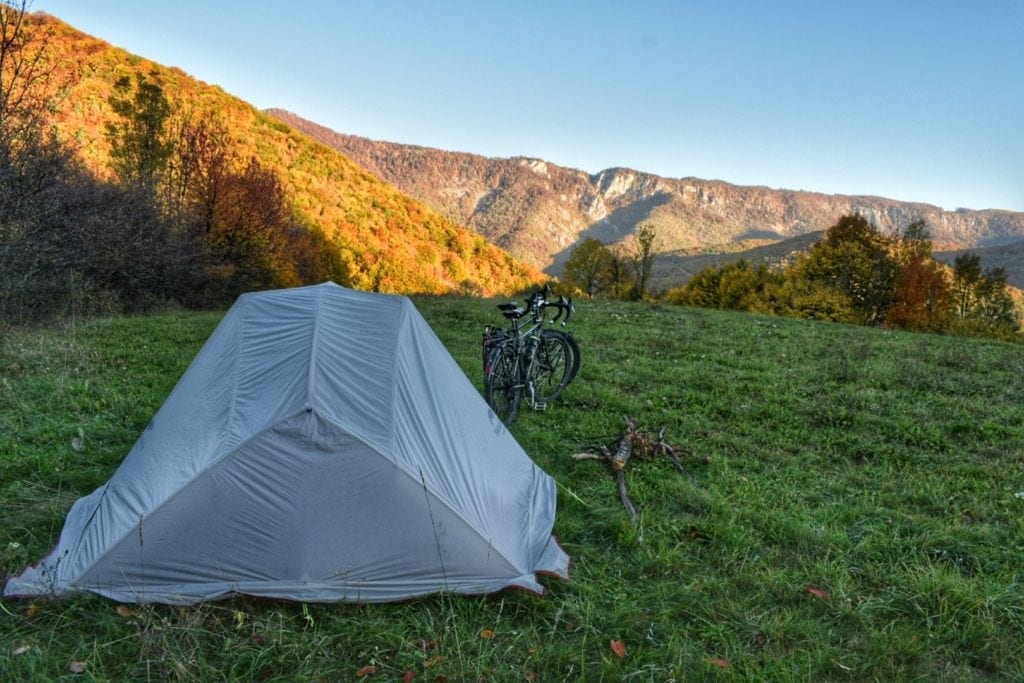 Bicycle tourers planning a trip to Slovakia would be happy to know that wild camping is legal in Slovakia, the situation here is among the best in Europe, even more camping-friendly than Norway.
There are just a few rules to follow:
Camping is not allowed in level 3 protected areas (National Parks)
Camping is not allowed in protected forest areas.
The first rule means you're not allowed to camp in the High Tatras, fortunately though, there's a network of free huts especially useful for hikers (not so easy to reach on a bike I'm afraid), some can be found here. Bonfires are prohibited but tolerated in safe areas, be very careful though.
Standard rules of safety apply of course: don't camp to close to villages, don't expose too much, pitch your tent just before dark, and follow the obvious biking rules. Be careful of bears in the High Tatras.
Despite the low population density, finding a place to camp is not always easy, easier of course in the mountains than in the Southern Plains.
Safety in Slovakia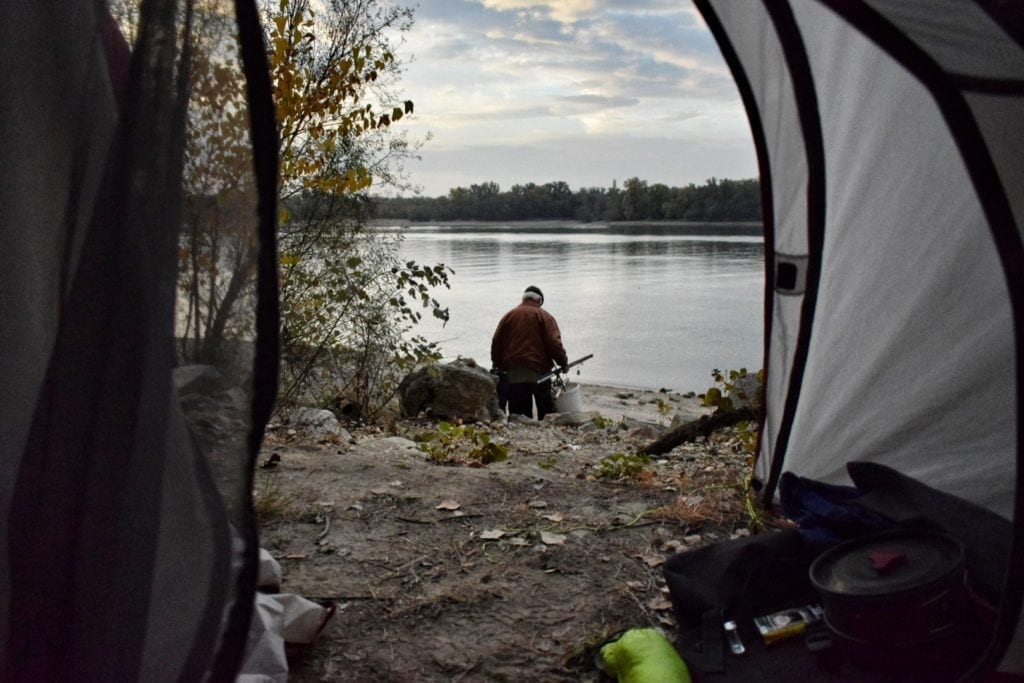 Slovakia is generally a safe country, it ranks 181 among 230 countries for intentional murders rate. Petty theft can of course happen, stay aware and trust your guts.
Drivers are average, not always respectful but not all assholes either. Take your space on narrow road to avoid drivers passing you at close distance.
Hotels, Guesthouses, and Campsites in Slovakia
Campsites are widespread all over the country, they go from basic caravan parks and lawns to luxury facilities with swimming pool and stuff. A tent usually costs 4/7€. Unfortunately, most campsites are open only from May to September, so if you're off-season it might be very hard to find such accommodation.
Guesthouses and hotels are also very common, they are of course open all-year-round. Prices start at about 20€ (very rare), expect to spend an average of 30€ x night for a double room. Many guesthouses do have an available kitchen free to use for guests.
---
Couchsurfing and Warmshowers in Slovakia
Warmshowers community in Slovakia is not huge but present and fairly active, it's always worth giving it a try for the chance to meet fellow bicycle tourers.
Couchsurfing is big and also worth trying. If you don't know what we are talking about, check our article about the free-hospitality networks worldwide.
Cycling Slovakia Route Map
Cycling itineraries and routes in Slovakia
Even though Slovakia is not a big country, thanks to its mountains there are many choices when it comes to bicycle touring itineraries.
There are several national bike routes, herd to source information in English about them, and plenty of user-generated ones (Tatra Velo seems to be a sort of official account on Komoot). We planned our route day by day mixing those sources with a high degree of improvisation, ending up riding a highly enjoyable itinerary mostly on light traffic roads. Here's what we have done:
Tip: to better follow the itinerary descriptions, open the map above in another window or tab.
1 – Dunajec River Gorge to Osturna and Ždiar Pass – 46km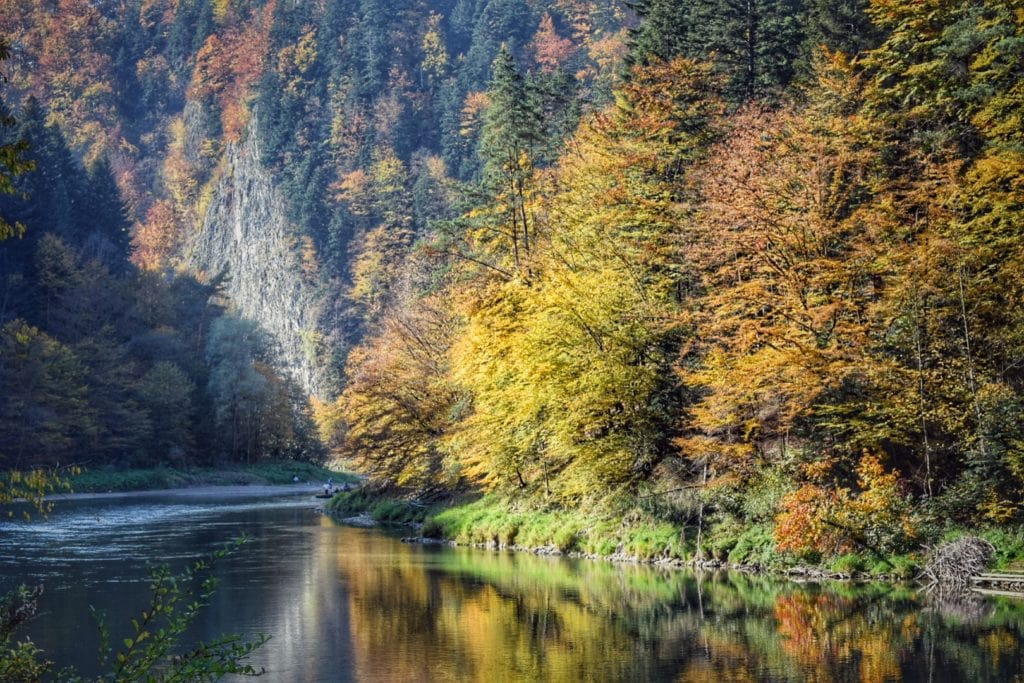 This was one of the best days of our whole 5-months Europe bike trip, a day full of marvel, an area of Slovakia you really shouldn't miss when cycle touring here.
The Dunajec River gorge lays at the border with Poland, very close to the High Tatras, this is really the perfect entry/exit point if you're cycling from/to Poland. There's an unpaved but well-maintained cycling path (which is also a hiking trail), about 20km long, which actually lays mostly on the Polish side. The gorge has stunning white limestone cliffs and it's covered by vegetation that is truly mesmerizing when painted in the autumn colors.
The path ends on the Southern tip of the Lake Czorstyn (Jezioro Czorsztynskie), a good-looking man-made reservoir. From there, there are two ways to get to Osturna, one brings you back in Poland, the other going through a Slovakian valley, both are nice, easy and short, about 10/12km to get to the Osturna area.
Osturna is a laid-back fairy-tale place with an interesting history and remaining sparkles of a unique culture, laying 700 meters above sea level amidst a gorgeous valley.
This nine-kilometers-long village is only inhabited by about 390 persons. Those persons are Rusyns, a diasporic ethnic minority group with a complex history and a fascinating architecture, 157 of its wooden structure are recognized as a national treasure. Riding through Osturna is a 10km long jump in a parallel universe.
A few cozy and cheap accommodation options are available, together with a traditional bar and a small supermarket.
The road goes uphill from here, heading south along a beautiful and solitary road towards the pass at 1,126msl, you'll be having the first glimpse of the massive Hight Tatras before finally watching the Ždiar Pass from above. This is a bit of a sweaty-climb especially at the end, with slopes up to 9% (see map).
Read more about Osturna and the Dunajec Gorge in these two in-depth articles:
2 – The High Tatras from Ždiar Pass to Poprad – 35 km
Once reached the Ždiar Pass the High Tatras will finally show up into their full magnificence, a compact (80km long, 19 km wide) but impressive set of sharp peaks.
Unfortunately here, you'll end up on the busier road 66, lined with skiing tracks. Passing through the winter-resort town of Ždiar, with the view on the Tatras on your right, you'll have to watch yourself a bit from the cars while on a fast descent.
Ždiar is a nice village with many traditional-style houses, still pretty despite being a bit spoilt by tourism. There are plenty of accommodation options in Ždiar, even though they might be a bit overpriced in high-season.
You'll leave road 66 for road 537, that circles around the southern slopes of the High Tatras. This road looks very cool on the map but it actually isn't, the mountains are rarely (read "never") visible, the lanes are a bit narrow, traffic is medium-heavy, ups and downs are tiresome and boring.
There is at least a good reason though to cycle this road, all of the hikes on the High Tatras from the Slovakian side start here, they are many and they are beautiful. You can see all the trails through this mobile app.
Vysoké Tatry is the biggest town in this area, accommodation and supermarkets can be easily found here. Several popular hiking trails start here, there is also a 3-step cable car bringing the lazier up to Lomnicky peak, 2634msl.
From Vysoké Tatry you're faced with the choice if to continue on the 537 or going down to Poprad. We chose the latter, taking one of the quiet roads leading into the city.
Poprad, despite its just 50,000 people, is the tenth city of Slovakia, expect a bit of traffic getting in. The city itself is nothing special, with a small and boring old-town and a modern and ugly city center. There are of course plenty of accommodation and even one Warmshowers host (which didn't reply us though).
3 – The Lesser Tatras, from Poprad to the Hungarian border – 180 km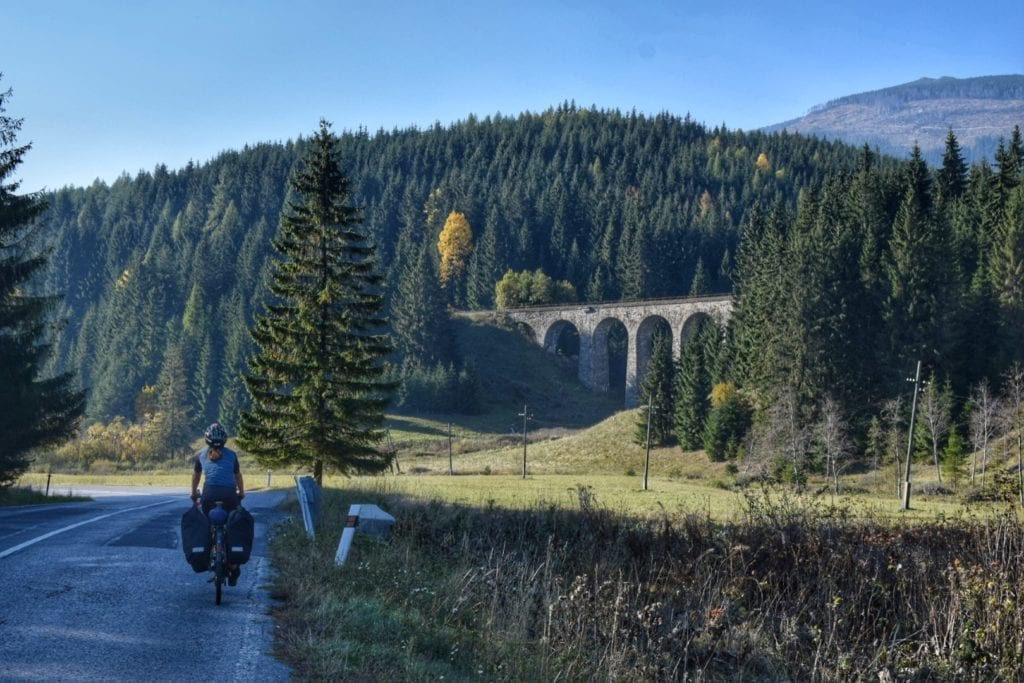 From Poprad, the main road leading up the Lesser Tatras is again the 66. Luckily though, that is way quieter here. The steep slopes you're going to face for the next 13km climb (from 600 to 1,060msl, up to 12%), will rid the road from most trucks and cars, leaving you to a beautiful forested road.
Just after Telgart, you can choose if to continue on the crests along the road 66, or hitting the quick descent south on the 531, towards Muran, Tisovec, and eventually all the way to the Hungarian border.
If you have time, feel good, and are actually enjoying cycling Slovakia, we recommend exploring the Low Tatras a bit more, we ourselves chose to get quickly to the Danube and we regret it a bit.
Road 531 anyway is a beautiful and interesting road, passing beside the limestone cliffs of the Muránska Planina National Park, and through the "gypsy" majority village of Muranska Huta, topped by a hill with an epic view which works well as a camping spot.
From Tisovec on, the road gets less and less interesting, hitting the Great Hungarian Plain in Lucenec (forgettable city). From Lucenec there are several quite but not exciting roads leading to the shores of the Danube, whether you want to cross in Hungary for a short while (as we did, see map) or stay in Slovakia you'll always stay on the flats.
4 – The Danube River Cycling Path, from Vac to Bratislava – 200km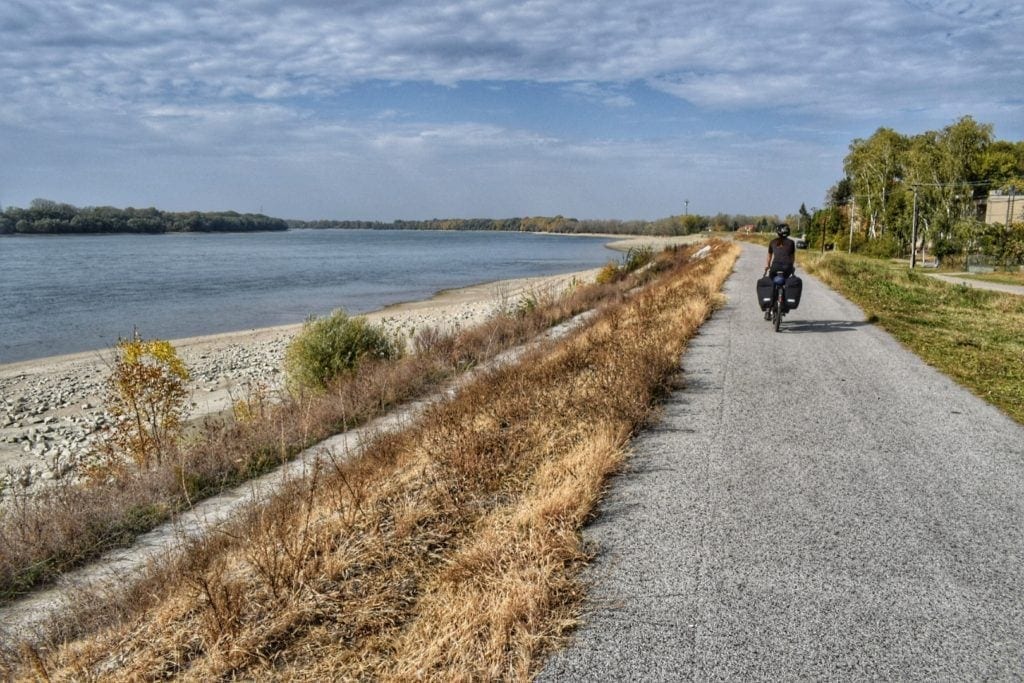 The cycle path along the Danube is probably the most famous route in Europe, and certainly the longest; Starting in Germany to end up on the Black Sea shores in Romania, for a total of 1400 kilometers.
We met the Danube River in Vàc, Hungary, and rode along it all the way to Vienna, along the border between Slovakia and Hungary, passing through Bratislava. This section belongs to the EV6 (EuroVelo 6) cycling route.
This is a very popular route for family and light bike tourers, but since we cycled it in October we didn't meet almost any other cyclist, except for a Korean guy who cycled with us to Vienna and helped not to die of boredom in some parts of the way. Because yes, the idea of cycling along the Danube may seem romantic but often the landscape remains the same for miles and miles.
The first section, from Vac to Esztergom (40km), is the most interesting one, mostly with the river in plain sight, among castles and white sand beaches. Esztergom is a nice city, for three centuries it has been the capital of Hungary in the middle ages, the very important Esztergom Basilica is the largest church in the country.
After Esztergom and all the way to Bratislava the path becomes boring, the river disappears behind the trees and only peeks very rarely, the landscape is flat and a bit monotonous. Often the track is a bit of an expanse of small rocks, a torture on a narrow tire, we even went back to the parallel main road sometimes.
The most interesting thing to see there is the Gabčíkovo-Vodné dam and reservoir, the largest hydroelectric power plant in Slovakia, guaranteeing 11% of the country's energy needs. From here on you will travel along the artificial reservoir for several kilometers, among a multitude of aquatic birds.
Despite being the capital of Slovakia it will take a couple of hours to visit the historic city center of Bratislava. The city though is well connected by the path.
A few years ago we cycled a part of the Danube cycle path between Serbia and Romania, among the marvelous Iron Gates, we must admit that that stretch was way more interesting to us.
In any case, the Euro Velo 6 cycle route is almost always a dedicated cycle path, along the way there are restaurants, hotels, and campsites, it is very suitable for family cycling holidays and, in general, for all types of travelers in bicycle, trained or not.
Read also: the Danube Cycling Path, from Vàc to Vienna
Languages and people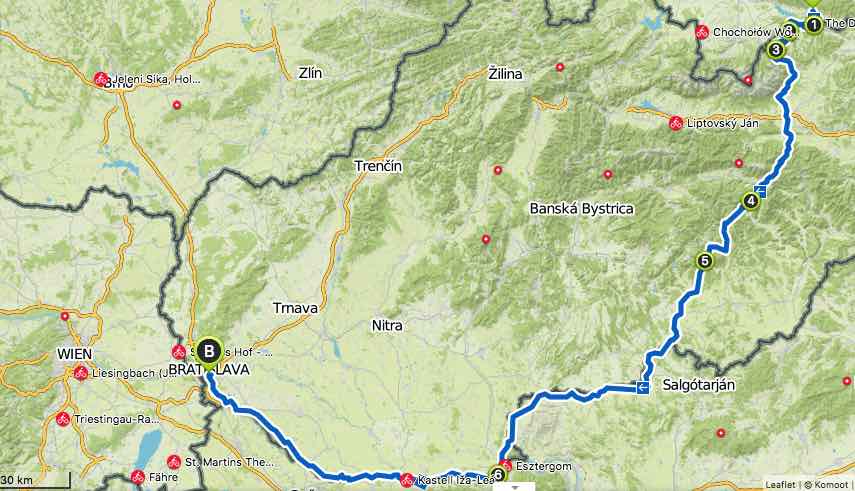 The Slovak language belongs to the West-Slavic family, it's very similar to Polish and Czech. Speaking a few words of any Slavic language could help, here are a few useful phrases and words. About 8.5% of the population is ethnic Hungarian, thus Hungarian language is widely spoken in the southern regions.
The exact percentage of Roma people is not clear (between 2% and 10%), there are many of them though (they for sure are the second minority), with villages inhabited almost exclusively by Roma, especially in the mountainous regions of the High and Lower Tatras.
In our experience, Slovakian people are mostly friendly and outgoing, more than what we saw in Poland, it's not hard to be intercepted at a bar and treated a drink. English is not very widespread, many young people know some basics but it's hard to find someone to conversate with outside of the main cities.
Costs of cycling in Slovakia

Compared to most of Europe, Slovakia is still a fairly cheap country, its prices are aligned with those of Poland although supermarkets are significantly more expensive. It's not too hard to get by in Slovakia with 10/15€ a day, providing you get to wild camp or resort to any other kind of free accommodation for at least 1/3 of the nights.
A cheap hotel room goes from 20€ to 40€
A meal in an inexpensive restaurant is about 5/7€
A pint of draft beer just 1.30€ (hooray!)
More here on Numbeo.
Food and Supermarkets in Slovakia
Do not expect too find a wide variety of food choices in Slovakian supermarkets, mostly canned stuff, few types of cheese, Slovakia seem oddly stuck to the East-Europe 90's style… this is probably not going to last very long "international food" is making is slow way also here.
Other cycling destinations in Europe:
Stay in touch while we get lost! Follow us on Social Media