Bicycle Touring in Serbia, from Janja across Sabac, Belgrade all the way to the Danube river.
In the previous days, there was the worst flood of the century in this region, the Sava river broke out and big parts of Croatia, Bosnia, and Serbia were flooded. The devastation is impressive. We leave Bosnia heading to Sabac.
Janja-Sabac – Cycling into Serbia
Today we cycled across the Drina River into Serbia. Flat stage. Here too, houses and fields were flooded. And again today 40°C. There was a terrible stink and we saw pest control trucks working. We met two Polish men who were going by bicycle in Macedonia and Kosovo. At about 17:30 we made our daily 70 kilometers.
Disclosure: Some of our articles contain affiliate links. This comes at no additional cost for you and helps us keep this website up and running. (as Amazon Associates we earn commission from qualifying purchases)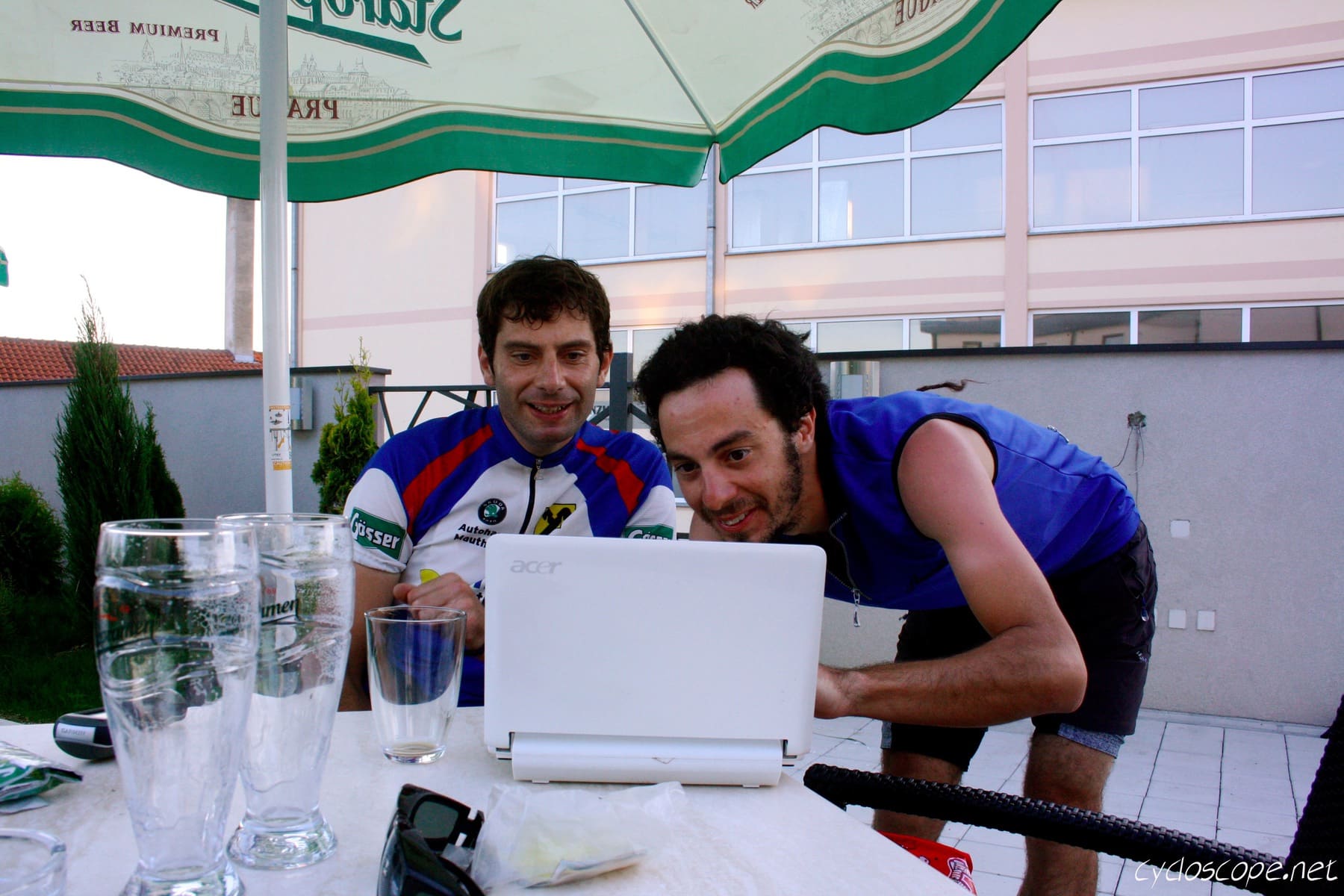 Then we meet a cyclist (one of those "racing" dudes) and we start talking, of course, in Serbian.
We try to steal some information about the flood situation.
He cycled a few kilometers with us and helped us to find a room. His name is Marko, unemployed, 34 years old, he cycles 300 km per day eating just two bananas. Will it be true?
We found out this information by treating him a drink and, thanks to the combo wi-fi/google translate, we managed to communicate. Then, as we went to park the bikes, he is gone. We went back and he was gone. Does he really exist?
The great flood in Sabac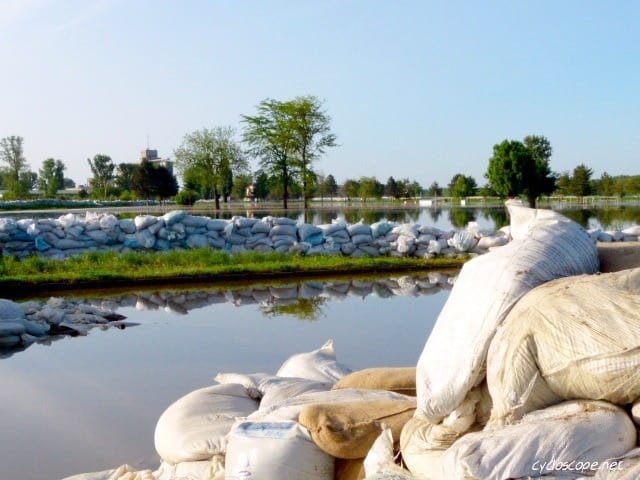 ---
Last night we went into town to buy some food and we met Aleksandr (Sasha), a bike mechanic. He told us that we could go to his shop for a free bike's check-up. So, this morning we went.
Daniele fixed his front brake and I got another spare tube, as with patching I'm not very good… It is already noon, we're going to get ice cream with Sasha and Vladimir, whom we also met at the bike shop.
Vladimir says us that if we want to stay another day in Sabac we can sleep at his place. Not a bad idea, we need the internet and one day here doesn't change too much our programs.
Sasha goes back to the store and Vladimir bring us to a friend's place: a bike hostel. It is very small and cozy, wood everywhere, a fireplace, a bathroom, and beds hanging on the walls.
A couple of years ago the place went on fire and has now been rebuilt. Vlada and the guy of the hostel (called Steven Segal) became friends in Australia. He offers us homemade plum Rakija. After the third cup we are really sure that we'll don't leave today.
We went to Vladimir's home, a nice apartment on the fourth floor with no elevator. Luckily there is a cellar for bicycles. I cook a pasta with zucchini and around 18:00 Vladimir comes out (he's an English teacher in a private school) and we go for a walk with Steven and his daughter, Ana.
We walk the city along the Sava River. There are still kilometers and kilometers of sandbags, houses along the river are flooded, but the situation is returning to normality.
Here people says that it was decided to flood Obrenovac not to endanger Belgrade, and so the deads, in Obrenovac, aren't thirty as the government says, but probably three hundred. Likely.
We meet again Marko, the cyclist, which appears and disappears, everyone knows him here. Although they seem to treat him like the village idiot…
After the walk, we meet again Vladimir and let's all drink a beer. We are very happy we stopped here, we met a lot of interesting people and we are sure there would be others.
As a painter seeing of Roman coins whom we met along the river. It would be a nice town to spend a bit of time.
Bicycle touring towards Belgrade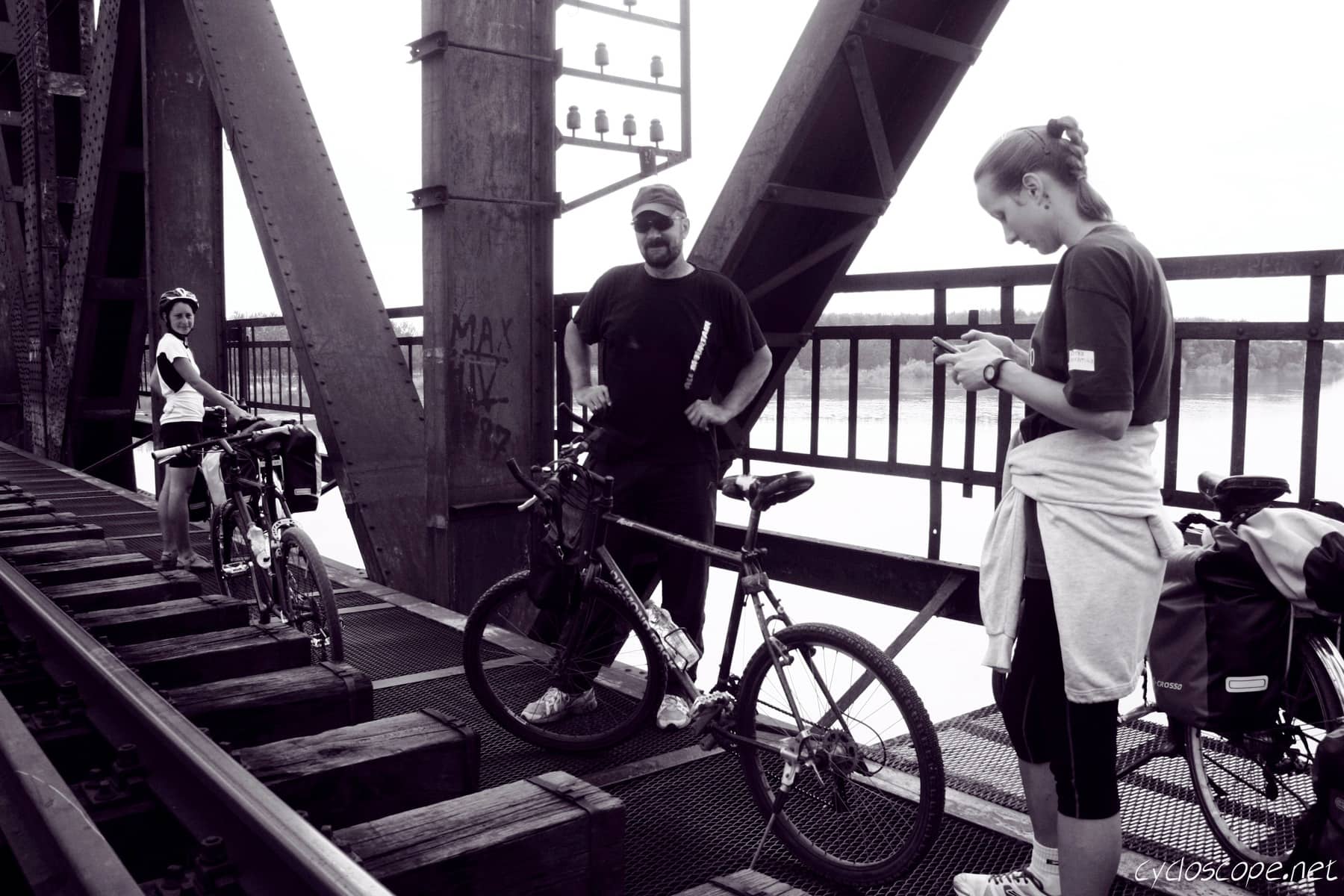 At 9.30 we're ready to go, Ana and her father want to join us for a few kilometers. We greet Vladimir and ride. We cross the Sava on a train bridge, very old and rusty. They cycle with us for about twenty peaceful and quiet kilometers. Plains and tiny villages. We avoid the main road.
So, we say goodbye to Ana and her father, and we're again only the two of us. Maybe also and because of the day off, we feel particularly fit. At 15.00 we're already in Belgrade. We ride a beautiful cycling path along the Sava which brings us almost to the city center.
Here, too, several houses and restaurants on the river are flooded but nothing compared to what has happened above. We decide to cross the city center in a hurry.
The cities are stressful. They stink. The people running here and there. Like crazy ants. And everything costs more. We asked out of curiosity how much it was for a room in a two stars hotel with battered shutters, it's 50€, that is almost three times the price of a beautiful room just outside the city.
We cross a bridge over the Danube without being able to look around. There is a lot of traffic.
If you feel like exploring the city instead, we won't blame you… and we are sure you won't regret it. Here's a list of the best things to do in Belgrade.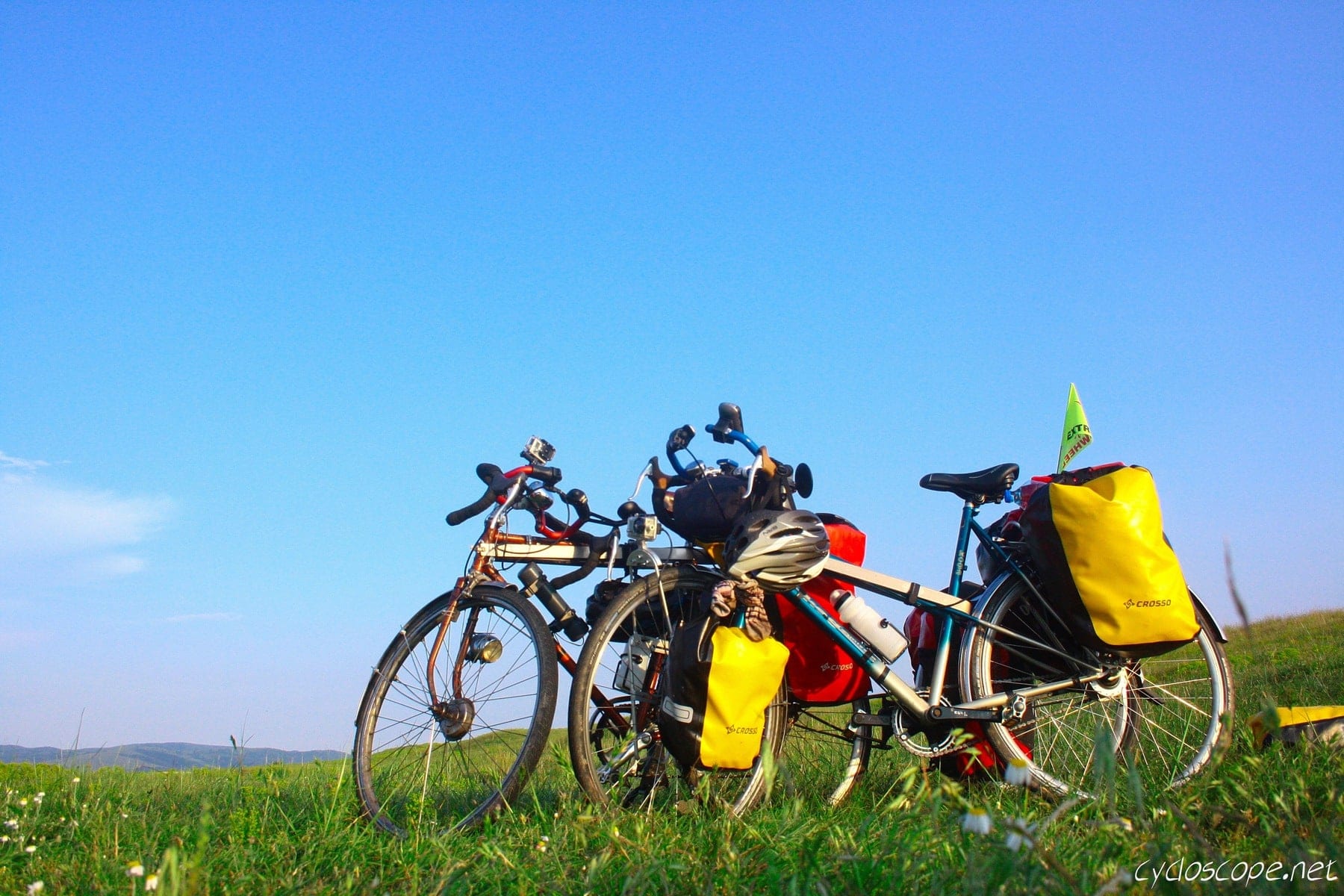 To get out of town there is a road that looks like a highway. Fortunately, there is a bus lane. There are only stray dogs and several houses look like shacks. There are Roma children who greet us while looking for something in a dumpster.
Since we started we realized that everyone hates the Roma, as everywhere. They are rich and do the dirty jobs… so they say.
Who knows, maybe looking for stuff in the bins makes you rich.
We arrive near the town of Pancevo. I stop to ask the room price but the only place there was a bit too chic a hotel and restaurant. There wasn't even a Roma eating, maybe not chic enough.
I also stopped at the restaurant across the street to ask if there is some other cheap place to sleep. In the end, they let us put the tent in the garden of the restaurant! It's raining a lot, again. But tonight even more than usual.
Bicycle touring to the Danube river
Pancevo – Stara Palanka
This morning, sun. A lot of suns. We take a side road. Although it is Sunday there is still traffic. The road is flat and after a while, we get to Kovin, a fairly large town. We stop to eat at a little park where there is a monument dedicated to cyclists done with hedges.
We're on the Danube bike path. An old lady asked us to give her our juice and cookies. Bye-bye breakfast! We leave and arrive in a national park. Beautiful. We're surrounded by gently rolling hills only used as pastures.
We stop to sleep in the midst of a hill surrounded by flowering meadows, as far as the eye can go, and with the company of a passing shepherd with his sheep.
Ah, I forgot that thanks to Vladimir (the English teacher met in Sabac) we've again ethyl alcohol and we can cook. Tonight the chef prepared mushrooms flavored noodles (just the flavor though).
Cycling along the Danube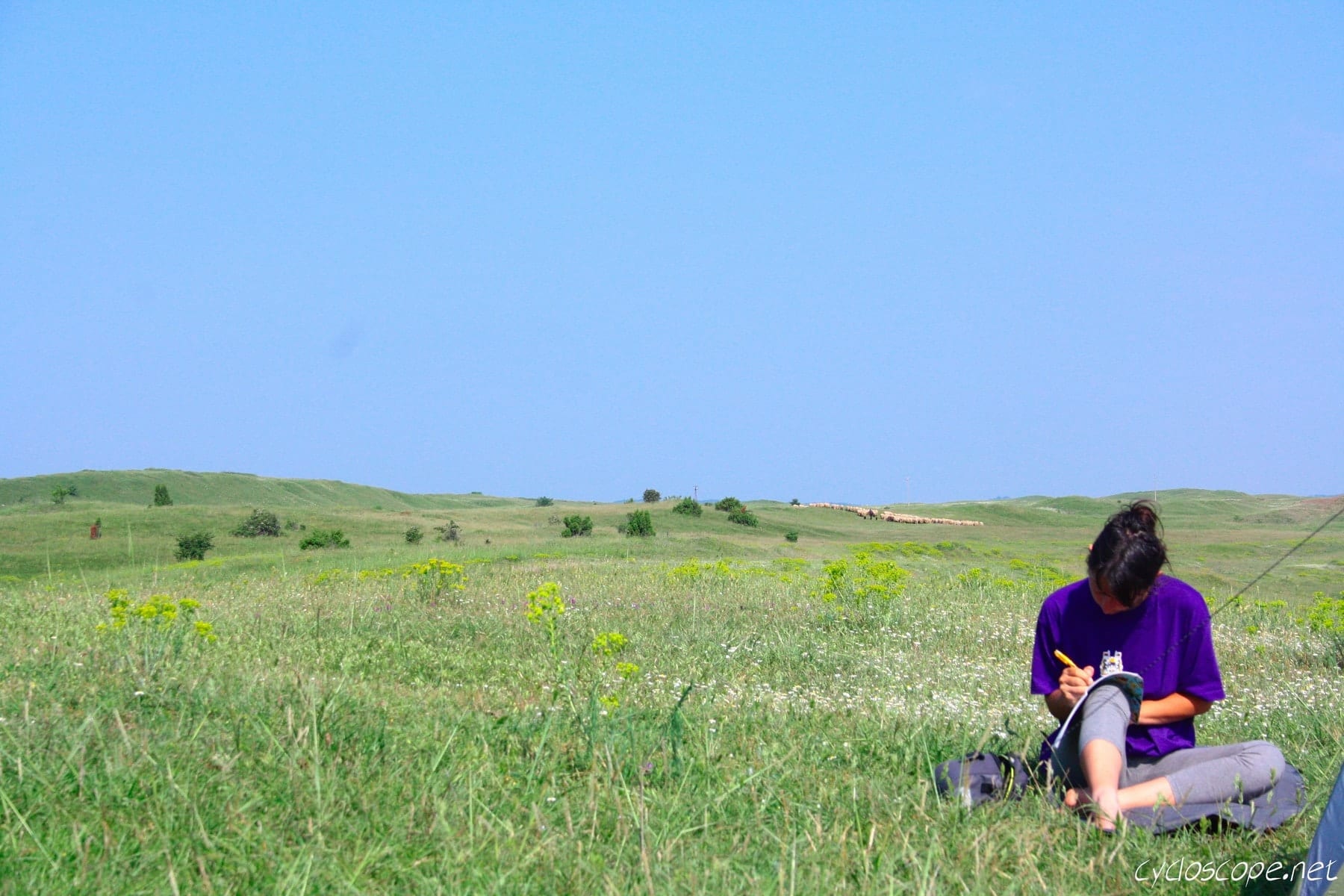 It's really hard to leave such a place. It would be a nice place to spend a few days relaxing. Without even getting dressed.
Instead, we leave and we follow a path along a canal that leads to the Danube and after five we finally reach it. There are no bridges.
To cross the Danube we have to wait for the ferry. We're told there'll be one at 1 pm, more or less. It's 11.30, we have to wait, eat something, Daniele orders a dish of fried catfish, never tried before, delicious.
The ferry, then that is a barge towed by a boat, arriving at 12.30. The guys of the boat are having some sleep under a tree. We wait, there are two other English travelers by bicycle. We set off around 1:30 pm. No rush.
On the other hand, we face a little climb. We see an alternative route along the banks of the Danube and follow it. Earlier it works just fine, but then becomes sand and we have to push the bike for a good half hour and with no little effort. But the Danube is quite nice. On the other hand, Romania.
We meet a lady (Divna) who worked as a caregiver in Trieste and gives me a bit of water from her well. She tells me that soon, in Veliko Gradiske, we'll find a Jezero (lake) where we can swim. Hurray!
The road keeps on going along the Danube, but this time on asphalt. What they call the lake is a branch of the Danube. The water is warm. But not very inviting. However, it is the first time we have the opportunity to have a bath.
After a short siesta with the usual beer, we go again. In the distance, there is lightning and thunder which are becoming closer and then they are over our heads. We stop in Golubac looking for a place to sleep.
The Danube Gorge paradise Golubac – Donji Milanovac
Upon awakening, we clean a bit the bikes. All yesterday's sand wasn't very healthy. We take the road on the Danube, that is, beautiful. Going through an astounding rocky gorge. There are a few slopes but nothing exceptional, instead they make the matter even better, giving us some nice viewpoints over the gorge.
After Donji Milanovic there are kilometers of nothingness, only the Danube passing through it's astounding Canyon. To our right the forested mountains of Serbia, and on the other side of the river the forested mountains of Romania.
Finally, we come to a tiny village, Dobra. We stop to buy something to eat. There is only one bar. Inside there is a large pool table. There is a woman, Darlin (or Druga) going to buy us eggs and cheese and another woman (Vesna?) that cooks those for us.
Darlin has lived for many years in Chicago which, according to her, is her home. She also says that Chicago pizza is the most delicious in the world. For family reasons, she was due to return to her native country. It must be a nice change of lifestyle.
There was also an old man, told me that I look like Serbian women. While Darlin is away, he told me that she's crazy. Well… maybe a little. Being a little crazy, indeed, is good for life. And then we arrive in Donji Milanovac and we sleep in the only house with a bidet. Hurray!
Follow Us
Stay in touch while we get lost! Follow us on Social Media