There are many small and hidden gems in Slovakia, one we really feel like recommending is the fairy-tale village of Osturna, near the Polish border (see map).
This was one of the best days of our whole 5-months Europe bike trip, a day full of marvel, an area of Slovakia you really shouldn't miss when traveling here.
Osturňa is the westernmost settlement of the Lemkos. They are traditionally Orthodox, use the Cyrillic script, and preserve a unique and wonderful architecture.
Why not do some cycling in Slovakia?
What about a bike trip to Poland? Check all the best routes!
About Osturna
Disclosure: Some of our articles contain affiliate links. This comes at no additional cost for you and helps us keep this website up and running. (as Amazon Associates we earn commission from qualifying purchases)
Osturna is a laid-back fairy-tale place with an interesting history and remaining sparkles of a unique culture, laying 700 meters above sea level amidst a gorgeous valley.
This nine-kilometers-long village is only inhabited by about 390 persons. Those persons are Rusyns or Gorals, a diasporic ethnic minority group with a complex history (more about this later) and fascinating architecture.
They are the descendants of the Rusyns (Ruthenians, Lemkos), now an official national minority in Slovakia, but their distinct identity was never officially accepted by the countries they always lived in (Poland, Russia, Austro-Hungary, Ukraine).
157 of Osturna's wooden structures are recognized as a national treasure. Passing through Osturna is a 10km long jump in a parallel universe, but there are also reasons to stay overnight, and why not, making it your base to explore the Tatra Mountains, one of the most beautiful regions of Slovakia.
Rusyns, Goral, or Lemko? Ethnicity of Osturňa
As far as we could figure out, the inhabitants of Osturňa are Lemko, an ethnic subgroup of Gorals, that are sometimes superimposed to Rusyns.
The endonym Rusyn has frequently not been recognized by various governments and in other cases has been prohibited. Of the estimated 1.2 million people of Rusyn origins, as few as 90,000 people have been officially identified as such. This is due, in part, to the refusal of some governments to count Rusyns and/or allow them to self-identify on census forms, especially in Ukraine.
The Gorals (literally "highlanders") are an ethnic group primarily found in their traditional area of southern Poland, northern Slovakia, and in the region of Cieszyn Silesia in the Czech Republic (Silesian Gorals). There is also a significant Goral diaspora in the area of Bukovina in western Ukraine and in northern Romania, as well as in Chicago, the seat of the Polish Highlanders Alliance of North America.
What makes the Lemko culture differ is their deep commitment to Eastern Christianity which was introduced to the Eastern Slavs from Byzantium in the 9th century. Most Lemkos today are Eastern rite or Byzantine-rite Catholics. In Osturňa they belong to the Eastern Orthodox Church.
Osturňa: History and Geography

Osturňa lays on the Osturniansky Potok (Osturňa River) Valley, separated from the rest of Slovakia by mountain ridges. Poland is just behind the smaller ridge up north, indeed one of the most direct ways to get here is from the town of Kacwin.
Both villages belong to the same region – Spisz/Spiš that in 1918 was split between two newborn countries, Poland and Czechoslovakia.
Founded in 1313 on the estates of the Niedzica Castle, the village of Osturna was originally settled by Ruthenians (Lithuanians) who came from the Lemko region of Southern Poland. Osturna is first mentioned in historical records in 1593.
Rusyns had struggled for their independence for centuries, they formed two short-lived states after World War I: the Lemko-Rusyn Republic and Komancza Republic. Some of the founders of the Lemko-Rusyn Republic were sentenced to death or imprisoned by the prosecuting attorney Kost Levytsky, future president of the West Ukrainian National Republic.
During World War II, Nazi Germany sought to Germanize the Gorals, along with the Estonians, Latvians, and Lithuanians, and include them in the resettlement plans. Under Nazi racial laws, the White Russians, Gorals and Ukrainians were viewed as "undesirable", and thus subject to special statutes (labor and police law) in the occupied territories of Eastern Europe, although to a milder degree than other non-German ethnic groups.
About 130,000 to 140,000 Lemkos were living in the area in 1939. Sadly, after 1947, no Lemko villages survived north from the Carpathian mountains (on the Polish side and also in Ukraine, further east).
Those people were subject to forced resettlement, initially to the Soviet Union (about 90,000 people) and later to Poland's newly acquired western lands (about 35,000), they were victims of the Operation Vistula in the late 1940s. This was a state-ordered removal of the civilian population, in a counter-insurgency operation to remove potential support for guerrilla war being waged by the Ukrainian Insurgent Army (UPA) in south-eastern Poland. Its aim was to get rid of the partisans groups that kept fighting against the Soviets after WW2 by relocating and dividing them.
At least, in the communist Poland many of the Lemkos improved their life quality (by receiving post-German, generally bigger farms, brick houses, running water) – a contrary to what happened to the Lemkos within Soviet Ukraine who, in the same period, were deported to Kazakhstan and Siberia and forced to an extreme poverty.
While some 5,000 Lemko families returned between 1957–1958 (they were officially granted the right to return in 1956), the Lemko population in the area only numbers around 10,000–15,000 today. 55,000 more Lemkos live in other areas of Slovakia.
A Peculiar Architecture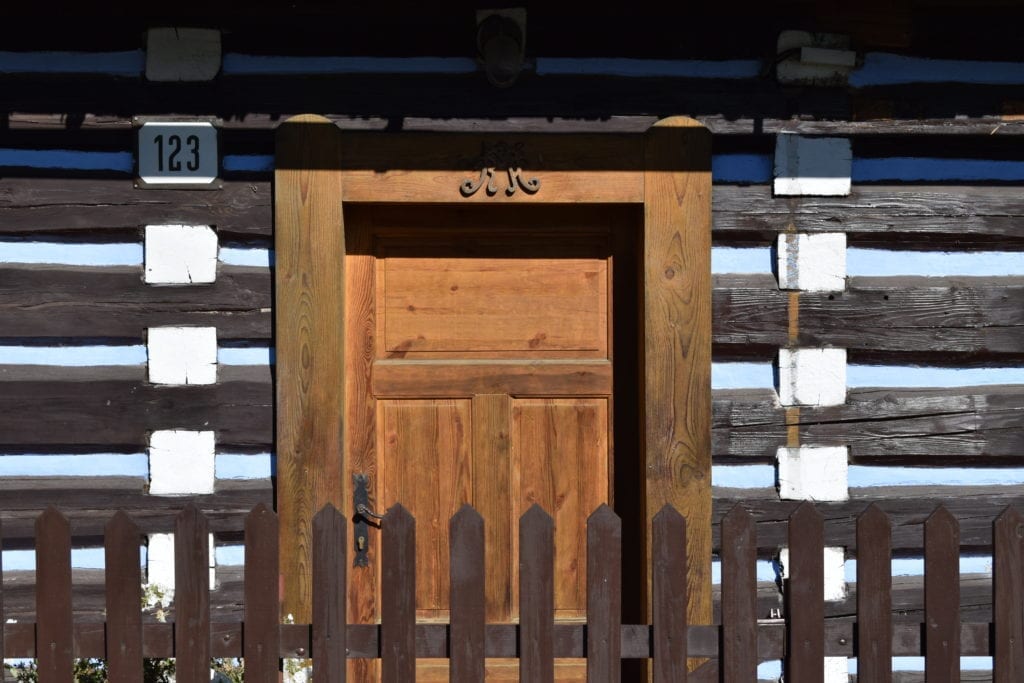 A fascinating enigma, Osturňa's traditional vernacular architecture is nowadays protected by the Slovak government. The vernacular architecture of the Carpathians draws on environmental and cultural sources to create unique designs.
Vernacular architecture refers to non-professional, folk architecture, including that of the peasants. In the Carpathian Mountains and the surrounding foothills, wood and clay are the primary traditional building materials. The Zakopane Style architecture, established at the end of the 19th century, is held as a Goral tradition and is widespread in the Podhale region.
Details vary from locale to locale but the majority of homes in this area have traditionally been a single-story rectangular plan; one or two rooms; a central chimney; a gable, hipped-gable or hipped roof; and plastered and limewashed exteriors.
Materials are sourced locally, wood (usually oak), mud, straw, fieldstone, lime, and animal dung. Roofs are typically clad in wooden shakes or shingles, whit occasional exceptions of rye straw.
Buildings in Osturna are made of horizontal logs, notched to hold together. The simple saddle notch is the easiest and therefore common. Dovetailing is used by people with more experience in woodworking.
Most homes are plastered inside and outside to prevent moisture, improve insulation, hide imperfections in construction, and for general coziness. Traditional plaster is made of clay, water, dung, and straw or chaff. Several coats may be applied to create a smooth finish, and then coated with lime and water to produce a pleasing white color and protect the clay from the rain.
Thatched roofs are traditional but have been declining in popularity because of fire hazard. Dirt floors are common although most houses have wooden ones nowadays. The center of the home is dominated by a traditional clay oven.
157 of Osturna's wooden structures are recognized as a national treasure by the Slovakian government. In the village, there is also one of the very few Orthodox churches in the area.
Where to stay in Osturňa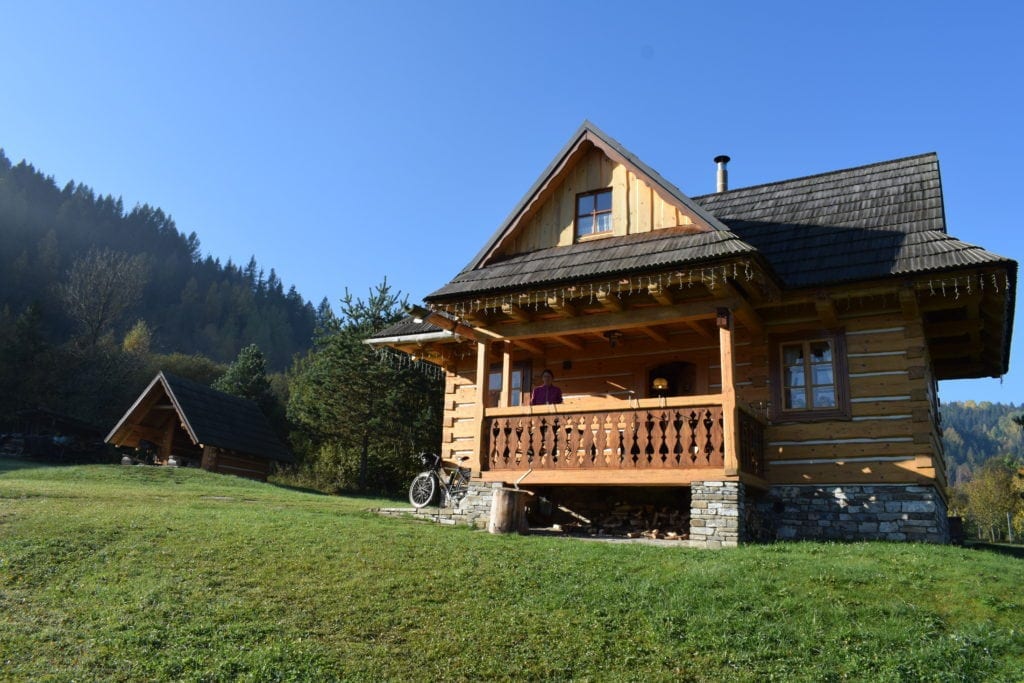 Luckily there are no big hotels in Osturna, a few cozy and well-blended accommodation options are available. Most are traditional style vernacular building, so you'll get to admire Osturna's architecture from the inside. We stayed at the Goralska Drevenica, a very cozy cottage with 3 rooms, a very nice kitchen/living room, and a beautiful garden with a view.
There are no official campsites in Osturna, wild camping is tolerated in Slovakia though so you might try to get to the forest or ask some local to pitch your tent on their land.
There is a small supermarket in the village, mind that the village is very stretched, so it might be a bit far to walk to.
Have a look at all guesthouses in Osturna
How to get to Osturňa
Getting to Osturna without one's own means of transport is a serious task. There's a train station in Vysoké Tatry where trains arrive from Poprad (check timetables here).
From there, there might be a few local buses a day, we saw the stops but never saw the buses, and haven't found any info online. Your best bet is to ask the friendly tourist info office in Vysoké Tatry. If you're an adventurous spirit, hitchhiking might be the quickest way to get there.
If you have a vehicle, you'll easily make one memorable road trip out of getting here. The scenery along the road is one of the main reasons to come to Osturňa.
We arrived here by bicycle, coming from the Dunajec River gorge lays at the border with Poland, very close to the High Tatras, this is really the perfect entry/exit point if you're cycling from/to Poland. There's an unpaved but well-maintained cycling path (which is also a hiking trail), about 20km long, which actually lays mostly on the Polish side. The gorge has stunning white limestone cliffs and its covered by a vegetation that is truly mesmerizing when painted in the autumn colors.
The path ends on the Southern tip of the Lake Czorstyn (Jezioro Czorsztynskie), a good-looking man-made reservoir. From there, there are two ways to get to Osturna, one brings you back in Poland, the other going through a Slovakian valley, both are nice, easy and short, about 10/12km to get to the Osturna area.
The road goes uphill from here, heading south along a beautiful and solitary road towards the pass at 1,126msl, you'll be having the first glimpse of the massive Hight Tatras before finally watching the Ždiar Pass from above. This is a bit of a sweaty-climb especially at the end, with slopes up to 9%.
Learn more about cycling in Slovakia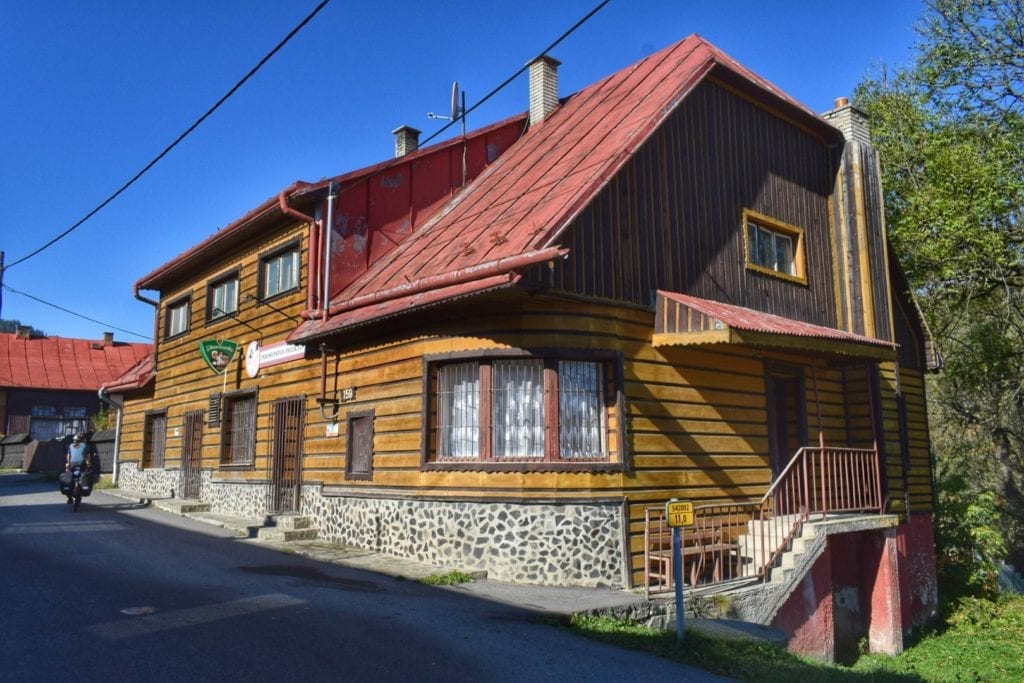 What to see in Osturna
Besides strolling the whole length of the village (which will take the most of a day), things to do in Osturna are mostly nature-lover activities.
There are several hiking trails that can be reached on foot, while for those with a means of transport (be it a car, van, motorbike, bicycle or whatever) the options are endless, and the village could become the perfect base to explore the surroundings.
Foraging is for sure a cool thing to do here, in autumn be ready for lots of mushrooms. Don't miss a visit to the pub (nº 159, Jan Pavlik, Pri Mlyne). You'll feel like back in the Soviet 80s.
Stay in touch while we get lost! Follow us on Social Media